After experiencing Perth, the sunniest city in Queensland, Australia was going to be different. We were very keen to experience staying inside the rainforest, as it was our first time. Popular stays are north of Cairns, in and around Port Douglas and within Daintree Rainforest range. As always, choosing to stay away from touristy places, we decided to go south of Cairns. The region boasts of beautiful beaches, scenic drives, historical places, dense rainforest and one-drop waterfalls. It is just 140 kilometers but took 2.5-hour from Cairns airport on Bruce Highway. There are no freeways or toll roads in north Queensland; the major highway is a 2-lane road with the highest rate of fatal accidents in Australia. We took a deviation from Bruce Highway into the interior of a small town passing through dense sugarcane fields on both sides with a narrow-gauge railway line passing in the middle of each field, 95% of Australias sugarcane grows here due to its tropical weather. Sugar mills operate their own railway network to transport the harvested cane. After navigating through tiny towns and tons of unmanned rail-crossings we reached our destination, a property of few acres facing the dense forest. We also sighted a wild Cassowary walking alongside our car for five minutes. It is home to Cassowaries and they are major contributors to the ecology of rainforest. All the roads within the forest have frequent Cassowary Crossing Signboards showing that next 2 3 kilometers belong to them.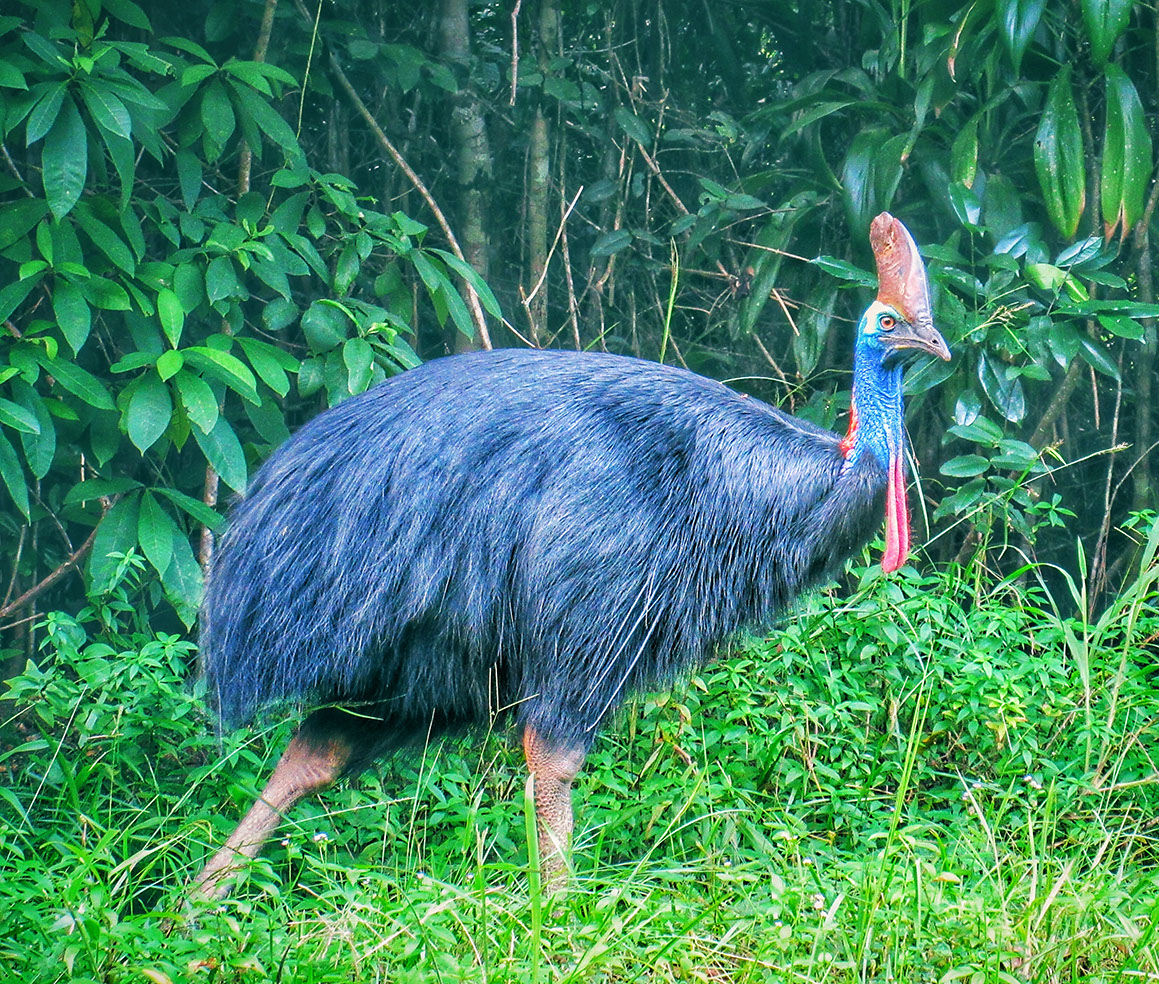 Cassowary, the most dangerous flightless bird on the planet is resident of the tropical rainforest.
The estate had a separate hurricane shelter cottage built completely with concrete, our accommodation for our stay. The estate was self-sufficient from vegetables and fruits to poultry. Astonishing flowers grew everywhere adding to the beauty of the property. It attracted plenty of birds in the morning and their chirping replaced the mobile phone alarms. The nights were completely silent; its been decades since we felt such silence around us. Just us watching stars in a clear sky with frogs croaking in the distance and the adventurous ones barging inside to say good night. Fragrance of Petrichor, thanks to late evening rains awakened the Pluviophile in us. A peaceful place with only the sounds of nature is precisely what we were looking for. If you step out the probability of seeing a human being for a while is low but there is a high probability of a Kangaroo or Cassowary crossing your path. Later in the afternoon we decided to hit the beach, a 30-min drive. Beware of the Marine Stingers whose home is the Cassowary Coastal Region during summer. Many beaches have installed stinger net swimming enclosures.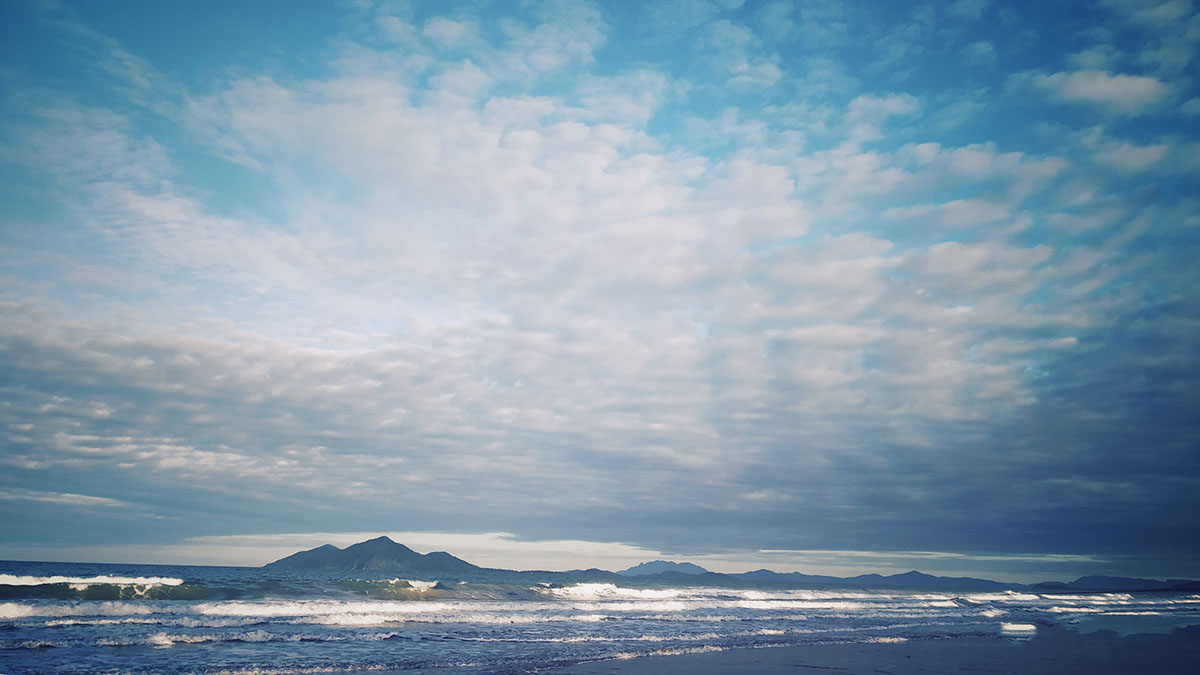 Beautiful Wongaling beach in Cassowary Coastal Region of Queensland.
The calmness of ocean and beautiful beachside relieved the stress of the overnight flight and the long drive. On our way back, we drove to a nearby grocery store to pick up some groceries and upon reaching at 6:05 pm realized that they close at 6 and wont open next day either being a Sunday, welcome to Queensland. Luckily, we managed to get some milk and bread from a small store at the gas station. Our host paid us a courtesy visit and on hearing about our grocery episode, offered us fresh eggs, which her chickens had laid just previous evening and few bottles of water. With a well-stocked kitchen and a hospitable host, we were all set for a comfortable stay.
This was our base while we explored the Tablelands. A scenic drive around Tablelands treats you to farmlands, national parks, rainforests, waterfalls and tiny little towns, all in one stretch of a road. With the rental car, access to the outback was limited and we had to restrict ourselves to where the paved roads could take us. But the 300+ kilometers circular drive was spectacular with minimal vehicles on the roads.
Our first destination was Mamu Tropical Skywalk, a must visit in Tablelands. It takes about 2 hours and a 2.5 kilometers walk through the canopies of UNESCO World Heritage rainforest to explore everything. You start with a forest walk to experience the tropical rainforest at ground level. Then take the elevated walkway that rises gently to get to a viewing deck on a cantilever bridge. It provides a tantalizing view of the river gorge below. Continue on the 350-meter long skywalk through the canopies and experience diverse flora and fauna. Imagine, you are walking almost at the height of the canopies! There are beautifully designed interesting information boards in several places. At the end of Skywalk is a lower deck view of the observation tower. Climb the stairways to reach the upper deck at 37 meters above the ground level. You will be stunned by the uninterrupted spectacle of North Johnstone River and rainforest-clad peaks.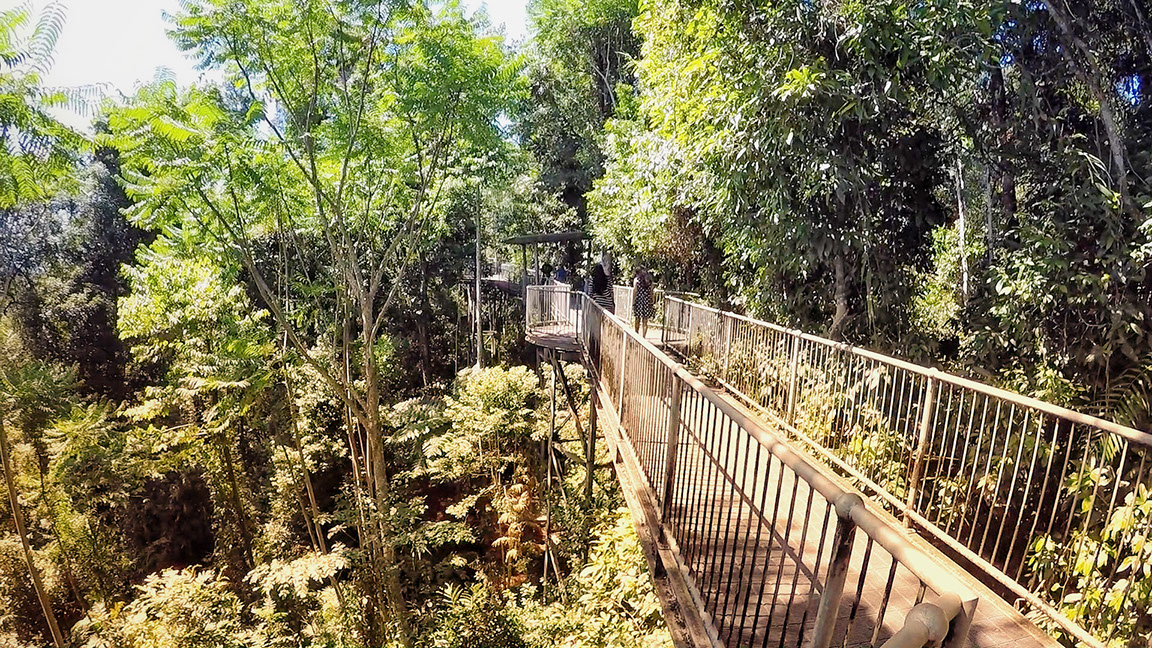 Elevated skywalk surrounded by rainforest canopies at Mamu tropical rainforest.
We continued our road trip on Palmerston Highway and took a small detour to visit a local dairy in the middle of nowhere at Mungalli Creek. They had a small outlet with a caf selling fresh products and we indulged in fresh ice creams and cheese. With some insights from the owner, we continued our journey through the hilly countryside surrounded by spectacular landscape and cows grazing in the fields. We hit the waterfalls circuit deviation and the journey of about 10 kilometers was made for waterfall wanderers. One of three waterfalls is Millaa Millaa, the most photographed one-drop waterfalls in Australia.
Drive on Waterfalls Circuit of Tablelands to uncover 3 amazing waterfalls inside the tropical rainforest.
We then passed through a cute little single street town of Milla Milla, which appeared like a ghost town, as it was a Sunday. We continued driving further towards Malanda and Atherton and then turned back to head home. There are a couple of local wineries around Innisfail in case you are interested in exquisite wines made from Banana, Coffee, Mango, etc. It is AUD 5 for up to five testers which is adjusted against the bill if you end up buying at least one bottle. The next day we continued our road trip into Tablelands and went further south on Bruce Highway passing through a little town Tully, known for processing sugar grown in the region. We then headed towards Cardwell but took a small detour on the way to see beautiful cascaded Murray Waterfalls located inside Girramay National Park. There are wooden broadwalks and viewing platforms to have a closer look at the falls. Our last stop was Cardwell, a beautiful coastal town on Bruce Highway that suffered significant damage from category 5 Cyclone Yasi in 2011. You can walk around the old Jetty and the town.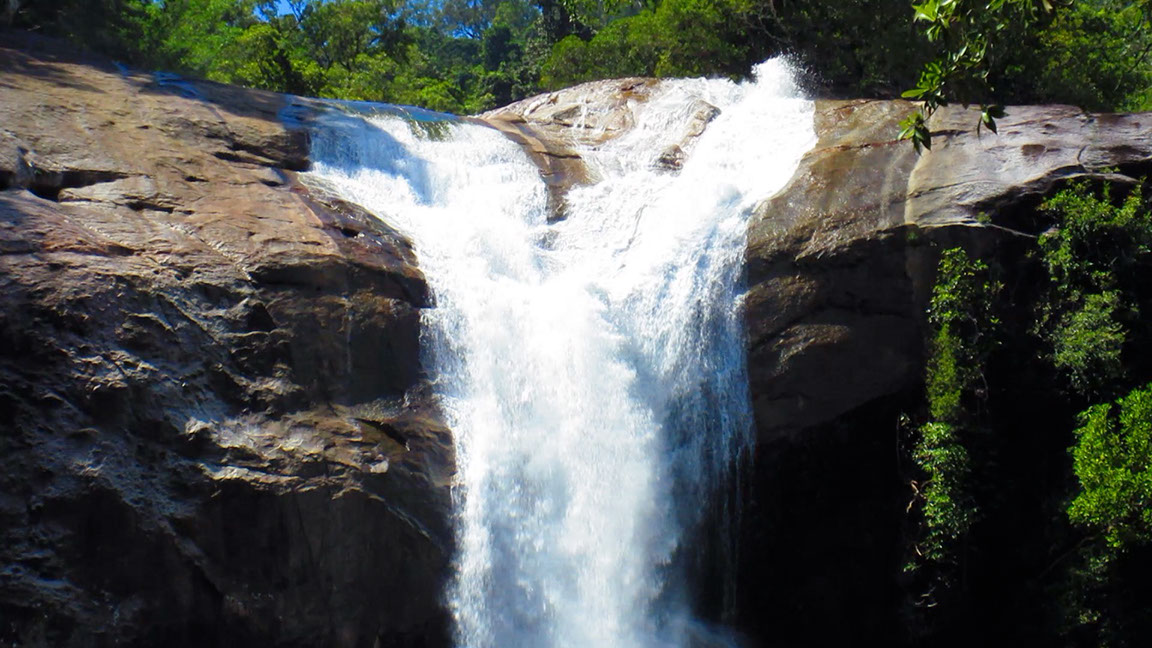 The cascaded Murray waterfalls inside tropical rainforest of Tablelands.
Our memorable stay inside rainforest ended with witnessing heavy rains the entire night. We headed to Cairns early next morning, which was a fun drive with the highway mildly flooded with water. The landscape had totally changed as all the mountain cliffs were covered with clouds compared to being sun kissed the previous days. We were thrilled driving towards the much-awaited attraction of our tour, Skyrail and Kuranda Scenic Railway.
We reached Smithfield Terminal and boarded Skyrail, which is a 7.5 kilometer scenic cableway running above the worlds oldest (130 million years) tropical rainforest. The journey between Smithfield and Kuranda inside a gondola cabin offers a unique experience of this ancient landscape and unsurpassed views of the river and waterfalls. An approximate one-way journey of 1.5 hours, reaching the highest altitude of 1,800 feet, including getting down at two intermediate stations is a lifelong memory. The first stop is Red Peak at 1,800 feet where you can have a ranger guided broadwalk tour inside the spectacular rainforest and witness canopies as old as 400 years. The flora and fauna you see in this living museum are found nowhere else in the world.
How does the oldest tropical rainforest on earth look like from directly above?
After about 30 minutes at Red Peak, we boarded the gondola and descended through another amazing stretch over the rainforest to the second stop at Barron Falls known as Din Din to the Aboriginals. A panoramic view of the rugged beauty from the Edge lookout is spellbinding.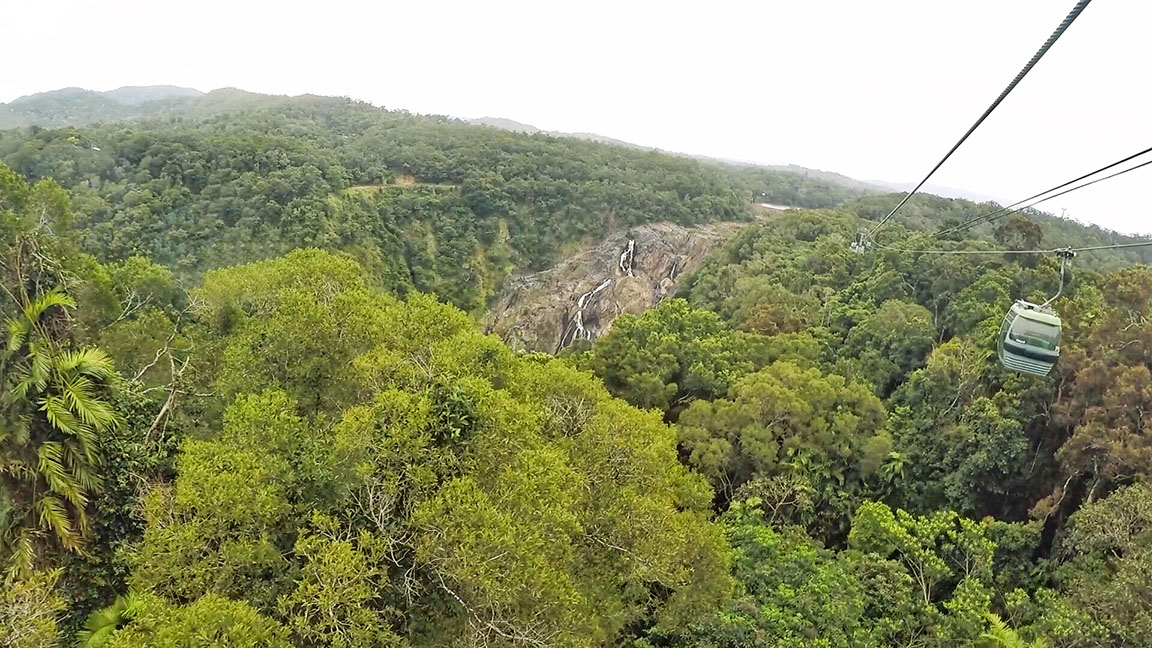 Barron Falls overlooking the tropical rainforest, as seen from our Gondola of Skyrail.
We disembarked Skyrail at Kuranda, a small and picturesque mountain village. We decided to take a scenic rail route at Kuranda that passes entirely through the rainforest for our return. We had a couple of hours in Kuranda so we strolled around the village exploring the shops selling locally made stuff by Aboriginals. There are only two scheduled departures in a day so make sure you do not miss the train. The rail network was built in 1891 during the gold rush with 15 hand-made tunnels and 37 bridges that climbs up to 1,000 feet above sea level. The 37-kilometer spectacular journey in 100-year-old carriages takes 2 hours and passes through many scenic locations. The only station where the train stops for 10 minutes is Barron Falls Station from where you can see the cascaded waterfalls and take a quick stroll at the elevated viewing platform. The train then travels at snails pace before it approaches Stoney Creek Bridge, another engineering marvel in the construction of this rail network. A 260 feet long bridge with radius curve took 4 years to build with wrought iron trestles and was the only way to avoid tunneling. Today, it is one of the most photographed bridges in Australia. The spectacular view of Stoney Creek Waterfalls just meters from the train, flows from the mountain and continues below the bridge. The announcement system explains the story behind the construction of the railway as you pass through important milestones. Check for scheduled maintenance dates of the railway.
Scenic train journey on Kuranda Scenic Railway that passes through the tropical rainforest.
After an action-packed day, we drove further north to Port Douglas on Captain Cook Highway. The drive is along the ocean on one side and mountains and rainforest on the other side. The pristine landscape was refreshing. If you have never driven on the left side before then ditch the scenery and focus on navigating the extremely curvy roads.
Scenic drive from Cairns to Port Douglas captured in my iPhone as GoPro batteries had died.
We were scheduled for a trip to Great Barrier Reef the next day but it had to be rescheduled due to unsuitable weather. Fortunately, we had two more days and weather improved else we would be eluded from this once-in-a-lifetime experience. Lesson learnt, I would keep GBR on priority upon arrival in Cairns factoring unforeseen events. Please note, no flying within 24 hours of scuba diving.
Without wasting any time, we quickly planned a road trip for 200 kilometers, this time right in the middle of Daintree Rainforest. Our first stop was Mossman Gorge Centre where we had to leave our car and board shuttle bus to the Gorge. After disembarking, we chose a short broadwalk trail Baral Marrajanga that leads through the rainforest and elevated broad walk passes through the lower rainforest canopies. The rock formation inside Mossman River at the Gorge looks fabulous and offers many photo ops.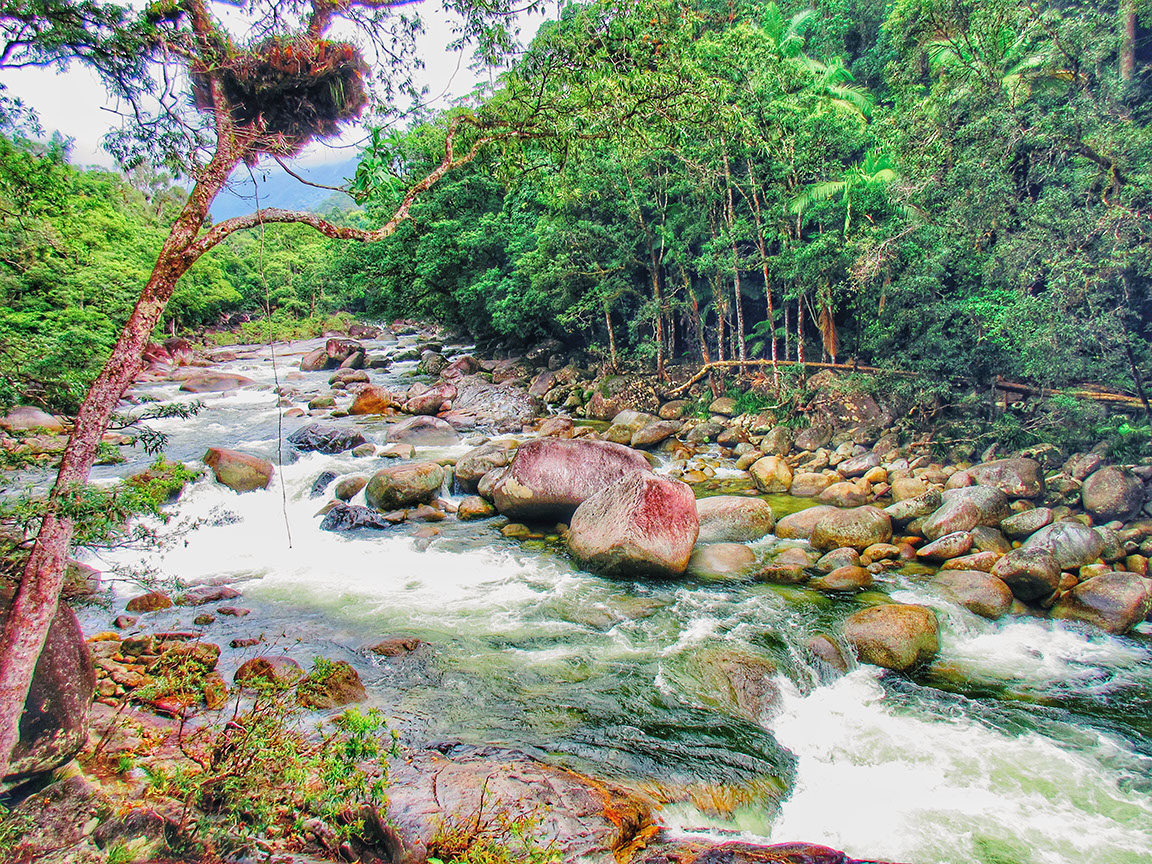 Scenic view of Mossman Gorge inside Daintree Rainforest.
After finishing the river track we headed to a suspension bridge built over Rex Creek, which meanders through the rainforest. It is a 2.5 kilometers self-guided Rainforest Circuit Track that takes you to the forest floor, which receives only 2% of the sunlight. After exploring the rainforest at three different layers above the forest floor during our trip, this was a unique experience. We took a little over an hour to complete this track leisurely where one feels deprived of sunlight and it gets quite dark near the age-old Spurwood trees. Lush rainforests, crystal-clear water cascades; we experienced nature in all its majesty.

Wild mushrooms and Spurwood tree at the floor of Daintree rainforest.
We continued our road trip further north and up to Cape Tribunal, the last point accessible in a rental car. We crossed Daintree river on our way by boarding a ferry to access northern section of the park. The GBR Drive of jaw dropping beauty on Mossman-Daintree road ends at Cape Tribulation where rainforest meets the reef. Its a misty winding road that ascends to Daintree Discovery Centre and passes through dark dense rainforest. You can visit and choose to go for canopy walk, which we skipped as we had already experienced it. The drive continues further where it touches the ocean on one side and wet tropical forest on the other side with number of creeks, narrowing the road that makes it one-way traffic intermittently. There are many restaurants and ice cream factories on the way that serve the most unique flavors. All in all, it was a beautiful drive.
Drive inside Daintree where the rainforest meets the reef.
Finally, the weather improved and we were all set for the cruise to GBR. We were super excited and in anticipation of our once-in-a-lifetime experience of diving in GBR. It is the worlds largest coral reef system with 900 islands stretching for 2,300 kilometers almost equivalent to 2/3 the size of mainland Australia. The worlds biggest single structure made by living organisms can be seen from outer space. We boarded a smaller boat from Port Douglas and sailed for almost 2 hours to reach Agincourt Reefs. Smaller boats are tad expensive but ensure your diving and snorkeling experience is better. We anchored at three different diving sites and I choose to dive at one of them. Having dived in Andaman Sea a couple of times before, I was familiar with the protocol. This time I had my GoPro so the experience was even better. I captured amazing marine life beneath GBR and compiled a small video that encapsulates our experience. Tourists have about an hour at each site to snorkel around. Fortunately, our family was accompanied by a marine biologist, making our experience enriching.
If you are visiting North Queensland then this is a MUST do activity. Non-swimmers not to worry, as the instructor will always be with you managing your BCD.
Scuba diving and snorkeling at Great Barrier Reef, an experience of a lifetime.
It was my birthday and what a memorable way to spend it. We went to Macrossan Street that evening for dinner and then crashed out completely exhausted. We had a flight to Brisbane the next evening and then back home the day after. We enjoyed the sights in Cairns before our flight and landed in Brisbane late evening. We spent the next day shopping and feasting in Redcliffe until we boarded our evening flight back home. Perth and Queensland done, finally checked off a dream trip!