A 5-hour drive across 350 miles landed us in New Orleans. Located on the banks of the Mississippi River, this city is famous for its characteristic French architecture and culture. Creole architecture is integral to the city's spirit and sets it apart. Also known as the "birthplace of jazz", Louis Armstrong, the legendary jazz icon was born here. Creole and Cajun food, live performances on every street, and Mardi Gras in New Orleans are some of the experiences that this city offers. Life in the Big Easy is lived well.
New Orleans French Quarter - where the history unfolds



For travelers, the first place that comes up invariably is the French Quarter in New Orleans (the Vieux Carr). Commonly referred to as the "Crown Jewel of New Orleans", the French Quarter in New Orleans is one of the most historic neighborhoods. We went on a fascinating walk tour around this enchanting french quarter. It is a unique amalgamation of old and new. Jackson Square New Orleans, an iconic place, is dominated by St Louis Cathedral, the oldest in the country and a legendary statue of Andrew Jackson. He heroically defeated the British in the war of 1812 gaining the reputation of a war hero. He became a symbol of American democracy and was elected the seventh president of the United States in 1828, fondly known as the "people's president".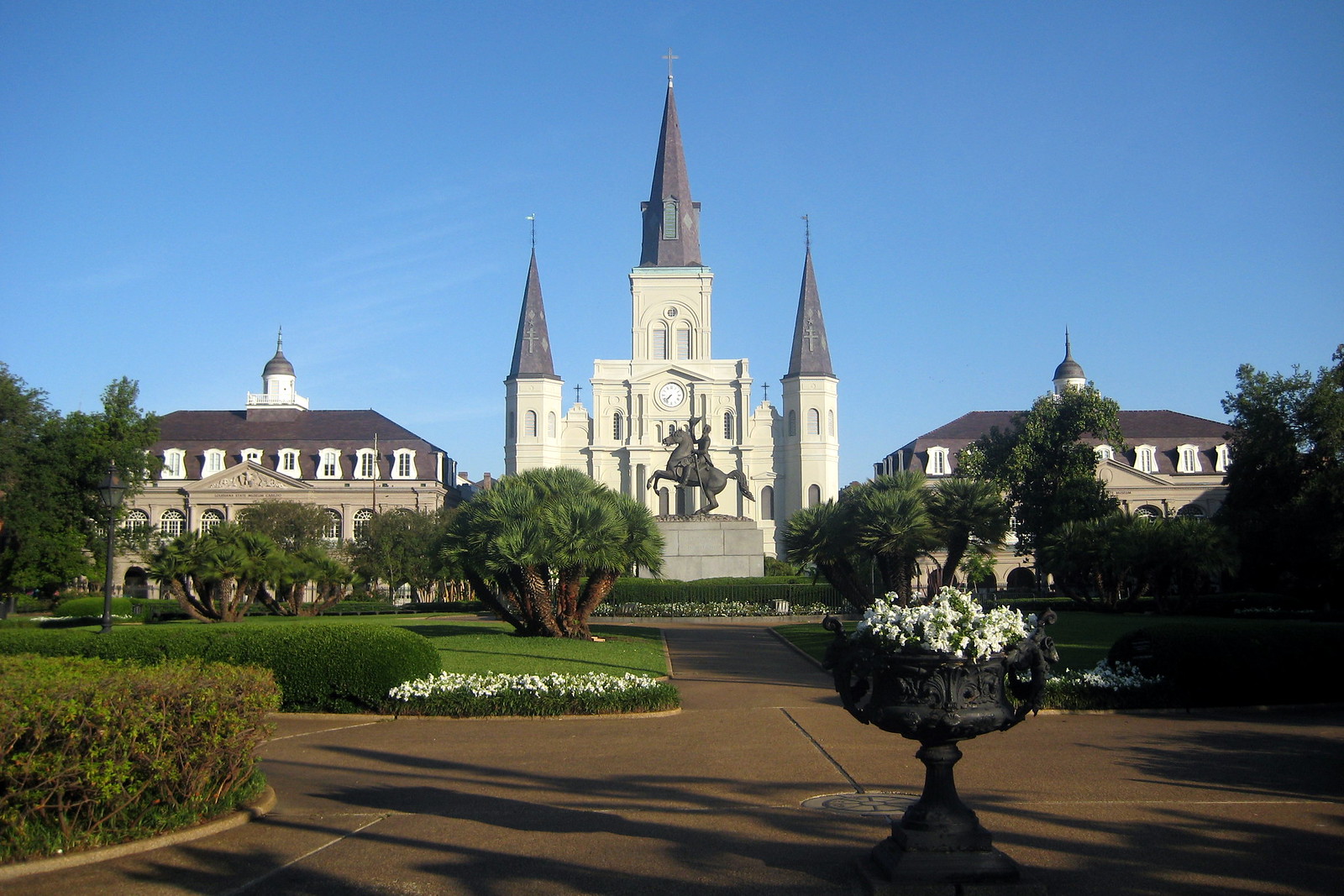 St. Louis Cathedral in French Quarter New Orleans is the oldest cathedral in North America
There's an effervescence here that exudes through street artists, enticing fortune tellers, and busking brass bands. The Square is hemmed in on either end by the Pontalba Buildings, one-block long four-story brick buildings built in the late 1840s. The French Market of New Orleans is a large, open-air bazaar divided into two portions. The upriver side has artist stalls and food stands to showcase exquisite local crafts and cuisine. The downriver side hosts a flea market with souvenirs and trinkets.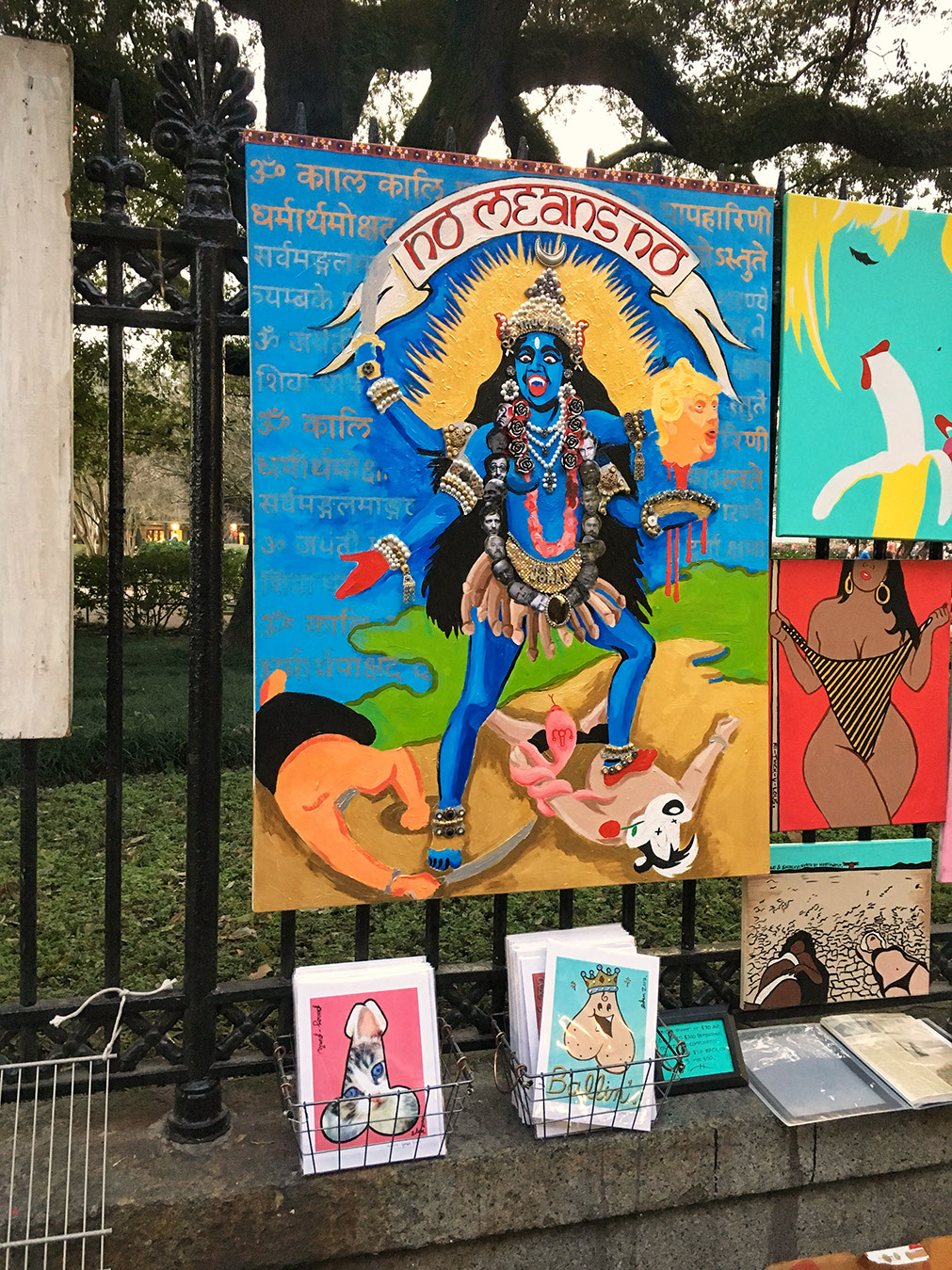 Weird paintings by street artists at French Market near Jackson Square New Orleans
We took a pitstop at Cafe Du Monde City Park, the oldest cafe in New Orleans owned by the Fernandez Family. Established in 1862 in the French Market, Cafe Du Monde in New Orleans is a classic open-air coffee shop. It is one of the few establishments in the United States with over 40,000 reviews on Tripadvisor, so you know how popular it is. The aroma of coffee, cocoa and freshly baked muffins was intoxicating. Although the menu was limited to coffee, hot chocolate and sugar coated muffins, a 20-minute wait before we got our hands on these goodies was well worth the wait. Undoubtedly, it is one of the best places to eat in New Orleans. Another unique feature of this cafe is that it is open 24/7, 364 days a year, closing only on Christmas day. I guess the locals and visitors would not have it any other way...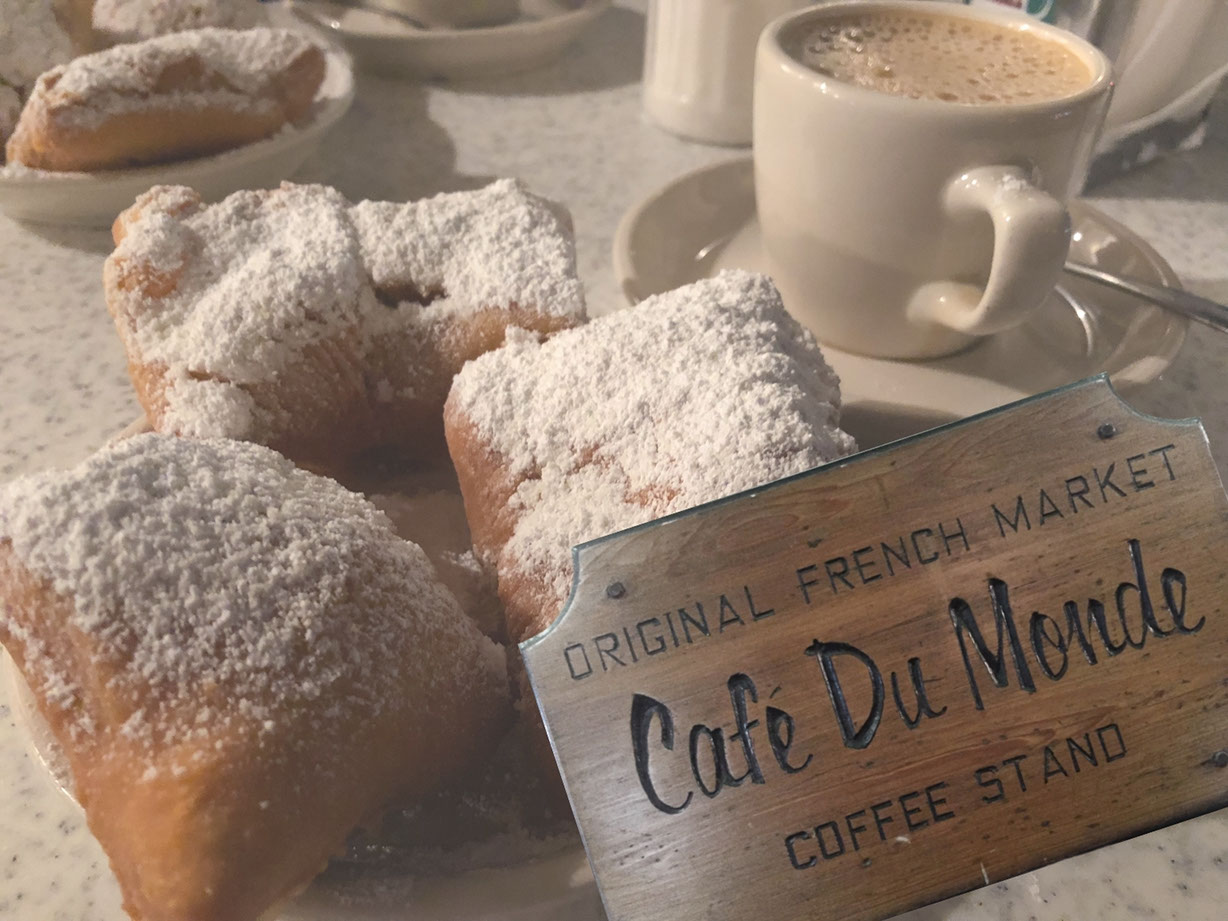 The famous Cafe Du Monde City Park is a landmark in New Orleans
Garden District - the love at first sight
Refreshed and satiated with the delicious bite at Cafe Du Monde in French Quarter, we continued our walk. The famous New Orleans Walking Tour is highly recommended to make the most of the French Quarter. It is a great way to understand the history behind all the beautiful buildings and ensure you do not miss out on anything. We had one of the famous guides of New Orleans walk us through and it was a fantastic experience. Love at first sight is a familiar experience for first time visitors to the Garden District of New Orleans, and we were also smitten. This place was plantations earlier, which metamorphosed over decades to its current form.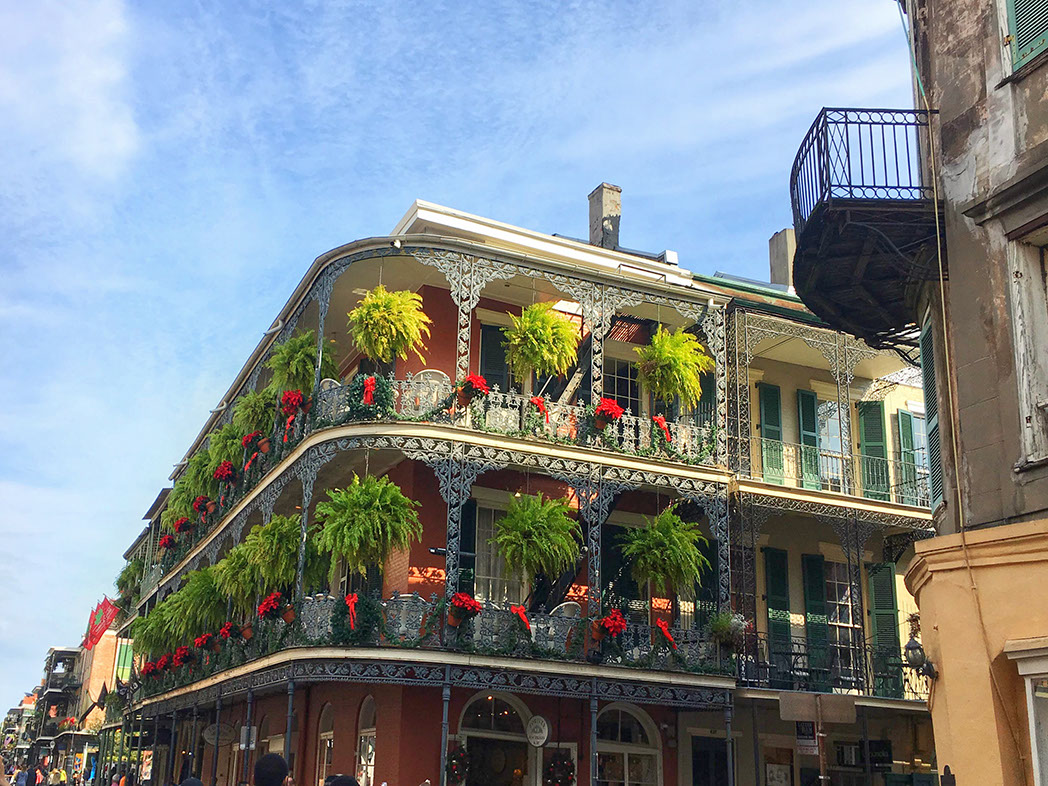 The beautiful Garden District of New Orleans is a sight to behold!
In the current times, it is a beautiful place with oak-lined trees and victorian-style mansions. This ornate neighborhood has enthralled visitors with its architecture, landscape, premier restaurants, world-class shopping and many other attractions. Being Christmas time, the buildings were decorated adding to the charm of this immaculate town. The kids strolled around enjoying the place. We sat in a shaded gallery and watched the world go by immersed in the ambience of this 19th century neighborhood. I guess it would be a writer's and artist's paradise and an amazing source of inspiration. In addition to doing food tours in New Orleans, we also took a walk down the street lined with oak trees towards Magazine Street for some retail therapy.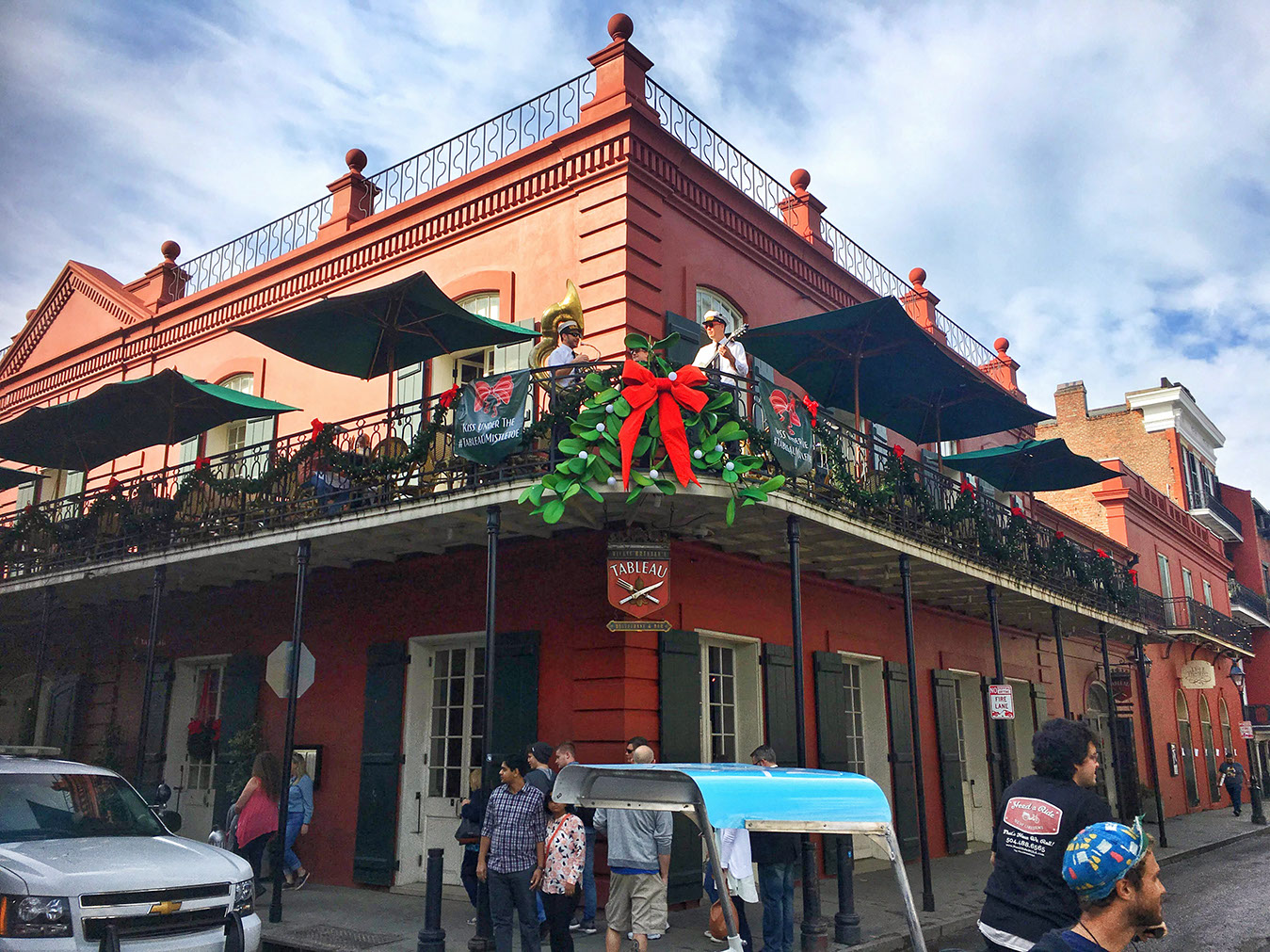 An old architectural building converted to a cafe, decorated for Christmas
The famous parks of New Orleans
Parks are always a calming landscape in the middle of the city and New Orleans City Park is not different. Spread across 1,300 acres, it is one of the largest urban parks in the United States. For over 170 years, it has been a place that treated the residents and tourists to abundant natural and cultural resources. The Park houses the New Orleans Botanical Garden, Couturie Forest and Arboretum, the New Orleans Museum of Art, the Louisiana Children's Museum, and the largest grove of mature live oaks in the world, some of which are nearly 800 years old. Storyland, one of the most magical parts of the park, had the kids in awe. The cartoon characters and fairytale legends came to life here. It is full of charm and fun and the kids had a blast. It is a truly beautiful experience to stroll around the park and enjoy its beauty. If you are an extrovert, you could end up engaging in some outdoor games with the locals.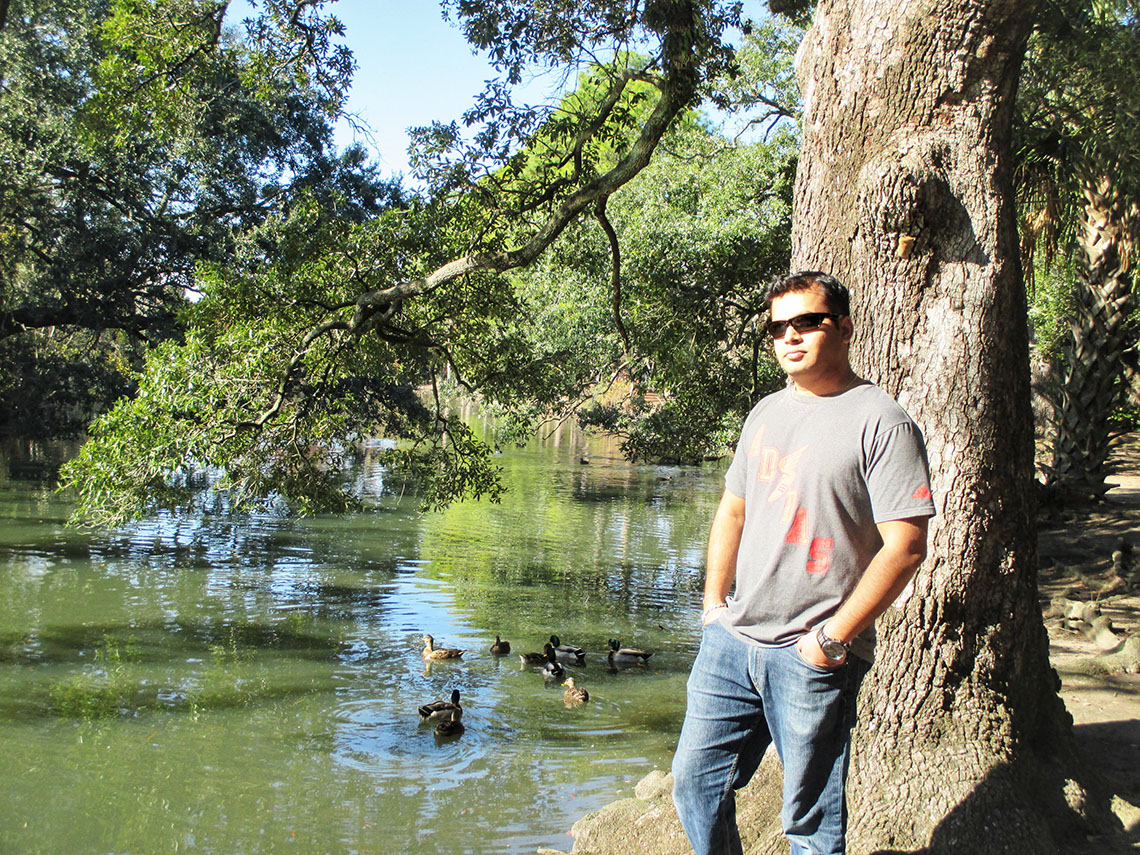 What better way to relax than around a picture perfect lake in New Orleans City Park!
New Orleans Audobon Park was opened in 1898 and has remained a top tourist attraction in New Orleans. It is a MUST visit for travelers to marvel at and enjoy the ever-beautiful oak trees, lagoons, and expansive green space located within the park. This is the perfect place for recreational fun and relaxation. With a wide choice of activities like walking, running, cycling, and picnics, millions of people visit all year round. The kids were in 7th heaven! Being the Christmas season, the trees were draped with lights and decorative hangings and the entire park was lit up. We went on the train ride that rides around the periphery of the park giving us a 360 view. What a spectacular ride! We headed to the lake and sat there and enjoyed the ambience while the kids thoroughly enjoyed every moment exploring the park. It was truly a magical experience.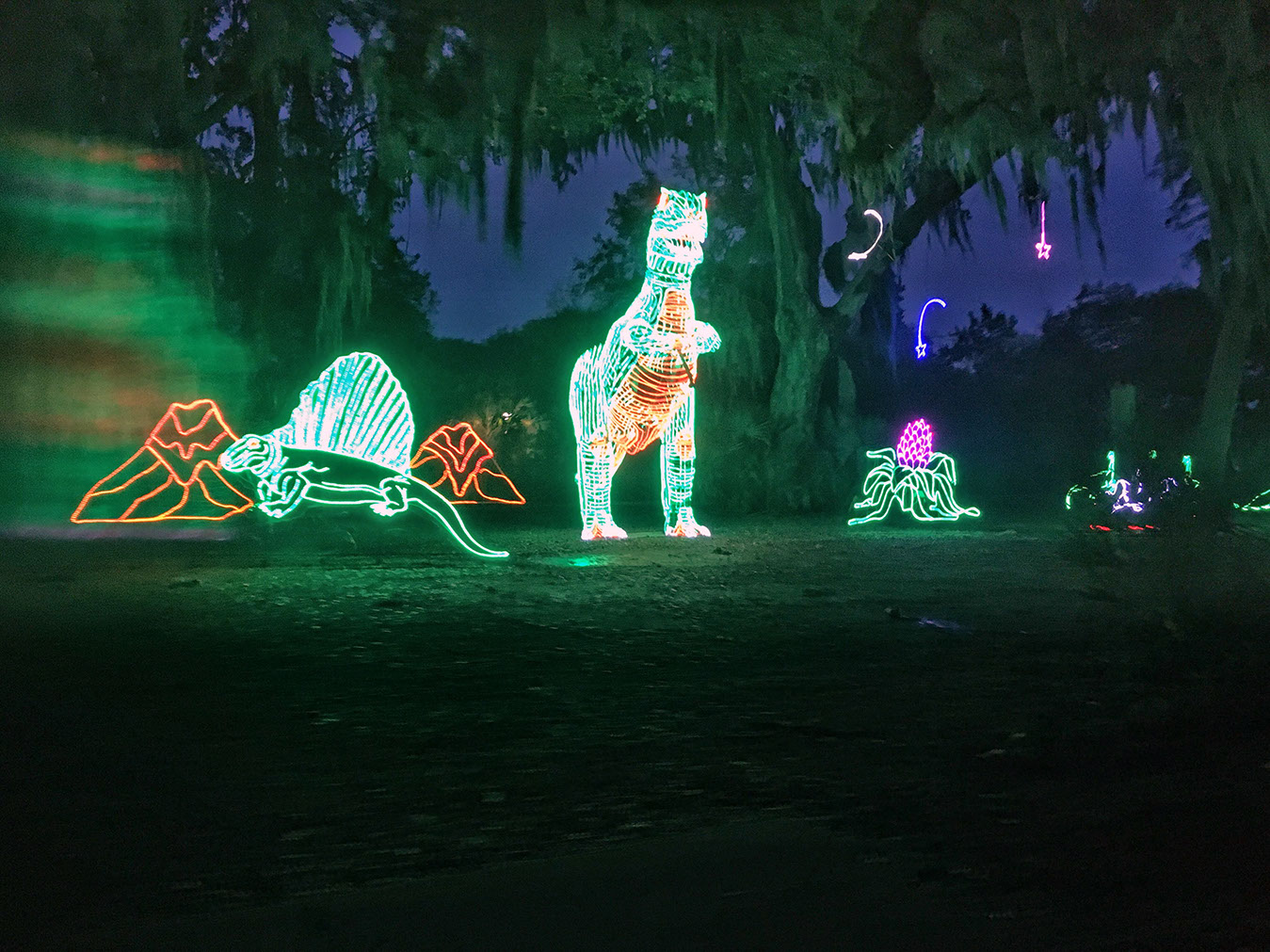 Delightful Christmas decorations in Audubon Park New Orleans
New Orleans Vodoo experience
New Orleans has a supernatural air to it and for those so inclined, the Voodoo/Ghost town is one of the haunted places in New Orleans. Engaging in this magical underbelly of the city is not for the fainthearted. From taking a ghost tour in New Orleans to shopping in the magic stores, staying in "The Haunted Hotel New Orleans" to visiting the Voodoo Museum, there are numerous things to indulge your curiosity. Another fascinating feature that is not that spooky is the beautifully constructed above ground cemetery of New Orleans. The city is known worldover for the unique way in which they bury their dead, in above ground cemeteries and mausoleums. There is a reason for above ground cemetery in New Orleans. The exceptionally high water table could result in flooding the burials in deep grave and also deteriorate the casket and remains.. We did a guided tour of the cemeteries which was a rather interesting experience as it is filled with history, culture and beautiful architecture. We visited ornate tombs, some dating all the way back to the late 1700s. For a moment, you forget the reason these structures are erected and enjoy the storytelling behind it. Of course, the temptation to prank the kids was irresistible and it was great fun. It lightened the air around a rather sombre environment.
Unique and impressive above ground cemeteries in New Orleans
The best way to get around New Orleans is on foot. The city is very compact making it perfect for strolling sightseers. If you don't feel like walking, hop on one of the famous streetcars, the local transportation. It is a fantastic way to experience the city. You don't need to worry about the hours for Streetcar in New Orleans, the service is 24-hours. Another great option is cycling. Owing to the compactness of the city, not much time is lost traveling to get from one place to the other.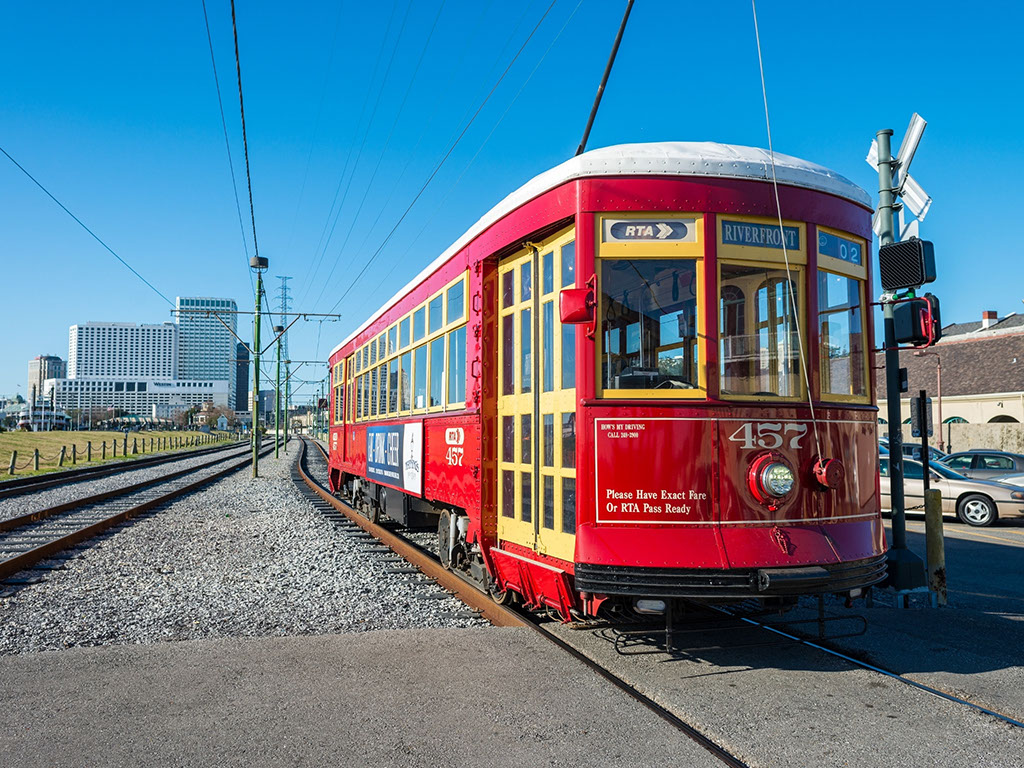 Streecars, an integral part of the city's public transportation
The Insectarium of New Orleans is one of the most fascinating places I have been to. Imagine the delight of the kids on entering this amazing world. Spread across 23,000 square feet, this extraordinary museum has on display over 50 live exhibits and is possibly the largest museum dedicated to insects. "A little creepy-crawly but more interesting and educational in a fun way". These were the kids' comments after leaving this unique and intriguing place.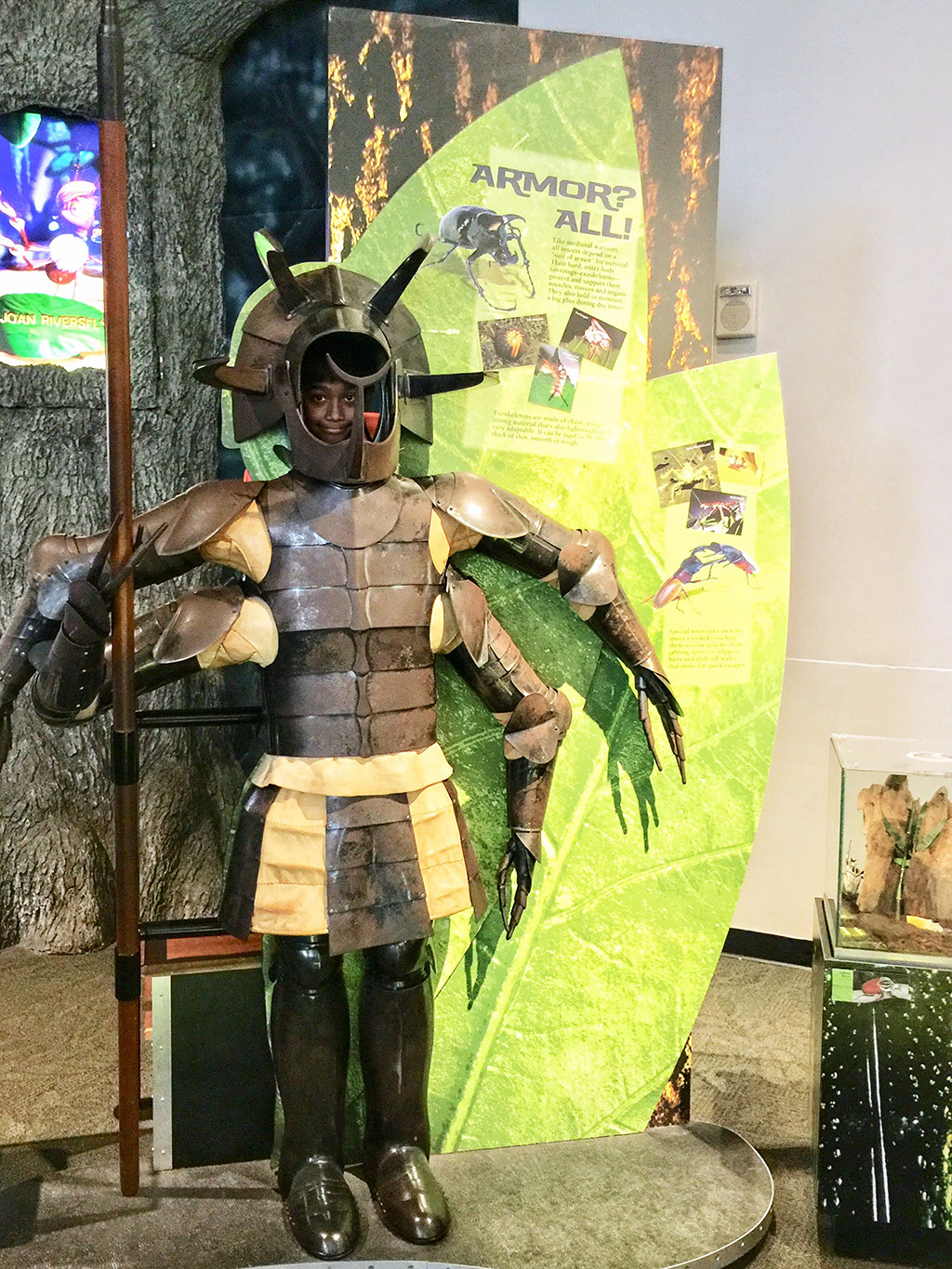 My son having fun posing as an insect armor

Bourbon Street - the party never ends
The kids had an eventful day and were exhausted. We decided to call it a day for them and returned to our hotel in New Orleans. The adults then headed out to the famous Bourbon Street of New Orleans. It is French Quarter's liveliest and wildest thoroughfare where a party is happening everywhere! A street brimming with life, you'll find everything from shopping to music to Cajun food to nightclubs. The neon lights and flashy decorations on the street created a vivacious ambience. It is one of the most famous streets in the world and a must place to visit in New Orleans. It offers something for every traveler. The world famous Mardi Gras carnival of New Orleans is hosted on this street. Another interesting activity is the famed sidewalk strolling libation known as the "go cup" which was invented on Bourbon Street. The best bars & restaurants on Bourbon Street have popular bands playing and street musicians show off their skills with unique musicals. There are humorous live shows hosted all over, and don't be surprised if you happen to be the target of some "hilarious and embarrassing" jokes. Every little thing adds to the vibe of this street. Walking along the Bourbon Street in New Orleans absorbing the sights and sounds is amazing and a truly unique experience.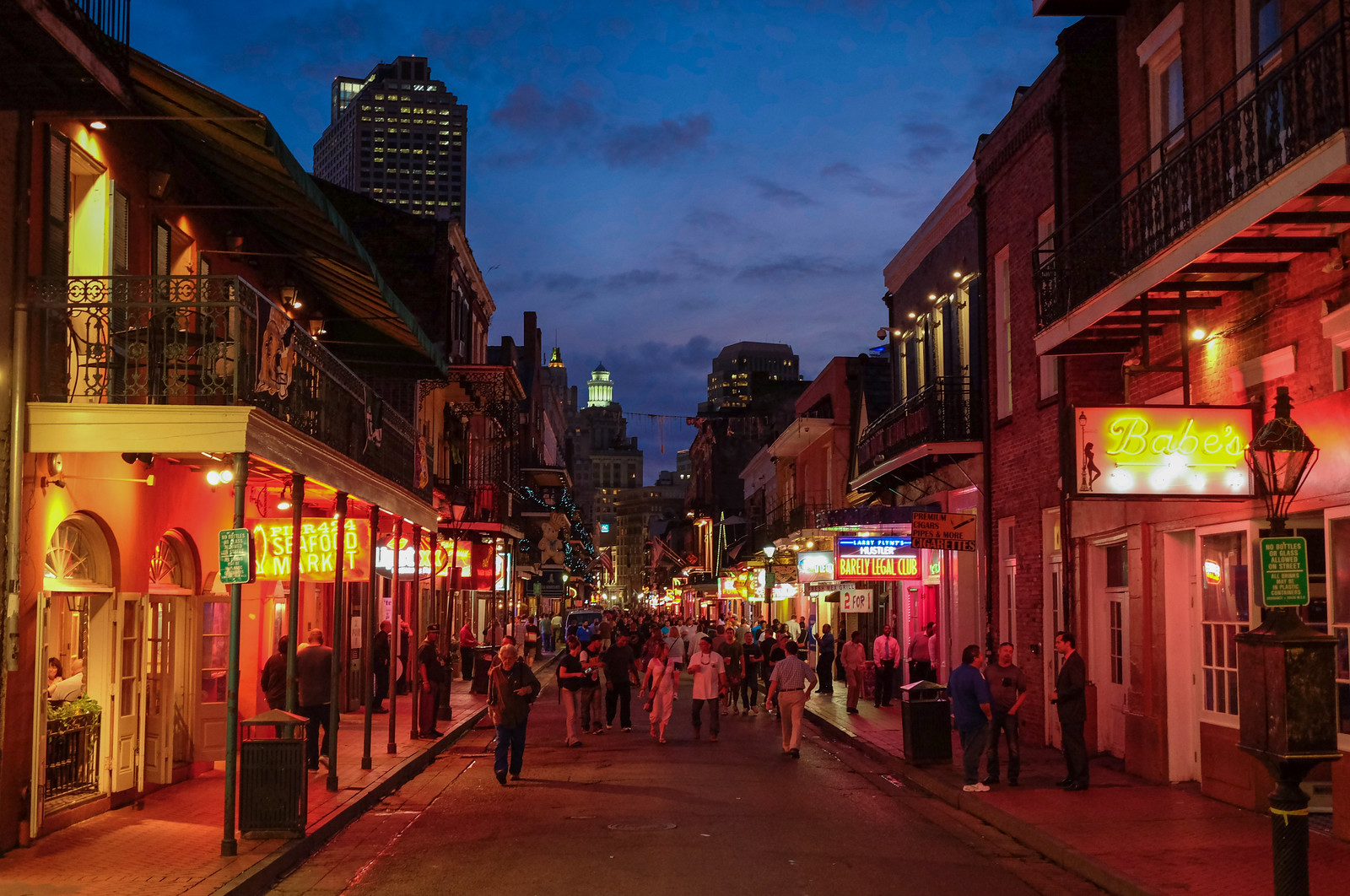 Bourbon Street in New Orleans where the party never ends
Refreshed and rested, the kids were rearing to go the next day. The adults, slightly groggy from the late night, took a while to surface. Eventually, after the American breakfast, we headed to the Warehouse/Arts District. With museums to art galleries galore, this is a culture-seeker's playground and a poular New Orleans tourist attraction. This area has seen an incredible revitalization over the last few years. Old, empty warehouses have been refurbished into shops, art galleries, new apartments, and trendy restaurants. We visited the Pharmacy Museum which was really interesting. This 2-storied building showcases an extensive collection of medical contraptions, equipment and medicines. Wandering around this museum gives you a sense of the kind of medical intervention that existed in the 19th century. It was rather spooky to see some of the displays like New Orleans voodoo potions.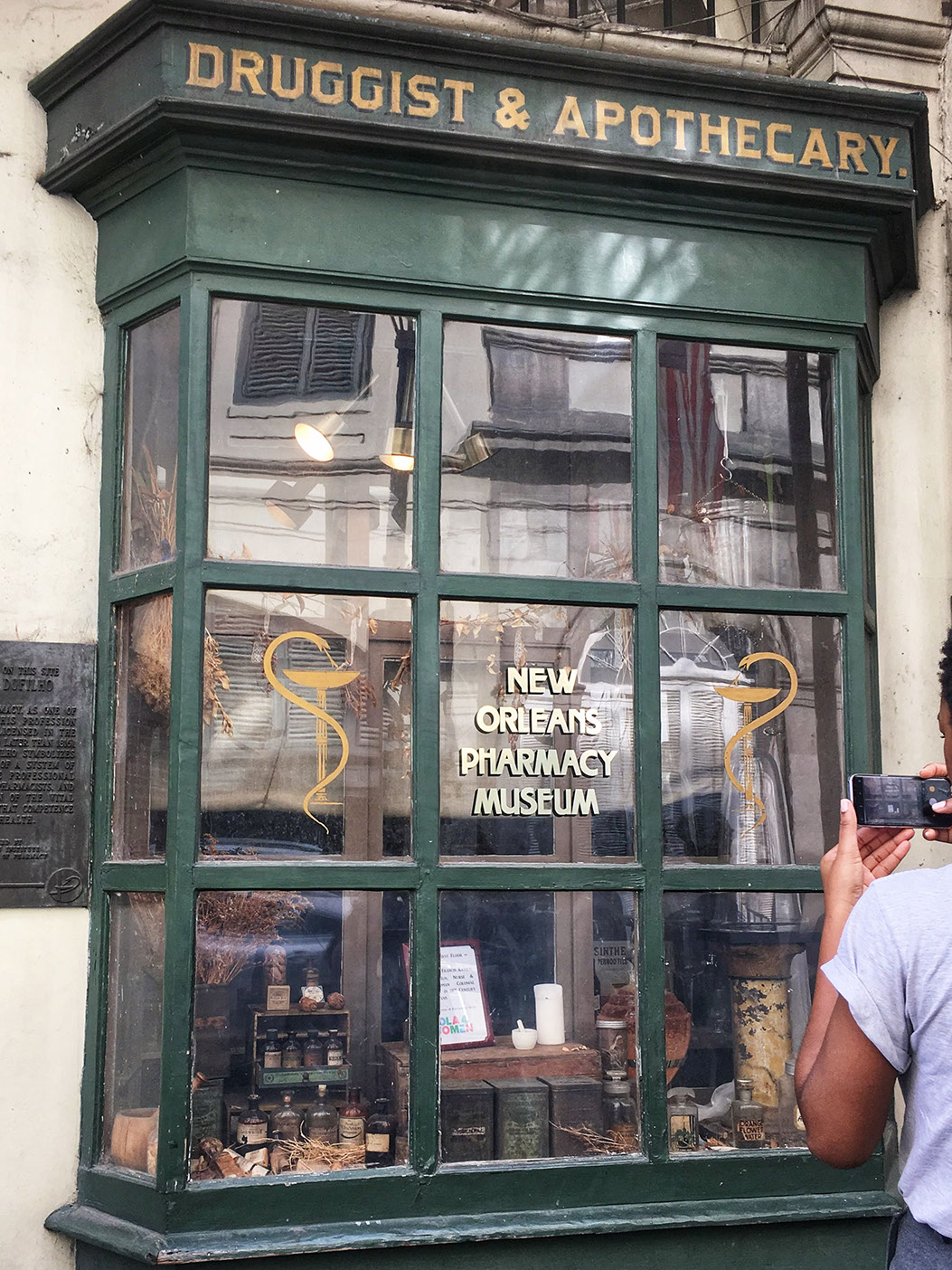 Medieval medicines exhibited in the Pharmacy Museum
Ok, so much for spooky experiences. Getting back into the true spirit, we headed to the Frenchmen Street of New Orleans. It got its name from six French men who were executed after leading an uprising after Louisiana was ceded to Spain. Crowded, bustling and vibrant, it is often described as the family-friendly version of Bourbon Street. It is also home to iconic music establishments like The Spotted Cat, Snug Harbor, and Maison. An evening art market is hosted on this street featuring original art, jewelry, and crafts by both local and regional artists. Its venues offer an array of live performances ranging from traditional jazz to blues to reggae and rock attracting audiences from all over the world. We spent a relaxing evening here before retiring for a well deserved rest. We drove back refreshed and looking forward to lots of family time and celebrations back home in Houston. Afterall, it was still the holiday season!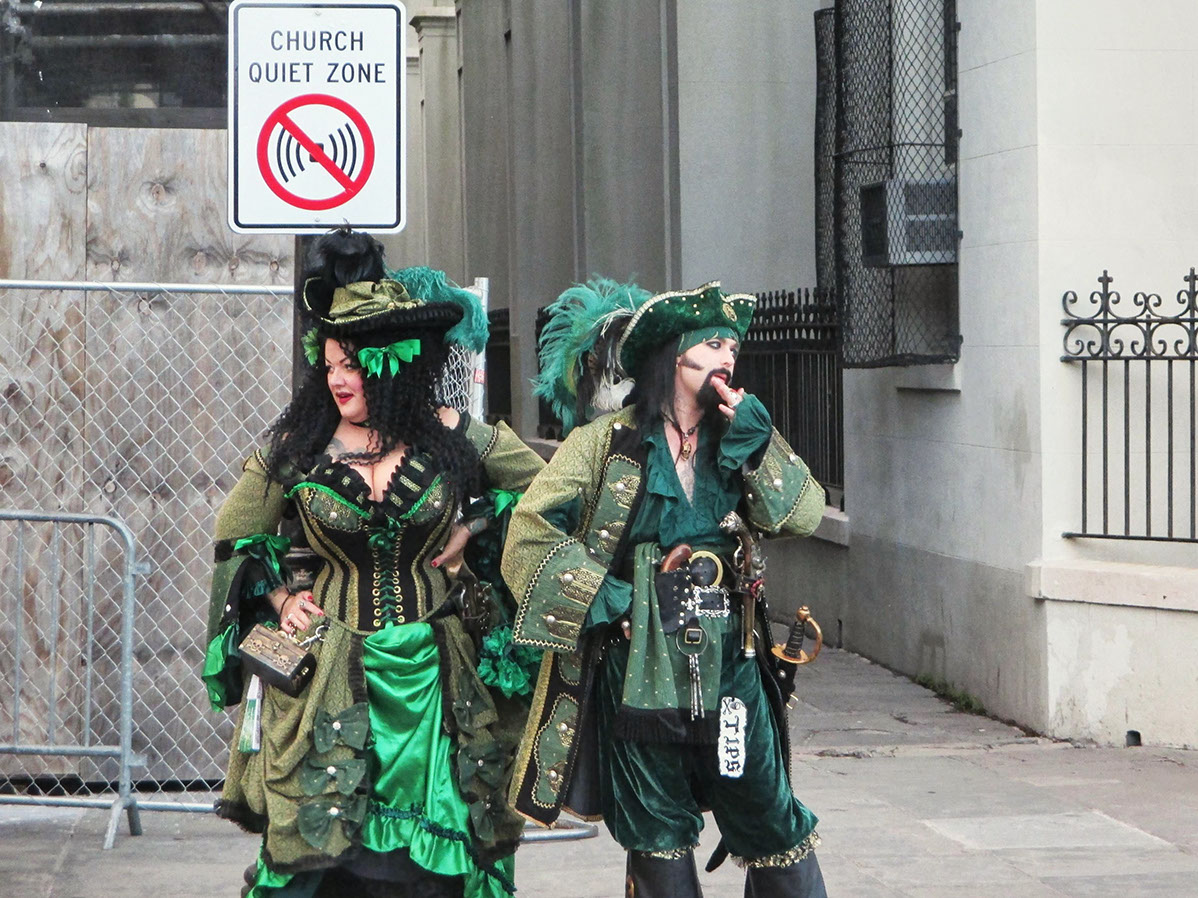 Street performers in medieval attire at New Orleans French Quarter
All in all, this city has so much to offer travelers. Beautiful architecture, great food, history, culture, and even a scary story or two. While New Orleans has put itself on the world map because of the famous Mardi Gras Carnival, its rich musical history, exquisite architecture and friendly people make it an emerging destination. The Big Easy, the birthplace of jazz, N'Awlins, NOLA...New Orleans has many names but one thing is for sure, this multifaceted city is more than just partying. This 300-year-old city leaves an impression on everyone who sets foot here.
Interesting Trivia about New Orleans
(1) New Orleans: The Crescent City
(2) A History of New Orleans: from French Colony to Mardi Gras Capital
(3) Experience the Best of New Orleans Culture
(4) The Interesting Facts About New Orleans that You Never Knew

Frequently Asked Questions:
When is Mardi Gras in New Orleans?
Mardi Gras Carnival in New Orleans is celebrated between Feburary and May each year. There is one major parade each day with last 5 days witness the largest and most elaborated parades.

Where to stay in New Orleans?
The best places to stay in New Orleans are located in the French Quarter. There are plenty of Airbnbs and hotels near Jackson Square in New Orleans. There is a Haunted Hotel in New Orleans if you look for a spooky experience.