One would feel a trip to Sri Lanka would be a breeze, but it is not that straightforward. Travel within the small country is time consuming owing to the narrow roads and minimal road safety. Keeping this in mind, travel schedules should be efficiently and thoughtfully planned. Sri Lanka is quite seasonal so it depends which cities in Sri Lanka you plan to visit and at what time. Most tourists spend a lot of time in the capital city of Colombo and miss out on hidden gems and interesting tourist destinations in Sri Lanka. I planned an itinerary that had a good mix of well-known places as well as hidden gems. Our flight to Colombo airport (located in the adjacent town of Negombo) was late in the evening. Our local guide Andrew drove us straight to Hotel Suriya Arana for a night stay in Negombo as we planned to head to Kandy district the next morning and the highway connection was more convenient from there. It was a nice boutique hotel with excellent room decor and a swimming pool.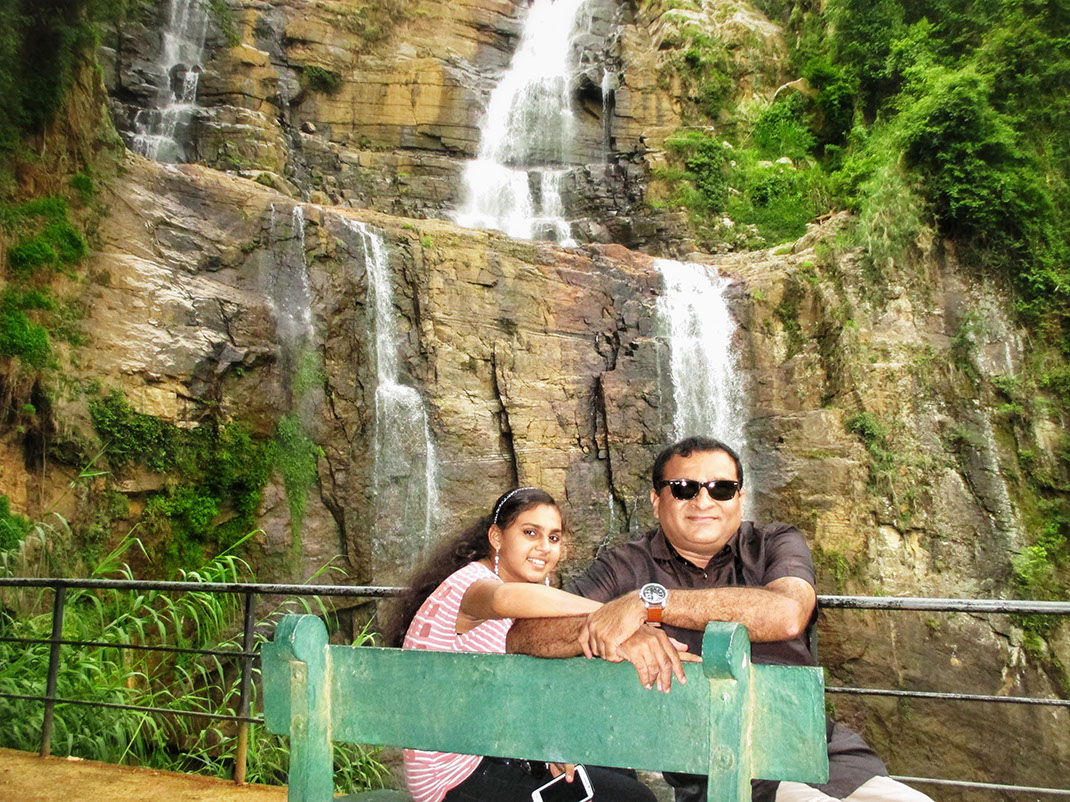 Happy and excited father-daughter duo exploring the beautiful island of Sri Lanka
Pinnawala Elephant Orphanage
We started out early the next morning from Colombo to Pinnawala Elephant Orphanage to beat the traffic. It took us a little over 2 hours. The location of Pinnawala Elephant Orphanage is on the east side of Rambukkana Road. It is possible to take a day tour to Pinnawala from Kandy, if you have not rented a car in Sri Lanka.
Many tourists refer to this place as Pinnawala Zoo, but it is not. It is an orphanage and captive breeding ground for wild elephants that are orphaned or unweaned. This is one of Sri Lanka's popular destinations for tourists of all ages. On campus, there is a gallery where there are exhibits of elephant skeletons. We spent some time there while the rangers explained the structure of elephants and the impact on their backbone and spinal system when they are abused for commercial purposes. We were enlightened with interesting knowledge about Asian wild elephants but also saddened by the abuse inflicted on them.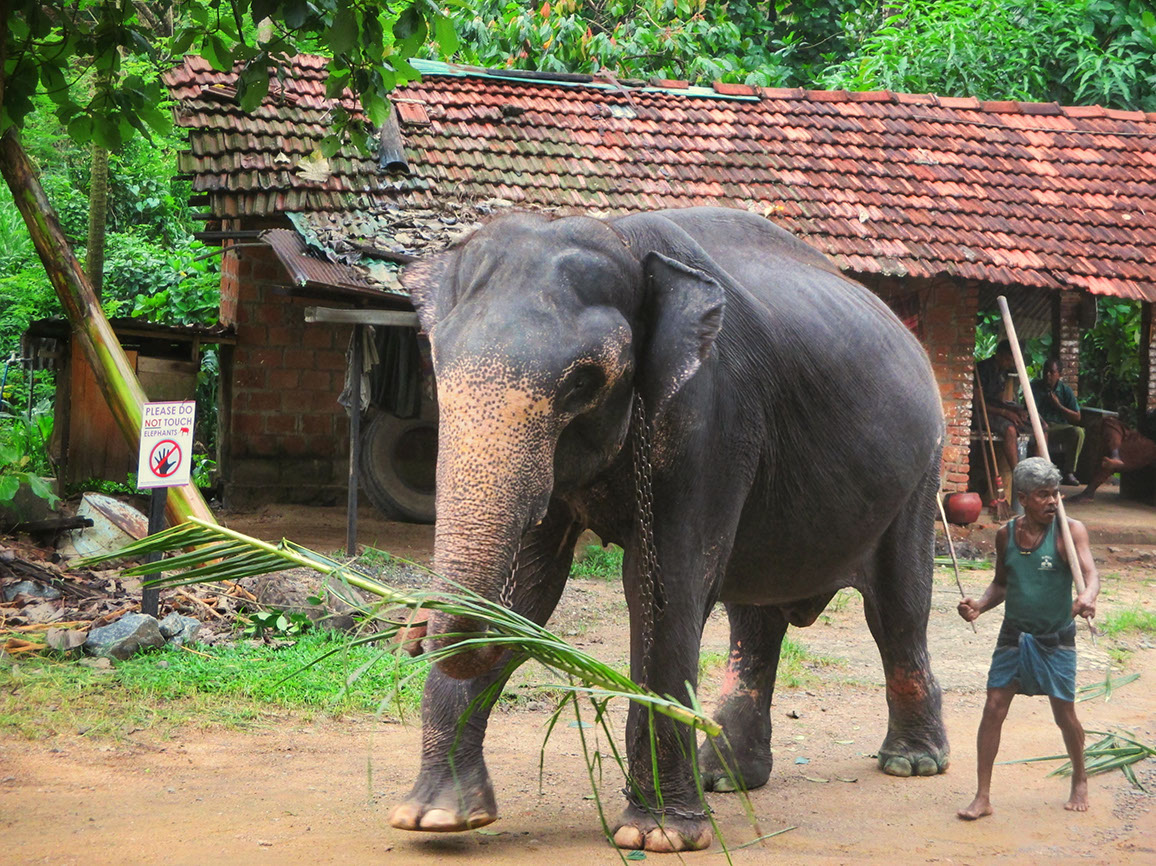 Bonded for a lifetime - the elephant and its Mahout in Pinnawala Orphanage
After a rather informative session at the gallery, we were taken on a small jaunt on the elephant with the Mahout (handler) navigating our journey. We then had a fun photo-shoot with these gentle giants capturing some memorable moments with them. The campus has a large pond where elephants are bathed and we got a chance to pour water on an elephant that was being bathed by its Mahout. We also got to witness mother-baby bonding which was an adorable sight, something my daughter was fascinated with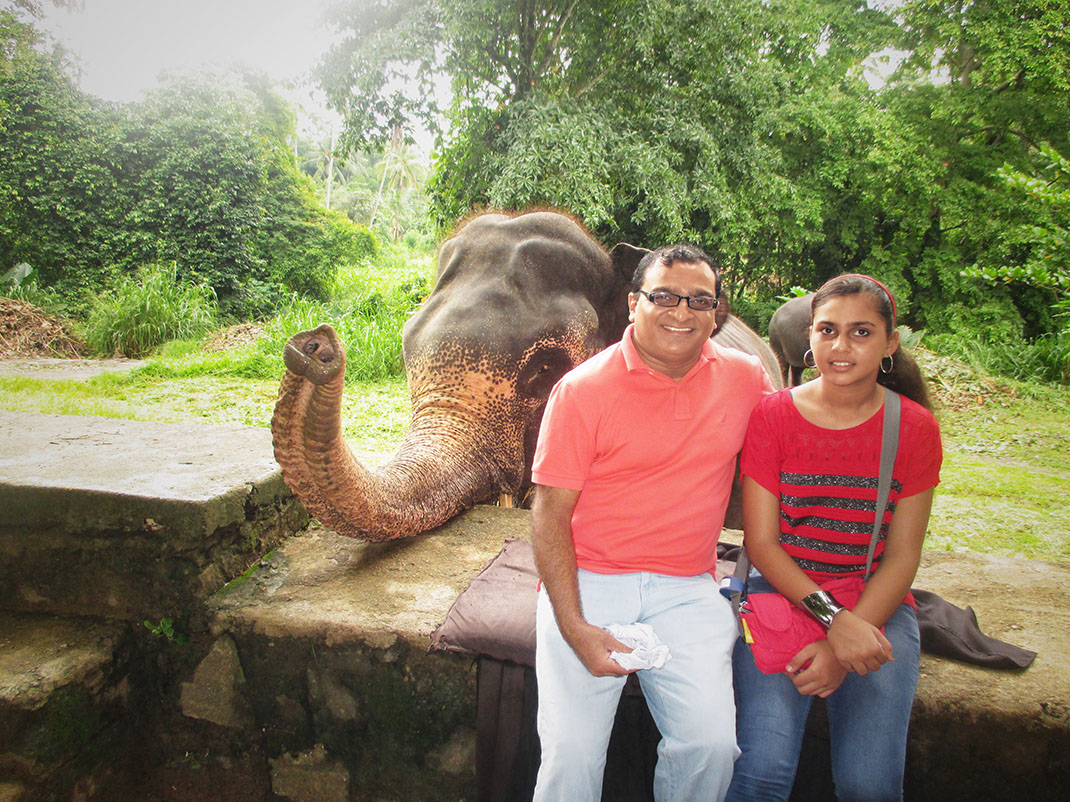 A delightful capture with this adorable gentle giant in Pinnawala Orphanage
A rather captivating affair happens every day which we definitely did not want to miss. It was a chance to watch the spectacle of oodles of elephants being taken to the Ma Oya River for a bath. This happens in two batches, one at 10 am and the other at 2 pm. The sight of these gentle giants walking through the marketplace across the highway to the river is a once-in-a-lifetime experience. Once in the river, it is a fun time for these majestic pachyderms. It is an hour-long activity during which we got to take pictures of and with these amazing creatures. With playtime over, the herd is navigated back to the sanctuary by the Mahouts. Reluctantly, the jumbos as well as we journeyed back to the orphanage.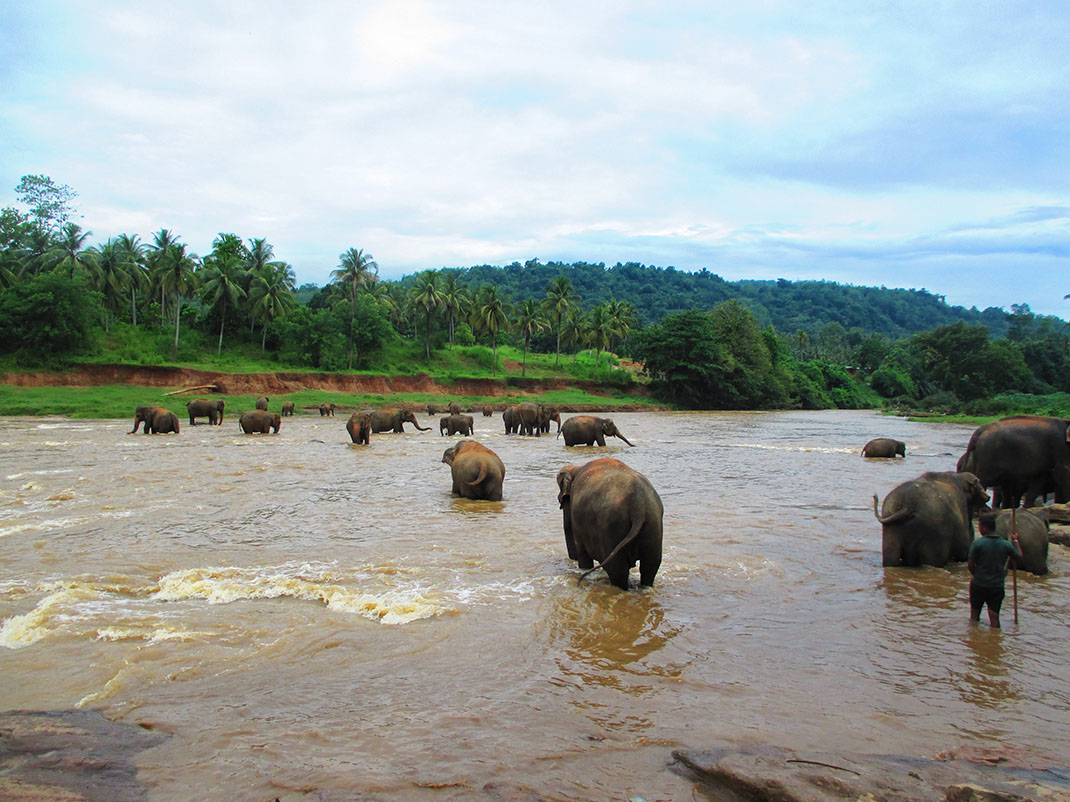 Elephants having a fun time during their daily shower at Ma Oya River
The happy campers were in a fun mood creating mischief along the way. From plucking banana branches off roadside shops to the little ones playing along the way, it is the most heart-warming sight! Shopkeepers, tourists and bystanders equally enjoyed this parade as much as we did. Occasionally, newly-wed couples come here in their beautiful wedding costumes and offer prayer and food to the elephants as part of the local customs. All in all, it was time well spent and a memorable experience that my daughter fondly remembers. This must be one of the places to visit in Sri Lanka in your itinerary. While planning though, ensure you check the change in schedule if any. Do watch the Pinnawala Elephant Orphanage video below to experience this moment.
Elephants returning to the Orphanage after their shower, a delightful sight as they go through the narrow streets partitioning a jam-packed market
Kandy - the Temple of Tooth
Kandy, the second largest and a very old city was established in the 14th century. It is elevated at 1,500 feet above sea level and surrounded by mountain ranges. It is a major transportation hub due to its geographic location and can be reached by all motorways from every direction. It is also one of the most beautiful cities to visit in Sri Lanka and we were excited to explore this exotic city. The preferred mode of transport from Colombo to Kandy is the train. The 4-hour train ride to Kandy is a feast for the eyes; from lush green tea gardens and paddy fields to colorful houses built on layered hilltops enveloped by forests. For those who cannot physically travel to the train station, you can purchase a train ticket online and it will be delivered to your hotel. All the greenery and hilltop houses make Kandy mesmerizing and magical, especially when it rains. Kandy is the cultural capital of Sri Lanka and this is more than evident in the archaeological and architectural wonders across the landscape.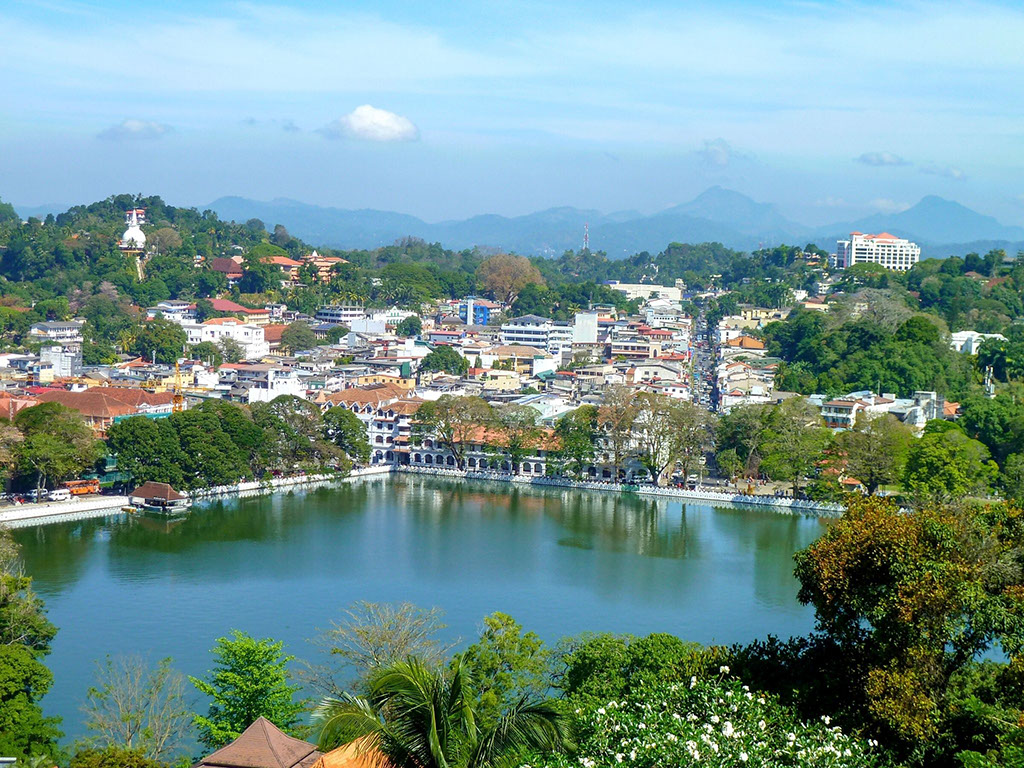 A panoramic view of Kandy capturing its incredible landscape
We stayed at The Richmond House Kandy, located on the highest altitude of Kandy. This hotel not only offered a spectacular view of Kandy but was also wrapped up in the clouds most of the time. The entry to our hotel was so narrow and steep that we could not take our car up to the rooms. We were provided a 3-wheeler Tuk-tuk to carry our luggage while we climbed the hill on foot. Our accommodation was a magnanimous suite with an equally large balcony! While my daughter was super excited, I was stunned by the ambience and view in front of us. This was truly a piece of heaven before us. The decor and hospitality of the hotel made our stay here exceptional and memorable. One vivid memory that we cherish is that of the beautiful mornings spent on the balcony with clouds sweeping into our room. Truly magical!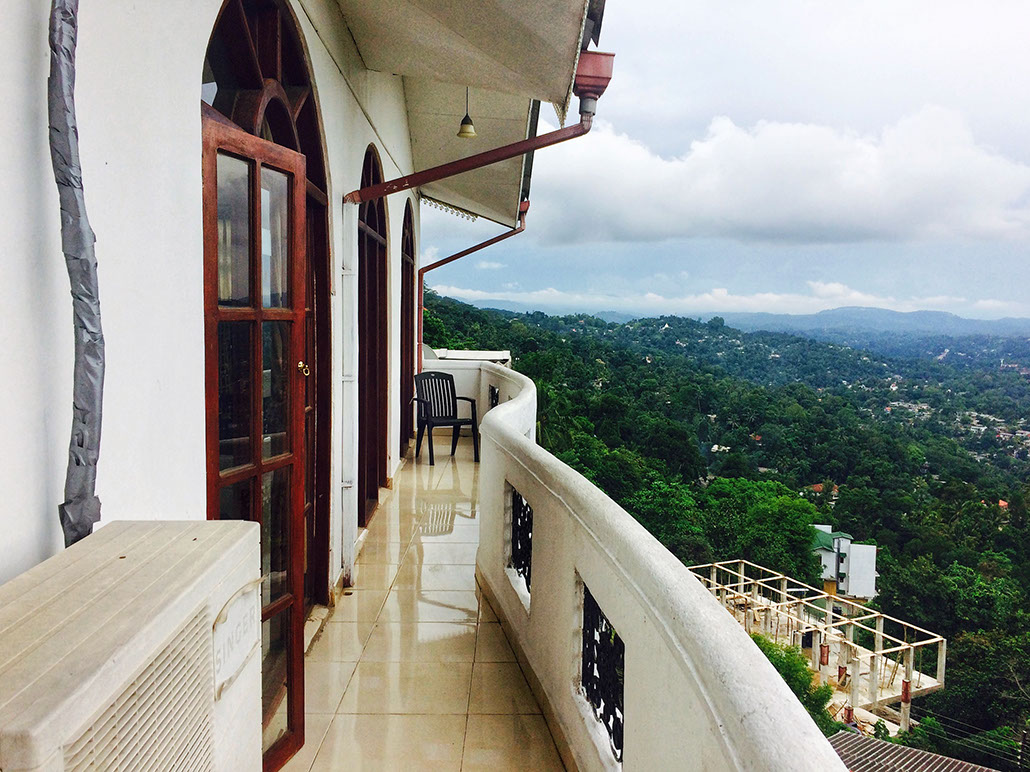 The long balcony of the suite at Hotel The Richmond House in Kandy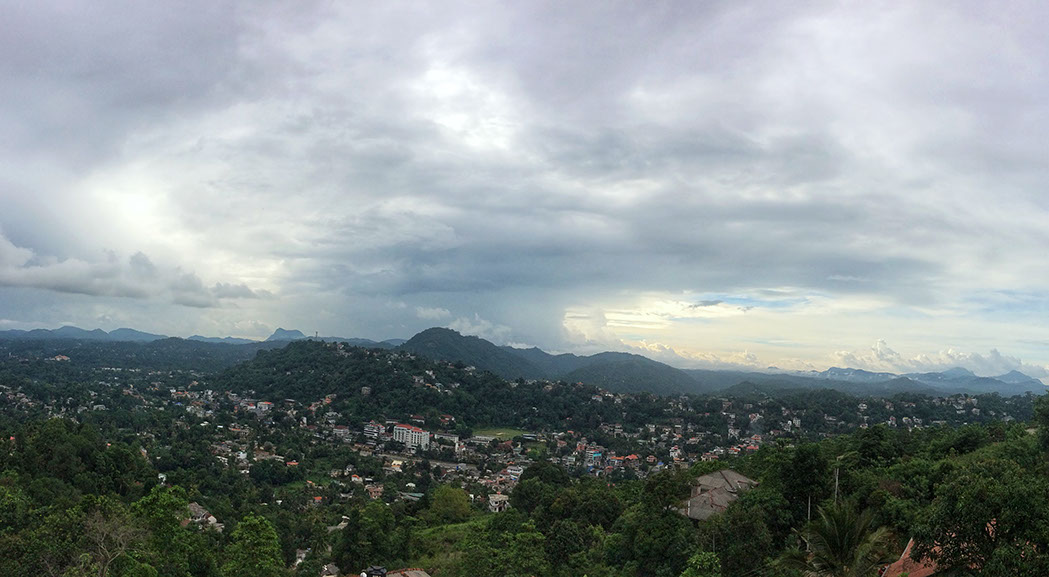 Panoramic view of Kandy from the balcony of hotel room

The Temple of the Sacred Tooth Relic
Heritage and archaeology being spectacular in Kandy, our first stop was at Sri Dalada Maligawa, famously known as "Temple of the Sacred Tooth Relic". A guided tour of the sacred temple of tooth relic is one of the things to do in Kandy. A UNESCO World Heritage Site, it is a Buddhist temple located in the royal palace complex that houses the tooth of Buddha. Our guide narrated the history of the temple and we were captivated by both the narration and the visuals before us. It is believed that after the parinirvana of Gautama Buddha, the tooth relic was preserved in Kalinga and smuggled to the island by Princess Hemamali. The temple witnessed two terrorist attacks, first in 1989 and then in 1998. The main entrance of the temple was completely destroyed from bombings and it was restored successfully each time. We were amazed by the eventful history of the temple. We visited the aesthetic museum on the top floor which explains the ancient culture of Sri Lanka.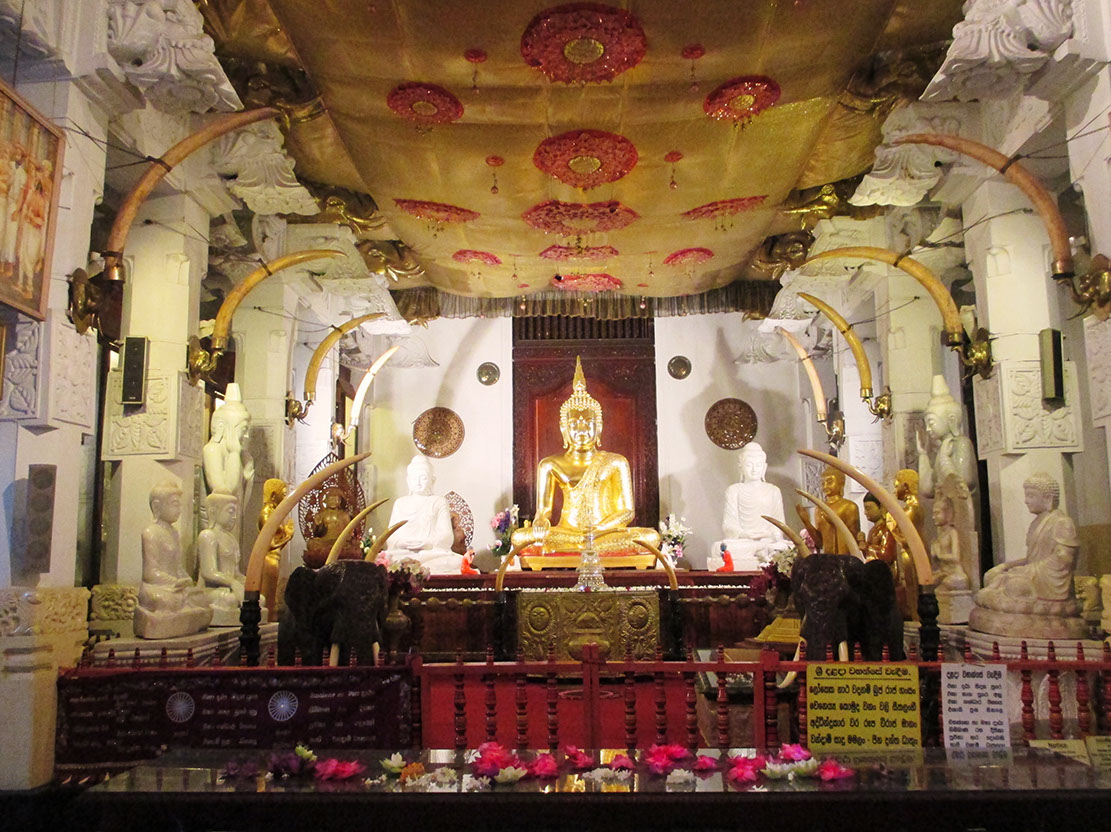 Statue of golden Buddha inside the Temple of Tooth - one of the most popular tourist destinations in Sri Lanka
Adding to the beauty of the temple is its gorgeous surroundings and of course the Kandy Lake. Also known as Kiri Muhuda, is a manmade lake in front of the temple created in 1807 by Sri Wickrama Rajasinha, the last ruler of the kingdom of Kandy. This beautiful lake has many legends and folklore attached to it. The one that fascinated us the most is that the island in the center of the lake was used by the king for recreation and is connected to the palace through a secret tunnel. Intriguing, right? We took a stroll along the lake surrounding the temple. We sighted exotic birds, varieties of ducks, and plenty of fish in the lake. Fishing though is banned because it is a holy lake and protected as well. One can also indulge in boat rides. We chatted with the boatmen who were enthusiastic and happy to explain the history of the place. Well maintained pathways with beautifully manicured gardens make for perfect photo ops and of course we indulged.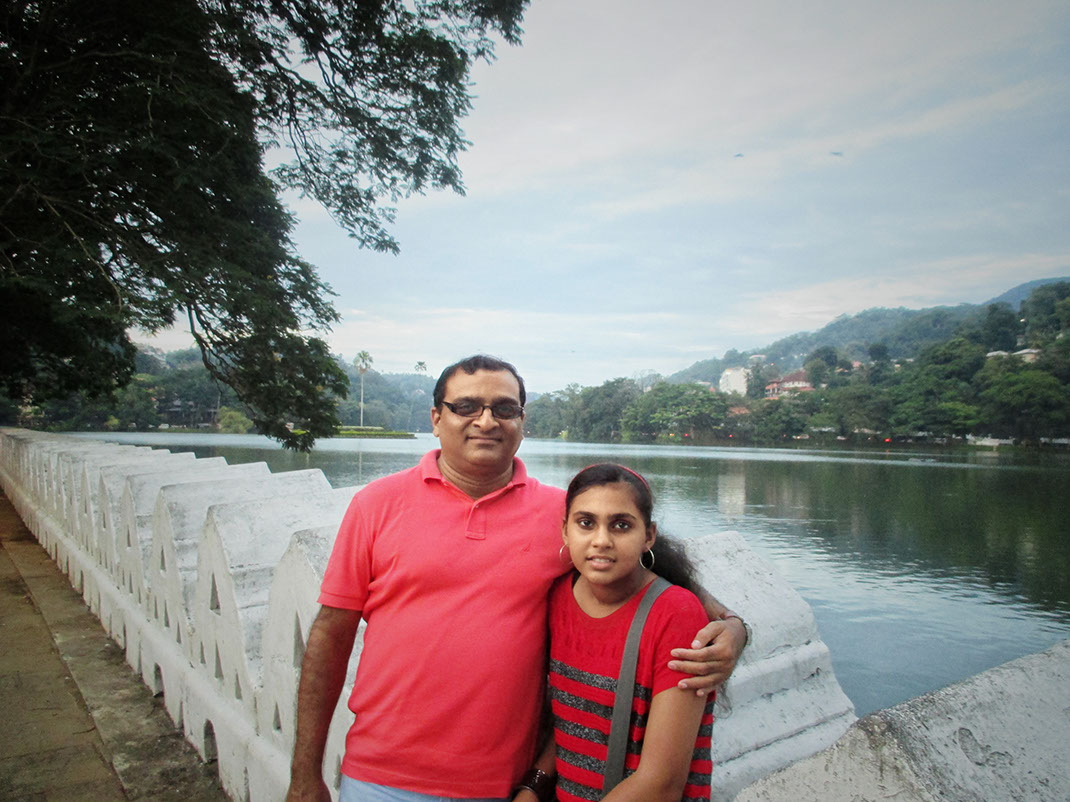 The pathway around Kandy Lake makes for a perfect spot for stunning photo ops
The best thing about Kandy is that you don't have to rent a car or take a taxi to move around. You can take guided tours and day trips from Kandy and see all the interesting places without spending a lot of money. Kandy is a laid back city with minimal nightlife. However, restaurants in Kandy take you on a culinary rollercoaster and offer an unbeatable experience. Only, be there early because this city shuts down by 8 pm. After an indulgent meal, we enjoyed a walk in the downtown area which is nicely paved for the walkers and adequately lit. The outskirts of the city were deserted after about 8 pm but we did get a Tuk-tuk to return to our hotel.
Nuwara Eliya
A 3-hour drive from Kandy to Nuwara Eliya treats you to a breathtaking view of panoramic Sri Lanka. There are many interesting places to visit in Nuwara Eliya but the drive itself is exhilarating. There are several places to stop over en route to soak in the natural beauty. And just in case it rains, the entire character of the landscape will change to make it even more stunning!
Picturesque drive from Kandy to Nuwara Eliya that goes through slanted nurseries of tea gardens on either side of the highway
There are abundant viewpoints to stop by on the way. We stopped at Kandy View Point to enjoy the gorgeous view. We were lucky as it was a clear day and we got a spectacular view of the city and the beautiful lake. En route, there is also the Shri Bhakt Hanuman Temple by Chinmaya Mission. We stopped there and spent some time at the temple. Located atop the hills, the view from the temple was amazing. The temple offers a simple tasty Indian meal which we enjoyed. From there we drove for a while and reached another view point, like a sky deck from where we sighted the Ramboda Falls at a distance. The deck had a quaint coffee shop where we enjoyed a warm cuppa while absorbing the breathtaking view of the surroundings.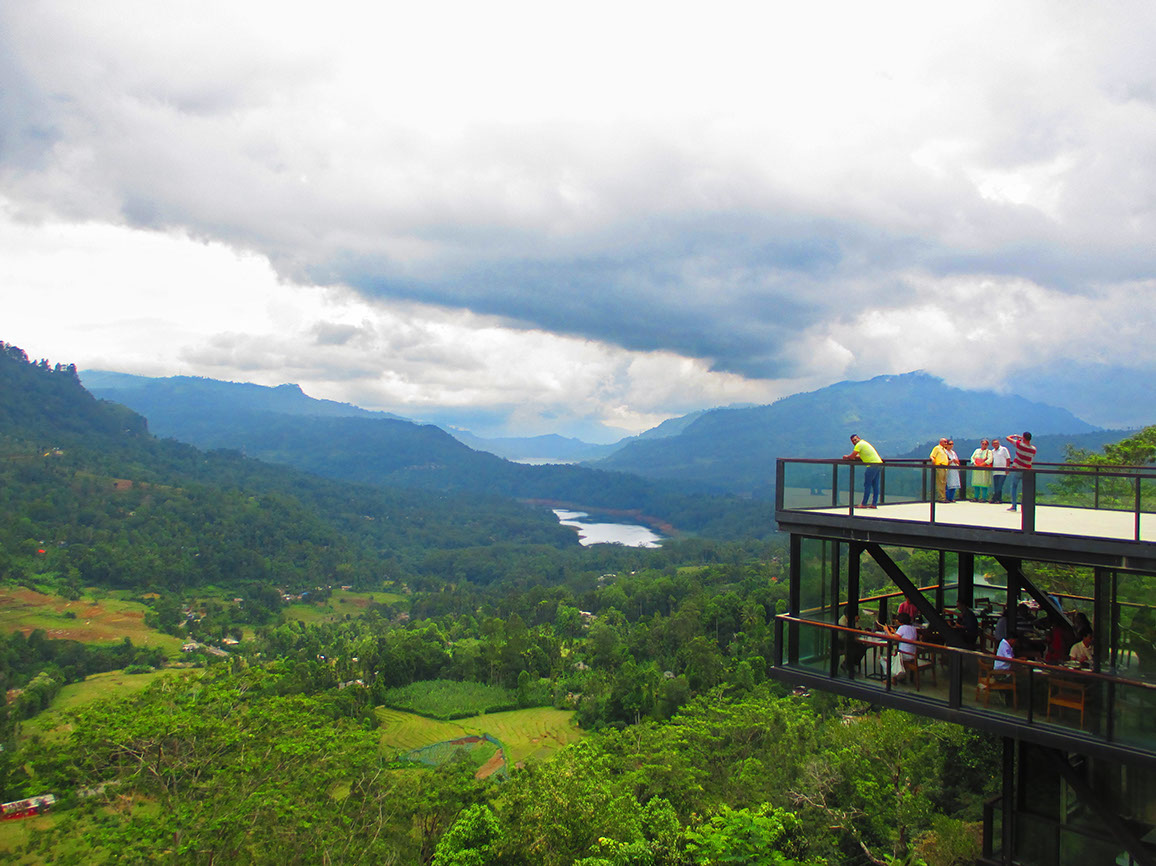 Get yourself drenched in the enchanted landscape from the Sky Deck while en route to Nuwara Eliya from Kandy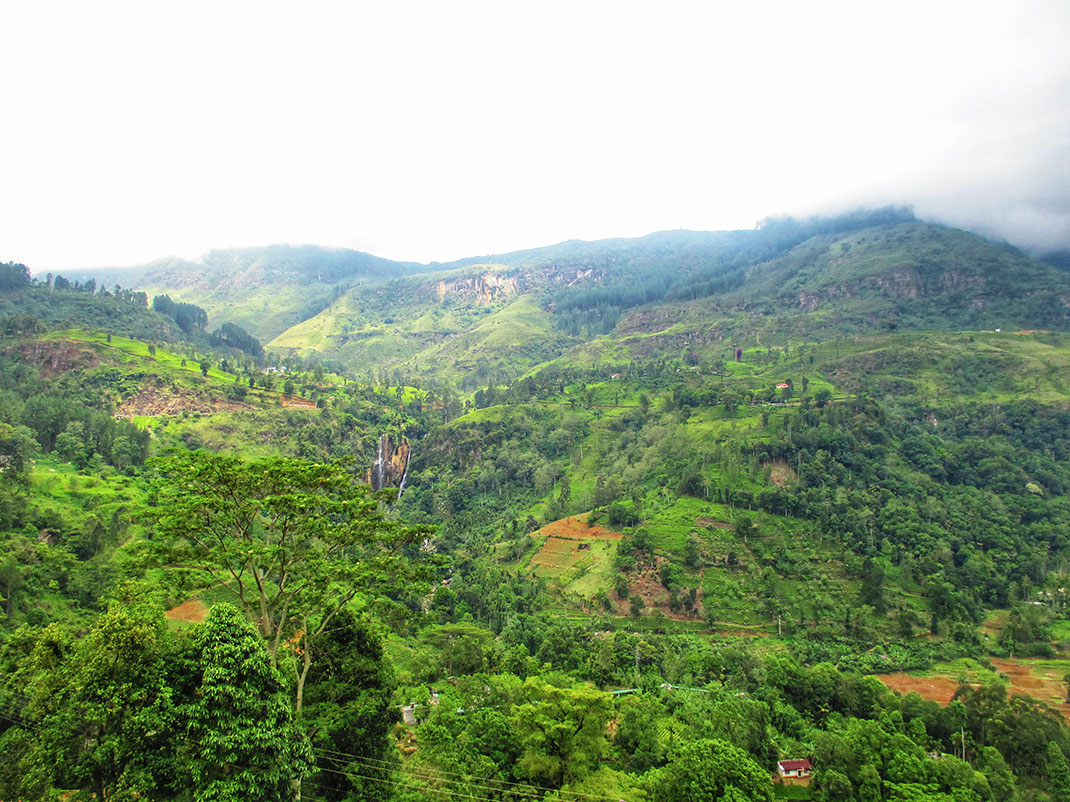 An alluring view of the Ramboda Falls in the distance surrounded by lush greenery while driving to Nuwara Eliya
The sight of the Ramboda Falls from one of the viewpoints fuelled our excitement. We soon reached the Ramboda Falls Hotel through which the Ramboda Falls can be accessed. There is a small fee charged by the hotel for availing their elevator and using the trail. We walked down the trail and reached a beautiful deck with benches. This was the perfect spot to enjoy the falls. The falls flow majestically through the Ramboda Valley offering a spectacular visual. My daughter and I enjoyed spending time here amidst the pristine surroundings.
My daughter and I had a fantastic experience at the majestic Ramboda Falls
Nuwara Eliya, a city in the hill country of Central Province at an altitude of 6,000 feet; is also known as "Little England". As we drove into the city, the colonial architecture and century old heritage buildings gave a feeling of a British village in the countryside. It will be fun to take a Tuk-tuk day tour of Nuwara Eliya if you don't have a vehicle. Our first stop in this gorgeous city was at Lake Gregory. Constructed in 1873, this was a wetland that was converted originally for providing electricity. The lake is now used for recreational purposes. The pleasant weather was perfect for us to stroll around the lake and take some pictures. Visitors can indulge in various recreational activities like boating, horse riding and cycling.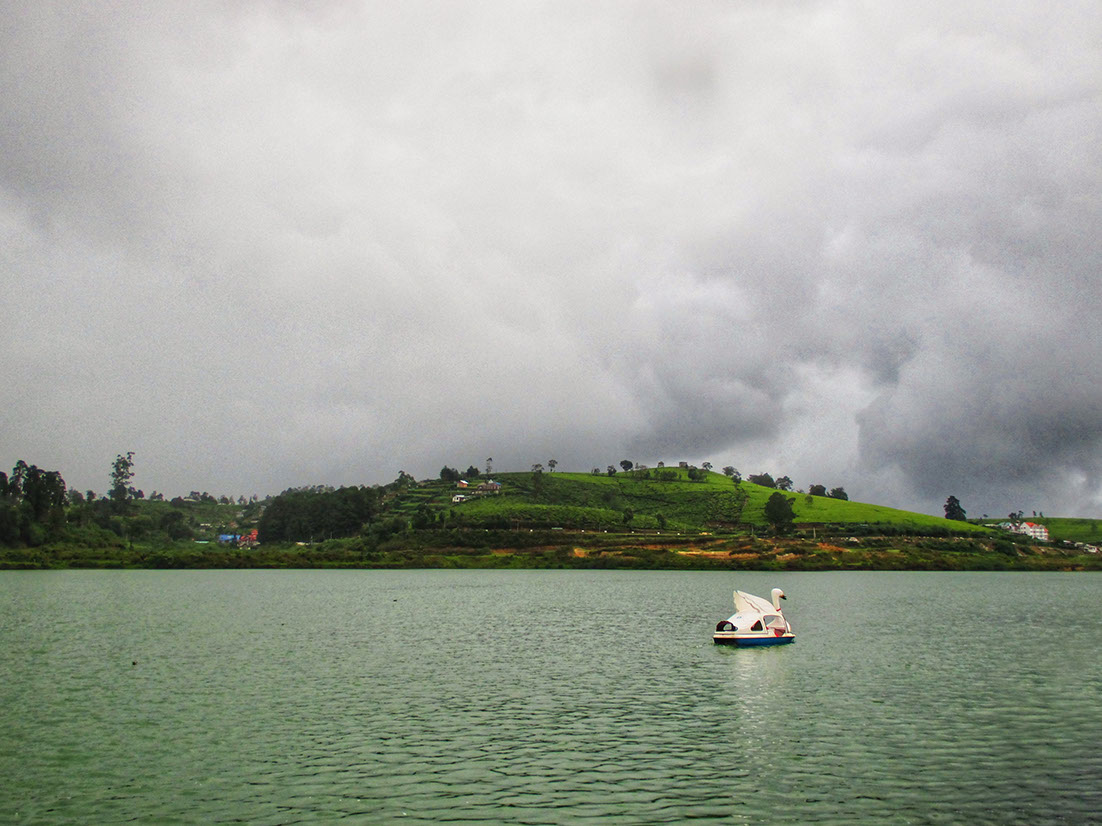 Lake Gregory in Nuwara Eliya is a beautiful place to enjoy nature's splendor and indulge in some fun activities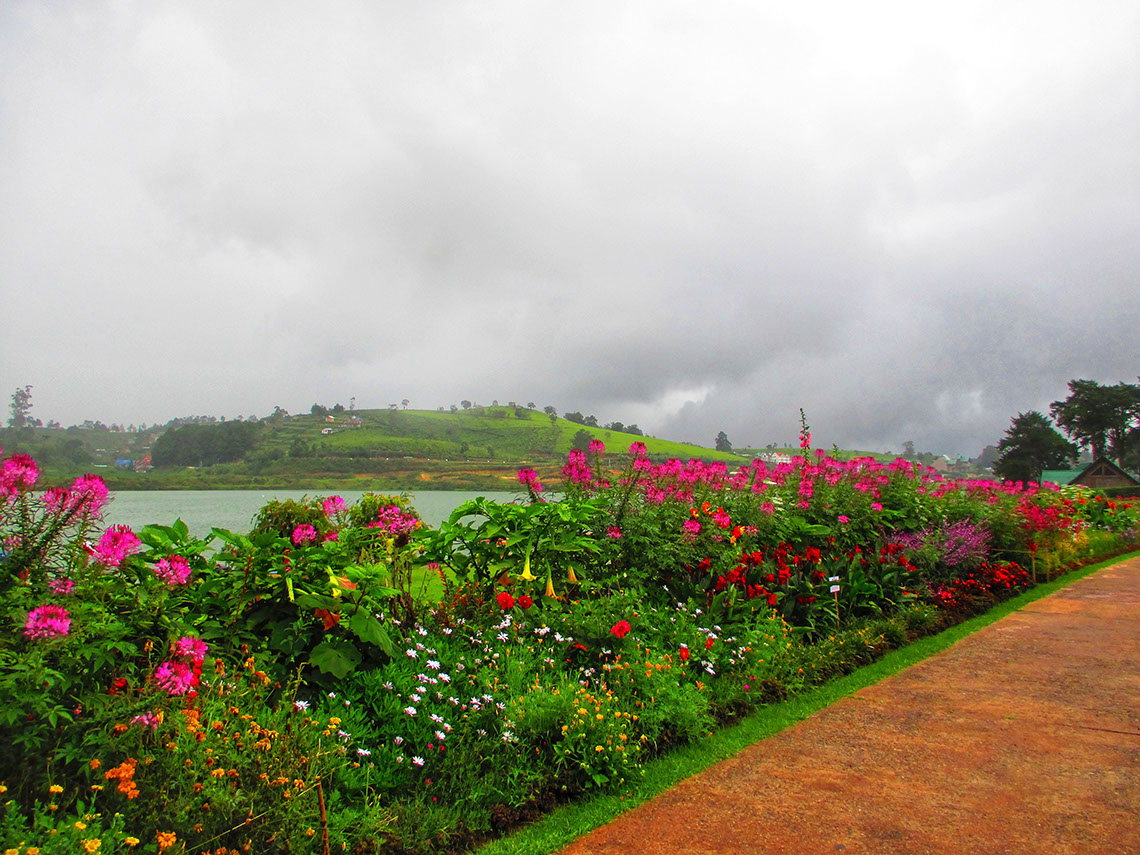 The well manicured pathway around Lake Gregory with colorful flower beds make for a pretty picture
While wandering around, we stumbled upon Lake Inn Floating Restaurant. It was a quaint floating restaurant that offered visitors a unique dining experience. The wooden interiors with simple dcor were inviting and we decided to indulge. The staff were warm and hospitable and the food was delicious. The view of the lake with ducks swimming around surrounded by lush greenery was magical. We lost track of time because of the beautiful ambience, good food and warm hospitality. A truly memorable experience!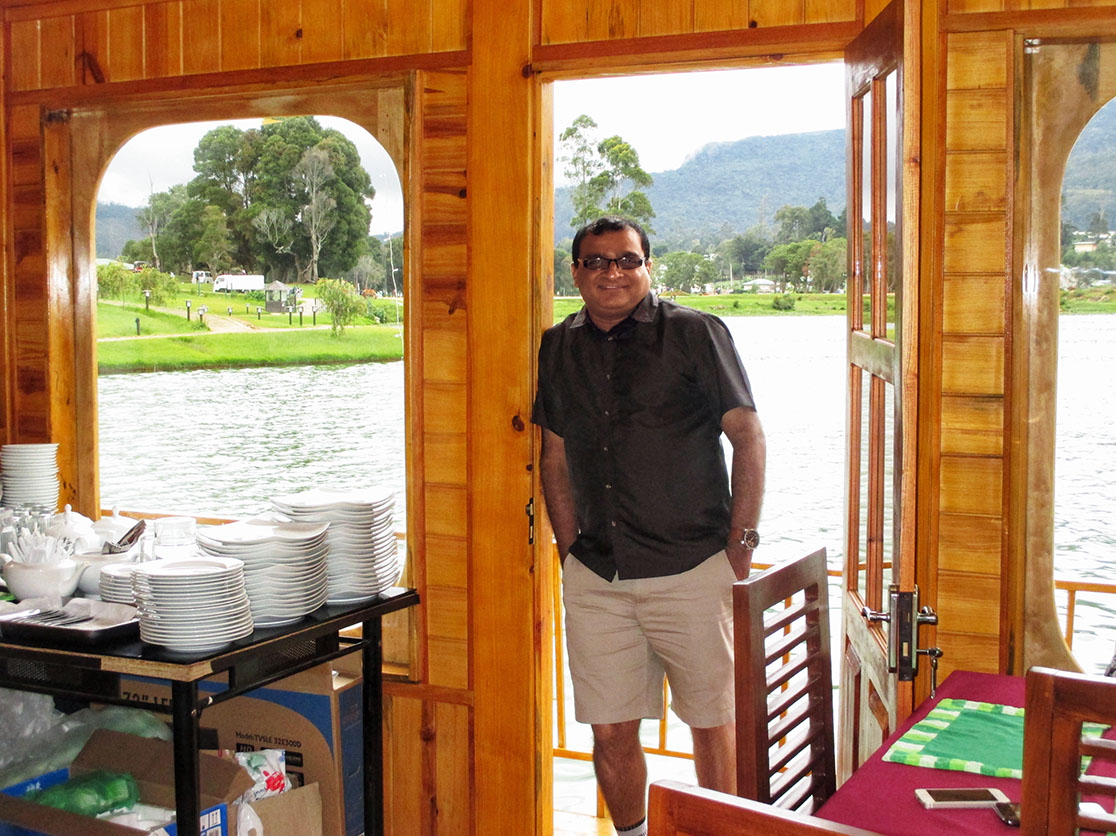 A meal with a view - This is the Lake Inn Floating Restaurant at Lake Gregory
A walk in this hill town on a misty day is truly enchanting. While we were exploring the town, we saw the Town Post Office, one of the oldest post offices in the country. Built in 1894, the red brick exterior showcases the Tudor-era architectural style, like many colonial buildings in this town. We went in and took the opportunity to mail postcards back home to my wife and other family members from this historic attraction.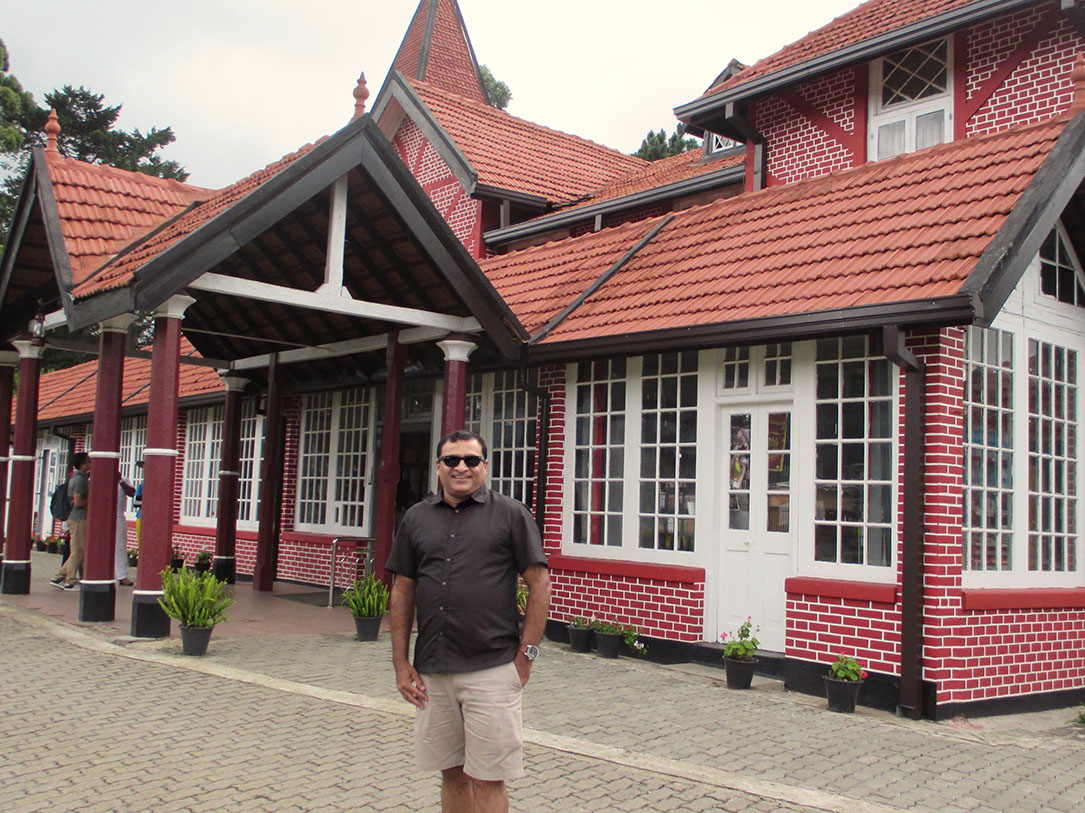 A Philatelist is always on the lookout for a post office this colonial style heritage building is Nuwara Eliya Post Office
Reminiscing and looking ahead
Nuwara Eliya is surrounded by tea gardens and is rightfully the hub of Sri Lanka's tea production. When in Nuwara Eliya, a high tea at the Grand Hotel Nuwara Eliya is warranted. It is said that the perfect way to complete your experience of this quaint town is by either having a cup of coffee or beer at this regal property. Built in 1819 following the style of Elizabeth era manor house, Grand Hotel Nuwara Eliya was designated as a "National Heritage Property". My daughter and I were mesmerized by the ambience of this luxurious haven. As we sipped on a refreshing cup of tea, we reminisced about our adventure so far. Thanks to our fantastic guide in Sri Lanka, Andrew John we had the most exclusive and enriching experience so far. We anticipated the next leg of our trip to be equally exciting and adventurous and were not disappointed. Here is the second part of our father-daughter trip exploring UNESCO World Heritage Sites in Sri Lanka.
Frequently Asked Questions:

Which place is best in Sri Lanka?
Sri Lanka has many best places and hidden gems like Sigiriya Rock, Polonnaruwa and Gal Vihara. Some of the well-known places are Kandy Temple of Tooth, Nuwara Eliya and Colombo.

What is the most visited place in Sri Lanka?
Buddha Temple of Tooth in Kandy district of Sri Lanka is the most visited place along with few places to visit in Colombo at night.

Is Sri Lanka good for a honeymoon?
Sri Lanka is a paradise of natural beauty, pristine beaches and luxury resorts. These are good attractions for it to be a honeymoon destination.

How much money should I bring to Sri Lanka?
Sri Lanka is not that expensive a tourist destination. You would be good to go with $1,000 for a 5-day trip. However, ATM machines are easily available in case you run out of cash.
What is special in Nuwara Eliya?
Besides tea plantations, Nuwara Eliya is famous for Gregory Lake, Horton Plains National Park, and Sita Temple. These are popular tourist attractions in the town.
Why is the temple of the tooth important?
The famous Kandy temple is home to the relic of the tooth of Buddha, a relic that has played a prominent role in local politics since antiquity. It is believed that the relic holder governs the country.
Do I need a local SIM card in Sri Lanka?
Buying a local SIM card for Sri Lanka is highly recommended. It is not expensive to use a cell phone or to access data in Sri Lanka. You will save a great deal of money as compared to using your existing SIM card for international roaming.