This is a 115-island country within the Indian Ocean off East Africa. Its sensational spectrum of blues and greens of the pristine beaches, lush green landscapes and favorable weather make this tiny island country a tropical paradise. The population of Seychelles is approximately 100,000 of which 35% people live in its largest and capital city Victoria. I have always wanted to visit this exotic land and here was the perfect opportunity. The offer from Qatar Airways covered flight tickets and accommodation, but the itinerary was for us to figure out. Being used to package tours all along, this was a first but we accepted the challenge and went ahead with our planning. Within the next couple of days, tickets and accommodation for our family of four was done and our itinerary was shaping up. Excited, we embarked on our debut self-planned trip to Seychelles.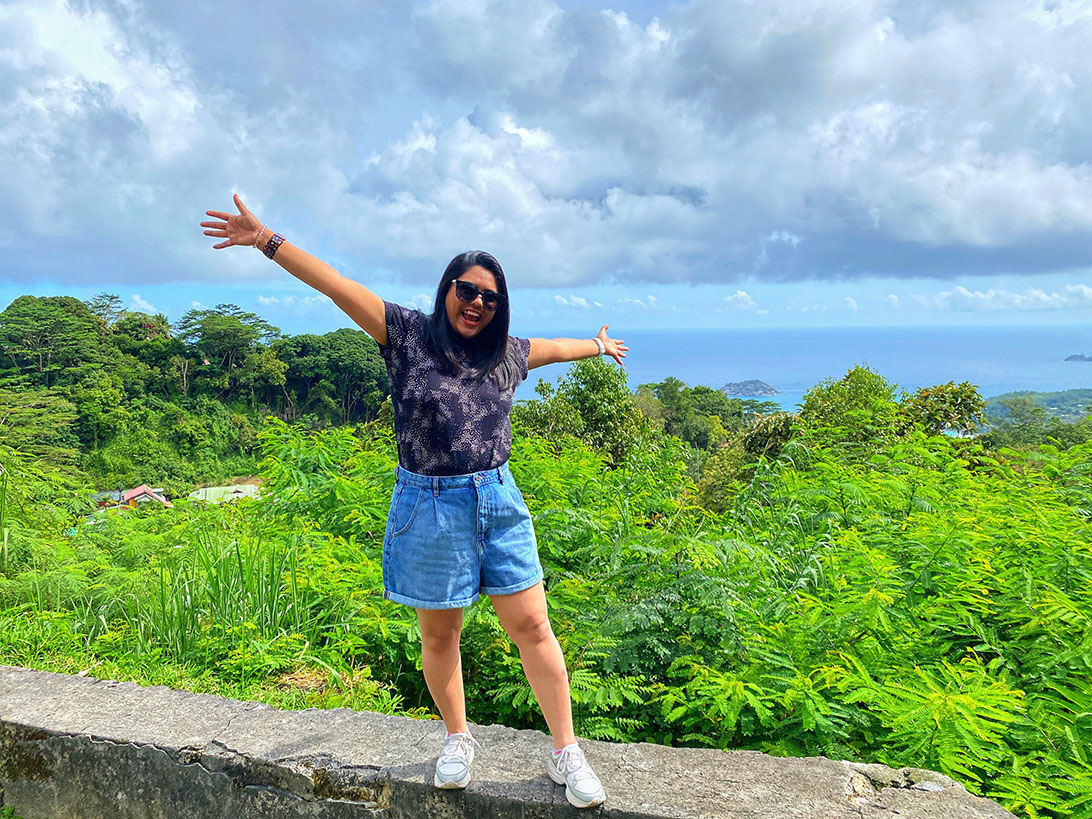 Immersed in a feeling of elation and euphoria after landing in the country that I dreamed of visiting - Seychelles!
At Hamad International Airport, we were surprised to see fewer local travelers and a higher number of transit passengers. Five hours later, the Seychelles skyline came into view through the plane window and we were mesmerized by emerald blue waters and lush green island beauty. Interesting fact to note is that the distance between mainland Africa and Seychelles is around 1,500 kms, while the distance between Mauritius and Seychelles is around 1,752 kms.
We off-boarded and quickly exited from immigration, thanks to reduced travelers due to COVID. Soon, we bought a local SIM card, picked up the rented car that we had booked the previous day and drove to our hotel with the guidance of the map. Our hotel was a small resort with 8 rooms, a small swimming pool, a restaurant, a playing area and beautiful landscapes. Checked in and rested, we headed towards Victoria, the capital city. We visited the Victoria Clock Tower, an iconic historical feature that was installed on 1st April 1903 in memory of Queen Victoria, who died in 1901.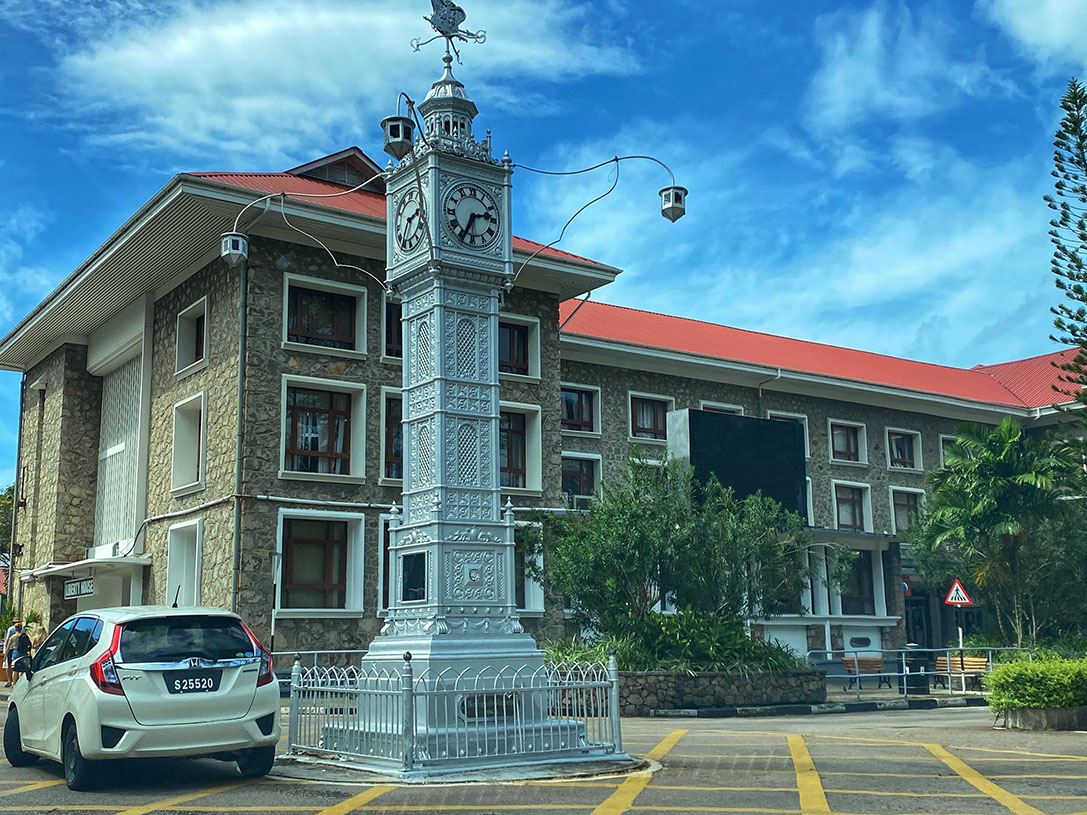 Resembling the Big Ben of London, the Victoria Clock Tower is located in the center of Mahe, representing the Franco-English history of Seychelles
Mahe Island has beaches all around while the center of the island is covered with rocky mountains. These mountains are home to the oldest of trees with unique flora and fauna. Most of the roads have only two lanes and one has to drive through the mountains to reach from one coast to the other. Sumit, my husband was driving a right-hand drive car for the first time so we drove with caution. We roamed around the city and visited the old-style and colorful Sir Selwyn-Clarke Market well known for vegetables, fruits, fish and spices. The first floor has a restaurant and a few souvenir and apparel stores. It is a vibrant place with its own unique vibes. Our next stop was at Arulmigu Navasakti Vinayagar Temple (Ganesh Temple). A heavy downpour stalled us but we made it just in time when the temple opened at 5.30pm. It is a beautiful south Indian style temple with Lord Ganesha, the main deity. We prayed and spent some soothing and reverent time in that peaceful environment. We chatted with Pujari for a while which was a truly enriching experience.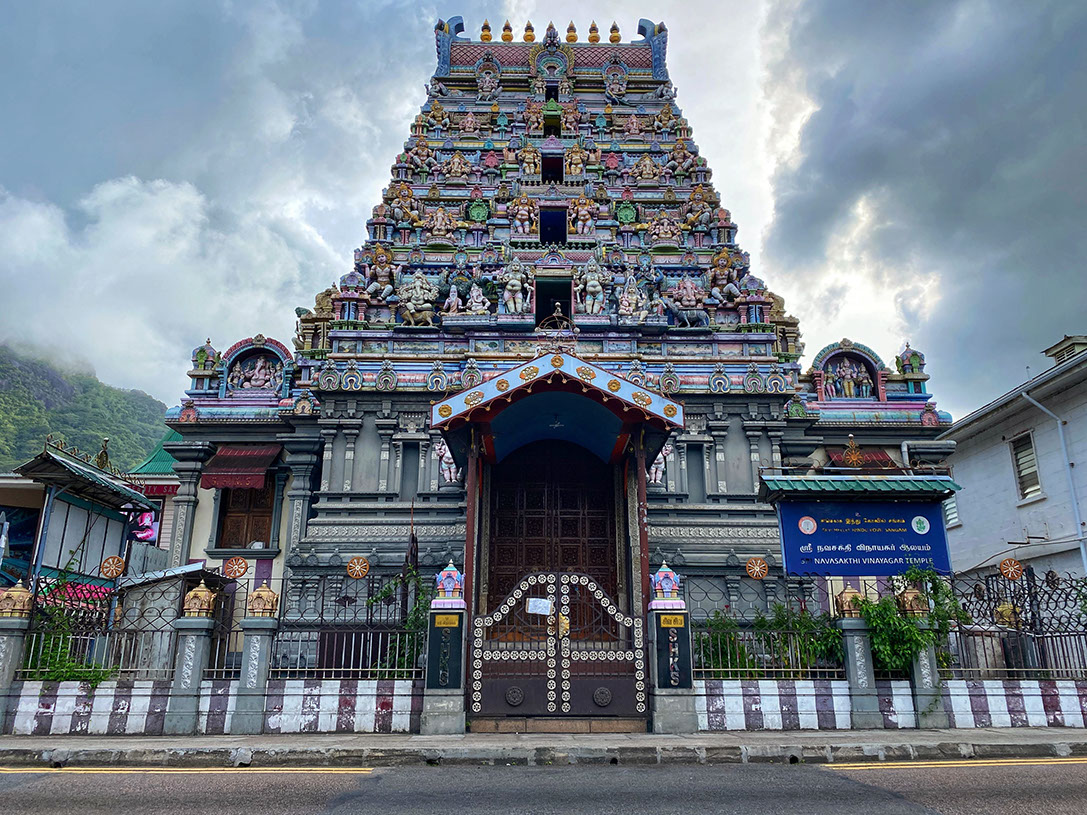 The Arulmigu Navasakti Vinayagar Temple - the first and only Hindu temple that has Ganesha as the main deity
Finding vegetarian food in Seychelles is a challenge. Owing to COVID, as a precautionary measure, most of the places in town close at around 5 pm including restaurants. When traveling with kids, food is always a top priority, which in Seychelles requires a little extra planning, but we managed. We headed back to our hotel after a good meal looking forward to the tour package to Praslin and La Digue Island the next day.
After a restful night at the hotel, we set out bright and early to La Digue and Praslin, the next 2 of 3 biggest islands of Seychelles. It was a guided one-day tour where transportation, sightseeing, meals and beverages were covered and the ferry was well maintained. During this time of the year, the ocean is rough and windy causing the ferry to be tossed around. Most of the passengers in the ferry including myself had motion sickness. All was well once we reached the port.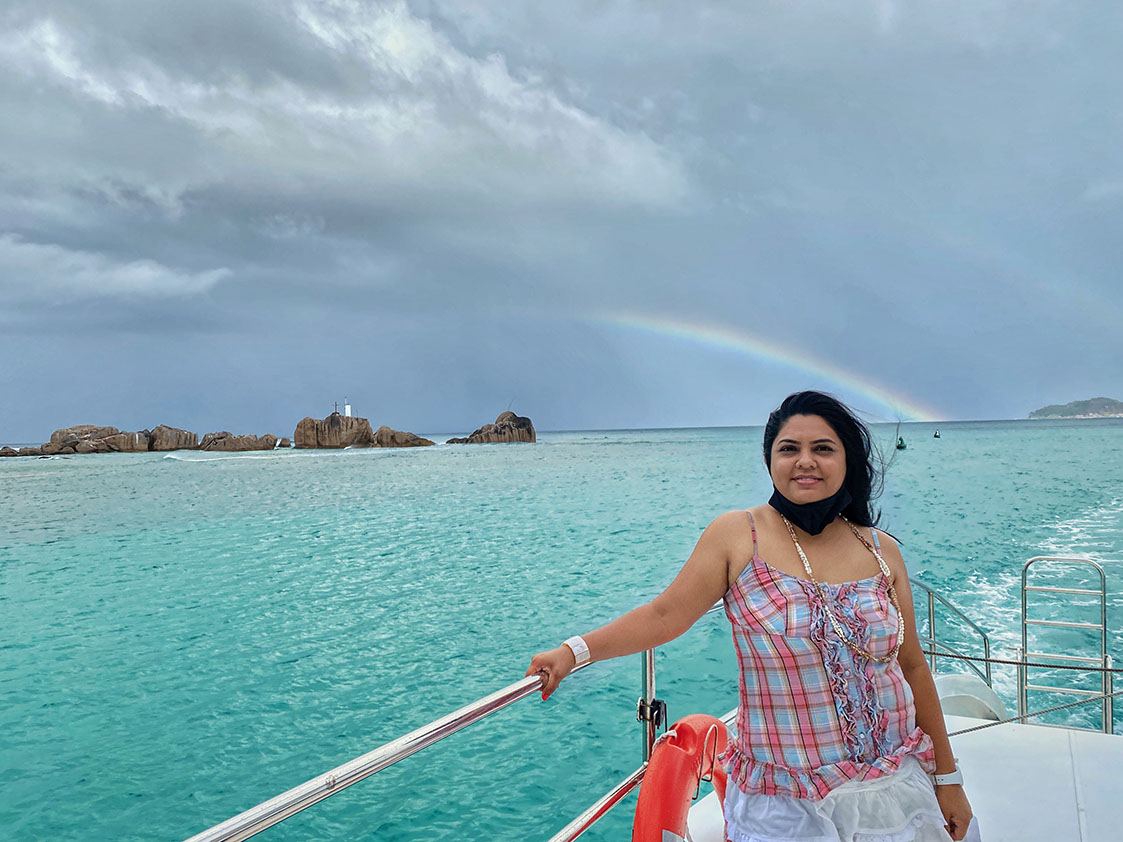 Ferry to Praslin with a spectacular backdrop of La Digue Island and Rainbow
We landed at La Digue Island Port and were grouped according to language and taken to L'Union Estate coconut plantation. Our guide was a cheerful, tall Seychelles native woman. She also entertained us with some cool stunts displaying coconut cutting and cleaning procedures and also holding a giant spider. The estate has coconut and vanilla plantations and a mill where coconut oil is made. They have preserved some sites, which were used before modernization. There is a plantation house national monument located in this estate made of coconut tree wood. Next to it there is a farm for giant tortoises, which housed around 15-20 tortoises. These giant tortoises eat only vegetation and live for up to 300 years! My kids were fascinated with these fellas and spent time feeding them. Aarav excitedly asked, "Mummy, can we take one tortoise from here and make him our pet?" We had a hearty laugh at his innocence.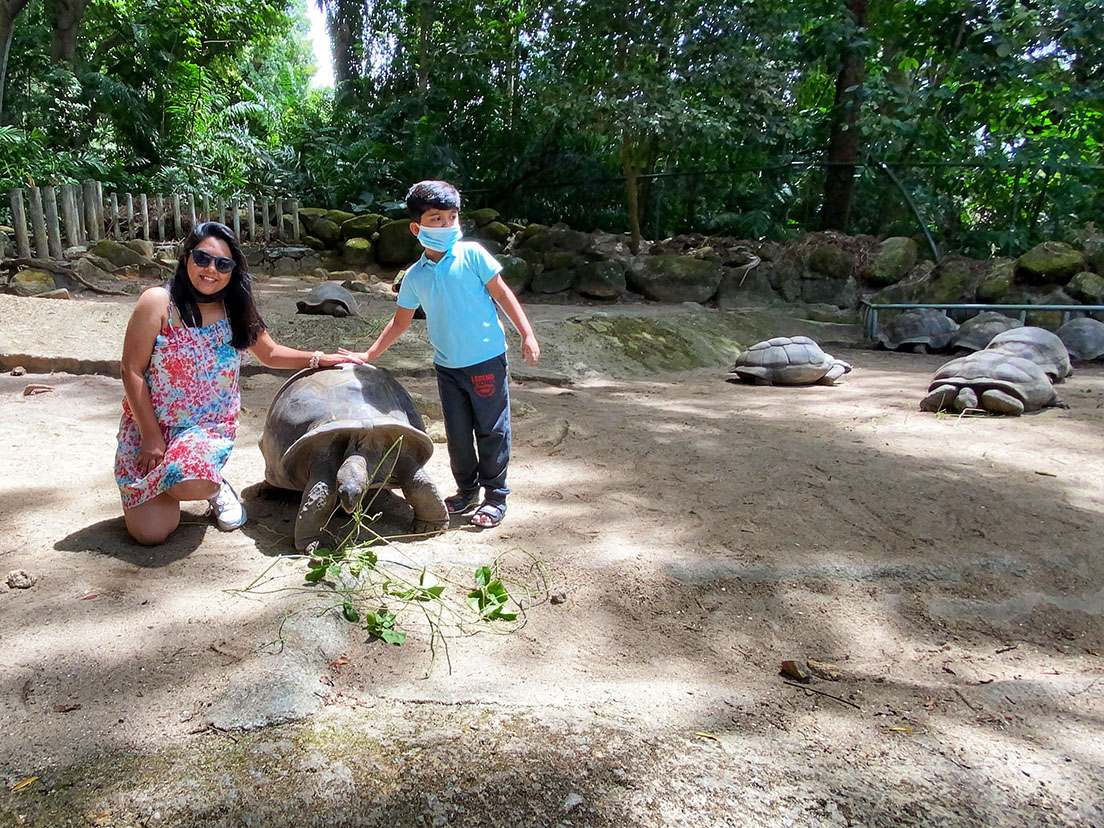 My excited son and me posing with his favorite animal, the giant tortoise
After an exciting time at the estate, we headed to Anse Source D'Argent Beach, one of the most picturesque beaches of the world. It is indeed the most beautiful beach I have ever seen. The white sand, verdant green sea, azure sky with white clouds, palm trees and magnificent granite formations, all come together to create the most magical view. The gigantic granite boulders shaped by nature and waves split the beach into many small portions. There is a trail behind the boulders that leads to other parts of the beach, which I explored while the kids and my husband were splashing around. It is known to be one of the most photographed beaches in the world and I couldn't agree more! A full day is needed to explore and enjoy this piece of heaven but we had a schedule so after freshening up at the changing room and shower facility at the beach, we headed for lunch.
A beautiful video of the beach in La Digue, surreal!
Lunch was typical Seychelles creole food. There was seafood, rice, lentil curry, eggplant fries, raw papaya chutney and special creole chutney, which was made of tomato and onion. After a scrumptious meal, we headed to our next stop, Praslin Island. Praslin is the second largest island of Seychelles. Our highlight was Vallee de Mai (May Valley), a nature reserve and UNESCO World Heritage Site. Often described as "Garden of Eden" it is the only palm forest where all the six endemic palm trees including Coco de Mer are found.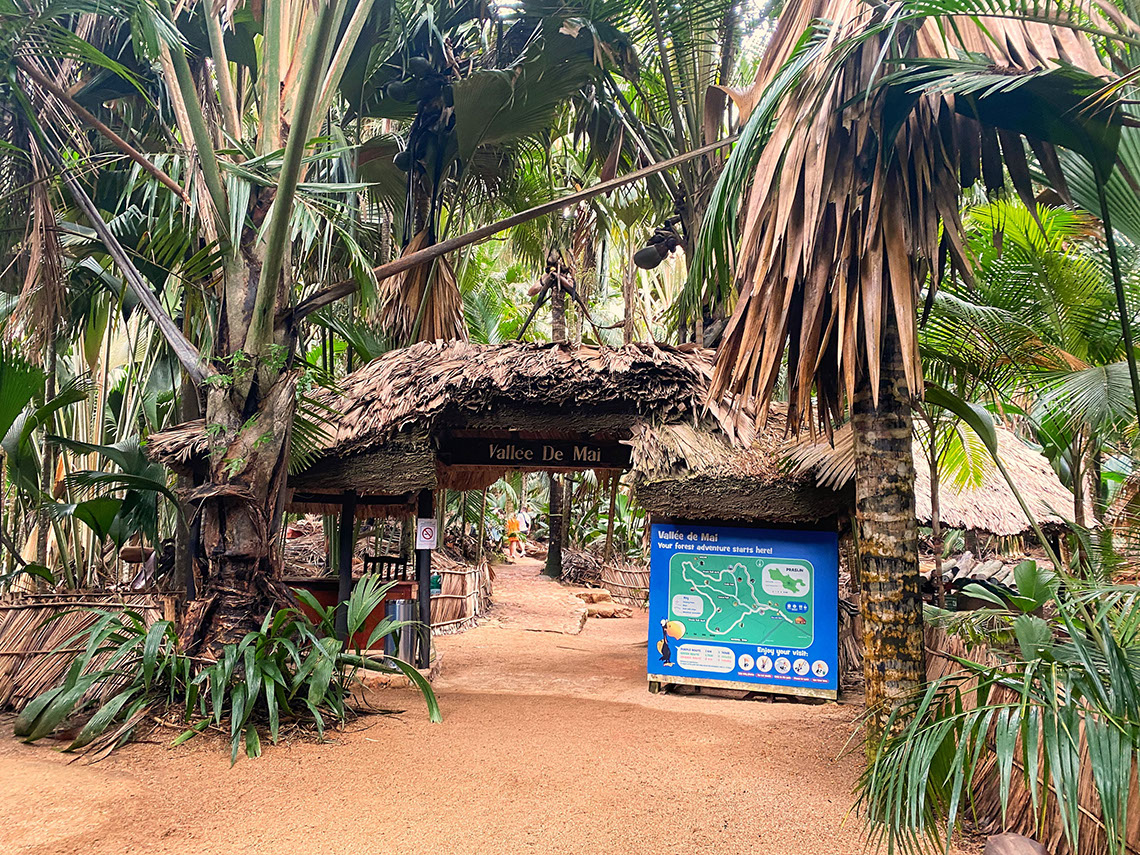 The rustic entrance to Vallee de Mai fondly known as "Heart of Praslin", a nature reserve in Seychelles
A unique and rather interesting thing about Seychelles is the Coco de Mer fruit that is endemic to this country. This rare species of palm is known as the most controversial nut of all time! It garners attention due to its naughty, peculiar shape resembling that of a female and male bottom and several legends and myths have been associated with it. This "naughty nut" used to be the center of attraction in royal courts. We got to see male and female Coco de Mer plants. The mature fruit is 40-50 cm in diameter and weighs 15-30 kg, and contains the largest seed on the planet. The fruit requires 6-7 years to mature and a further two years to germinate. The male flowers look like catkins and sometimes measure 1-meter-long, making them the longest male flowers in the world.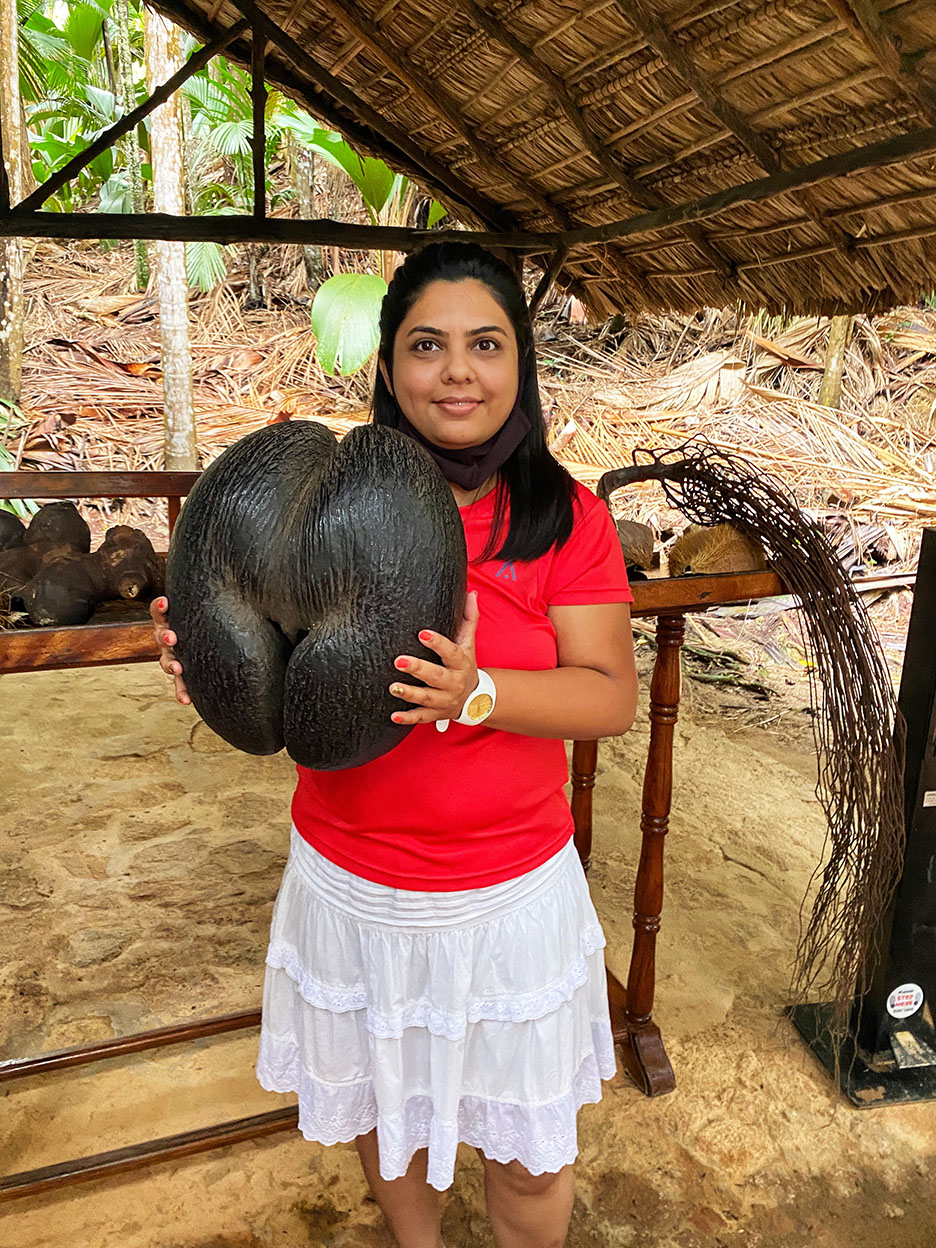 Afterall, I did get a chance to pose with this "forbidden fruit" seed!
Our next stop was Anse Lazio Beach, another stunning beach in Seychelles. It has some of the most picturesque beaches in the world, which is why we chose Seychelles over the Maldives. Its ivory sands, cobalt water, lush palms and unique granite formations make it possibly the most beautiful beach in Praslin. This small cove with a 400-meter beachfront is perfect to spend an afternoon. Kids played around with sand, while I strolled around, took some pictures and finally sat down and watched the waves, lost in its music. There was a coconut vendor and some local musicians gathered nearby. In Seychelles, people in general are fond of music. Everywhere, people are working while listening to creole songs on local FM radios. They are happy, satisfied and living every moment.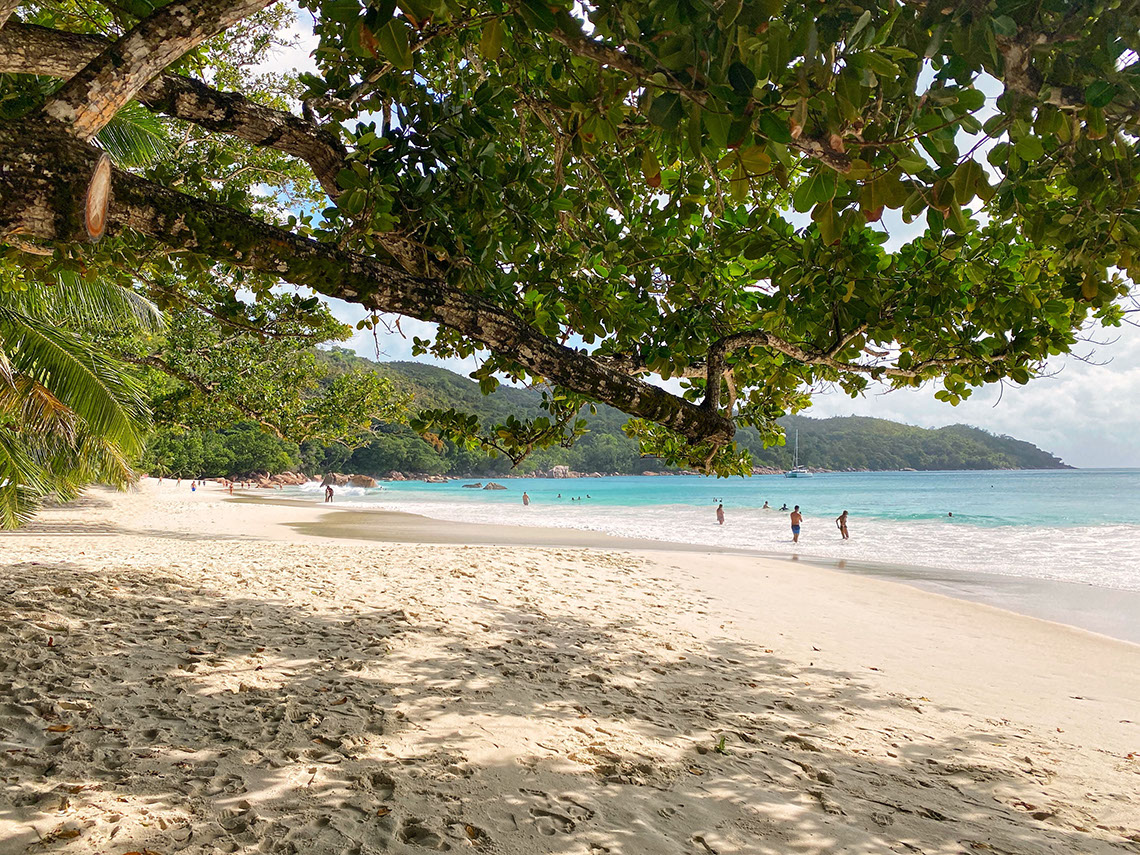 Anse Lazio Beach in Seychelles is picture-perfect; the ideal place to relax and rejuvenate
The word "creole" is very common in Seychelles. Food, language and music, everything has prefix creole. Turns out, it is a mixture of any European language like French, Spanish or Portuguese with the native language and many countries have such influence. Languages are unique and named according to their native, like Mauritius creole, Seychellois creole etc. Interesting right? After a rejuvenating time at Anse Lazio beach, we hopped back on the ferry and headed to Mahe Island. The waves were high and most of us had bouts of motion sickness, again. We returned to the hotel after a day well spent but thoroughly exhausted.
The next morning, we had a late start. After a hearty breakfast, we spent time in the swimming pool and strolled around the Anse Boulie Beach, right next to our resort. Post lunch, we headed to Victoria and then towards Eden Island. Eden Island is an artificial island, which is protected by bays and beaches. It is a luxurious area similar to the Palm Islands in Dubai and the Pearl in Qatar. Eden Island doesn't have high-rise buildings.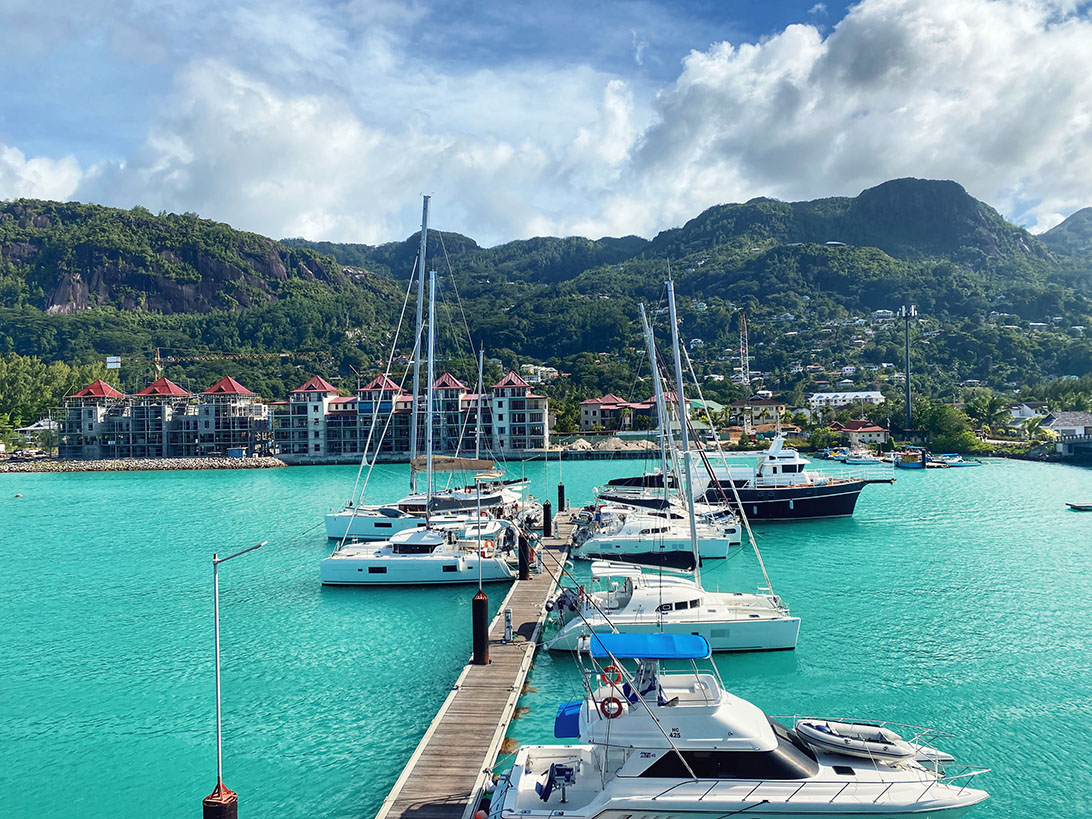 A spectacular view of the ferries at the dock against the crystal clear waters and magnificent mountains at Eden Island
Our next stop was a Swaminarayan Temple. I love visiting temples wherever I travel and was also curious about the Gujarati Community in this foreign land. After paying our respects, we met local families who came for their weekly visit and we got chatting while the kids were playing around. Sumit was enquiring about vegetarian meal options and to our delight, one of the devotees invited us to their home. We had three more days in Seychelles and many more adventures planned and this local connection was sure going to help. Curious about how we spent the next three days in Seychelles? Here goes part 2, equally if not more exciting, enjoy!