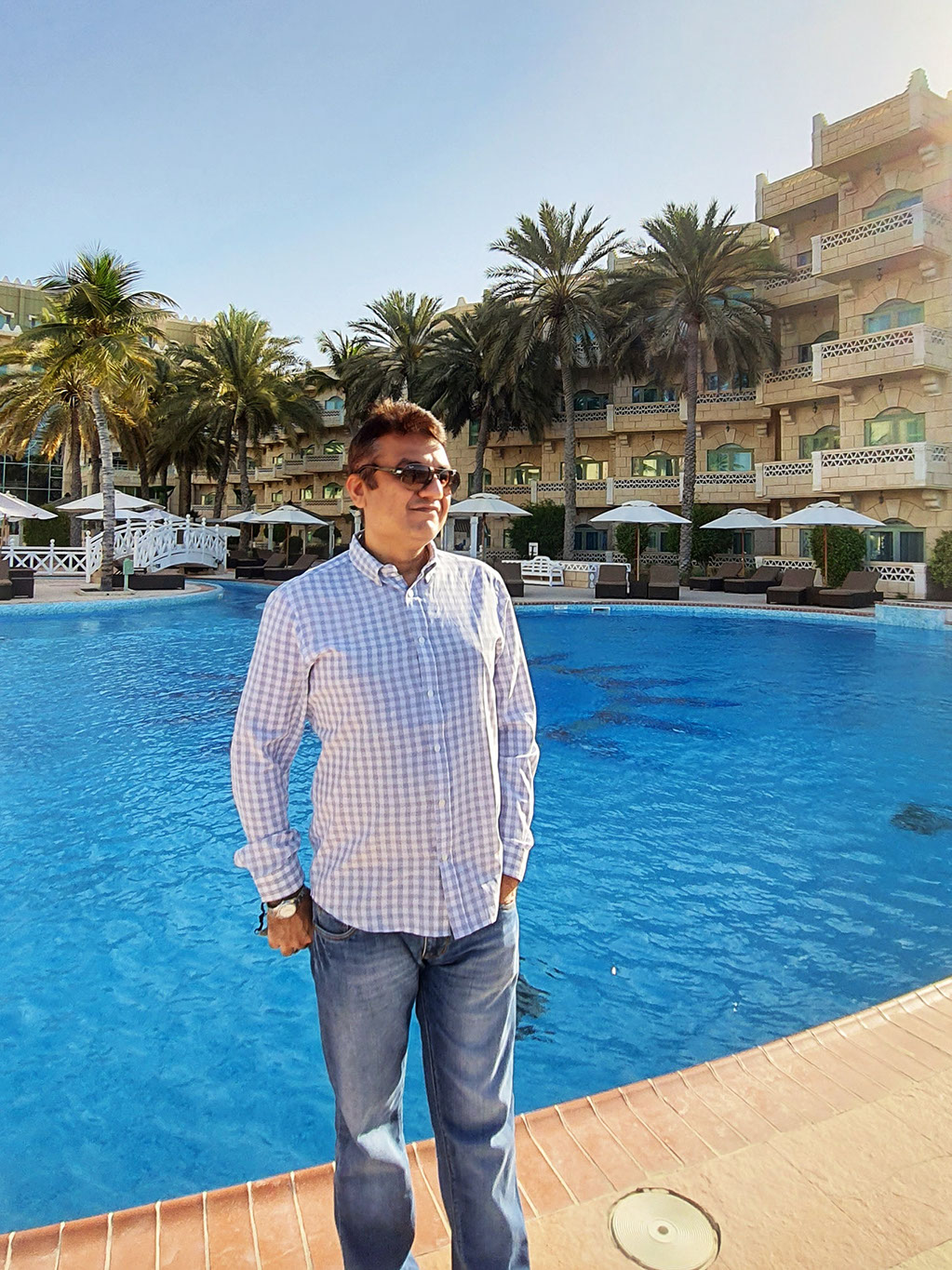 Never miss a chance for a great photo especially in a luxurious ambience!
Unlike other UAE countries, Oman has a very distinctive pulse and ambience. Deeply ingrained in history that goes back to over 100,000 years ago, Oman is one of the oldest Arabian countries. Interestingly, the country exhibits a strong Portuguese influence. In 1507, the Portuguese discovered Oman's convenient trading location and invaded the country to protect their sea-routes to India. They invaded the Omani ports and succeeded in colonizing the coastal cities of Oman, namely Muscat, Sur and Sohar. They controlled the coast of Oman for around 150 years before the local Omani tribes drove them out and regained possession of their land. The Portuguese influence is evident to this day in their colonial architecture seen in many of the historical forts of Oman.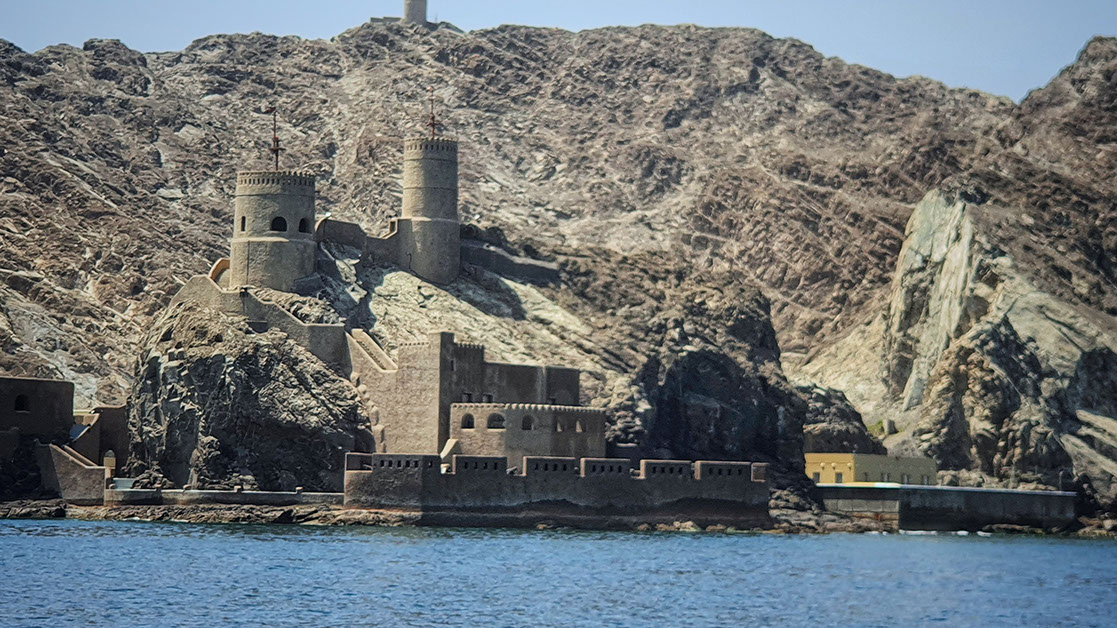 The Portuguese Forts in Old Muscat that are evidence of the Portuguese era in Oman during the 1600s
Living in this best-kept secret of Arabia for a better part of my life, the progress of Oman has been a fascinating experience and instills a feeling of pride. Unlike other Gulf countries, this is not a land of skyscrapers. It is with immense pleasure that I take my visitors around this mesmerizing land showing off places to visit in Oman. Exotic beaches, intricately designed forts, lush green mountains and endless deserts, this and so much more captivates the Oman tourist. Most places of interest are within a 150 km radius of Muscat. Tour packages are the best way to explore and experience these places. Car rentals are also available at about $25 a day. These places make for perfect day trips also because most of them do not have accommodation options. Oman is believed to have one of the best infrastructures in the world with the roads being an absolute pleasure to drive on.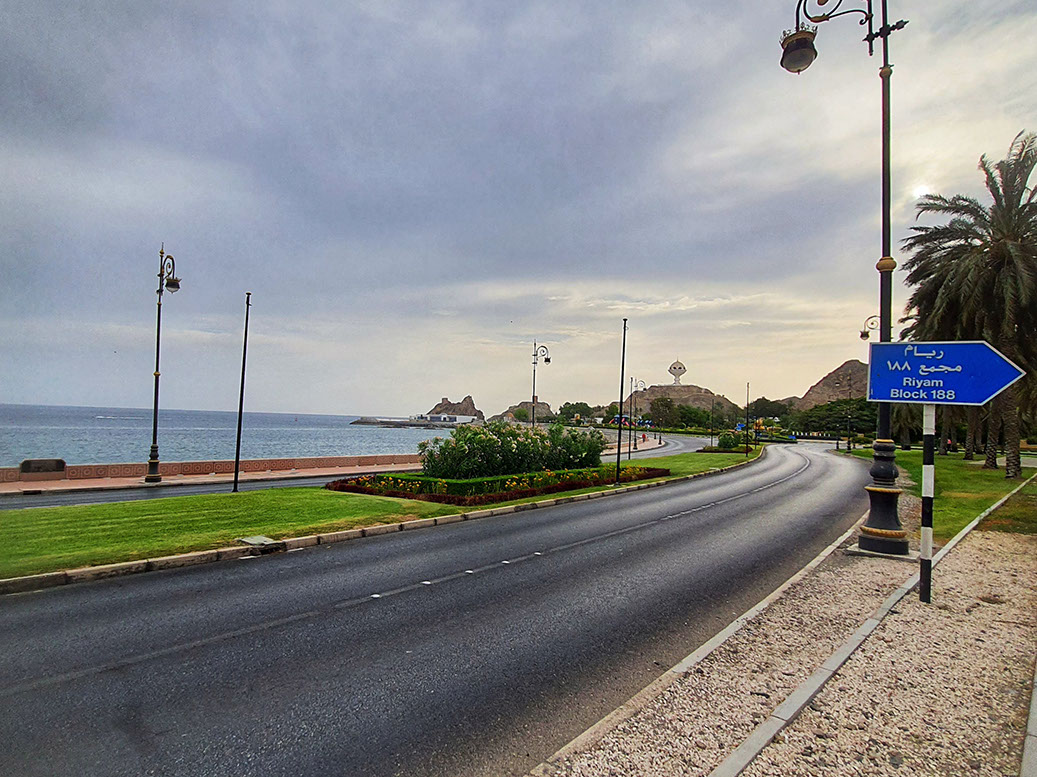 Some of the world's best driving roads are in the Sultanate of Oman; an absolute pleasure to experience
Cruise tourism is very famous in Oman owing to its vast shoreline and ports. While there are no specific cruises to Oman, many European cruise lines have a stopover in Oman for a couple of days. This brings in a large European crowd to Oman. The fascinating medieval history, azure sea, jagged mountains, endless sand dunes and local bazaars offer an authentic Arabian experience to the Oman tourist. The beaches are a major attraction. For those seeking a relaxed day of sun, sand and ocean, there are tables and lounge chairs with umbrellas that make for perfect picnic spots. The European style restaurants offer delicious cuisine as well. Tucked between towering mountains, the beach with its clear warm water is perfect for a swim.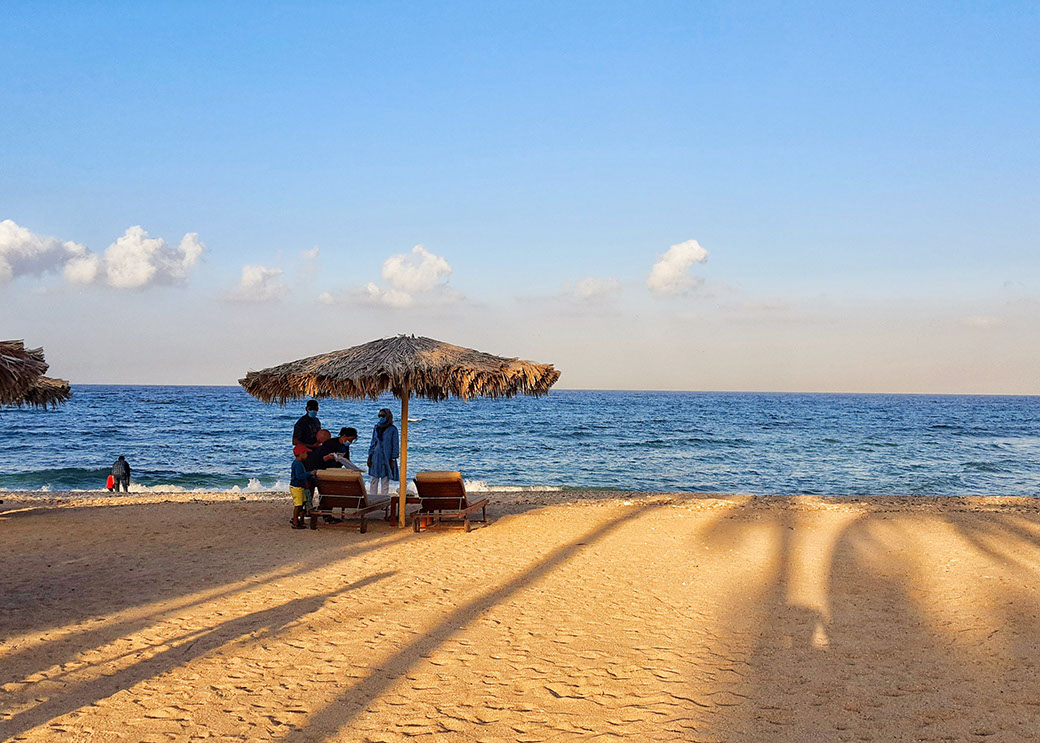 The stunning shoreline of Oman; no better way to relax and unwind
There are several yacht clubs that offer an array of packages for adventurous travelers to get their dose of adrenaline rush. From dolphin-watching, snorkeling and scuba diving to a lovely cruise on the ocean to witness ancient Portuguese forts, this is a great indulgence. There are a number of good scuba diving sites in Oman for adventure seekers. The marine life in the Omani shoreline is amazing and definitely worth exploring. With 2-hour dolphin-watching packages at $40 per person to 4-hour snorkeling and scuba diving packages at $60 per person, it is an experience of a lifetime.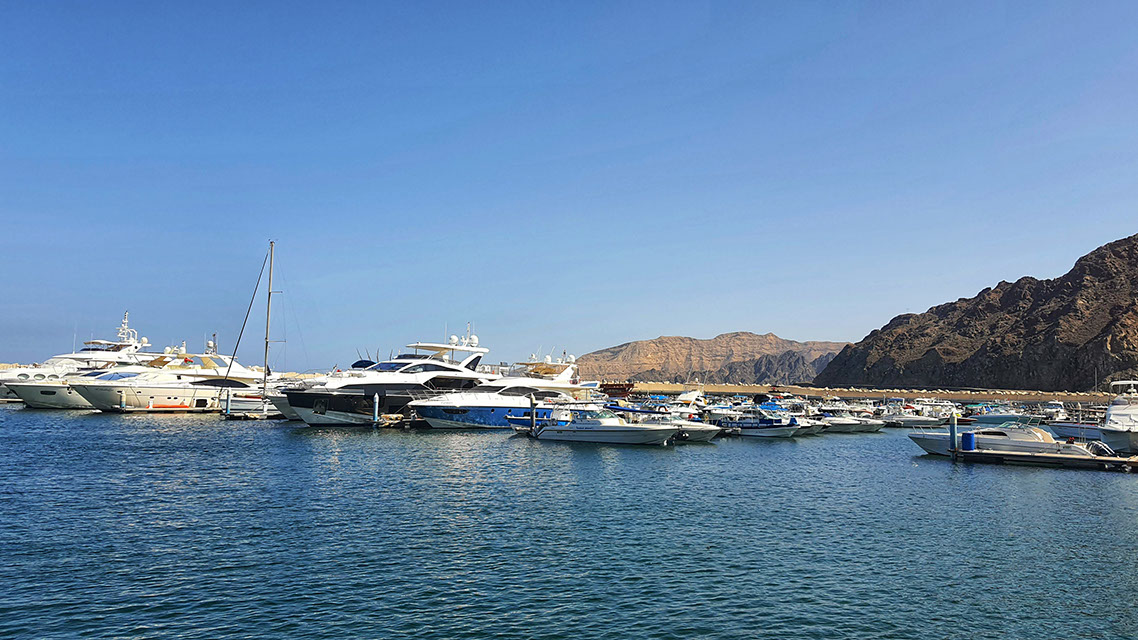 A variety of yachts offering amazing ocean experiences and activities
Riyam Village
One of the most scenic places in Muscat is Riyam Village. It is a stunning ecosystem with unending expanses of greenery, children's playground, and Riyam trail bordered by the azure beach. It is also a place of historical significance as it was here that a peace treaty was signed with the Portuguese in 1648. Riyam Park is a masterpiece which is exceptionally planned and perched on a tiny peninsula with two steep hills. One hill has remnants of the ancient Portuguese watchtower while the other is coronated with an exquisite pure white watch tower that resembles an incense burner. Frankincense is an integral part of Omani heritage and culture, and the world's finest frankincense is produced here. This explains the incense burner shaped tower as it is synonymous with Oman's identity. This ornate tower is the highlight of Riyam Park which is located between Muscat and Muttrah Corniche and offers a spectacular view of Muscat city extending from Muttrah to Old Muscat. A perfect place to imbibe nature and have a relaxed day.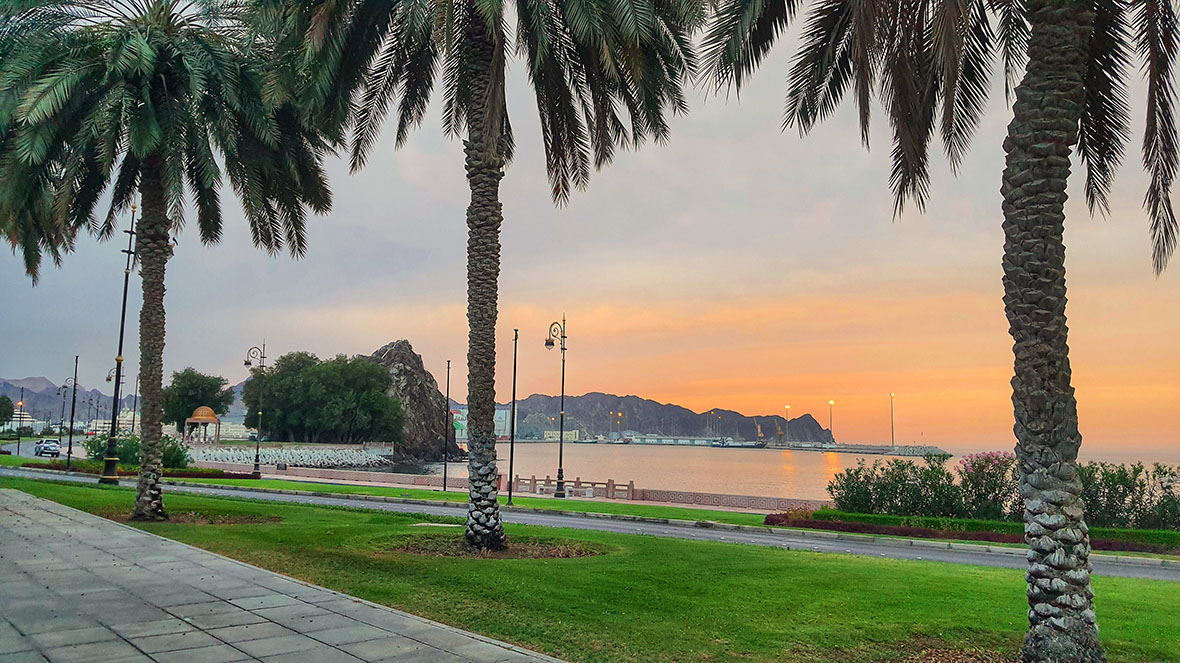 Riyam Village is among the most beautifully landscaped places in Oman
Qurum Beach
Located in the upscale neighborhood of Qurum, this thriving city beach is popularly known as "the beating heart of Muscat". There is something here for everyone. From four-wheel cruises to family picnics and catching some sun to enjoying a siesta under cool palm trees, Qurum Beach is the perfect leisure spot. Cool off in the crystal-clear warm waters of the Gulf of Oman and then refuel at one of the many beachfront cafes. Intrepid explorers can get their adrenaline kick by indulging in watersports like snorkeling, jet skiing, parasailing, scuba diving and kayaking that are available over weekends. As the sun sets, enjoy the changing hues of the sky and feast on the beautiful lighting on the beach creating a magical ambience.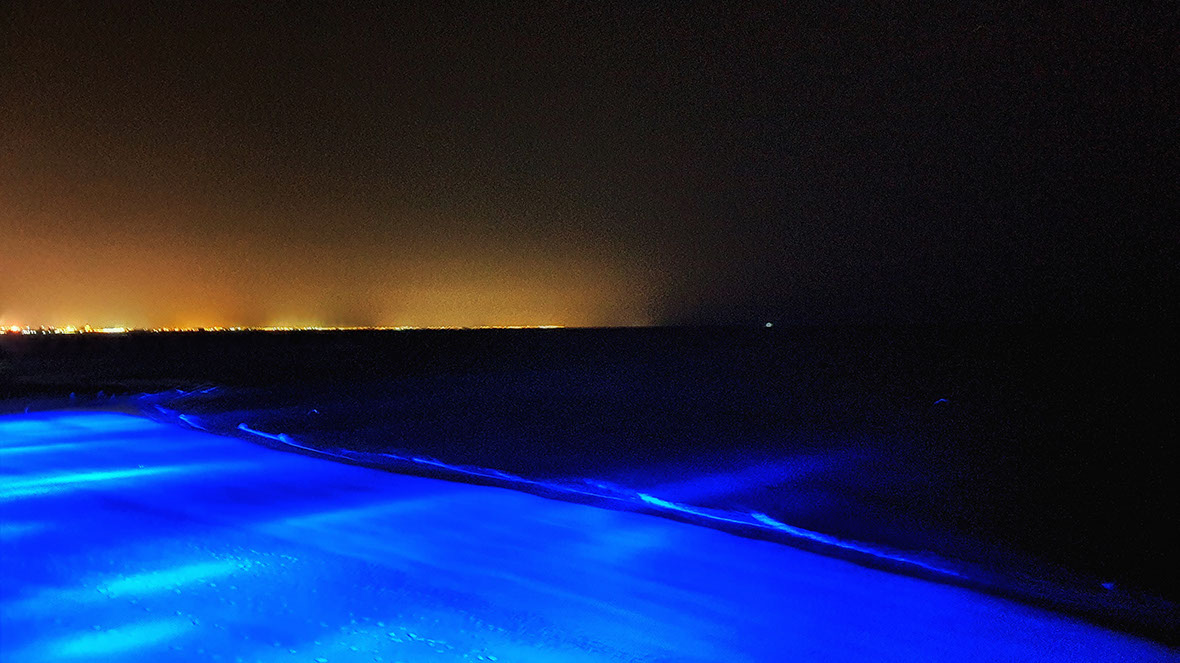 This spectacular view of Qurum Beach at night is truly captivating!
Muttrah Corniche
I am fortunate to live in Muttrah Corniche, probably the most vibrant area in Muscat. It is definitely one of the places to visit in Oman. This was the old port of Muscat and some of the industrial elements were relocated with the plan to develop the dockside for tourism. Currently, the harbor is where visiting cruise lines stop and immigration happens. It is also home to His Majesty's Dhow and other naval vessels.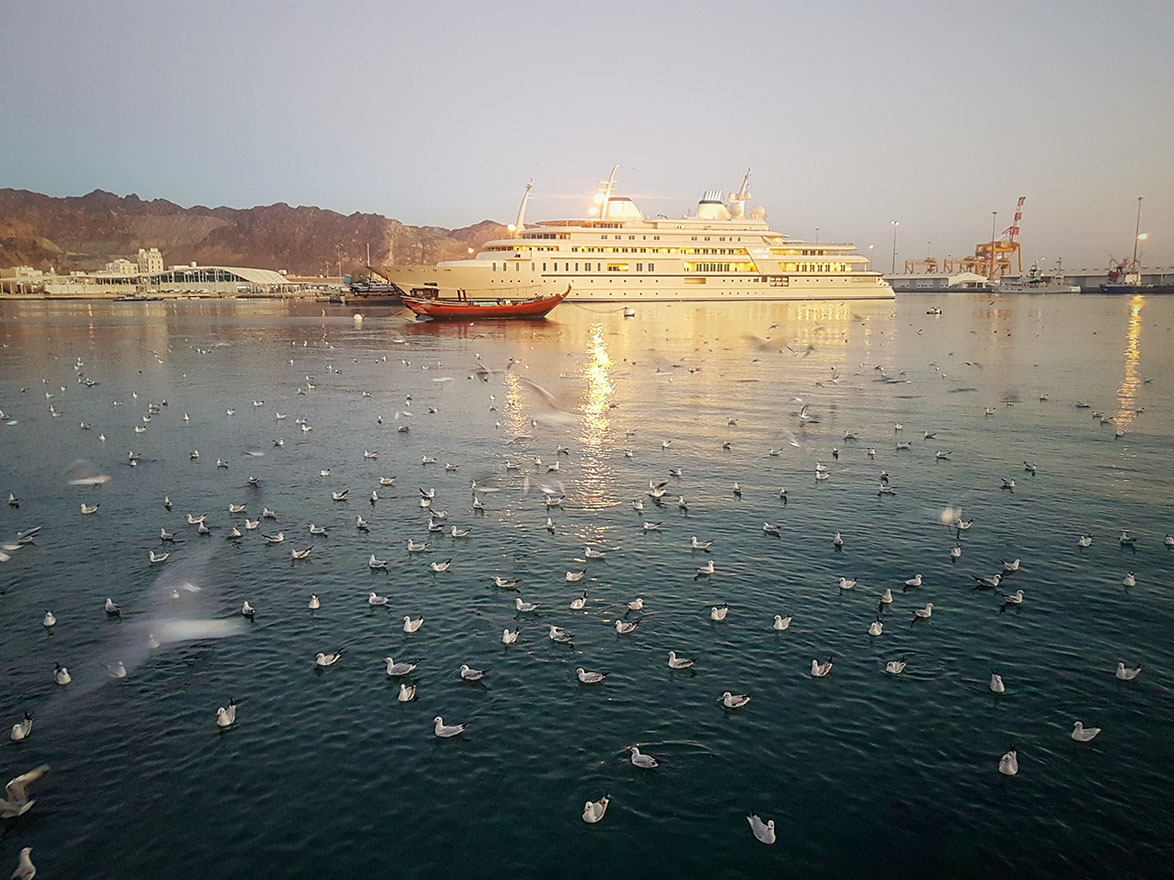 One of the many amazing views of Muttrah Corniche from my balcony - what more can I ask for...
Giving my guests a tour of Muttrah Corniche is always exciting and exploring my backyard is like a daytrip in itself. Lined with 19th century latticed buildings and colorful minarets, Muttrah is the city's old commercial center. This 3-km promenade along the waterfront is bordered by markets and restaurants. From the bustling fish market to the dhow harbor and Muttrah Fort on one end to the unique rock formations and Portuguese watch towers on the other, the landscape of Muttrah Corniche is diverse and captivating. An alluring feature here is the Muttrah Souq. In many Arabic countries, including Qatar, you can find souqs, which are markets in Arabic. One can get lost in the labyrinth of alleys overflowing with traditional artefacts offering serious retail therapy. The perfect place for souvenirs and gifts.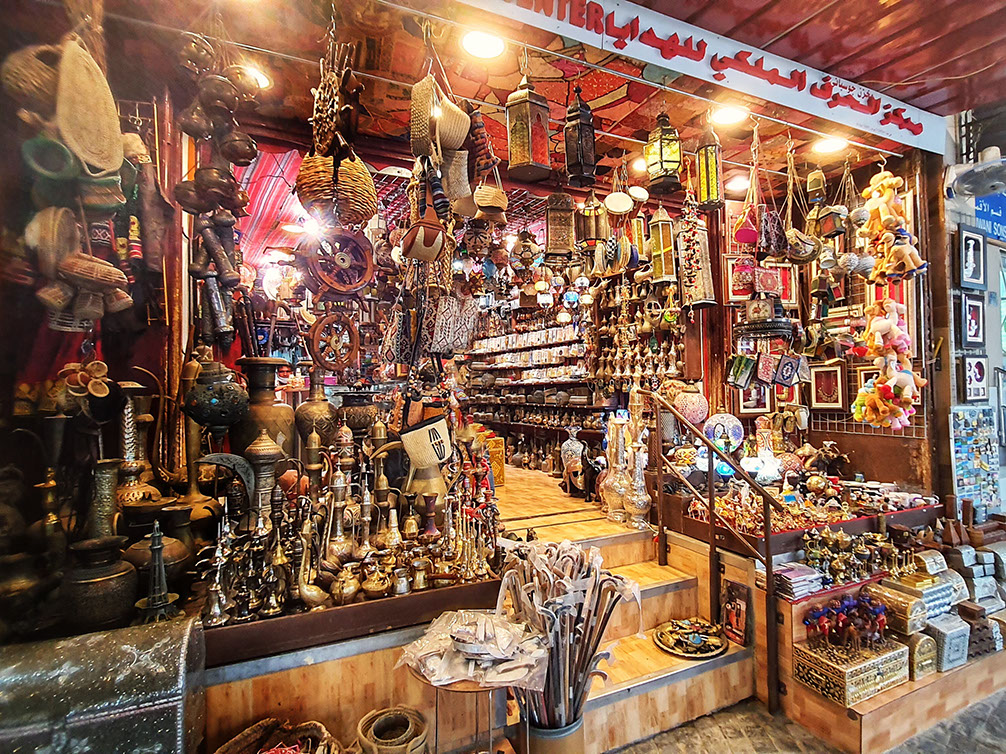 One of the oldest Souqs in Muscat, Muttrah Souq is a riot of color and everything Arabian
Al Alam Palace
Located in Old Muscat and one of the famous Oman tourist places is the Al Alam Palace. With a history of over 200 years, this ceremonial palace of Sultan Qaboos was rebuilt in 1972 and showcases contemporary Islamic architecture and heritage. The gold and blue columns in the front adorned with ornate arches are truly befitting a sultan. While the sultan does not live here anymore, it is used during visits by distinguished guests and diplomats from around the world. Although visitors are not allowed inside, viewing the exterior of this stunning structure and the surrounding manicured gardens speaks volumes about the royalty of old Muscat.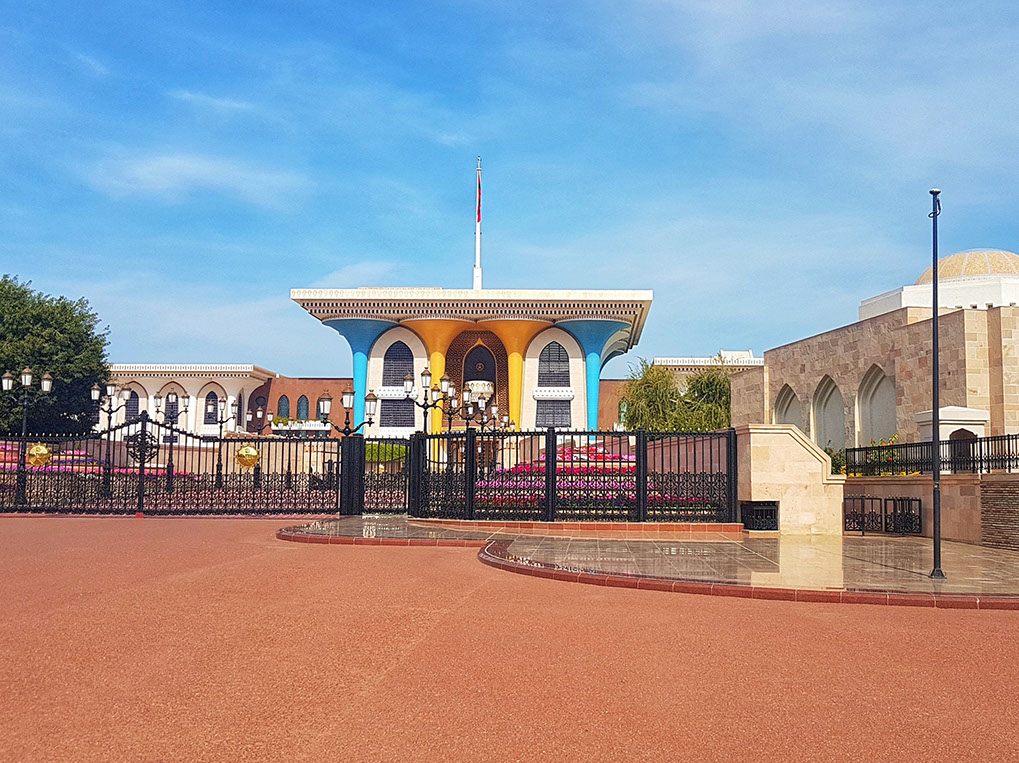 Al Alam Palace - the most important of six palaces owned by the ruling monarch of Muscat, Sultan Qaboos
Royal Opera House Oman
This is the leading arts & culture center of Oman that serves as a center of excellence for global culture. The premier organization showcases not only the rich diversity of Oman but also encourages global cultural programs. The Royal Opera House Muscat was ordered to be built in 2001 by Sultan Qaboos of Oman, a huge enthusiast of classical music and art and was opened to the public in 2011.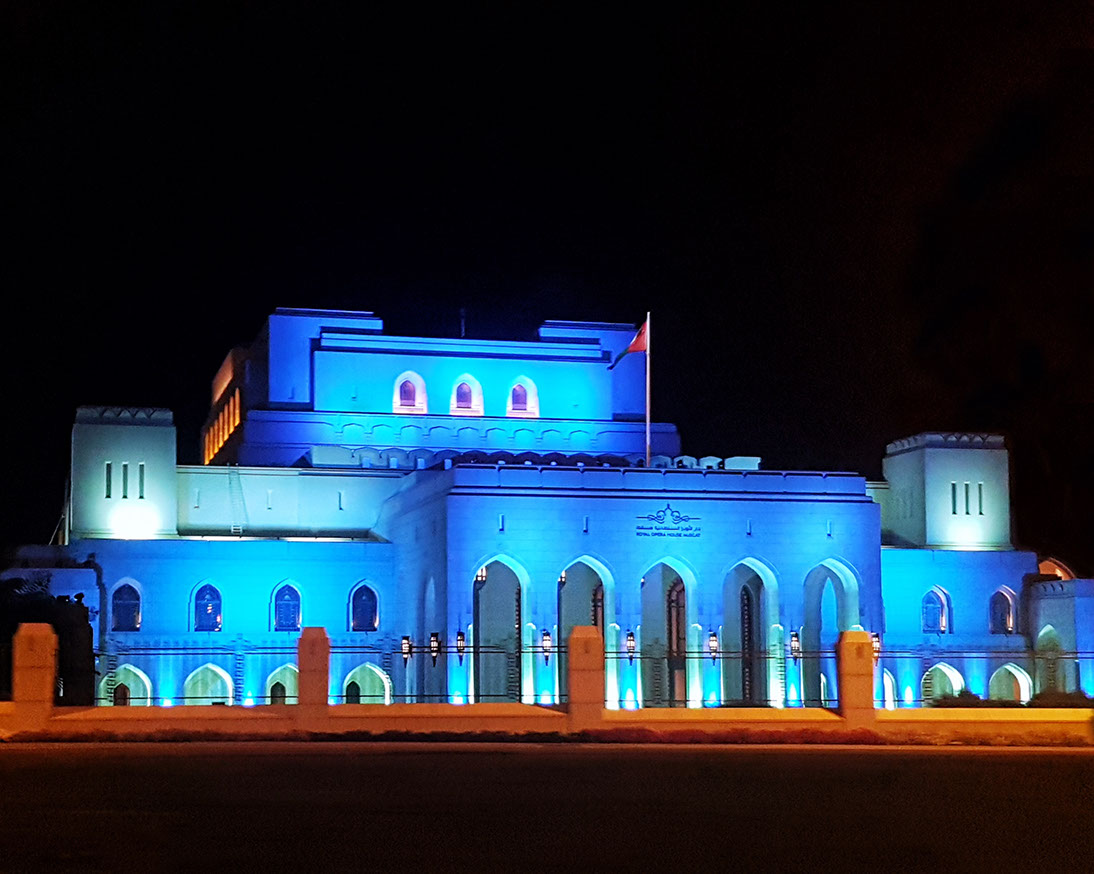 Royal Opera House, Muscat is one of the most stunning and technically advanced opera houses in the world
The Royal Opera House embodies a theater, auditorium, an art center, and cultural markets sprinkled with beautifully landscaped gardens. A tour of the interior will leave you in awe of the royalty and opulence of the Opera House. There are world class live shows hosted in the Royal Opera House Muscat catering mostly to European audiences. These shows are extremely popular among tourists and tickets to these shows are usually sold out almost 8 months in advance. Being a lover of art & culture, I treat myself to these extravagant shows once in a while.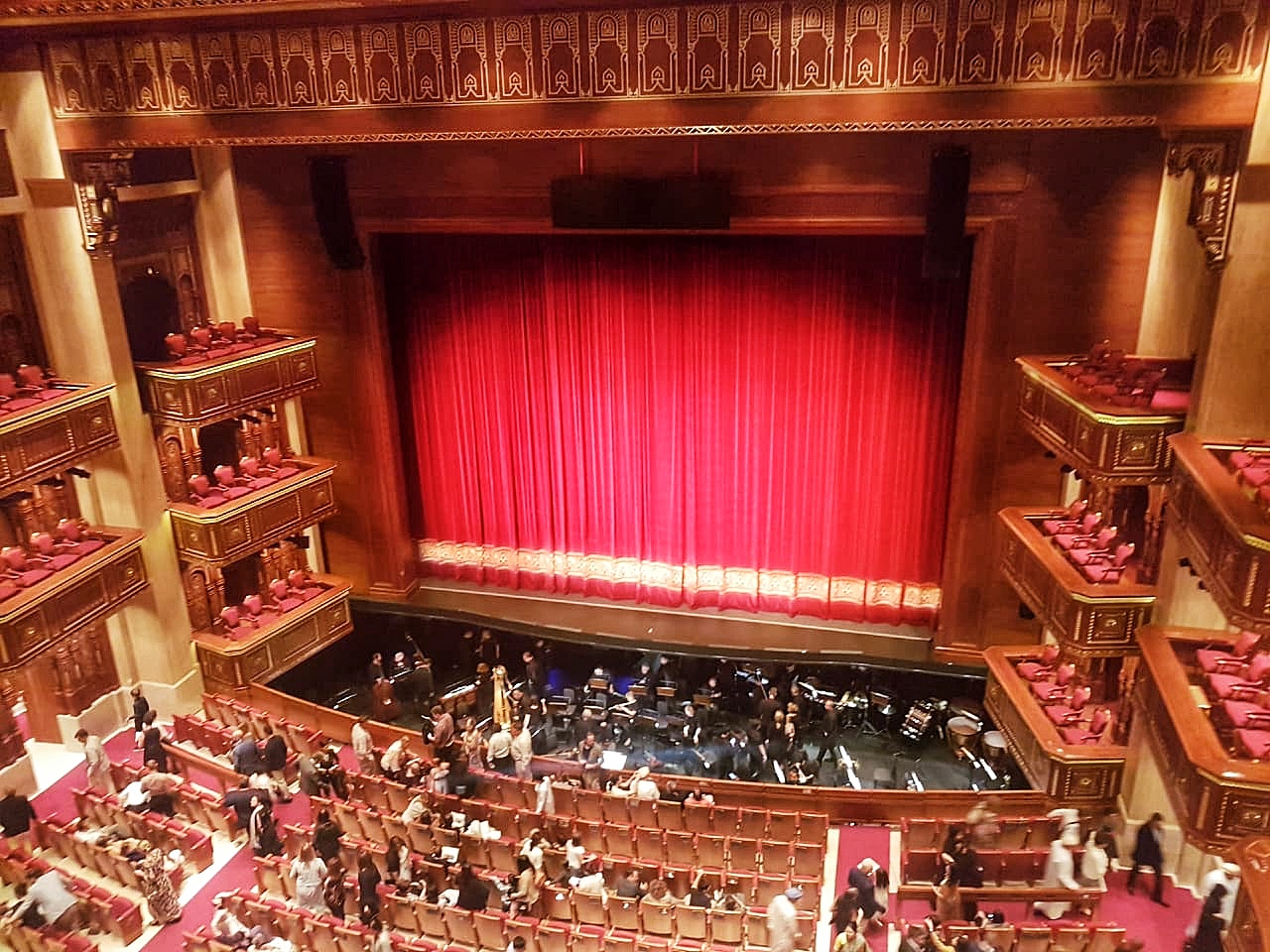 The interiors of the Royal Opera House emanates royalty and grandeur befitting a Sultan
When visiting Oman, a desert safari experience is a MUST. A beautiful 270-km drive from Muscat, the Wahiba Sands desert safari is perfect and a memorable experience. While returning to Muscat, visit one of Oman's best-known Wadis, the Wadi Bani Khalid. It is the perfect stopover to relax and enjoy a swim in the cool waters after a desert safari. For those seeking a lavish experience, a visit to Jebel Sifah, a luxurious integrated tourism complex, is a MUST. About 45 minutes from Muscat, this classy complex sports freehold homes, a world-class marina, a spectacular golf course, and a boutique resort. It is the only place where non-Omanis can purchase homes. A MUST visit to experience the grandeur of Oman.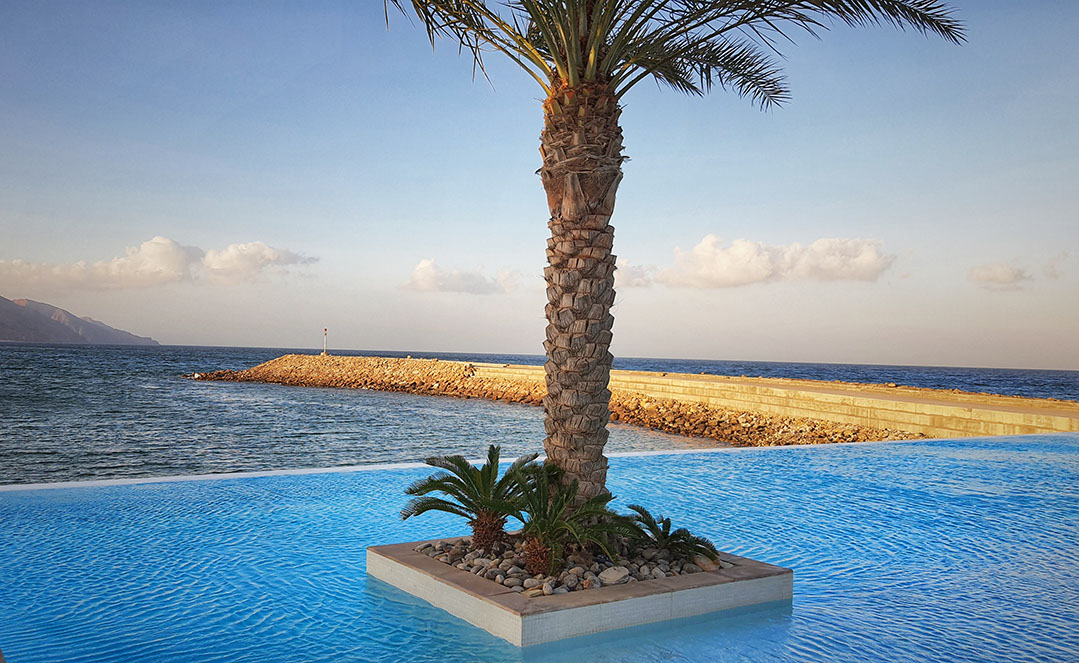 Jebel Sifah where the swimming pool is next-door to the ocean; truly heaven on earth
A beautiful day trip that nature lovers will thoroughly enjoy is to Jebel Akhdar popularly known as Green Mountains. Enjoy a beautiful 170-km drive while passing through Omani villages across the Hajar Mountains and explore local markets enroute. Immerse yourself in the vast palette of colors and smells while passing through lush farmlands, terraces of seasonal fruits and spectacular rosebeds. Another unique experience in Oman is turtle nesting. The peak time for the turtle migration in Oman is between April and August every year. The Ras Al JInz Turtle Reserve is perfect to witness this extraordinary phenomenon in the darkness of the night. Visiting this spot requires special permissions, so be sure to have your entry ticket. It is magical to see these turtles crawling to the shoreline in the darkness to nest their eggs and disappearing into the ocean once daylight breaks. This spellbinding spectacle of nature is a truly heartwarming experience.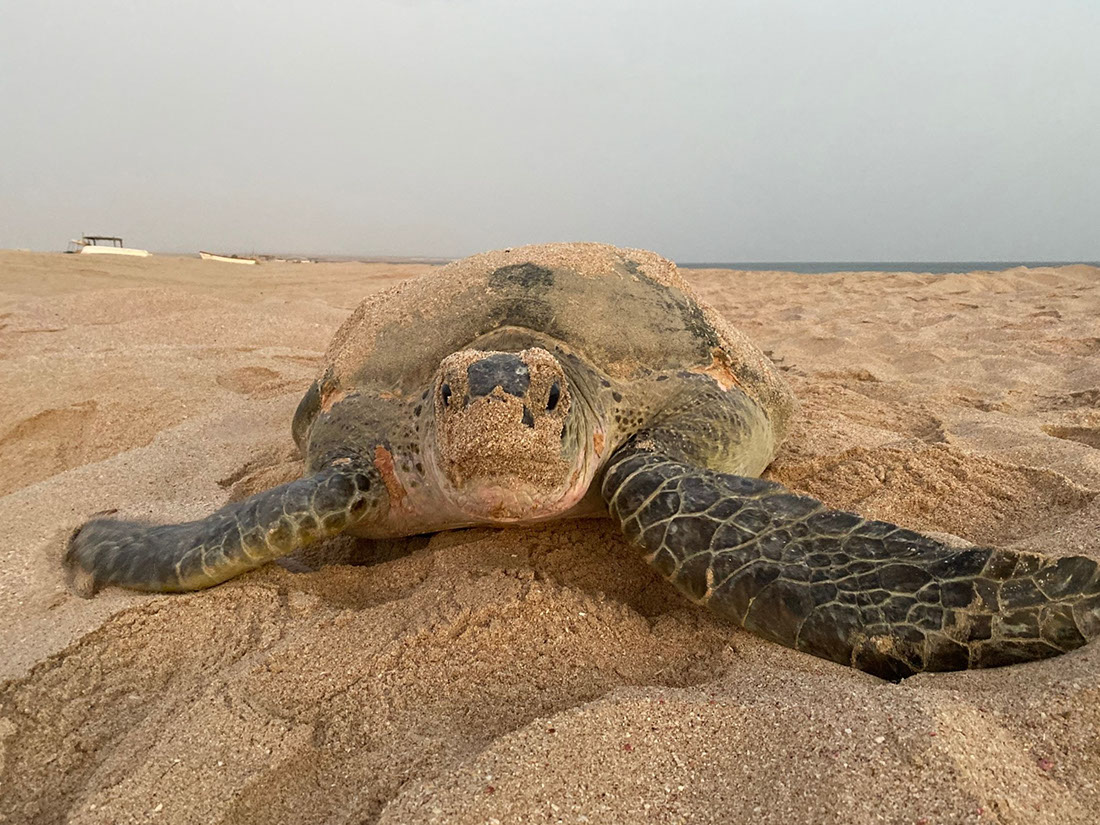 The turtle nesting experience leaves one in awe of these amazing creatures
Bimmah Sinkhole Oman
Another world-famous spot enjoyed by locals and tourists alike is the Bimmah Sinkhole Oman. This extraordinary gift of nature is mind-blowing. Located between Dibab and Bimmah, this 30-meter deep Bimmah Sinkhole is a natural wonder, not to mention the irresistible turquoise waters that are alluring. The sinkhole can be accessed by going down 250-300 steps. This giant natural swimming pool attracts a large European crowd who love swimming in these emerald waters. It is believed that this sinkhole was created by a meteorite, but it could well be water erosion! Either way, Bimmah Sinkhole is definitely a MUST visit when in Muscat.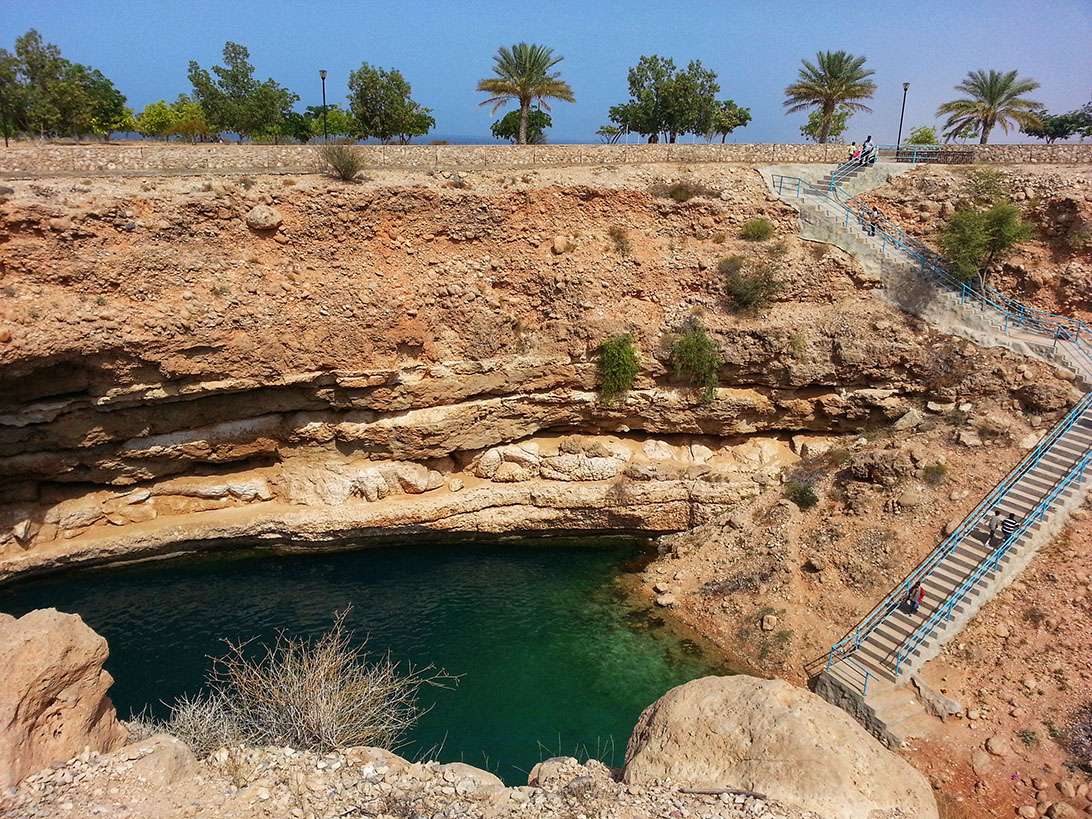 A true natural wonder in Oman, Bimmah Sinkhole is a MUST visit
While Oman is what I call home, my guests and other travelers as well fall in love with this unique country. Visitors are awed by its cleanliness and kind-hearted helpful locals. As long as you abide by Oman travel guidelines, this is a perfect holiday destination. Take it from me, an Omani in every sense of the word!