I am sure you would have enjoyed reading Part 1 of my travel story, which focused on the introduction and history of Hampi. In this part, my focus is more on the ruins of Hampi that showcases intricate architecture and monuments. The ancient village of Hampi is of great interest to historians and archeologists the world over; the reason UNESCO declared Hampi a World Heritage Site.
We managed to identify a knowledgeable and mature local guide for the next two days. He planned to take us to all the temples in Hampi one by one from morning to late evening so that we could cover some of the MUST visit archaeological sites. It is impossible to understand this entire area full of amazing sculpture and splendid architecture on your own. This is possible only with an experienced guide.

Virupaksha Temple dedicated to Lord Shiva
The Virupaksha temple, also known as Pampapathi temple is dedicated to Lord Shiva (Virupaksha God) and is situated in Hampi Bazaar. Virupaksha meaning in Telugu language is "different form of eyes". It refers to Lord Shiva's third eye. The most fascinating part about this temple is the three stunning gopuras and the high tower that stands tall at a height of 160 feet at the main entrance. The temple also has an elephant called Lakshmi.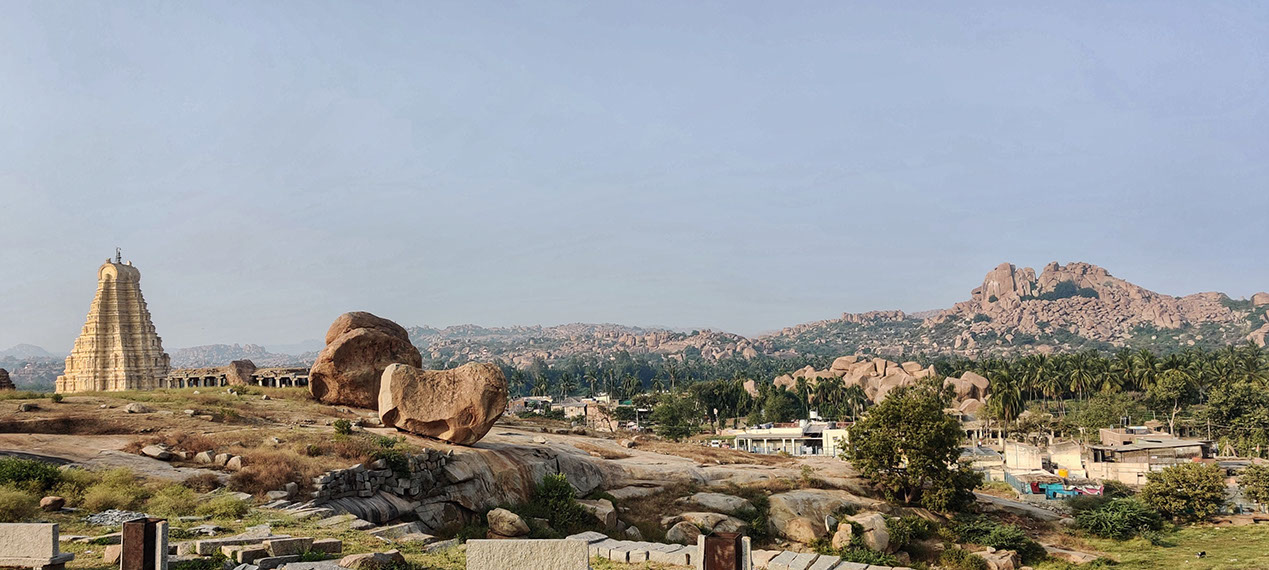 Virupaksha temple situated in the center of Hampi
The exquisite architecture of Vijaya Vittala temple
Among the many attractions, the Vijaya Vittala temple of Hampi probably houses the most exquisite pieces of architecture. This temple is built in dedication to Vittala who is an avatar of Lord Vishnu. It is one of the largest structures with unmatched craftsmanship. It is a paradise for architecture lovers. The temple was built in the 15th century and the Hampi kings, who ruled after, have all contributed to enhancing the beauty of this temple.
The highlight of this iconic temple is the Stone Chariot that has mystical musical pillars. Each pillar depicts a musical instrument and also serves as support for the entire structure. The stone chariot architecture is based on these pillars. They have been arranged around the main pillar of the temple which, when struck, gives out 7 notes from each of the instruments that it represents. In recent times, visitors are prohibited from going close to click stone chariot photos. The British officers were suspicious of these pillars and went on to cut them open. To their surprise, they found nothing hidden inside that produced the sounds. The cut made by the British can still be seen. This temple is also a venue for the famous Purandaradasa festival that is held there annually.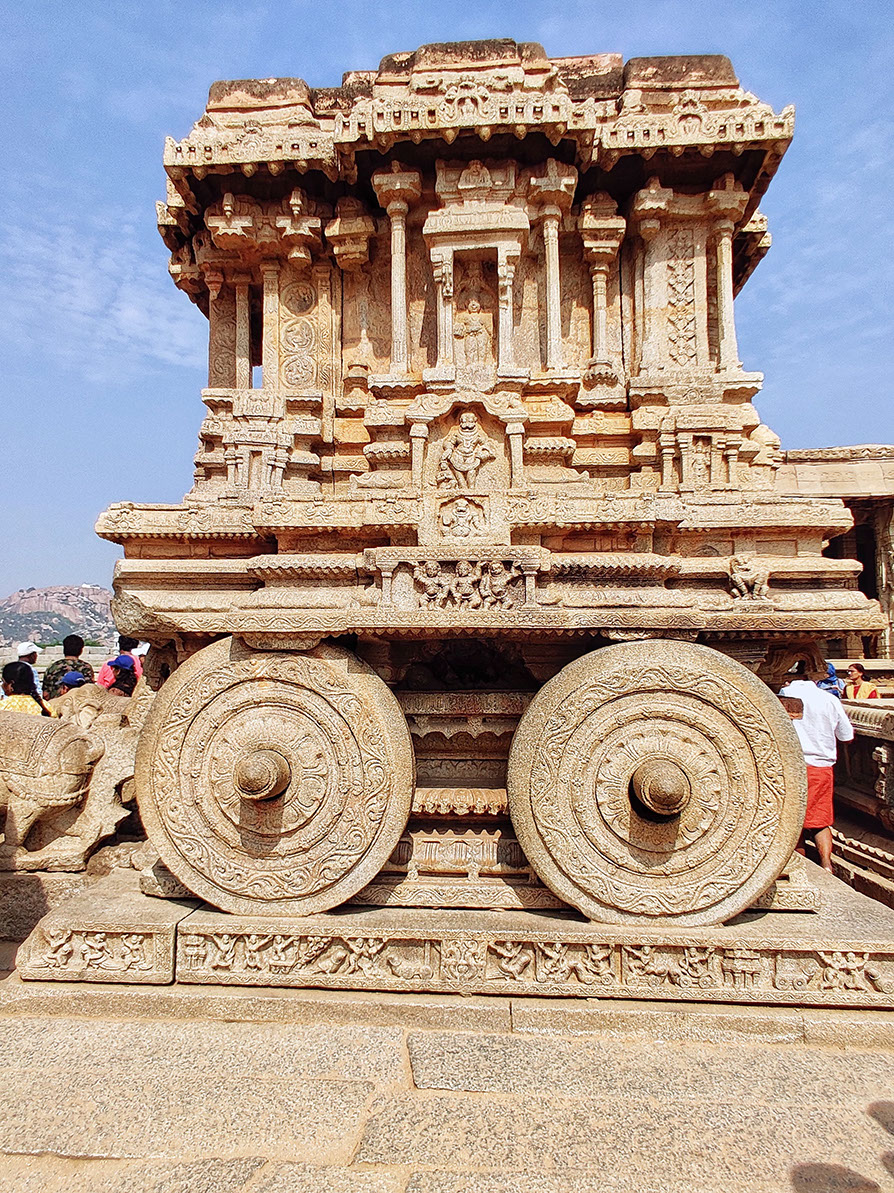 Stone Chariot architecture - an iconic beauty of Hampi
Achyutaraya Temple
Built in 1534, Achyutaraya Temple displays typical Vijayanagara style of architecture. This temple is dedicated to another form of Lord Vishnu and it was built by an officer in Achyuta Raya's court and hence the name. Situated in a valley between two stunning hills namely, Gandhamadana and Matanga Hill, the scenic beauty will blow your mind. The temple courtyard is lined with intricately carved pillars and houses an antarala, rangamantapa and garbhagriha. Owing to its location, it is less crowded. Definitely one of the temples you must explore on your visit to this religiously and historically significant place.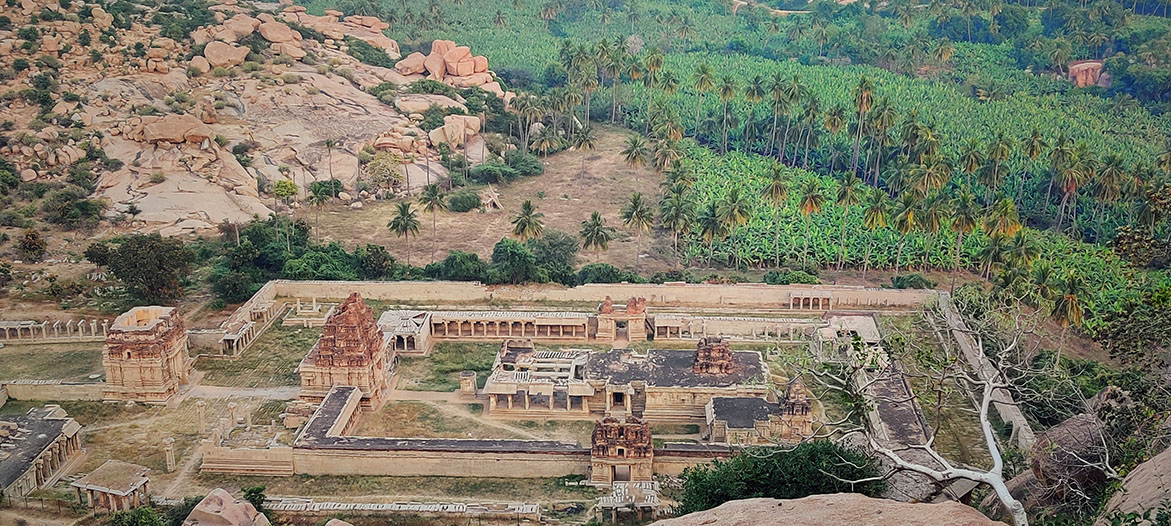 Breathtaking view of Achyutaraya Temple while trekking at Matanga Hill
Stone carving at Monolithic Bull temple
Monolithic Bull temple is another fantastic stone carving of Nandi, the mount of Lord Shiva. This enormous monument is located at the east end of Hampi Bazaar and faces the famous Virupaksha Temple. The statue is a masterpiece of ancient architecture and attracts a large number of tourists every day. It is also one of the most frequently visited historical places in Hampi.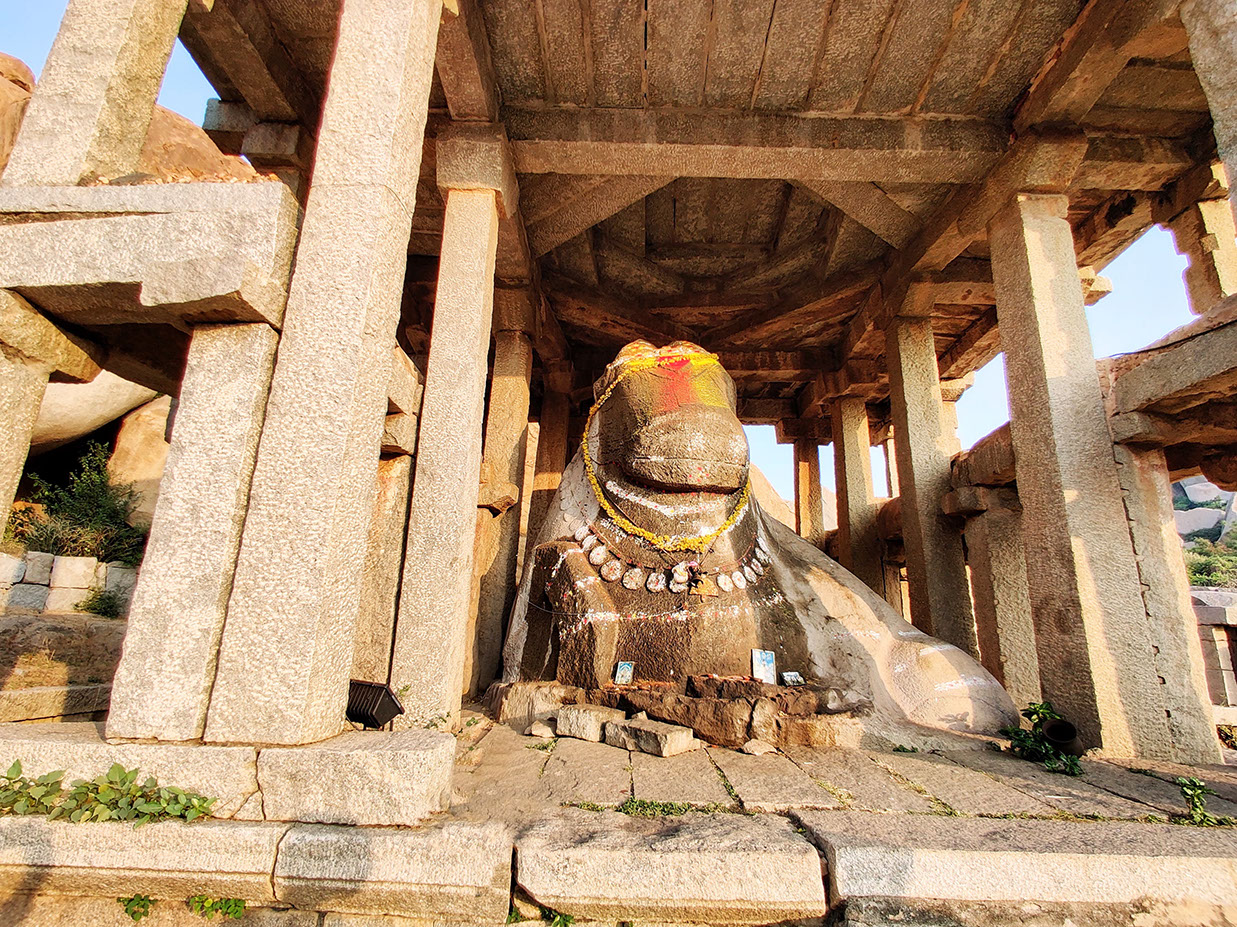 Nandi Statue right in front of Virupaksha Lord Shiva Temple
The King's Balance
The King's Balance is famously known as Tulapurushandana. It is situated south west of Vijaya Vittala Temple. This monument is five meters tall and forms an archway like structure that has been carved from stone. The facts about King's Balance highlights the amount of wealth and generosity Hampi kings possessed in those times. It is believed by many that during lunar and solar eclipses and also during Dussehra, the king was weighed with gold and many other precious stones. These jewels were then donated to the priests of the temple. On observing closely, three loops are seen that may have been used by the king as support while weighing himself. There is an image of a king on one of the pillars; which is believed to be that of King Krishna Deva Raya and his wives.
Krishna Deva Raya's weighing scale (King's Balance) made of stone carvings
Lotus Mahal - the Palace of Lotus
Lotus Mahal of Vijayanagar is another example of exceptional architectural design. As the name suggests, it is similar to a lotus flower. The central dome looks like an open lotus bud whereas other areas of the palace including passages, walkways and balconies resemble the petals. Lotus Mahal architecture is supported by more than 20 pillars.
Lotus Mahal -an iconic, lotus bud and petals shaped Mahal
Queen's Bath - a colossal bathing chamber
History speaks for itself when you are in Hampi. The large bathing place known as Queen's Bath is another exceptional masterpiece. This ornate structure of a colossal bath impresses visitors to this day. The history of Queen's Bath dates back to 500 years, the structure reveals the quality of construction during ancient times. The design and engineering is truly exceptional. It has a large bath in the center and beautiful "Jharokhas" type architecture across the entire corridor. Our guide enlightened us that kings believed in total privacy and hence this was constructed for their queens.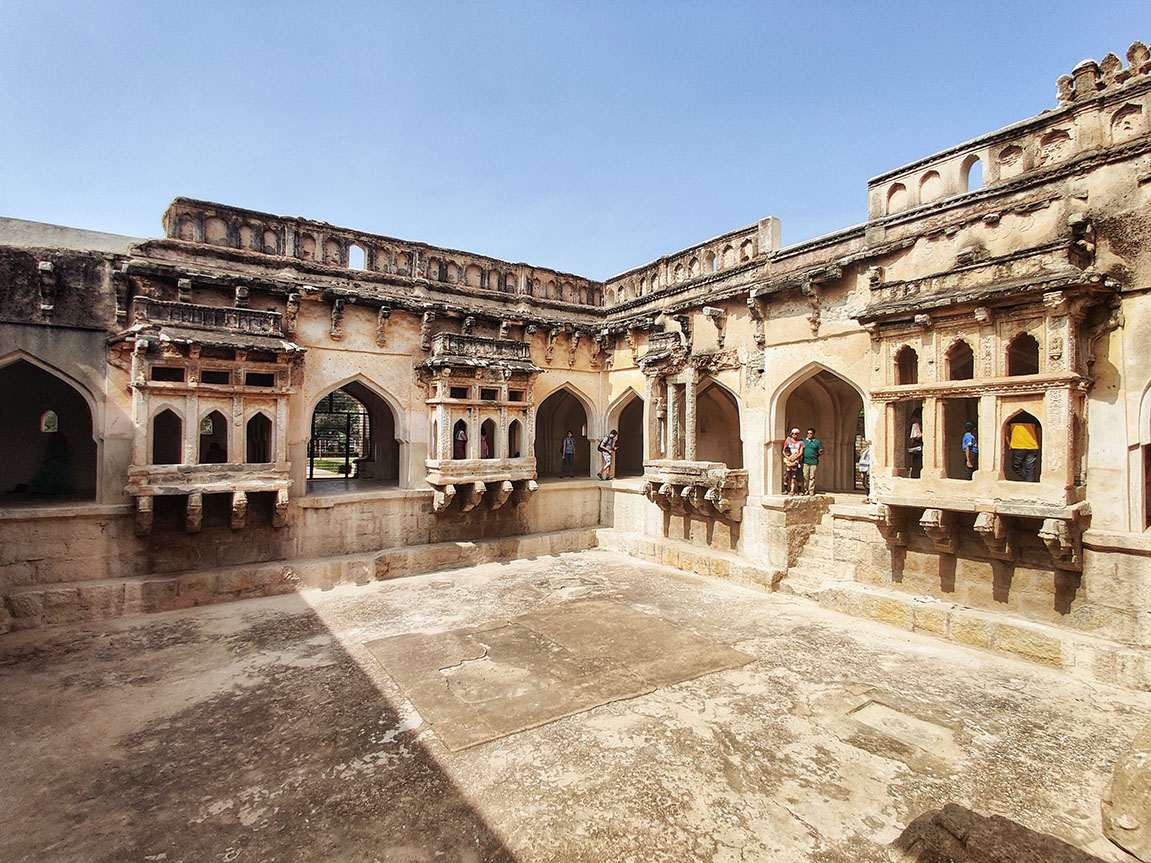 Private bathing place for Queens - splendid design and unique architecture
Elephant Stables - the parking bay for Royal Elephants
We know from history, that ancient rulers and powerful kings fancied horses and elephants. Hampi has this very unique structure with Islamic-style design and architecture that aroused our curiosity. Our well-informed guide told us that these dome-shaped chambers were used to park royal elephants. There are around 11 such chambers all interconnected, and it looks simply amazing. I was in awe of this structure and went all out to capture loads of photographs with many close ups that show these chambers in detail.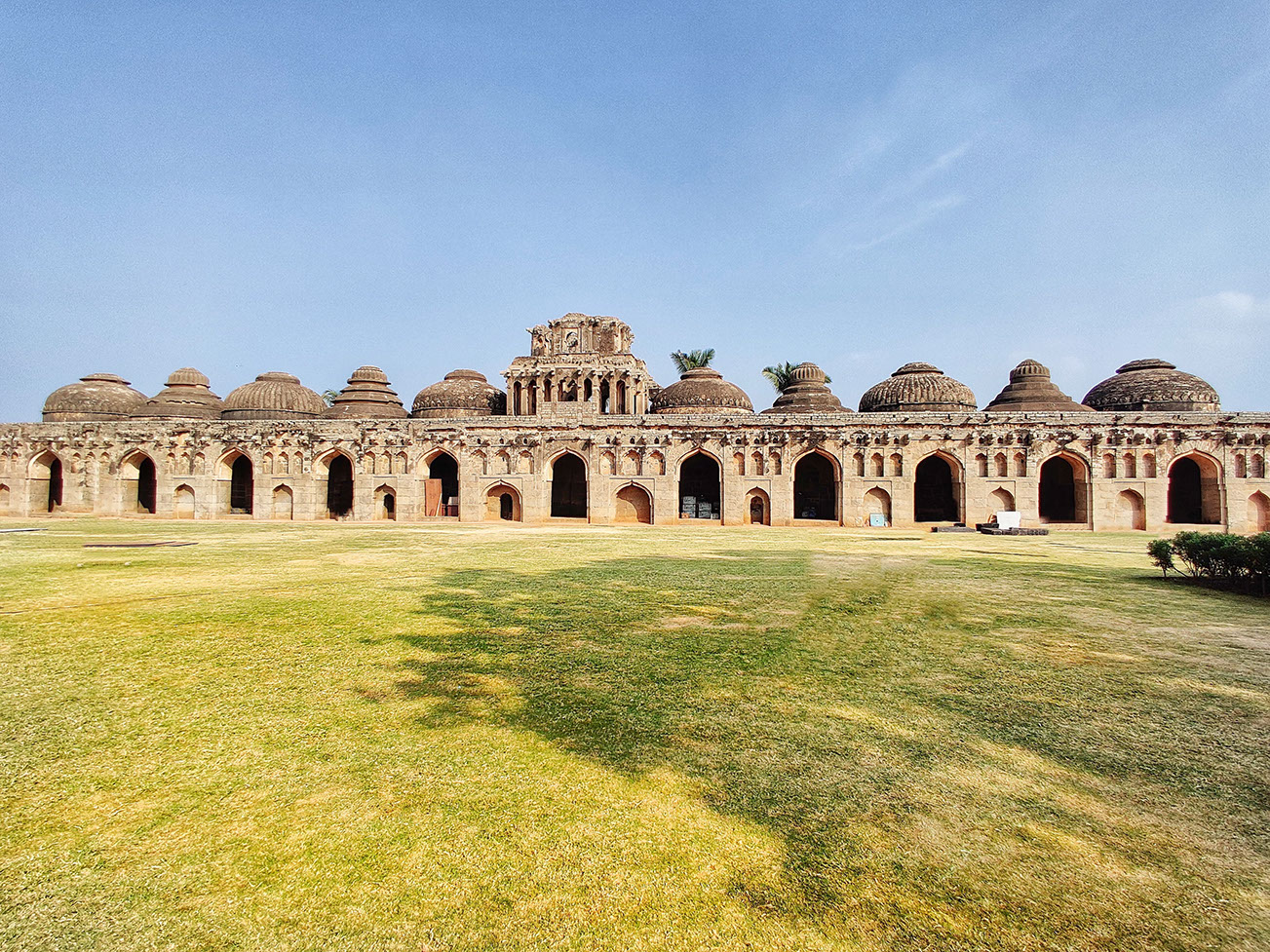 The 11 interconnected chambers used for parking royal elephants
Lord Lakshmi Narasimha Statue
Out of many religious statues in Hampi, this Lakshmi Narasimha Temple has one of the most imposing sculptures. The specialty of this statue is that it was carved out of a single stone. It depicts Lord Narasimha sitting on a seven-headed snake called "Sesha" in a yoga position. This Narasimha statue reminded me of my visit to Nava Narasimha temples of Ahobilam.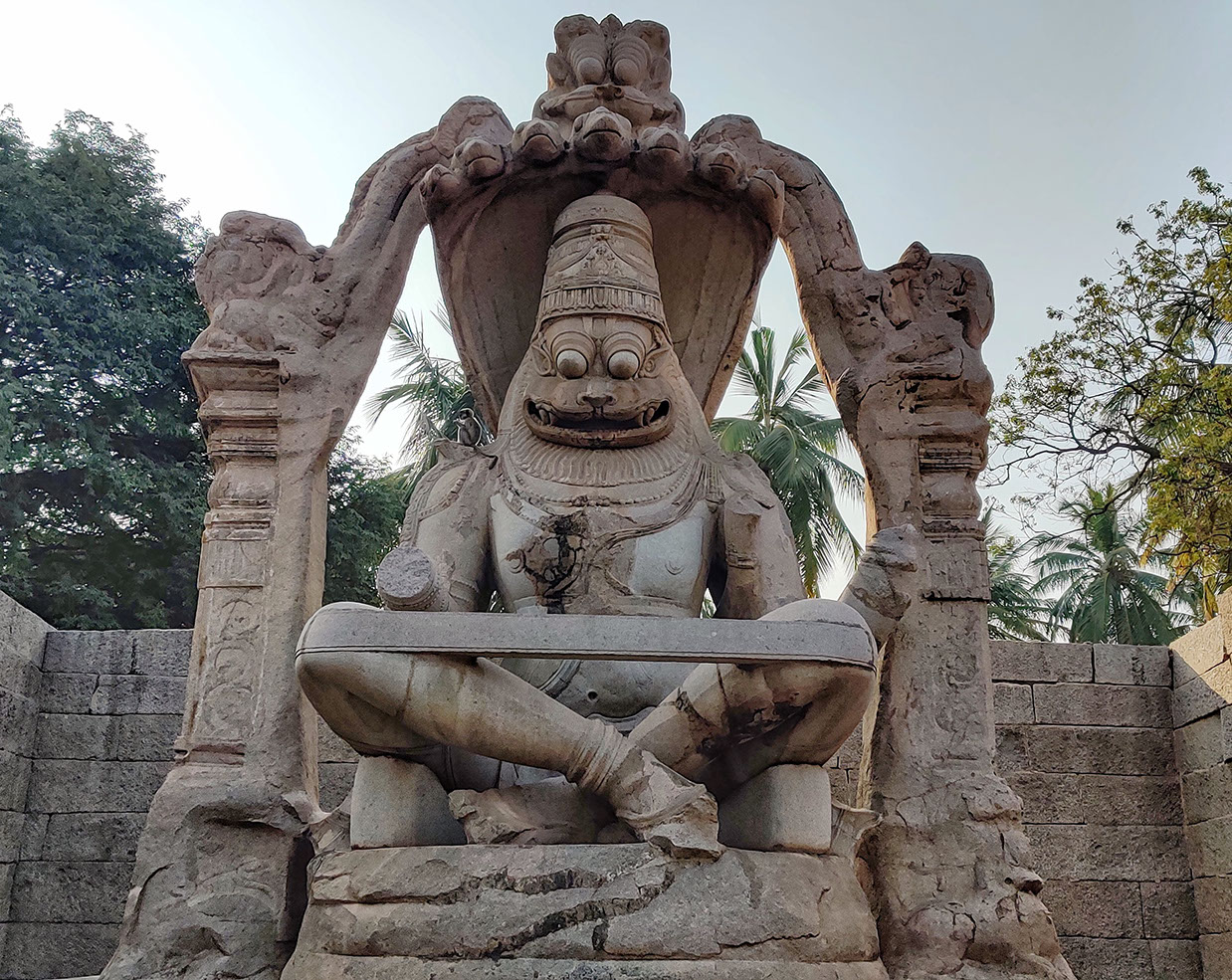 Striking statue of Laksmi Narasimha sitting in yoga posture
Pushkarani Well - the sacred tanks
Everything in Hampi is all about intriguing design and extraordinary craftsmanship; Pushkarani of Hampi is no exception. Each monument exhibits the ancient town planning and architectural style of the Vijayanagara era. These sacred tanks attached to Pushakarani temple were associated with rituals and functionalities of the temple. They served as a venue for their annual boating festivals during which, idols of both Gods and Goddesses are taken out on a coracle boat. You will pass through this sacred Pushakarani Well while walking towards Virupaksha temple.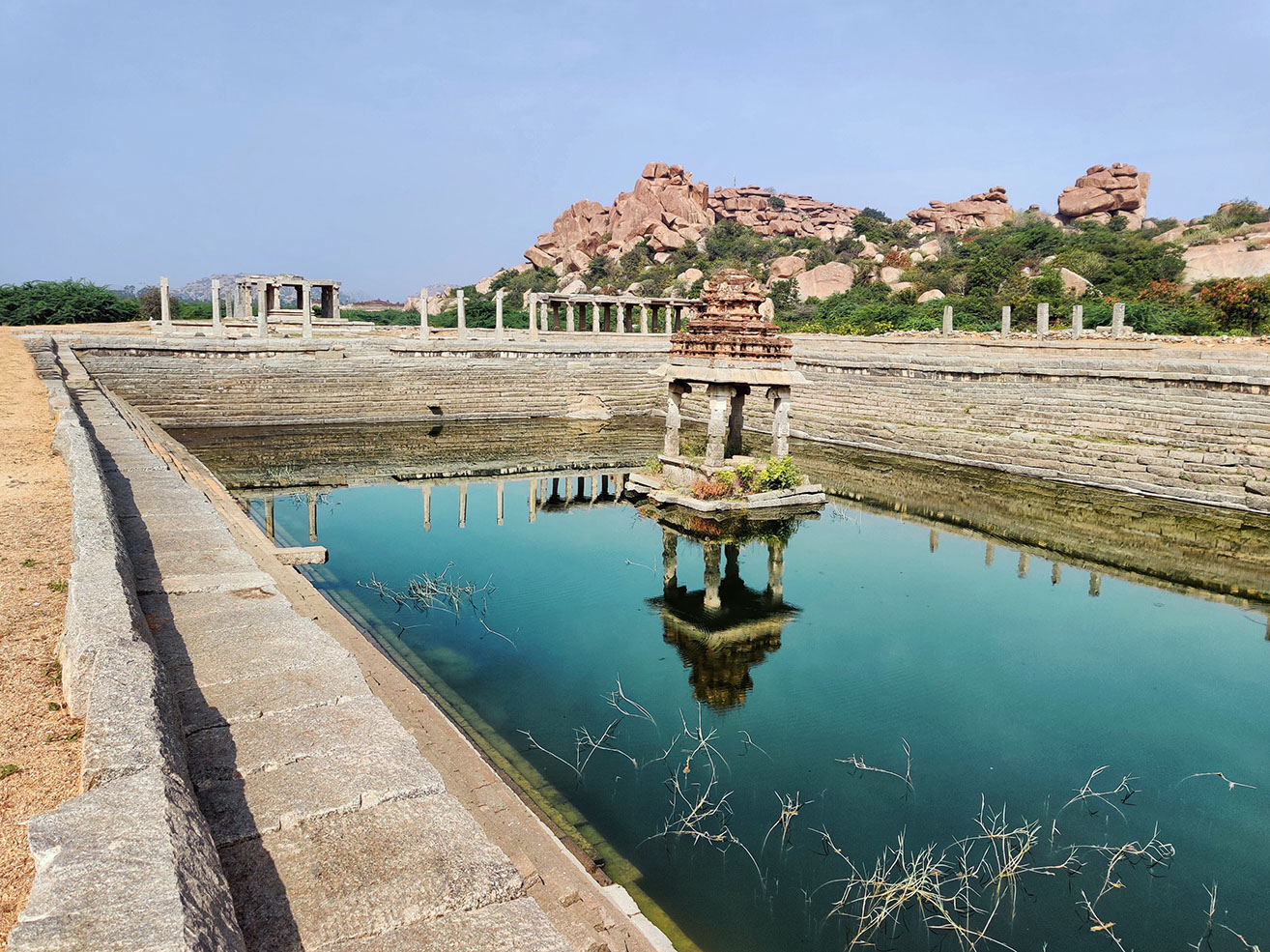 Sacred tank of ancient era exhibits exceptional design and architecture of Hampi
Stepped Tank
This stepped tank is amazing and its unique architecture is intriguing. The geometrical dimension on all four sides and the beauty of the design speaks volumes about the craftsmanship of those times. This is constructed from black stones. We could see a lot of construction completely made from stones in Hampi. Our guide also showed us circular stone "Thalis" designed those days that were used for serving food to soldiers. Each and every monument has a hidden story carved on its stones from king's swords to statues of dancing ladies.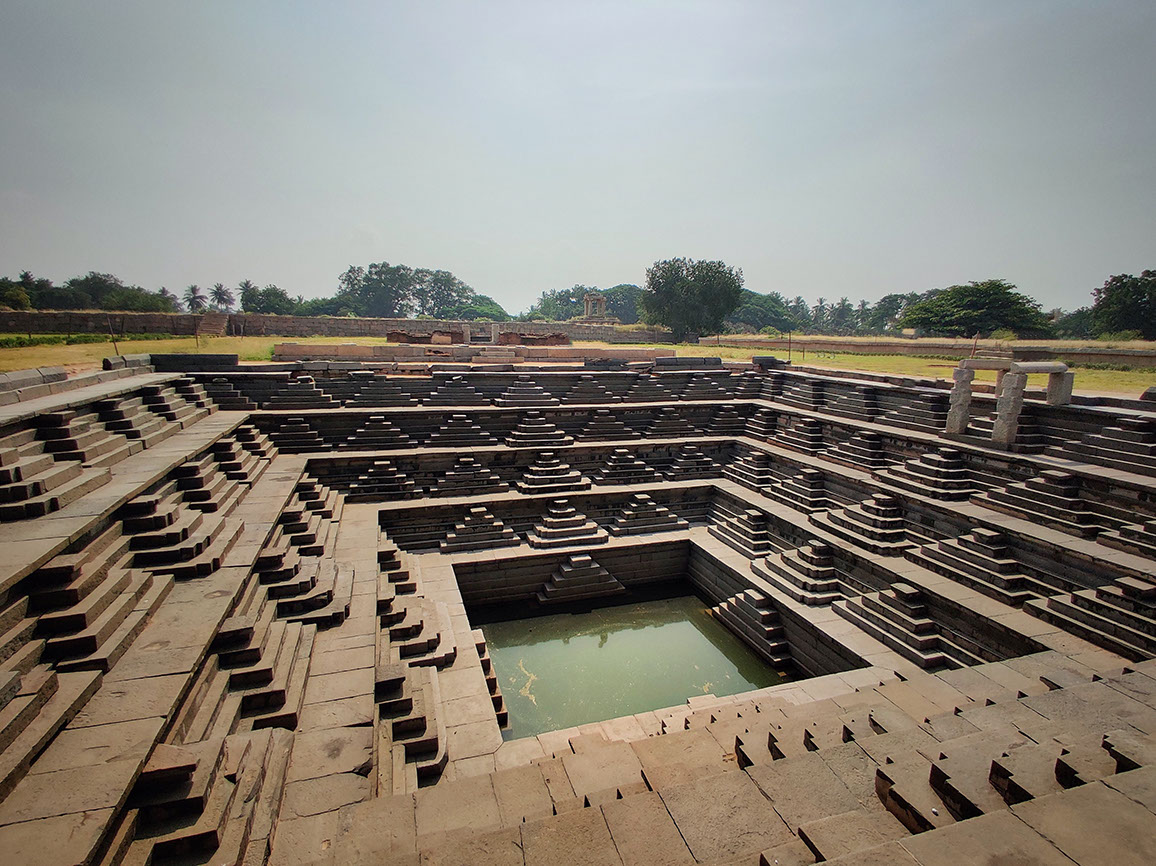 Stepped tank geometrically carved from stones used for water storage
Tall Ganesha Temple
One of the landmarks of Hampi is Kadalekalu Ganesha statue. This tall Ganesha temple is carved from a single massive black stone. It is situated on the slopes of Hemakuta Hills with Kadalekalu Ganesha height of about 5 meters. This is a vantage point from where one can have a spectacular view of Vijayanagara architecture and its style of art.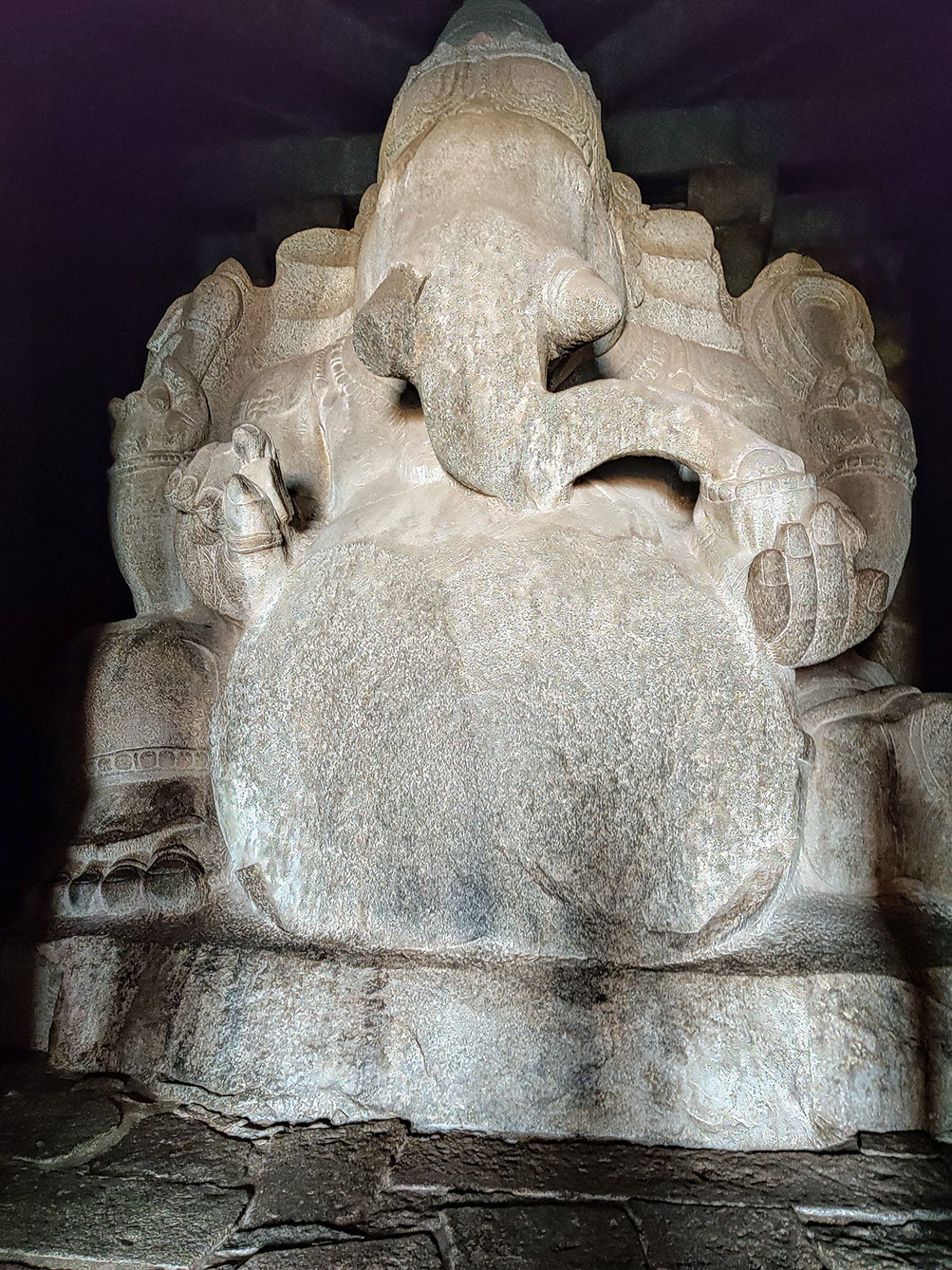 Towering statue of Lord Ganesha in the temple; another unique carving from a single stone
We spent three hectic but enriching days in Hampi. From trekking to the top of Matanga Hill and Lord Hanuman's Temple, relaxing at Hippie Island, taking a coracle ride, to exploring the astounding architecture of Hampi, we had a unique experience. We covered more than 30 MUST VISIT sites and monuments in Hampi, all of which were built by Krishna Deva Raya, the greatest ruler of the Dynasty. When we visited Gandikota after our visit to Hampi, I was awestruck with somewhat similar architecture in Gandikota fort.
Finally, while we were leaving this amazing treasure trove of mindboggling architecture and history, there was a feeling that we might have missed something. Guess that is my excuse to visit this mesmerizing place again, soon.
Frequently Asked Questions
:
What is famous in Hampi?

The ancient village of Hampi is a UNESCO World Heritage Site. It has monuments dating back to the 14th century and ruins of some of the mesmerizing ancient architectures. The design of various Hampi temples is eye-catching. In a nutshell, Hampi is a history lover's paradise.

Are 2 days enough for Hampi?

One may not be able to cover all the important monuments in Hampi in 2 days. You would need at least 3 days and ideally 4-5 days to explore Hampi and its heritage monuments.

Is there a beach in Hampi?

Hampi is quite far away from the coastal belt of south India. Hampi is located at the banks of Tungabhadra River and you can indulge in a coracle boat ride over there.

Who built Stone Chariot at Hampi?

King Krisha Deva Raya of Vijayanagara Empire built Stone Chariot in the 16th century. Stone Chariot architecture is quite unique as it stands on two giant wheels with two elephants pulling the chariot.