I stepped out of my "Coffee Cottage'' in Sand Banks homestay, built from the wood of coffee plants amid a grassy meadow adorned by a necklace of a lazy river. The river bisected coffee and pepper plantations amid the serene ambience carrying along a flock of ducks making their way downstream. I thought I was dreaming about some exquisite location before the chirping of birds and aromas of lip-smacking Kodagu cuisine brought me back to my senses. We were actually in Coorg, Karnataka! My family was waiting for me at the alfresco dining area with the breakfast, a traditional coorg cuisine of Akki Roti and Tomato Chutney.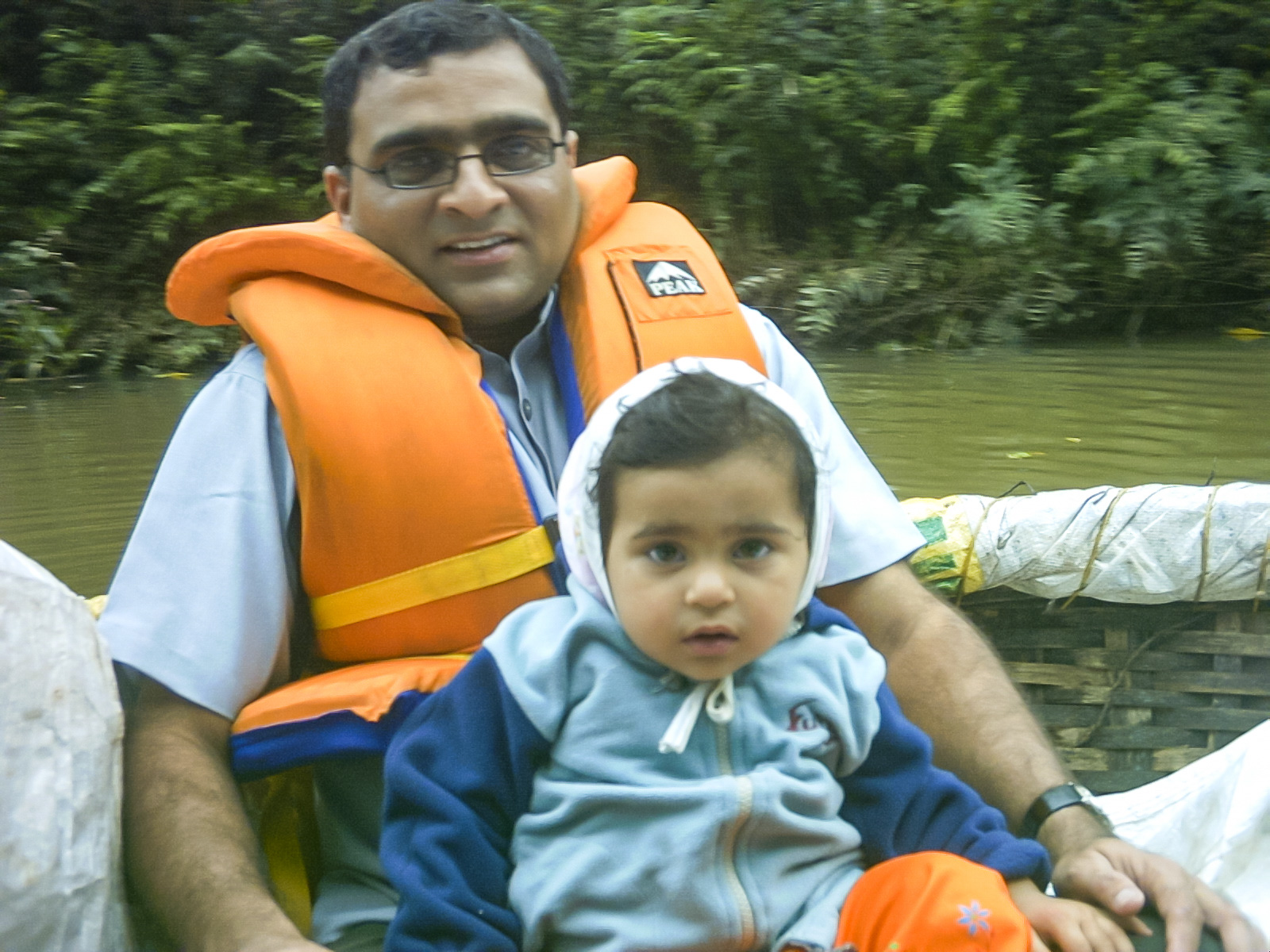 Taking my little daughter for a coracle ride inside Sand Banks homestay during my first visit to Coorg

After this first trip to Coorg 15 years ago, I have been frequenting this place. Coorg also known as the "Scotland of India", is nestled amid the rolling hills and lush greeneries of Western Ghats at the southernmost tip of Karnataka. Karnataka is the largest coffee producer in India with Coorg taking the lion's share in this. Captain Robert Cole, the Superintendent of Coorg in the 1860s during British rule in his book "An Elementary Grammar of The Coorg Language" has the best description of this region. He writes "The thunderstorms during this season are often magnificent. The war of the elements is carried on here in a grander style than in the low country. Banks and mountains of clouds move against each other with the order of armies. The sound of heavy cannon is heard from a distance, solitary discharges of the electric fluid shoot through the gloom. The lightning lose their intense and fearful glare, and the rain pours down in torrents."
Enjoy the Greenery in Coorg
I still remember when I told my colleagues in Bangalore about Coorg before my first visit, none of them got excited as hardly anyone knew about it except that it was in Karnataka. We reached Ammathi braving the uneven terrain with the last stretch of 100 kilometers taking almost 3 hours. Hotels for stay in Coorg and restaurants for meals were few and far between. Coorg is famous for homestays from the early days. Today, the scenario has changed dramatically with excellent infrastructure and plenty of accommodation options. At least 1,000 homestays have sprung up in the last few years in almost every corner of the district. Coorg is extensive and almost vertical with an end-to-end distance of about 200 kilometers. While the place is evolving, two things have remained constant; the natural splendor and local hospitality and this is what attracts travelers and keeps the economy going.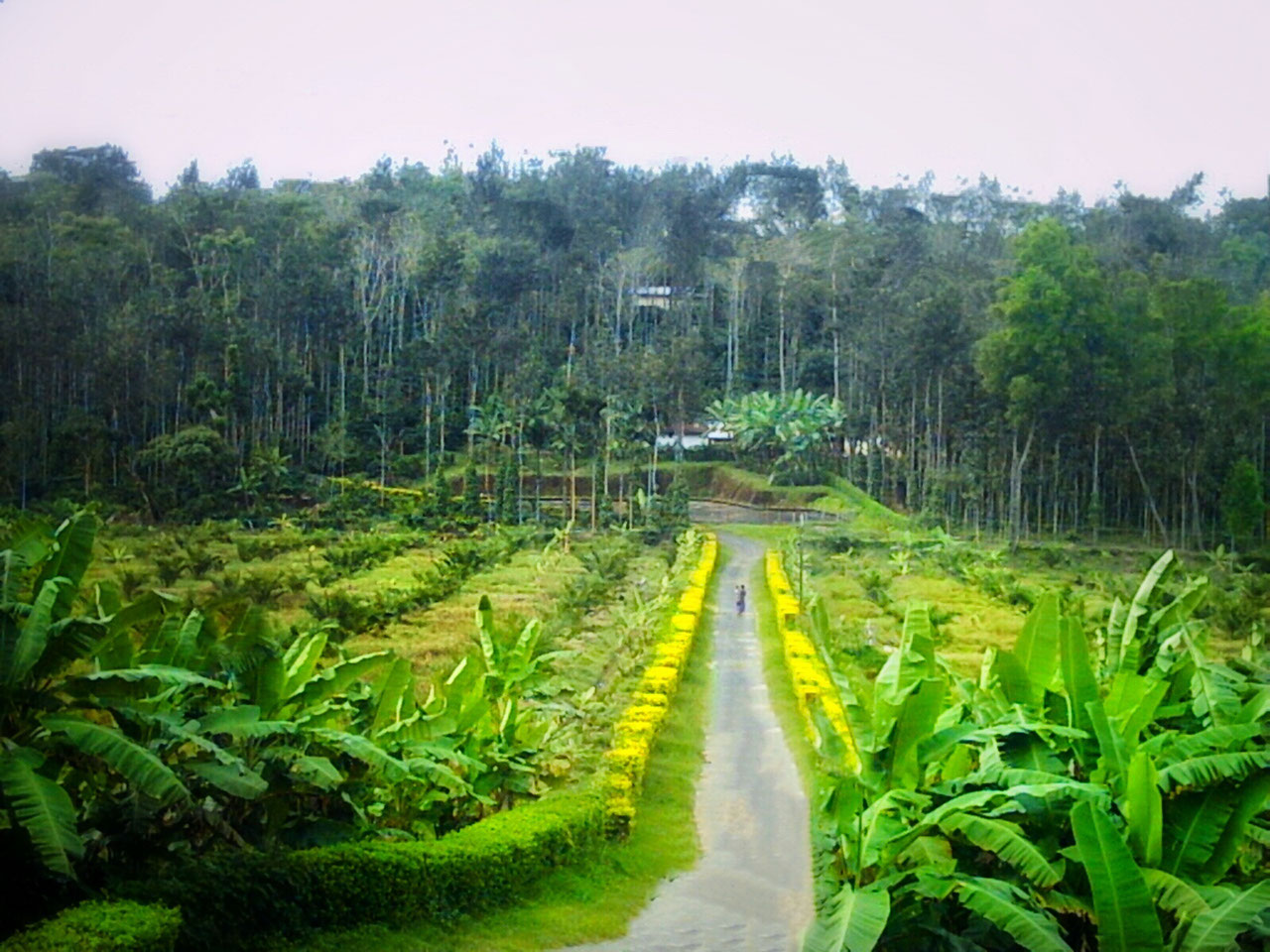 Lush green plantations and serene beauty haven't changed in Coorg and that's what attracts the travelers from the world over
On numerous trips to Coorg over 15 years, I have stayed with many local hosts in their estates and sometimes with them in their own homes. Coorgis are one of the most hospitable communities. They welcome you into their space and treat you to the most delicious local cuisine. I had to hit the gym twice a day for a couple of weeks after my return from Coorg. To do complete justice to the entire region, an 8-10 days' trip is warranted. There are many things to do in Coorg, but my way of enjoying is to spend time with the hosts at the homestay for a couple of days. It is intriguing to learn about their culture, accompany them on walks inside their sprawling coffee estate, understand intricacies of coffee processing and of course relish local cuisine with them on the same table. Next, I would venture out on a drive, stopping frequently to soak in the landscape until my desire for ecotherapy is satisfied. A vehicle is a must to enjoy the beauty and explore hidden gems of Coorg.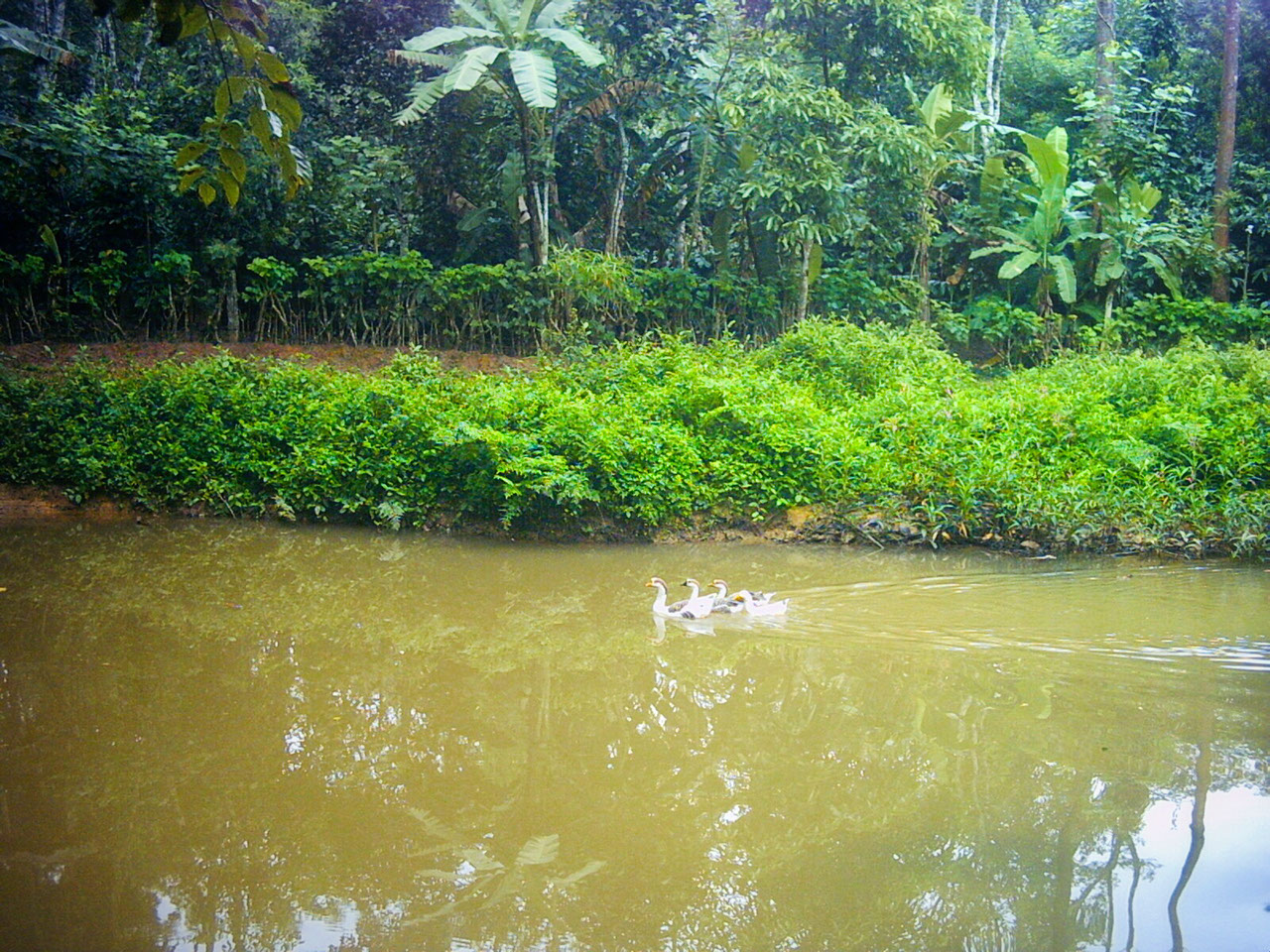 Quack, quack the sound you repeatedly hear for hours while sitting at the sandy deposits of a lazy river inside a homestay in Ammathi
Bangalore to Coorg road trip is the best way to explore various places of visit in Coorg. Depending on where in Coorg you want to base yourself, the distance varies between Bangalore and Coorg. There are many routes to reach Coorg from Bangalore. To reach south, you should pass through Nagarhole Tiger Reserve, which is my favorite route. For the center (Madikeri), it should be via Hunsur/Periyapatna or Holenarsipura. For Somwarpet in the north, it should be via Sakleshpur.
Each route offers its own version of scenic beauty. I have spotted numerous wildlife in Coorg on the highway passing through Nagarhole Park. The best time to pass through is early morning or late afternoon. You can halt and take safaris inside the forest; however, it's not my agenda as you rarely spot endangered species from the cat family with an exception of Kabini. The probability is higher to spot them on the highway when no other vehicles are around.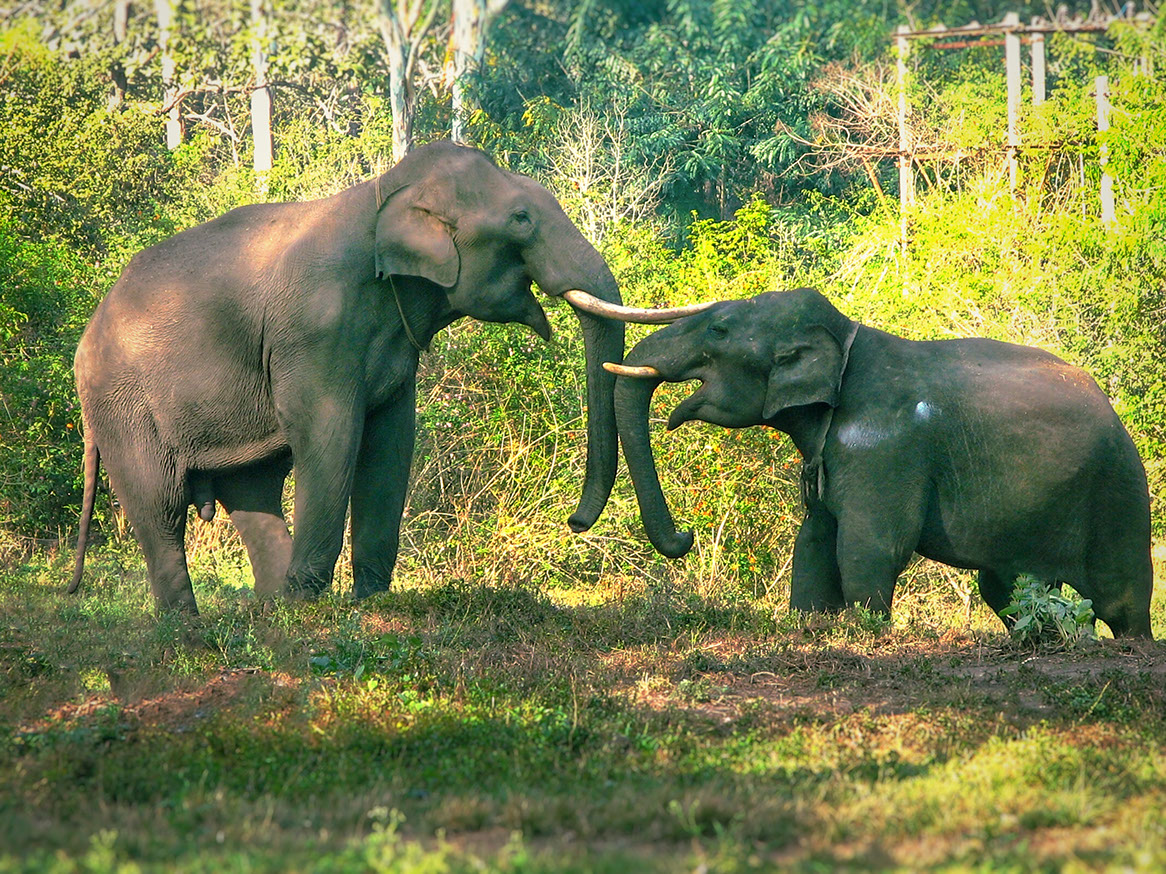 Sighting elephants is common in Nagarhole, here is an elephant couple engrossed with each other while vehicles pass by on the highway
Coorg is a cluster of picturesque places
South Coorg is off the tourist radar. There are good homestays in south Coorg around the small town of Kutta. This part is famous for trekking in Brahmagiri hills with the peak at 5,000 feet and remains mist covered most of the time. It is home to an abundance of wildlife and water springs.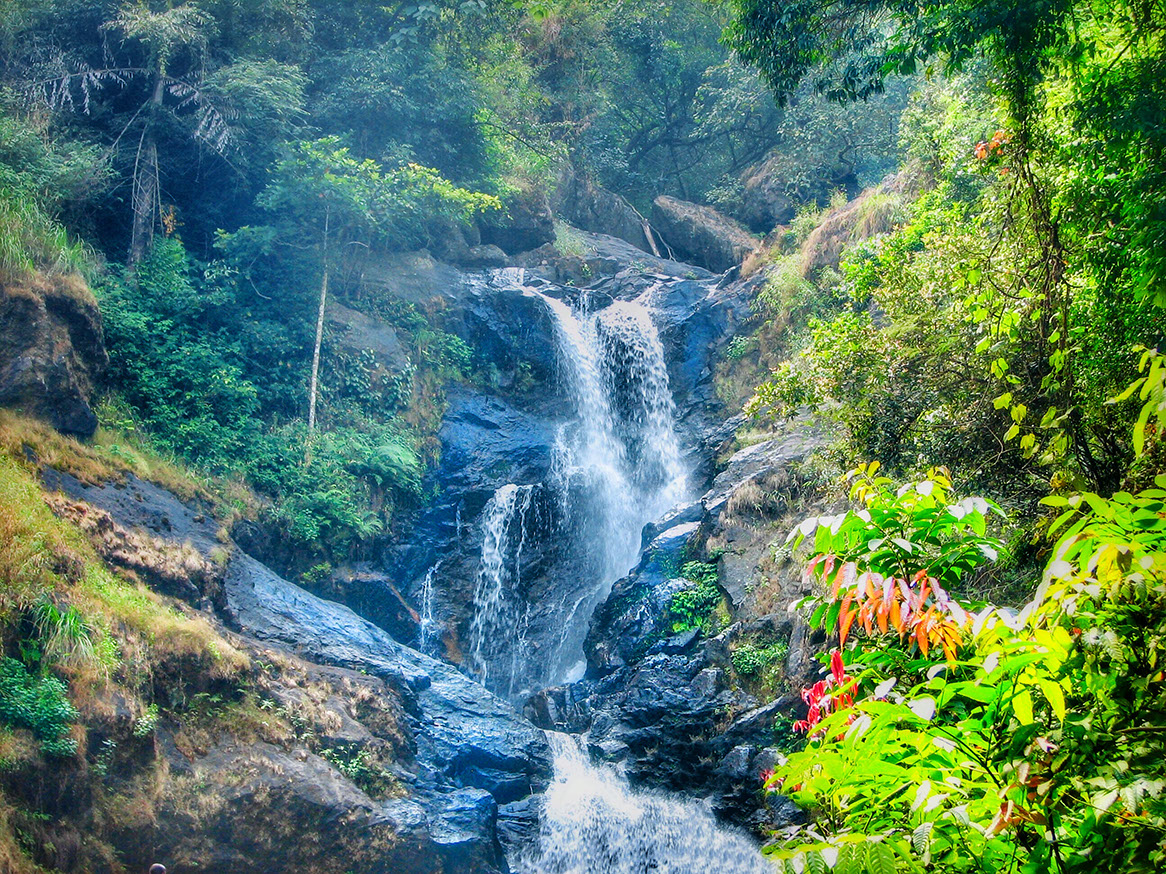 Irpu falls: a cascaded waterfall with crystal clear water from a height of 170 feet
As we drove further north on the mountain trails, we witnessed the panoramic views of misty hill slopes and the undulating paddy fields under the blue skies. There are a few stunning tourist places in Coorg and mostly around Madikeri, one of them is Raja's Seat. This used to be a favorite viewpoint of the kings of Kodagu in ancient times and hence, named Raja's (King's) Seat. You need to be extremely lucky to have clear skies to get a glimpse of a stunning sunset from here, the panoramic view atop the hill will be etched in your memory for a long time. If you want to experience lush green surroundings from Raja's Seat, visit Coorg during monsoon.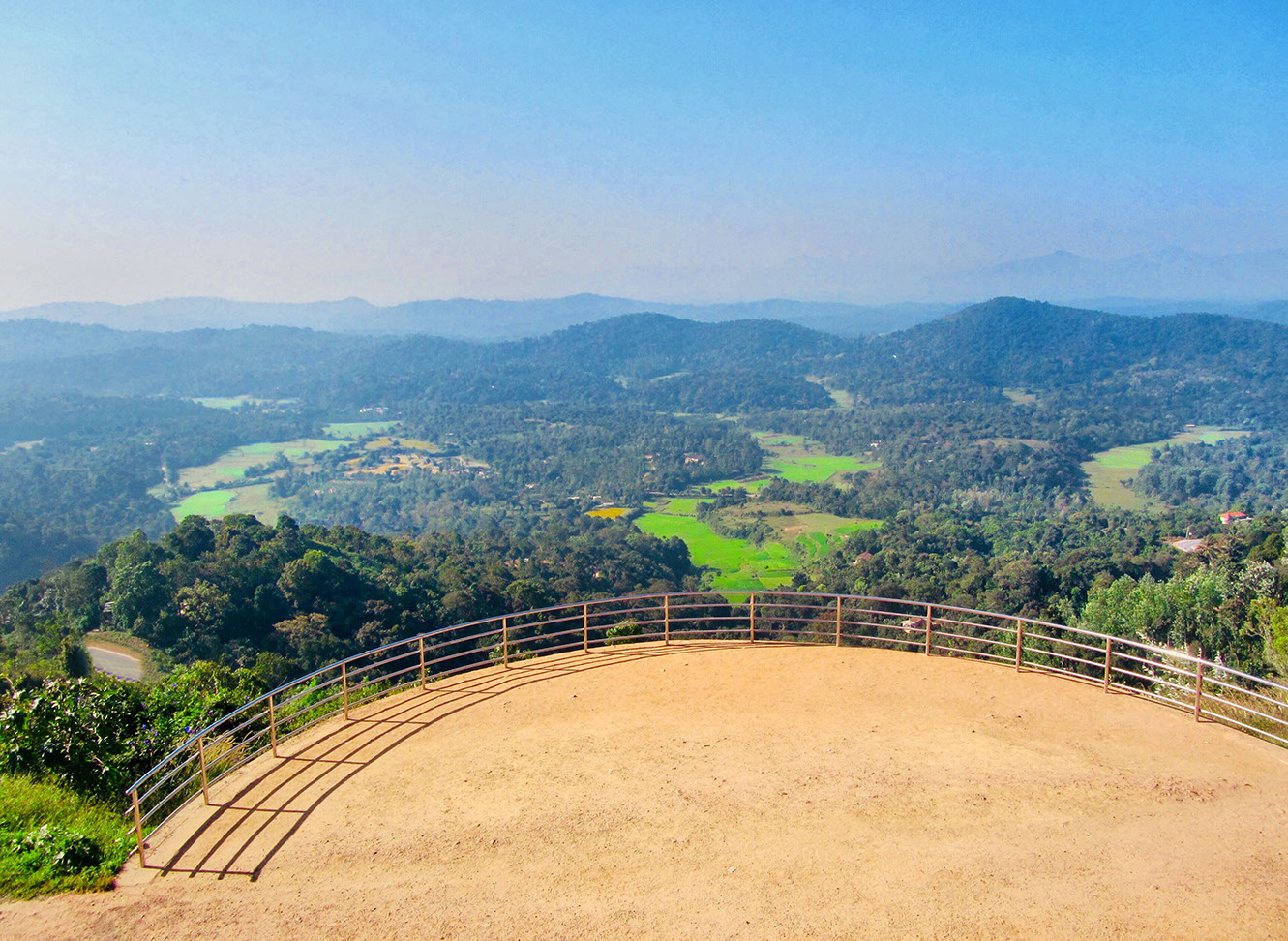 The favorite recreation point for the ancient Kings, a breathtaking view at Raja Seat Park is a must visit spot
The sound of the gushing river and intoxicating aromas of spice and coffee plantations greet you at the parking lot creating anticipation of something stunning down the hanging bridge. Not far from Raja's Seat is the scenic grandeur of Abbey Falls. Its view from the hanging bridge built over Kaveri River provokes a sense of excitement especially if it is during the rainy season in Coorg when the white noise dominates.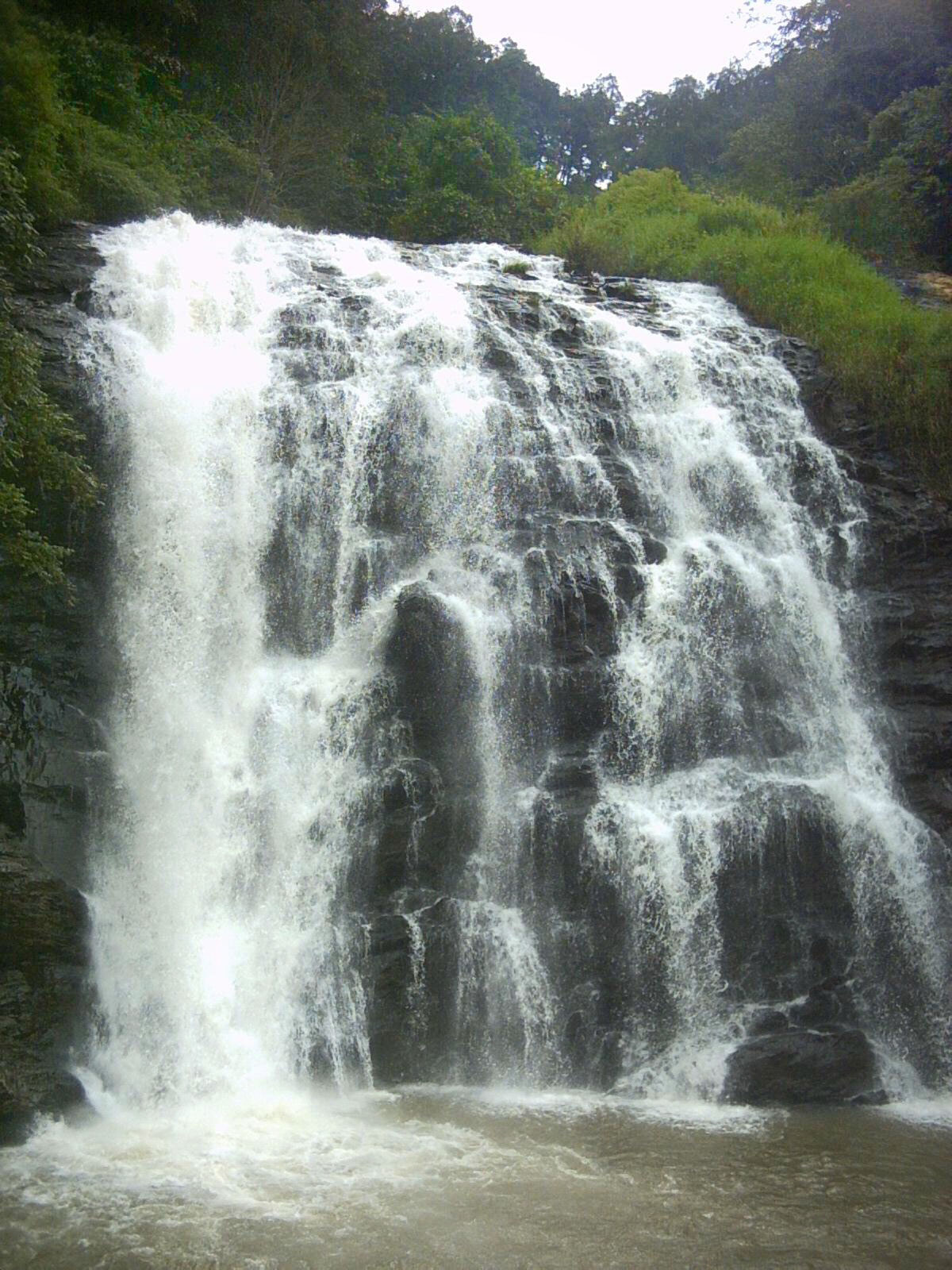 Abbey Falls: Water falls from a height of 70 feet into a pool before merging with River Kaveri
About an hour towards the west is the holy site of Talakaveri located in Brahmagiri hills. It is believed to be the source of River Kaveri, one of the 7 sacred rivers in India. The last 10 kilometers of the drive goes through winding roads and beautiful landscapes. There are few temples including the famous Brahma temple; mostly crowded with religious tourists. For the less religiously oriented, the drive is still worth it. There is a steep track to Brahmagiri hills just near the entrance of the temple. A 30-minute climb reaches you to a stunning viewpoint of the Western Ghats. Many travelers unaware of this viewpoint return from Talakaveri and are disappointed on discovering what they missed out.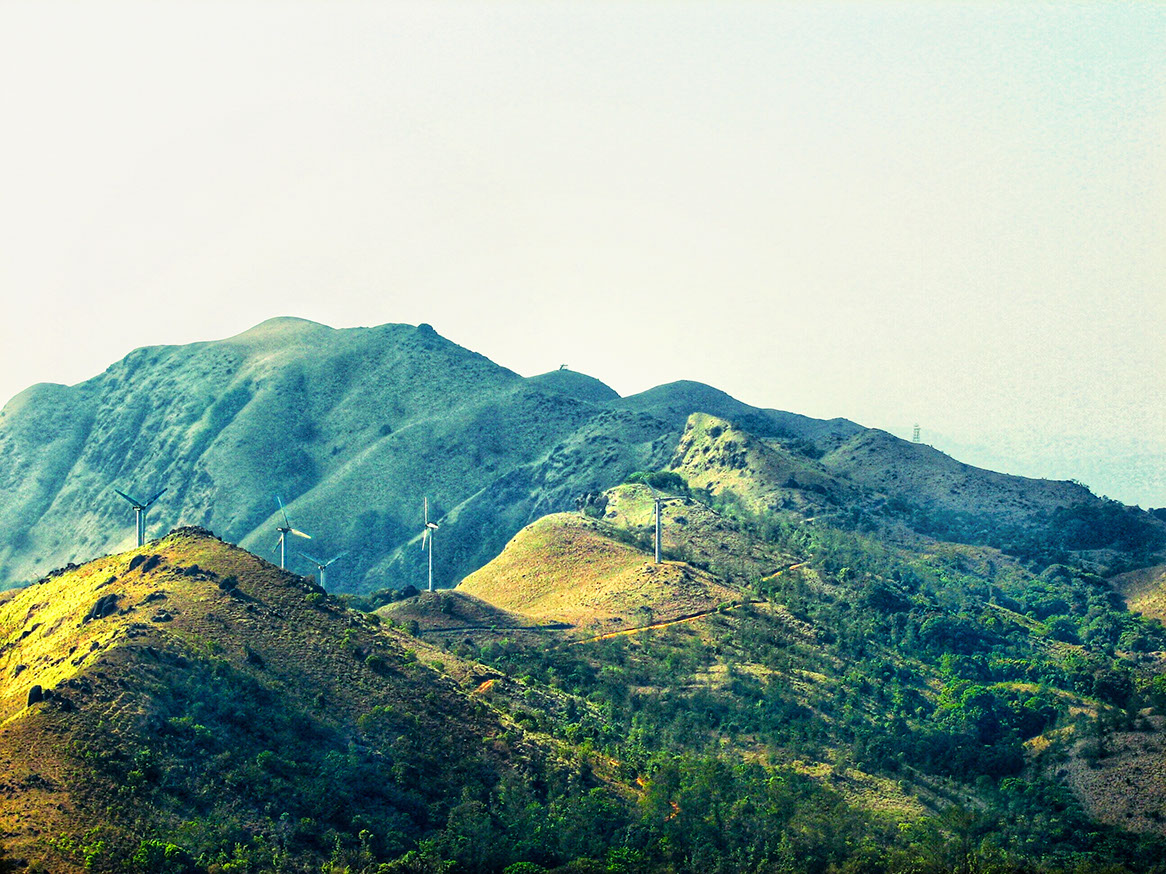 Atop Brahmagiri hill you can see Shola of Western Ghats dividing Karnataka and Kerala
Meditation in Coorg's Tibet
There is a small Tibet in Coorg! Yes, you read it correctly. Bylakuppe, a small village near Kushalnagar is the largest foreign Tibetan settlement in the world. It boasts of a sprawling Buddhist Monastery (Namdroling Monastery) famous for its grandeur and beauty, also known as "Golden Temple", built in 1963. It is the largest teaching centre of Nyingmapa in the world and home to 5,000 monks and nuns.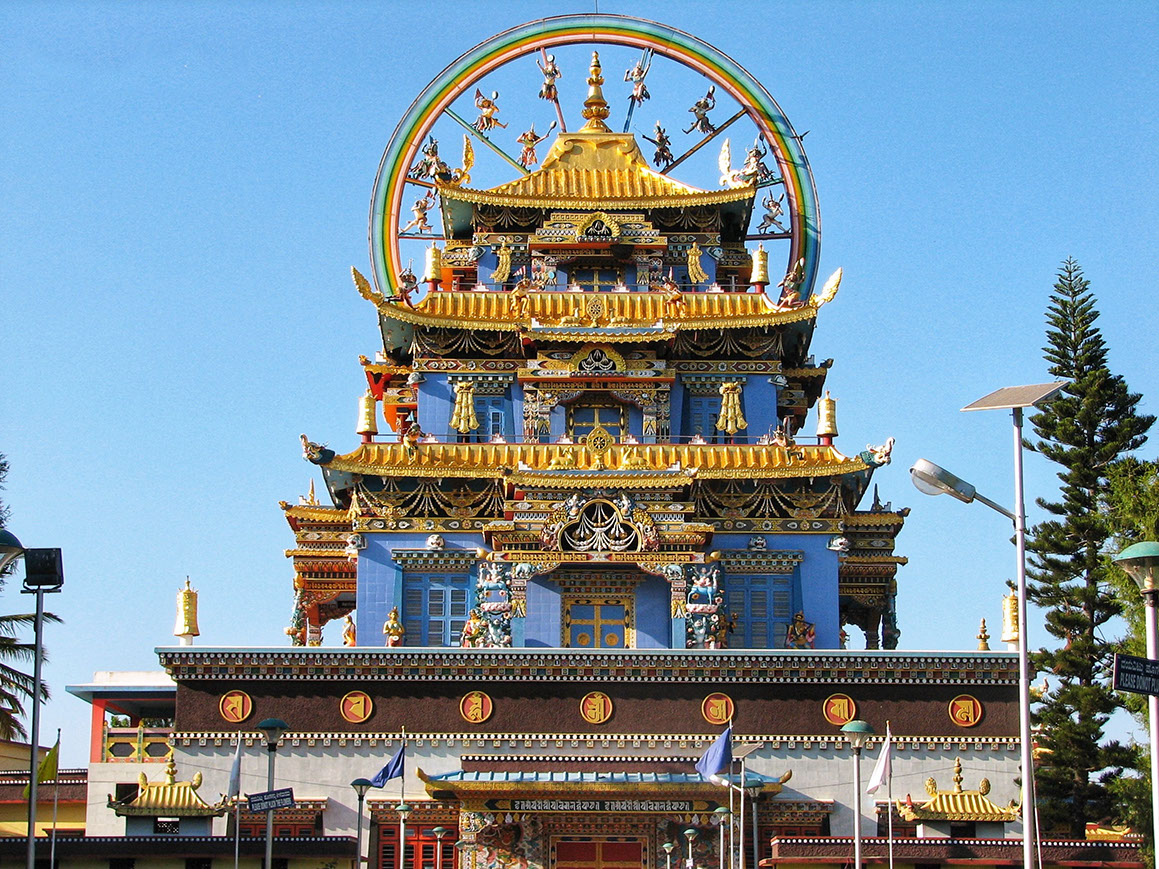 Beautiful entrance of Buddhist Monastery in Kushalnagar

You can sit inside the colorful and beautifully decorated main hall where the devotees come to worship and meditate. One can also take a stroll around the monastery and interact with the monks to learn about their culture and lifestyle.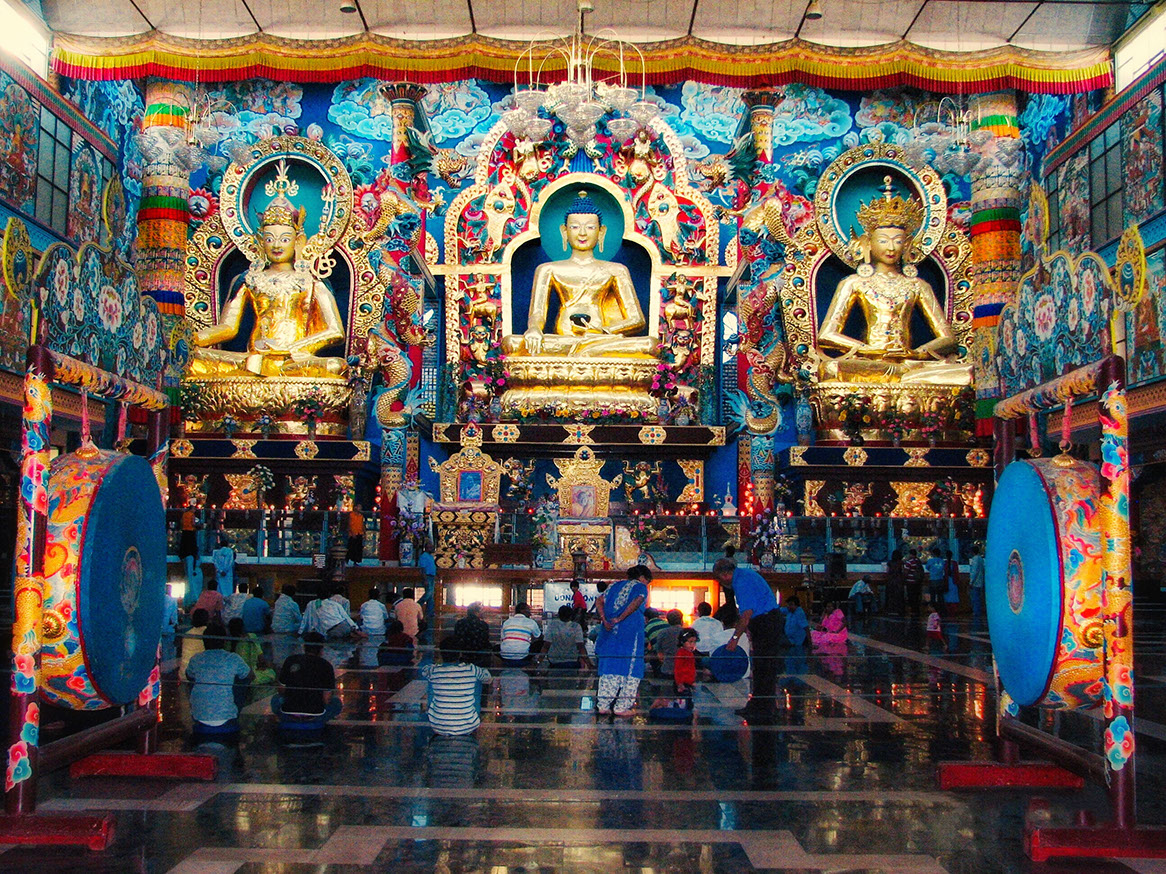 Main hall of the monastery with statues of Buddha, Padmasambhava and Amitayus, standing tall at 40 ft. The walls are decorated with elaborate Thangka paintings.
The neighborhood of Kushalnagar has an interesting island spread across 64 acres, Nisaragadhama. The island is formed within Kaveri River and is a home to bamboo forests and different species of birds. The entrance to the island was through a hanging bridge made of ropes and wood, now replaced by a new suspension bridge with solid structure. Mornings are the best time to visit to enjoy the place and beat the crowd. The sound of wind blowing through 10-meter tall bamboo trees with sunlight filtering through blending with the chirping of birds is a beautiful experience. Boat rides in the river including paddle boats are available to enjoy the beauty of the island. The island also caters to kids with several kid-friendly activities. There is a government operated Forest Resort inside the Nisargdhama island where you can stay for one night in bamboo cottages and experience nature in pitch darkness of the night. The accommodation is basic and inexpensive, but nature lovers will treasure the experience.
Enter Nisargadhama through a newly built suspension bridge over the river with thick bamboo forest on either side
There is an elephant camp in Dubare. Although it sounds exciting, I would give it a miss. There have been numerous complaints of elephant abuse in this park over several decades with these magnificent tuskers heavily chained to restrict their movements put through insane torture and at times pay for our entertainment with their lives.

This entire eastern region borders Mysore and keeping this in mind helps you save driving distance on your return. You can quickly get onto Mysore highway heading into Bangalore. Mother Nature showers her blessings as we leave Coorg and drive back home.
Frequently Asked Questions
:
What are the different activities one can do in Coorg?
Coorg, also known as Kodagu, is a district in Karnataka, India. There are many things to do in Coorg. Adventurous can go for trekking to Tadiandamol peak and also Abbey Falls. For those who want to try something different, there are activities like rafting and zorbing. One can visit Raja's Tomb, Bylakuppe Tibetan Monastery, Omkareshwara Temple, etc.
What are some famous foods in Coorg that you should try?
Coorg is known for its food. One famous dish is the Pandi Curry, a spicy pork curry that is best served with steamed rice. Another popular dish is the Akki Rotti. Also, you must try the unique and distinctive variety of vegetarian food in Coorg. For dessert, you may try some homemade cookies or Coorgi coffee.
Why does Coorg have the nickname "Scotland of India"?
Coorg - or Kodagu, as it is officially known, is a small district in Karnataka. Coorg has a rich history and culture, and features some of the nation's most spectacular landscapes. It is situated in the Western Ghats, and is covered in lush green forest. Its picturesque setting has earned Coorg the nickname "Scotland of India."
What is the best place to stay in Coorg? A resort or a homestay?
Homestays are taking over resorts in Coorg. When deciding whether to stay in a resort or a homestay in Coorg, there are a few things to consider. If you're looking for luxury and pampering, a resort is the way to go. However, if you're looking to get a more authentic experience of Coorgi culture and meet some local people, a homestay is the better option.
What is the best way to get to Coorg from Bangalore?
The best way to get from Bangalore to Coorg is by car. The journey takes approximately 5 hours. This will allow you to explore the area at your own pace and make stops along the way. Depending on where you want to go in Coorg, there are several routes from Bangalore to Coorg.