The vast majority of tourists are under the impression that the United States is not a popular destination for backpackers or budget travelers. They believe that visiting the US costs a lot of money.
We frequently hear that the United States has virtually no public transportation and few low-cost lodging options. Taxis are incredibly expensive, and the interstate railway system is nearly non-existent. This leaves you with only one option: fly, which is extremely expensive.
In general, the United States is a vast country with no tourist infrastructure.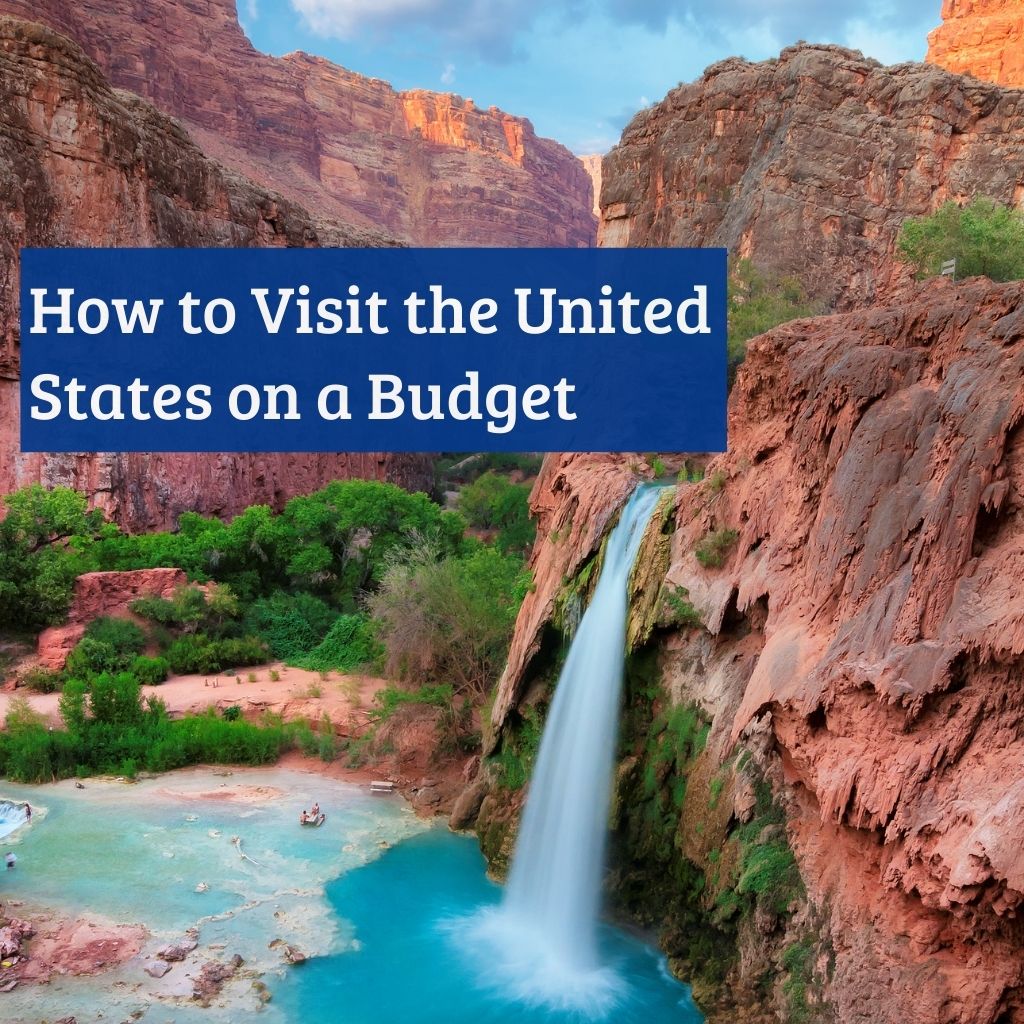 I hear you! But that is not the end of the world. I've been traveling the United States regularly for the past 23 years and have lived there for a few years. What if I told you that the United States is the cheapest developed country to visit?
Surprised! You don't believe me? That's all right.
Millions of people dream of visiting the United States each year, but few realize that it is possible to do so on a budget. You can visit America without breaking the bank if you plan ahead of time and use the many ways to save money when traveling. However, because the United States is a vast country with diverse landscapes and cultures, these methods differ by region. Let's get started.
1. Fly to alternate airports
Plane tickets are the most expensive part of visiting the USA. You can save a lot of money on airfare by flying to cheaper airports. There are multiple airports within 50-70 miles of every major city in the US. For example, instead of flying into New York's JFK airport, fly into Newark Liberty International Airport or LaGuardia Airport. This will save you a few hundred dollars.
I once saved $600 on airfare by flying to Philadelphia Airport instead of JFK. Even though I had to travel an extra 80 miles to get to my destination, I saved a net $450 by paying an extra $150 to Uber instead.
2. Take the bus – the poor man's vehicle
Don't go by the stigma. Buses in the United States are becoming increasingly popular among budget travelers and for good reason. They are cheap, comfortable, and offer free Wi-Fi, and they do have a toilet. Many bus companies offer mind-boggling discounts ($1 ticket) if you book them in advance by a few weeks. Megabus, Greyhound, Peterpan and Boltbus are popular options. The average ticket cost is $20 for a 200-mile journey.
I used to book a $1 Megabus ticket between Providence, RI and NYC even if I only had a 30% chance of traveling that route. The reason for this is that last-minute tickets are $40. So, rather than buying a ticket at the last minute, I would rather buy one in advance and not use it. Over the years, this technique saved me hundreds of dollars.
3. Pre-scout car rental locations and book ahead
Car rentals are often 30-40% cheaper when booked from city areas rather than airports. Some airports charge a higher tax. They provide a shuttle bus service between the airport and the nearby garage. If you book at least a month in advance, the rates are lower (sometimes by one-third). Don't go for a high-end car even if it is less expensive or comes with a free upgrade, you will end up paying more for gas.
Most car rental companies charge a daily rate, but some also charge a per-mile rate. If you're planning to travel long distances, this can add up quickly. Consider renting a car with unlimited mileage.
Please keep in mind that there are NO cancellation fees for car rentals in the United States. You don't have to pay anything upfront. You don't even have to notify them; simply do not show up.
4. Stay in the hostels, Airbnbs, and Couchsurf
The US has a fantastic network of hostels that are safe, clean, and comfortable. You can find a hostel in every major city for around $30 per night. There are also many Airbnb options available, which are often cheaper than hotels. And if you're really on a tight budget, consider Couchsurfing, which is a great way to meet locals and save on accommodation costs.
I have used all three of these options extensively and can say from personal experience that they are all great ways to save money.
5. Stay at Motels
If you're looking for a cheap place to stay while on a road trip, avoid hotels. Motels are much less expensive and provide the same amenities as mid-range hotels in the city. They are mostly on highways and have plenty of parking. A basic motel room can cost as little as $30 per night.
6. Get a National Park Pass
If you plan on visiting the US National Parks, consider getting a National Park Pass. This pass costs $80 (one-time fee) and is valid for one year. With this pass, you will be able to enter any National Park for free. This is a great deal if you plan on visiting at least four National Parks.
7. Use discount sites
Many websites offer discounts on hotels, restaurants, tours, and activities. Some of the most popular ones are Groupon, Living Social, and Travelzoo. Be sure to check these sites before booking anything.
8. Cook your meal
The US has the cheapest and most hygienic food in the world. Monthly groceries for 2-3 people would cost around $200. If you stay in a hostel or Airbnb, there is usually a kitchen where you can prepare your meals. This will not only save you a lot of money, but it will also keep you healthier than eating out every day.
9. Eat at the food trucks
Food trucks are a great way to get cheap and delicious food in the US. They are usually found in city areas and are very popular with the locals. The average meal from a food truck costs around $8.
10. Share your ride
If you're renting a car, consider sharing the ride with other people. This will save you money on gas and tolls. You can use websites like BlaBlaCar or post an ad on Craigslist to find people who are going the same way as you. This way you can also make friends while traveling.
I used to visit New York City frequently when I was living in Rhode Island. I used to browse Craigslist a day or two in advance to find someone driving to NYC. It would save me $20-$50 one-way compared to taking a bus or Amtrak.
11. Save on gas
Because a large portion of transportation is by road, the United States is one of the cheapest countries for gasoline (Petrol). There are, however, ways to save money on gas. You can save 5-7 percent by pre-paying for a full tank of gas at your car rental company. Another option is to use the GasBuddy app to locate cheaper gas stations in your area. Some gas stations offer free restrooms to their customers.
Learn how to fill your gas tank. This is something that many first-time travelers struggle with. If you are unsure, watch YouTube videos. The vast majority of gas stations in the United States are unmanned, and they do not accept cash.
12. Buy a prepaid card
You should ideally have a debit/credit card that does not charge a foreign exchange fee. In the absence of this, you might want to consider purchasing a prepaid card. The United States is primarily a cashless economy, with many businesses refusing to accept cash. You'll also be doing a lot of online purchasing. Prepaid cards will save you money on banking and currency exchange fees.
13. Get a prepaid USA SIM card
If you intend to stay in the United States for an extended period, consider purchasing a prepaid SIM card. When traveling to the United States, international roaming rates are the highest because cellular service in the United States is among the most expensive in the world. Receiving a call in the United States is also charged.
There are numerous MVNOs (Mobile Virtual Network Operators) in the United States that offer lower-cost plans than T-Mobile and AT&T's prepaid plans. Some of the most popular ones are Republic Wireless, Cricket Wireless, Boost Mobile, Ting, and Google Fi.
14. Cover your rental car insurance with a credit card
You shouldn't drive in the United States without comprehensive rental car insurance. The one provided by the rental car company is a rip-off, often costing more than your rental. To sell the insurance, they will initially scare you. Getting a credit card that includes rental car insurance is the best way to save money. The majority of credit cards in the United States do this. If you plan to visit the US frequently and rent cars a lot, it is worthwhile to get a US credit card.
15. RV – the most economical way to travel
If you are planning to travel across the USA, the most economical way is to rent an RV. It will cost you around $50-$70 per day including gas, food, and lodging. An RV gives you the freedom to explore the country at your own pace. You can stay at RV parks and campgrounds. Some of these have amenities like showers, laundry, and Wi-Fi.
16. Explore the city with a day pass on public transport
If you want to explore a city, make use of the day passes on public transport. These are valid for 24 hours and give you unlimited travel on buses, trains, and subways. This is an excellent way to explore a city without having to spend a lot of money on car rental, gas and parking. The cost of a single journey is usually $2 (regardless of distance), and a day pass is usually $5.
Pack your bags…
Visiting the USA can be expensive, but there are ways to save money. You can save on gas, food, and transportation by being smart about your choices. With a little bit of planning and these tips, you can visit the USA on a budget.