As a foreigner driving in the United States, it's important to know what rental car insurance is available to you. The car rental company will often try to sell you their own insurance policy, but these policies are usually expensive, often more than the rental itself.
To avoid this, either purchase rental car insurance from a third-party insurance company or use the complimentary insurance provided by your credit card or other 3rd parties. This insurance can be much cheaper than the rates offered by rental car companies, and it will provide you with peace of mind while you're on your trip.
Let's understand how US car insurance works in general and rental car insurance in particular.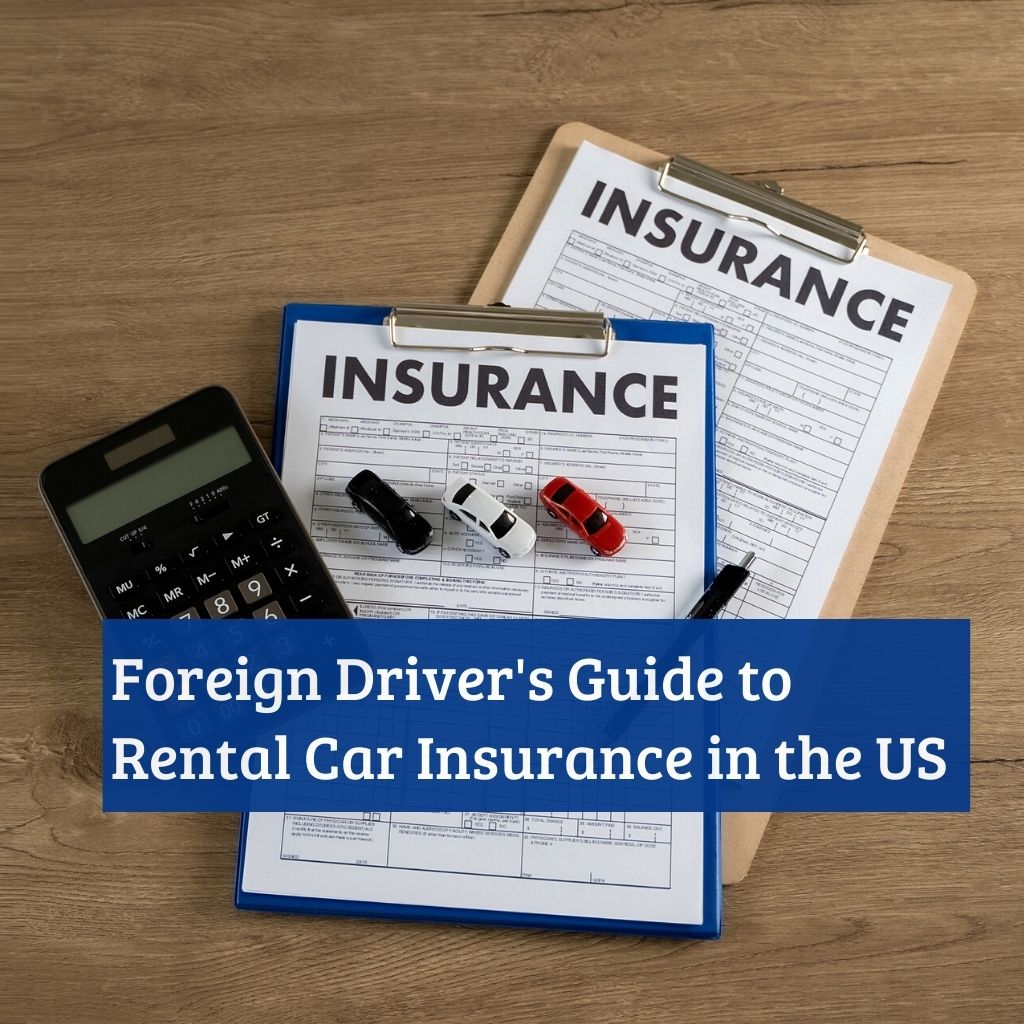 1. United States Car Insurance Requirements
Every state in the US has different car insurance requirements, but there are some general things to keep in mind. All states require drivers to have liability insurance, which covers damage to other people and property in an accident that you cause.
Most states also require drivers to have uninsured/underinsured motorist coverage, which protects you if you're hit by a driver who doesn't have insurance or doesn't have enough insurance to cover the damage.
Some states require drivers to have personal injury protection coverage, which pays for medical bills after the accident irrespective of who caused the accident.
There is a minimum coverage requirement for each of these insurances, which again varies from state to state.
Other types of insurance, like collision and comprehensive coverage, are not mandatory but are highly recommended.
2. Rental Car Insurance Options in the United States
There are three main types of rental car insurance available to foreigners driving in the United States:
Loss Damage Waiver (LDW)/Collison Damage Waiver (CDW): This type of insurance covers damage to the rental car that is caused by an accident, theft*, or another covered event. It is usually offered by the rental car company at an additional cost. Depending on the rental car company, this cost can range from $10 to $25 per day.
Liability Insurance: It is required by law in most states and is usually included (minimum coverage) in the price of the rental car. Rental car companies never disclose this information to their clients unless they inquire specifically, which is why most visitors don't know about it. This insurance is also offered to the renter and the cost of the same ranges from $10 to $20 per day. However, the coverage will be much more than the minimum coverage required as per the state law.
Personal Accident Insurance:  This type of insurance covers medical bills and sometimes death benefits for the driver and passengers in an accident. In some states (not all), it is required by law, and it's usually included in the price of the rental car (minimum coverage), but again it's not disclosed to the renter. Rental companies also offer this insurance and the cost of the same ranges from $5 to $13 per day.
*Note: CDW does not cover car theft.
If you purchase all three types of insurance, you will end up paying anywhere from $40 to $60 per day in addition to the car rental fee. Insurance can sometimes be more expensive than renting a car.
Is it truly worth it? Why is it said that renting a car is the cheapest way to see the United States?
Insurance advertising and fear-mongering go together like low-level anxiety and loose purse strings. Smart travelers avoid this trap and find ways to get around it.
3. Credit Card Insurance
Many credit cards offer free Auto Rental Collision Damage Waiver (CRCDW) provided you rent a car with the same card and decline the rental company's LDW/CDW. Premium cards most often include primary coverage, while standard cards usually include secondary coverage. However, regardless of the type of card, if you do not have automobile insurance, CRCDW serves as primary coverage.
You can save a lot on rental car insurance this way. A credit card like this is something you should apply for if you don't already have one.
I am an experienced road tripper who has driven 200,000 kilometers across the globe. I've never bought rental car insurance from the rental company. I've always used my credit card insurance and had no problems.
4. Buying Auto Insurance in the United States
If you want to be extra safe, you can always buy auto insurance in the United States before your trip. This is a good idea if you're going to be driving a lot while you're here. This way, you will likely be insured for 30 days for the price of 1-2 days of coverage offered by rental companies.
It is not always easy or cheap for international visitors to obtain car insurance in the US. Not all American insurance companies offer short-term auto insurance to international drivers. The majority of them require Social Security Number to provide you with the quote which most visitors won't have. However, as per my knowledge, Progressive and Farmers are the two companies that offer short-term insurance to international visitors. Due to the absence of their past records, visitors from overseas are usually charged higher premiums for car insurance. In comparison to car rental companies, it is still a cheaper option.
5. Travel Insurance
Some of the comprehensive travel insurance policies include rental car insurance. This type of insurance typically covers collision and loss of use, and it can be cheaper than the rental car company's own insurance.
If you're looking for a comprehensive travel insurance for visiting the United States, Insubuy is a good option.
6. Zipcar – break free from the hassle
Zipcar has brought innovation to the car rental industry. It offers a hassle-free experience of renting a car without having to worry about LDW/CDW or any other type of insurance.
Zipcar is a membership-based, short-term car rental service. It's an excellent alternative to traditional car rental companies. You don't have to worry about insurance or gas. Just enjoy your trip without the hassle of renting a car.
You can rent a car by the hour, day, or week. There is no need to fill out paperwork or stand in line at the rental office. Simply book a car using the mobile app, go to the parking garage, unlock the car using the app, drive, and return to the same location. You do not pay for either the gas or the insurance.
The myths surrounding US car rental
There are a lot of myths surrounding car rental and insurance. Hear them out, but don't fall for the trap.
You need an IDP (International Driver's Permit) to rent a car or get insurance.
This is absolutely misleading, I have written about it. Please do read.
Paying for the damage I did not cause
This is the biggest fear among the renters. The car rental company keeps a detailed record of all the damages and cannot charge you for anything and everything.
Car rental companies require you to purchase insurance when you rent a car
They won't deny you a rental if you have proof that you already have coverage.
Disclaimer:
This blog may contain affiliate links. At no extra cost to you, we may get a small commission if you buy anything. All products and services we endorse have been personally used or come highly recommended to us. These incomes allow us to keep the community supported and ad-free.