Immerse yourself in the captivating world of Gujarat, where each corner echoes with stories of rich history, vibrant culture, and breathtaking beauty. Nestled on the western coast of India, Gujarat is a land with diverse landscapes and hospitable people. There is something for everyone in this state, from its ancient temples and historical sites to its bustling markets and serene beaches. Gujarat invites you to explore its spiritual heritage, admire its architectural wonders, or simply enjoy its local foods. This comprehensive guide will provide you with essential insight, tips, and recommendations to make your visit to Gujarat truly unforgettable.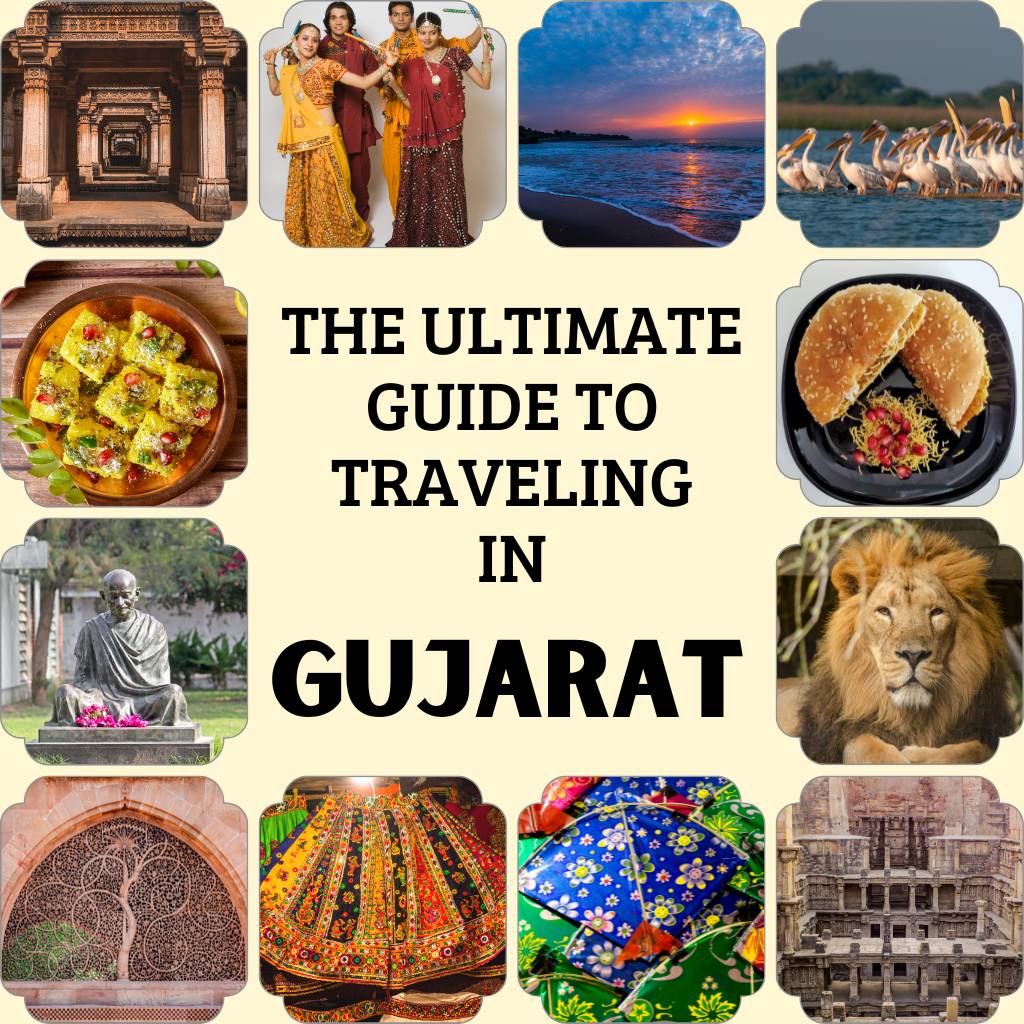 What to expect from a Gujarat trip?
Take a moment to discover the allure of Gujarat, a destination that promises an unforgettable journey with a variety of attractions:
Scenic Beauty

: Explore the diverse landscapes of Gujarat, from the tranquil beaches on the coast to the surreal expanses of the Rann of Kutch.

Adventure Activities

: Experience sweeping views of the picturesque terrain while paragliding in Saputara. Enjoy exhilarating wildlife safaris in Gir Forest, one of the most diverse ecosystems in the world. Take on challenging treks through lush forests and rugged terrain in Idar.

Cultural Heritage

: Get a glimpse of Gujarat's storied past by visiting ancient temples and opulent palaces. Discover the vibrant atmosphere during its festivals, where colorful processions, intricate dances, and lively celebrations bring tradition to life.

Delicious Food

: Embrace the flavors of Gujarati cuisine, with dishes such as the savory dhokla and the melt-in-your-mouth sweets showcasing the region's culinary expertise. Take your taste buds on a journey through diverse flavors, textures, and aromas.

Relaxation

: Experience the coastal retreats, nature reserves, and upscale resorts that offer a perfect blend of luxury and tranquility. Get away from the hustle and bustle of city life and let yourself relax amidst nature's beauty.
How to reach Gujarat?
Gujarat's prime geographical location ensures excellent connectivity to other parts of the country. Access to the state is easy through a variety of transportation options.
By Air

: Ahmedabad, Vadodara, Rajkot and Surat are among the major airports in Gujarat with connections to domestic and international destinations. Among all the states in India, Gujarat has the most airports. Despite this, there are no commercial flights between any of the cities in Gujarat.

By Train

: The state has a well-developed railway network that includes major cities like Ahmedabad, Surat, Rajkot and Vadodara. Trains run directly and frequently between these cities and many other parts of the country. It is extremely easy to travel by train between the various cities of Gujarat.

By Road

: Having an extensive road network makes road trips in Gujarat a viable option. It is connected to neighboring states like Maharashtra, Madhya Pradesh, and Rajasthan by national and state highways.

By Bus

: State-run buses as well as private buses provide affordable transportation on interstate and intrastate routes.

Waterways

: Ro-Ro (Roll-On/Roll-Off) ferries enable vehicles to be driven onto ferries for seamless transportation across water bodies in Gujarat. Ferries run between Ghogha and Dahej and Hazira and Diu, facilitating smooth travel between Saurashtra and South Gujarat.
Best time to visit Gujarat
The best time to visit Gujarat is ideally after the monsoon season, starting from September onwards. The prime window for travelers is during the winter months, spanning from November to February. During this period of time, the weather tends to be cooler and less humid than in other seasons. Mid-December to January can occasionally bring colder days, with temperatures dropping to 10 degrees Celsius.
It is advisable to avoid the summer months, which extend from April to June. Gujarat experiences scorching temperatures during this time, sometimes exceeding 45 degrees Celsius in some regions. Intense heat can make outdoor activities uncomfortable and limit the overall travel experience. The heavy monsoon season occurs in July and August, and it occasionally extends into mid-September. Although the monsoon can offer lush green landscapes, heavy rainfall and occasional flooding can disrupt travel plans. The period between October and March is the best time to explore Gujarat, as it provides an ideal balance between comfortable temperatures and outdoor activities.
Read – Interesting facts about Gujarat
Top festivals in Gujarat
Festivals in Gujarat exude a unique charm that attracts numerous tourists, including foreigners, who eagerly anticipate experiencing its vibrant atmosphere. The festival calendar of Gujarat is rich and diverse, showcasing Gujarat's rich traditions and heritage. The following festivals are among the most popular with travelers.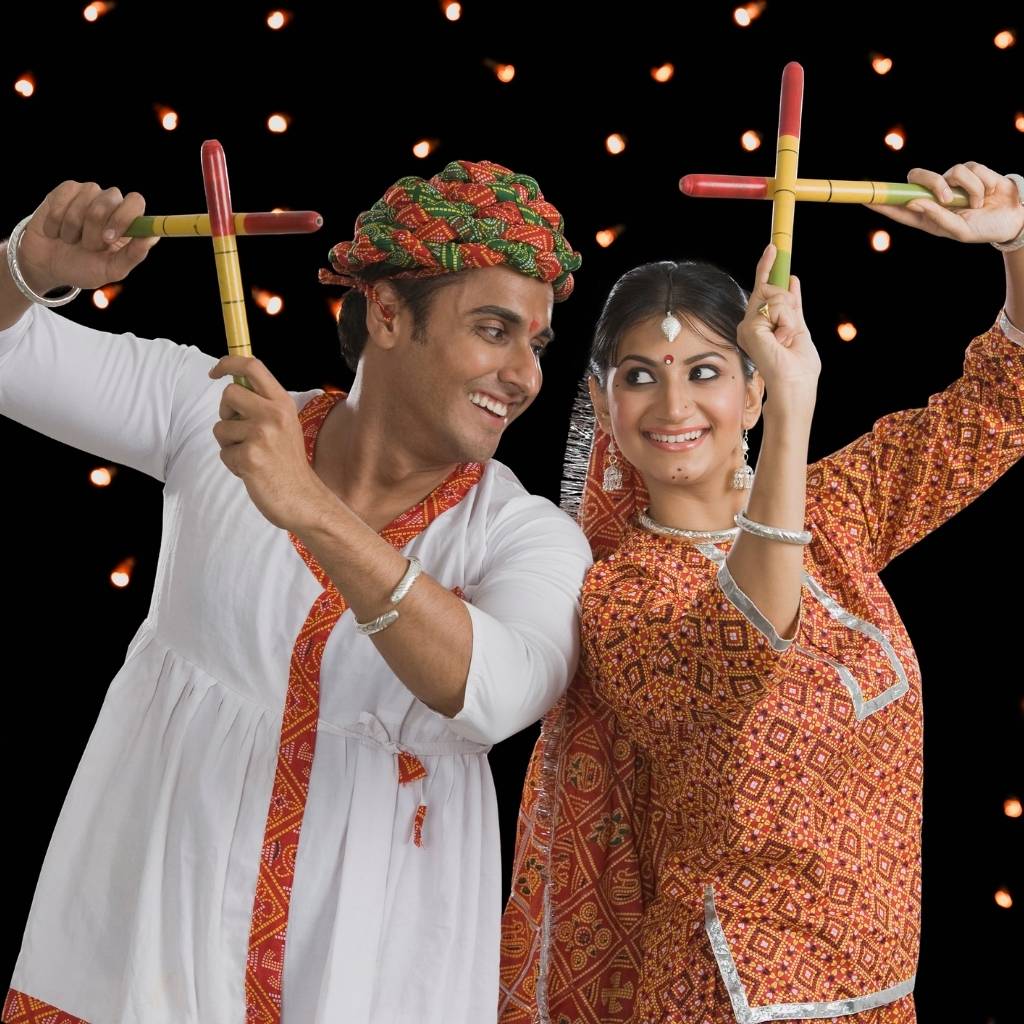 Navratri: The ninth-night Navratri festival, which celebrates music, dance, and devotion, is one of the most important festivals in Gujarat. Usually takes place in September or October, Navratri includes elaborate Garba and Dandiya Raas dances, where people wear colorful attire and form swirling circles.
Kite Flying: Another highlight of Gujarat's festive scene is the Kite Festival, which is celebrated on January 14 and 15. Known as Uttarayan, this event marks the day the sun enters the sign of Capricorn. Kites of all shapes and sizes fill the skies, creating a mesmerizing spectacle that symbolizes joy and unity.
Rann Utsav: The Rann Utsav takes place each year from November to February and transforms the expansive white salt desert into a celebration of culture and art. Against the surreal backdrop of the Rann of Kutch, this cultural festival showcases traditional dance, music, art, and handicrafts. Experience the artistic talents and colorful traditions of local communities in an ethereal desert environment.
Top tourist attractions in Gujarat
A number of must-see destinations in Gujarat capture the essence of the state's diversity and cultural heritage for first-time visitors. Among these gems are…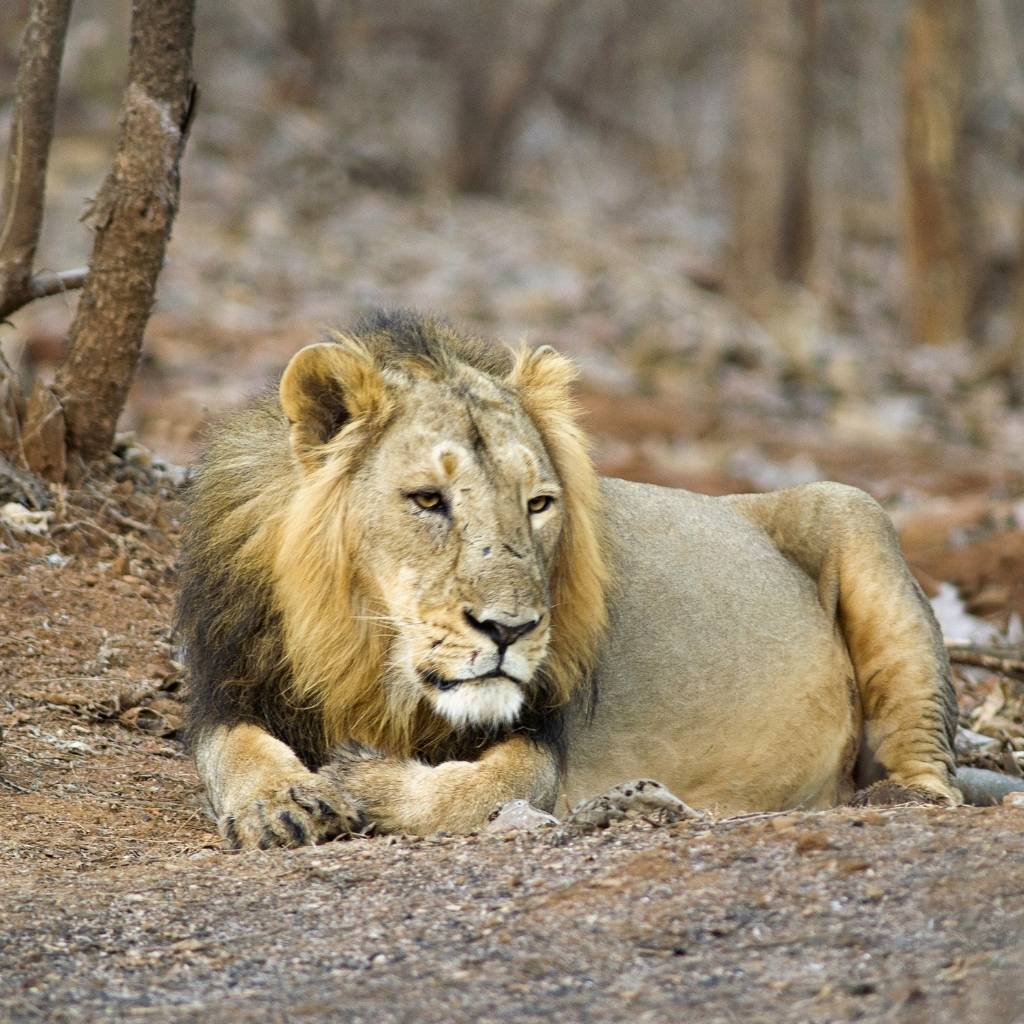 Gir National Park: Taking pride in its status as the last preserve of Asiatic lions, it stands as a testament to conservation efforts. You can witness these majestic creatures in their natural habitat on a safari through this sanctuary.
Statue of Unity: With its awe-inspiring height and scenic surroundings, the Statue of Unity is a monumental tribute to Sardar Vallabhbhai Patel. Its iconic status not only pays homage to a revered leader, but also provides panoramic views of the Narmada River.
The Heritage City of Ahmedabad: India's first UNESCO World Heritage City invites exploration of its rich history and architecture. A heritage walk in Ahmedabad is an unmissable experience, leading you through the walled city's hidden gems, such as intricately carved temples and bustling markets.
Heritage Sites: Gujarat's heritage sites enhance the travel experience even further. The Modhera Sun Temple dazzles with its intricate architecture and celestial design, while Rani ni Vav boasts exquisite sculptures. With ancient structures, forts, and mosques that reflect the region's diverse influences, Champaner-Pavagadh Archaeological Park adds historical depth to the region.
Laxmi Vilas Palace: The Laxmi Vilas Palace, a royal residence that epitomizes opulence and architectural grandeur, adds to this cultural destination. In addition to its lush gardens and elegant interiors, the palace offers a glimpse into the regal past of Vadodara.
Hidden Gems of Gujarat
Even though Gujarat is home to many well-known tourist destinations, its hidden gems remain unknown to many out-of-state visitors. The lesser-explored treasures offer an opportunity to veer off the beaten path and discover unspoiled charm.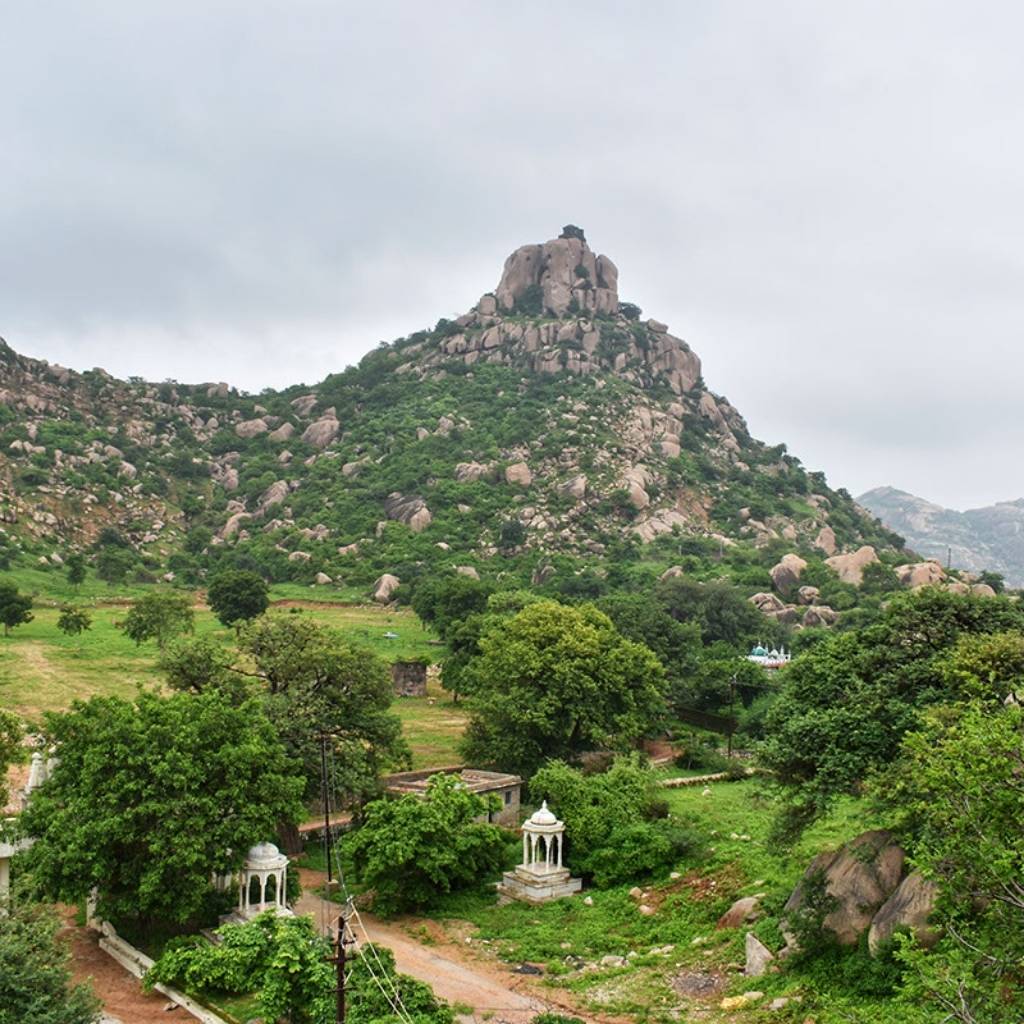 Idar: With its tranquil landscapes and historical importance, Idar is a picturesque town nestled in the Aravalli Range. For those seeking solitude, Idar's unassuming beauty and huge boulders make it a great escape.
Jamnagar: Overshadowed by its more famous counterparts, Jamnagar holds its own allure with its eclectic architecture, bustling markets, and nearby wildlife sanctuaries. There is an interesting dimension to this offbeat destination due to its proximity to the Marine National Park and the world's largest oil refinery.
Daman: With its serene beaches, colonial architecture, and laid-back atmosphere, Daman is a hidden coastal haven. Its tranquil beaches and vibrant culture make it a nice change from the more popular beach spots.
Bhavnagar: The "Gateway to Saurashtra," Bhavnagar captivates with its historical sites, vibrant bazaars, and natural heritage. The majestic Nilambag Palace is an architectural gem that evokes the regal past of this often overlooked city.
Savor the taste of Gujarati food
A culinary journey in Gujarat is essential if you want to experience the essence of the state. The rich diversity of Gujarati cuisine is reflected in its vibrant tastes and flavors. It is not uncommon for travelers to flock to Gujarat solely for the culinary offerings, an experience that is integral to their trip. Here are some dishes you shouldn't miss.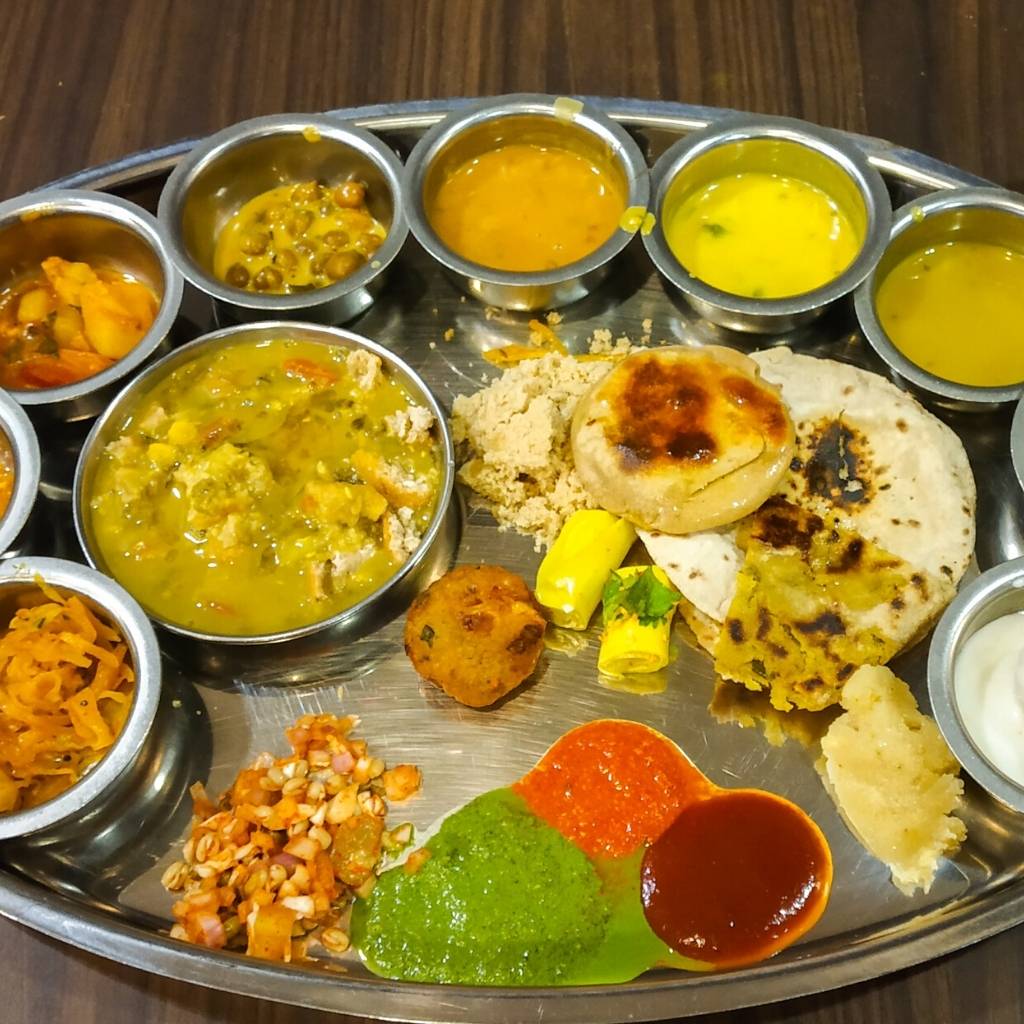 Gujarati Thali: This elaborate platter features a variety of flavors and exemplifies Gujarati cuisine at its best. A wholesome representation of the culinary heritage of the state, it features a variety of dishes including daals, sabzis, snacks, and desserts.
Dhokla and Khandvi: These two steamed delights transcend regional boundaries with their balance of tangy and savory flavors. They leave an indelible impression on everyone's palate with their unique texture and flavor.
Rotlo and Olo: A traditional indigenous bread made from millets, paired with a delectable eggplant preparation, exudes rustic flavors that are as comforting as they are traditional.
Fafda-Jalebi: The exploration of Gujarati cuisine would not be complete without tasting the iconic Fafda-Jalebi duo. A crispy and savory snack, fafda, makes a delightful contrast with Jalebi, a sweet treat infused with fragrant saffron syrup.
Safety and Etiquette
Safety and etiquette in Gujarat are integral aspects of the state's vibrant culture and hospitality. Gujarat is renowned for being one of the safest places to visit in India. The people of Gujarat take immense pride in sharing that women can move about freely even during the late hours, reflecting the sense of security and respect that prevails.
While Gujarat is welcoming to tourists, it's essential to be mindful of local traditions and customs. Respect for the local way of life is a cornerstone of traveling responsibly in this diverse land. Embracing the ethos of Gandhian philosophy, Gujarat is a no-alcohol state. The consumption and sale of alcohol are strictly prohibited across the state.
In a few instances, some 5-star hotels in Gujarat may offer limited alcohol sales to out-of-state guests. However, this requires obtaining a permit. It's advisable to acquaint yourself with the regulations and adhere to the local laws regarding alcohol consumption.
Gujaratis are predominantly vegetarian, and vegetarianism is deeply ingrained in the culture. As a result, non-vegetarian food might not be as readily available as in other parts of the country. Most eateries, especially outside major cities, are exclusively vegetarian. While some upscale restaurants and luxury hotels in prominent cities might offer non-vegetarian options, it's important to be sensitive to local customs and preferences.
Embracing Gujarat's Gandhian values and respecting local traditions makes for a more harmonious and enjoyable experience for both visitors and locals.
Transportation within Gujarat
Transportation within Gujarat is well-developed and offers a range of options for travelers to navigate the state with ease. With an extensive network of state-run and private buses, almost every corner of Gujarat is accessible by road. Most bus bookings can be conveniently made online, while some private operators also offer phone bookings.
Gujarat boasts an exceptional railway network that covers a significant portion of the state. The connectivity provided by the railways ensures that exploring different regions of Gujarat is both efficient, comfortable and economical.
For intra-city travel, 3-wheeler taxis, commonly known as Auto Rickshaws, are a popular and cost-effective choice. These vehicles are readily available and are ideal for short distances within urban areas. Additionally, major cities in Gujarat offer ride-sharing services like Uber and Ola, with the local company Jugnoo being a prominent player in the market.
Self-drive rental cars are not as prevalent in Gujarat as in some other parts of the country. However, taxis are readily available for both local and intercity travel. The state's well-maintained road infrastructure ensures smooth travel, with minimal traffic congestion even in major cities.
Gujarat doesn't charge tolls on state highways for private vehicles. As a result, road travel within Gujarat is convenient and cost-effective, making it a favorable choice for travelers.
Shopping in Gujarat
With its wide range of tastes and preferences, Gujarat offers a delightful shopping experience. Gujarat offers a treasure trove of goods to street shopping enthusiasts, in particular. The vibrant markets and bazaars are a haven for those who relish the art of bargaining and discovering unique finds.
Handicrafts and artifacts are popular items to purchase when shopping in Gujarat. Several intricately crafted items are available to showcase the state's rich cultural heritage. There's a piece of Gujarat's artistic legacy to suit every taste, from pottery to wood carvings to embroidered textiles.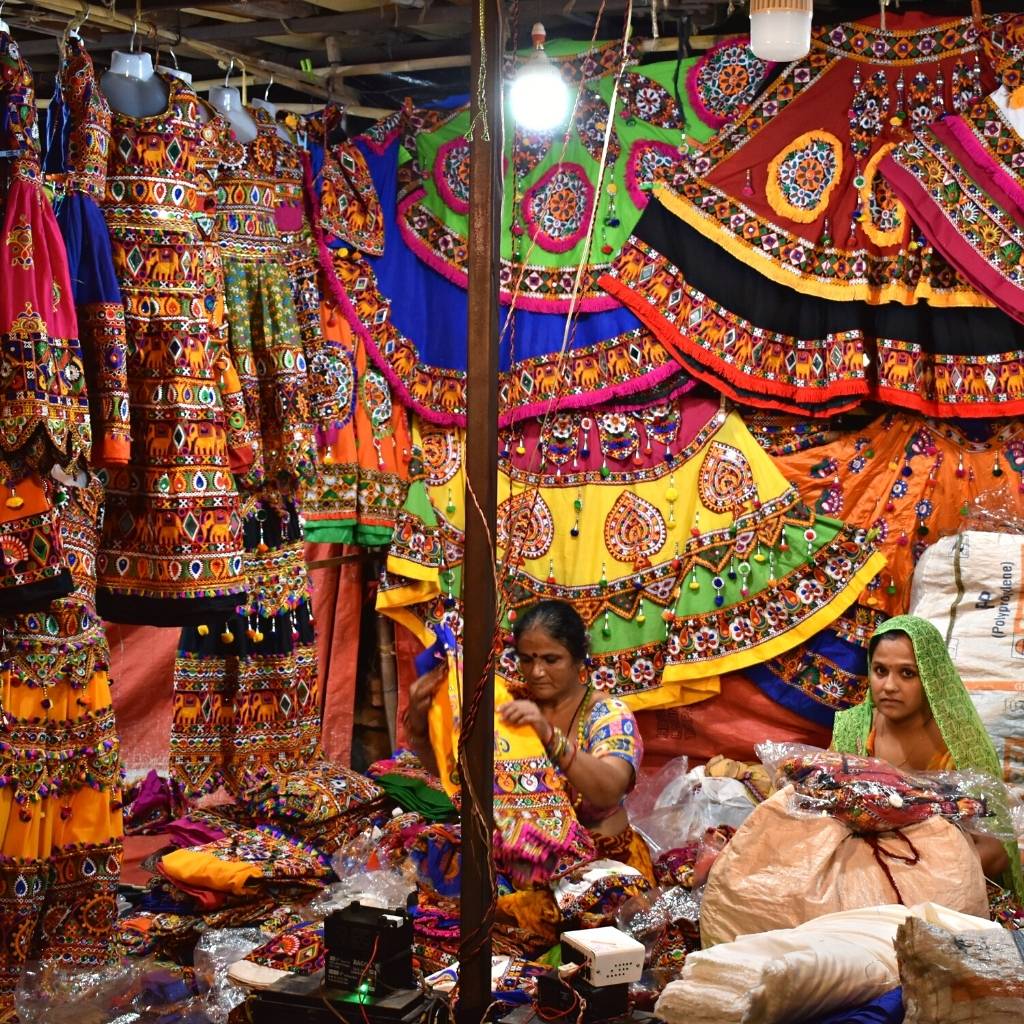 For those who admire traditional Indian clothing, Gujarat is famed for its stunning garba dresses. In addition to being an important part of the region's cultural celebrations, these dresses also make for memorable souvenirs. In addition, the state is known for its distinctive textiles, such as the renowned bandhani and patola sarees.
The shopping excursion in Gujarat would not be complete without exploring the varied selection of jewelry available. Gujarat offers a range of jewelry options designed to meet different preferences and budgets, from intricate artificial pieces to silver and gold pieces. The gold jewelry produced in Rajkot, in particular, is known for its elegance and craftsmanship.
Gujarat's shopping scene reflects the state's rich cultural heritage and artistic traditions. Whether you are looking for souvenirs, clothing, textiles, or jewelry, Gujarati markets promise an unforgettable shopping experience.
Accommodation options in Gujarat
Accommodation options in Gujarat cater to the diverse preferences and budgets of travelers. It offers a variety of lodging options, from budget-friendly hotels to luxurious resorts.
Gujarat provides a variety of inexpensive hotels and guesthouses equipped with clean and basic amenities for budget-conscious travelers. With these accommodations spread across various cities and towns, visitors on a budget can easily explore Gujarat.
Recent years have seen an increase in the popularity of homestays and Airbnbs, which provide travelers an opportunity to experience the local culture. A stay with a Gujarati family offers a glimpse into the daily life of the Gujaratis as well as supports the local economy.
The government-run tent cities located at various heritage sites make Gujarat's accommodation scene unique. Guests can enjoy modern amenities while immersing themselves in historical surroundings at these tent cities that blend comfort and rustic charm.
Gujarat offers upscale resorts with world-class facilities and services for those seeking luxury and indulgence. For those in search of a little pampering, the state offers everything from beachfront resorts to opulent properties nestled in the heart of cultural hubs.
Nature lovers and adventure seekers can opt for forest stays, particularly in wildlife sanctuaries and national parks. The accommodations offer guests a unique experience that combines comfort and wilderness exploration while keeping them close to nature.
The accommodation landscape in Gujarat is as diverse as its attractions. You can enjoy a comfortable and enjoyable stay in Gujarat whether you are a budget traveler, luxury seeker, or eager to experience the local culture.
Planning your Itinerary for Gujarat
When planning an itinerary for your trip to Gujarat, keep in mind that this state consists of a vast landscape rather than a compact region or a single city. While the urge to cover every corner of the state might be strong, it's important to strike a balance between exploration and relaxation.
Gujarat's diverse attractions are spread out, and many travelers mistakenly attempt to squeeze every highlight into a week-long itinerary. This approach often leads to rushed experiences and missed opportunities. To avoid this, it's essential to take into account the state's geography, transportation options, and the distances between various destinations.
One of the most common queries I receive revolves around trying to cover the entirety of Gujarat in a short timeframe. Instead, I advise focusing on a few key areas and thoroughly enjoying the experiences they offer. I recommend dividing your Gujarat journey into three distinct parts, each with its own base.
Itinerary # 1 (Base: Rajkot)
Explore the captivating regions of Saurashtra and Kutch in the first part. Make Rajkot your base, as it offers excellent connectivity to this area. There are plenty of hotel options in Rajkot to suit every budget.
Day 1
After arriving in Rajkot, visit the Mahatma Gandhi Museum and sample the exotic kathiawadi cuisine.
Day 2 and 3
Visit Gir Forest, Somnath and/or Junagadh. You can go on a Jeep Safari through the Gir Forest if you wish.
Day 4 and 5
Visit Dwarka and the surrounding region.
Day 6, 7 and 8
Take a trip to Kutch, including a stay near the white desert. You can also visit the UNESCO World Heritage Site of Dholavira. Returning to your home destination from Kutch is an option. There is a small airport in Bhuj and a train station in Gandhidham, both with limited connectivity. Compared to returning from Rajkot, this might be more expensive.
Optional places of visit
If you have a few more days then you might want to visit Jamnagar, Porbandar and Bhavnagar.
Itinerary # 2 (Base: Ahmedabad)
For the second part, explore Ahmedabad and the surrounding area in central Gujarat. With Ahmedabad as your base, you can easily explore heritage sites, bustling markets, and architectural marvels of Gujarat. There are plenty of hotel options in Ahmedabad to suit every budget.
Day 1
Once you arrive in Ahmedabad, you can relax while sampling your first Gujarati meal, the Gujarati Thali.
Day 2 and 3
Explore Ahmedabad city and the following places, to name a few.
Heritage walk in the walled city
Stepwells – Adalaj, Bai Hariri ni Vav, Jethabhai ni Vav, etc.
Sabarmati and Kochrab Ashrams
Riverfront (Atal Bridge)
Calico Museum
Bhadra Fort
Sarkhej Roza
Science City
Day 4
Day 5 and 6
Visit Idar, Polo Forest and the famous Ambaji Temple.
Day 7
A day trip to Modhera Sun Temple and Rani ni Vav in Patan.
Day 8
A day trip to Harappan city of Lothal.
Itinerary # 3 (Base: Vadodara)
Last but not least, let's take a closer look at South Gujarat in the third part. Bases like Vadodara or Surat provide convenient access to this region's attractions, including stunning beaches, tranquil gardens, cultural landmarks and wildlife sanctuaries. There are plenty of hotel options in Vadodara to suit every budget.
Day 1
Once you arrive in Vadodara, you can relax while sampling some of the best street foods in Gujarat. You'll find plenty of non-vegetarian dishes here. Vadodara and Surat are famous for their exotic egg dishes. Don't be surprised to see a 5-page menu just for egg dishes.
Day 2 and 3
Explore Vadodara city and the following places, to name a few.
Sayaji Baug
Kirti Mandir
Laxmi Vilas Palace
Tambekar Wada
Sevasi Vav
MS University
Qutbuddin's Tomb
Day 4 and 5
Visit the Statue of Unity.
Day 6
A day trip to the UNESCO World Heritage Site of Champaner-Pavagadh Archaeological Park.
Day 7 & 8
Visit Saputara hill station.
Optional places of visit
If you have a few more days then you might want to visit Surat, Daman and Jambughoda wildlife sanctuary.
Such a well-structured approach will give you the opportunity to explore each region, experience local culture, and appreciate the diversity Gujarat offers. It is important not to overexert yourself, but to savor every moment and create lasting memories.
What are you waiting for…
It is certain that your journey through Gujarat, a land rich in history, culture, and natural beauty, will be an unforgettable one. From serene beaches to intricate stepwells, regal palaces, and vibrant festivals, this state offers an array of experiences for every traveler. Discover hidden gems, iconic attractions, and delightful cuisine while experiencing the warmth of its people and its rich heritage. May the captivating allure of Gujarat fill your days with wonder and enrich your memories as you embark on this trip.
Disclaimer:
This blog may contain affiliate links. At no extra cost to you, we may get a small commission if you buy anything. All products and services we endorse have been personally used or come highly recommended to us. These incomes allow us to keep the community supported and ad-free.