Predictably, I encountered an obstacle. March, the month I chose for my visit, heralds the Fuldol and Holi festivals in Gujarat, transforming Dwarka into a bustling hub of activity. The influx of pilgrims during this period is not in the thousands, but in the hundreds of thousands. Yes, you read it right - Dwarka sees an astonishing half a million (5 lakhs) visitors during Holi.
Personally, I prefer exploring places in the serenity of lesser crowds. However, my purpose extended beyond just paying homage to Lord Dwarkadhish; I also yearned to delve into the rich biodiversity of Beyt Dwarka. Sadly, the camp at Beyt Dwarka closes in mid-March, leaving me with no viable options but to brave the crowds at Dwarkadhish temple. The prospect of standing in queue for 3-4 hours was daunting, but my determination remained unwavering.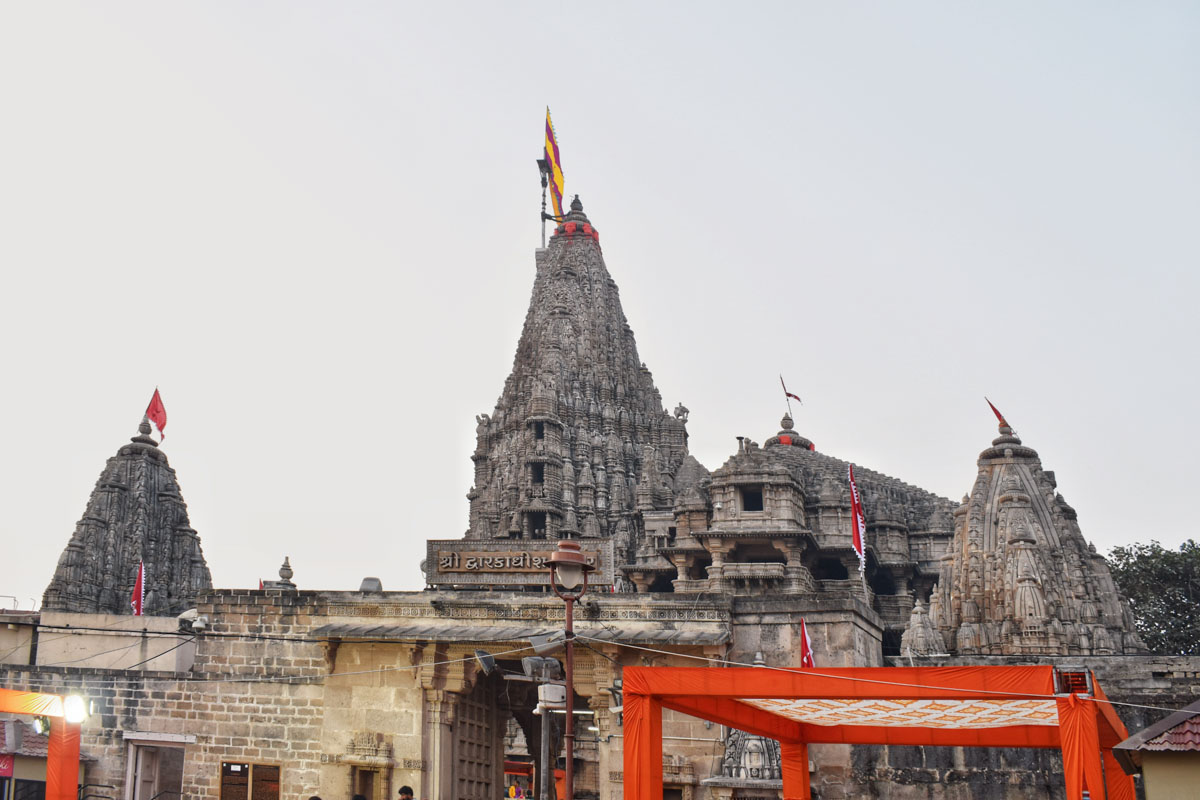 The famous Shri Dwarkadhish Temple
Fortunately, my neighbor, a family friend, stepped in to assist me in my predicament. Her family holds the esteemed position of being the temple priests, and they graciously arranged for my direct entry through the VIP corridor. With this unexpected help, my path to Dwarka became much smoother. Additionally, Mithilesh, a friend from Rajkot, who had visited Dwarka just a month prior, kindly offered to accompany me. His familiarity with the destination, routes, and logistics proved invaluable, making my journey more manageable.
Fuldol Festival: A Sacred Pilgrimage to Dwarka
Traveling to Dwarka during the Fuldol festival was nothing short of extraordinary. The festival magnetizes members of the Gujarati shepherd community from every corner of Gujarat. And what sets this spectacle apart is the sheer determination etched on their faces as they tread the highways. Remarkably, these devotees choose to embark on this spiritual pilgrimage on foot, covering several hundred kilometers over the course of 4-8 days. They continue their journey through the night, taking advantage of the cool weather, and pause only when the intensity of the sun calls for a break.
This procession, a motley crew of young and old, resonates with an infectious zeal. For them, this isn't just a walk; it's a declaration of pride and devotion. Every step they take is drenched in unyielding determination, creating an atmosphere charged with an intensity that's palpable. Nearly every kilometer, makeshift arrangements provide them with shelter and food along the highways. It's a testament to their self-reliance, crafting an ecosystem that operates seamlessly.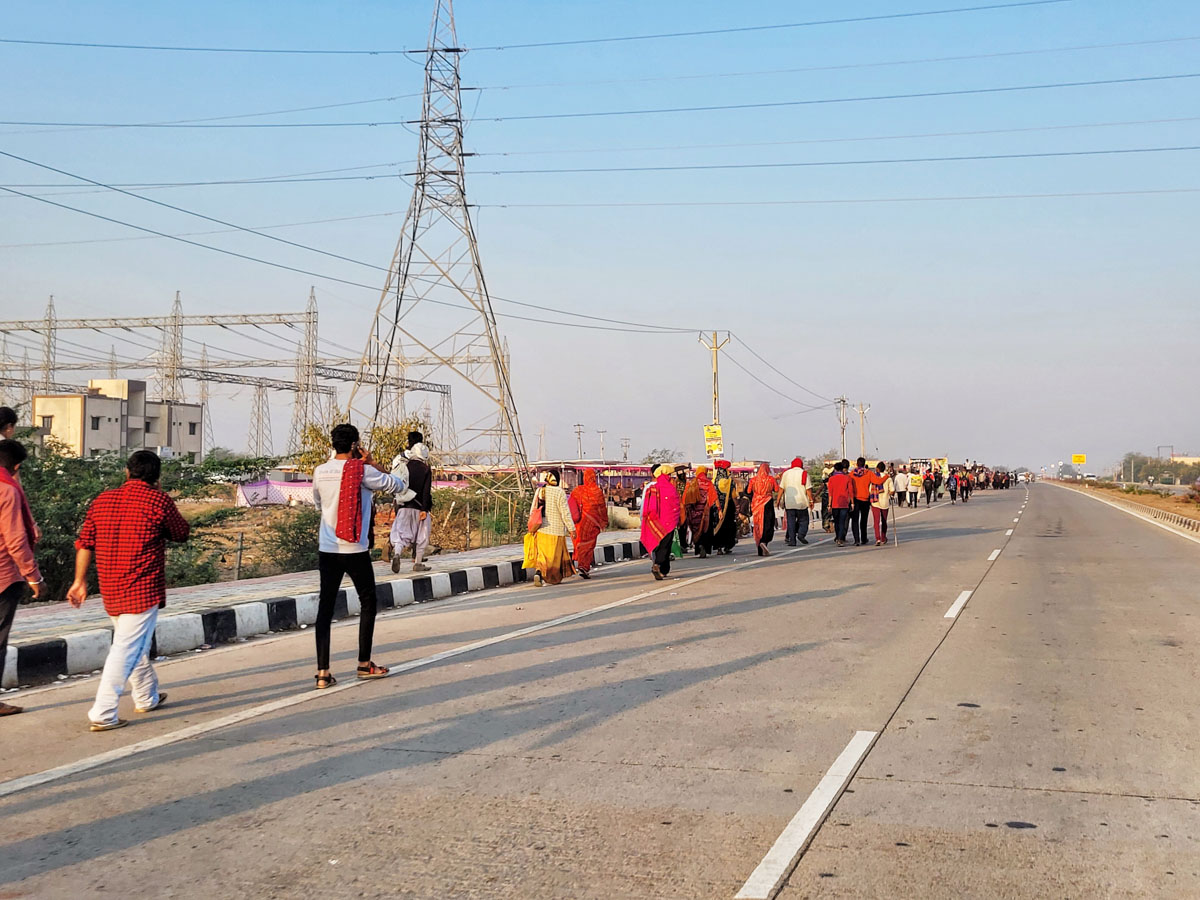 Fuldol festival devotees walking on the highway to Dwarka
This pilgrimage isn't merely a journey; it's a grand event. Their spiritual quest culminates in Dwarka, where they celebrate Holi, the festival of colors, with their beloved deity, Lord Krishna. This annual pilgrimage is transformed into a sacred carnival by their boundless faith and spirit, which leaves an indelible mark on everyone who witnesses it. It is for this reason that Dwarka is one of the top tourist attractions in Gujarat.
The crack of dawn saw us on the road, but as we approached Khambhaliya, progress slowed to a crawl for almost 60 km. The highway was swarmed by devotees, a sea of humanity inching closer to Dwarka. They weren't just moving; they were dancing, engulfed in the beats of lively garba music, celebrating with an infectious joy. Although the temporary blockade extended our journey by an hour, it provided us with an unforgettable experience. This spectacle, this vibrant display of devotion, is a sight reserved solely for this time of the year. Due to the full moon and Holi on the horizon, Dwarka was expected to be inundated with lakhs of devotees.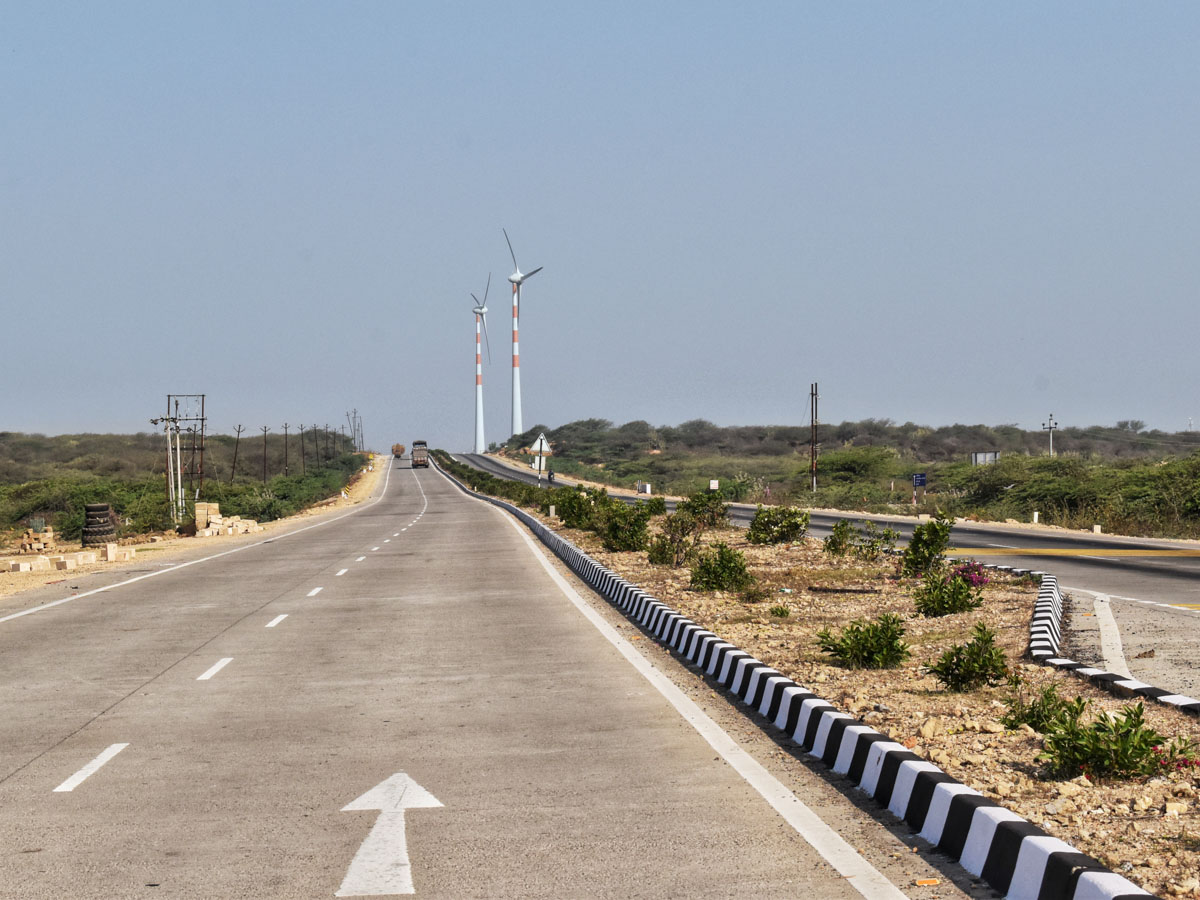 On the way to Dwarka, the highway is dotted with windmills
Mythology associated with Dwarka
Dwarka, a city steeped in mythological significance, stands as a testament to the divine legacy of Lord Krishna, the heroic figure of the Dwapara Yuga. In ancient times, Dwarka was known as Anarta, serving as the terrestrial empire of Lord Krishna. There were two parts to this kingdom: Antar Dwipa (Dwarka Island) and the mainland of Dwarka.
In the epic Mahabharata, Dwarka is prominently mentioned as the capital city of the powerful Yadava clan, of which Lord Krishna was the chief. He not only led the Yadava clans but also ruled as the king of Dwarka. As the center of Lord Krishna's divine kingdom, the city holds a central place in Hindu mythology. Lord Krishna's valor, love, and divine presence are deeply entwined with the history and spiritual significance of Dwarka, making it a revered pilgrimage destination.
The rich history of Dwarka
Dwarka finds its mention in revered texts such as the Mahabharata, Bhagavad Gita, Skanda Purana, and Vishnu Purana. Scientists estimate that Dwarka was submerged under the sea 9,000 years ago, making it potentially older than Egyptian, Chinese, and Harappan civilizations.
Archaeological findings reveal that the original Dwarka temple was constructed around 2,500 years ago. Throughout its rich history, Dwarka faced numerous invasions and attacks. In 1241, it was attacked by Mohammad Shah, followed by invasions in 1473 by Mahmud Begada and in 1551 by Turk Aziz. Each of these invasions resulted in significant damage to the temple, which was subsequently restored to preserve its heritage.
The temple endured further challenges during the mutiny of 1857 and various conflicts between the Gaekwads (the ruling dynasty of Dwarka), the Vaghers (the city's natives), and the British forces. Eventually, Maharaja Sayajirao Gaekwad of Vadodara rebuilt the temple Shikhara and adorned it with a resplendent golden pinnacle in 1958. Since 1960, the Indian government has taken on the responsibility of maintaining this sacred site.
Shri Dwarkadhish Temple
As Dwarkadhish means Lord of Dwarka, the temple is called Dwarkadhish temple. Designed with architectural brilliance and devotion, Shri Dwarkadhish Temple spans 27 meters by 21 meters. Its east-west length stretches 29 meters, while the north-south width is 23 meters. The five-story sacred edifice, constructed of limestone, is adorned with intricate carvings and supported by 72 pillars. Its awe-inspiring spire soars to a towering height of 78 meters.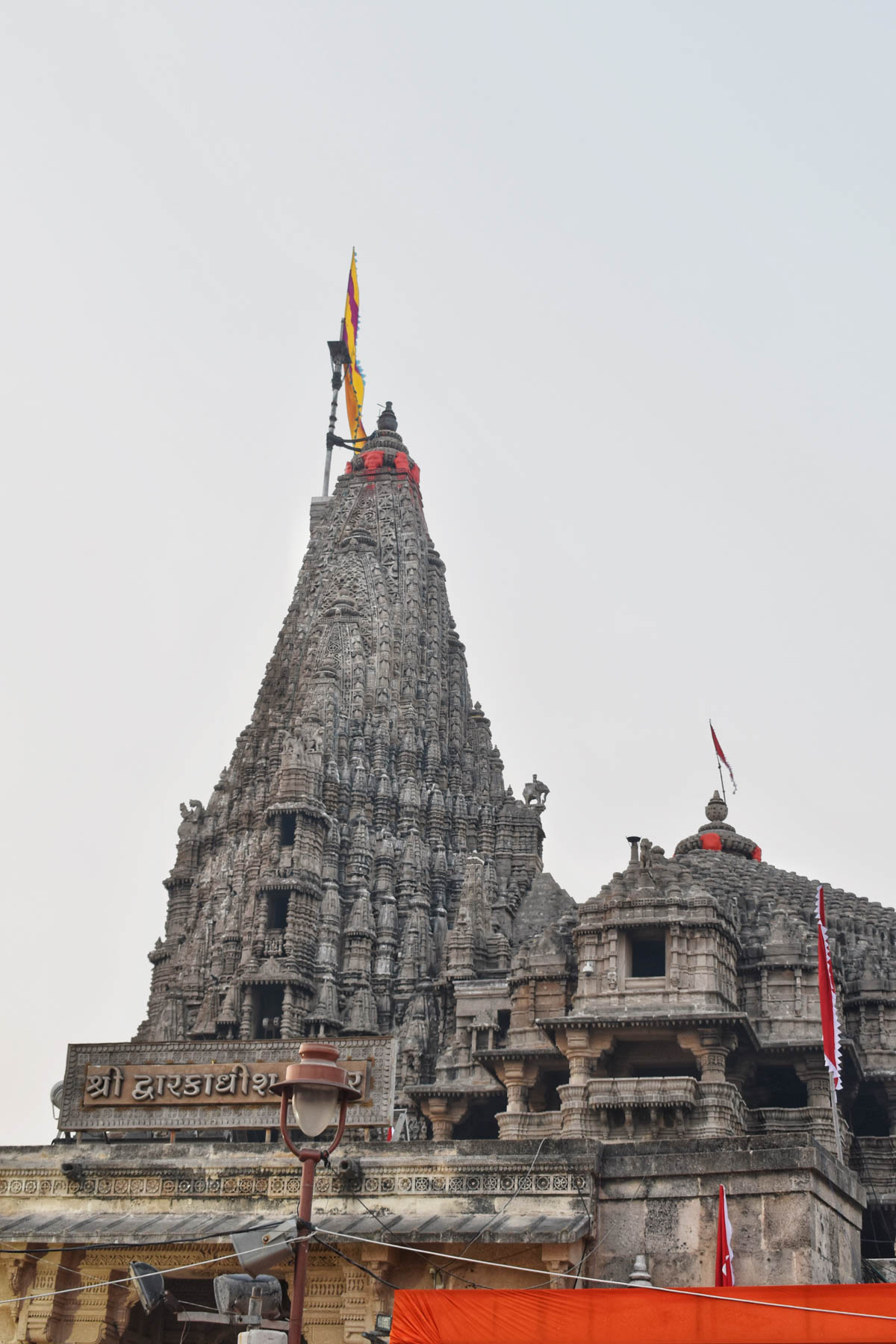 The grandeur of centuries-old Shri Dwarkadhish Temple, also known at 'Jagat Mandir'
The flag is ceremoniously hoisted four times a day atop this grand structure. Triangular flags depicting the sun and moon represent Dwarka's belief that Lord Krishna will remain until the sun and moon endure on Earth. The temple features two principal entrances: the Moksha Dwar, signifying the door to salvation, serves as the main entry point. While the Swarga Dwar, the gate to heaven, serves as the exit. Devotees can reach the sacred Gomati River by walking 56 steps beyond this exit.
Within the central sanctum resides the main deity, Dwarkadhish, who is depicted with four arms in the trivikrama avatar of Vishnu. The adjoining chambers are dedicated to Balarama, Krishna's revered elder brother, and Radha Krishna, symbolizing divine love and devotion. Devaki, the mother of Lord Krishna, is also honored in a separate shrine.
To preserve the sanctity of the temple, visitors are not allowed to carry mobile phones or cameras inside the temple.
Dhwajarohan or Flag Changing Ceremony
Dhwajarohan, or the Flag-Changing Ceremony, is a deeply cherished tradition in Dwarka. The Dwarkadhish flag, or Dhwaja, is always flying high in the temple, symbolizing the divine presence of Lord Krishna.
Dhwajas are made from 52 yards of woven cloth and represent profound symbolism. From this fabric, 52 small flags are meticulously crafted, each with its own unique significance and identity. These 52 flags are then harmoniously joined together to form a single, majestic flag. The number 52 signifies the 52 entrances to the palace of Dwarka, mirroring the city's grandeur. Furthermore, these 52 flags represent the fifty-two officers of Lord Sri Krishna's ministry in Dwarka. There are up to seven different hues on the flag, each representing a distinct quality or characteristic, similar to a rainbow.
The 52-yard flag atop the temple is considered sacred and can be seen from a considerable distance. It is customary for locals to raise two flags as a protective measure during times of peril, such as cyclones. The practice was observed during the cyclones of 2019 and 2021. It is an appeal to the divine. People of Dwarka believe that by hoisting two flags, they are seeking protection from Dwarkadhish.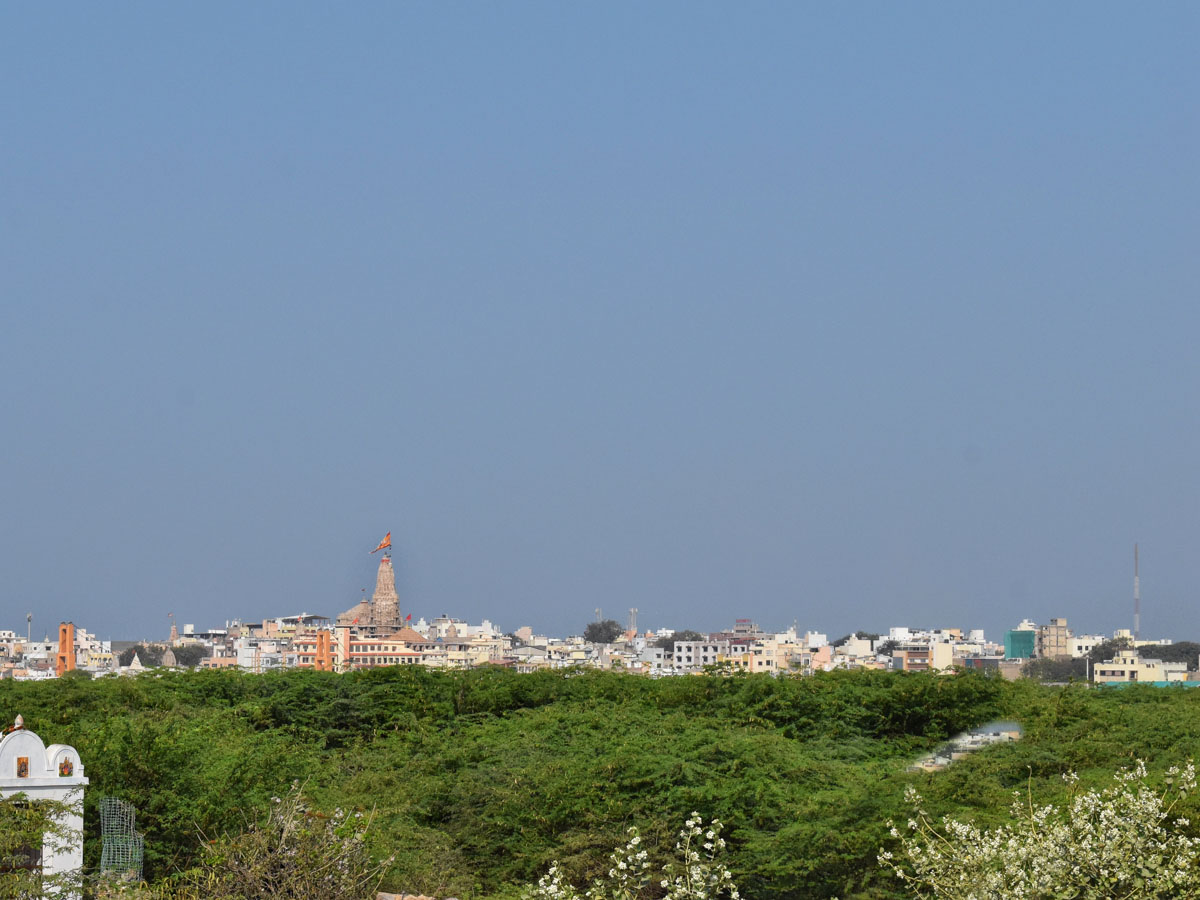 Distance view of the 52-yard-long flag unfurling at Dwarkadhish temple
The Guggali Brahmins of Dwarka
The Guggali Brahmins of Dwarka are considered to be descendants of the priests in Lord Krishna's original temple. Traditions and customs passed down from generation to generation have been diligently preserved by them. Different types of aarti ceremonies are performed at Dwarkadhish Temple throughout the year in celebration of a variety of festivals and rituals. Despite their modest numbers, around 1,000 in the city, they play an important role in Dwarka's religious and cultural life. They are entrusted with the responsibility of overseeing all temple rituals, their influence extending far beyond the temple grounds. A priest belonging to the Guggali Brahmin clan is believed to be the only one qualified to perform the puja and aarti rituals for Dwarkadhish.
Not only are these revered Brahmins respected for their spiritual roles as priests, but they also contribute greatly to the social and economic well-being of the community. While some Guggali Brahmins are priests, others are engaged in fields like education, law, and business, adding to the wealth of society.
History of Gomti Ghat
The Gomti Ghat in Dwarka is considered a sacred site for pilgrims because of its profound religious and mythological significance. As per the legend, the River Gomati flows through Dwarka and is considered to be the daughter of Sage Vashishtha. Gomati's waters are believed to possess extraordinary cleansing powers, capable of cleansing one's mortal sins. A large number of pilgrims visit the Gomti Ghat each year to take a dip in the Gomti Kund, the confluence of the River Gomti and the vast ocean. As a symbol of its sanctity, the Gomti River is often called the 'Descending Ganges'. A boat ride down the river offers visitors a panoramic view of Dwarka.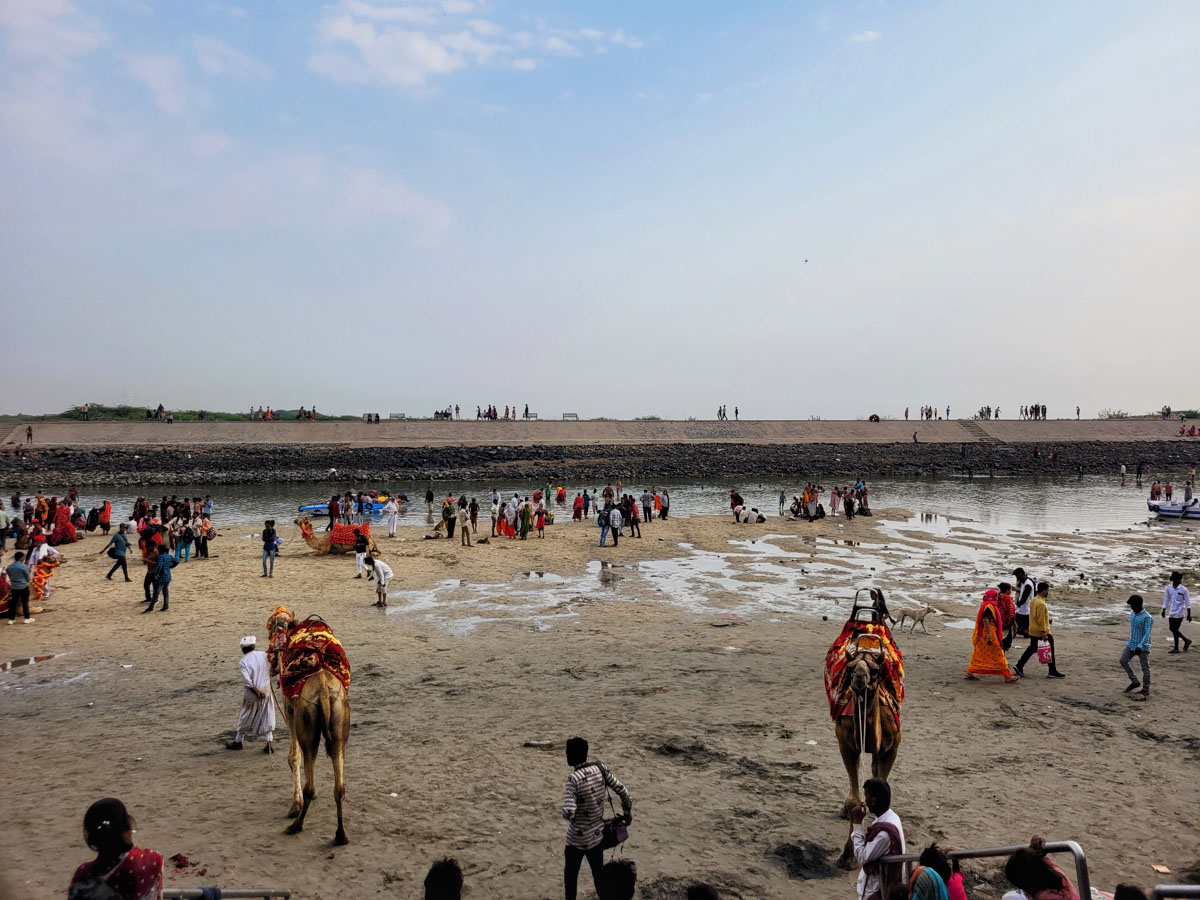 The confluence of the Gomti River and the ocean. The water in Gomti kund fills up as the day progresses.
Sudama Bridge
Sudama Bridge or Sudama Setu represents more than just a physical connection between two points; it is a symbol of friendship, devotion, and humility. Dedicated to Sudama, Krishna's childhood friend, this bridge holds considerable religious and cultural significance for the city.
Sudama, a poor Brahmin, visited Dwarka after years of separation to meet Lord Krishna. He carried a humble gift of beaten rice (poha) as he couldn't afford anything more valuable. Despite his poverty, Sudama's devotion was unwavering. He was greeted warmly by Krishna, who was overwhelmed by Sudama's devotion and blessings.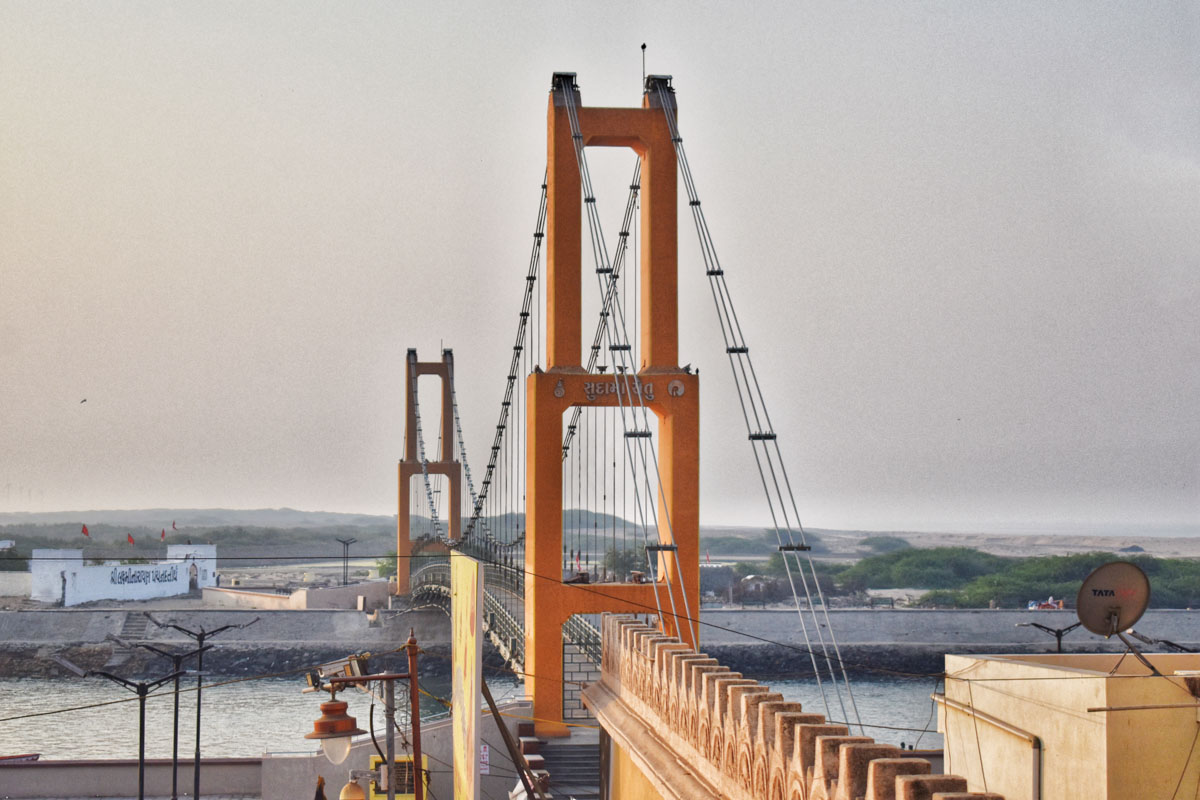 The Sudama Bridge of Dwarka from an elevated vantage point
Thus, the Sudama Bridge represents a profound friendship and the significance of humility and devotion to the divine. For many people, crossing this suspension bridge is a spiritual journey that reminds them of the importance of selflessness and faith. This reminds us of the power of friendship, dedication, and the blessings that come to those who are humble in life. In light of the recent hanging bridge collapse in Morbi, which caused more than a hundred deaths, the Sudama bridge was closed to the general public during my visit.
Taking a stroll in the narrow alleys of Dwarka
Exploring the narrow alleys of Dwarka is an experience in itself, offering a unique glimpse into the heart of the city. For an authentic experience, I highly recommend staying in a hotel nestled within these alleys, allowing you to soak in the true essence of Dwarka. During my visit, I chose to stay at a hotel that was just a 5-minute walk away from the Dwarkadhish Temple. There are, however, a variety of hotels in Dwarka that are suitable for every budget.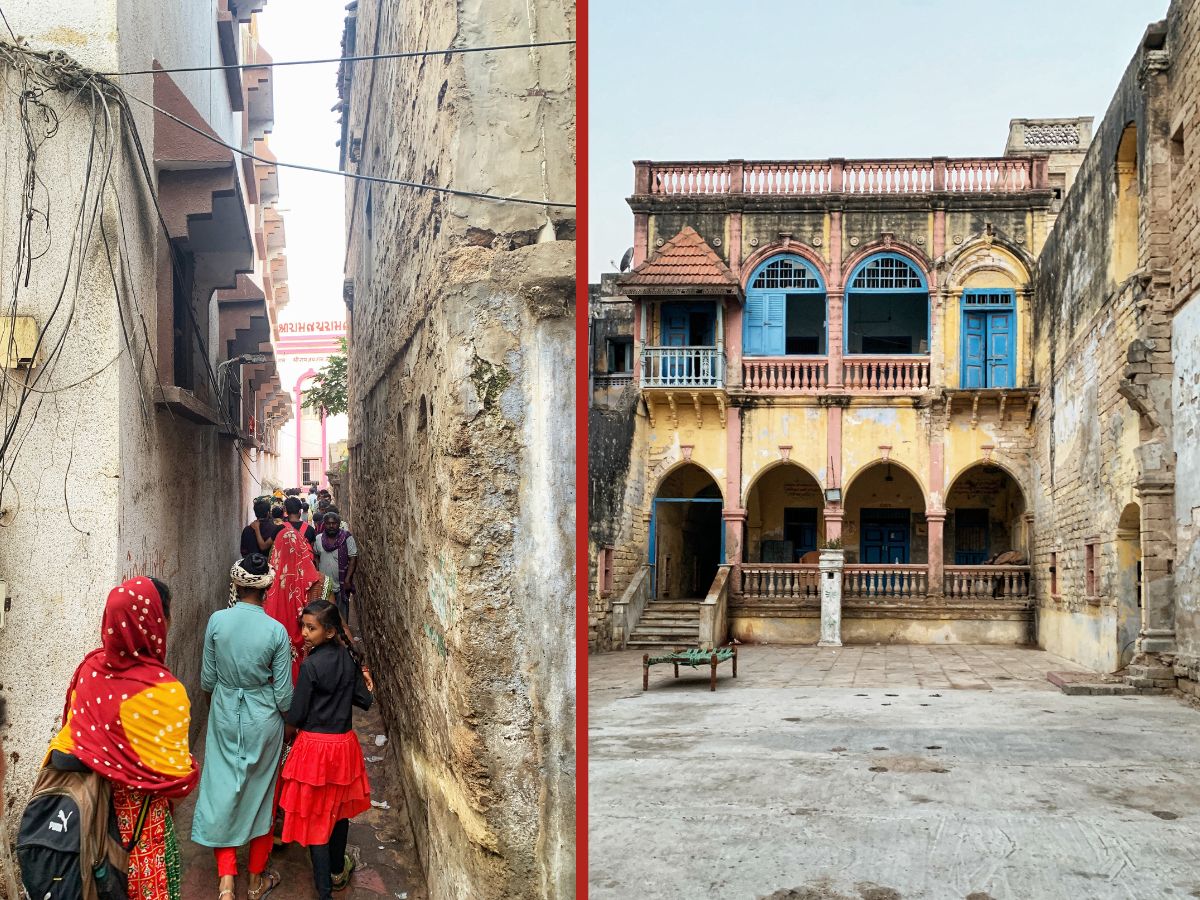 A narrow alley and an old house in the city of Dwarka
Wandering through these alleys, you'll encounter buildings adorned with old architectural styles, each telling a story of the city's rich history. The area surrounding the Dwarkadhish Temple is a bustling hub, adorned with numerous shops and restaurants. These vibrant streets are the perfect spots to purchase souvenirs. Popular markets like Bathan Chowk, Ram Bazar, and Ananya Mata Chowk beckon with an array of handicrafts, Krishna idols, and traditional clothing, allowing you to take a piece of Dwarka's heritage home with you.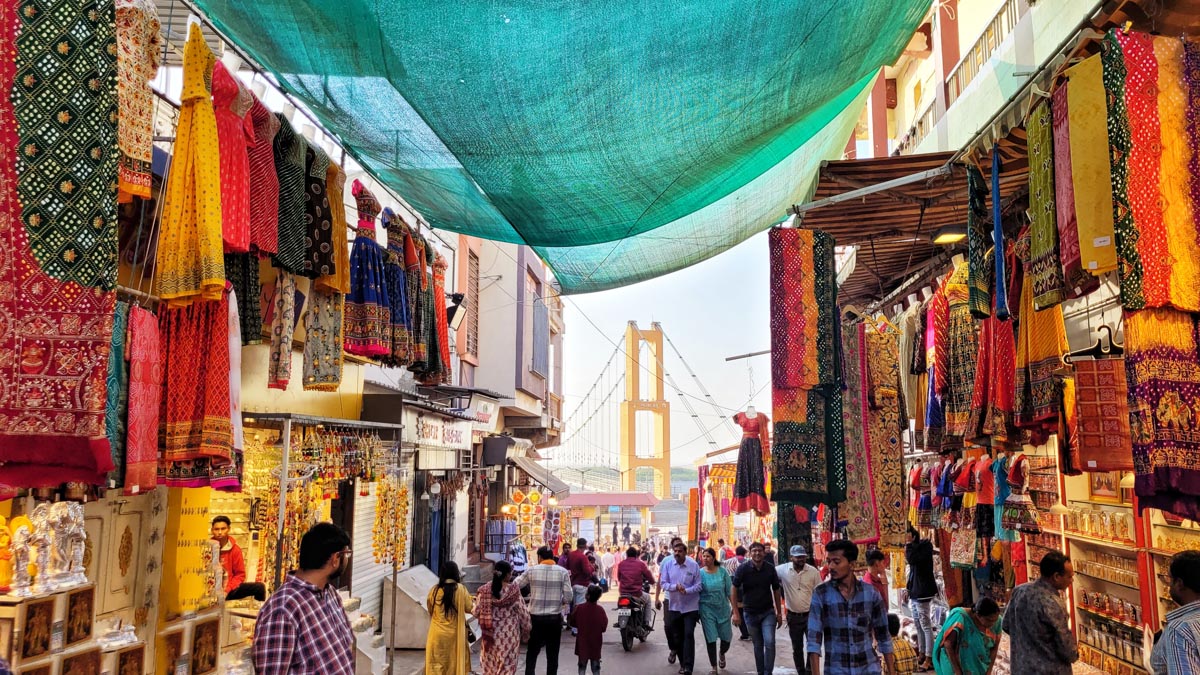 With colorful shops all around, Dwarka's markets are a shopper's paradise
Moreover, these markets are a paradise for food enthusiasts. If your palate is adventurous, you can indulge in various street food varieties, savoring the flavors of local Gujarati cuisine. The city also has some nice restaurants, some of which are themed around Lord Krishna's childhood and lifestyle.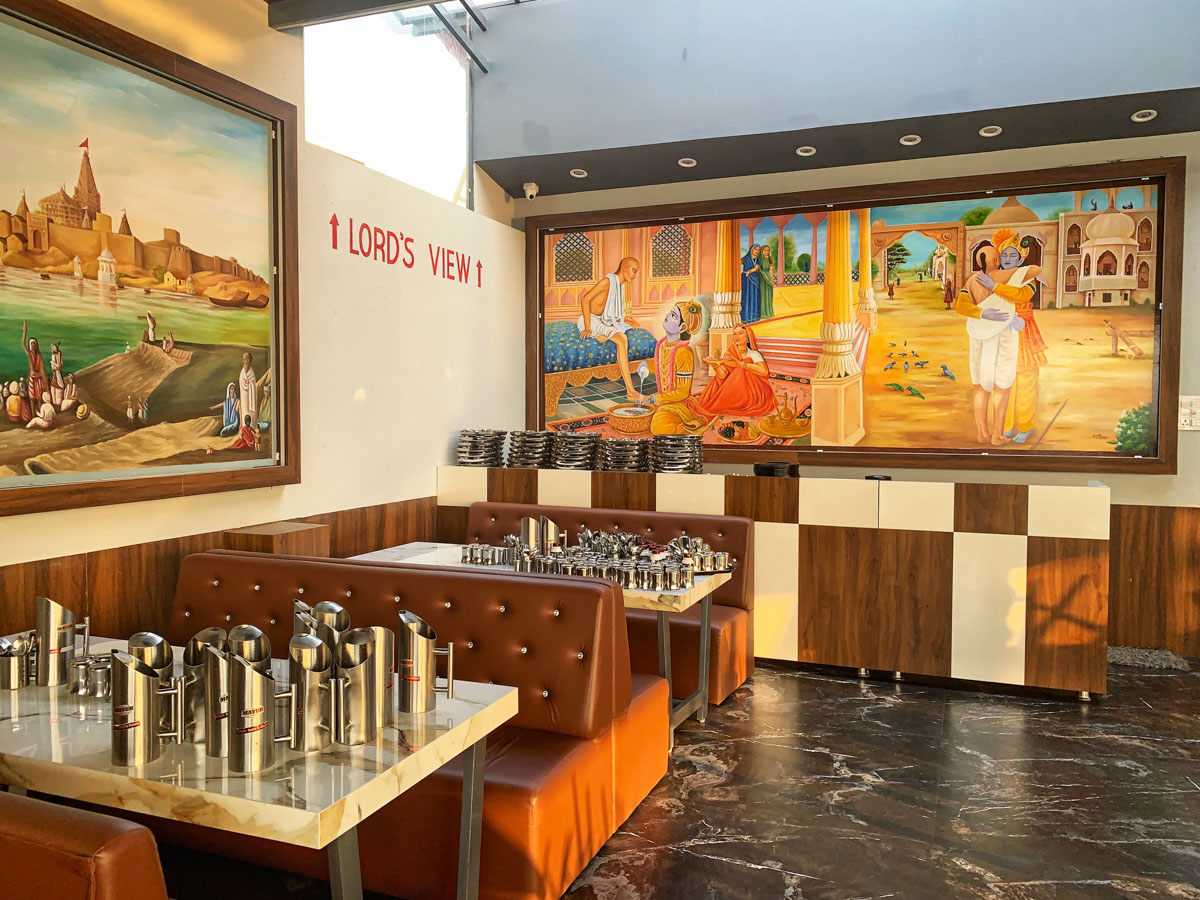 A restaurant near Sudama bridge with a mural of Krishna-Sudama friendship
Brahma Kund
In India, there are two revered places where Hindus visit to offer their prayers to Lord Brahma: the Brahma Kund in Dwarka, Gujarat, and the Brahma Temple in Pushkar, Rajasthan. These sites hold immense significance and draw pilgrims from far and wide. The Brahma Kund in Dwarka takes the form of a rectangular tank, believed to have been created by Lord Brahma himself. The water within this sacred kund is believed to possess divine healing properties, and devotees immerse themselves in its waters to cleanse their souls of sins. It's worth noting that during our visit, we observed that the kund was devoid of water, a common occurrence during the dry season.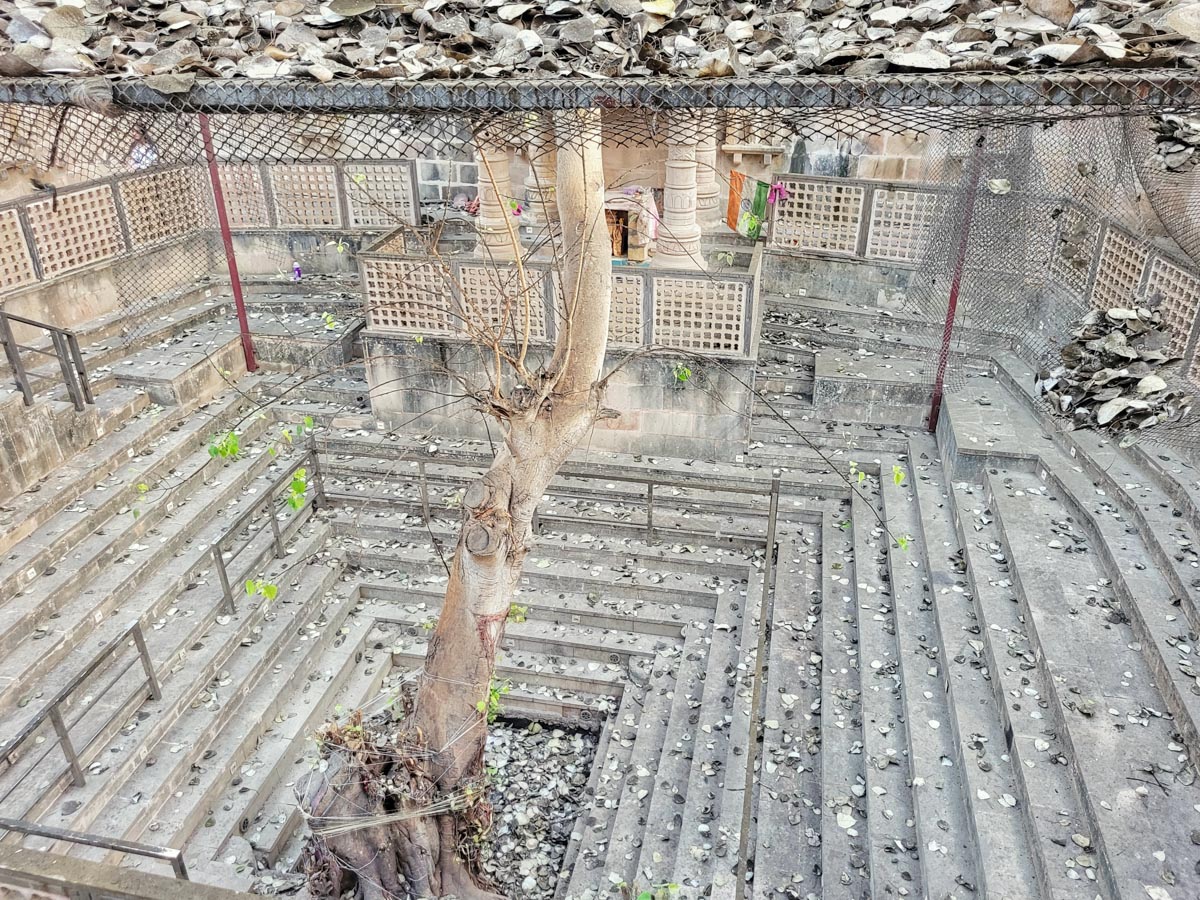 The dilapidated state of Brahma Kund during the summer season
Nageshwar Jyotirlinga Temple
Located between Dwarka and Okha, Nageshwar Jyotirlinga Temple represents one of the twelve prominent Shiva Jyotirlinga shrines in India. Its profound religious significance draws devotees from every corner of the country. The temple enshrines the swayambhu (self-originated) Jyotirlinga, representing Lord Shiva's eternal and formless essence. As per legend, this sacred Lingam emerged organically from the earth, making it a highly revered object.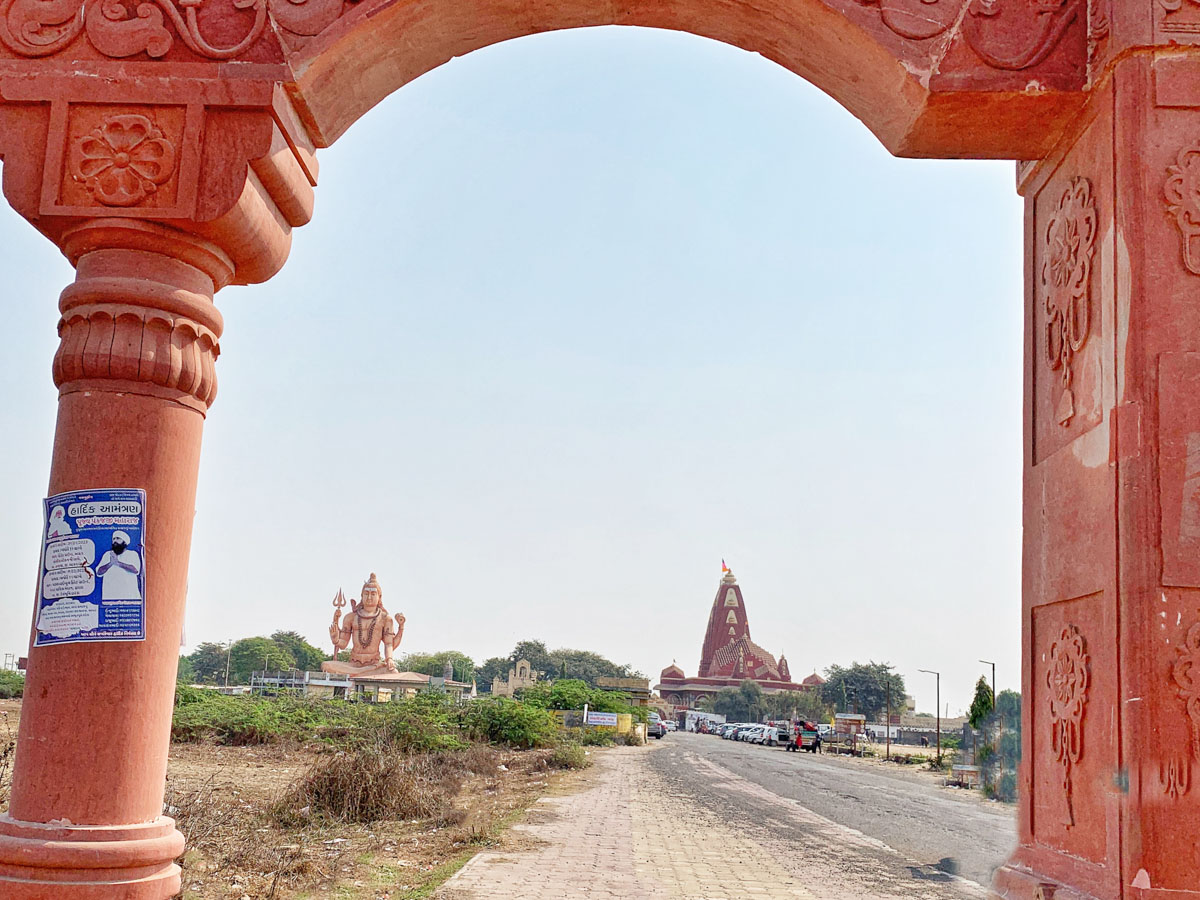 View of Nageshwar Jyotirlinga temple from the main road
As the primary deity, Lord Nageshwar is worshipped in the form of a lingam representing the divine presence of Shiva. The temple complex is dominated by a majestic 25-meter-tall seated statue of Lord Shiva surrounded by spacious gardens and a serene pond. Interestingly, this temple has a history that traces back over 2,000 years, believed to have been constructed by the Pandavas during their exile period. However, the temple faced destruction during the 1600s under the rule of Aurangzeb. The present-day spire of the temple was meticulously reconstructed by the revered queen, Ahilyabai Holkar.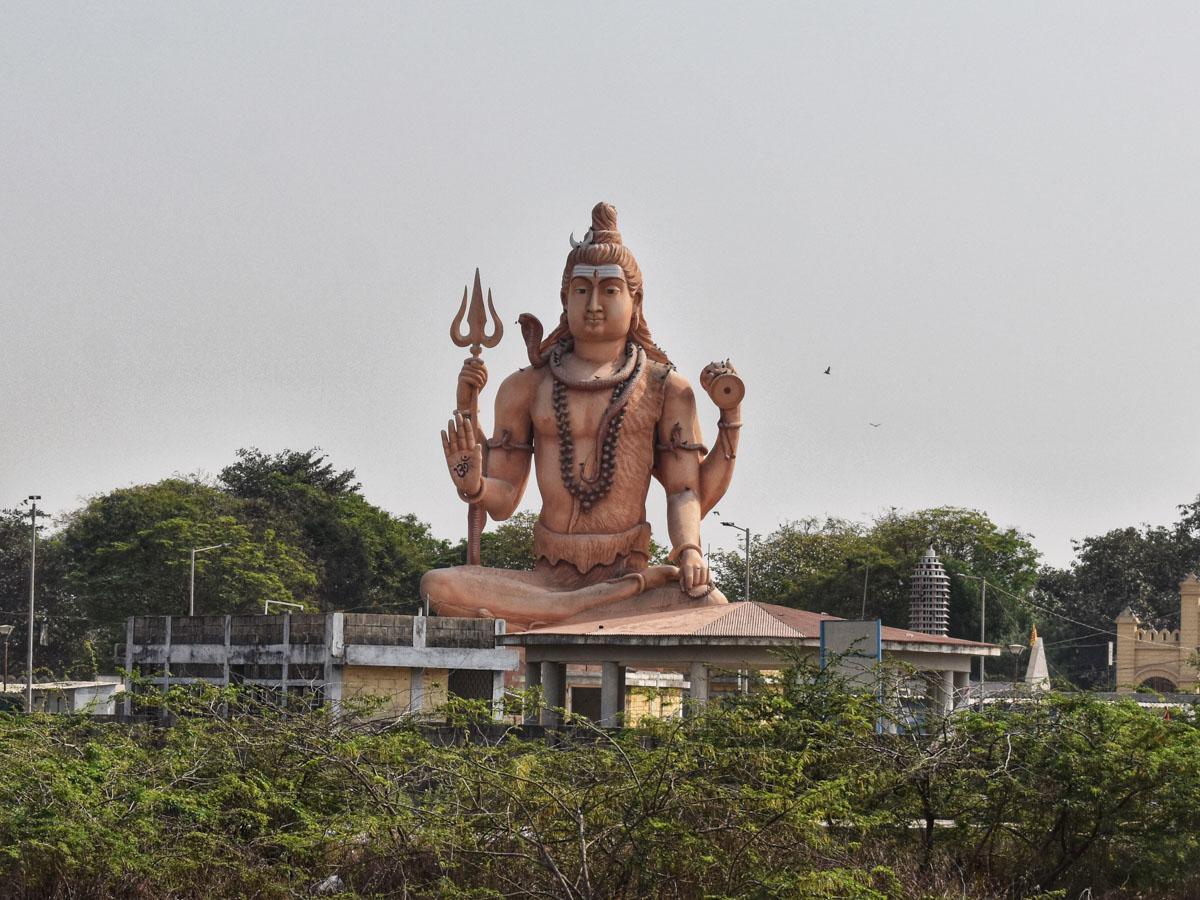 An 82-feet-tall Lord Shiva Statue in Nageshwar temple of Dwarka
Gopi Talav
Gopi Talav, located approximately 20 km from Dwarka, holds a significant place in Hindu mythology. Legend has it that the Gopis, the daughters of cowherds in Vrindavan, devastated by Lord Krishna's departure, journeyed to Dwarka in order to reunite with him. Their arrival overwhelmed Krishna, who led them to Gopi Talav, a lake that now bears their name. They danced and sang joyfully in the company of Krishna, celebrating their joyful union.
Having no desire to separate again, the Gopis merged their existence with Lord Krishna, offering their lives to the soil of Dwarka. Gopi Talav's sacred waters are believed to purify and enrich the souls of pilgrims who take a holy dip in them.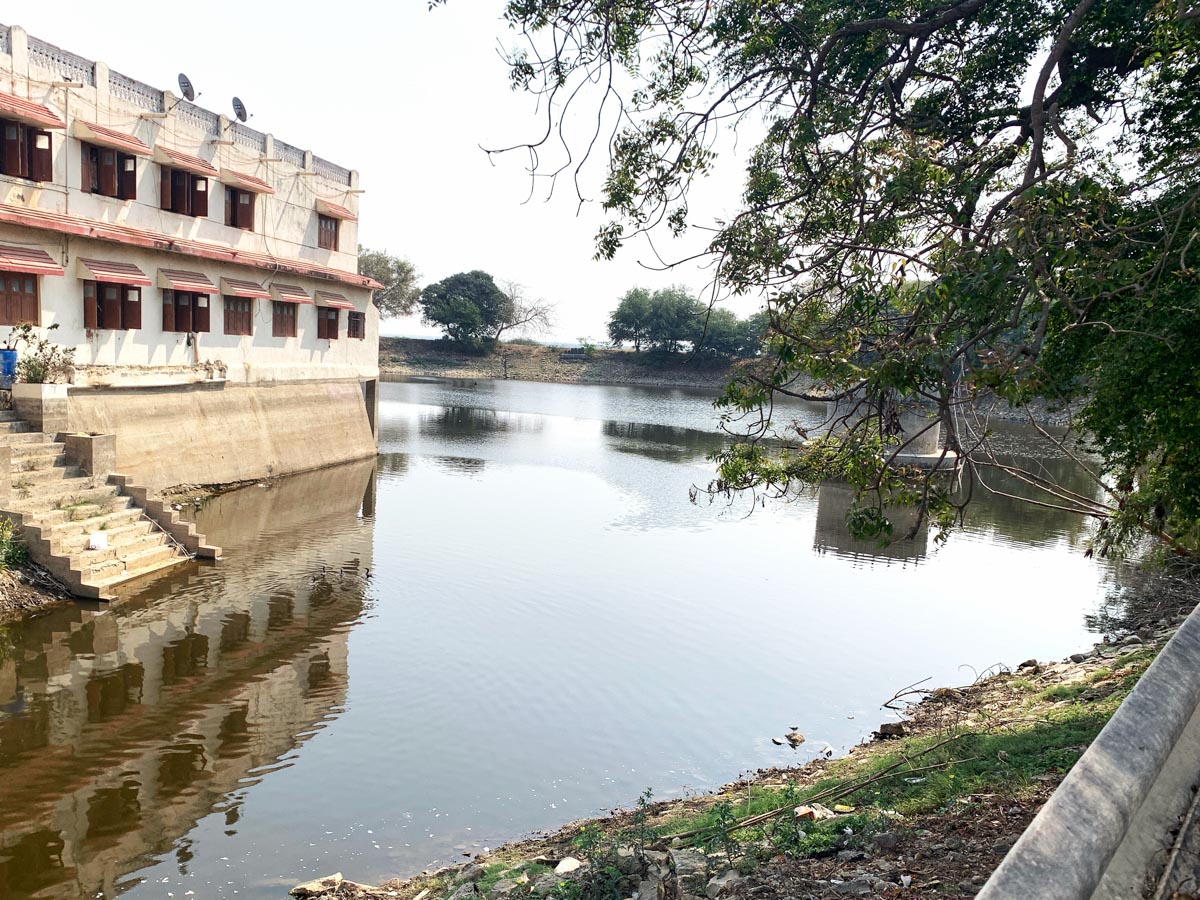 Gopi Talav in Dwarka
Gopi Talav also intertwines with the legend of Gopi Chandan. The yellow clay found at the lake's bottom is believed to be the result of the Gopis merging with Krishna. The clay is used to make the Ayurvedic lotion known as Gopi Chandan. Symbolizing their unwavering devotion to Krishna, pilgrims apply this lotion to their foreheads as a tilak (forehead mark). Apart from its religious significance, Gopi Chandan is also renowned for its healing properties, ability to protect against malevolent forces, and ability to bring good fortune.
Shivrajpur Beach
With its golden sands and tranquil waters, Shivrajpur Beach is a picturesque gem nestled along the vibrant coastline of Dwarka. An ideal getaway from the bustle of city life, this secluded beach is located a short drive away from Dwarka. Long stretches of soft, inviting sand make for a pleasant stroll, beach picnic, and sunset viewing. You can take a refreshing dip in the azure waters of the Arabian Sea or indulge in thrilling water sports like scuba diving, snorkeling, and parasailing.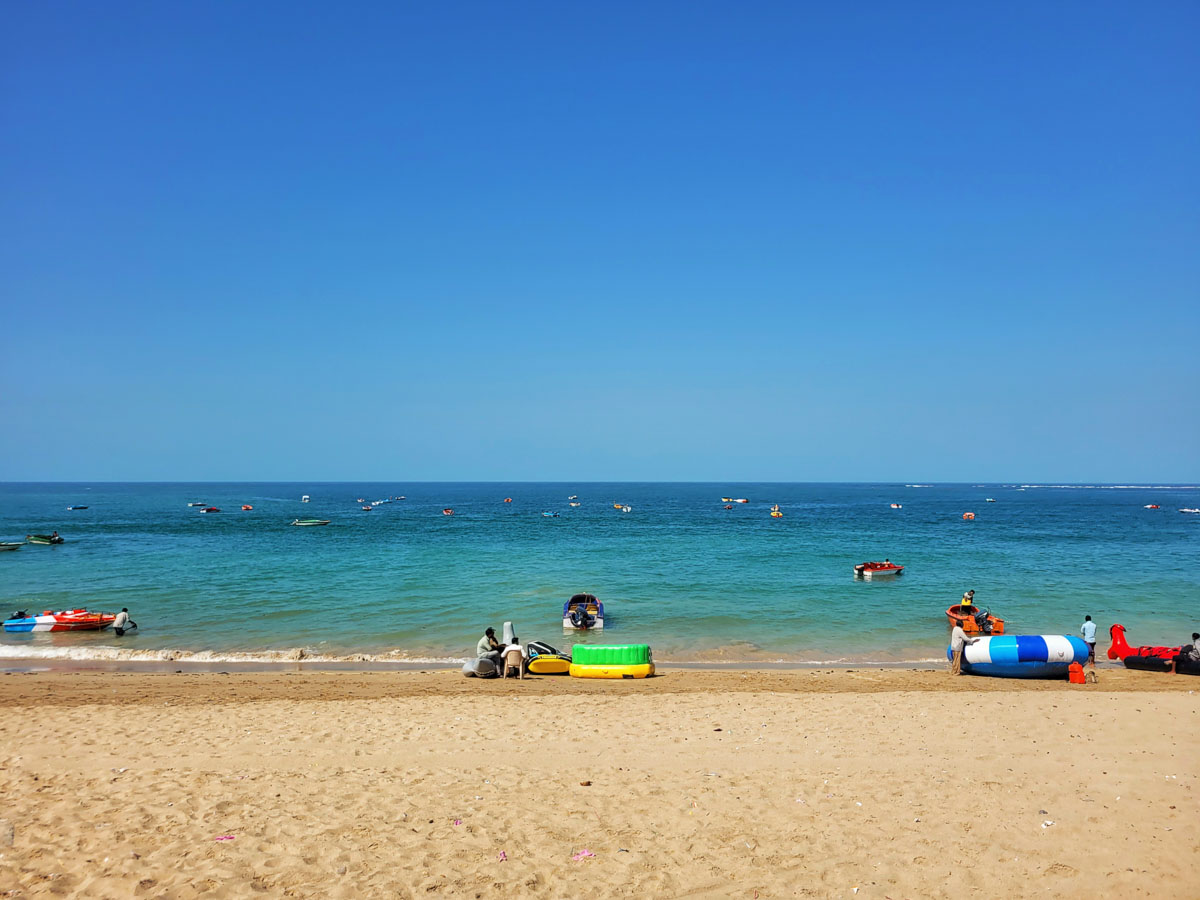 The Shivrajpur beach is gradually becoming an adventure destination
The pristine beach of Okha
Often overlooked by most Dwarka visitors who merely use its jetty as a gateway to Beyt Dwarka, Okha is a concealed wonder waiting to be explored. Its calm, turquoise waters gently caress the shoreline, mirroring the clear blue skies above. The gentle lapping of waves against the rocks and the distant cries of seabirds create a symphony of tranquility, making Okha a perfect sanctuary for those seeking solace in nature. Regrettably, Okha lacks the array of hotels and resorts found in Dwarka, making it ideal for a day trip or perhaps a half-day excursion.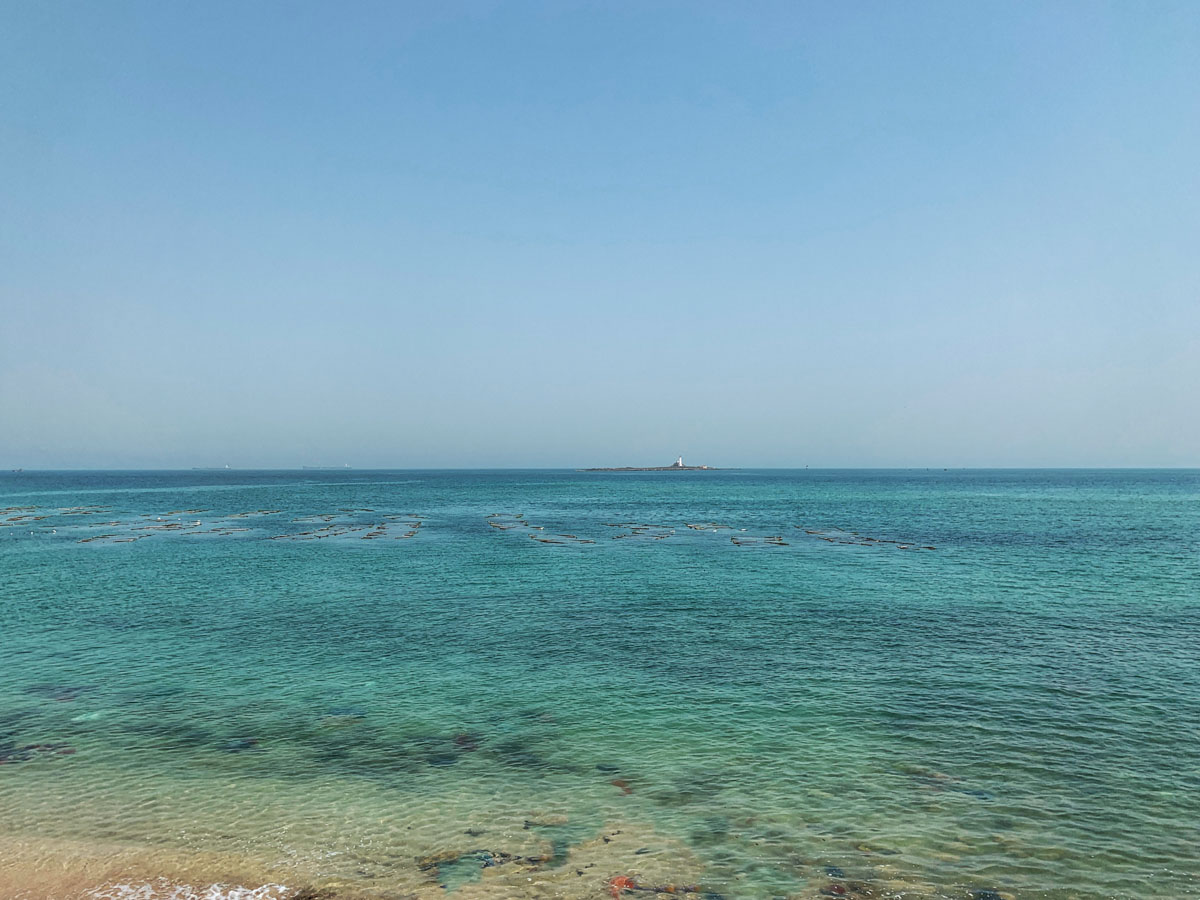 As the ocean hugs the shores of Okha, its turquoise waters provide a serene retreat
The Okha beach has undergone recent development, featuring a picturesque walkway that spans several kilometers. This walkway, adorned with charming triangular flags, invites a leisurely stroll, offering the calming embrace of the ocean breeze as it gently unfurls them along your path. Nestled along this walkway are ancient temples, exuding an aura of tranquility. Here, you can simply sit, unwind, and immerse in the serene ambiance, undisturbed by the hustle and bustle of typical tourist crowds.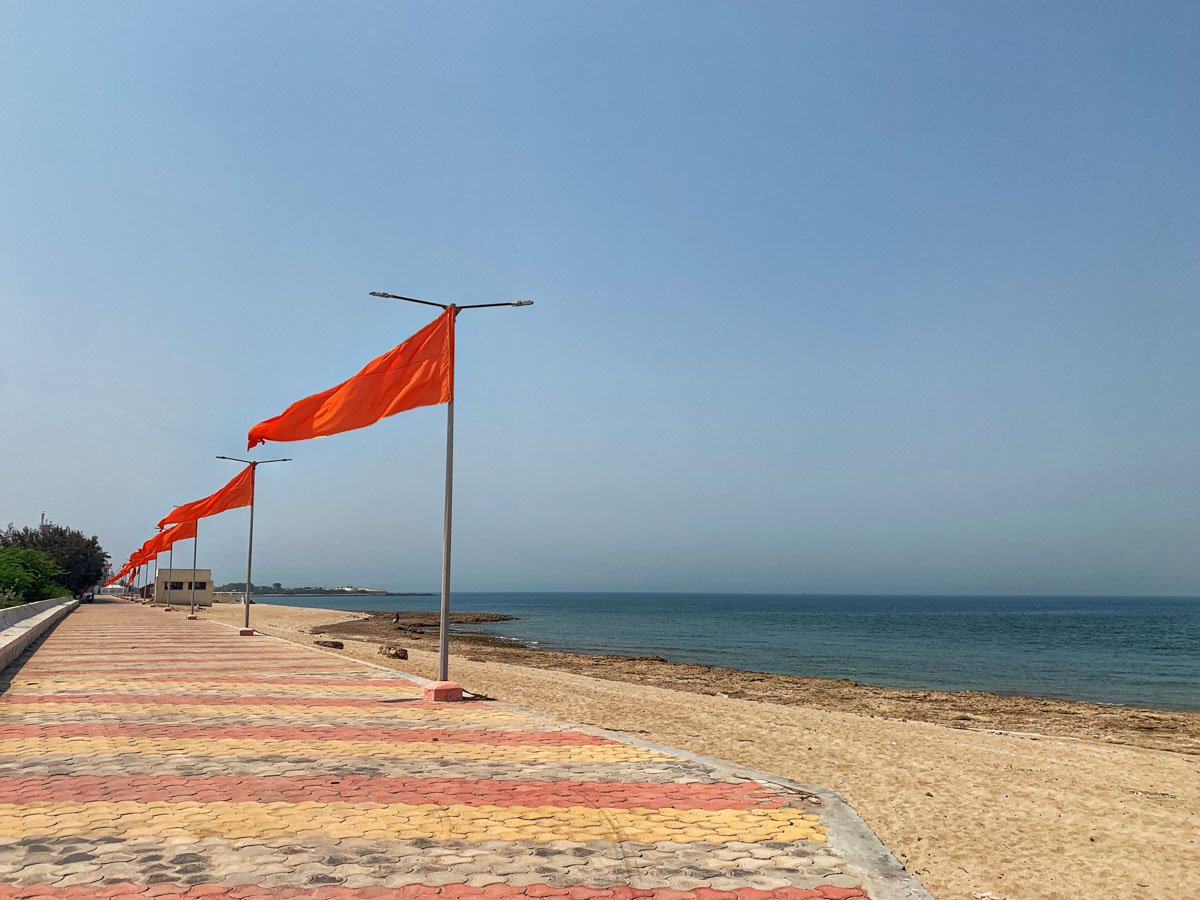 The walking path along Okha beach
The beach at Okha is not only pristine and safe for swimming, making it an ideal destination for families, especially those with children. The shoreline boasts soft golden sands and crystal-clear waters, creating a picturesque setting for beachgoers. Taking a leisurely stroll along the shoreline reveals the beach's natural beauty, while the melodious calls of waterbirds add to the tranquil atmosphere. In addition to its scenic charm, Okha beach holds remnants of its bustling past, including the historic Okha jetty, now a captivating site for some photo ops.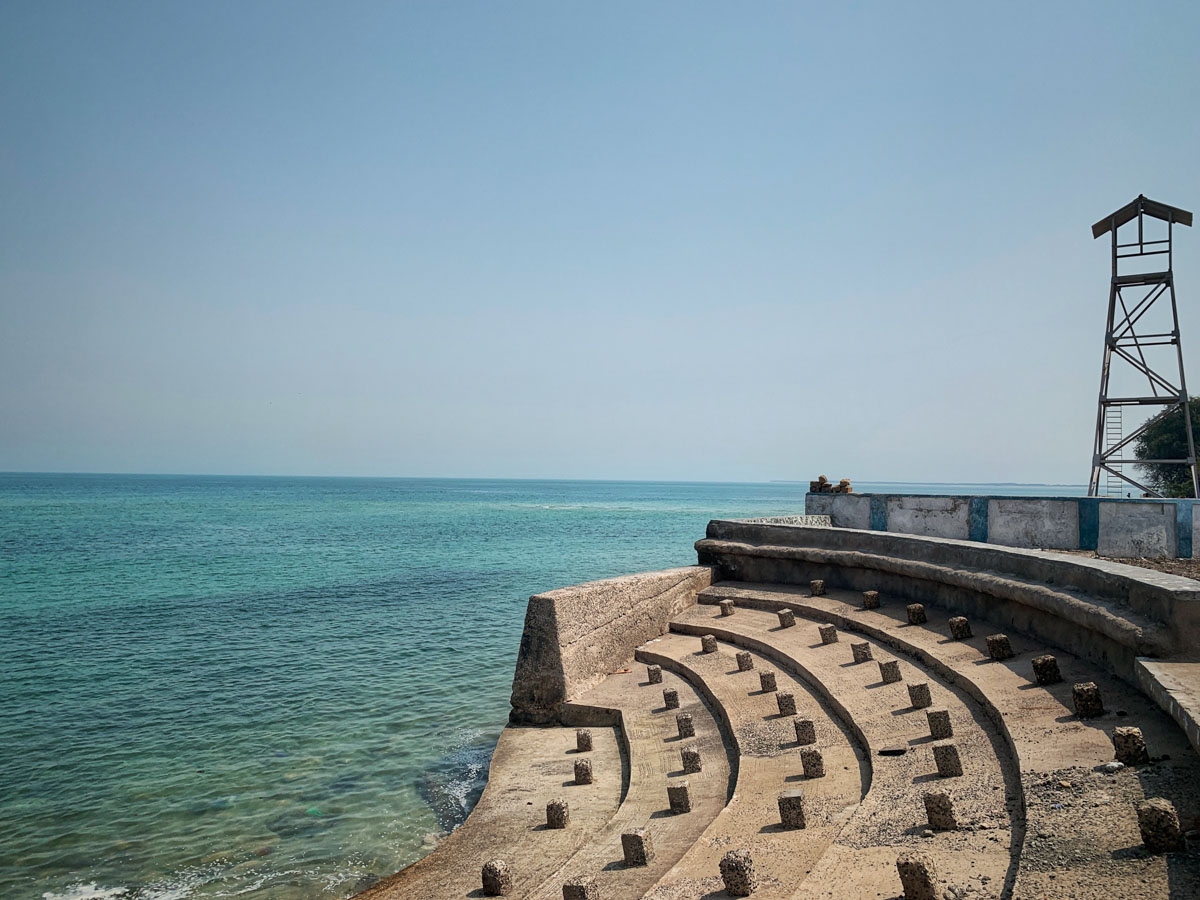 The desolated remains of the old jetty at Okha
Walking toward the lighthouse complex offers a rich and varied experience. Not only do you get to marvel at the diverse wonders of the ocean, but you can also explore two remarkable and operational lighthouses. However, gaining access to the campus requires permission, and we were fortunate enough to be granted entry. Within the complex, there are two lighthouses: a smaller one with 113 steps, standing at 23 meters, and a larger one with 313 steps, soaring to a height of 60 meters. The larger lighthouse is also equipped with an elevator.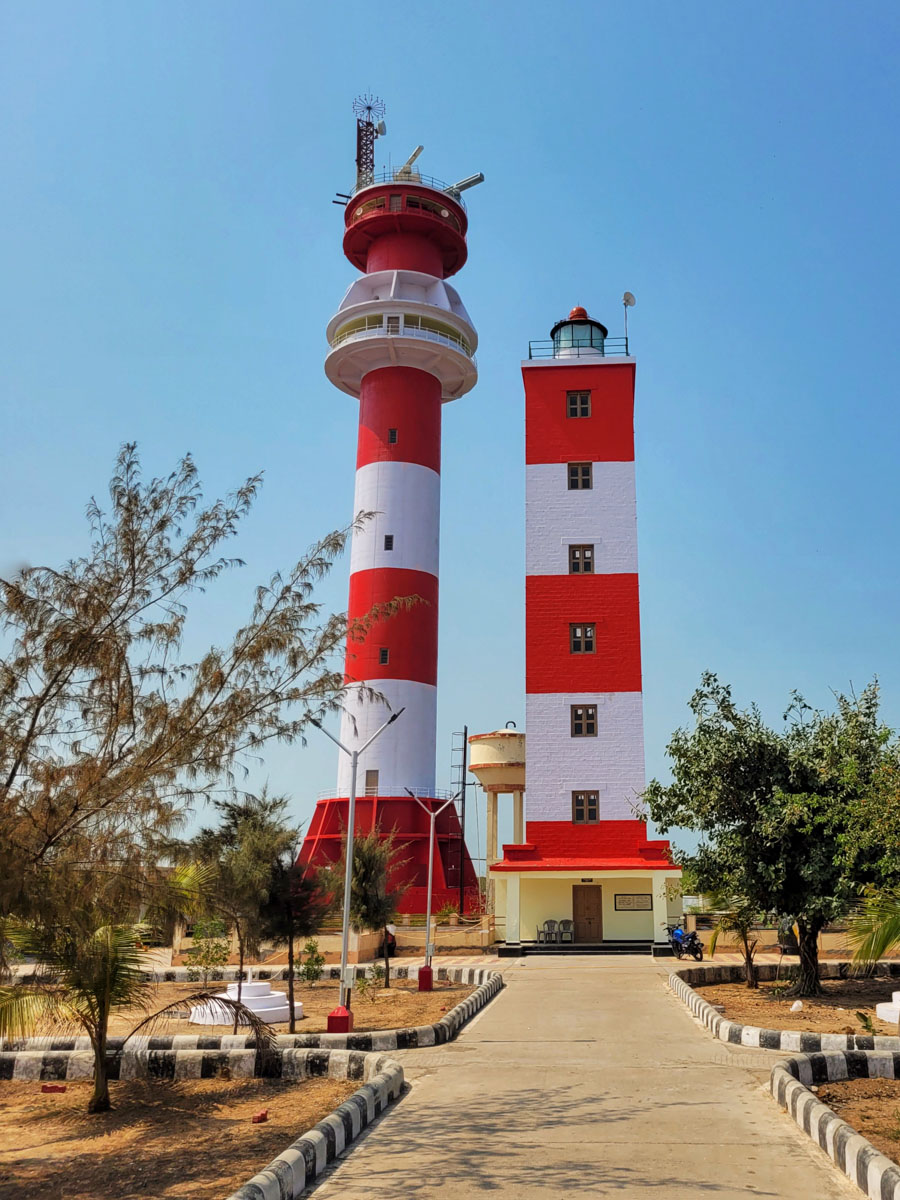 Lighthouse complex near Okha beach
After some initial hesitation, our request to ascend the smaller lighthouse was granted. We were accompanied to the top by one of the staff members to ensure we would not take any photos from there. Strict regulations prohibited photography due to Okha's strategic significance for India's defense, with both the Indian Navy and BSF maintaining posts nearby. As we gazed out from the top, a mesmerizing sight unfolded before us. The turquoise waters of the ocean stretched as far as the eye could see, resembling a scene from the picturesque shores of Hawaii. The view from above was so captivating that it momentarily transported us to the serene beaches of the Pacific.
Jai Dwarkadhish
Our departure from Dwarka drew near. To express our gratitude for their warm hospitality and support, we paid a visit to my family friend's home. They extended their best wishes for a safe journey back home, bidding us farewell with the customary salutation of "Jai Dwarkadhish." In Dwarka, this greeting is a cultural norm, a display of respect and gratitude to Lord Krishna. In spite of this being my first trip to Dwarka, I vowed to return as soon as possible, whenever I could take time off from my forthcoming trips to Gujarat
Frequently Asked Questions
:
How old is the Dwarkadhish Temple?
Dwarkadhish Temple is believed to be more than 2,500 years old. Hindu devotees from around the world come here to worship Lord Krishna in this ancient Hindu temple of immense religious significance.
What is the architectural style of the Dwarkadhish Temple?
Mostly built in the Chalukyan style, the Dwarkadhish Temple represents ancient Indian architecture. This multi-story temple is decorated with beautiful carvings and intricate artwork, displaying the rich heritage of Indian temple design. The temple's architectural splendor reflects its deep spiritual and cultural significance.
How can I reach Dwarkadhish Temple in Gujarat?
Taking a flight or train to Rajkot or Jamnagar is the most convenient way to reach Dwarkadhish Temple in Gujarat. Dwarka is approximately 225 km away from Rajkot and 150 km from Jamnagar. It is easy to reach Dwarka from both of these cities by bus or taxi. There are also direct trains to Dwarka, although they operate on a limited schedule.
Is there a dress code for visiting Dwarkadhish Temple?
There is a dress code for visiting Dwarkadhish Temple. As a mark of respect and adherence to the temple's guidelines, visitors are required to cover their knees and shoulders. Dress modestly when entering the temple premises to show respect for the sacred site.
What is the significance of Nageshwar Jyotirlinga Temple in Hinduism?
The Nageshwar Jyotirlinga Temple is one of twelve sacred Jyotirlinga shrines dedicated to Lord Shiva. The self-originated (swayambhu) Jyotirlinga is housed in this ancient temple. Devotees believe that worshipping Nageshwar Jyotirlinga grants them spiritual blessings, inner peace, and divine grace. The temple is associated with the story of a demon named Daruka, who was defeated here by Lord Shiva.
How can I reach Nageshwar Jyotirlinga Temple from Okha?
From Okha, you can hire a taxi or use local transportation to reach Nageshwar Jyotirlinga Temple. Road access to the temple is easy because it is located a short distance from Okha.
Are there any accommodations available near Nageshwar Jyotirlinga Temple?
Nageshwar temple does not have any hotels nearby. Since Dwarka is located at a short distance from there, it is advisable to stay there.
What is the historical significance of Okha?
Okha was once a major port city. Historically, it has been a strategic maritime and trade area. Okha has played an important role in regional commerce and maritime trade, connecting Gujarat with other parts of India and overseas. In addition, it serves as a gateway to the famous Beyt Dwarka. It is from Okha that pilgrims embark on a boat journey to Beyt Dwarka.