While it's economic base rests largely on its oil royalties, the city, in recent years, is exploring the tourism industry and has been welcoming tourists more vigorously. This city is known to be extremely hospitable and this is very evident in the fact that the government started planning beautiful islands on the outskirts. These are some of the best places to visit in Abu Dhabi. They are accessible by car, ferry, or renting private boats and make for perfect weekend getaways. Home to historical sites, luxurious hotels, and a national nature reserve, these islands in Abu Dhabi have gained a significant number of visitors in the past couple of years. They make for a perfect break from the bustle of city life while experiencing new attractions in Abu Dhabi. The rulers are known to do everything in style with pomp and show and these islands speak of nothing less. I have had luxurious experiences in visiting many hidden places in Abu Dhabi.
Saadiyat Islands
One of my favorite places to visit in Abu Dhabi with family and indulge in luxury is "The Happiness Island". Yes, I am referring to Saadiyat Islands! Just 7 minutes away from downtown Abu Dhabi, this 27-square-kilometre Saadiyat Island has been experiencing an incredible transformation into a world-class leisure, residential, business and cultural hub. It is home to the world's largest single concentration of premier cultural assets, like the Louvre Abu Dhabi and the upcoming Zayed National Museum and Guggenheim Abu Dhabi. This natural island is a tourism-cultural project for nature and Emirati heritage & culture. My favorite natural places to visit in Abu Dhabi is Saadiyat beach, bordered with white sand and clear turquoise water. What better way to chill and enjoy the beauty of nature on a sun-drenched day after a scrumptious meal at one of the swanky properties!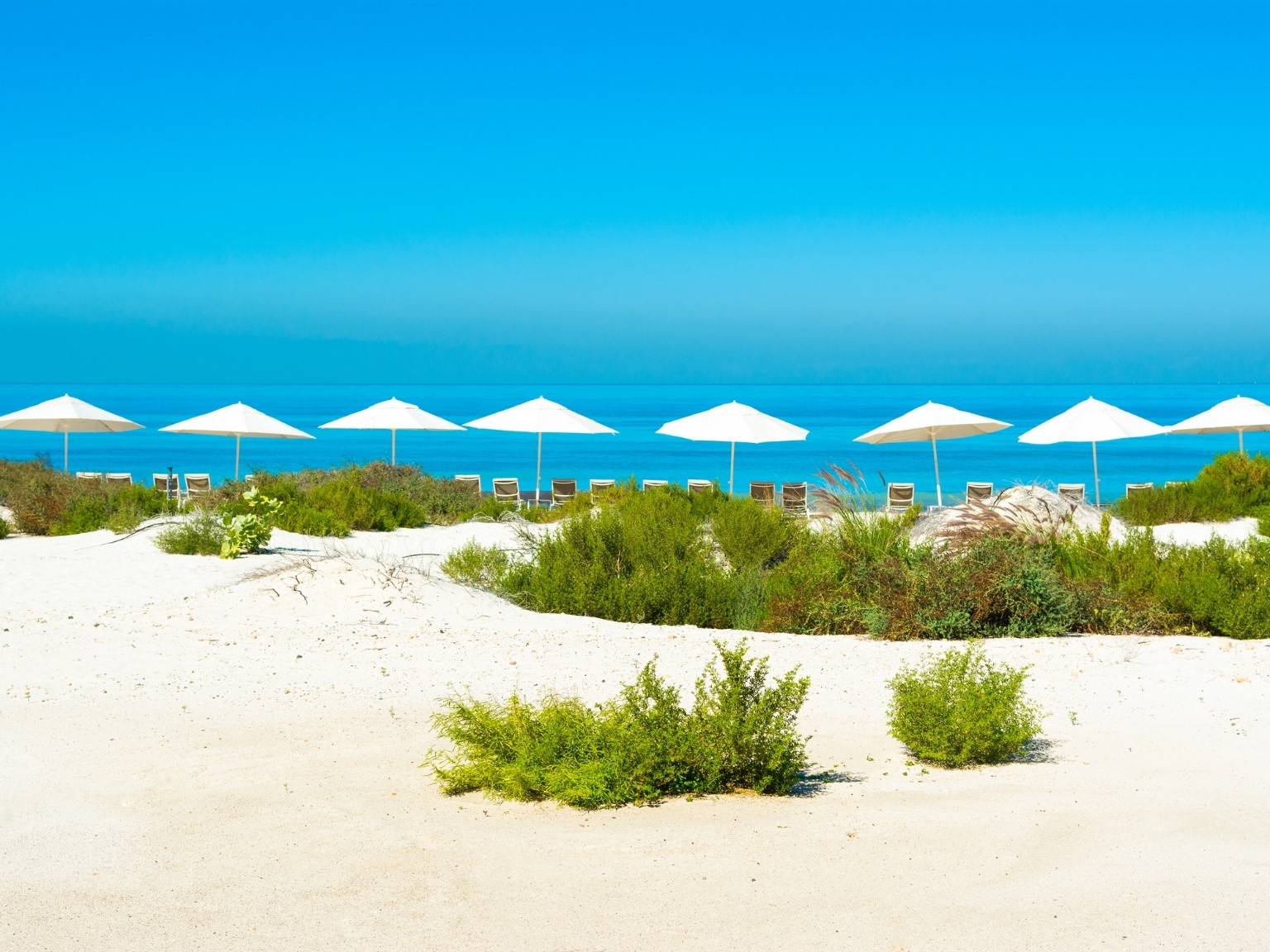 Saadiyat Beach Club: Clean, smooth sand and crystal clear waters. My favorite place to chill and unwind with family!
Al Ain - a weekend getaway of Abu Dhabi
A 90-minute drive takes you to Al Ain, a place of visit in weekend at Abu Dhabi. Al Ain is also known as the Garden City of Abu Dhabi. This green region boasts of a temperature several degrees lower than the rest of the region and has several accolades like the oldest permanently inhabited settlements and a UNESCO World Heritage Site. This island is bestowed with historical forts, old-world palaces, Al Ain Zoo and a lush oasis that offer the most stunning sights. Al Ain Zoo is much bigger than the Emirates Park Zoo. While everything about Al Ain is fascinating, the drive to the Jebel Hafit Mountain calls for a special mention. We drove along what is known to be among the world's greatest driving roads to reach the top of the peak. Enroute, you will see many families parked on the wayside and enjoying some tasty barbeque. The view from the top of Abu Dhabi's highest peak at 1,249 meters is absolutely breathtaking. From glamping to camping, you can choose from a boutique of options. Its unique biodiversity and dynamic landscape makes for an enriching experience, probably one of the most beautiful natural places to visit in Abu Dhabi with family.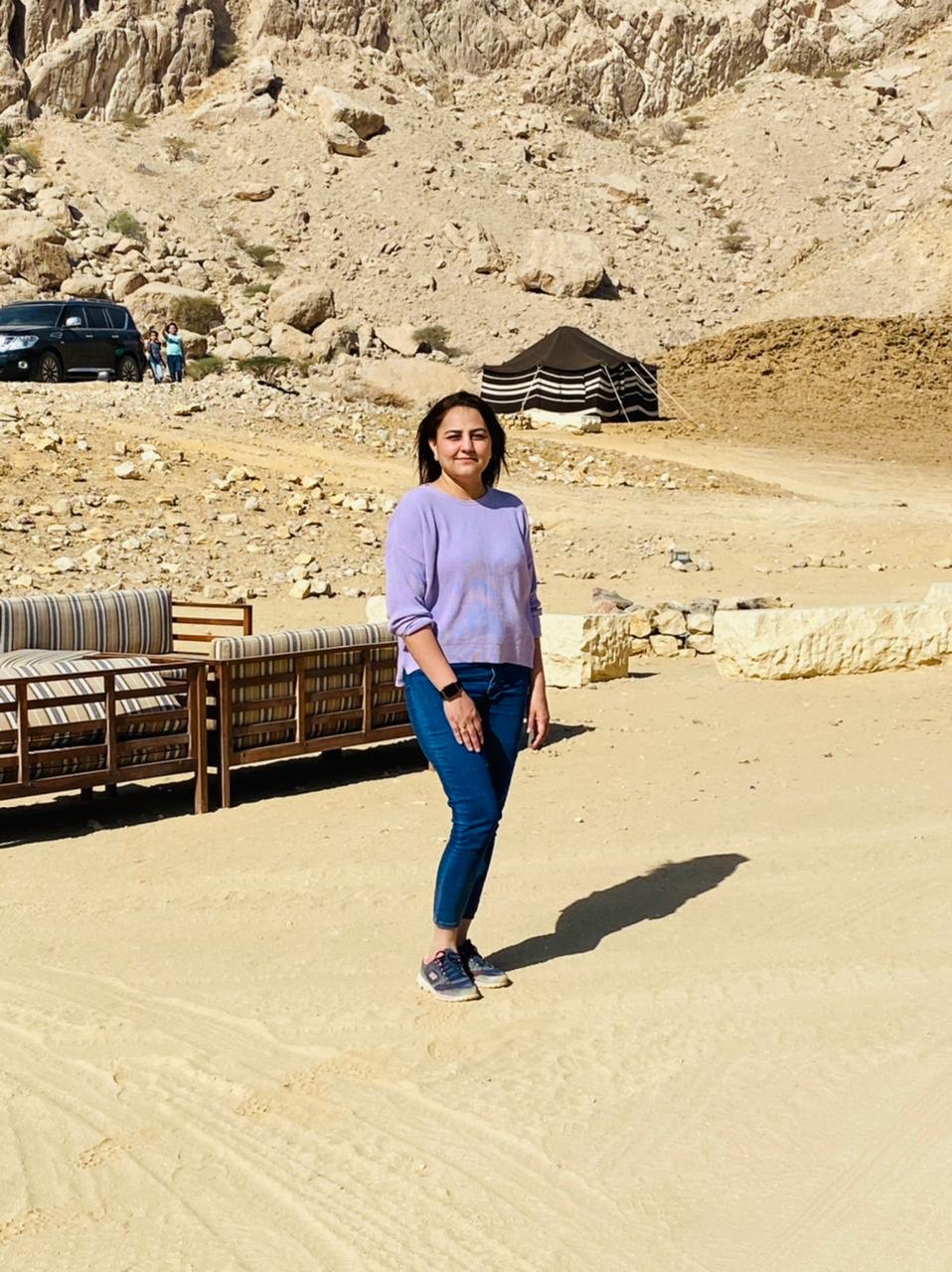 Camping in Jabel Hafit Desert Park; an offbeat place in Abu Dhabi
Arabian Nights Village
There are quite a few things to do in Abu Dhabi with family. UAE is synonymous with deserts. It is amazing how these landscapes enhance the beauty of cities in this region. The deserts in Abu Dhabi have red sand and are spectacular. People love the deserts and a common sight here is cars parked in the desert at night and families and friends having their own barbeque parties in the middle of nowhere. This is something we have indulged in several times during the winter months from October to March. On the long weekends we venture to Arabian Nights Village. This desert resort a best place to live in Abu Dhabi with family during the weekends.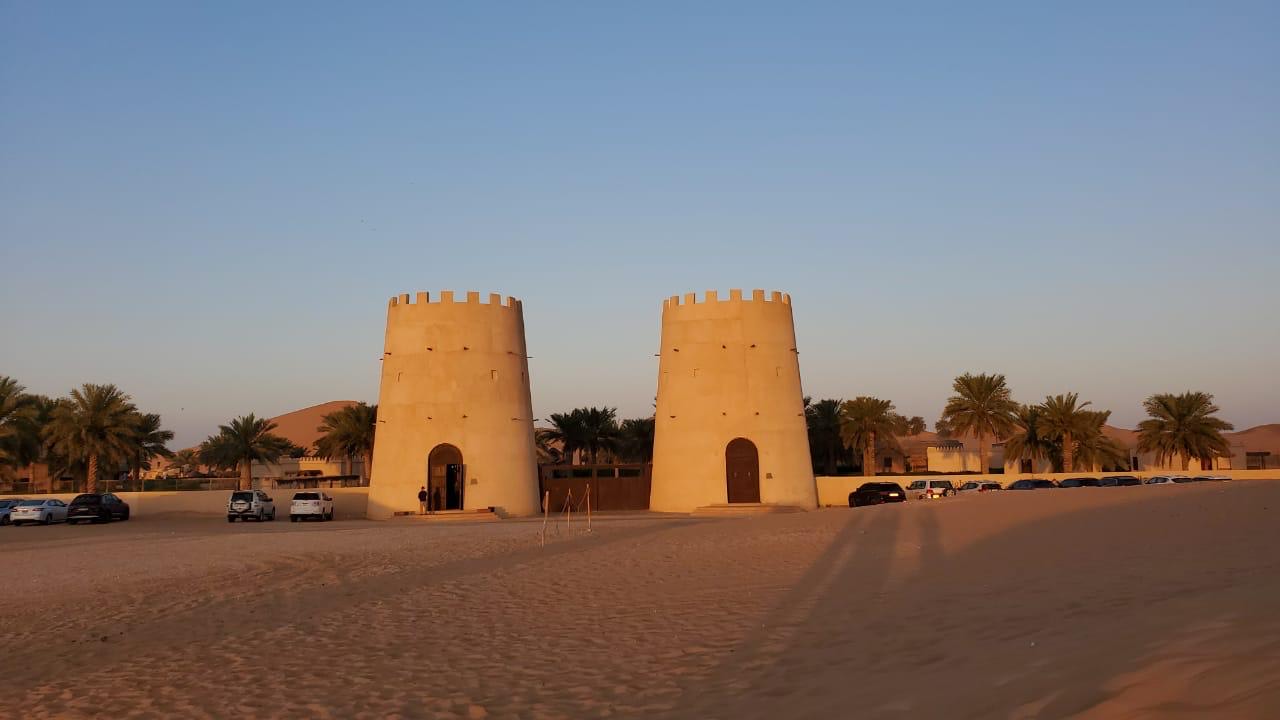 Traditional watchtowers Zakher & Al Manhal at Arabian Nights Village
Tucked away among towering dunes, this old-world village creates a magical experience of the exquisite beauty of the desert. It offers authentic and traditional aspects of Emirati life, a place to visit in weekend at Abu Dhabi with kids. We had a fun family weekend outing with many activities like dune bashing, quad biking, camel rides and ended the day with belly dancing, seesha, and a scrumptious meal.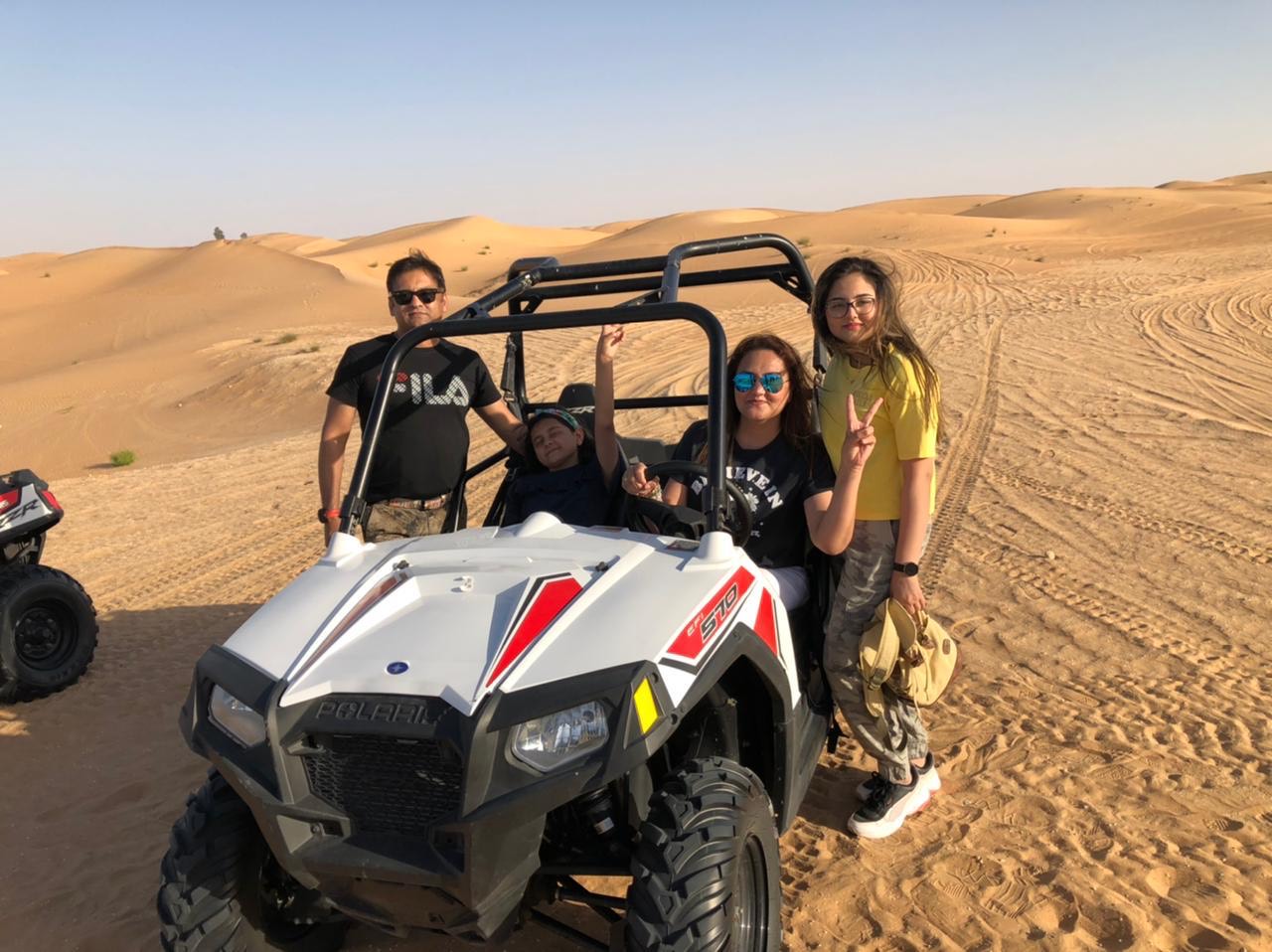 Enjoying a fun ride with my family on the sand dunes in Arabian Nights Village
While the outskirts of Abu Dhabi have some of the most luxurious and exclusive places to experience, the city itself boasts of equally rich and grand locations. The Emirates Palace Hotel is Emirates' crown jewel and the second 7-star hotel in the world. The gold theme of this grand hotel is consistent throughout the hotel showcasing Arabian culture and style in the most expensive way possible. Another golden feature here is a hidden cafe in Abu Dhabi. It offers 24K Gold Flaked Palace Cappuccino, which has real gold flakes sprinkled and is edible. The Emirates Palace Camel Burger also found at Le Cafe is a signature dish that is also served with 24-carat gold. Trust me, it does not get richer than this! At 95 Dirhams ($26), this cup of coffee is probably the most expensive coffee I have ever had, but the feeling is worth every penny.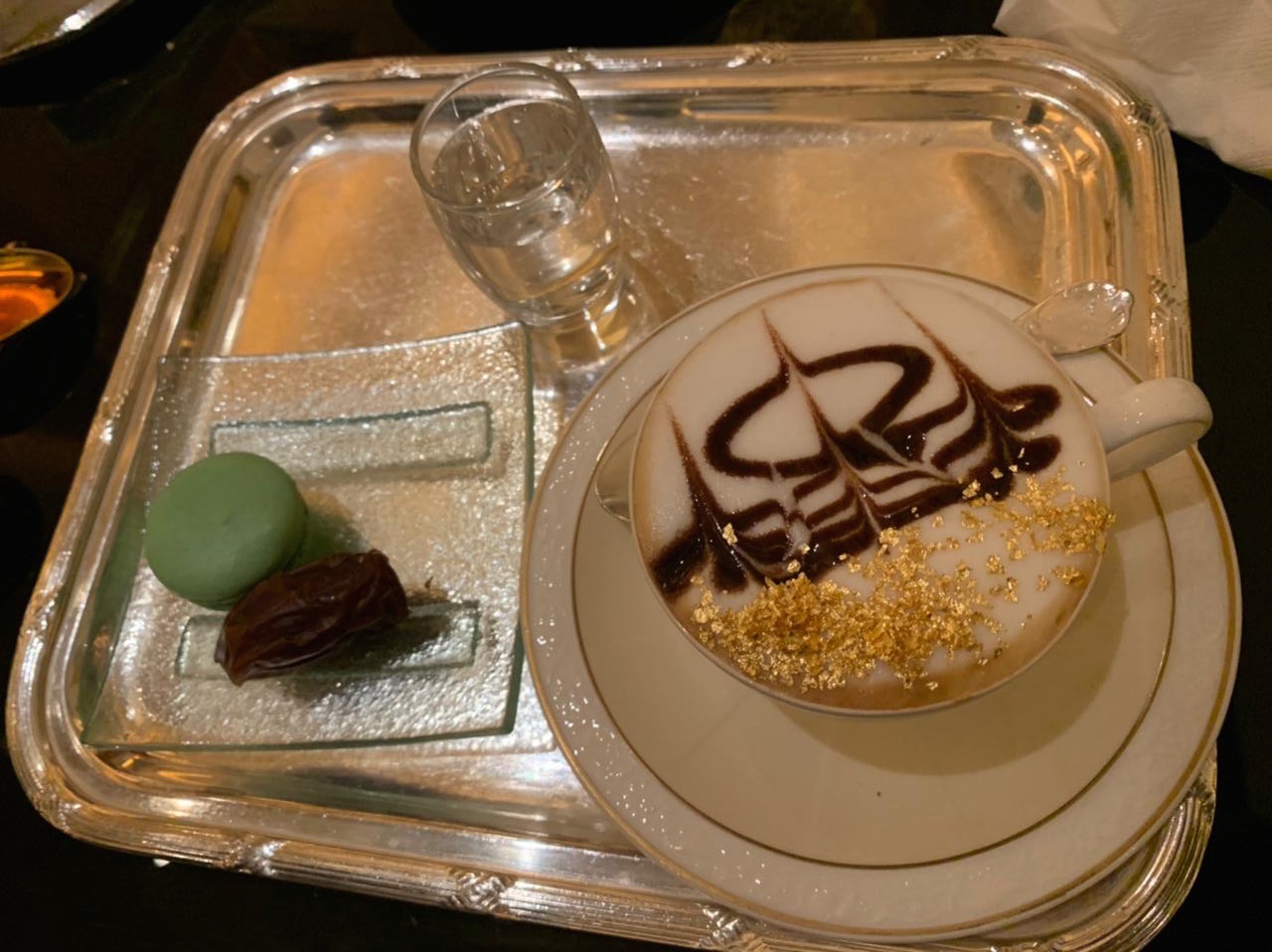 The most expensive cappuccino of my life, so far...24K Gold Flaked Palace Cappuccino at Emirates Palace Hotel
Presidential Palace Abu Dhabi
Qasr Al Watan, the UAE Presidential Palace is more than a palace. Built in 2017, it was opened to the public in 2019. This Emirates Palace is one of the new attractions in Abhu Dhabi. It is a display of the spirit of the UAE people, especially its leaders. A visit to this palace is an enriching interactive journey that reveals the grandeur and royalty with which the leaders of this nation lived. This is one of the few places that have a ticketed entry. After buying our tickets, we boarded a bus that took us to the palace. We wandered around extensive gardens, a great hall, visitors centre, courtyard etc., completely awestruck.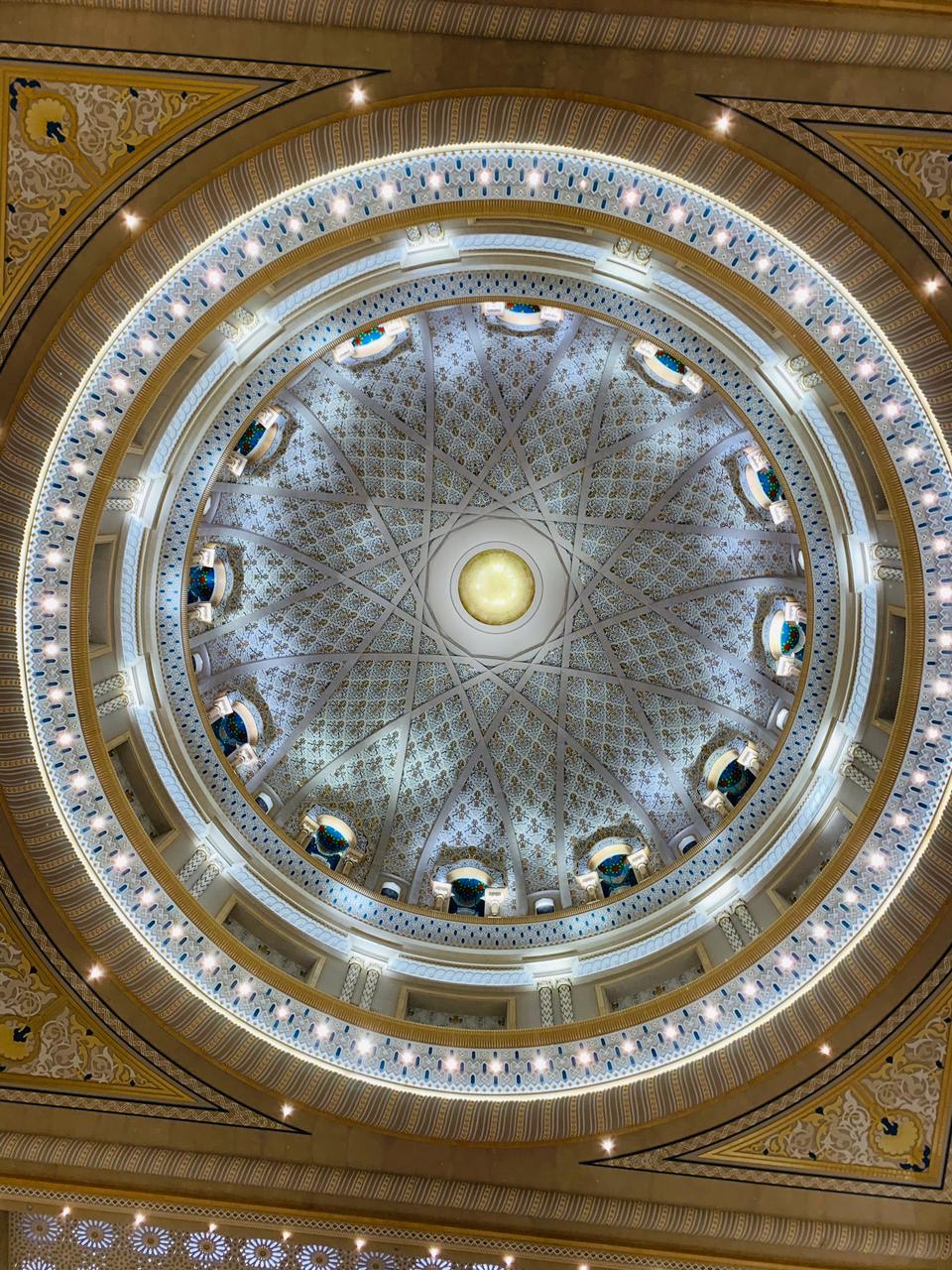 The mesmerizing central dome that is exquisitely crafted is definitely photo-worthy
The facade of this out-of-this-world UAE Presedential Palace is made of white granite and limestone with intricate designs. There are a total of 149,000 unique pieces of silver, crystal and china that were also used within the Presidential Banquet. With crystal and gold decor all around, it was a truly spectacular experience. In the evenings, a sound and light show brings the outside of the building to life. A story about the past, present, and the future vision of the nation is displayed through the show. This audiovisual extravaganza lights up the night sky and is a perfect way to end the tour of this exquisite palace. One should definitely NOT miss this incredible visual story of UAE's past, present and future. Please check entry requirements and show timings on their website.
A sensational visual story at Qasr Al Watan
Sheikh Zayed Mosque
An iconic landmark of Abu Dhabi is the Sheikh Zayed Mosque. It is one of the world's largest mosques and also one of the best places to visit in Abu Dhabi. It captures the unique interactions between Islam and other world cultures. Its 1,096 amethyst-and-jasper-embedded columns, 82 white marble domes, reflective pools, gold-plated Swarovski chandeliers, and iconic prayer hall are stunning to say the least.
The Sheikh Zayed Grand Mosque; a testimony of Islam's foremost message of peace and tolerance and welcome people of all beliefs
The courtyard features one of the largest marble mosaic artworks in the world and the mosque holds a Guinness World Record for the largest hand-woven carpet. The calligraphy on the domes etched with verses from the Quran and painted with gold leaf in An-Naskh lettering showcases excellent craftsmanship. With its doors open to all, it is a truly beautiful place to visit. Apart from Sheikh Zayed Mosque, there are several gorgeous mosques in Abu Dhabi. Check out 11 Must-See Mosques in Abu Dhabi to learn more about them.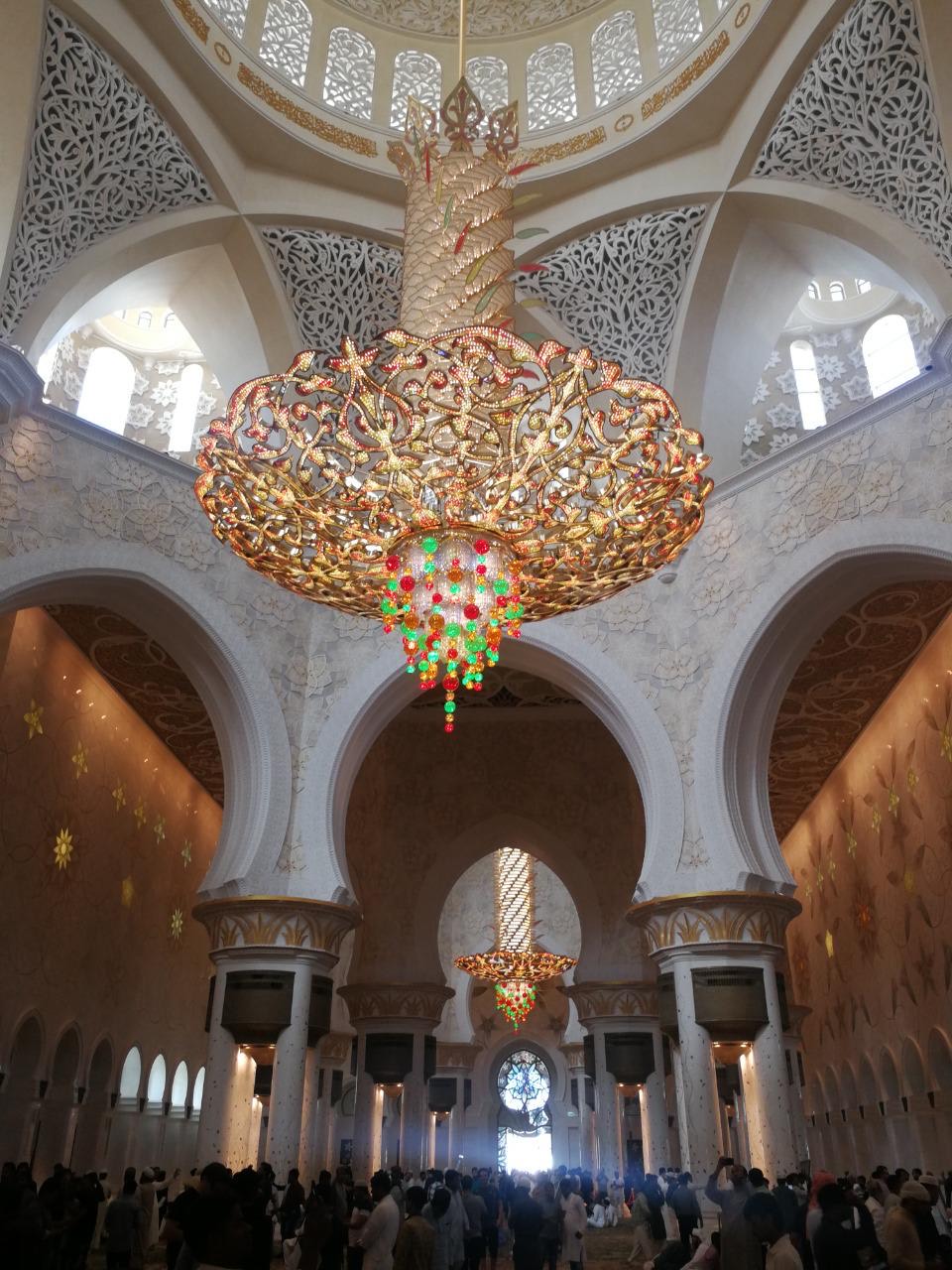 One of the seven unique chandeliers that adorn the Sheikh Zayed Grand Mosque
Hudariyat Beach
Abu Dhabi beach is a famous beah here. But Hudariyat Beach, opened to public in July 2018 is one of the new places to visit in Abu Dhabi. This place is dedicated to sport and recreation and is the new hotspot for beach and sport fanatics. With a fantastic 10-km cycle track, a plethora of beach sports, kayaking and kite surfing opportunities it is a sports lover's paradise. The 600m long beach is free for the public and there is a huge kids play area, sunbeds for rent and well maintained washrooms and showers. The ambience of this beautiful beach reminded me of Miami! Upmarket, classy and luxurious much like everything in this exotic capital city of UAE.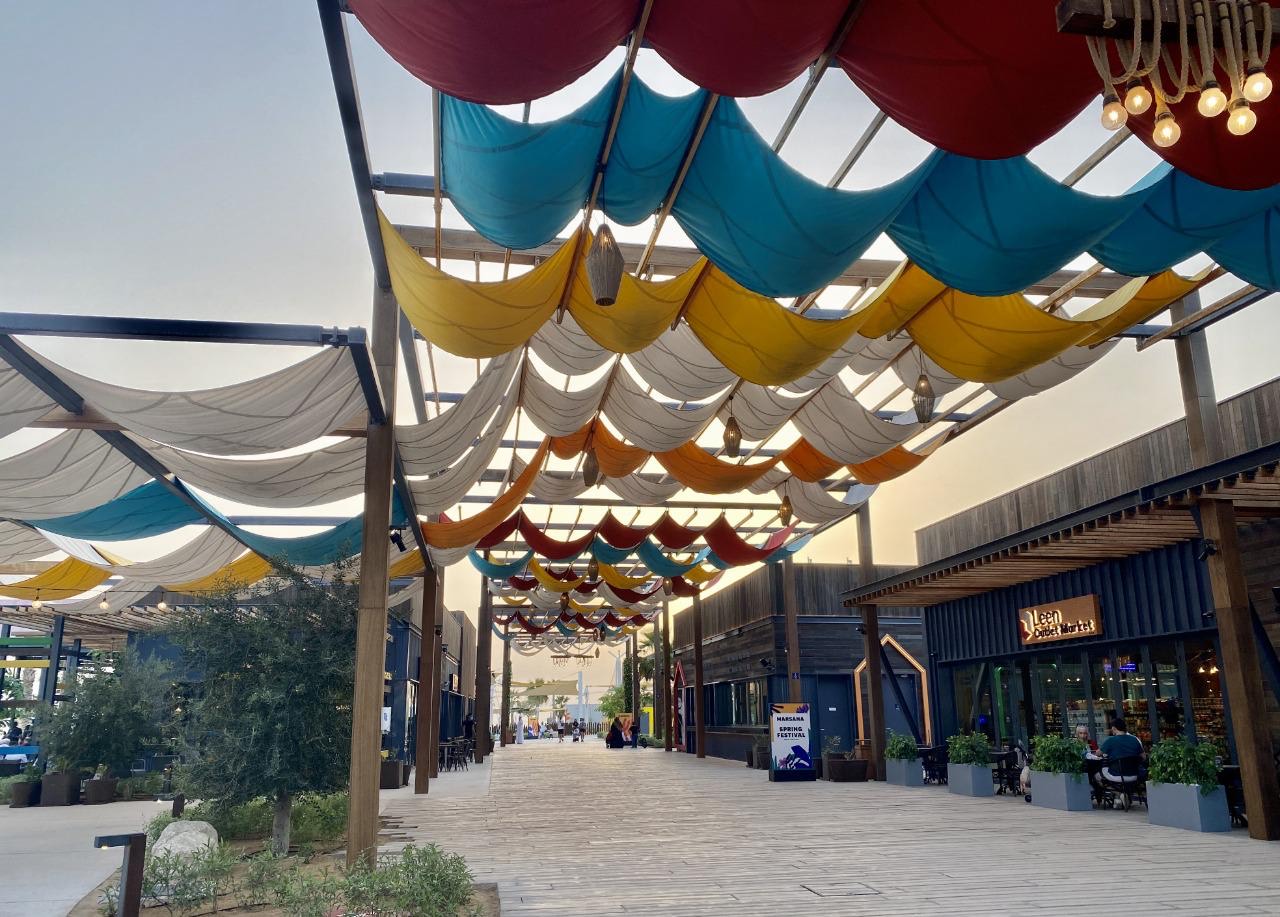 Classy and luxurious ambience of Hudariyat Beach
Qasr Al Sarab, an exotic desert resort in the world's largest sand desert; the Empty Quarter, is one of the most stunning resorts in Abu Dhabi. Promises to be a once-in-a-lifetime experience and currently on top of my MUST do list. One of the new attractions in Abu Dhabi is the Al Wathba Lake. Want to get out of the city and enjoy a lovely picnic along the lake? This is your perfect spot. We drove there with our barbeque kit and spent a lovely day along the lake relaxing, enjoying some great food and getting our dose of nature.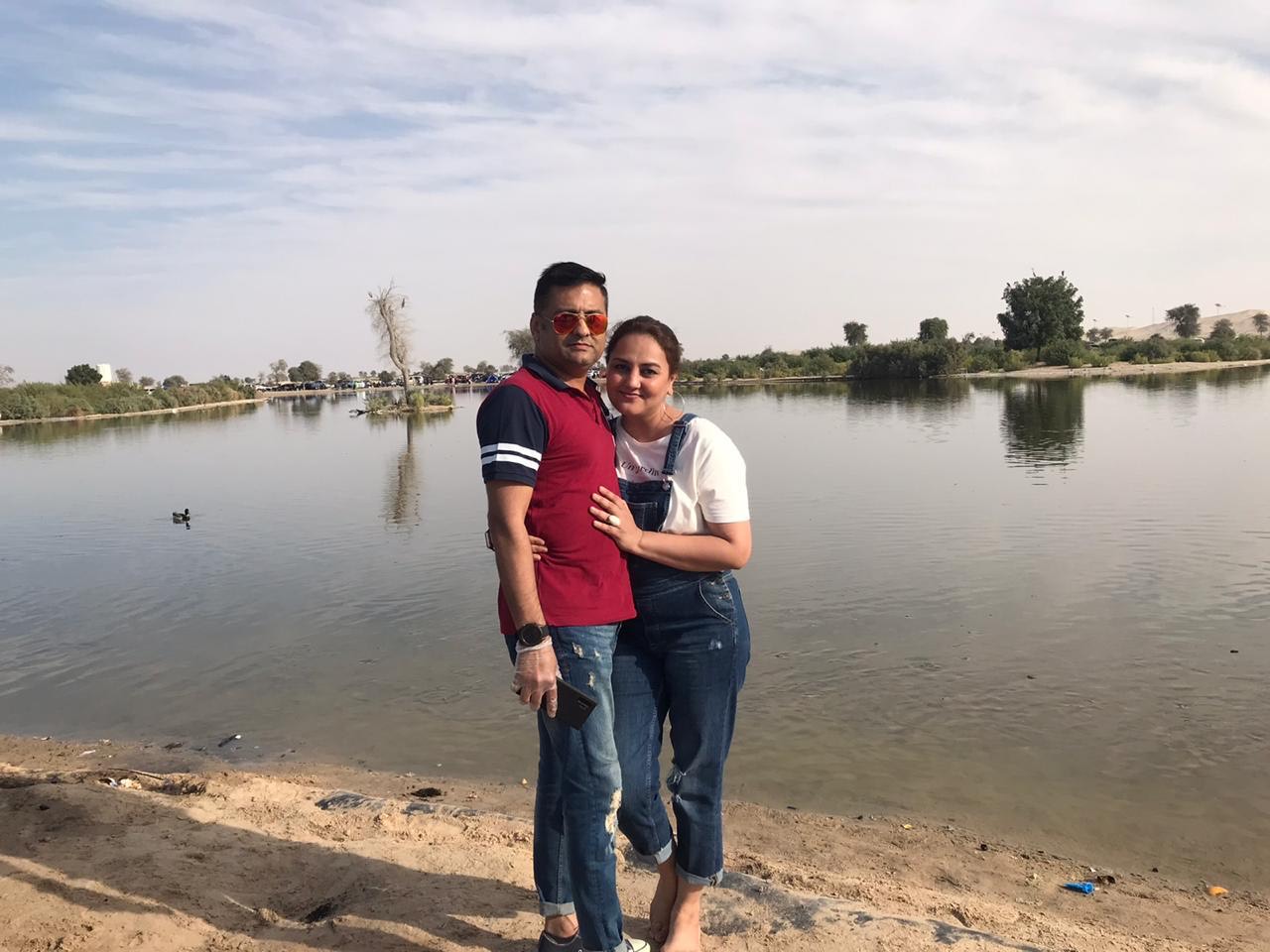 Quality time with my husband along Al Wathba Lake, a new attraction in Abu Dhabi
I have been living in Abu Dhabi with family and it has been my home for over a decade. I feel lucky to live in a city that has so much to offer. A hospitable vibe, a bounty of exquisite experiences and an extensive cuisine, this is how I would summarize Abu Dhabi as an emerging tourist destination. So next time you think of traveling to the UAE, explore hidden gems of Abu Dhabi with family. I assure you, it will be a euphoric experience. This from a local.
Frequently Asked Questions
What are the DOs and DONTs in Abu Dhabi?
It is advisable not to wear revealing clothes in public areas and respect the Arabic tradition. Try Kebabs if you are food lover.

What is there to do in Abu Dhabi for teens?
Teens love Ferrari World and Warner Bros World and some of the theme parks in Abu Dhabi. There are many new places to visit in Abu Dhabi for kids including Hudariyat Beach and Saadiyat Beach Club.

Is Abu Dhabi safe for single female?
Abu Dhabi is one of the safest countries in the world for all gender. Female are highly respected. It is also a paradise for female solo travelers.