For an avid traveler like me, exploring and discovering this beautiful city was definitely a bonus to conducting business as well. I along with my team lived in one of the interior parts of Phnom Penh inhabited largely by Cambodian families. This was a great opportunity for us to interact with the locals. We also interacted with local vendors to purchase groceries as we mostly cooked our own meals. There were a few local restaurants in the area but much of the delicious Cambodian cuisine is not very appetizing for me, being a Pescatarian. However, Fish Amok is my favorite Camobdian dish.

I still remember my first visit to Cambodia. I was amazed by the phenomenal history and culture of this land. My customer took me around the city of Phnom Penh showing me its royal monuments and historic landmarks. Having a keen interest in understanding the heart & soul of any place I visit, Phnom Penh had me completely curious. There was so much to explore and discover! Living in this city for an extended period gave me a once-in-a-lifetime opportunity to experience Phnom Penh like a "local".
Checkout the best guided tours in Phnom Penh.

A ride around Phnom Penh in a tuk-tuk is the best way to enjoy the city's vibe and I had many fun rides!
Phnom Penh has a long and rich history, dating back to the early 15th century. It was originally founded as a small trading post by the Thai kingdom of Ayutthaya. Over the centuries, it grew into a major center of trade and commerce and became capital of the French-controlled colony of Cambodia. During World War II, Phnom Penh was occupied by the Japanese military, and many of its residents were killed or forced to flee. In 1975, the communist Khmer Rouge seized control of the city and began a brutal campaign of genocide which resulted in the death of millions of people. It was liberated by Vietnamese forces in 1979 and has since undergone a period of reconstruction.
Living in Phnom Penh
Living in Phnom Penh was a great life experience for me. This amazing city offers a variety of cultural experiences.When you need some time off, Phnom Penh also has plenty of weekend getaways. One of my favorites was Sihanoukville, a 3-hour drive away. Moreover, Phnom Penh is an affordable place to live with a low cost of living even though you get access to all the conveniences you may need. All in all, living in Phnom Penh is ideal for those who want diverse cultural experiences while still having access to modern facilities.
Backpackers will find plenty of affordable hostel accommodations in Phnom Penh that are perfect when traveling on a tight budget. The city also adds convenience with its ability to traverse streets and locations using the many available tuk-tuks. This makes it easy for those new to the area to quickly traverse their way around the city and find their way back home.

The Royal Palace - an icon of Phnom Penh
Today, Phnom Penh is the largest city in Cambodia and is a vibrant and bustling metropolis. It is home to several historic and cultural attractions. Reminiscence of the history of Cambodia is seen in the heart of this city. Possibly one of the most bedazzling structures in the city, one of my weekend pastimes was to visit Cambodia's Royal Palace and Silver Pagoda. It was a perfect way to spend time interacting with locals and hearing their fascinating interpretation of the city's bygone days while enjoying the splendid architectural excellence of the monuments that offer added insight into Cambodia's past and present. The official royal residence is surrounded by impeccably manicured gardens and regal structures offering a refreshing breather from the hustle and bustle of the city.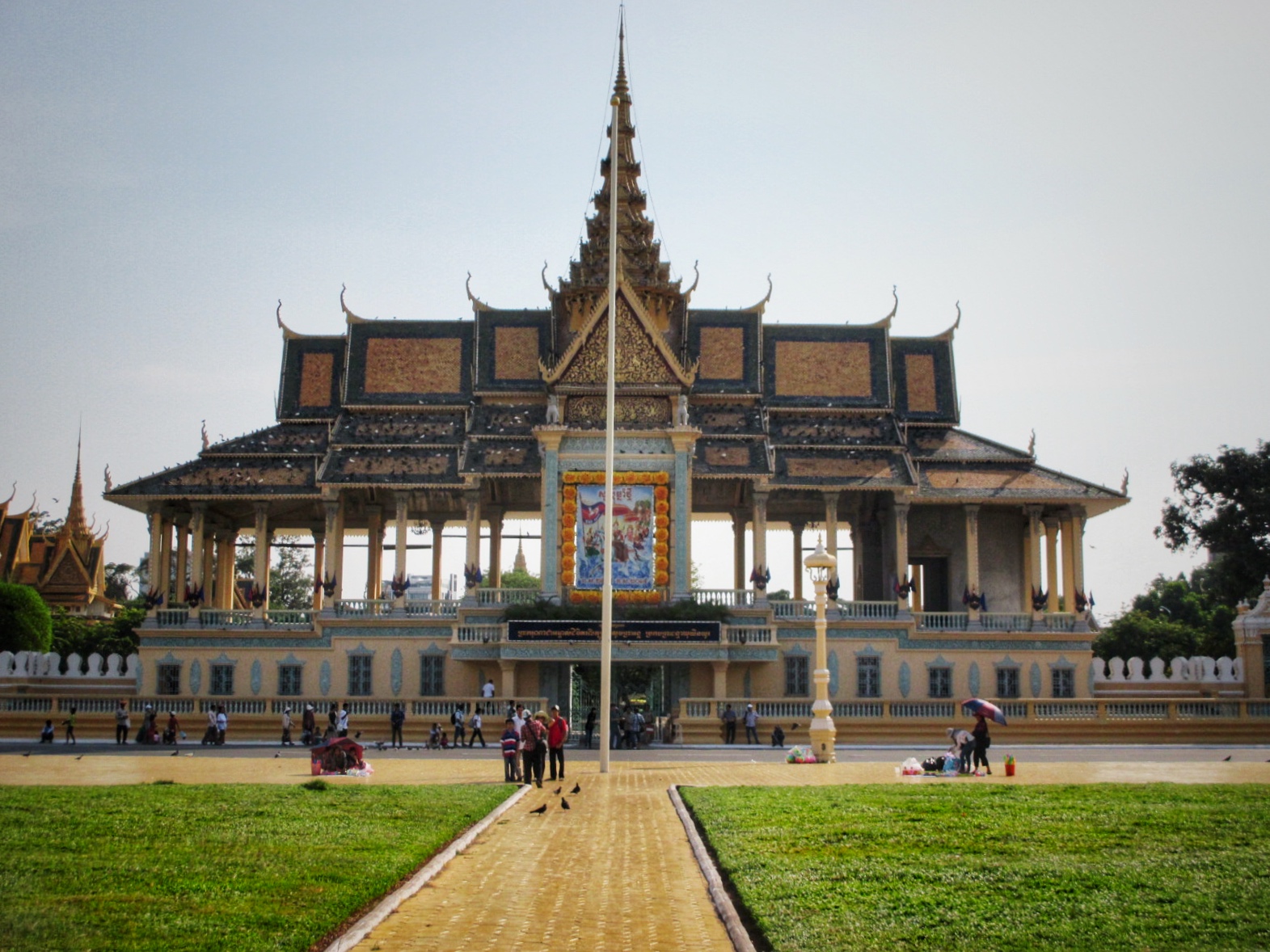 The magnificent Royal Palace speaks of the grandeur and royalty of the unique Khmer architecture
The early capital of Cambodia was Oudong, which was later relocated to Phnom Penh in the late 19th century. The palace was built in 1866 by the French, and it has been extensively renovated and remodeled over the years. Today, it serves as the residence of the King of Cambodia and is open to the public for tours.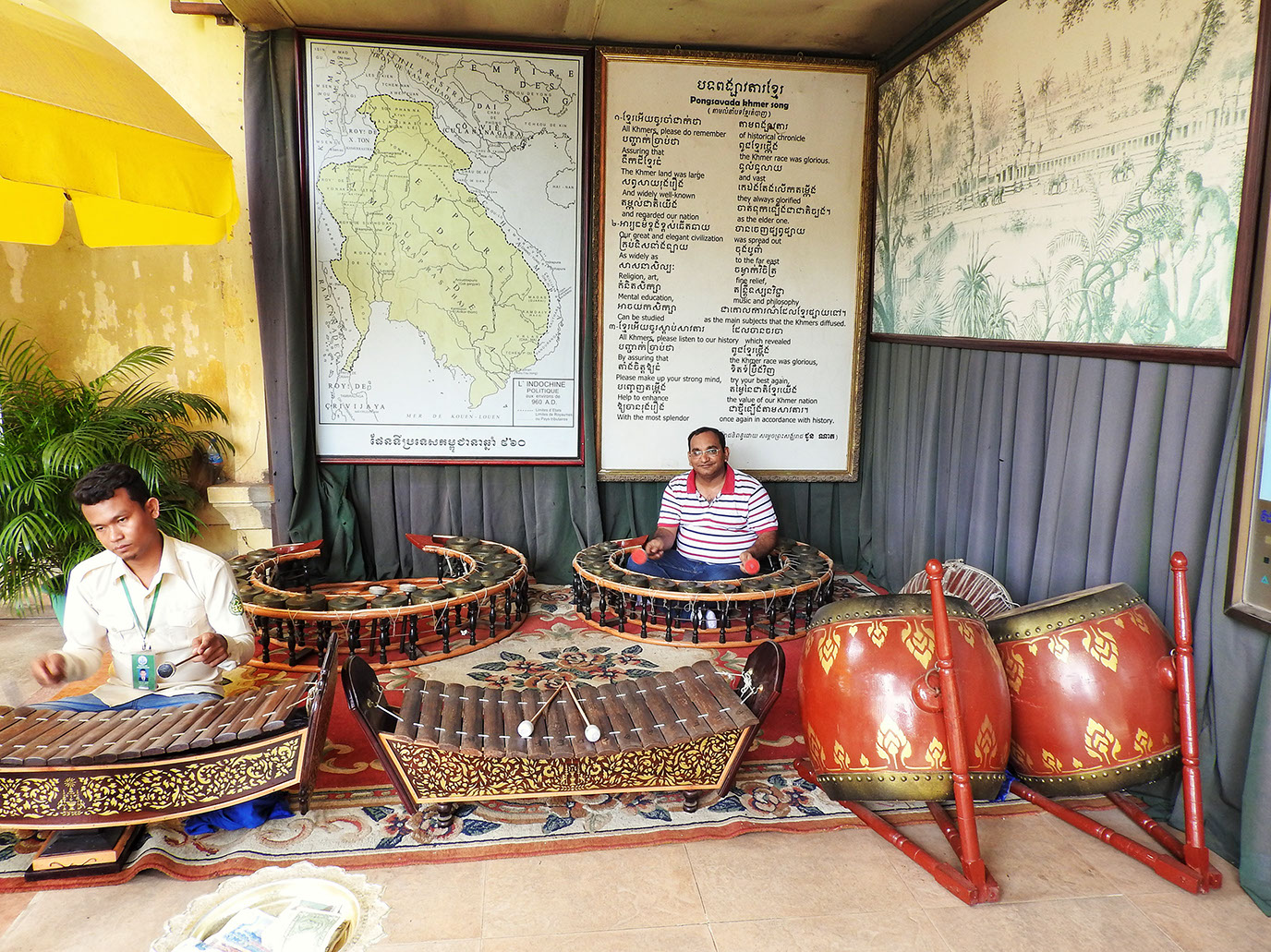 My colleague Devang trying his hands on one of the traditional Cambodian musical instruments inside the Royal Palace
The palace grounds are also home to a number of other important buildings, including the Silver Pagoda, which houses a collection of Buddhas; the National Museum, which houses an impressive collection of Khmer Art; and the City Hall, where the Cambodian government meets. The grounds also feature several museums as well as a library, and a theater. The numerous gardens and parks make it a perfect place to explore on a sunny day.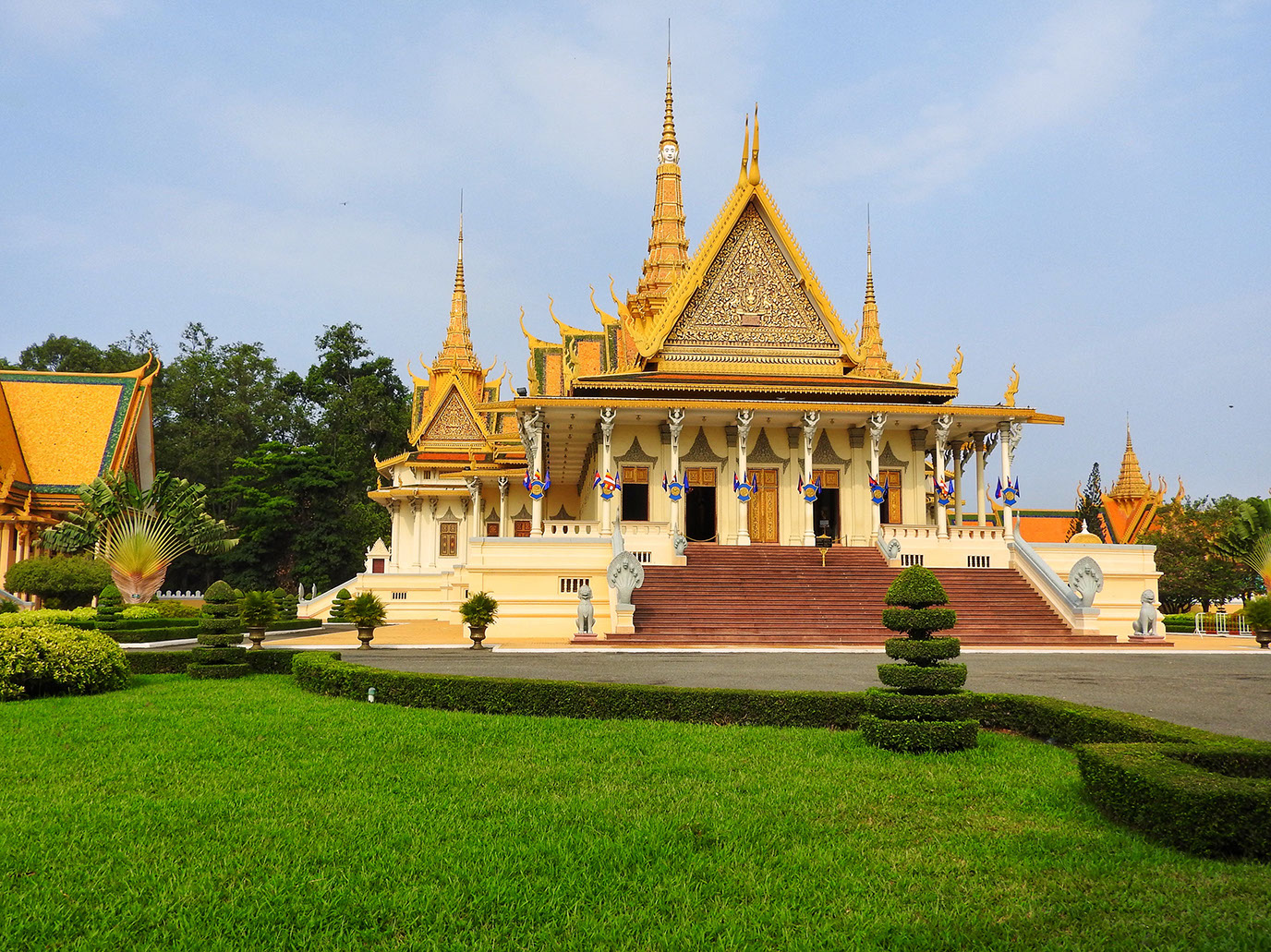 The Royal Palace is surrounded by exquisitely manicured gardens adding to the beauty of the place
I was completely mesmerized by the Silver Pagoda, one of the most sacred temples in Cambodia. Located in the Royal Palace Complex in Phnom Penh, it is known as Wat Preah Keo, or the 'Temple of the Emerald Buddha'. It was built in the late 19th century, and is made entirely of silver and glass. It is famed for its many ornate statues and murals, which depict scenes from Buddhist mythology. The temple is also home to a number of valuable artifacts, including a life-size statue of Buddha made from solid gold.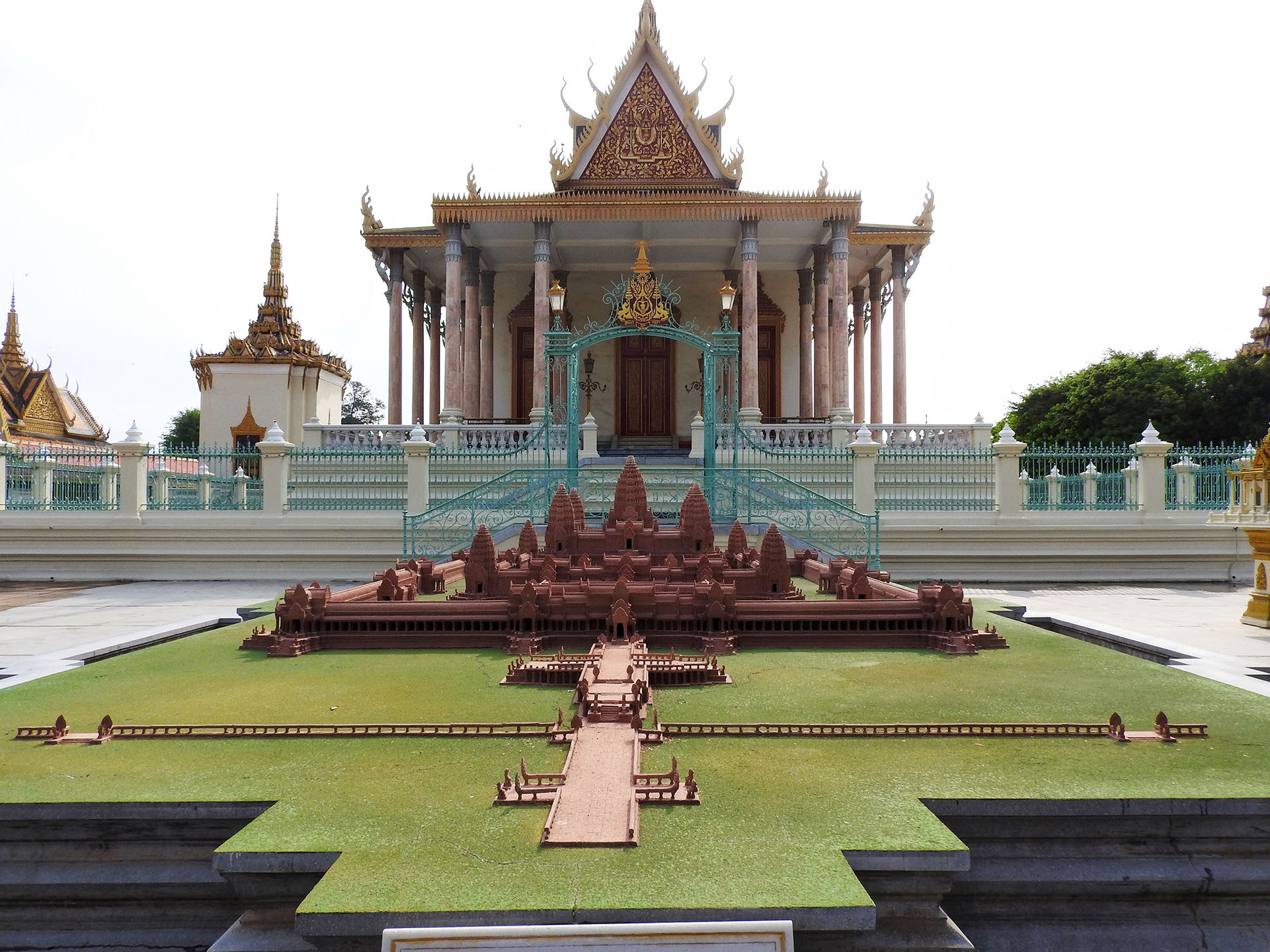 The Silver Pagoda near the Royal Palace is a masterpiece built by King Norodom which has a replica of Angkor Wat in front of it
There are many places to visit in Phnom Penh. One of my favorite spots was the park outside the Royal Palace along the Riverside. Here, I made many acquaintances as it is a popular destination for families. There are bird feeders stocked with a variety of seeds, which are particularly fascinating for kids. There are also several playgrounds and picnic areas in the park. I would enjoy a fun time with the kids and also have interesting conversations with the parents. Conversations around their rich culture and heritage, loyalty to the king and day-to-day lives made it an enriching experience each time.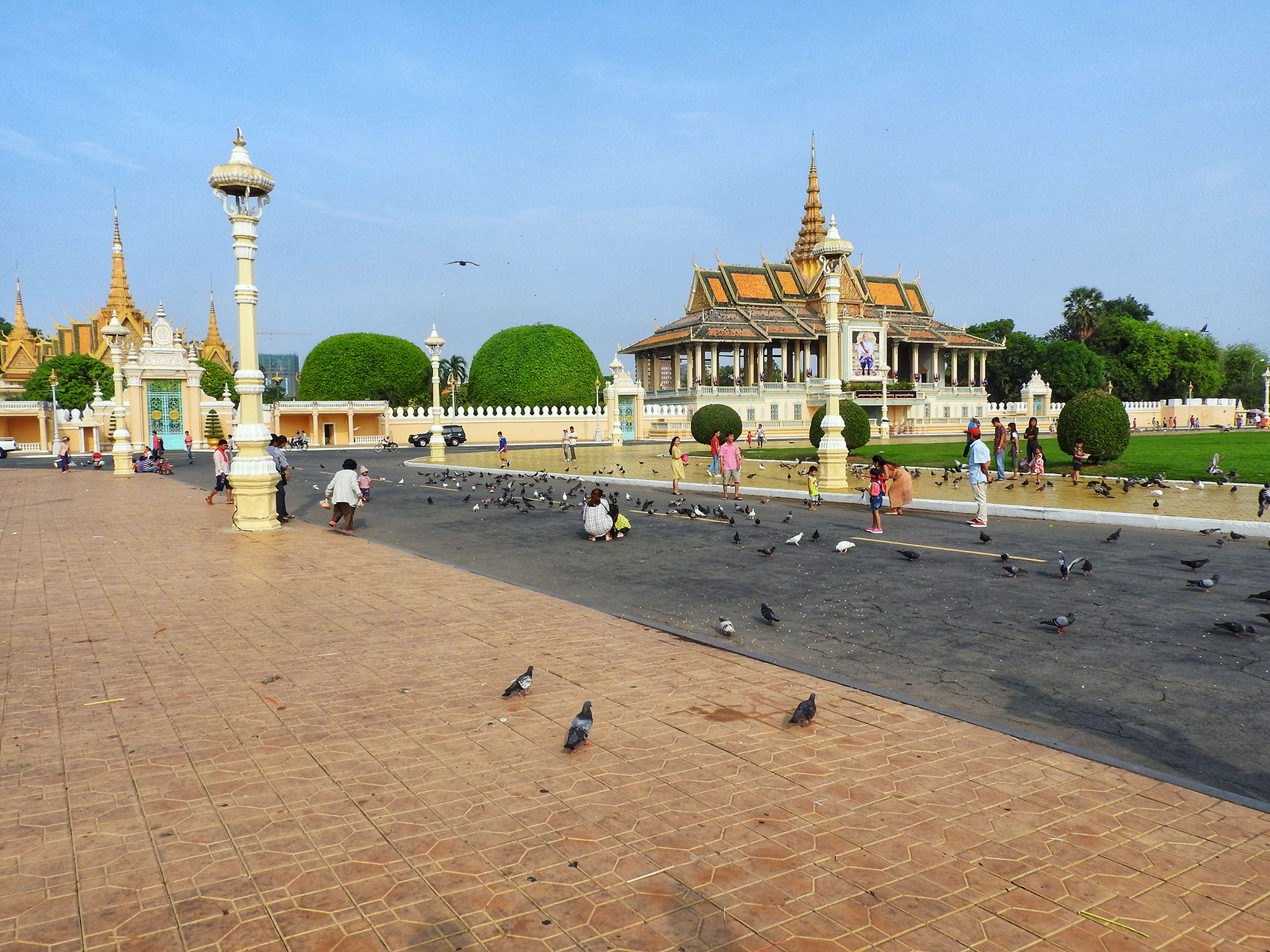 Bird feeding outside the Royal Palace is an exciting and fun activity for visitors, especially for kids
A word of caution while visiting the royal residence as it is a national pride, it is advised that visitors dress appropriately and abstain from wearing shorts and sleeveless tops ensuring their shoulders and knees are covered. To understand the true essence of this place, it is advisable to hire a well-informed guide. The Royal Palace is closed during most of Cambodia's major public and religious holidays so check beforehand (as the Cambodian calendar is packed full of them). It also operates under the strict opening hours of 8am to 10.30am, and 2pm to 5pm daily.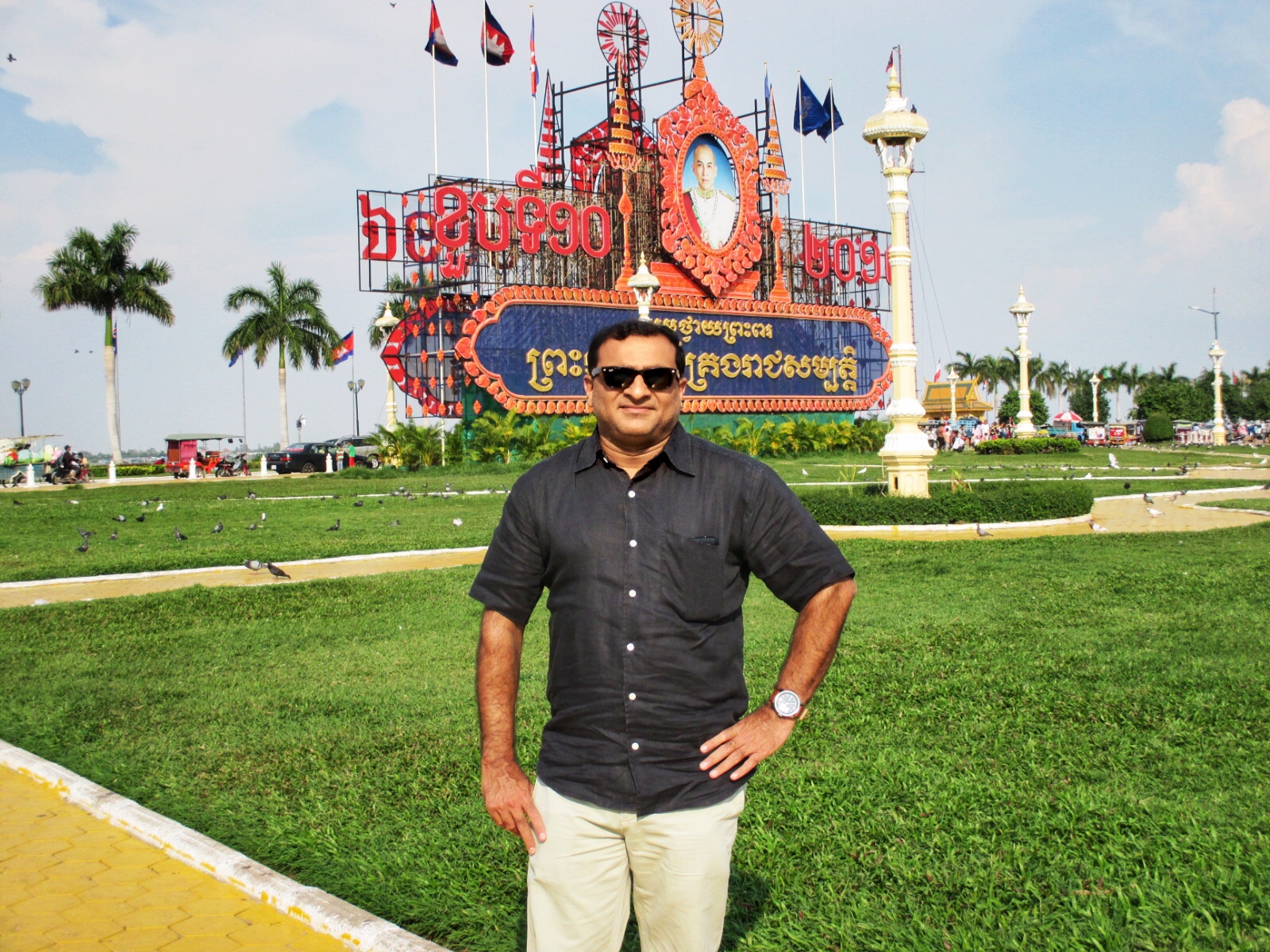 The garden between the Royal Palace and the riverfront sports a monument to King Sihamoni to mark the anniversary of his coronation, a perfect photo op spot!
On my first trip to Phnom Penh, my customer took me on a night drive around the city. I vividly remember driving through the stunningly lit Norodom and Sihanouk Boulevard. I was captivated by the visuals as well as the stories embodied in this grand area. This is where the prime minister and other important dignitaries live and the ambience is truly royal. Among the grandeur of the area, two monuments that standout are the Independence Monument and the statue of King Norodom Sihanouk. I knew that this place would be another one of my favorite places to visit while living here. As expected, I visited several times and realized that the place was lit up only on special occasions. Luckily, when my family visited, I did get to show them the grandeur of the area when lit up.
Checkout the best hotel deals in Phnom Penh.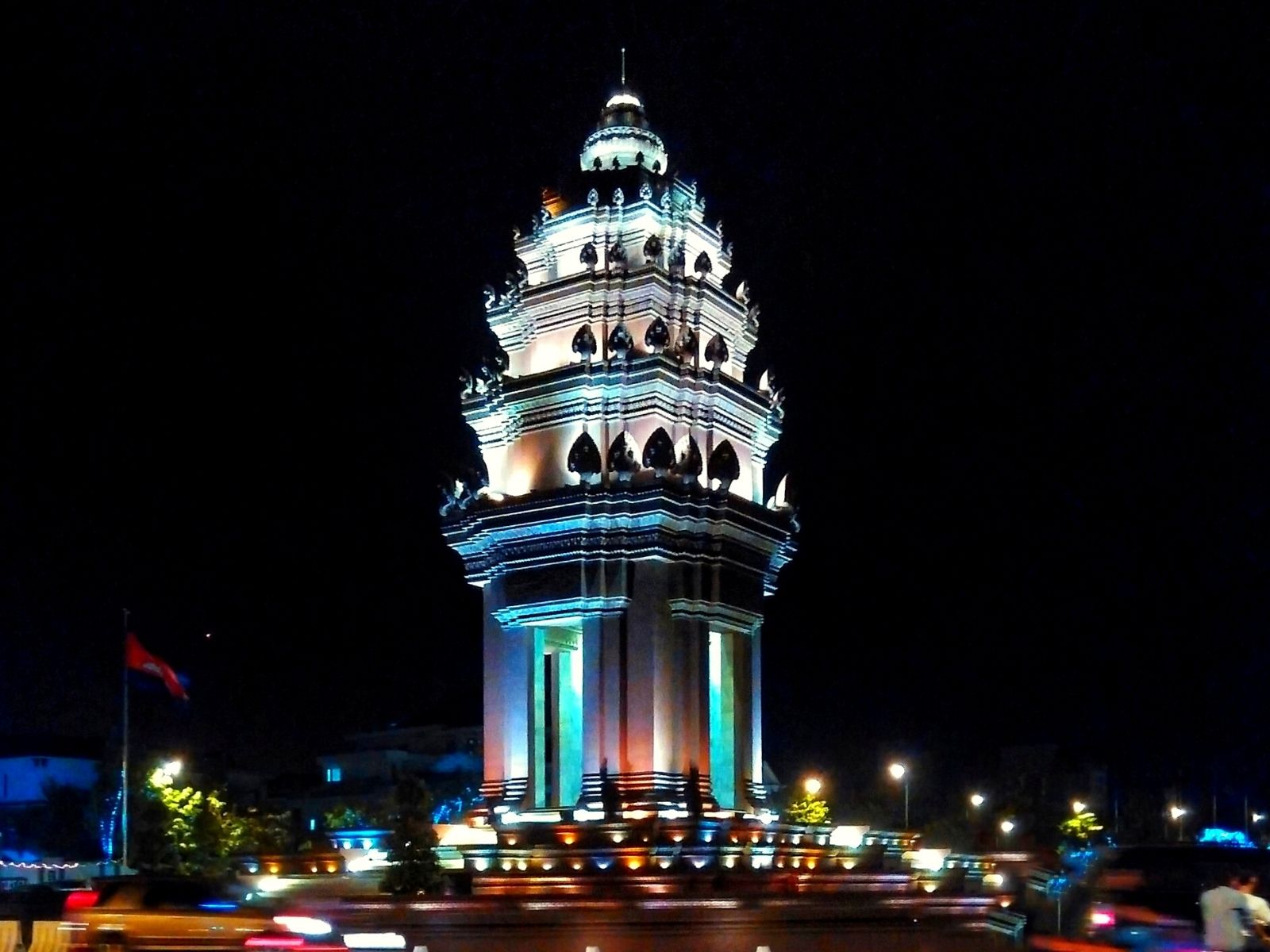 The Independence Monument also known as Vimean Ekareach in Khmer is a majestic structure that looks spectacular when lit up at night
The Independence Monument - Phnom Penh's majestic landmark
The Independence Monument in Phnom Penh is a monument to the Cambodian declaration of independence from France. It was designed by Vann Molyvann and built in 1958. The monument is in the shape of a lotus bud and is made of concrete. It stands on a base of three levels, which represent the past, present, and future of Cambodia. The monument is surrounded by a park and has a reflecting pool in front of it. It is a symbol of Cambodian national pride.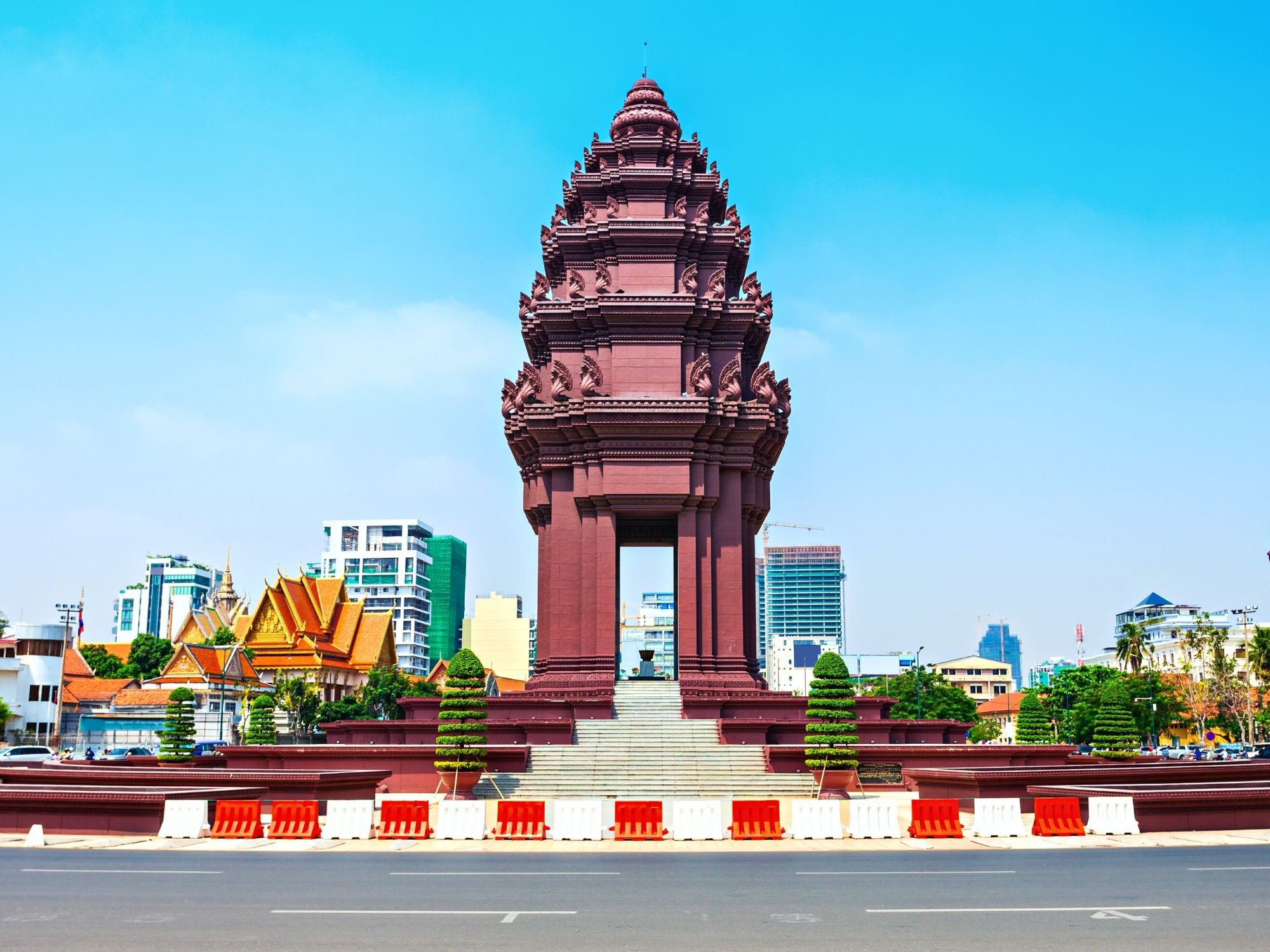 The Independence Monument when seen during the day exudes a feeling of somber and solemness
Norodom Sihanouk Memorial - the Father of Cambodia
The Norodom Sihanouk Memorial in Phnom Penh was built to honor the former king of Cambodia. The memorial is located in a park near the Royal Palace, and it includes a bronze statue of King Sihanouk, as well as a bust of his wife, Queen Monineath. The memorial also features a relief map of Cambodia and a series of granite tablets that list the king's accomplishments. Visitors to the memorial can learn about King Sihanouk's life and legacy, as well as the history of Cambodia. It is a fitting tribute to a man who dedicated his life to his country and its people.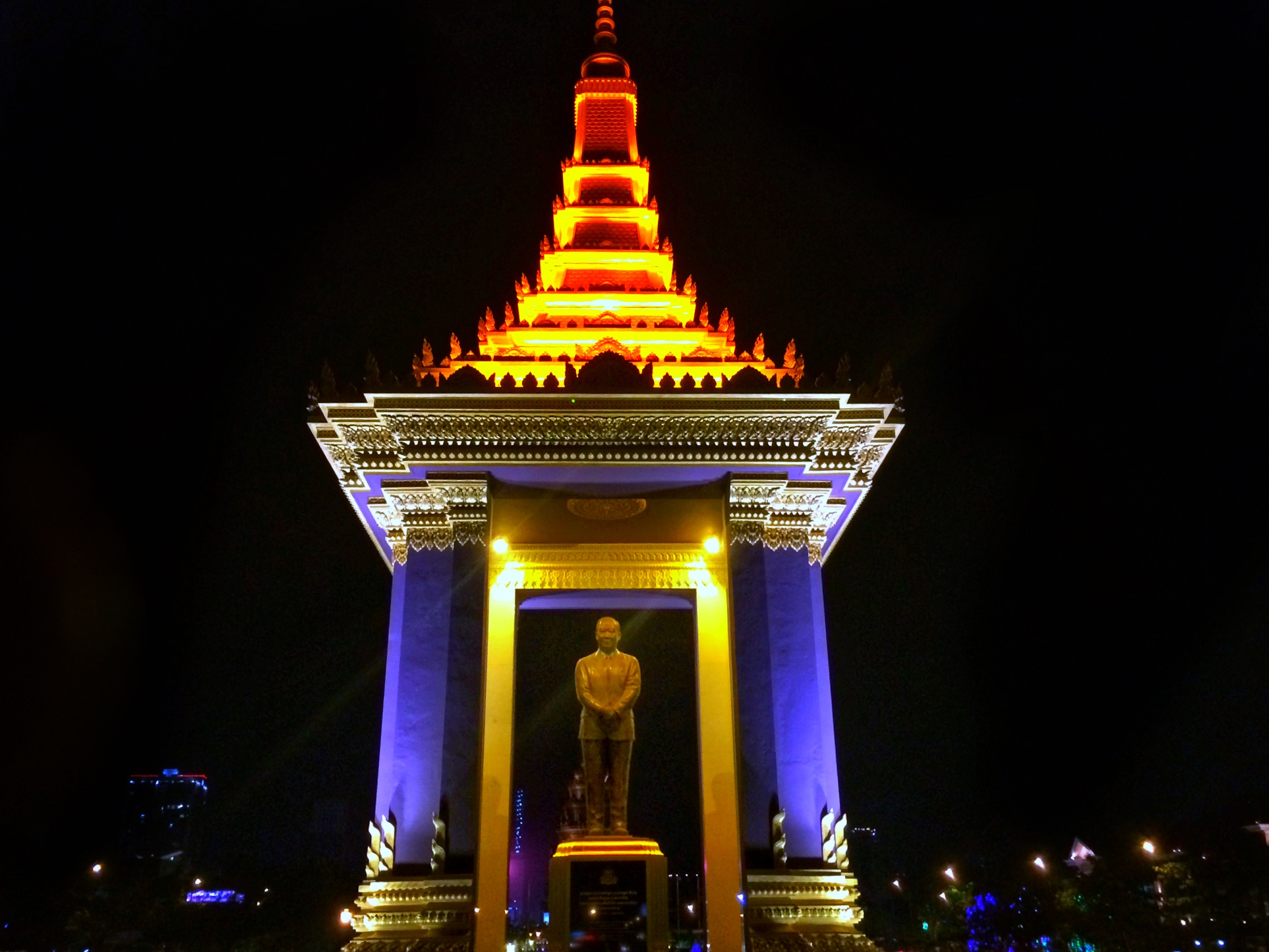 The Norodom Sihanouk Memorial, a 27 meters stupa that houses a 4.5 meters tall bronze statue of King Father Norodom Sihanouk is a sight to behold at night
Phnom Penh boasts of thriving nightlife. At sundown, the city comes alive with a dizzying array of lights and sounds. Streets filled with scooters and tuk-tuks, neon signs blazing from shop windows, and music from karaoke bars and nightclubs create an electrifying ambience. From a distance, the city looks like a sparkling jewel set against the inky blackness of the sky. Up close, it is a chaotic and intoxicating place, a sensory overload that can be both exhilarating and overwhelming.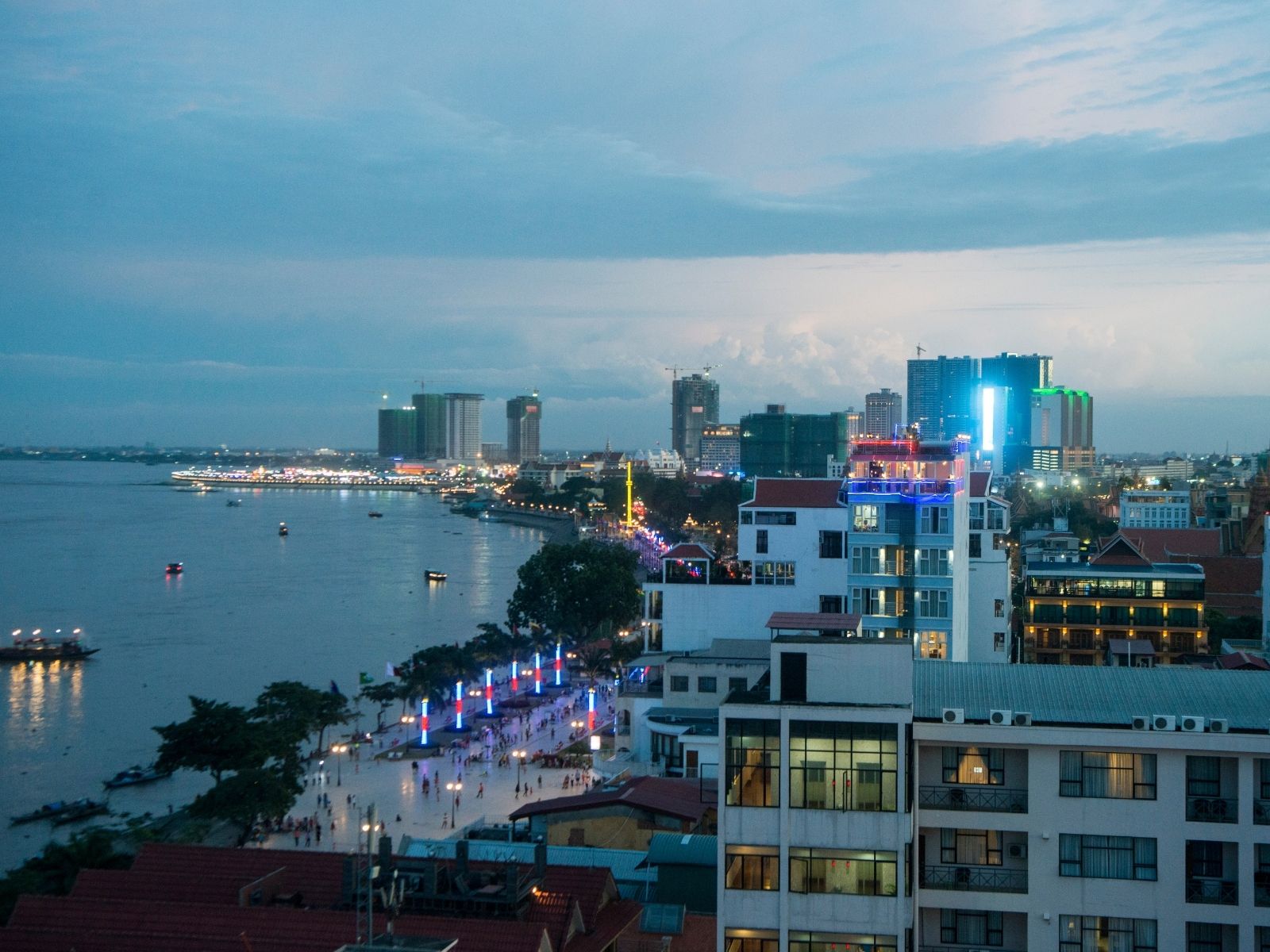 The city of Phnom Penh is evolving at a heady pace to become an entertainment hub of South Asia
Street 104 was my hangout place. The city is a popular destination for tourists from all over the world and I had the perfect opportunity to socialize. During my early days in Phnom Penh, I used to spend time with my customers at the bars and clubs. I guess a few visits are warranted to understand the offerings of the city. Later, I ventured out and discovered the most incredible restaurants that offered a fine ambience as well as great company for interesting conversations. I had almost become a local guide for foreigners that I met who were seeking authentic and genuine experiences in Phnom Penh.
Checkout the best street food tours with a local guide in Phnon Penh.

I have seen this progressive city evolve as an emerging entertainment hub. The government is also aggressively promoting entertainment activities with the aim to make Phnom Penh more glamorous than Bangkok and Ho Chi Minh City in Vietnam. With its multifaceted personality, whether you're looking for a quiet place to have a drink or a place to party all night long, Phnom Penh has you covered.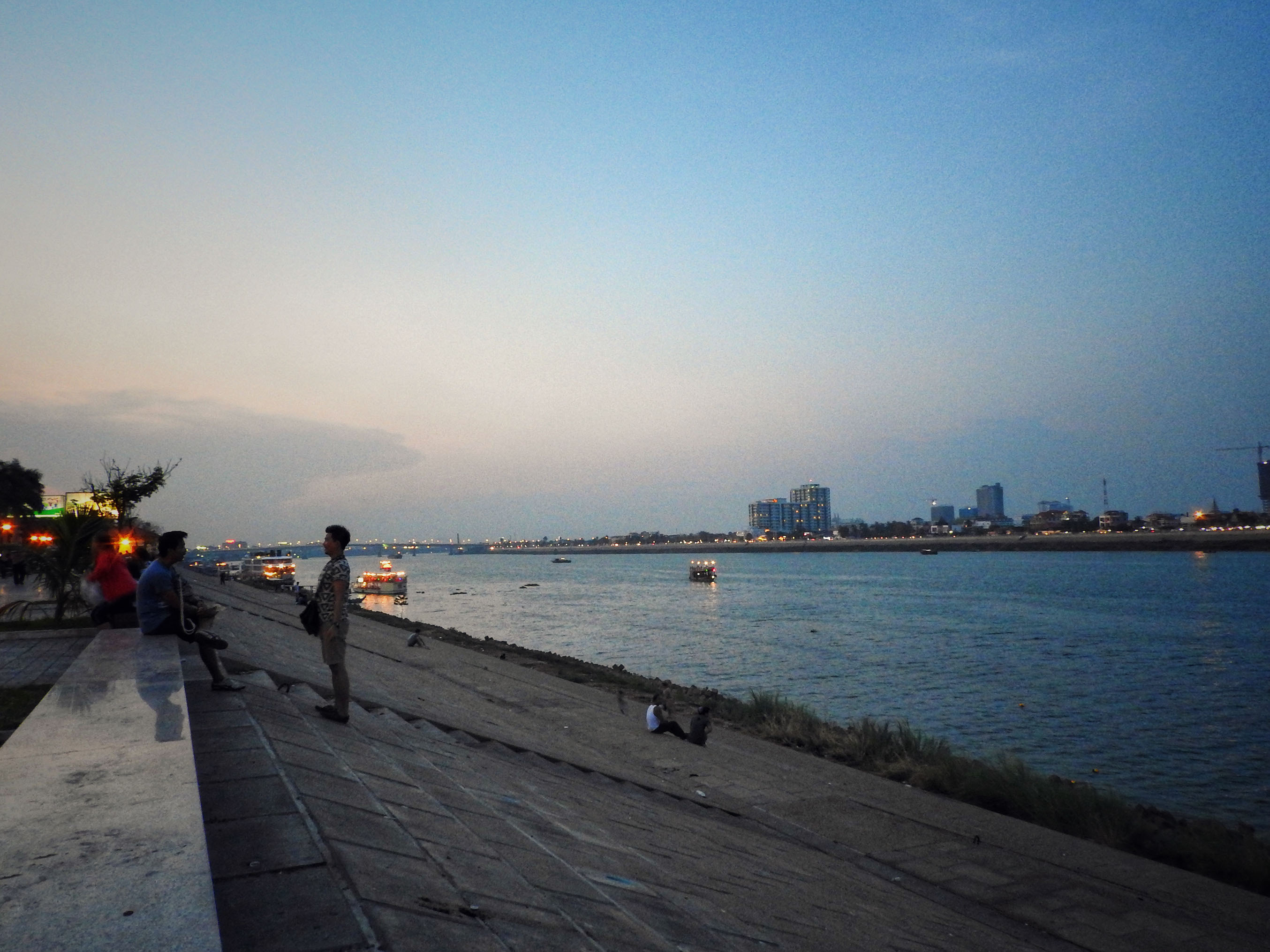 A soothing view of Phnom Penh's skyline from the Riverside at dusk
Wat Phnom - the only 'Hill' in Phnom Penh
One of the many aspects that caught my attention about Phnom Penh was the strong religious sentiments of Cambodians. My customer, who is fiercely religious, took me to Wat Phnom where the devoutness of the locals was easily palpable. It has a strong spiritual connection with Cambodians. I was surprised to see that the Cambodian religious beliefs were an amalgamation of Hinduism and Buddhism. The temple housed statues of Buddha and Vishnu. The main statue in the sanctum is Siam Niramit which is an avatar of Lord Vishnu. The ambience was very spiritual. In fact, the first place I took my family to when they visited Phnom Penh was Wat Phnom. I learned about the incredible history and beliefs of this sacred place from my customer, as well as locals that I interacted with during my visits.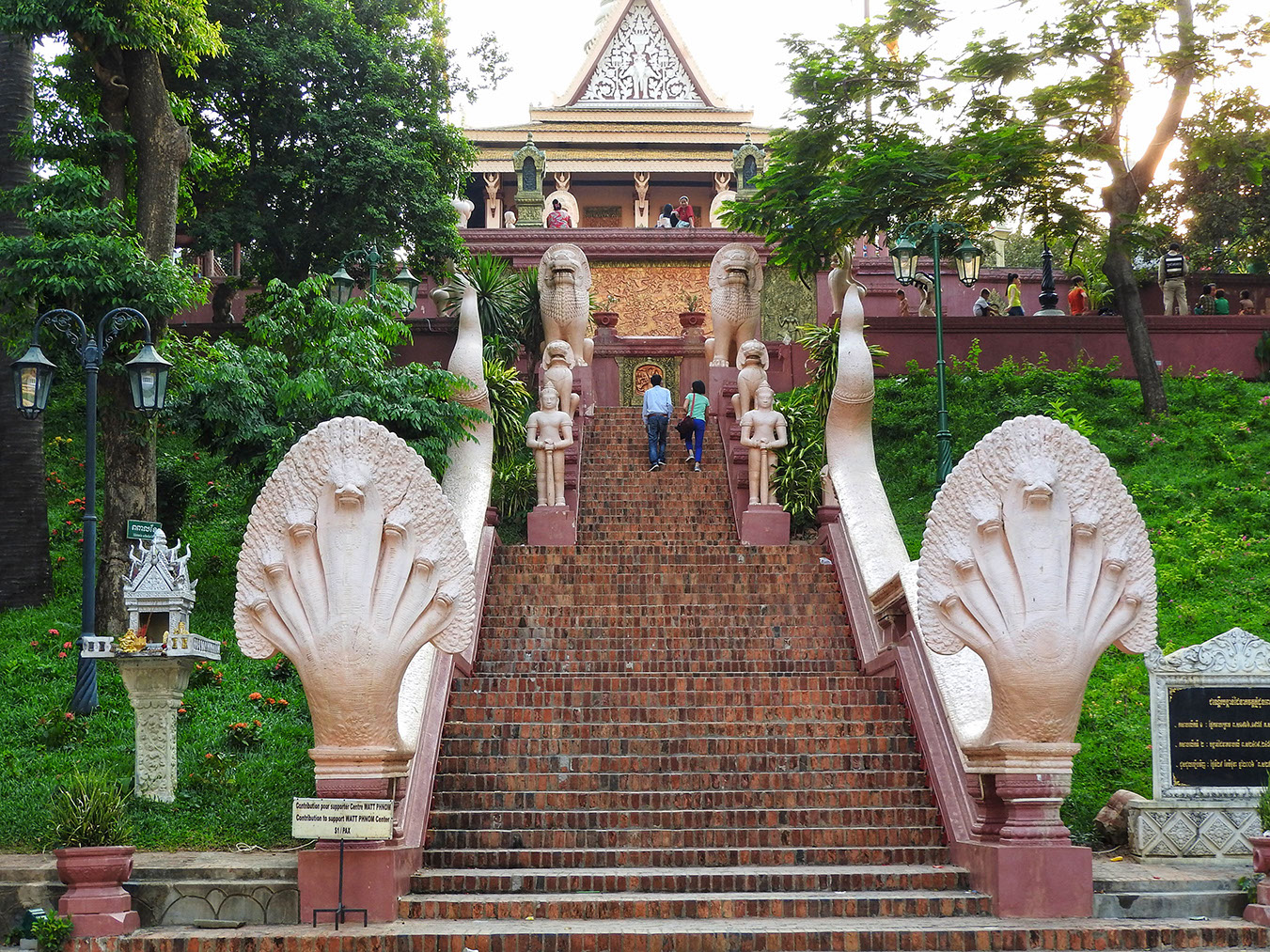 Entrance to Wat Phnom has a staircase adorned with theme of Lions and Serpent, showcasing architecture of Samudra-manthan replicated from Siem Reap
Cambodians believe Lady Penh, whose full name is Daun Chi Penh, sits atop the hill and watches over the entire city and keeps it safe. Legend has it that the first pagoda was erected on this site in 1373. This was built to house four statues of Buddha that were washed here by the Mekong River. You can read more about Wat Phnom's history.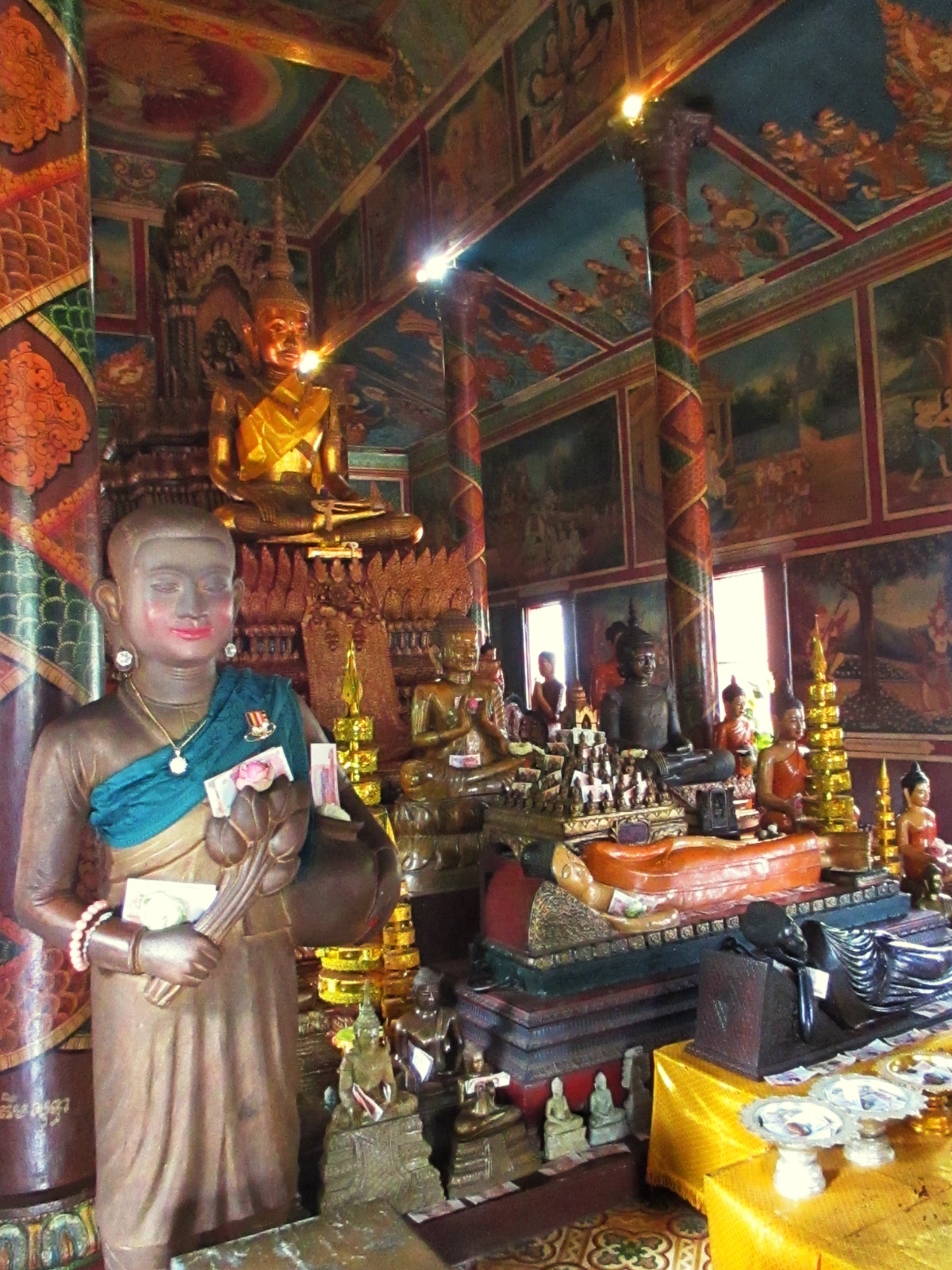 Wat Phnom Temple sanctuary is adorned with numerous statues surrounding the central statue of Lord Vishnu with the beautiful statue of Lady Penh seemingly "standing guard"
From the time of the first construction, the temple has undergone several makeovers and was rebuilt in 1434, 1806 , 1894, and 1926. A gigantic stupa containing the ashes of King Ponhea Yat (1405 - 1467) is seen west of the vihara.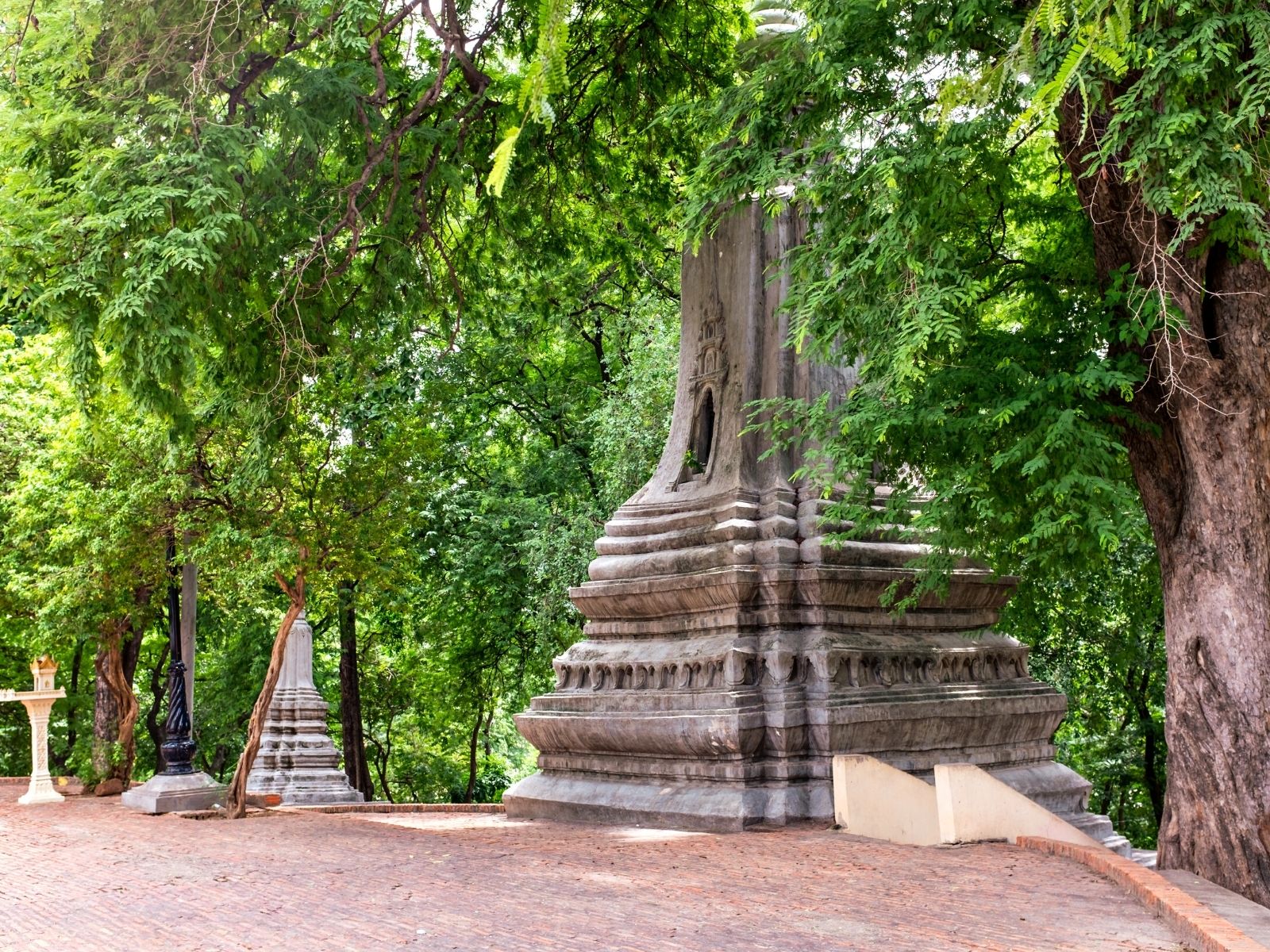 The large stupa containing the ashes of King Ponhea Yat, the last king of Khmer Empire
On the south side between the vihara and the stupa is a statue of the smiling Lady Penh. To the north of the vihara there is a shrine dedicated to the genie Preah Chau, especially revered by the Vietnamese. The entrance to this shrine has guardian spirits bearing iron bats. Enthroned to the left of the central altar is an eight-armed statue of Vishnu. Remember to remove your footwear before entering the main worship area.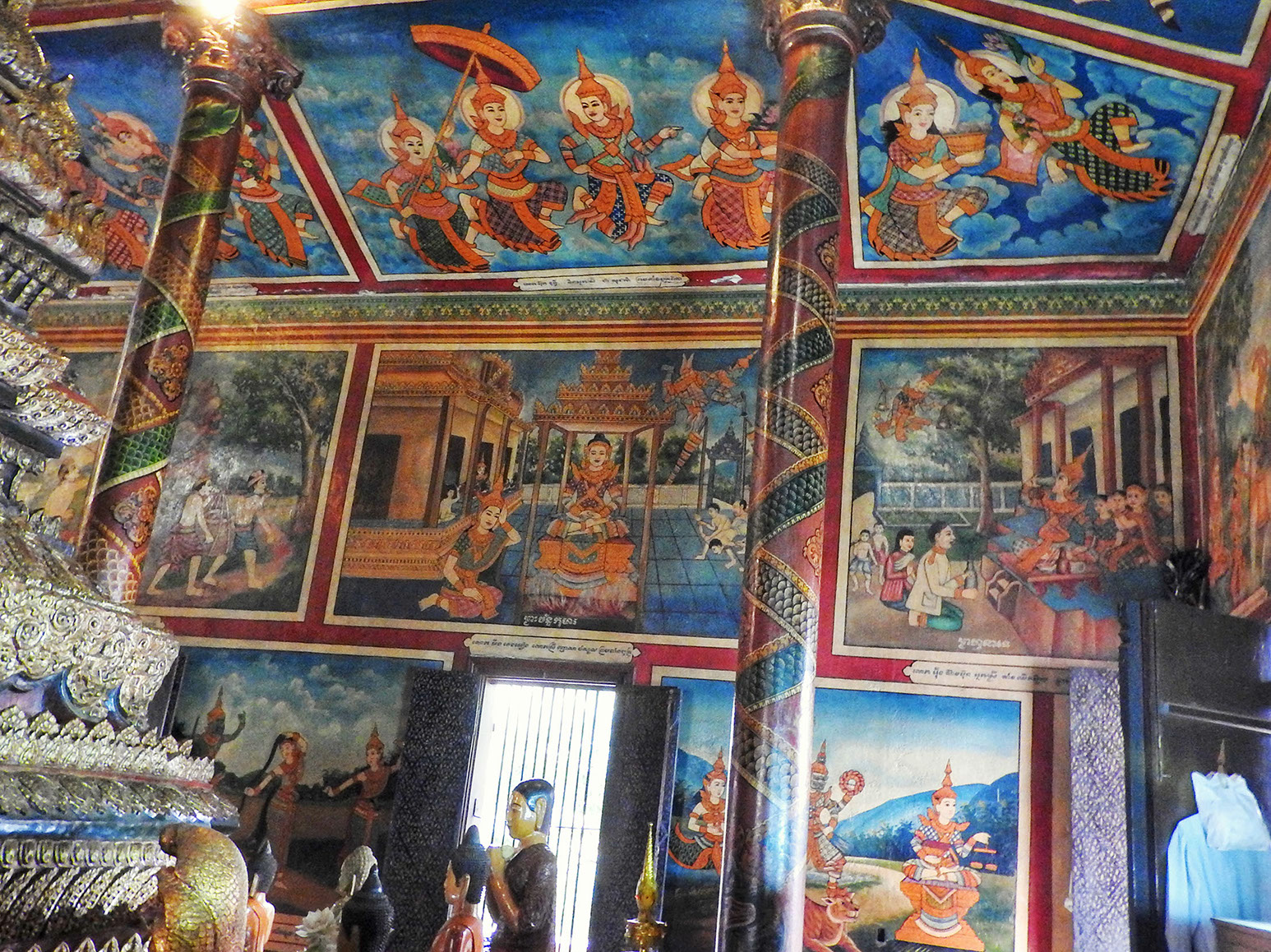 The murals on the ceiling of Wat Phnom depict stories of Buddha before enlightenment and are original and have never been restored
Foreigners have to pay a $1 visiting fee at Wat Phnom and I have spent numerous dollars to visit this serene and sacred place. Cambodians come here at least once a week to pray for good luck and give offerings of flowers, bananas and money. Living in Phnom Penh, I too started visiting Wat Phnom once a week.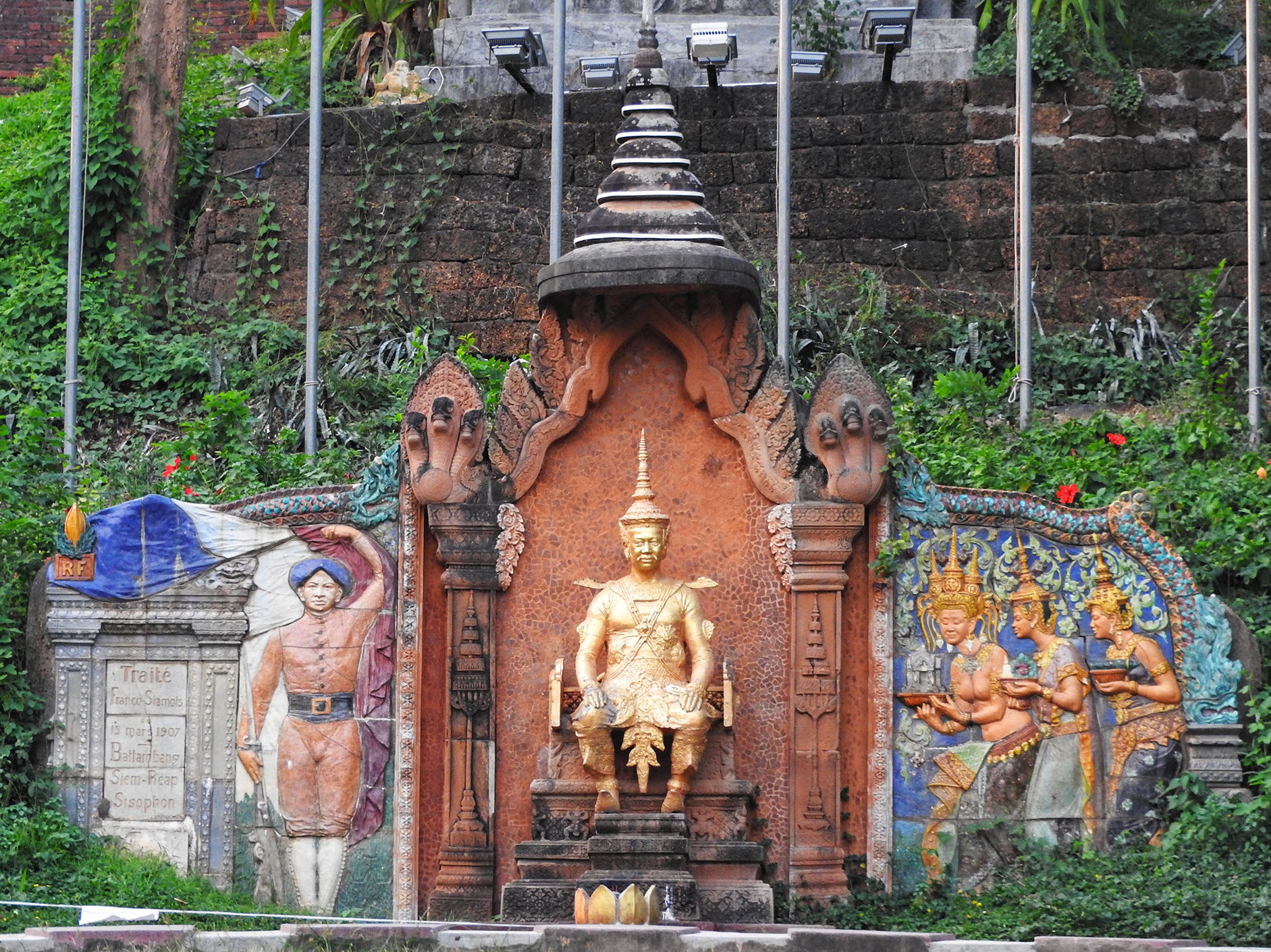 Seated in the beautiful garden of Wat Phnom is the statue of King Ponhea Yat, the last king of Khmer Empire
I also observed that they have different traditions in terms of offerings. Smaller denomination bills of 100 riels are offered in plenty and there are vendors outside providing this small change to those who wanted to make the offering, which is typically a Buddhist offering. It was rather surprising to notice that some devotees offered meat and eggs as well. There are statues of animals with their mouths open and the devotees drop meat and eggs into the mouth. Rather unconventional, right?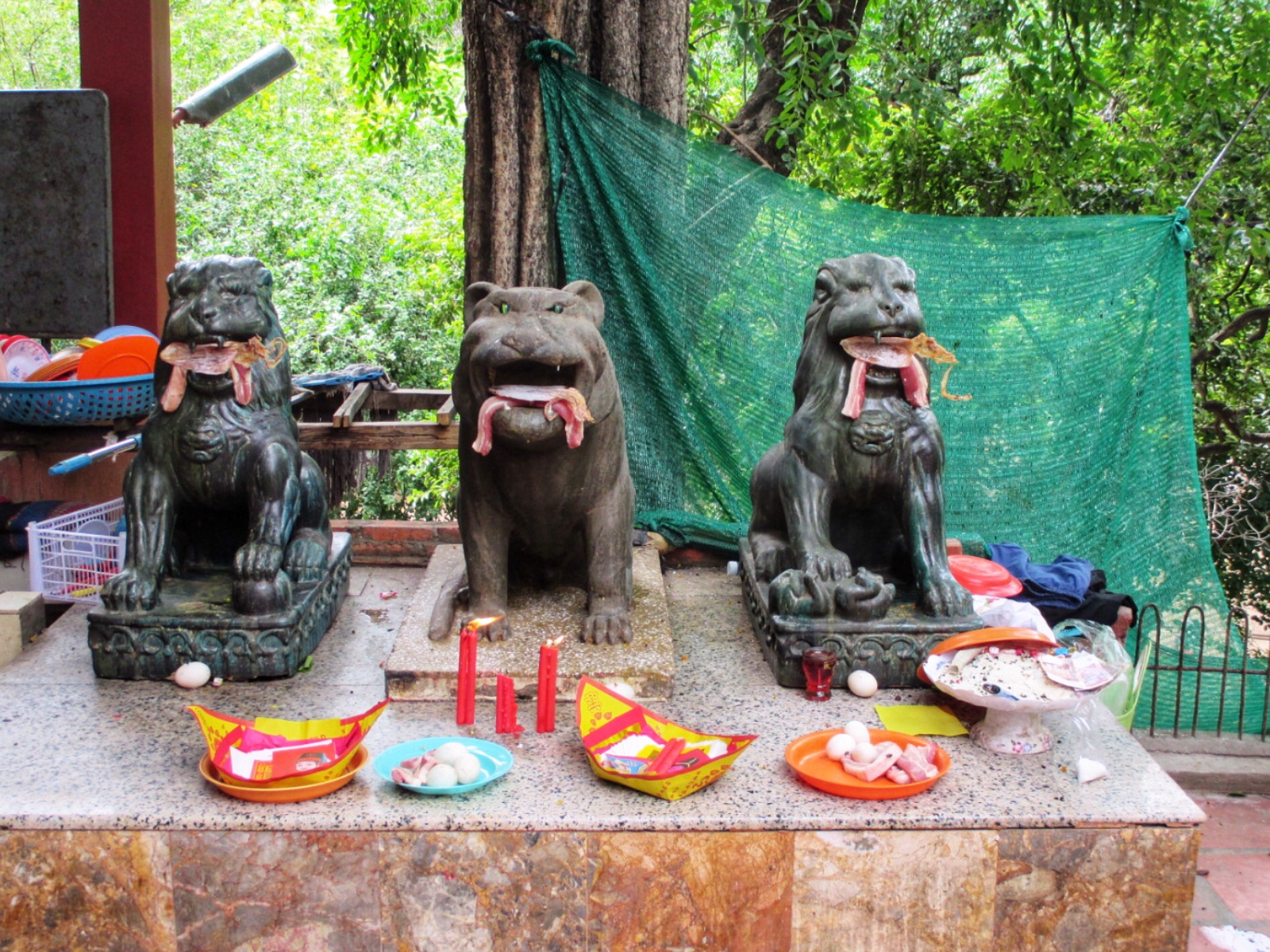 Rather unusual offerings of eggs and meat laid before the statues in Wat Phnom
Wat phnom extends across a vast area and there are numerous information boards, mostly in Khmer, the local language of Cambodia. In the garden there is a functional clock which was gifted by France to Cambodia.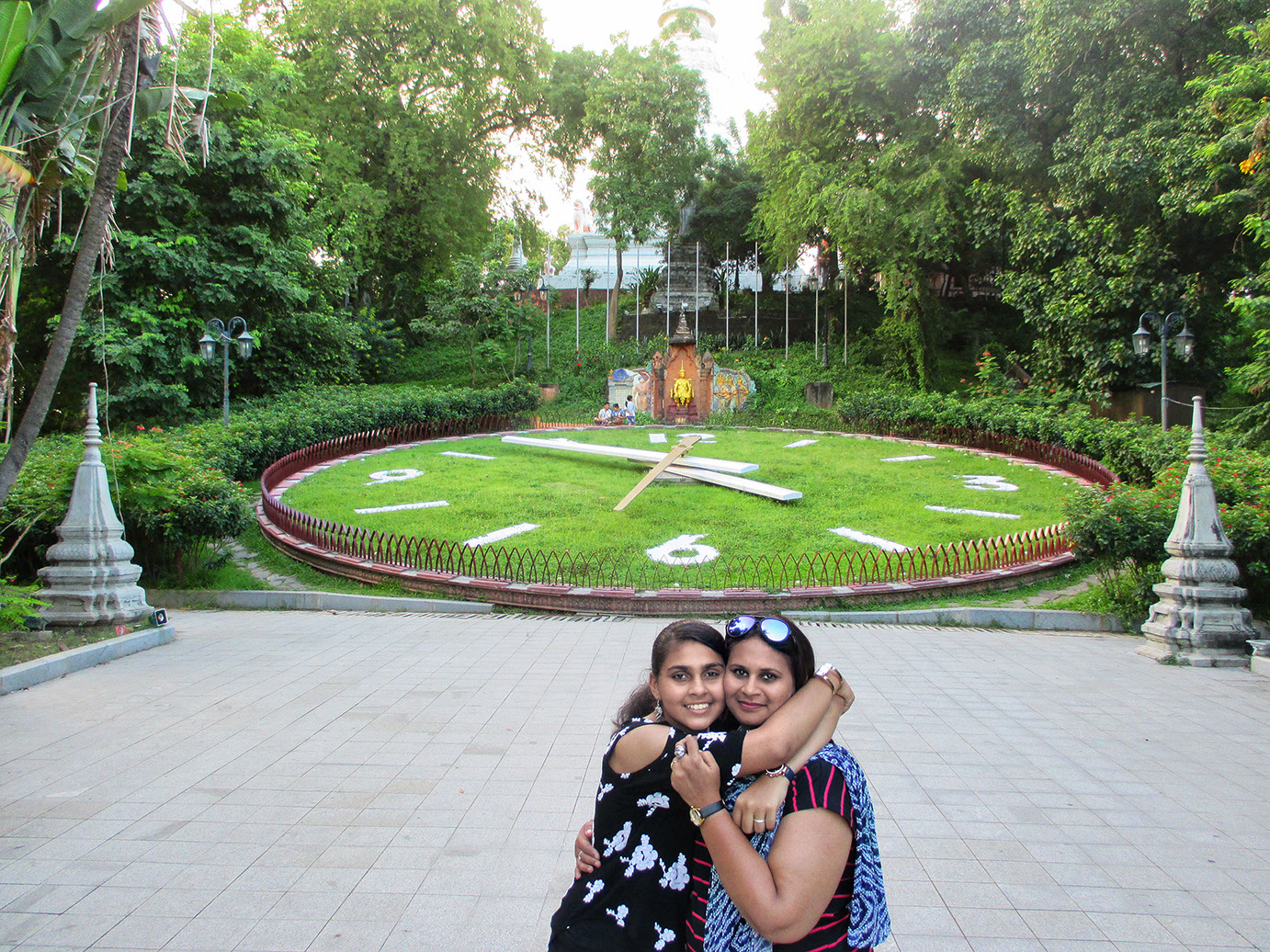 An adorable picture of my daughter and wife in front of the giant clock in Wat Phnom garden
On exiting Wat Phnom, there is a statue of Lady Penh seen at one of the crossroads. She is believed to be the one who founded Phnom Penh. Known to be a wealthy woman, she is ardently revered by Cambodians. Most visitors miss this iconic statue thinking it is just another statue. Had it not been for my customer, I would also have missed it.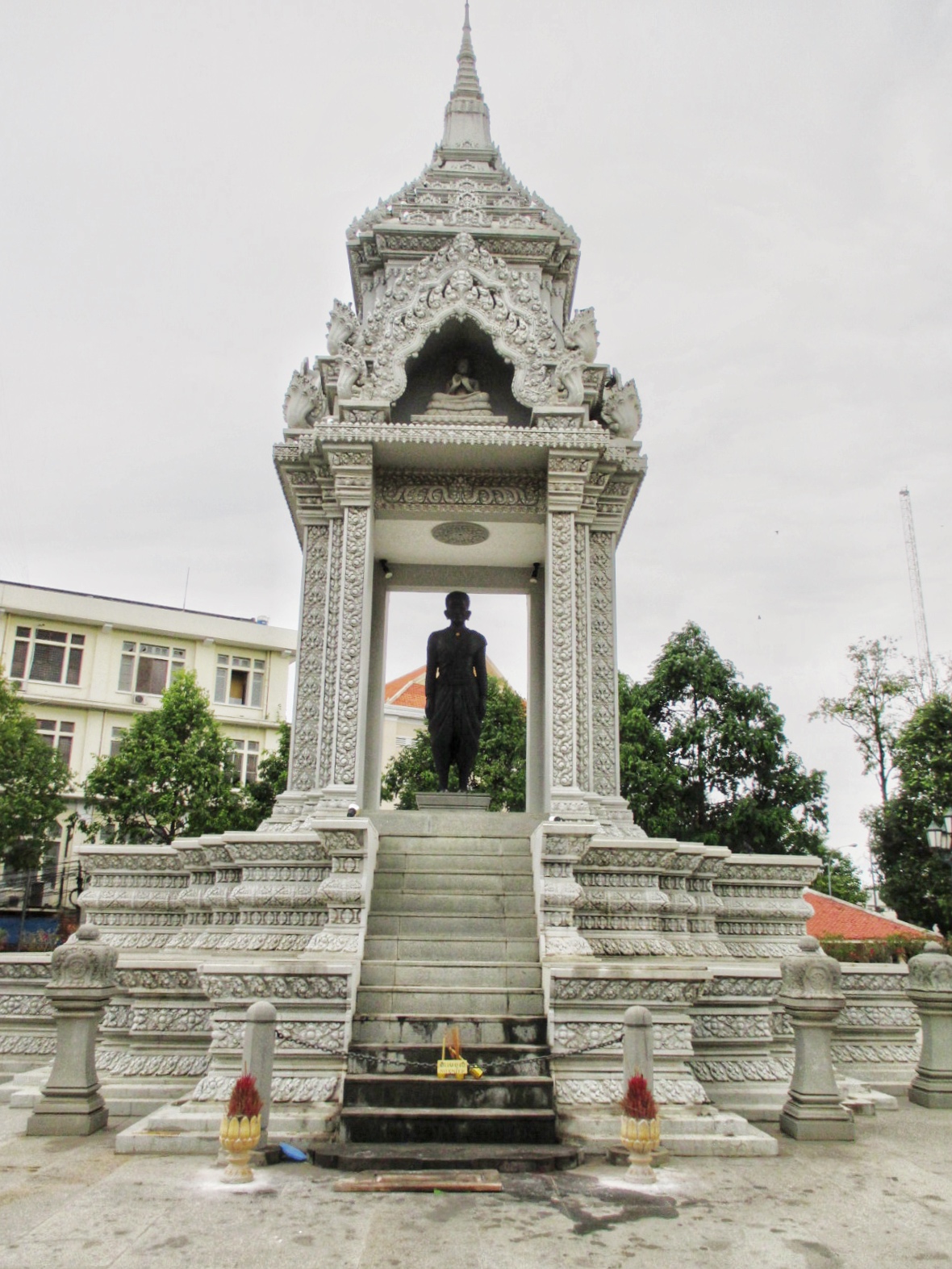 A statue that is often missed by visitors, this statue of Lady Penh is seen near the exit to Wat Phnom
Shopping Markets - the lifeline of Phnom Penh
Another interesting feature of Phnom Penh that fascinated me was their traditional markets. These places were like a huge canvas that captured the city and its versatile personality. There are two main markets, the Central Market and the Russian Market. These markets sell almost everything from vegetables, fruits, groceries and meat to clothes, souvenirs, coins and currency notes etc. There are hair and nail salons as well. The markets are fixed structures lining narrow lanes. The ambience is that of a typical Asian market - noisy, crowded, and dirty, definitely worth a visit. Those who would like to explore Phnom Penh's markets like a local can take part in guided tours.

Russian Market - Phnom Penh's best source for affordable goods
My favorite market was the Russian Market (officially known as the "Psar Toul Tom Poung" market). It is said that the area that houses the Russian Market was where the expat community consisting predominantly of Russians, lived in the 1980's. That is how the market gets its name. This market is a labyrinth of stalls selling everything from knock-off purses to vintage coins, banknotes and memorabilia.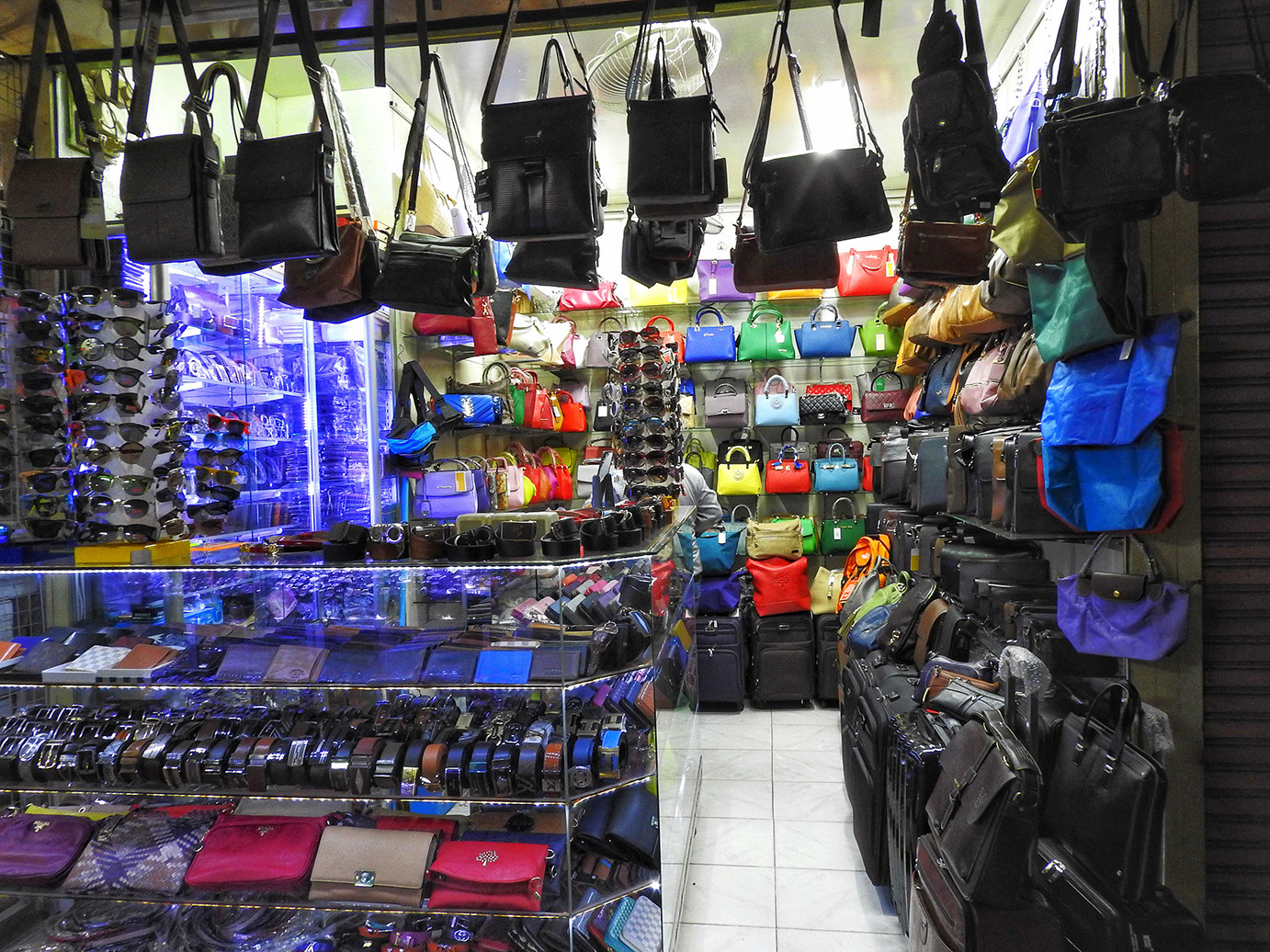 One of the many shops in the Russian Market that are bursting with options for avid shoppers
I was a frequent visitor here and being an avid numismatist, my favorite pastime was to look for old Cambodian coins and banknotes. When my family came visiting, I brought them here to experience the market. My wife and daughter, after indulging in retail therapy, treated themselves to a relaxing shampoo spa which was a 1-hour treatment for a reasonable cost of $5. Being a tropical land, fruit juices are available in plenty, especially sugarcane juice. They are sold in small packets which we enjoyed as we strolled around. The market can be a bit overwhelming if you're not familiar with it, but it's worth checking out. And of course, no visit to the Russian market would be complete without trying some of the famous Khmer street food.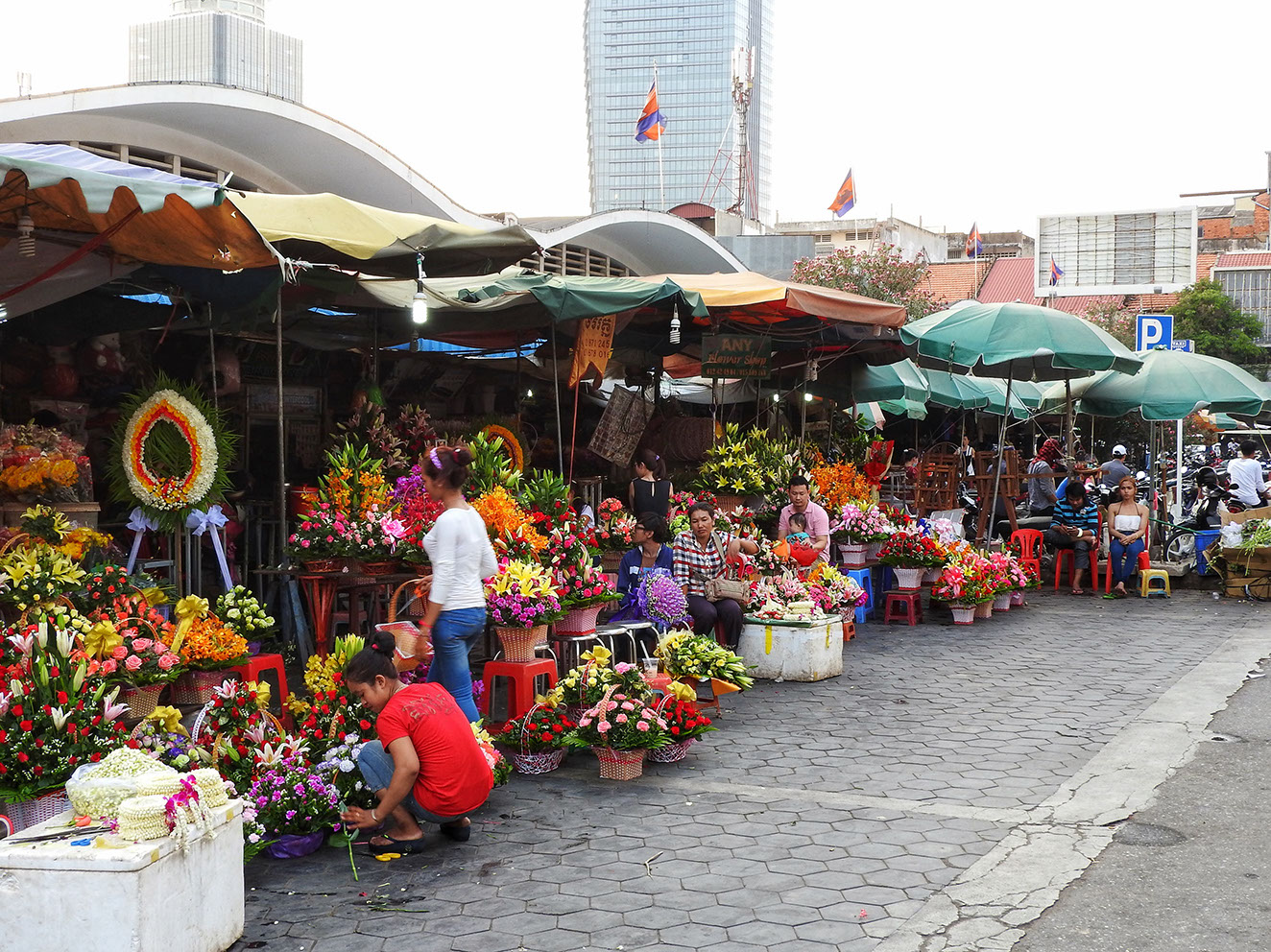 The flower market with gorgeous floral bouquets makes for a beautiful sight
Central Market - The largest in the city
Being an avid traveler, I love collecting souvenirs. My customer recommended visiting Central Market where I was spoiled for choice. I noticed that this market offers a traditional Cambodian market experience. Known as "Phsar Thmey", this is one of the largest markets in Phnom Penh, selling everything from produce, clothes, and electronics to traditional Khmer handicrafts and factory seconds of luxurious brands. It can be a bit chaotic, but it's a great place to get a feel for how Cambodians shop. It has a wide selection of handmade goods, including textiles, silverware, and wood carvings. With all sorts of Cambodian-themed items available, I had a unique collection of souvenirs to take back to India.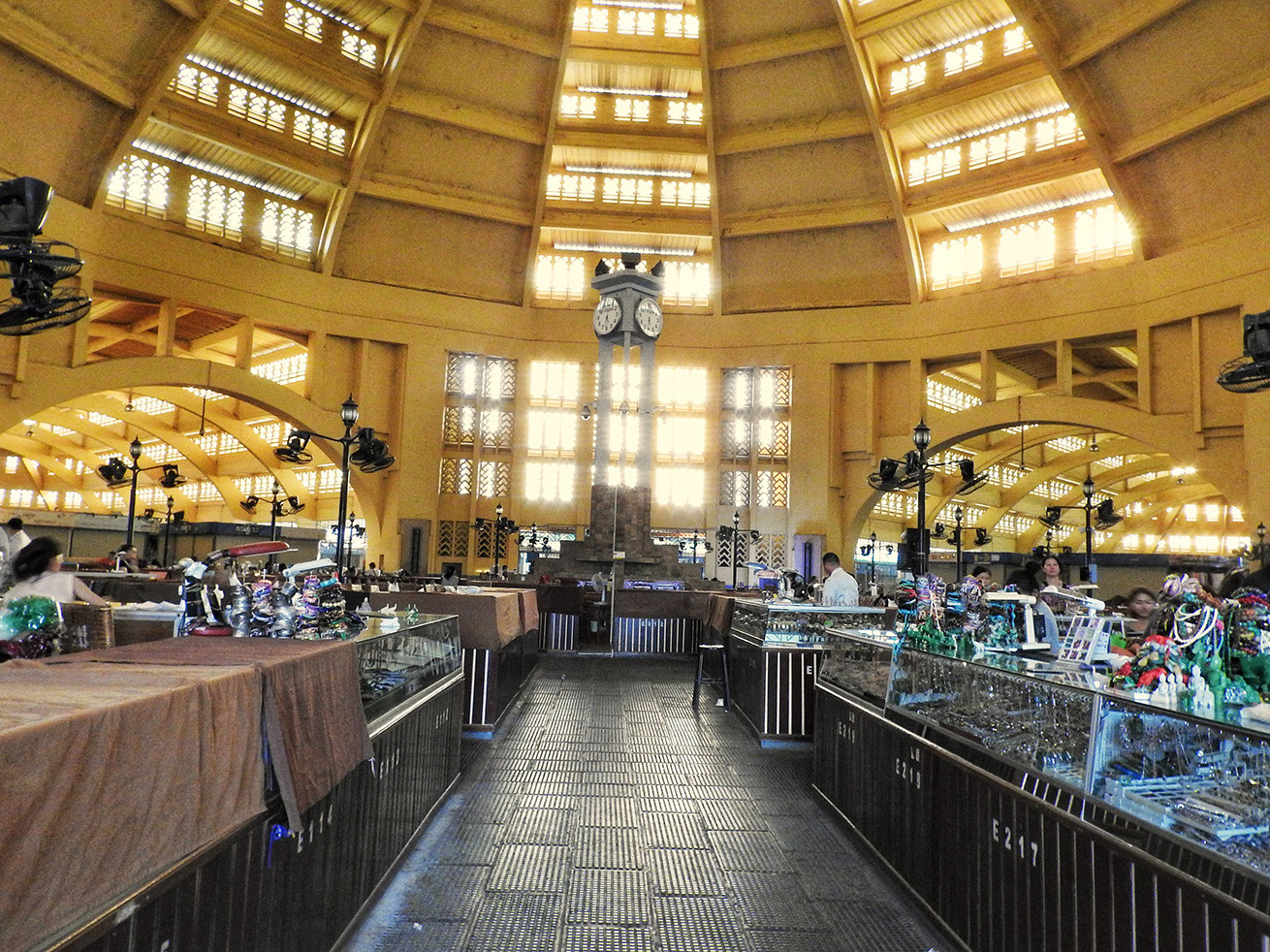 Rows of jewelery stores inside Market Central have unique and traditional jewelery that entices visitors to indulge
Night Market - retail therapy, Khmer style
Markets in Phnom Penh close at 6pm but not to worry; the city is home to a vibrant night market scene, mostly on weekends. The markets, which are typically located near the riverfront, are make-shift stalls that offer a variety of goods and services, including food, clothing, and entertainment. I absolutely loved visiting the night markets. It is the perfect weekend activity that offers a complete experience from shopping, relaxing and of course indulging in Cambodian local delicacies.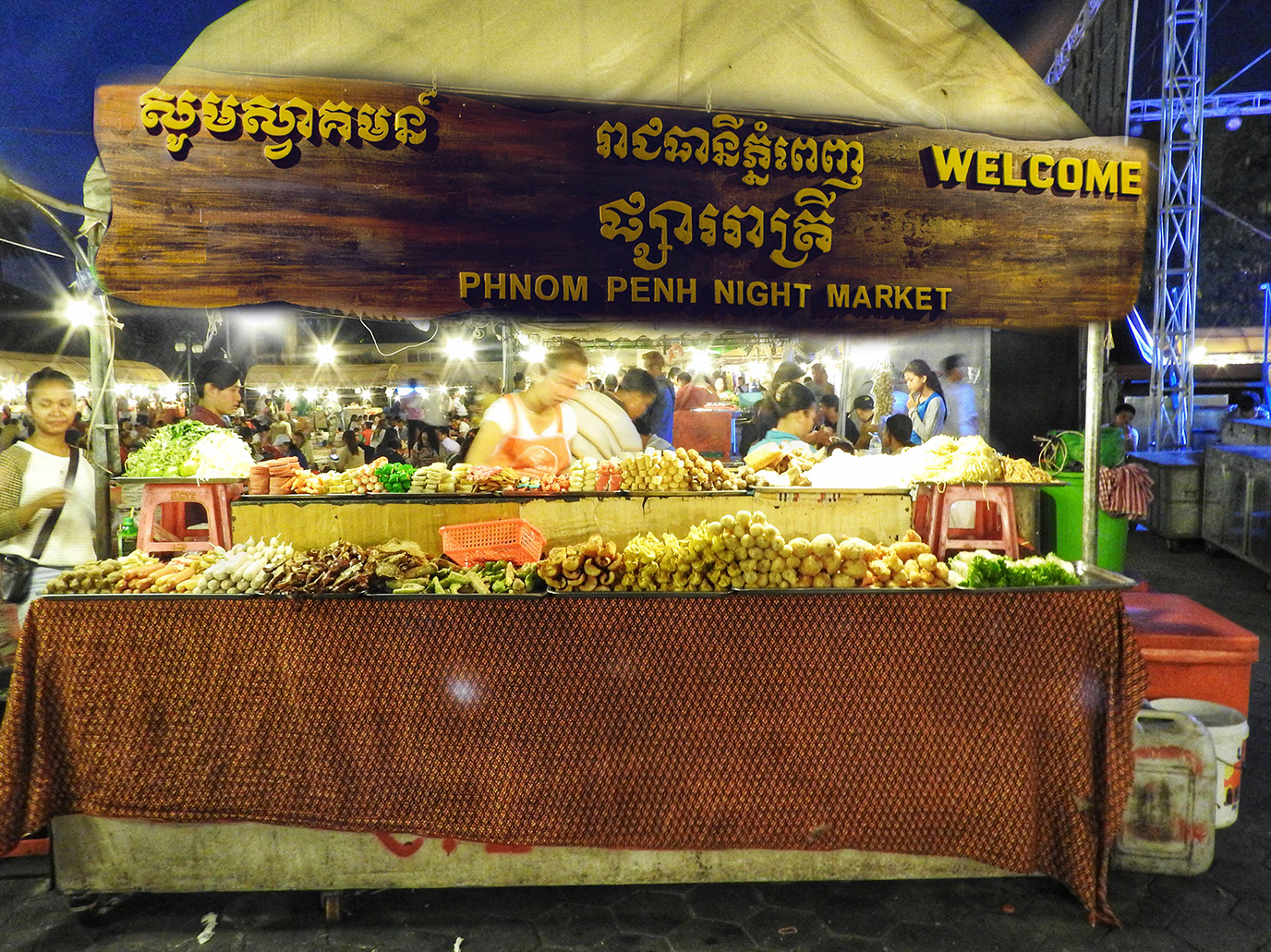 These makeshift stalls at night markets also known as Phsar Reatrey have so much to offer
My first visit to the night market brought back memories of India. I noticed that people were sitting on a carpeted floor and eating. Until then I thought this was mostly an Indian culture but was amused to see it in Phnom Penh. I visited these markets frequently to indulge in a variety of Cambodian desserts and refreshing sugarcane juice. The delicious South Asian desserts had me in a food coma!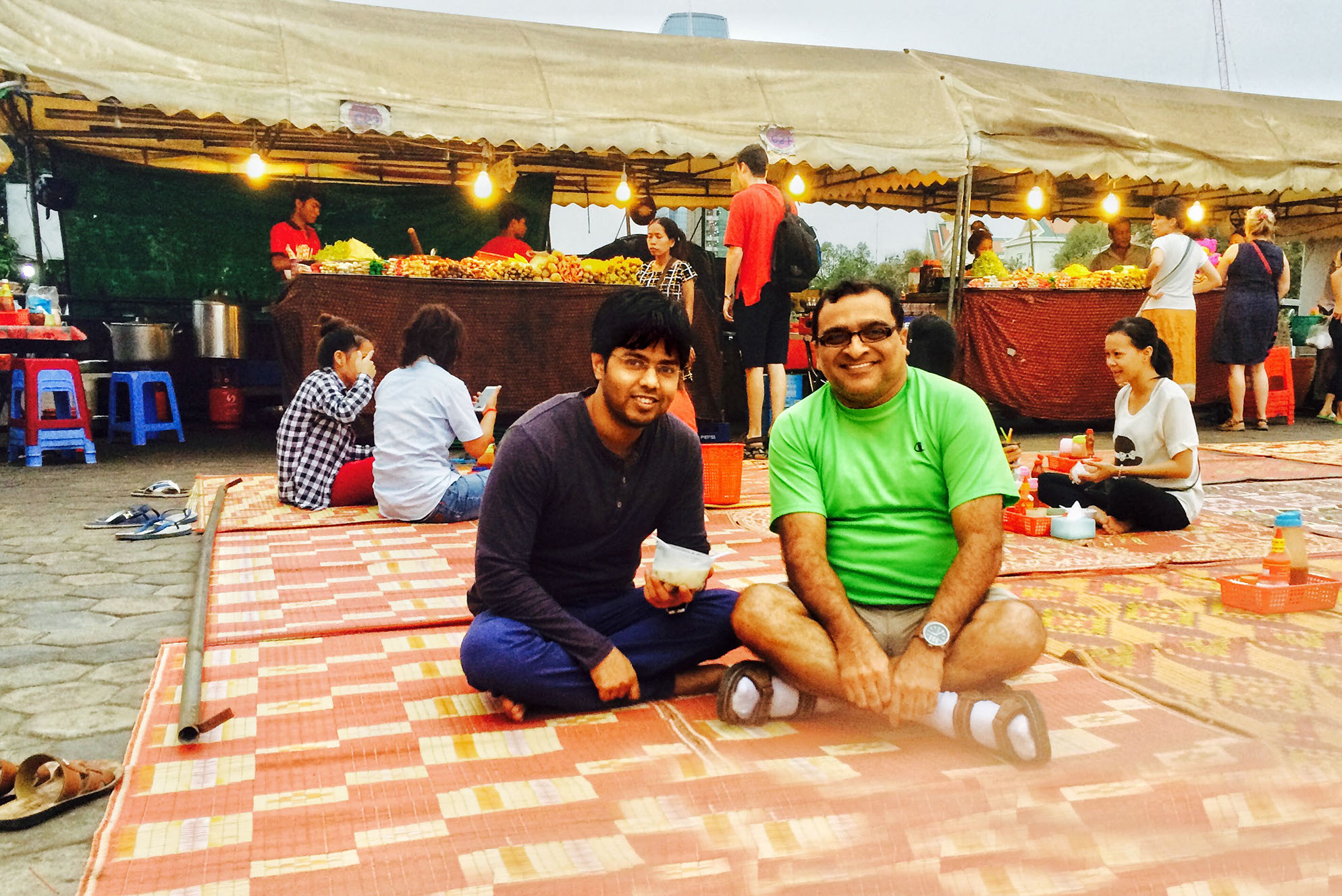 Enjoying some delicious Khmer desserts the "Indian style"
Night markets in Siem Reap are mostly tailored for tourists but in Phnom Penh it is mainly for locals. It is a great way to experience the local lifestyle and vibe of the city. A MUST visit from my perspective of having lived in this country for a while.
Wet Market - the hub for local food
In conversation, I was told that "wet markets" would be the best place for me to run my field survey. In anticipation of a successful workday, I headed out to the wet markets in Phnom Penh and neighboring provinces. Reaching, I was shocked at the visuals in front of me. This is not what I expected. The sights and smells caught me totally by surprise. Eventually, I understood that wet markets are a common sight in Cambodia and they play an important role in the city's food supply chain. Many of the city's residents rely on wet markets for their daily grocery needs, as they offer a wide variety of fresh and affordable products. However, wet markets can also be a source of potential contamination, as they often lack proper sanitation facilities.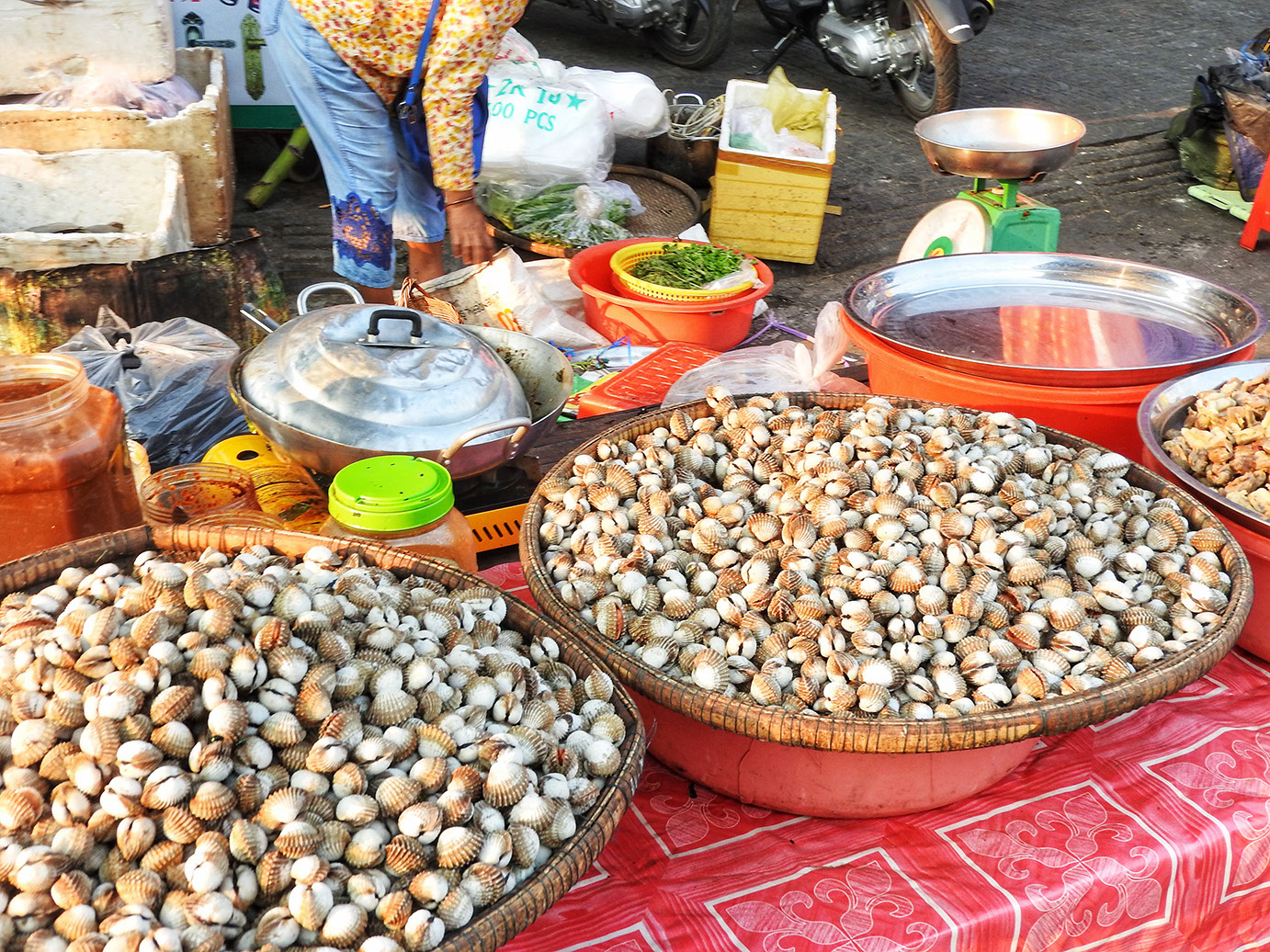 One of the many stalls selling local produce in the wet markets
Being a residential area, we had a vendor coming to our locality selling "local produce" in his tuk-tuk. He would set up a mobile stall at the side of the road. He would typically offer a variety of different types of insects and snails for sale. Insects such as crickets, grasshoppers, and mealworms are commonly sold, along with snails such as giant African land snails and Cambodian snakehead fish. He always tried selling his produce to everyone including tourists. Of course most tourists refrain from buying but are interested in taking pictures of the stall and the "local produce". This is a business opportunity he capitalized on by charging $1 to allow photos to be taken. Of course, if visitors made a purchase, then the photos were free! I got acquainted with the vendor. He was curious as to why I never purchased anything. I explained the Indian culture and food habits which he found surprising. However, he allowed me to take photos for free as I was almost a local.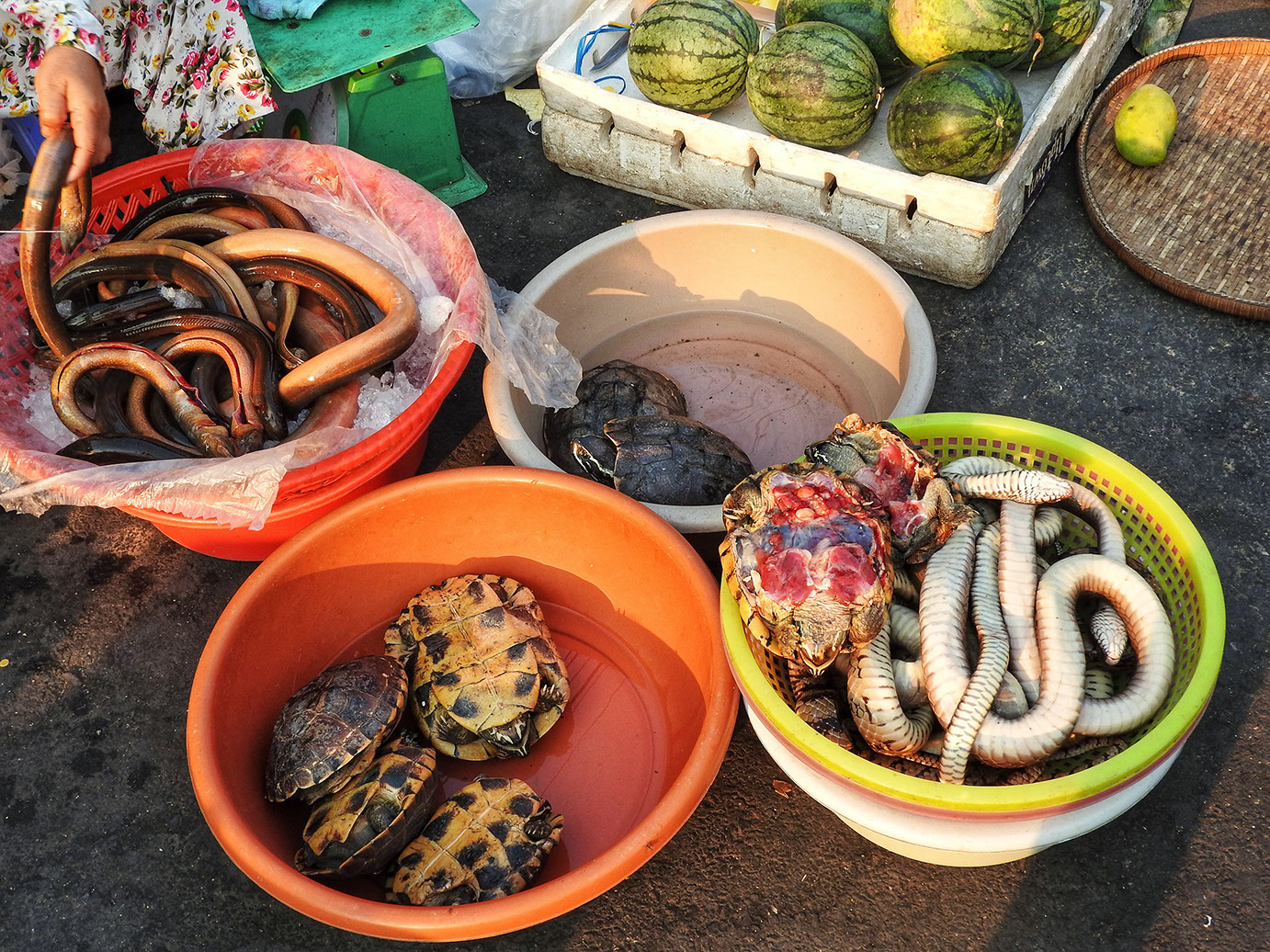 These local delicacies are for adventurous and eccentric foodies
Arts district of Phnom Penh
Phnom Penh was a French colony and is heavily influenced by French art. Cambodians also being artistic, a beautiful amalgamation of the two art forms is exhibited all over the city. The Royal University of Fine Arts is a MUST visit for art lovers. The university is surrounded by 30-50 shops that display and sell a plethora of local art work as well as art by renowned artists. I am always fascinated by the craftsmanship showcased in the woodwork, paintings and statues displayed here. I bought a beautiful statue of Siam Niramit carved from a single stone which to this day keeps my memories of Phnom Penh alive.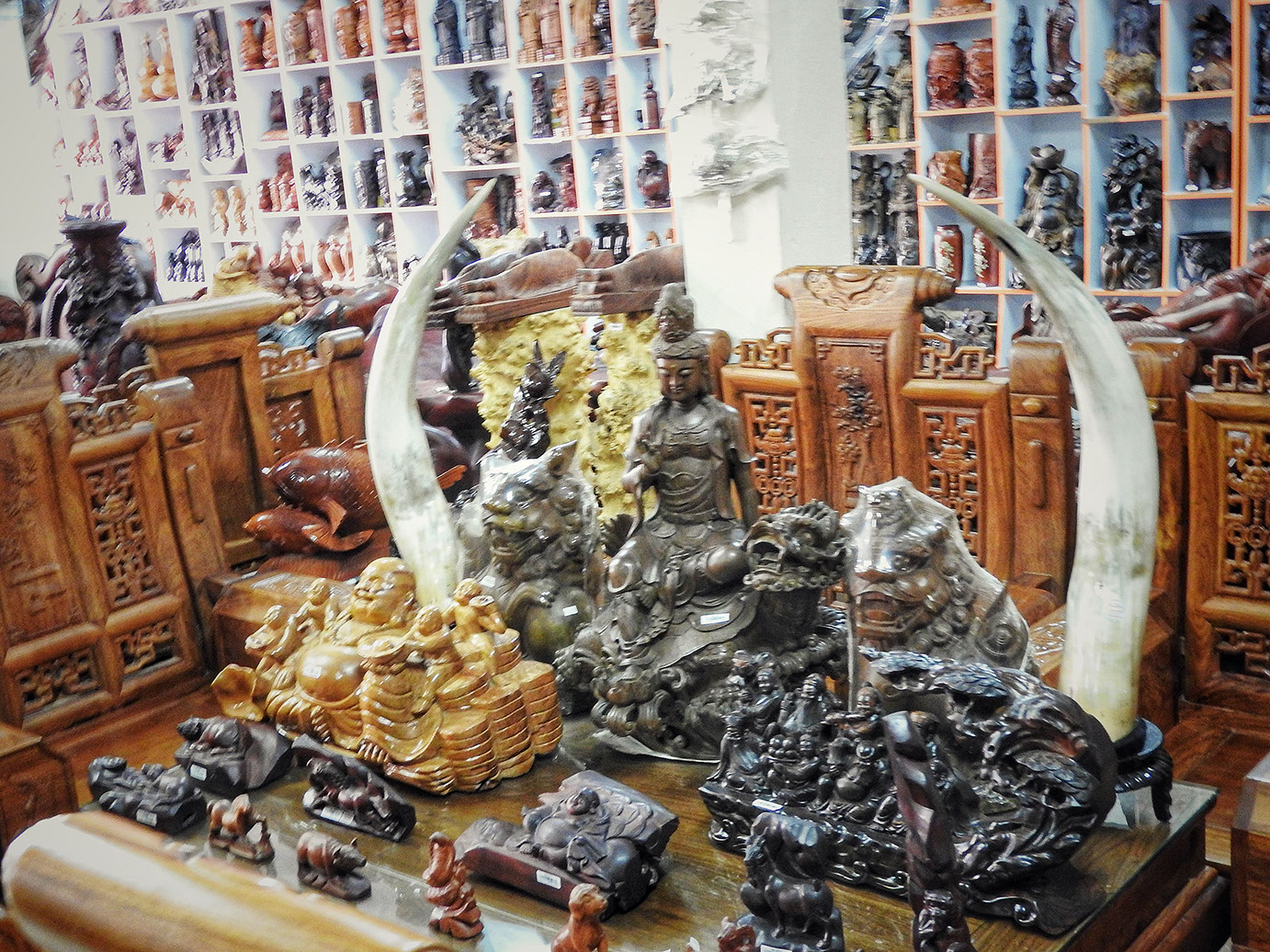 These incredible traditional art & craft stores near Royal University are a souvenir collector's paradise
Besides these incredible experiences, a cruise in the Mekong River and a tuk-tuk ride are a MUST to complete the experience of this astounding city. The cruise is more of a boat ride along the river that offers a beautiful view of the city. It is the perfect way to unwind. An evening ride treats you to the most stunning sunset that leaves onlookers in awe. After the boat ride, I used to take a stroll along the riverfront and socialize with both locals and foreigners. It was a great way to have amazing conversations.
Checkout Top Phnom Penh Sunset Cruises.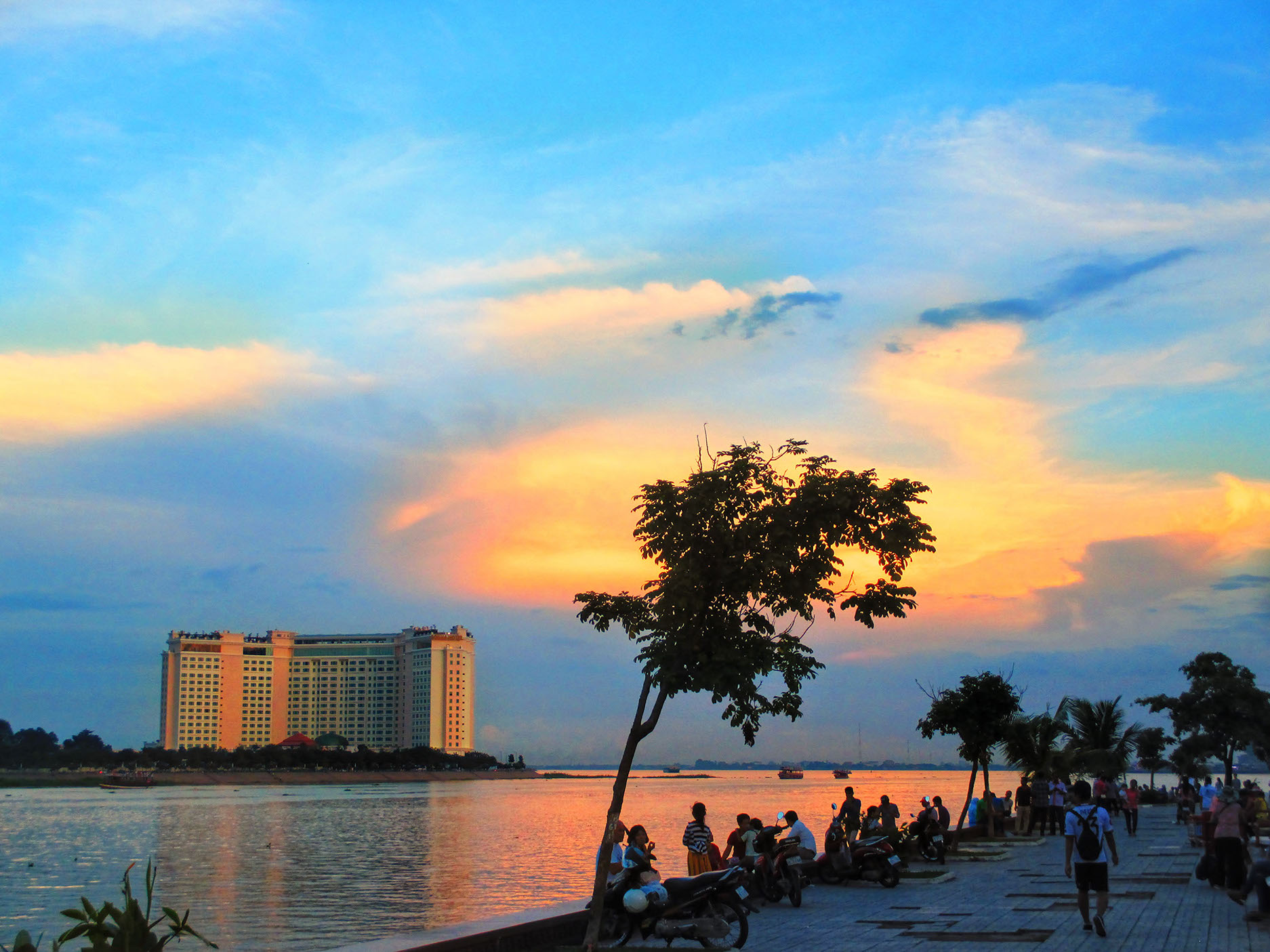 Watching the spectacular sunset at Mekong River is the perfect way to end the day
A tuk-tuk ride is the most efficient way to explore the city and the best way to take in the magic of Cambodia. The driver will ride you past old buildings with beautiful French architecture, stop at roadside eateries to sample local food, and also maneuver you through the markets for some retail therapy. It is the ideal way to enjoy the local ambience of Phnom Penh. A word of caution though is to be aware of snatchers. While the tuk-tuk is meshed on one side, the entrance side is open leaving scope for miscreants on bikes to snatch your phone or belongings. I had someone try to snatch my phone but luckily my reflexes were sharp enough to hang on to it. Make sure you keep your belongings on the meshed side of the tuk-tuk to avoid any untoward incidents.
Experiencing Phnom Penh as a local
Living in this intriguing country has been one of the most enriching experiences. The history of the land, the rich art & culture it embodies and the resilient lifestyle of its people has given me a fresh perspective to life which will stay with me forever. While I lived here for over 6 months and traveled back and forth for nearly 2 years, a short trip is likely to have a similar impact. Phnom Penh is surely one of the places I would recommend to travelers seeking an authentic and unique travel experience.
Frequently Asked Questions
:
Why is Phnom Penh famous?
Phnom Penh is an important economic, financial, and cultural center for Cambodia. The city is home to many national and international companies, as well as embassies, restaurants, shops, and hotels. Phnom Penh is also famous for its many historical and cultural landmarks, such as the Royal Palace, Wat Phnom, and the Killing Fields memorial. In recent years, the city has undergone rapid development, and it is now one of the most dynamic cities in Southeast Asia.
How many days are recommended in Phnom Penh?
There is no definitive answer to how many days you should spend in Phnom Penh as a tourist. Some may prefer to rush through the city, taking in all of its major landmarks and attractions within 2-3 days. Others may wish to linger longer, taking their time to enjoy the local culture and soak up the city's unique atmosphere for about 1-2 weeks. Ultimately, it depends on your individual travel style and what you hope to get out of your trip. However, most tourists will likely find that two or three days are more than enough to see all that Phnom Penh has to offer.
What are the best outdoor activities in Phnom Penh?
There are many great outdoor activities to be enjoyed in the city of Phnom Penh. Among the most popular options are walking and biking along the riverside, taking a boat tour down the Mekong River, or exploring one of Phnom Penh's many parks. Additionally, there are several popular markets throughout the city where you can go shopping or bartering for handcrafted souvenirs.
What are the top attractions to visit in Phnom Penh?
With its rich history, stunning Buddhist temples, modern malls and bustling night markets, there truly is something for everyone in the city. Some of the top attractions to visit in Phnom Penh include the Royal Palace, which is home to Cambodia's monarch and showcases impressive Khmer architecture. Other popular sites include Wat Phnom, a beautiful temple set atop a hill.
What is the best time to visit Phnom Penh?
Rainy season, which runs from May to October, offers good weather and fewer crowds. Winter season is the best to avoid the heat and humidity of the summer months. Ultimately, it depends on your personal preferences and travel goals. If you are looking for perfect weather conditions or want to take advantage of the city's many festivals and events, then summer might be a good time to go.
How many markets are there in Phnom Penh?
There are numerous markets in Phnom Penh, each with its unique characteristics . The largest among them is the Psar Thmei (or Central Market), which consists of several different sections selling everything from food and clothes to electronics and beauty products. Around the edges of this main market are several smaller local markets, known as "wet" markets for their reliance on fresh produce. The other famous one is the Russian Market. Night markets bring their own charm of local culture and delicacies.