Rameshwaram & Dhanushkodi
It was a long journey from Bangalore to Rameshwaram (sometimes, also spelt as "Rameswaram"). We started in the afternoon and drove 400 kilometers reaching Dindigul, more than half way and stayed there for the night in Hotel PVK Grand. It is an excellent 4-lane highway for the entire journey. After a rested night, we set out early morning reaching Rameshwaram temple after a 250-kilometer drive. We stayed in Kathadi, a tiny village just before the actual town of Rameswaram. It is quite interior and facing the Indian Ocean with a private beach. It is one of the offbeat places in coastal Tamil Nadu. Kathadi in Tamil means "Kite" and this place is famous for kiteboarding as it is windy here for almost 9 months in a year. It is a serene place in a coconut orchard with a sandy beach and the blue ocean.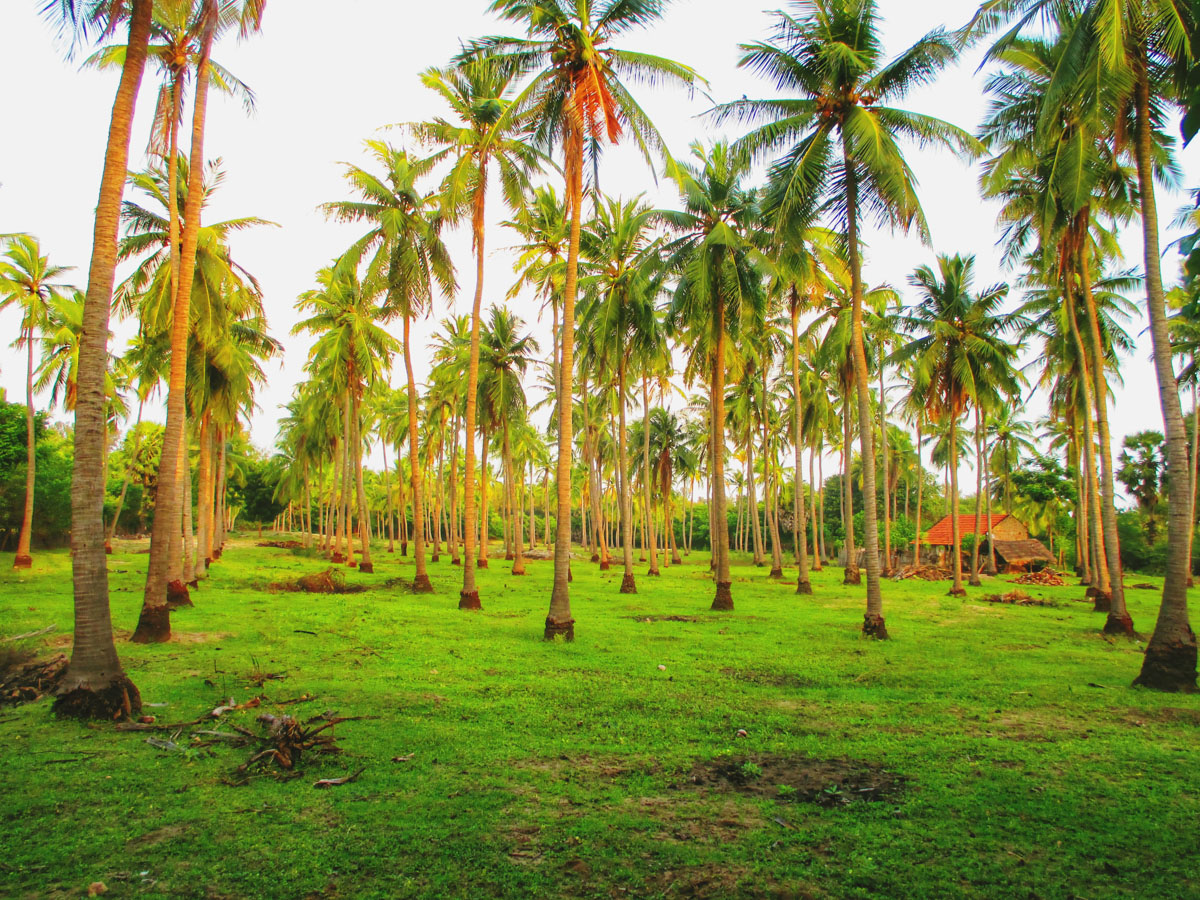 Beautiful landscape of coconut orchard at Kathadi South village
The highlight of our 3-day stay at Kathadi South Resort was kayaking in the channel as deep as 30 meters. In our first kayaking experience, we set out in individual kayaks accompanied by a guide. The destination was a small island across the ocean, about 2 nautical miles (3.5 kilometers) away from Ariyaman Beach Rameshwaram. Midway it started drizzling and by the time we reached the island it started pouring. While it was a fun experience, the rapidly changing weather in Rameshwarm brought waves on our return, which made maneuvering difficult. Some of the kayaks had to be towed with the rope tied to the rescue boat. We reached the shore 2 hours later after a thrilling experience kayaking in middle of the ocean. Later, we spent a relaxed time on the Ariyaman beach and swimming in the ocean. We were unstoppable after experiencing this, and a few years later embarked on a kayaking adventure in a mangrove backwater.
Note: Kathadi South Resort is no longer in operation. There are still plenty of nice hotels in Rameswaram.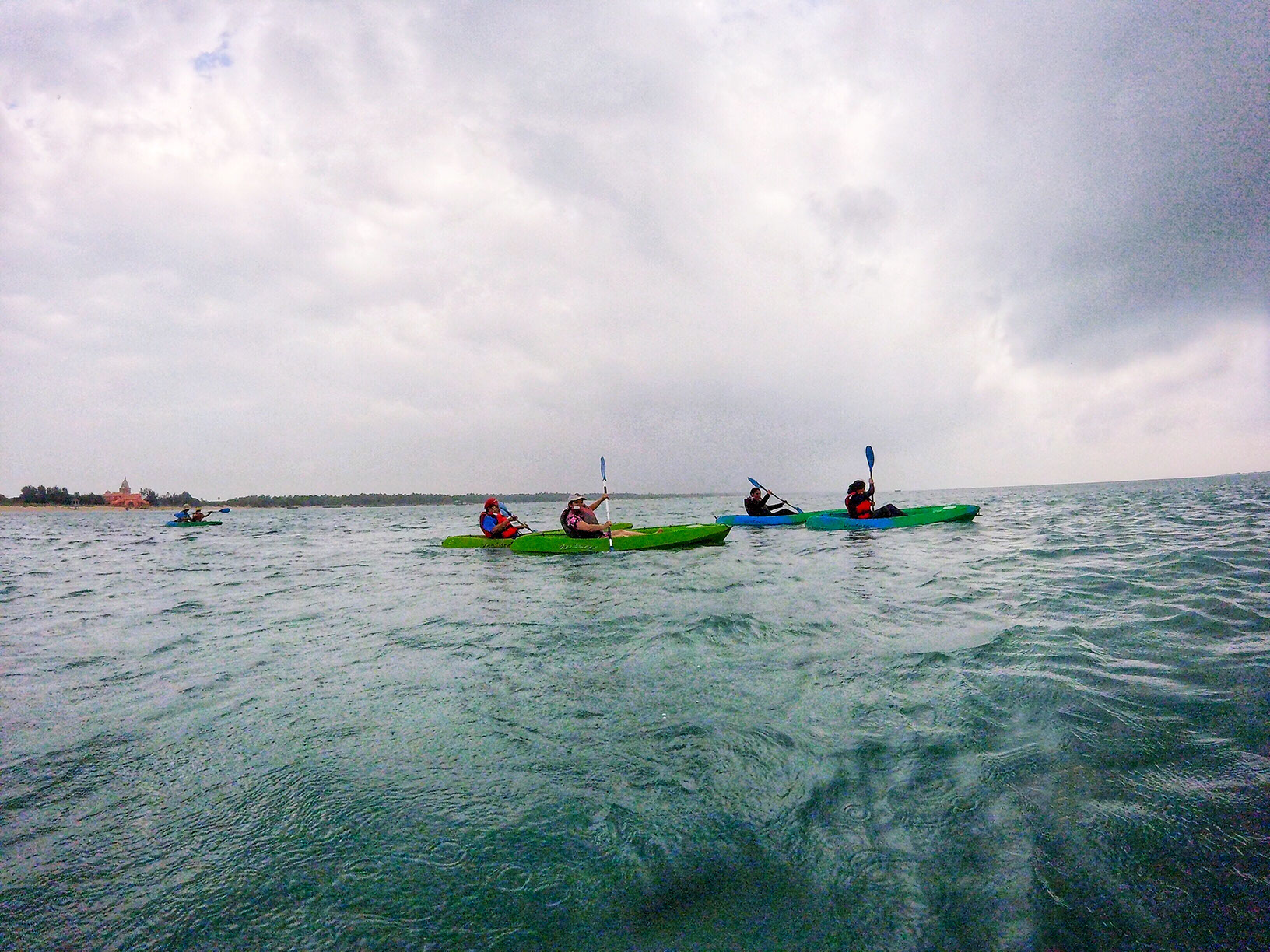 Kayaking in the Gulf of Mannar while it's drizzling
Rameswaram is located on Pamban Island that is connected to the mainland through 2.3 kilometers long Pamban Bridge, the longest in India over a bay. Rameswaram is also connected by the historic rail bridge built in 1914 that is 2 kilometers long. It is an engineering marvel built during the British rule and designed by a German engineer. A train journey on the bridge is a true delight for Rameshwaram tourism. The bridge opens at 70-degree angle once a week to allow ship movement. Plan your trip accordingly to see this amazing sight.
Tamil Nadu is considered to have 38,000 temples and is a popular pilgrimage destination in South India. There are many interesting facts about Tamil Nadu, one of which is Rameswaram. It is one of the most venerated pilgrimage sites for Hindus. Rameshwaram is famous for its Ramanathaswamy temple. It contains a Jyotirlinga which is part of the sequence of 12 Jyotirlingas in India. This is where Lord Shiva is worshipped in the form of "Pillar of Light". It is also one of the four divine sites for Hindus, known as "char dham". You are not allowed to carry any electronic items including mobile, camera, etc. while visiting the temple. The best time to visit Rameshwaram is during the winter November to February) to beat hot & humid weather in Tamil Nadu. As Rameswaram is on the coast of Tamil Nadu, it gets heavy rain from October to December, unlike other parts where the monsoon is from June to August. You might not want to visit Rameswarama when it rains, but there are many beautiful places to vist in Tamil Nadu during monsoon.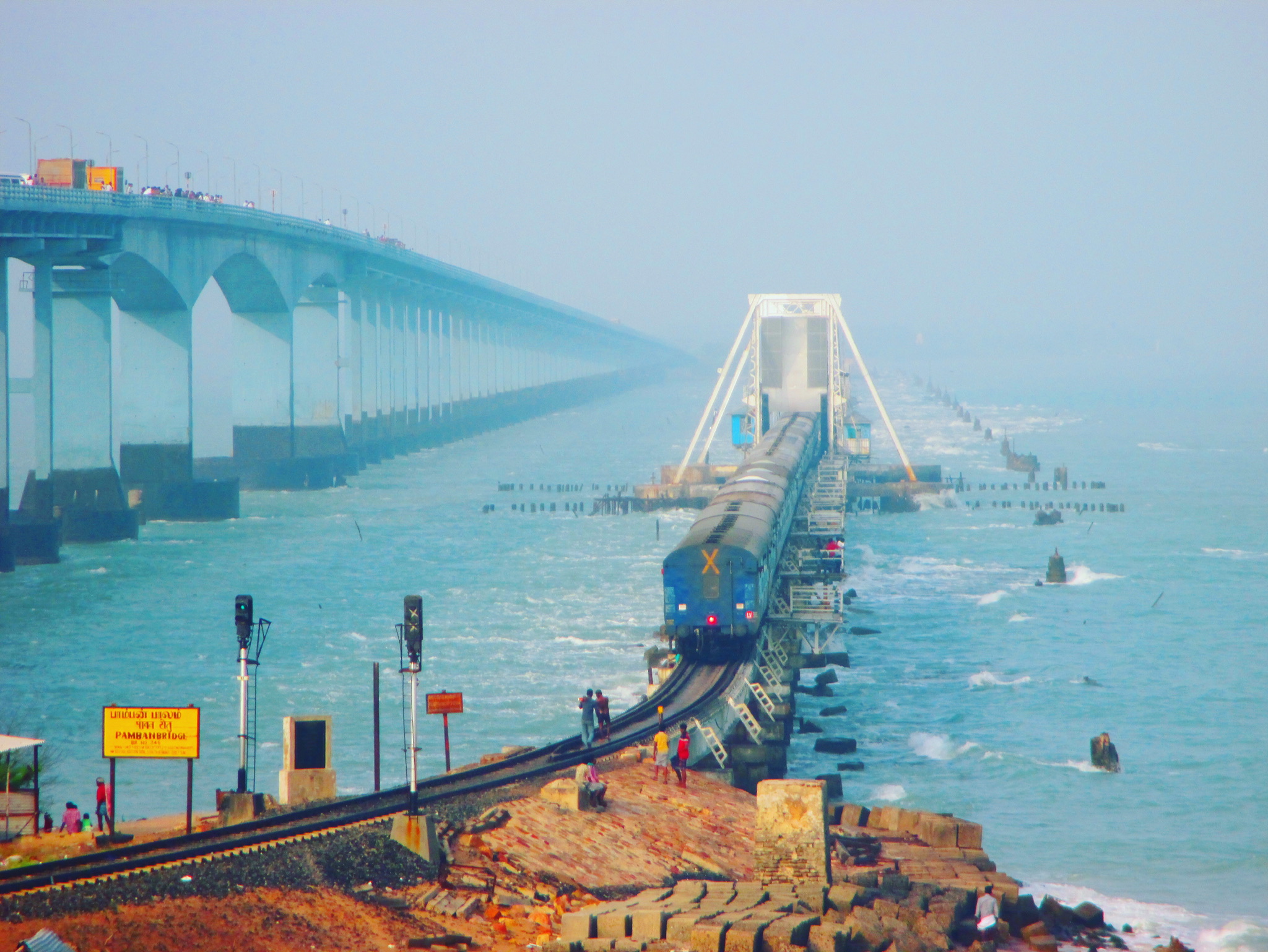 Train passes through the historical Pamban Bridge on a misty morning
There are many places to visit near Rameshwaram. It is also possible to book a full-day tour of Ramewaram to explore this beautiful place in more detail. The railway line through Pamban Bridge goes until Dhanushkodi, the tip of the Pamban Island. After the cyclone of 1964, the entire city was marooned killing 1,800 people including 115 passengers on board the Pamban-Dhanushkodi passenger train. Today you can visit Dhanushkodi, which is a ghost town with remains of the railway station, church and houses. Now, the bridge construction between Rameswaram and Dhanushkodi is complete and motorable, which was not the case when we went. We had two options, walk about 5 kilometers on a partly constructed bridge or take a 20-minute bus ride passing through the sea. Check out the video to believe it, a thrilling experience that travelers are going to miss on this journey. This is the town where you can witness confluence of seas, the Bay of Bengal and the Indian Ocean. As per Hindu mythology, "Rama Setu' was built over the sea from Dhanushkodi to Lanka (currently, Sri Lanka) by Lord Rama and his Ape warriors. Also known as Adam's Bridge, is a chain of limestone shoals floating on the water.
Bus ride within seawater to Dhanushkodi, a memorable sightseeing in Rameswarm
There is a Swami Vivekananda memorial at Kunthukal beach, one of the lesser-known beaches in Rameswarm. This stunning orange colored structure houses a museum and an aquarium. This is one of the hidden places to visit in Rameshwaram to witness its surreal tranquility.
Manapad - A Hidden Gem of Tamil Nadu
We continued our journey further south to our next destination Manapad. A tiny fishing hamlet ingrained in history and natural splendor, this city boasts of European influence with colorful houses and is a surfer's paradise. The gas station owner, where we stopped to fill fuel was surprised to hear that we were holidaying in Manapad. He had never seen a non-local tourist going to Manapad. History reveals that a Portuguese vessel sailing around Cape of Good Hope in 1540 encountered a violent storm leaving it at risk of foundering. The captain implored Jesus Christ for the safety of the vessel. On reaching the shore safely, he built a Cross from the ship's splintered mast and planted it on the shore.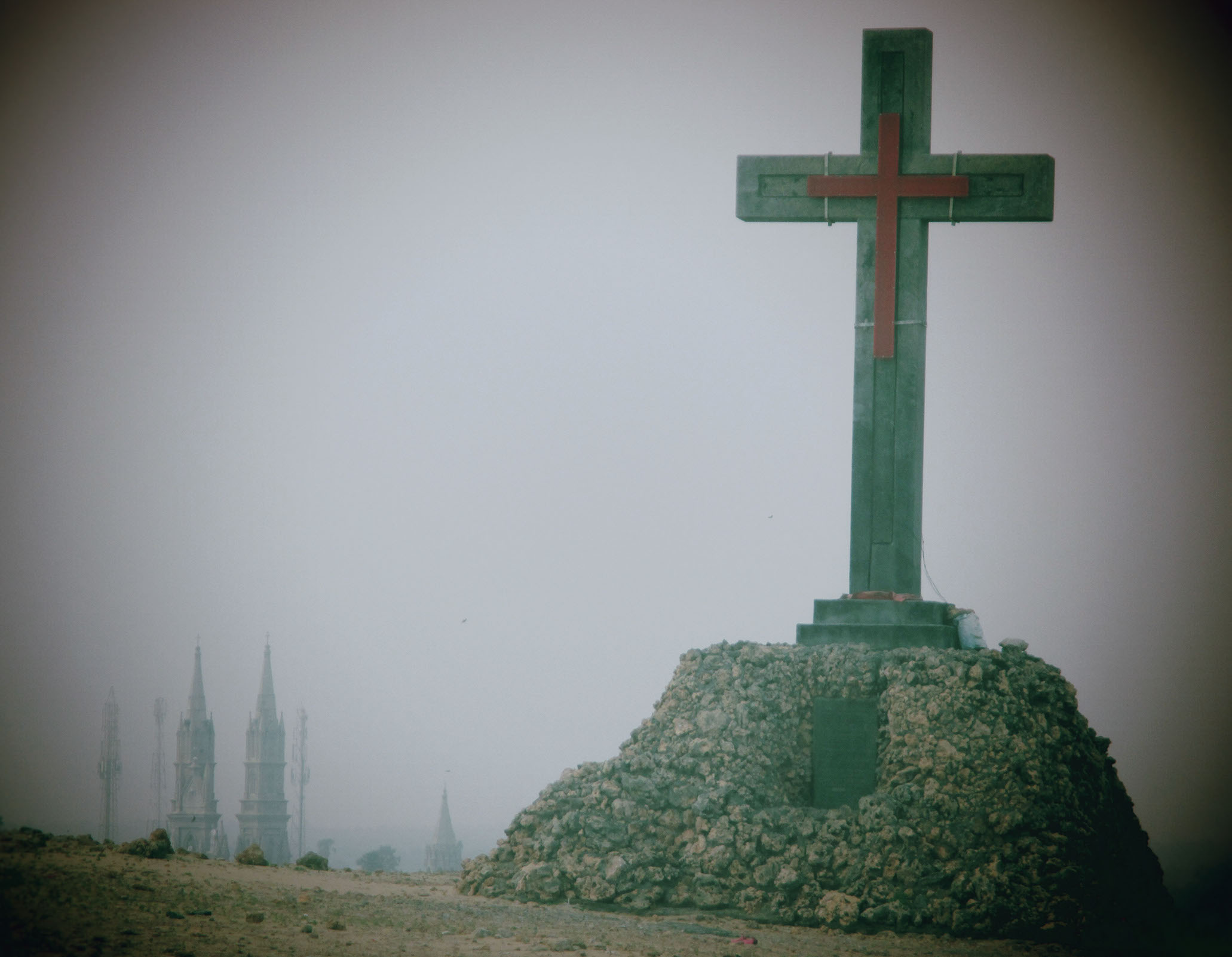 Holy Cross planted on the hillock of Manapad as vowed by surviving ship's Captain
During the 20th century businessmen from this small village had traveled to Europe and returned with the knowledge of European architecture and design. Today's Manapad boasts of exquisite churches, mansions, smart town planning and even planting of trees. This is testimony of early generations adopting the artistic flavor of European culture and architecture. The moment you enter Manapad from the highway you feel that you have arrived at a uniquely distinct place in Tamil Nadu, a small nerdy village with mostly laid-back people. There were no hotels or restaurants whatsoever including small tea stalls common in Indian villages. There's only one homestay in Manapad, so we stayed there. Francina, the owner of Villa de Joseph, renovated a 100-year-old home into a comfortable and cozy homestay. Since her ancestors were from Manapad, she wants to stay involved with and contribute to the community. There was no pharmacy in Manapad either; we had to drive 20 kilometers to buy medicines. In this unexplored city, one is surrounded by pristine nature, large mansions mostly abandoned and beautiful churches.
There are a limited number of rooms at Villa de Joseph, and it is usually full during the holiday season. However, there are many hotel accommodations within 15-40 km of Manapad.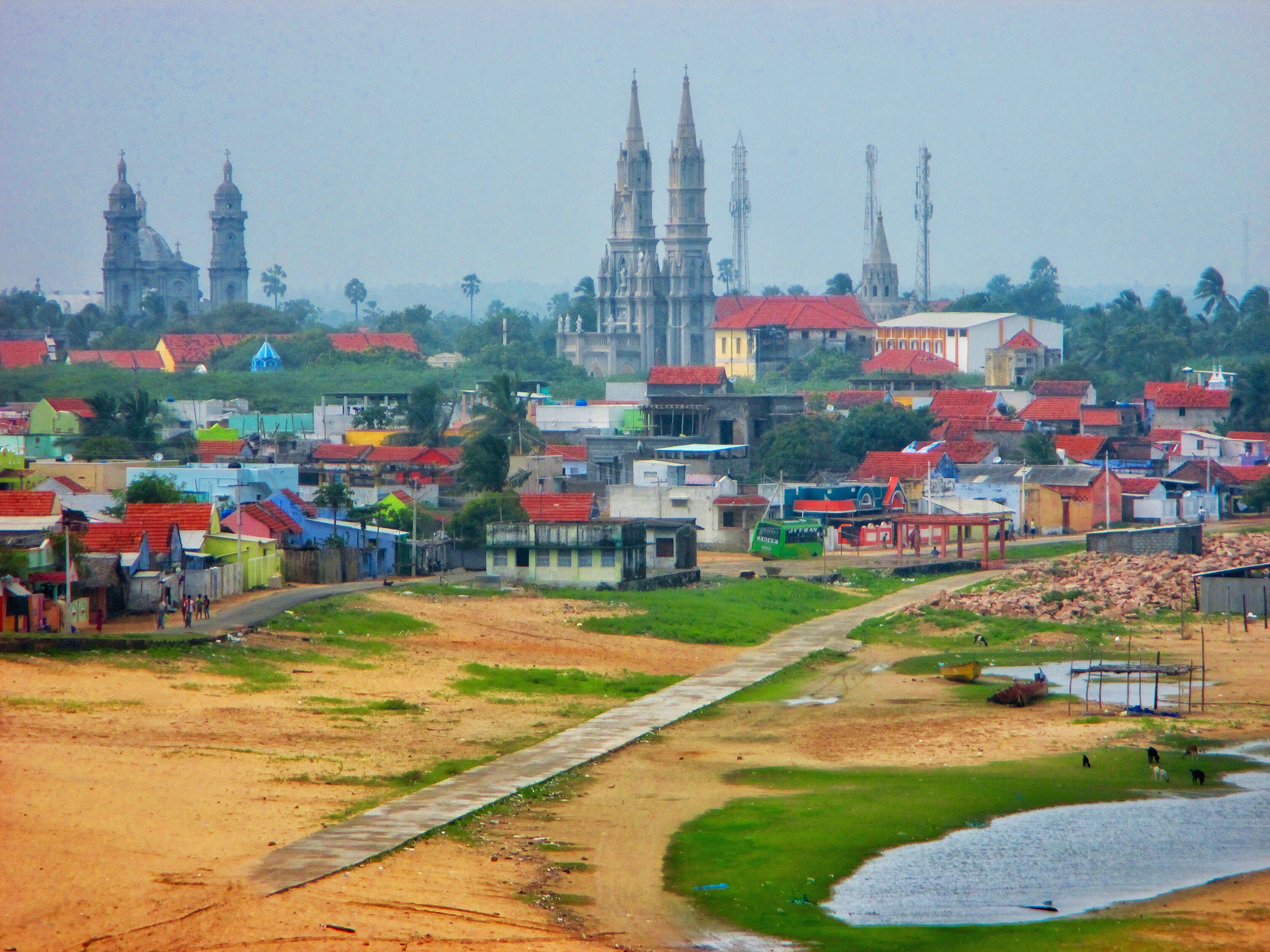 Picturesque Manapad with exquisite churches in the middle of colorful houses
We styaed for 3 days in Manapad. The plan was to chill, laze around and enjoy the beauty of a secluded town. We just roamed around in our cars and explored the tiny village. We attended the Christmas celebrations in the church. Our favorite place was the Holy Cross Church up on the hill, a vantage point for a beautiful view of the Lagoon and the beach. We used to go there twice daily. The morning stroll along the long beachfront while watching the fishermen return with their catch was sight of the day. Our stay here was refreshing, rejuvenating and more enjoyable than we had expected. It turned out to be a pleasant surprise as we were the only tourists in during the peak Christmas holiday season.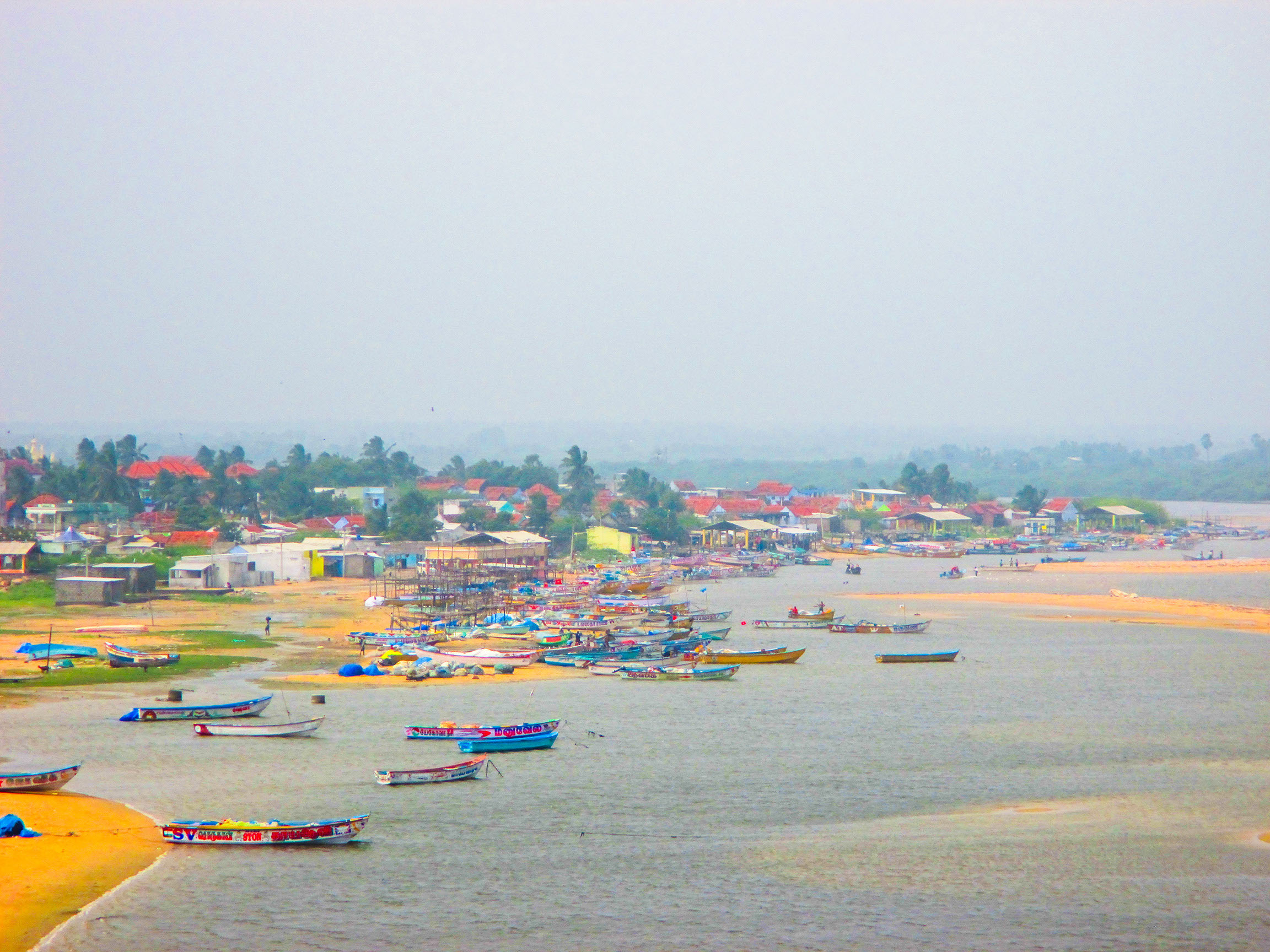 Misty morning at Manapad Lagoon with fishermen's boats anchored all over
Kanyakumari - Southernmost Point of Mainland India
It was time to move to our last destination and we reluctantly left this quaint and mesmerizing town of Manapad. It was a 2-hour drive on narrow internal roads parallel to Bay of Bengal to Kanyakumari, the southernmost point of Indian peninsula. The small town surrounded by mountains and bordered by seashores is a place of confluence of Bay of Bengal, Arabian Sea and Indian Ocean. Unfortunately, the pollution has blurred the different colors of water and they have put up a flag indicating the point of confluence. Kanyakumari is a famous Hindu pilgrim location. A small island rock known as Vivekananda Rock Memorial is one of the main Kanyakumari attractions during Kanyakumari sightseeing. This is where the famous Indian Monk Swami Vivekananda meditated for 3 days in 1892 and took the resolution to dedicate his life to serve humanity.
Our friend recommended the Hotel Tri Sea in Kanyakumari due to its spectacular aerial view of the Vivekanda Rock Memorial from the room as well as the hotel's terrace. During our stay, we also witnessed beautiful sunsets from the hotel's terrace.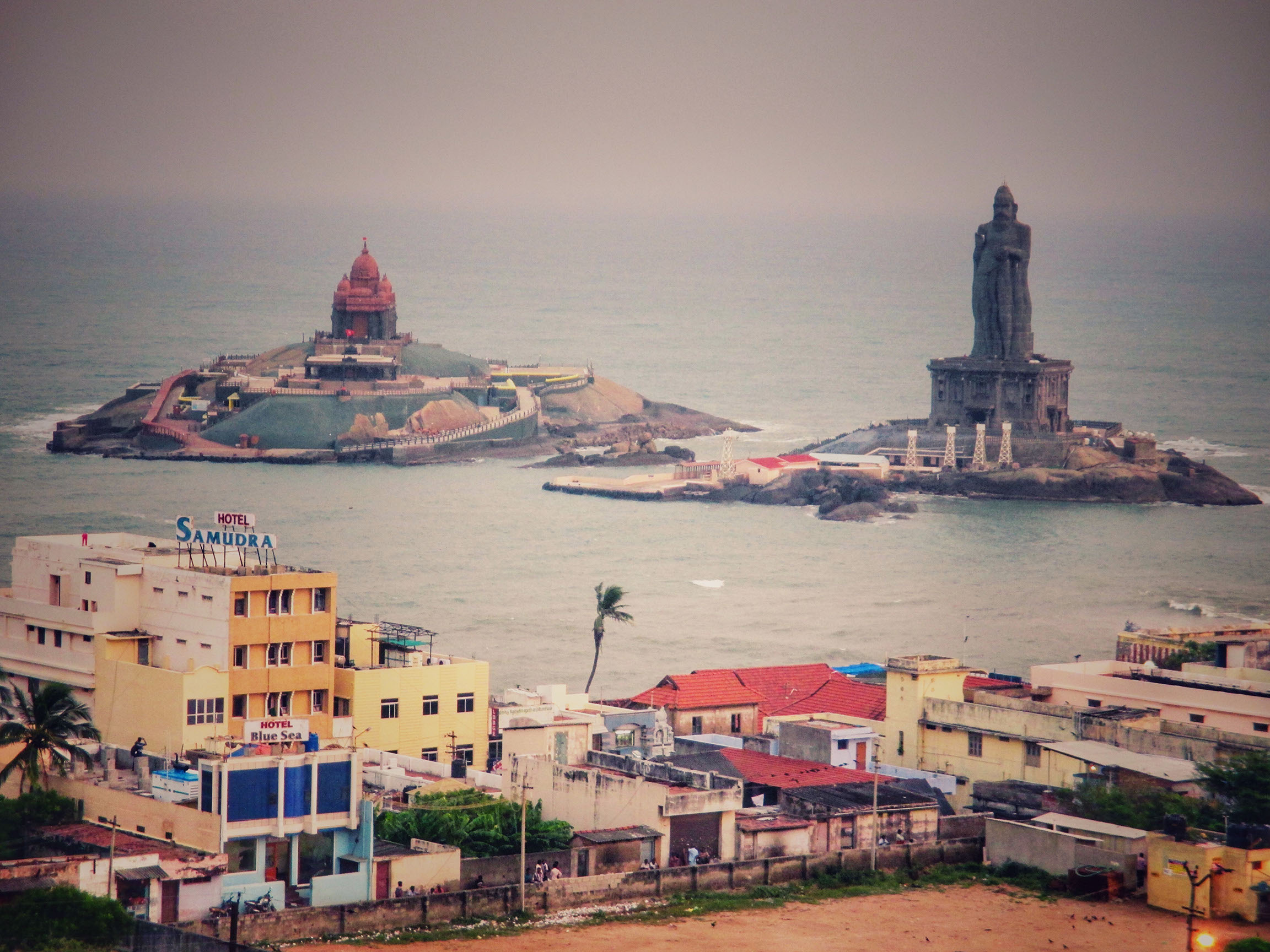 View from the top of Hotel Tri Sea: Vivekananda Rock Memorial and the statue of Thiruvalluvar
The ocean in Kanyakumari is unpredictable with unsafe tide during rainy season. A 5-min ferry takes you to Vivekananda Rock Memorial, which is terminated during unsuitable weather. Keep an eye on Vivekananda Rock Memorial timings and weather updates on their website prior to your visit. Being a peak season, we decided to visit the island first thing on arrival. After 2-hours in queue we reached the island following a rough boat ride owing to large waves.
On reaching, we walked around the serene island absorbing the beauty and calmness of the place. You can also go inside the meditation room to meditate. The neighboring rock houses 130 feet tall stone sculpture of famous poet and philosopher, Thiruvalluvar. We wanted to spend more time here, but the announcement that the sea was getting rough and unsafe forced us to leave. The entire rock memorial is well lit in the evening and a site not to be missed. Since the memorial closes early, you can station yourself on the Church Road to get an excellent view of the rock. Also, you can book guided and full-day tours in Kanyakumari and explore many more places in and around the city.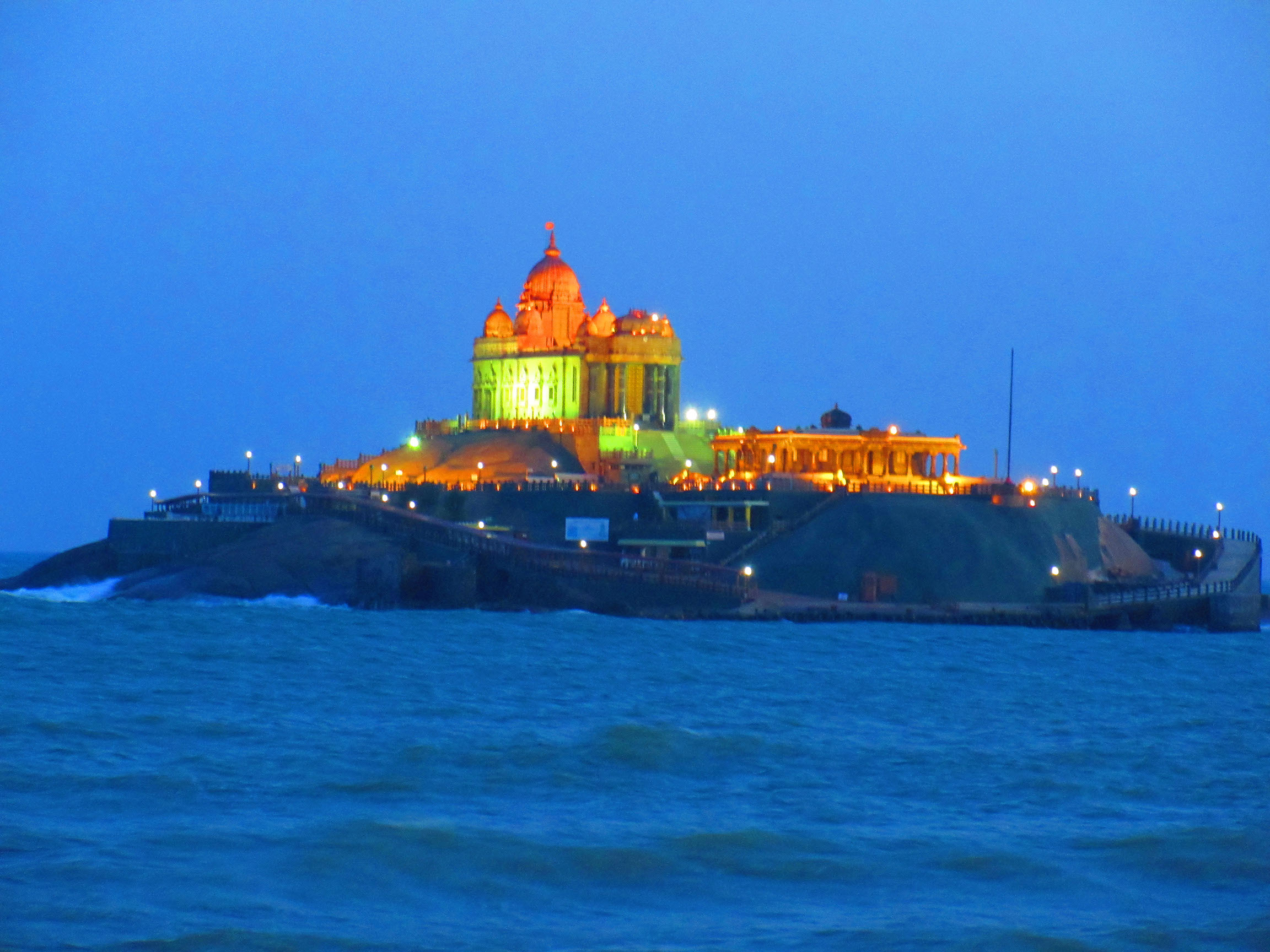 Vivekananda Rock Memorial lit up during the late evening
There are many things to do in Kanyakumari. Enjoy a stroll along the sea in the evening and visit beautiful churches in Kanyakumari. The temples of Shri Bhagavathy and Kanyakumari Devi as well as a dip in the place of confluence are some of the Kanyakumari attractions for religiously inclined visitors. Kanyakumari being the tip of Southern India is famous for breathtaking sunrise and sunset. Choose between the Church Road and a spot behind the temples for an ideal view. If you are an avid photographer, visit the Vivekananda Rock Memorial in the early morning and late afternoon, which I did.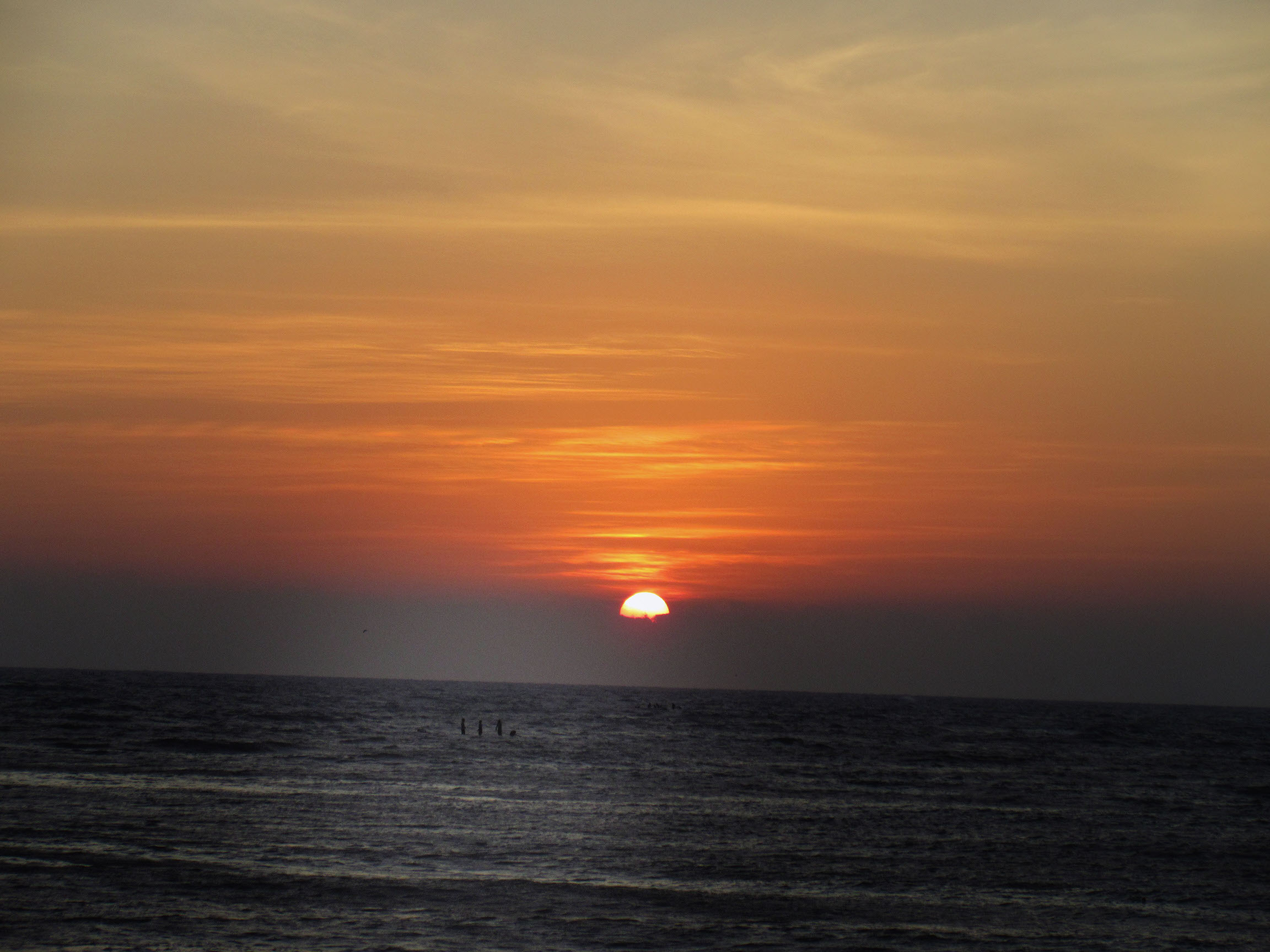 Sunrise at Kanyakumari as seen from Church Road
Gathering our belongings and beautiful experiences, we set out on a 700-kilometer long drive back to Bangalore. The first hour on the 4-lane highway offers a picturesque landscape of wind farms on either side of the road with a torrent of windmills as far as your eyes can see.
Frequently Asked Questions:
How many days are sufficient in Rameshwaram?
Ideally, you would need 2 full days to explore Pamban Island. However, places to visit in Rameshwaram in 1 day include Rameshwaram Temple, Dhanushkodi and Ariyaman Beach.
What is famous in Rameswaram?
Rameshwaram temple having one of the sequences of 12 Jyotirlinga is most famous place to visit in Rameshwaram.
Can we bath in Dhanushkodi?
Yes, you can. The ghost town of Dhanushkodi has a nice beach but not very well developed.
Can we visit Ram Setu?
Ram Setu is quite far from Dhanushkodi end point. It is a marine biosphere and you need permission from govt. to go there by boat.