Reminiscing about my early days, I decided to do a solo trip a little distant from my hometown, Bangalore. A destination in the plains of South India was ruled out as summer had already set in and it would be blistering. So hill station it is but there aren't any left that I have never been to. One thing I had clarity on was, this trip is going to be a train journey, something I haven't done in years. A return confirmed reservation with Indian Railway at short (rather very short) notice was unheard of, not long ago. Fortunately or unfortunately, the pandemic has changed the dynamics in the solo traveler's favor.
After scanning options with limited train routes currently plying, I zeroed in on Kodaikanal, a popular hill station in Tamil Nadu. A solo trip is also a budget trip, and that is how I wanted this trip to be. So no luxury (even though I could well afford it). The plan was to spend money where it really matters and cut-down where unnecessary, finding alternate and economical ways.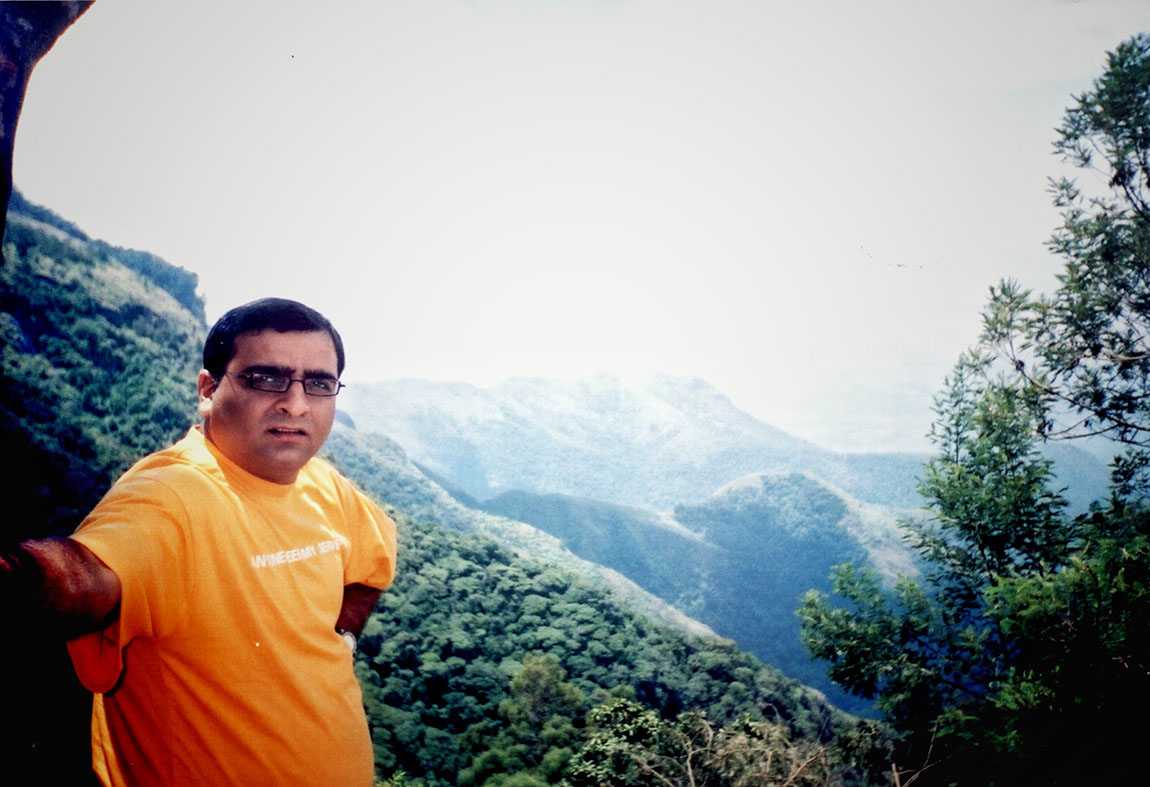 A picture taken with Analog Camera during my first visit to Kodaikanal 15 years ago, nostalgia. Wanted to revisit one day.
Wondering why Kodaikanal, almost 500 km away from Bangalore and not any place nearby? It was 15 years since my last trip to Kodaikanal and I had decided at that time itself that I would revisit, someday. This seemed like the perfect time! I love being thrown challenges and this trip was no different. There are many ways to reach Kodaikanal, but I chose to travel by train. I boarded the Mysore-Tuticorin Express (Train number 16236) from Bangalore. Nearest the train can take me to Kodaikanal is Kodai Road station which is 80 km away. The taxi was exorbitant at INR 2,000 one way, so it was ruled out. I discovered bike rental service at Kodai Road with many positive experiences from the travelers. The website looked professional and had all the information needed. It was a pocket-friendly option that gave me freedom to explore offbeat destinations in and around Kodaikanal on my own, something I always love to do. I hate touristy places. It was like "just what the doctor ordered."
Reaching Kodaikanal
Train tickets booked, the next was to book the bike. I selected the bike, entered my driver's license details, etc. and went to checkoutboom! I couldn't reach the payment page no matter how much I tried. Being a techie myself, I tried deviations, but a firm NO. I tried to call them, no response. This situation reminded me of Murphy's Law! Eventually, I discovered that they are out of business.
I found another renter (though unorganized) and contacted him to be informed that bike rental in Kodaikanal is history now. Taxi operators of Kodaikanal were bleeding for business due to pandemic and bike rental services are further denting their business. Hence the taxi mafia started harassing renters, severely damaging bikes as well. Welcome to the world of SOLO traveling!
The frequency of public transport (buses) is low and could easily eat up half my day. So what next? Where there is a will, there is a way. I reached out to a travel group I'm part of and a good Samaritan came to my rescue. He advised me to get down at Dindigul instead of Kodai Road as it being a bigger city had more frequency of buses. He also introduced me to his family friend Franklin in Kodaikanal who entertains tourists, to take me around in his car for a reasonable price.
Bus journey from Dindigul to Kodaikanal
Eventually, overcoming these hurdles, I reached Dindigul at 6 am. The bus stand had signboards only in Tamil, which I didn't understand. Moreover, the people there do not speak any other language. For a while, it seemed like I was in no man's land. Thankfully, the inquiry clerk understood my predicament and escorted me to the right bus and instructed the driver to assist me. I have been traveling to South India for 15 years and it is one of my favorite places to visit in Tamil Nadu, one of the reasons being the people are so nice and helpful. I reached Kodaikanal after a 3-hour bus journey through one of the toughest winding roads on the mountains stretching almost 50 km. This bus trip cost me INR 81 against INR 2,000 for the taxi ride.
Hostel accommodation in Kodaikanal
Franklin picked me up at the bus stop and my journey began. There are plenty of hotel accommodation options in Kodaikanal. The last time I visited with my family, we stayed at Villa Retreat, which has a breathtaking view from its garden. This is the same view as Coaker's walk. But this time, I decided to stay in a hostel; something I had not done in a while and it was an amazing experience. I met many solo and group travelers in Zostel Kodaikanal and we had a lot of stories to exchange. Franklin figured that I am not interested in covering touristy places and rather, wanted to explore villages and the interior beauty of the place. The moment we passed through a dense pine forest, my fading memory of Kodaikanal was rekindled. Last time, due to many tourists, stoppage on the road was not allowed. This time, that was not the case and I didn't want to miss the opportunity to spend some time getting good clicks.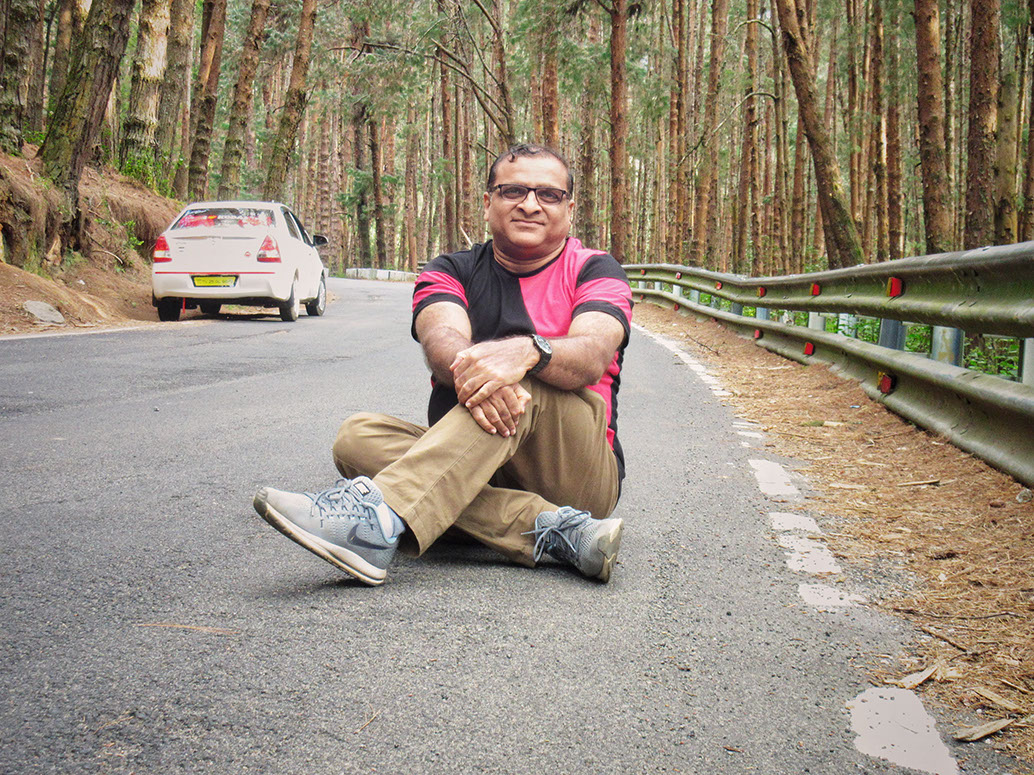 Calmness and serenity of the pine forest is mesmerizing and you don't want move away from here
Poombarai: Nature's Splendor
We passed through Rose Garden and Palani Hill view, which were flooded with tourists, so we just breezed through. Most tourists generally return from here but we continued further. After about 18 km from Kodaikanal my visual senses awakened as I faintly spotted a lush green valley. I requested my guide to stop but he had a better spot in mind. We stopped at Sai Baba Temple on the highway and I got a 180-degree view of a beautiful and lush green Poombarai valley.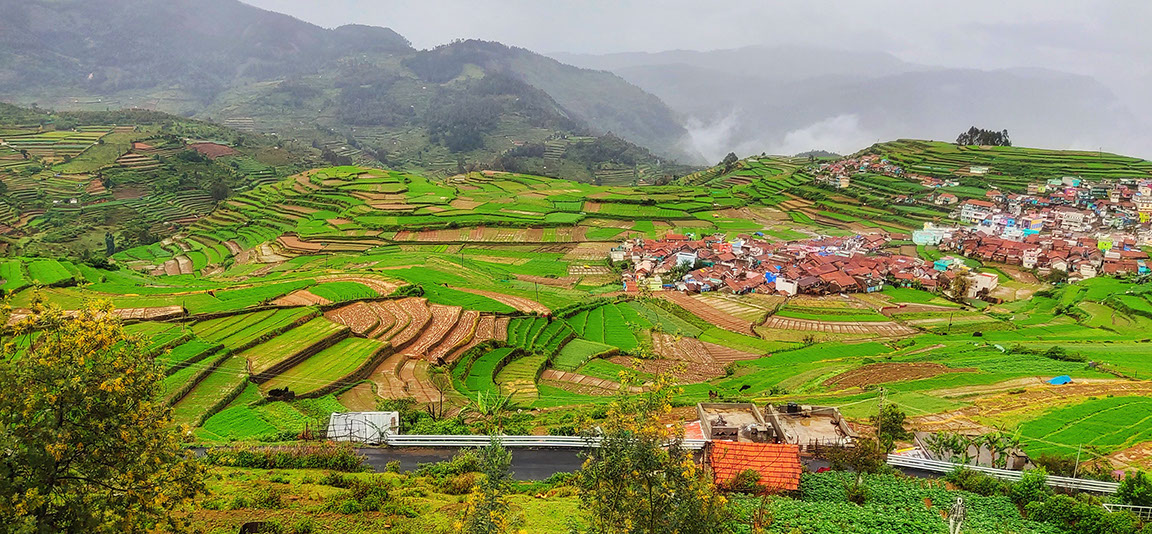 Panoramic view of lush green Poombarai village
The historical and picturesque village of Poombarai is located at an elevation of 6,300 feet. This is one of the best photoshoot places in Kodaikanal. The priest of the temple obliged for me to go down from the temple to capture the stunning view without trees obstructing my camera. After shooting a part of the video, Franklin took me to a vantage point to capture this stunning village.
We retreated a bit and stopped at "Hotel Bala". I thought it was a good pit stop for some piping hot tea in the chilly weather. Hotel Bala is situated at a point from where you start to descend for Poombarai village providing the perfect elevation to see the valley. We took a stroll to the rear side for the magical view, perfect for a video. Better still, I got to shoot from the terrace of the hotel since it belonged to his brother, Bala. I doubt I would have ever got such an elevation to capture this stunning video, if not for him and his 'contacts'.
Poombarai village is nestled between misty hills and surrounded by lush green landscape and step farming fields
Driving through the village of Poombarai offered a glimpse of the activities of local people. I was pleasantly surprised to know that the locals do farming without pesticides and the produce is 100% organic. Franklin bought lot of local produce for his home like garlic, peas, etc. I got to taste the peas and believe me, I had never tasted such sweet peas in my life. We paid a visit to the 3,000-year-old Kuzhanthai Velappar Temple dedicated to Lord Murugan.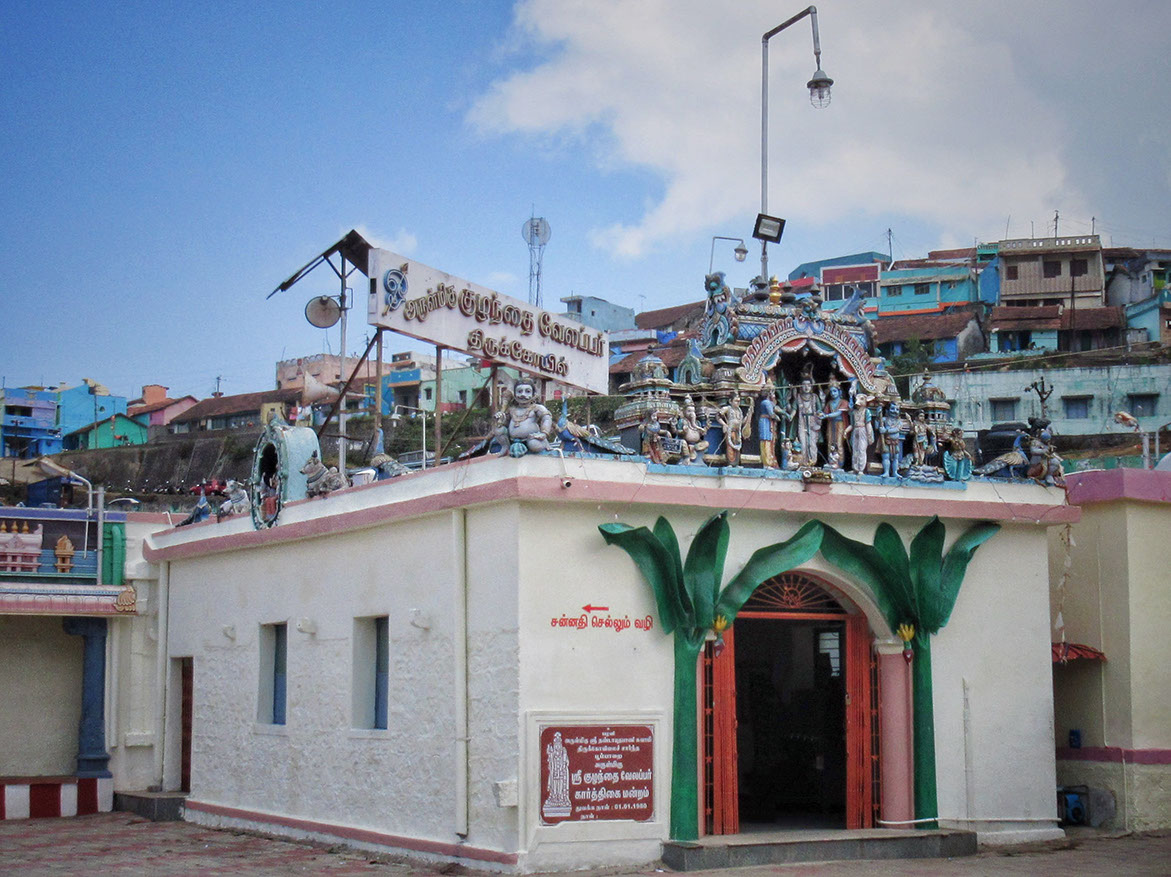 It is believed that a Tamil Siddhar by name Bhogar has built this temple between 550 and 300 BC
We were just half-way down and still had to drive further inland to another village, Mannavanur. Franklin, by now figured my style and realized that reaching destinations will take longer thanks to me stopping numerous times to capture the scenic view as they come by. I'm more of a slow traveler. He was a pleasant guy and was rather excited because it was the first time a GoPro was mounted on his car. My excitement was quite visible as we passed through the rolling hills and lush green cascade of paddy fields. A blend of clear blue sky and shining sun added glory to my pictures and videos, which I absolutely love. This place is also famous for adventure lovers who trek in search of hidden waterfalls.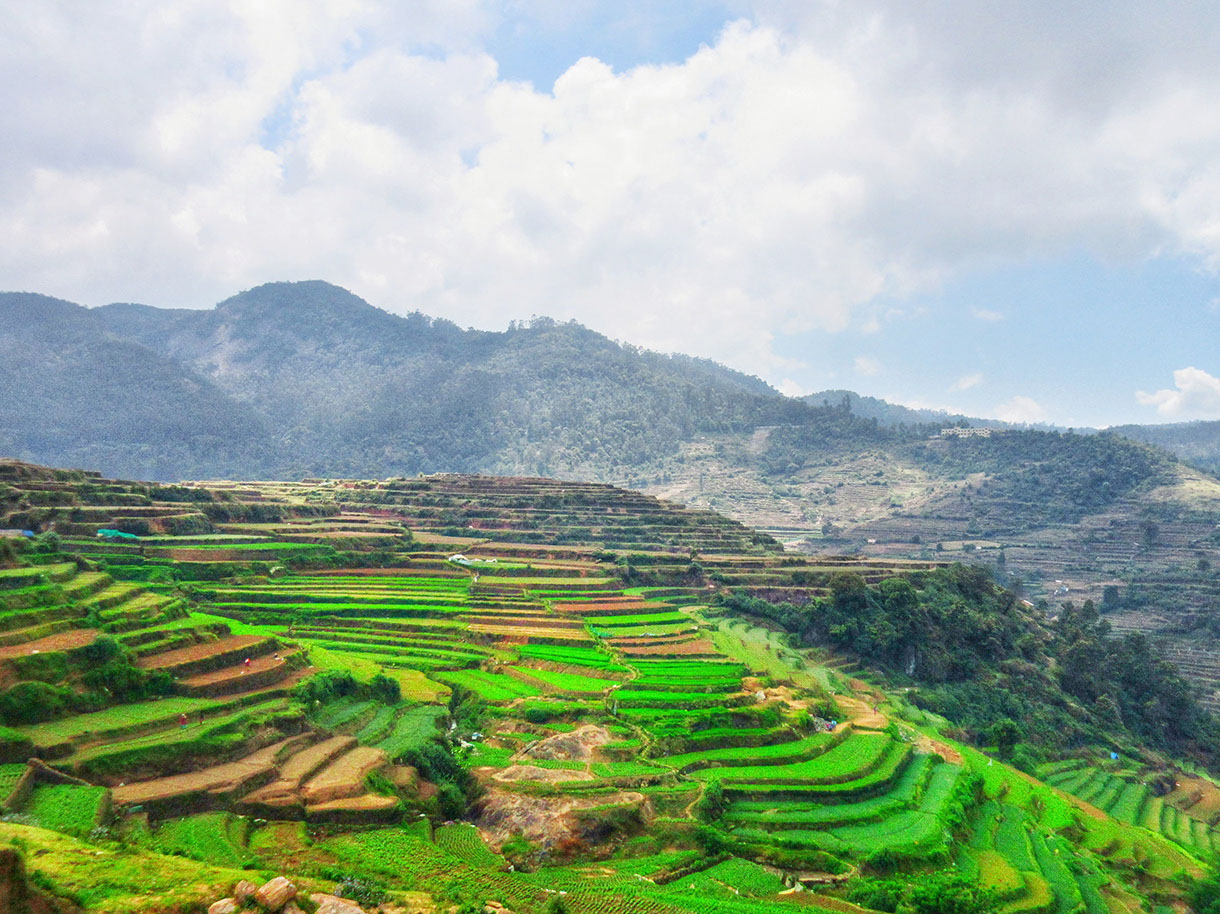 Overnight showers and a shining sun help the cascading fields glow green
Mannavanur is a small farming village at 6,000 feet with a population of a little over 1,000. The locals mostly do terrace farming. The lush green cascaded terraces where they grow garlic, cabbage, carrots, peas, etc., all 100% organic, is a spectacular sight. The drive that passes through dense pine forest is mesmerizing with some parts so dense that even sunlight cannot penetrate.
A stunning drive for the road trip and offbeat destination lovers
An hour after a stop-start journey through picturesque landscape and narrow roads through the pine forest, we reached the end point, Mannavanur Lake. The lake is home to many species of birds that are usually seen in abundance at dawn and before sunset. Sadly, I wasn't into bird photography then. There were no tourists apart from me so, I relaxed, rejuvenated and then indulged in some stunning photography. There is a sheep farm nearby and you might sometimes see a flock of sheep grazing around.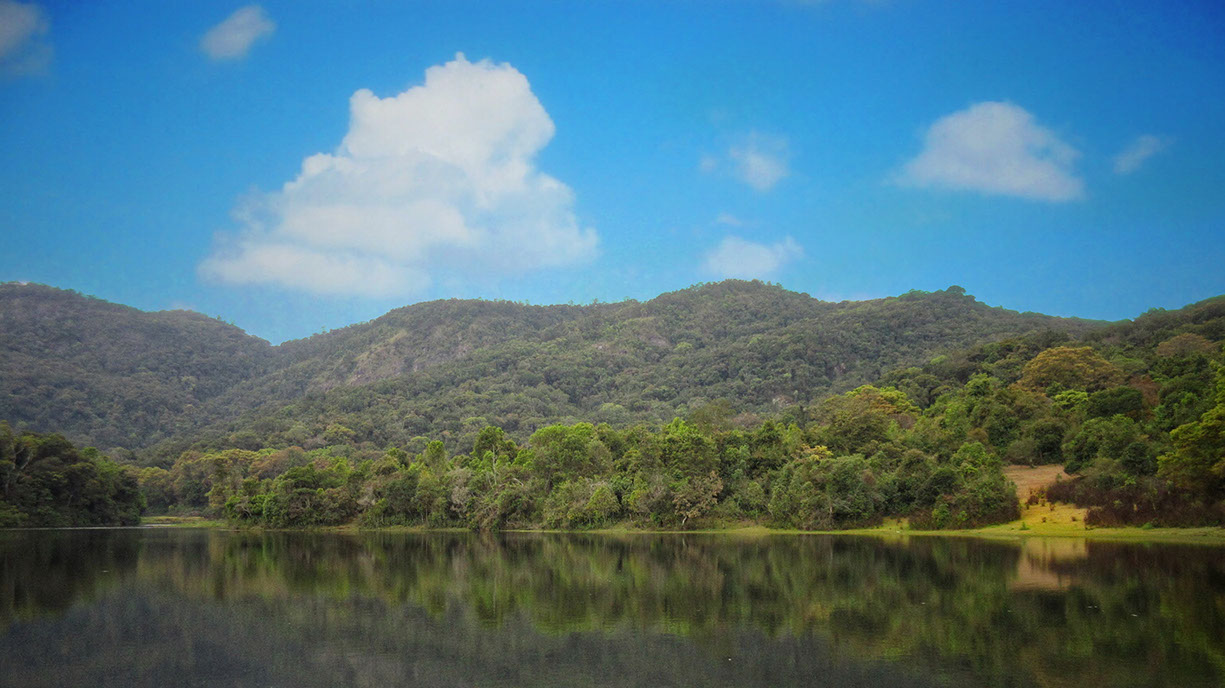 Mannavanur Lake is situated amid captivating meadows surrounded by majestic hills
It was an eventful day and I was exhausted. We had a 2-hour drive back to my hostel and my idea was to have an early dinner and crash. But a spectacular surprise was awaiting me, something you can't even dream of.
Bison encounter at Zostel Kodaikanal
Zostel Kodaikanal is a big bungalow, converted. It is located atop a hill and is constructed with slopes and two sides facing small forestland. My room was at the back towards the slope facing a big backyard full of grass and trees. It was 6 pm and I was on a phone call when I noticed an animal's head popping out from the bushes across the boundary wall. Initially, I thought it's a cow that was grazing and suddenly I realized it was a BISON. I was just a couple of feet away from an 8-feet-high compound wall that was separating us. I know Bison is a dangerous animal and I need to be careful, it kills more human beings each year than Elephants and Cat families combined.
I was the only person in the backyard at that time so there was no intimidation to the animal and hence, it is very unlikely to attack. I raced to my room to grab my camera and headed straight to the wall, confident that it was my protective shield. It was a male and he was cool and allowed me to take as many pictures as I wanted.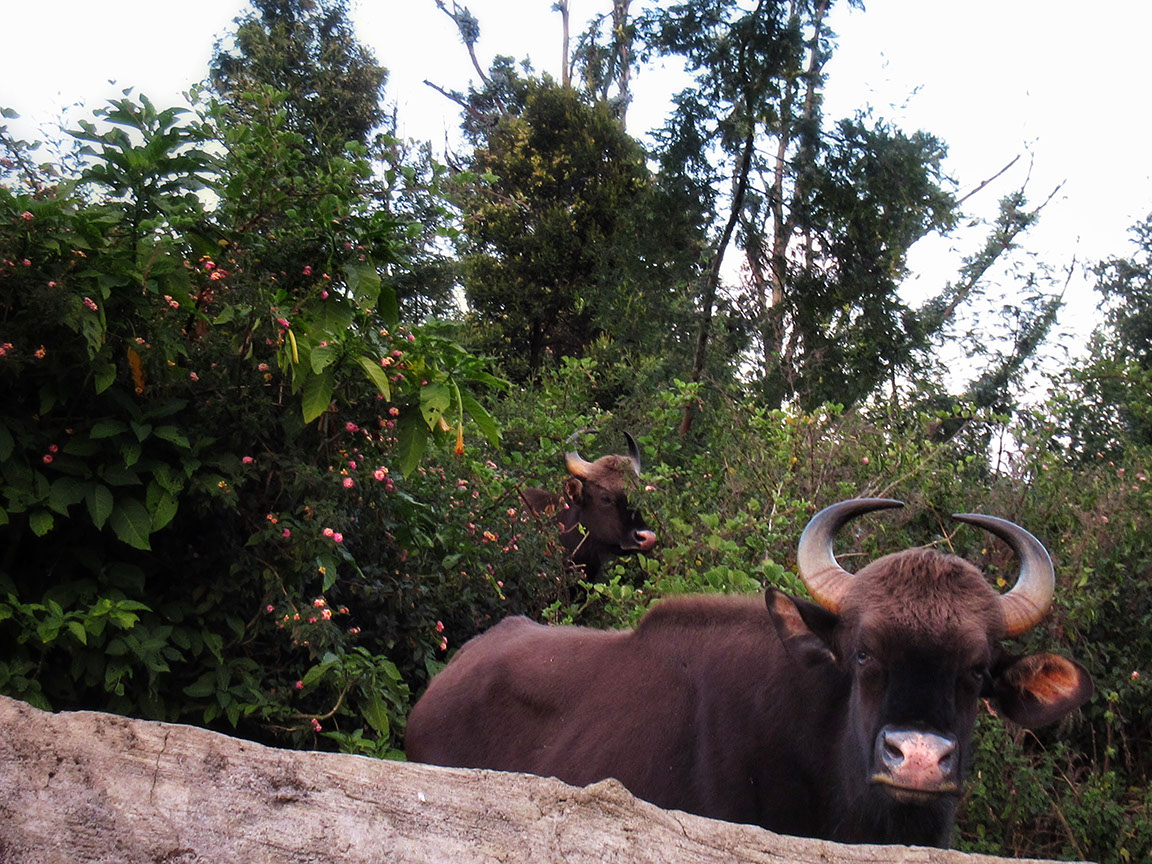 The bison posed for me at the compound wall to take his picture
Suddenly, my camera battery died and I went to my room to replace it. When I returned, the big guy was right near the compound wall of my hostel. What if he jumps over? Well, I was not a threat to him so he has no reason to attack. But I told myself to be cautious, anyway. My only escape in case he attacks is taking a flight of 15 stairs up at the front desk. I was also aware that Bison can run at 60 KMPH and I was no match to that!
Guess what? He did jump the wall in a fraction of a second while I was still taking a video. I panicked and rushed towards the stairs scratching my foot and the camera slipped out of my hand onto the grass. The Bison was cool; he jumped the wall to graze in the backyard. My presence did not bother him at all. I breathed a sigh of relief and quickly grabbed my camera (luckily, no damage) and started taking the videos again. I turned around and what do I see? One more head popping out from those bushes, the female. I knew exactly where she was heading and kept my distance. The dog at Zostel started barking continuously and rushed downstairs to own his territory, but he was no match for these giants.
We looked at each other, I wanted to say, dude, let them enjoy their meal and leave, DO NOT provoke. But it was his territory and his pride was at stake, so he tried intimidating them with zero luck. With the parents in our backyard, the baby also appeared from the bushes and came near the wall to jump and join them. The dog sensed the opportunity and rushed to the wall to prevent the cub from jumping over but he could delay the inevitable just for a minute. It was amazing to see how these huge creatures easily jumped over the high wall. I could capture the entire Bison family at a distance of 4-6 feet. We spent 20 minutes together, I gave them their space and they allowed me to shoot them as much as I wished before Zostel staff came rushing to shoo them away and the dog felt victorious.
An all-alone encounter with Bison family in Kodaikanal
The Bison story is over but I learnt two new things that day. Bison always roam around as a family so if you sight one then there are others in the vicinity. Bison have killed 12 tourists in Kodaikanal in the recent past. This is inevitable when we encroach land meant for wildlife.
Day 1 in Kodai was very eventful and I finally retired exhausted but satisfied and in anticipation of day 2. I slept like a baby.
A trek to the Dolphin's Nose
Kodaikanal, often referred to as "Princess of Hills" has evolved from being a honeymooner's paradise to a backpacker's paradise. There are a few things you don't want to miss in Kodaikanal and one of them is a trek to the Dolphin's Nose.
I had an early start the next day for a moderate trek of about 3 km one-way that starts downhill. The initial steps going down are steep and the roots of age-old trees have unearthed most of the concrete blocks, making the descent uneven and challenging. You may twist your ankle if you hurry down, so be careful. After those steps, you need to descend quite steeply through a slope to reach the perfect viewpoint to get a panoramic view of the Palani Hills.
The striking point here is a remote village Vellagavi, the only village in the district not connected by roads. The locals commute 16 kms one-way on foot through the forest to sell their crops and buy essentials from Kodaikanal. It offers an enthralling view of the entire Kodaikanal up on a hill. Then you pass through a small stretch of pine forest to reach Dolphin's Nose.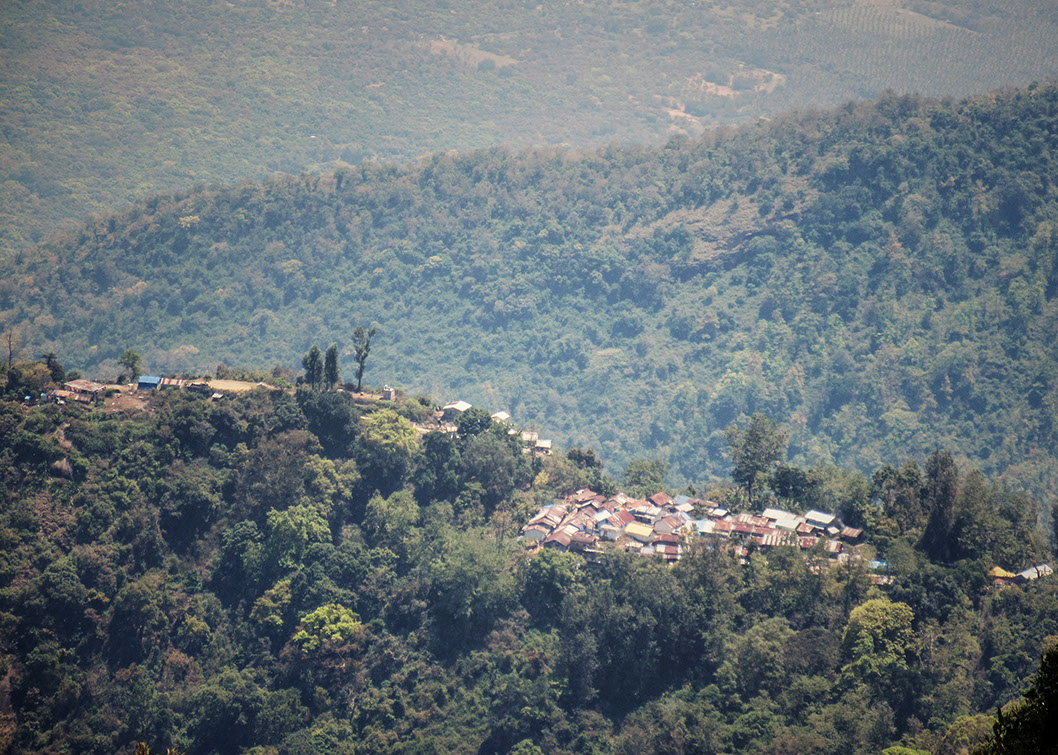 Bird's eye view of Vellagavi village from the trek to Dolphin's Nose
Surrounding hills and the valley are usually wrapped partially or completely in clouds through the year barring a few days of summer. I was lucky to have a clear sky to witness a scintillating view in the splendor of lush-green surroundings. Some days are just meant for you.
It is a prominent viewpoint in Kodaikanal, offering stunning panoramic views of the surrounding valleys and mesmerizing Western Ghats. The viewpoint is named after its unique shape, which resembles a dolphin's nose. It is also a popular spot to watch the sunrise or sunset.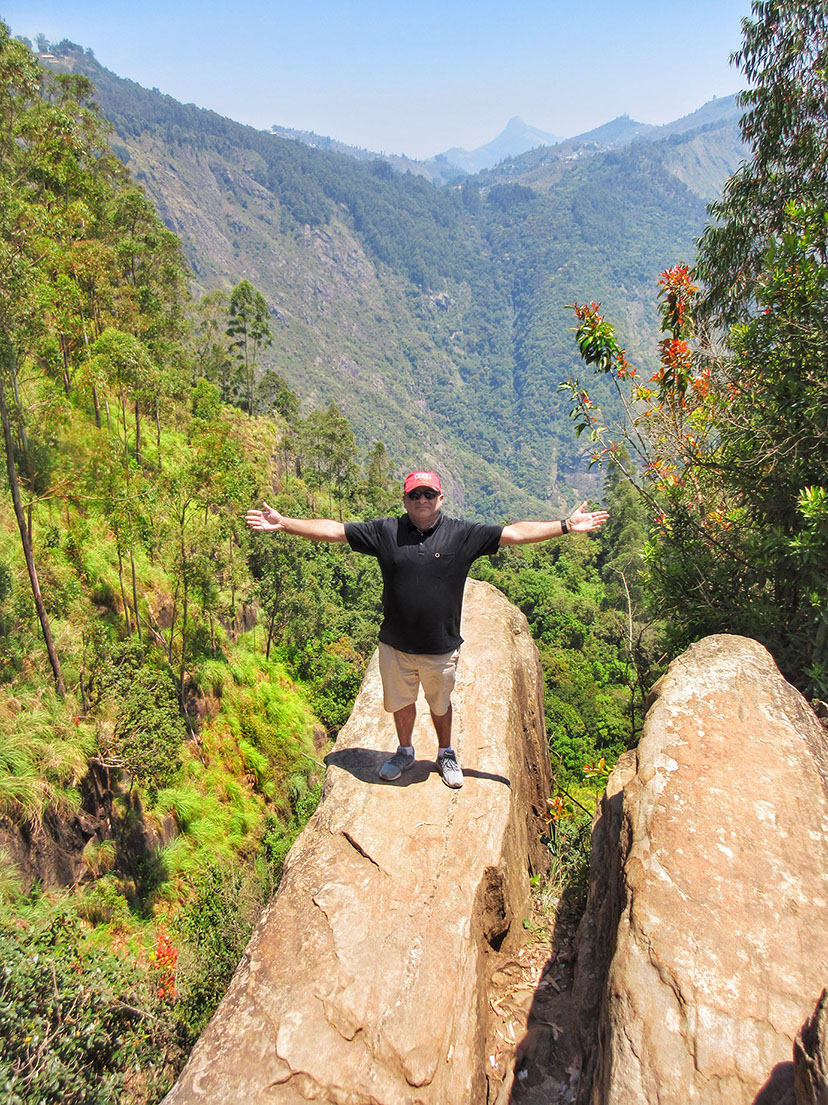 A protruding rock's cliff resembling the nose of a Dolphin is hanging at 6,600 feet altitude with a plunged valley beneath
You reach "Echo Point" if you trek further down from the Dolphin's Nose. The climb on the rock there is equally adrenalin pumping and from here you can hear back the oscillations and vibrations of your own roar. Ask someone to record a video, scream as hard as you can and catch the throwback of your voice as it roars through the valley. It's fun!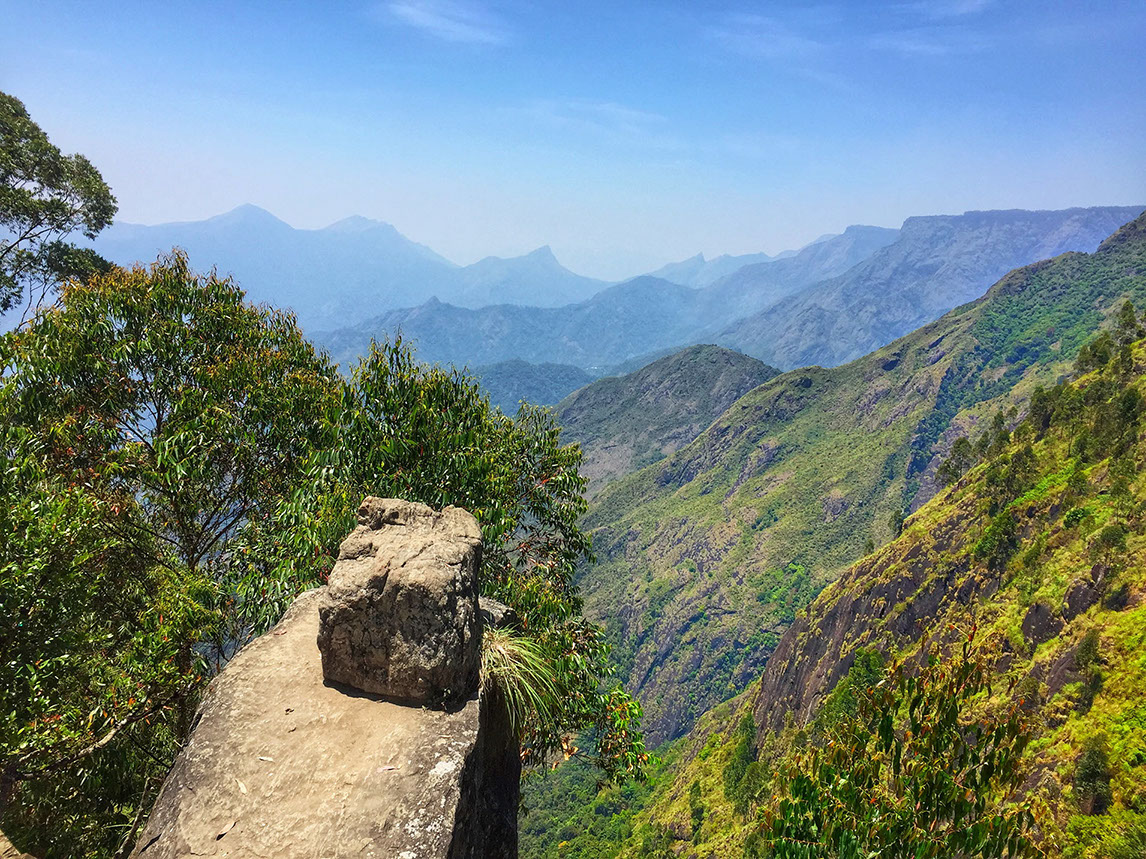 The cliff at Echo Point: not for the faint-hearted but worth a roar from here
Now the toughest part of trekkingclimbing up the steep gradient for a stretch. There are many makeshift stalls on the way selling food and fresh lime juice which are perfect for the trekkers. I always patronize these stalls even if I do not have a need as it helps run the local economy. One of these stalls offered a spectacular view of a pine forest. It was hard for me not to take a picture.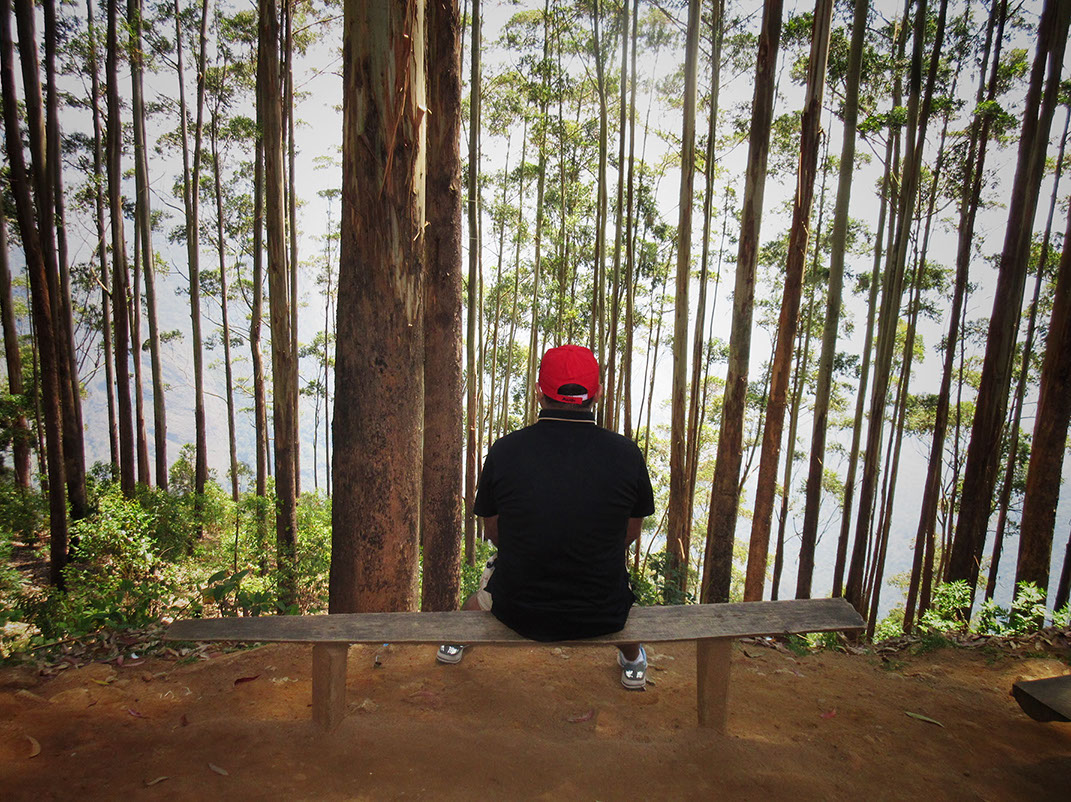 Immersed in the beauty; lost in the moment
There was an option to go through the circuit route to cover all the touristy spots and viewpoints. I was not keen on visiting them as I had already done that 15 years ago and secondly, the view of Palani Hills is almost the same everywhere, which I had enough of. The only places I was keen on visiting were the Pillar Rocks and Kodaikanal Lake as they have an aura of their own.
Pillar Rocks: A symbol of love and sacrifice
There are a few theories behind the Pillar Rocks but nobody really knows how these 400 feet tall twin rocks were formed. It is evident that they existed for several centuries and before the first man reached Kodaikanal, so it is not a man-made structure. Historians and locals associate Pillar Rocks with the Englishman David Gelli, who traveled to Kodaikanal for his honeymoon and the couple trekked all the way to the top. In a tragic accident his wife, Irene fell from the summit and died. He went there again to set up a striking white wooden cross atop the rocks in memory of his wife. The cross remained there for more than a hundred years before being destroyed by the natural forces. It is believed that David Gelli jumped from the rocks to be with his wife in heaven, as he was never seen after that. There are unexplored caves inside the rocks and few trekkers have tried to venture into them to never return. Since the caves are so deep and you have to navigate between two rocks, the authorities couldn't get the bodies of those who died.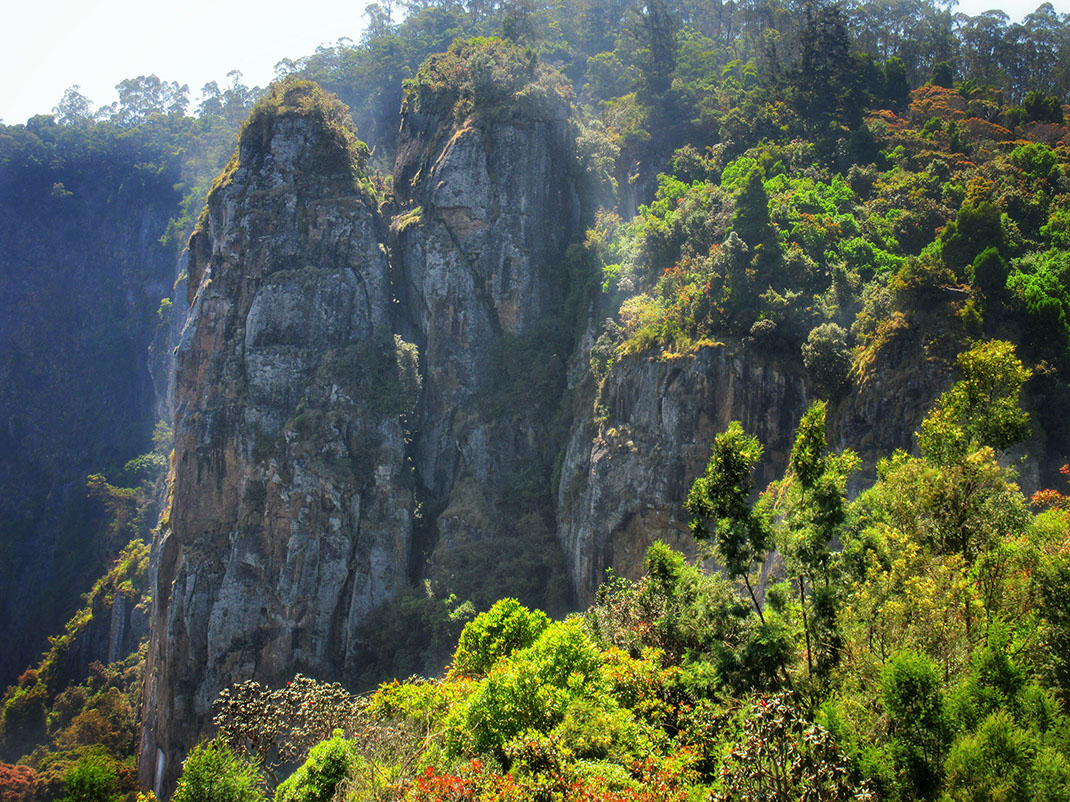 Pillar Rocks, a symbol of love and sacrifice. Visitors still search for the white-cross even today
Kodaikanal Lake
The Kodaikanal Lake is a man-made lake situated in the heart of the town. There is plenty of greenery around the lake, and it is a popular spot for boating and cycling. There are several points where bicycles can be rented so that you can ride around the lake. One of my favorite spots is Upper Lake Viewpoint, located on a hill overlooking the lake and offering stunning panoramic views. The lake is a wonderful place to take in the tranquil beauty of the surroundings, especially at the end of a long day of sightseeing.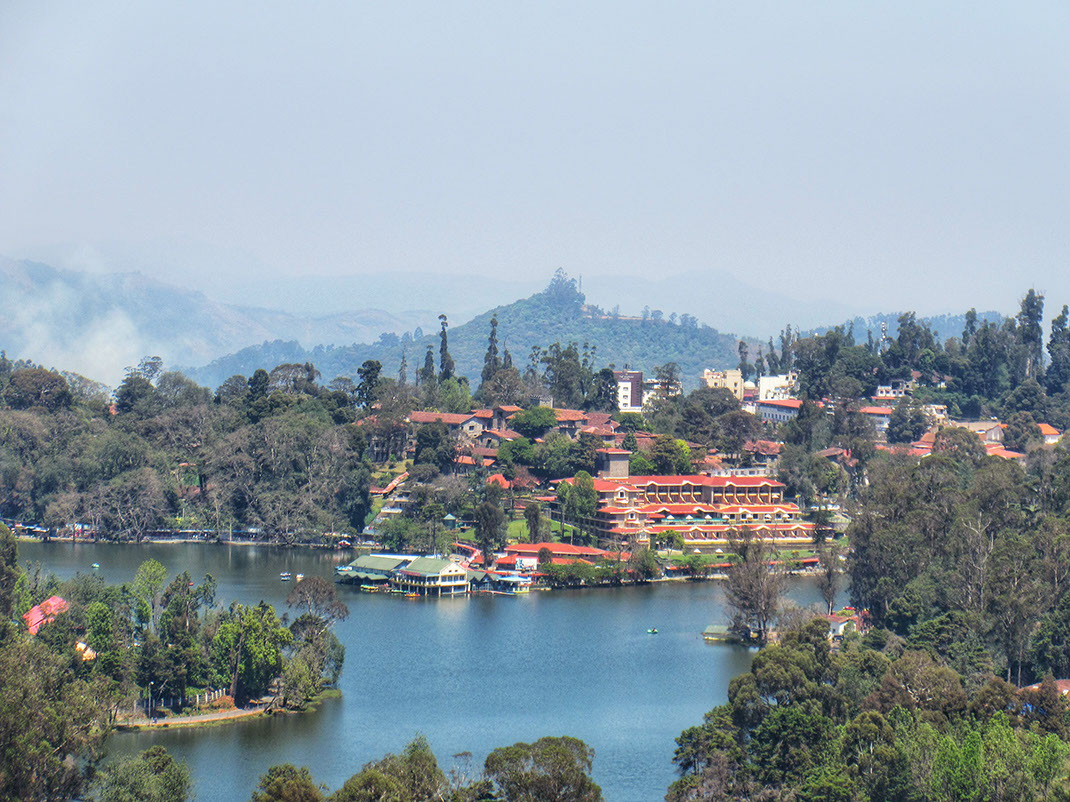 Breathtaking view of Kodaikanal Lake from the upper lake viewpoint
La Saleth Church: the heritage of Kodaikanal
My next and the last destination among the popular ones was La Salette Church, a perfect example of Tamil-French architectural excellence. The locals spell this as "La Saleth". A French missionary laid the cornerstone of this holy shrine in 1863 and it was dedicated on Easter Sunday of 1866. When I visited La Saleth 15 years ago, it was a simple structure atop a hillock, but now it is growing. This time, I could see an extended entrance with the Stations of the Cross lining each side of the steps, something that resembles the Holy Path of Velankanni. A large La Saleth Grotto on the right side of the Shrine is also a new addition.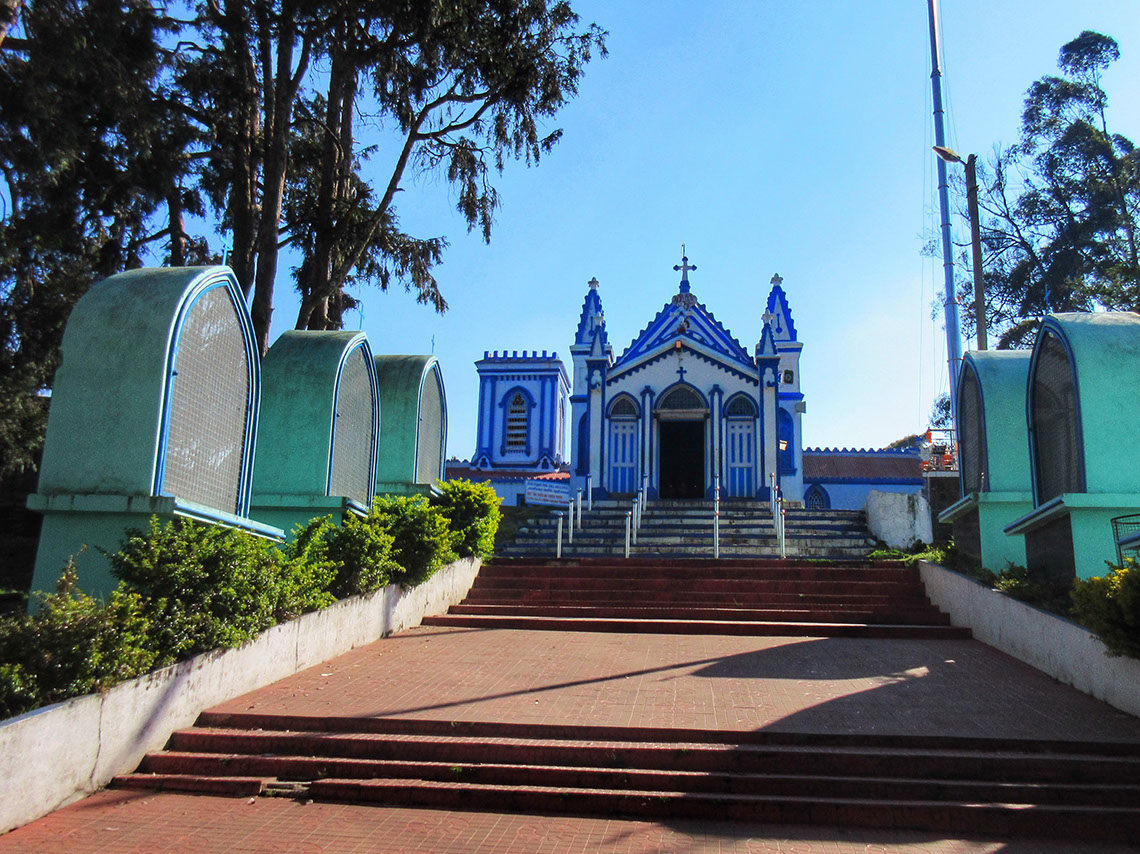 La Saleth Church and the holy path, the first church of Kodaikanal
The interior of the church is jaw-dropping with Our Lady of La Saleth above the altar and the statue of St. Joseph. There are two most striking aspects of the interior. One is the wooden ceiling checkered in blue and white, reminiscent of century-old European architecture. The second aspect is the decorative stained glass paintings on the windows, which were creations of a noble French woman Madame Coile. This church is situated within the city limit so it is the first stop for tourists who take the bus and shared taxi tours and hence, it is flooded with tourists in the morning. I visited during late afternoon and for about half an hour there was not a single tourist, giving me ample time to explore and indulge in this serene and calm place. The back of the church is peaceful and the sound of a gushing stream passing beneath it adds to the tranquility of the place.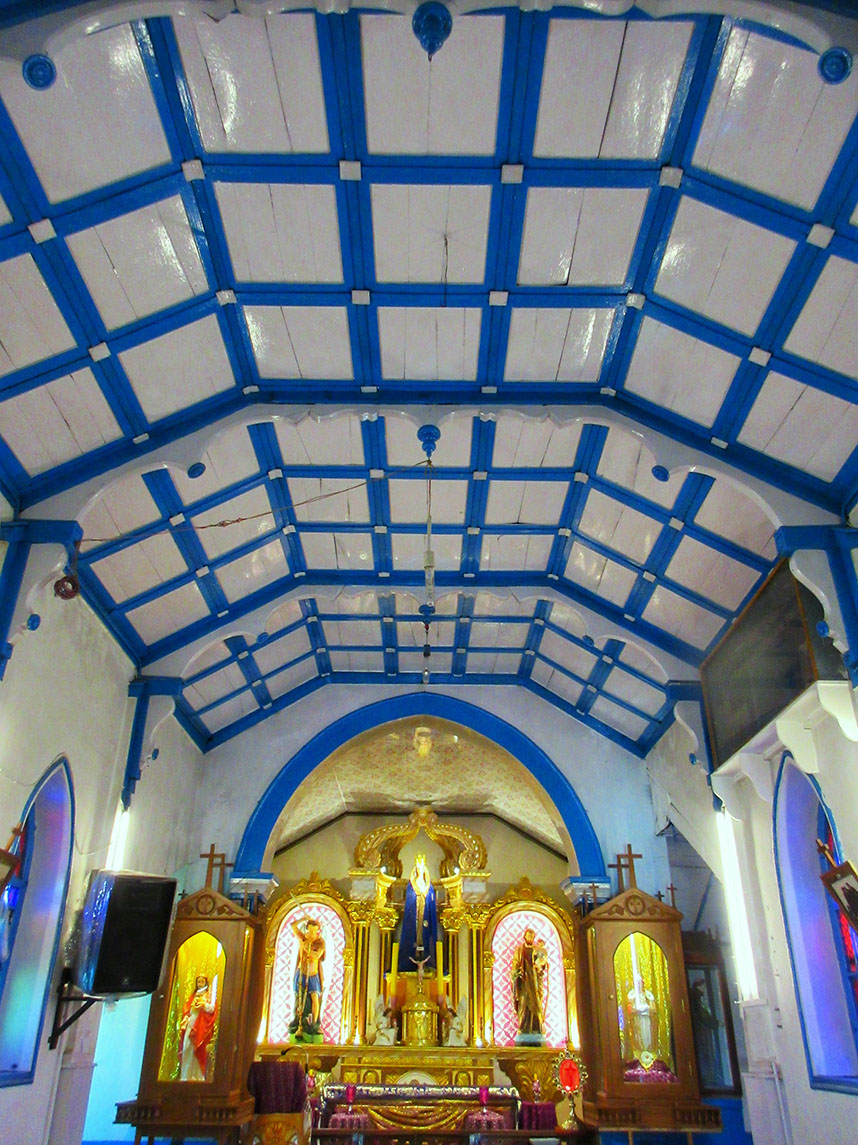 The holy Shrine of La Saleth at 7,000 feet elevation is a heritage site in Kodaikanal
Discovering unmapped Kodaikanal
One of the most exciting things to do in Tamil Nadu hill stations to go on a road trip. The real beauty of Kodaikanal lies in its remote villages and a drive through narrow, winding roads offers you some spectacular landscapes you can never see from the 'famous' viewpoints. Franklin figured out a similar drive and it was his first journey on this route as well. He too was excited as he was getting into something his other tourists have never asked before. Our first stop was a small farming village of Pallangi with a handful of houses. The village being located in a valley provides a breathtaking view of lush-green surroundings, rivers and waterfalls.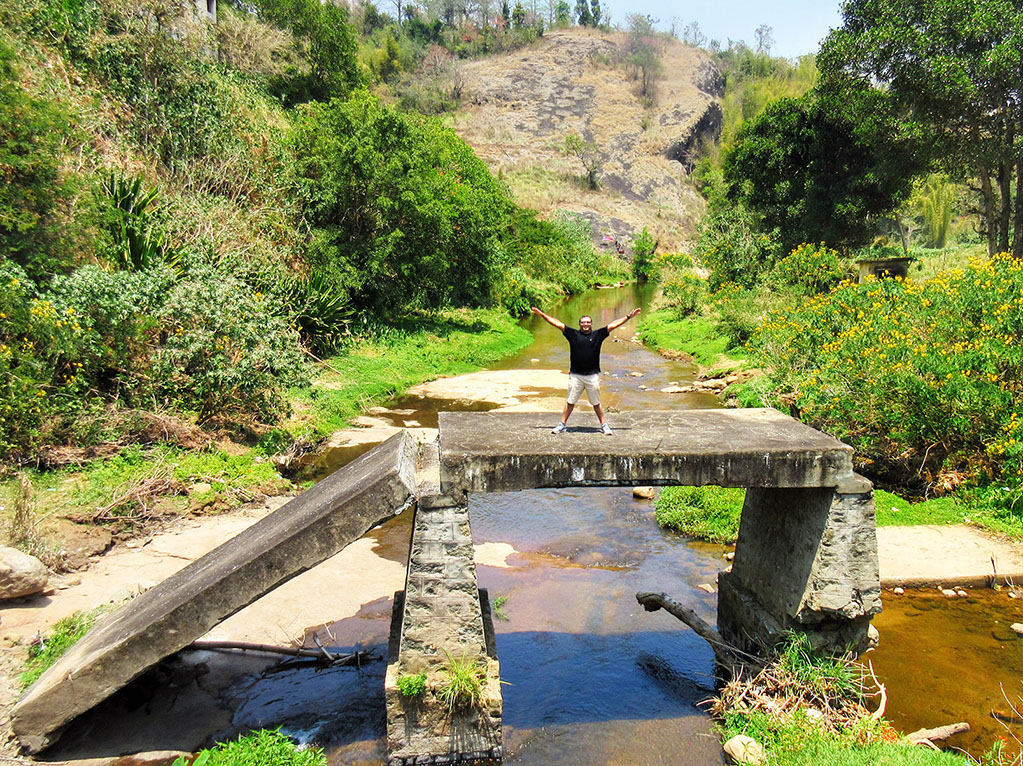 Solo traveling is more fun when you know that your guide is an adventurer as well a good photographer
If you look at the Google maps here, it tells you that your journey ends here, there are no more roads further and it's time for you to return. Well, I didn't buy into that as Franklin had other plans. He enquired with a local in Tamil and to my surprise, started driving further. Eventually, we reached the end point after almost 15 km of the most exhilarating drive to a village, Kombaikadu (not on Google maps). The residents were in awe, as they had never seen tourists visit them. It was a 60 km stop-and-go round trip of about 4 hours.
Should you need a local guide and vehicle in Kodiakanal, feel free to contact Franklin on his mobile +91 83001 72547. He's friendly and knowledgeable.
A beautiful drive unmapped by Google and interior of Kodaikanal's Western Ghats
Natural beauty of Kodaikanal
Housekeeping staff of Zostel informed me of a park that was within walking distance, tucked away from a temple on the hill. I usually don't visit a park but I got up early and thought of going for an uphill walk and accidentally I bumped into this same park, Chettiar Park. It is a well-maintained park and tourists barely know about this because they all flock at Bryant Park.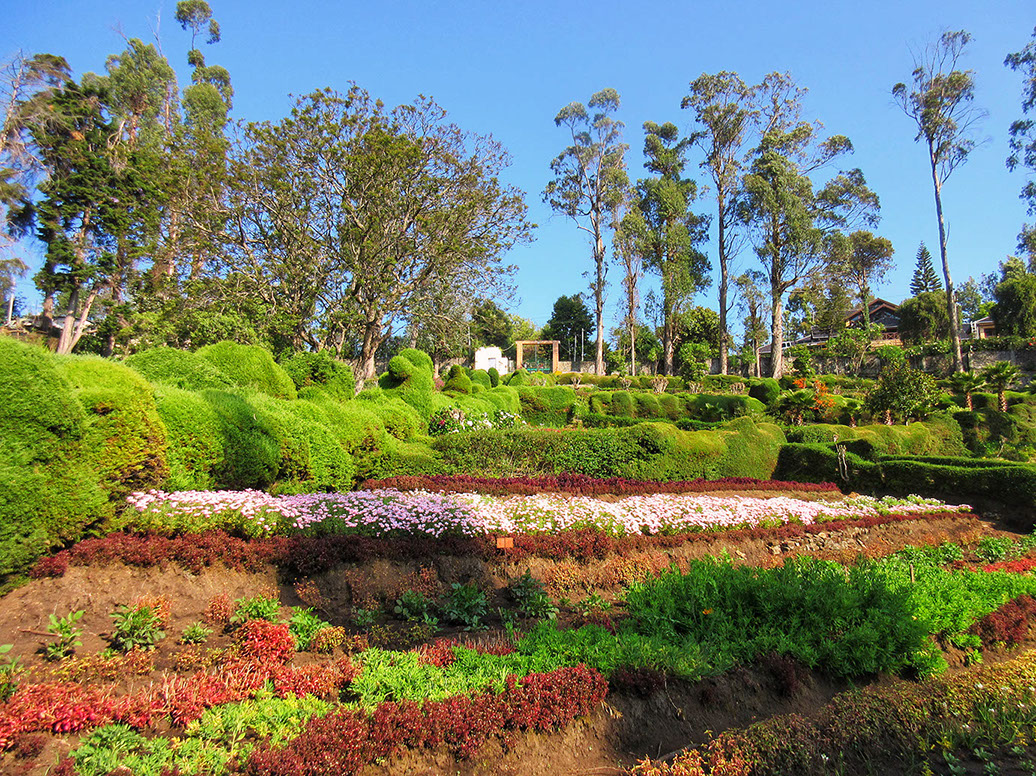 Pleasant morning at Chettiar Park in Kodaikanal
There is a huge variety of flora that one can explore spread over a large area. This is a paradise for botanists and nature photographers. I went there early in the morning before the park opened up for visitors but was lucky enough to get an entry and I was truly mesmerized by its beauty. They say Neela Kurinji flowers that bloom every 12 years grow at this park and hardly any tourists visit during this time barring few locals. I wonder why there is a mad rush to Munnar to see Kurinji flowers.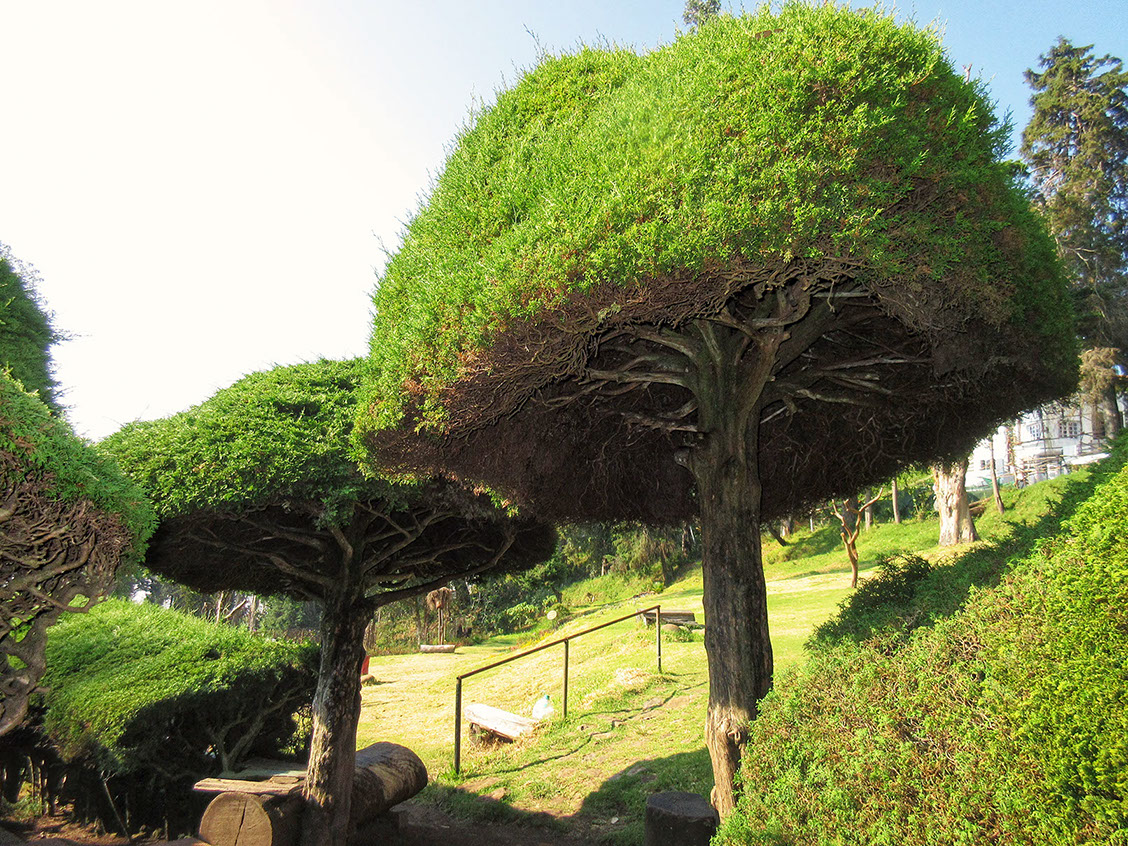 Well-manicured bonsai trees add to the visual beauty of the well-maintained Chettiar Park
About one kilometer down the park is Kurinji Andavar Temple that provides a spectacular view of Palani Hills. This temple is dedicated to Lord Murugan (the God of hills). Kurinji in Tamil means "hilly region" and Andavar means "God", hence the name. The hillock offers a panoramic view of Palani Hills to the left and Kodaikanal city view to the right. Thick clouds usually cover this valley and if you are lucky like I was, you will witness a stunning view. This is a place where you would enjoy spending time and soak in the serene environment.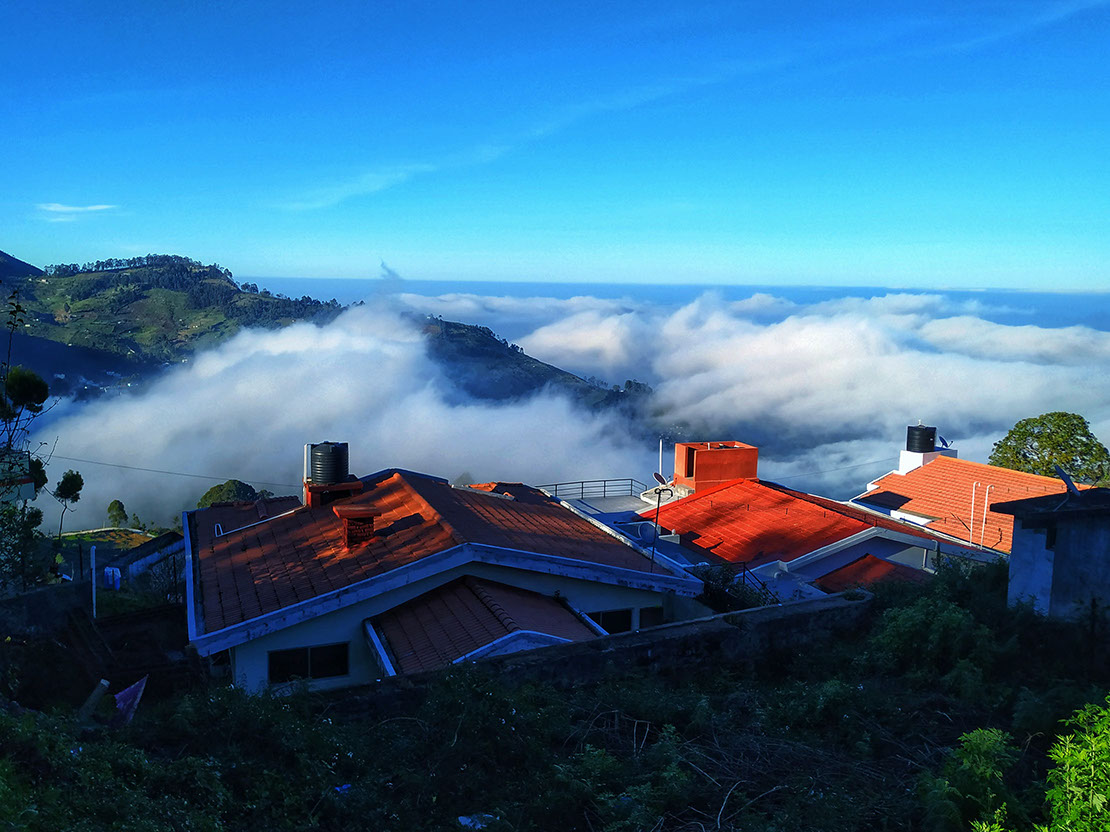 Blue sky and endless cloud covered hills as far as I could see from Kurinji Andavar Temple
Time's up...
I was completely immersed in nature and my phone rang. It was Franklin who wanted to let me know that the bus to Kodai Road Train Station will leave in about 30 minutes. I knew it's time to leave, as I had to cover a 3-hour road journey followed by a 10-hour train journey back to Bangalore. Feeling refreshed and energized, I bid adieu to this beautiful hill station and headed back lost in thought about my next adventure.
Frequently Asked Questions
:
How to reach Kodaikanal?
There are good air, rail, and road connections between Kodaikanal and other cities in South India. Madurai International Airport is about 120 km away from the city. Kodai Road Railway Station is around 80 km away. You can also reach Kodaikanal by road, with regular bus services from nearby towns and cities.
What are the best things to do in Kodaikanal?
Kodaikanal offers visitors a wide range of activities and experiences. There are many things to do in Kodaikanal, such as boating on the Lake, visiting the Coaker's Walk, hiking to Dolphin's Nose and Pillar Rocks, and exploring Kurinji Andavar Temple. You can also explore local cuisine and shopping, as well as participate in adventure activities such as trekking, camping, and rock climbing. Check out this comprehensive trip guide to Kodaikanal.
What are the best places to eat in Kodaikanal?
From local street food to continental cuisine, Kodaikanal offers a variety of dining options. The Royal Tibet Restaurant, Cloud Street, Muncheez and Pot Luck are some of the best places to eat in Kodaikanal. Domino's, Subway, and Cafe Coffee Day are also popular fast food and coffee options. Several bakeries and sweet shops offer cakes, pastries and chocolates.
What is the geography of Kodaikanal?
The hill station of Kodaikanal is located in the Dindigul district of Tamil Nadu, India. The city is at an elevation of 2,133 meters in the Palani Hills of the Western Ghats. A dense forest surrounds the area, with several viewpoints offering panoramic views of the valleys and hills. Kodaikanal has rolling hills, winding roads, and a cool climate, making it a popular tourist destination.
What is the best way to get around Kodaikanal?
The best way to get around Kodaikanal is to walk, hire a local taxi, or rent a bicycle. Kodaikanal is a small town and most of the attractions are within walking distance.