As an ambivert, I treasure conversations with locals while traveling. Although a bit difficult, I believe it is one of the most rewarding aspects of travel.
Because India is a multi-cultural country, traveling to different states can make you feel like a stranger in your own country. Each state has its language, food and customs. As an Indian, I find it natural to converse with locals when I travel, which comes in handy when I go abroad.
On the contrary, whenever I travel abroad, I am often approached by locals who want to speak with me. Perhaps they recognize that I am Indian and are eager to learn about India. Perhaps because many countries have a large Indian expat community, they are accustomed to being friendly with Indians.
I found this to be a great way to learn about the culture and get a glimpse into the everyday life of the people who live there. But it can also be difficult to know what to say or where to start. Here are some conversation starters that will help make conversation with locals easier and more interesting: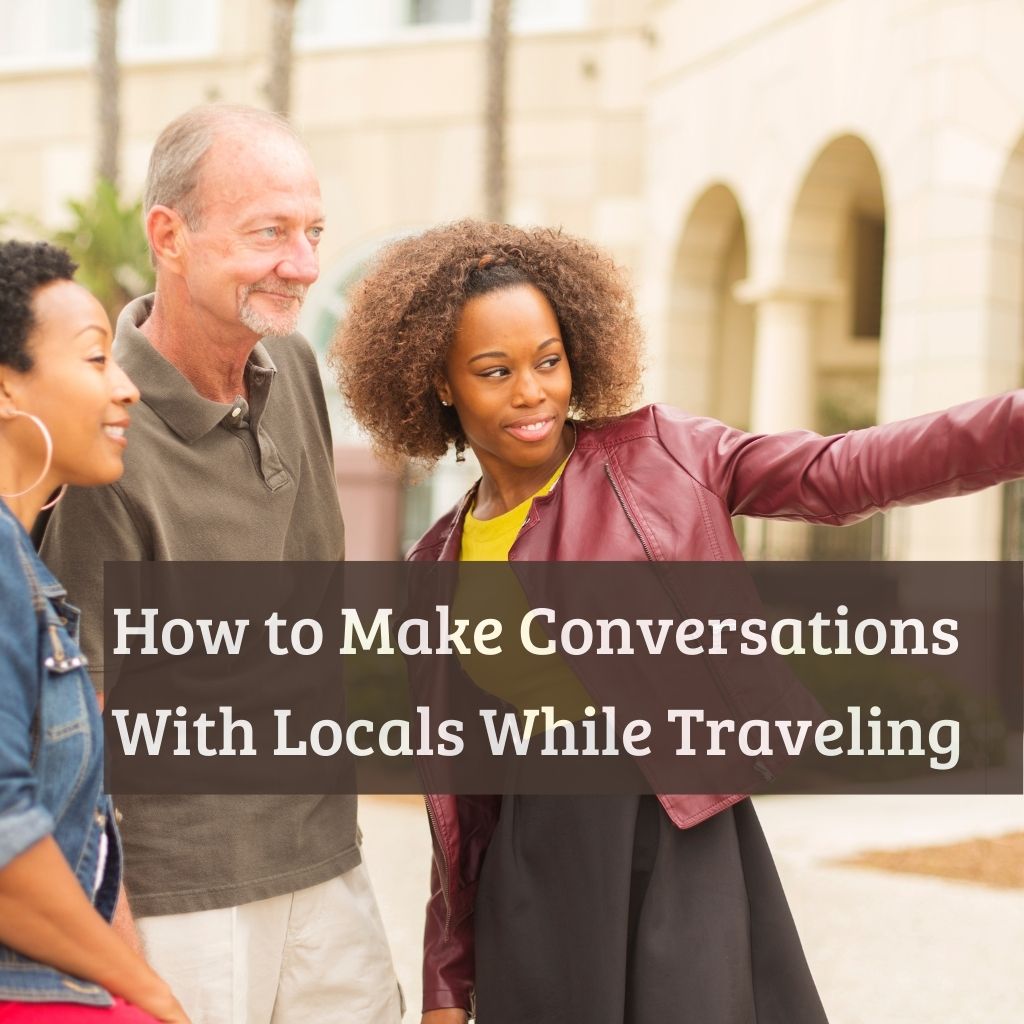 1. Learn common words and phrases of the language
This is a great way to show respect and interest in the local culture. Most importantly, it shows that you are trying to adapt and interested in mingling with the locals.
It will open up the conversation flow more smoothly. They will also try to speak with you in English as much as they can to bridge the gap. It will break the initial barrier.
It's not a bad idea to ask someone to teach you some basic words and phrases; they'll be grateful. Despite his fluency in English, I asked my local guide in Eritrea to teach me the basics of Tigrinya. He was surprised when he noticed I was genuinely interested in learning more about his country. It bolstered me in developing a friendship with him because we would be spending many days together.
2. Talk about the food
It is said that food unites people.
Food is always a great conversation starter. It's something that everyone can relate to and is often a source of pride for locals. You can ask them about their favorite dishes, what they like to eat and where the best places to eat are.
By conversing with locals, I discovered many non-touristy places for authentic local food. The experience of eating with locals is completely different.
My Airbnb host in Vietnam took my family and me to a night market packed with street food vendors. We sat on the sidewalk and ate delicious local desserts while watching local artists perform the mask dance. As a tourist, I would be unable to find such a place and have this experience.
3. Enquire about their work
This is a great conversation starter, as most people like to talk about their work. It shows that you are interested in their lives and want to know more about them.
You can ask them about their work, how they like it and what their plans are for the future. In addition, it's a great opportunity to learn about their culture and what their daily lives are like.
I once inquired about the working hours of a taxi driver in Manhattan (New York). He mentioned that he does not have set hours. His son was in college and had to earn a set amount of money every day to support his education. He heads home only after reaching his goal. At times, it may take just four hours, at other times, 14 hours. I learned a valuable life lesson.
4. Discuss current affairs but avoid sensitive topics
It shows that you are well-informed and interested in what is happening in their country.
You can talk about the current situation in their country, what changes they would like to see and their opinions on global affairs.
However, avoid discussing sensitive topics such as politics and religion. These are often controversial topics that can lead to arguments and disturb the harmony of the conversation.
5. Share your experiences and stories
One of the best ways to get to know someone is to share your story. Whether it's a funny anecdote from your childhood or a tale of adventure from your latest trip, stories help initiate conversation and build rapport.
It also gives you a chance to learn about other people's lives and find common ground. It's a way to connect with others and create meaningful experiences, even in the simplest of interactions.
I remember sharing my experience of taking a cruise through the fjords in Norway with a person sitting next to me on a bus journey. He was amazed and said that it was on his bucket list too. We then talked about our experiences and exchanged a few travel stories.
It was a great conversation that left us both with fond memories.
6. Bring an element of surprise
You can introduce a sense of surprise by asking unusual questions or discussing topics that even locals do not know about their city.
This will help break the ice and make the conversation more interesting. It will also make you stand out from other tourists who are only interested in the superficial aspects of the city.
I had had a long layover in Hong Kong and decided to explore the city. I asked a fellow passenger on a local bus at Kowloon Island where I could get off to walk to Portland Street. Since there aren't any tourist attractions there, he became inquisitive. I told him that I am a Philatelist and that street had a Stamp Mall. He was astonished because he had been a resident of the same neighborhood for 20 years and had heard it for the first time. He helped me navigate the narrow streets to the Stamps Mall, which could not have been easy for me to locate.
7. Don't be shy about giving genuine compliments
Who doesn't like a compliment? A genuine and simple compliment can go a long way in making someone feel good and appreciated.
It will also make you more likable and increase the chances of the conversation flowing smoothly.
I once stayed at MGM Resorts in Velankanni (The Lourdes of the East). "I liked your beach shirt," I told the restaurant staff serving me dinner and asked if there was a shop where I could buy it. The manager overheard our conversation, and we had a good time talking about various topics. Surprisingly, he brought the same shirt for me the next day. I was touched by his gesture.
8. Be a good listener
A conversation is a two-way street. It requires both parties to contribute equally.
You should never dominate the conversation. Instead, try to be a good listener and allow the other person to do most of the talking.
This will make them feel comfortable and appreciated. It will also give you a chance to learn more about them, their culture, and their city.
Also, maintain eye contact. It shows that you are interested in what they are saying.
9. You don't need to be friends with everyone
Just because you had a great conversation with someone, it doesn't mean that you are obliged to be friends with them.
You can enjoy their company for a moment and move on. There's no need to always exchange contact information or connect on social media unless you want to.
It's an impromptu moment in your travel journey that you can cherish and move on.
10. Be yourself and be kind to others
Let's face it, we can all be a little bit awkward when meeting new people. The key is to relax and be yourself. Don't try to be someone you're not.
People can see through that, and it will only make the conversation more uncomfortable. Just be kind and respectful, and the conversation will flow naturally.
A little bit of kindness goes a long way in case you are subjected to preconceived notions about the country you come from.
A moment of gratitude makes the difference
Feeling gratitude and not expressing it is like wrapping a gift and not giving it!
Being a tourist can be a lonely experience. It's easy to feel like an outsider in a new place, and even harder to connect with locals. Oftentimes, conversations with locals are surface-level at best.
However, it is still important to be grateful for these interactions. They can help you feel more confident about approaching locals and help you learn more about the culture of the destination.
Remember that even the briefest conversation with a local can be valuable.