Siem Reap is a city full of surprises. By day, it is a peaceful place, with temples and ruins of Angkor Wat to explore. But at night, the town comes alive, as locals and tourists alike flock to the night markets. Night markets are a must-see for anyone visiting Siem Reap. They offer a unique opportunity to experience Cambodian culture and buy some amazing souvenirs and local products.
Most of the markets are located in and around the downtown area, making them easy to find. And each market has its unique character. While some focus on offering handicrafts and jewelry, others offer local produce and live music performances. The best way to enjoy them is by walking around and exploring all the different stalls. An alternative is to take Siem Reap Night Markets Foodie Tour on the famous 'Road 60' with a local guide. Prepare yourself to bargain hard, as prices are significantly higher for tourists.
1. Angkor Night Market
Angkor Night Market is the oldest and most popular night market in Siem Reap, Cambodia. It was founded in 2007 to nurture local artists who produce Khmer handicrafts. It is now a major tourist attraction. The market is located in the heart of Siem Reap, just a few minutes walk from the famous Pub Street.
More than 200 bamboo huts serve as stalls, selling everything from paintings and puppets to stone carvings and silver jewelry. It's a shopper's paradise, and you're sure to find something to suit your taste and budget. But what makes the Angkor Night Market special is the shop "Angkor Recycled" which sells bags, wallets and purses made from recycled materials. Not only are they stylish and eco-friendly, but they also help to support local artisans.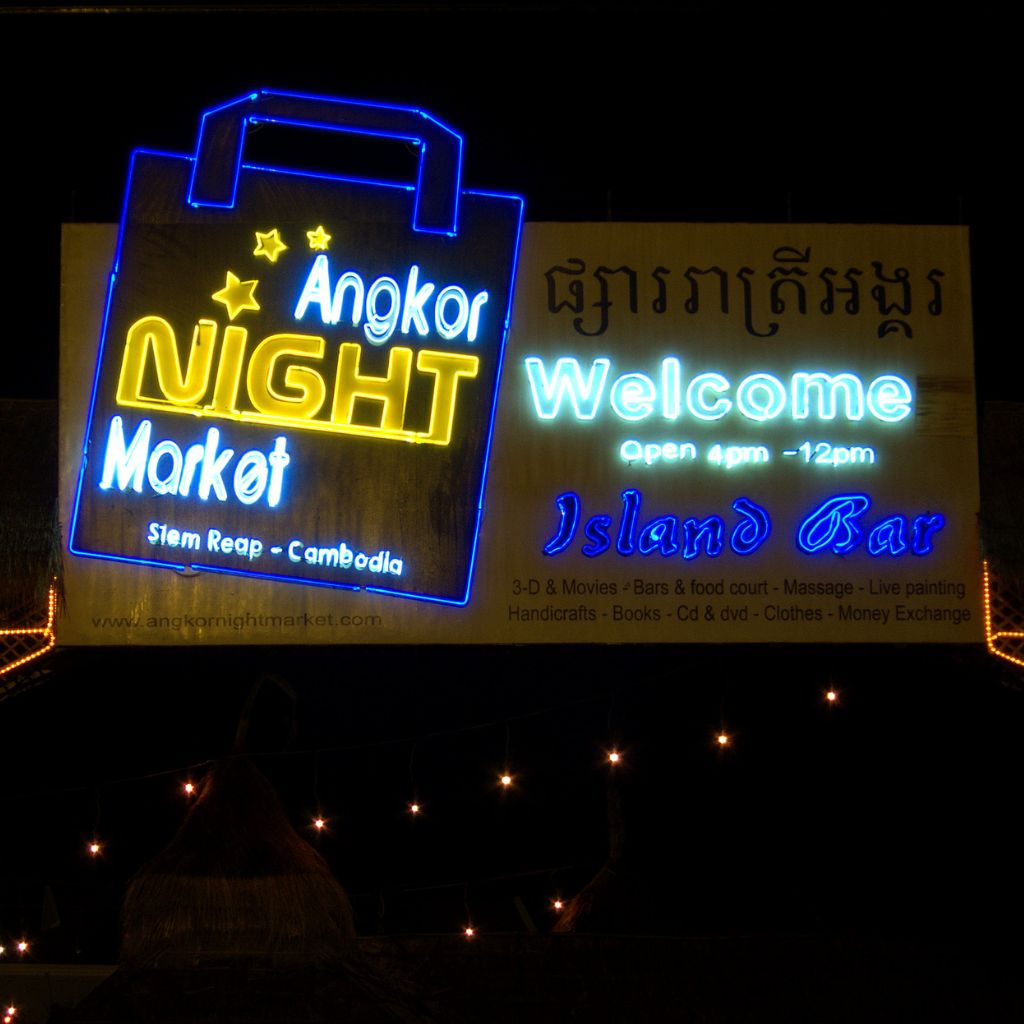 The market is also full of stalls selling textiles, handicrafts, paintings, and artwork, all of which are made by local artisans. In addition, the market is also a good place to find silver products. Cambodian households use silver products for religious activities, which can range from little statues to rings to handmade chains and earrings.
Other than shopping, Angkor Night Market is the perfect place for traditional Khmer massage. They offer both foot and body massages, and the therapists use local herbs and white wine compress to help soothe fatigued muscles. The massage costs about $20 for an hour.
Are you feeling hungry? No need to worry, as they have a food court that offers a wide variety of local and western delicacies, including milkshakes, smoothies, and juices. And if you're looking for something to wash it all down, there's a wide selection of beer, wine, and cocktails. Plus, it's not just a great place to eat – the Angkor Night Market is also a bustling market with neon lights and music.
Open: Daily from 4 pm till midnight
Location: Sivutha Boulevard, Siem Reap, Cambodia
2. Made in Cambodia Market
The Made in Cambodia Market is Siem Reap's newest night market. It is a vibrant outdoor market where you can find unique household items, clothes, cosmetics, jewelry, paintings, and toys. The products are a bit more expensive than in other markets in the area, but they are unique and of exceptional quality. I highly recommend trying Sombai infused rice wine. "Som bai" in Khmer means "some rice, please". It is infused with cinnamon, tamarind, banana, coffee, and red chilies.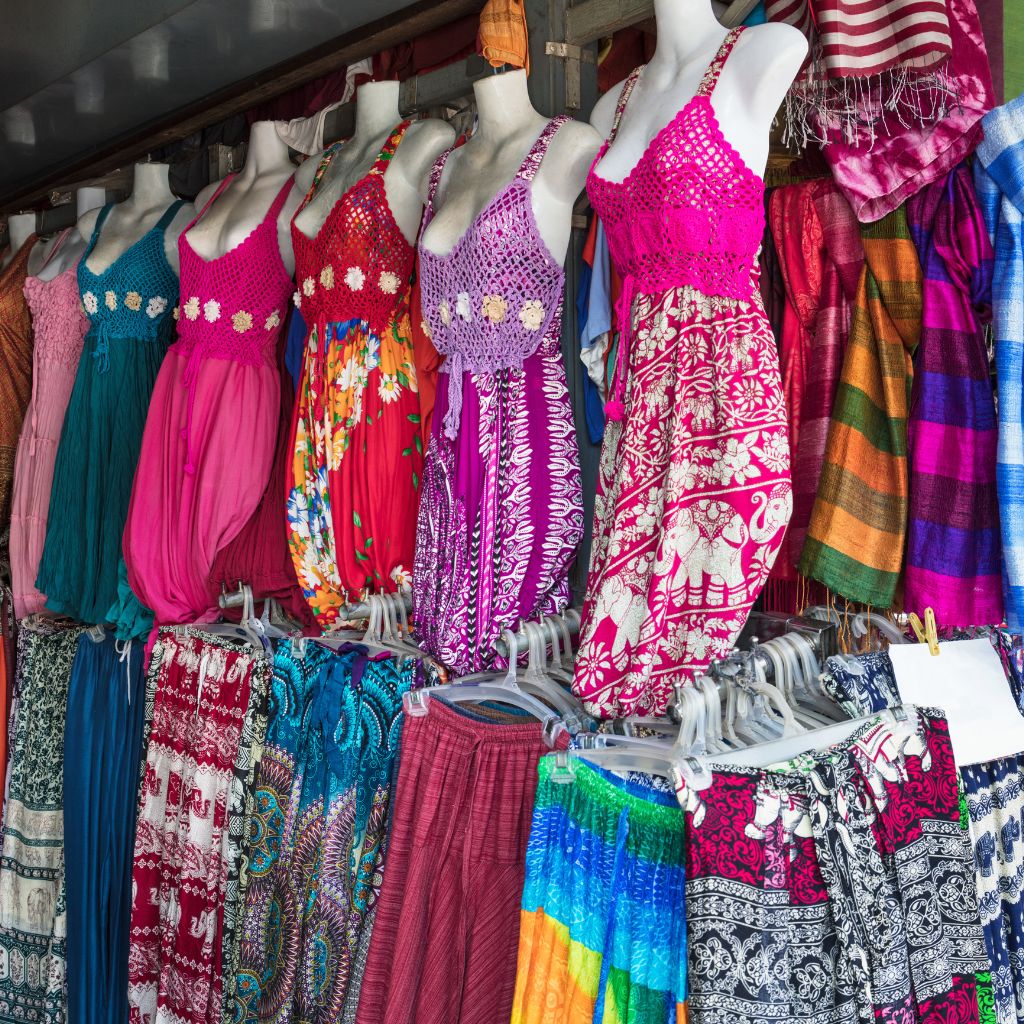 There is also a food court with a variety of traditional Khmer dishes. In addition, the market regularly hosts live music performances and other events.
Open: Tuesday and Weekends from 12 pm till 10 pm
Location: Achar Sva St, Siem Reap, Cambodia (opposite Shinta Mani Resort)
3. Noon Night Market
Noon Night Market is Siem Reap's first "hipster" night market. It is located near Angkor Night Market. The market is smaller than the others, but it is full of charm. The walkway is embellished with silk lamps and fans, providing a respite from the heat.
It has a wide range of souvenirs and handicrafts, including traditional Khmer textiles and silver jewelry. Bargaining is expected, so be sure to haggle for the best price. And with 10% of profits earmarked for charity, you can indulge guilt-free!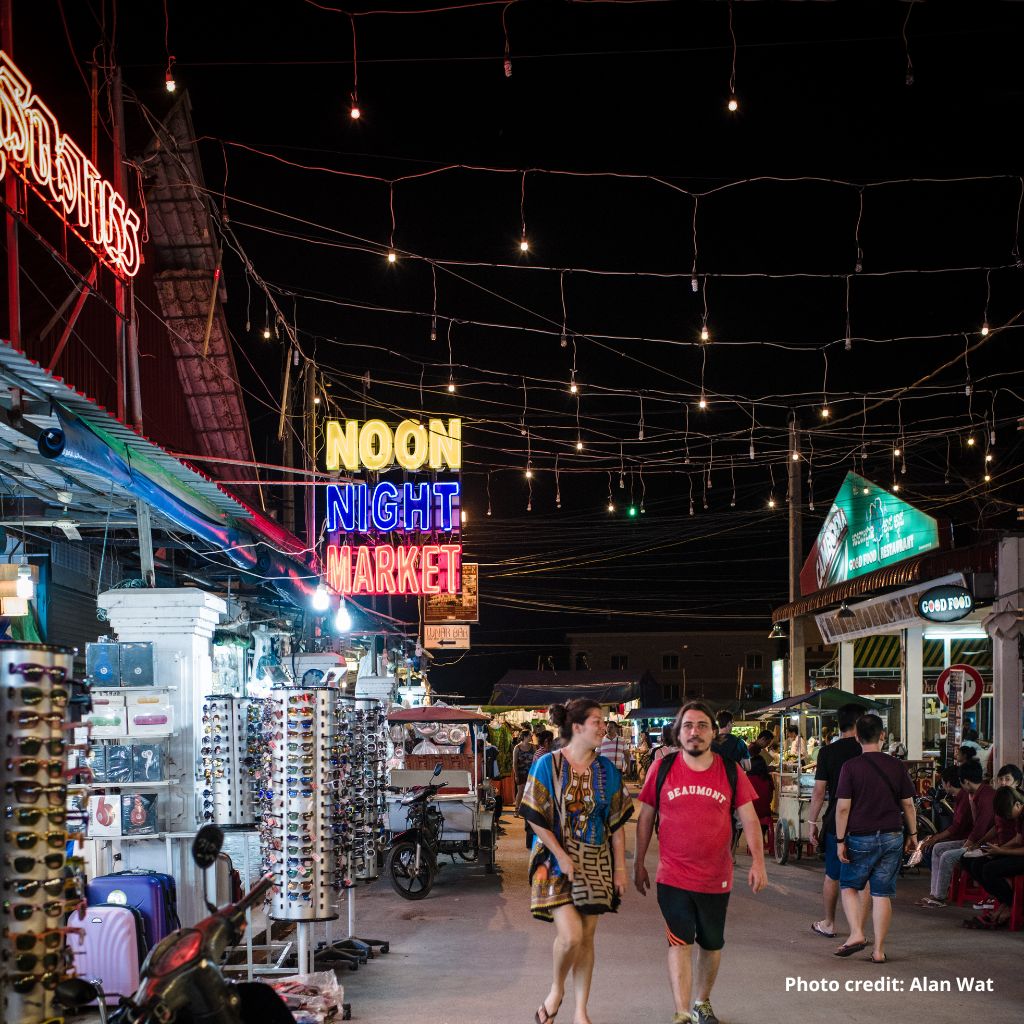 It is a haven for food lovers. From succulent chicken lok lak to creamy fish amok, there is something for everyone to enjoy. It also offers a selection of beers and cocktails, making it the perfect place to unwind after a long day of exploring.
Open: Daily from 6 pm till midnight
Location: Vithey Charles de Gaulle, Siem Reap, Cambodia
4. Old Market (Psar Chas)
Old Market, also known as Psar Chas, is Siem Reap's oldest, busiest and most popular market. It is located in the heart of the city, on the west side of the Siem Reap River. The market is divided into two sections – the wet market and the dry market.
The wet market sells fresh meat, fish, fruits, and vegetables. The dry market sells clothes, electronics, souvenirs, and other goods. The wet market is located near a food court, so you can grab a bite to eat while you browse. And if you get tired of walking, you can always relax in one of the many hammocks that are available for rent.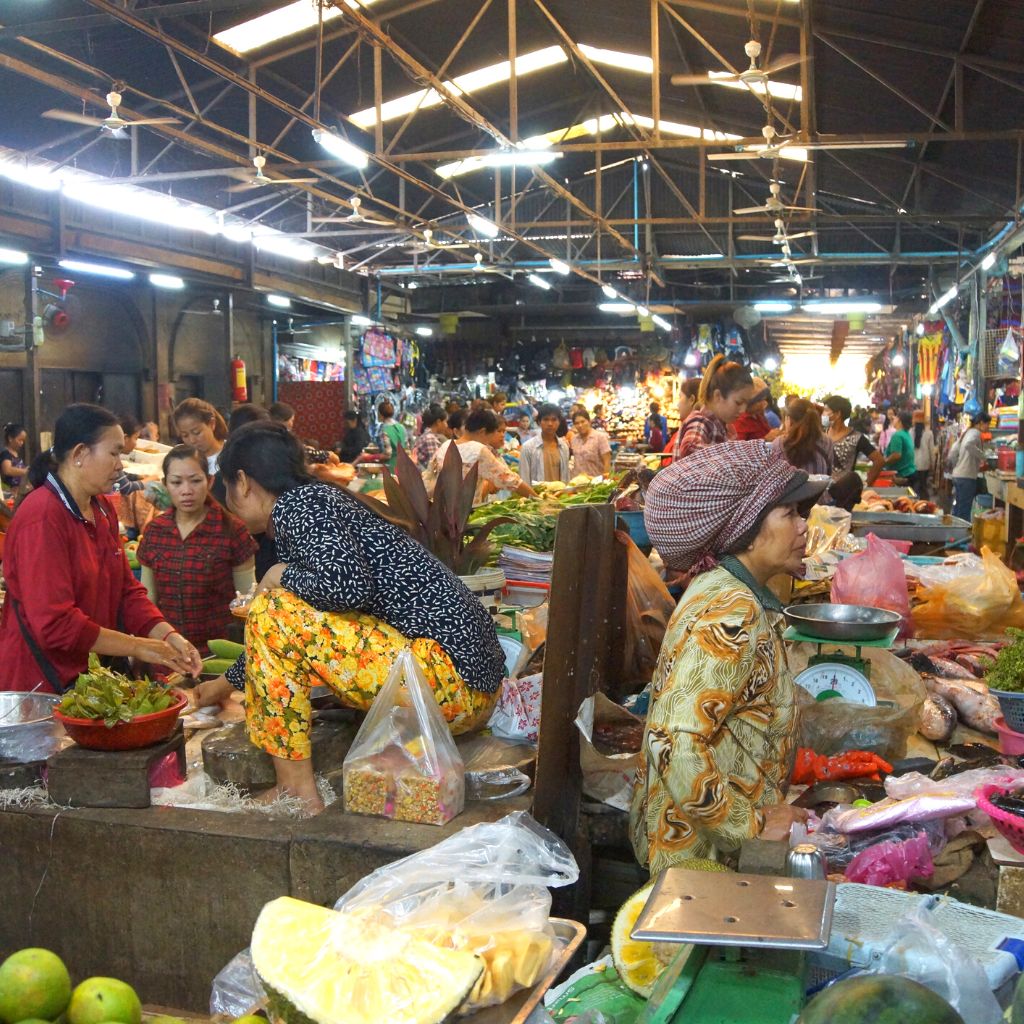 This open-air market is covered by a roof and filled with stalls selling everything from traditional clothing to fresh produce. Many stalls close to the entrance sell cheap souvenirs, fake luxury brands, antiques, clothes, shoes, and more. The further you venture into the market, the more eclectic the wares become. In addition to traditional Cambodian items, you can find paintings, handmade jewelry, and even fabrics. Bargaining is expected, and it can be quite intense at times.
The food section is a veritable feast for the senses, with a wide variety of Cambodian soup, noodles and rice dishes on offer. The traditional Siem Reap breakfast staple bai sach chrouk can be found for just $1, which comprises pork, eggs and rice. For those looking for something a little different, the market also offers a wide selection of fruits and vegetables.
Early in the morning is the best time to visit Phsar Chas when the local vendors bring in fresh goods.
Open: Daily from 7 am till 8 pm
Location: Thnou St, Siem Reap, Cambodia
5. Siem Reap Art Center Market
The Siem Reap Art Center Market is a charming riverside market that offers a glimpse into traditional Khmer culture. The market is situated at the bank of the river and hosts a traditional apsara dance show every day at 8 pm. The performance is a must-see for visitors to Siem Reap, and the market itself is a great place to buy souvenirs and sample the local cuisine.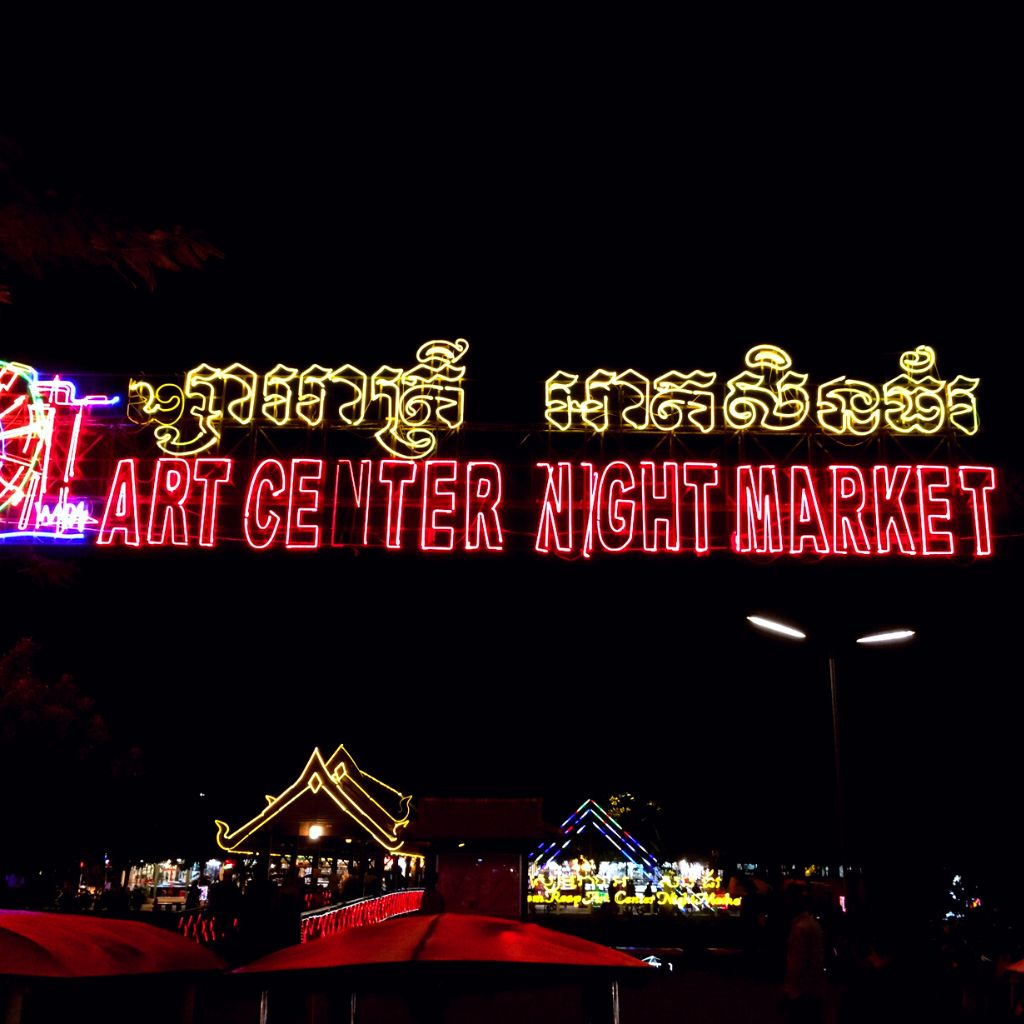 It is the perfect place to pick up a unique souvenir or gift for a friend back home. The market offers a wide variety of handicraft items, including clothing, shoes, and accessories. You can also find paintings and other artwork for sale. In addition to the shops, there are also several massage parlors in the market where you can relax after a long day of sightseeing.
For those who wish to experience the city at night, there are several hotels near the Siem Reap Art Center Night Market. For your convenience, here is a list of hotels. I've stayed there once and I can't describe the feelings.
Open: Daily from 8 am till 10 pm
Location: Opposite the Old Market, St, Siem Reap, Cambodia
6. Angkor Handicraft Association
The Angkor Handicraft Association in Siem Reap is a cooperative of local artisans dedicated to preserving and promoting Khmer traditional crafting techniques. Visitors to the Association can participate in various workshops, including silk weaving, stone carving, and bronze casting. The Association also operates a shop with 20 stalls selling authentic handwoven silk, stone and bronze statues, and other handmade goods. By supporting the Angkor Handicraft Association, visitors can help to ensure that the skills and traditions of Khmer craftsmanship are passed down to future generations.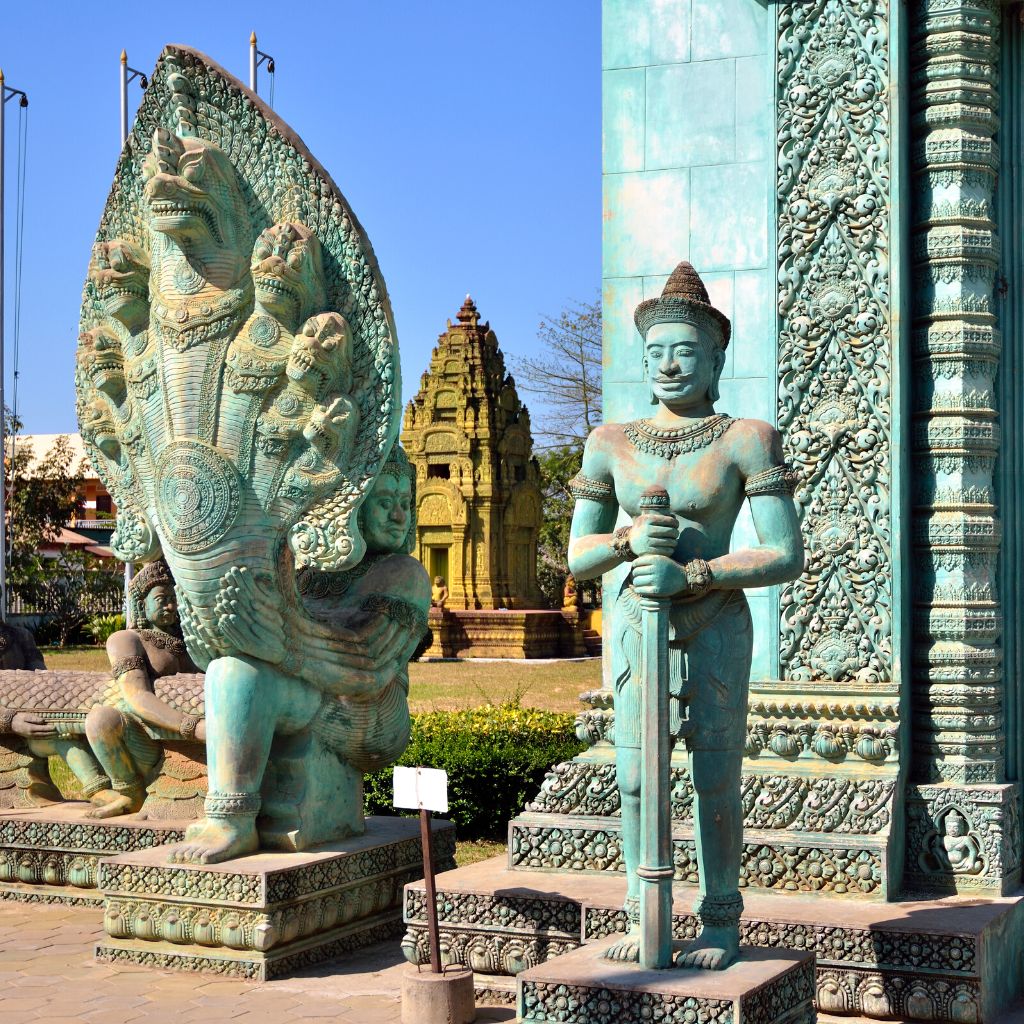 It provides classes and activities for all ages, which include coconut carving, palm leaf weaving, and flute making. One hundred percent of the profit from sales of their handmade products goes back to the artisans and their community.
Open: Daily from 9 am till 7 pm
Location: Traing Village, St, Siem Reap, Cambodia
Shop to your heart's content…
If you find yourself in Siem Reap, be sure to visit these night markets. You won't regret it! Not only are they a lot of fun, but they also offer a great opportunity to buy some unique souvenirs and learn more about Cambodian culture. Your purchase will also benefit local communities.
Disclaimer:
This blog may contain affiliate links. At no extra cost to you, we may get a small commission if you buy anything. All products and services we endorse have been personally used or come highly recommended to us. These incomes allow us to keep the community supported and ad-free.