Without much ado, I discussed the plan with my family and a close family friend. It lit up their eyes, especially the kids, who were giddy with joy. Yet, a sense of apprehension still hung in the air, casting a shadow over our dreams of adventure. Kabini's daunting reputation as a "luxury destination" loomed large. As we crunched numbers together, we arrived at a jaw-dropping figure, which amounted to at least INR 1 lakh for a blissful 2-night stay and exhilarating 2-3 safaris for both families. The weight of the cost threatened to shatter our dreams, questioning the feasibility of splurging so lavishly on a mere three days of escapade.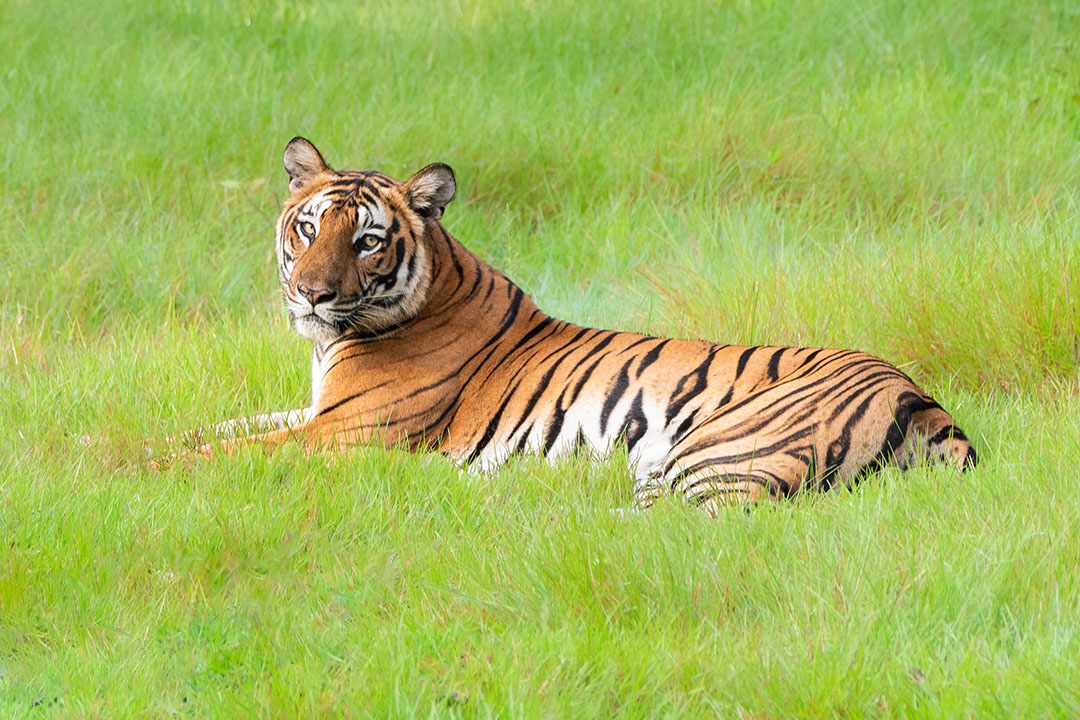 The majestic tiger catching a glimpse of us while we catch a glimpse of him
The decision was made that we would not splurge much. But we were not going to let go of our Kabini dreams that easily. I relish a challenge when someone claims that traveling to Kabini on a budget is an insurmountable feat! Undeterred, I delved deep into my network of resources. And lo and behold, a glimmer of hope emerged. The options included staying near Mysore or in homestays near Mananthwady (Kerala). Most homestays are located between Mysore and Kabini in Karnataka or in Kerala approximately 25-40 kilometers away. It would mean driving at least an hour to get to the safari point, which we were not prepared for.
It is not recommended to stay on the Kerala side if your primary objective is to do the wildlife safari in Kabini. From Kerala if you want to visit Kakanakote, you have to pass through the forest and two checkposts - one on the Kerala border and the other at Kabini. The forest is closed from 6 pm to 6 am. The evening safari ends at 6 pm so you will not be able to cross over the checkpost and morning safari starts at 6.30 am and they will not allow you in before 6 am. It is a one-hour drive once you cross the check post at Kerala-Karnataka border which does not allow you to reach by 6.30 am.
And thus, our quest continued, eliminating one option after another. There are several luxurious resorts and hotels in Kabini, but they did not align with the thrifty nature of our trip. Our determined gaze fell upon a handful of budget accommodations, seemingly tailored for intrepid backpackers, but ill-suited for a family holiday yearning for comfort and joy. Just as hope began to dwindle, a last-ditch effort beckoned me towards the realm of Internet. And there it was, a moment of sheer serendipity! Behold, I stumbled upon a gem that perfectly accommodated all seven of us, weaving seamlessly into the intricate tapestry of our budget. As they say, where there is a resolute will, a path unfailingly presents itself.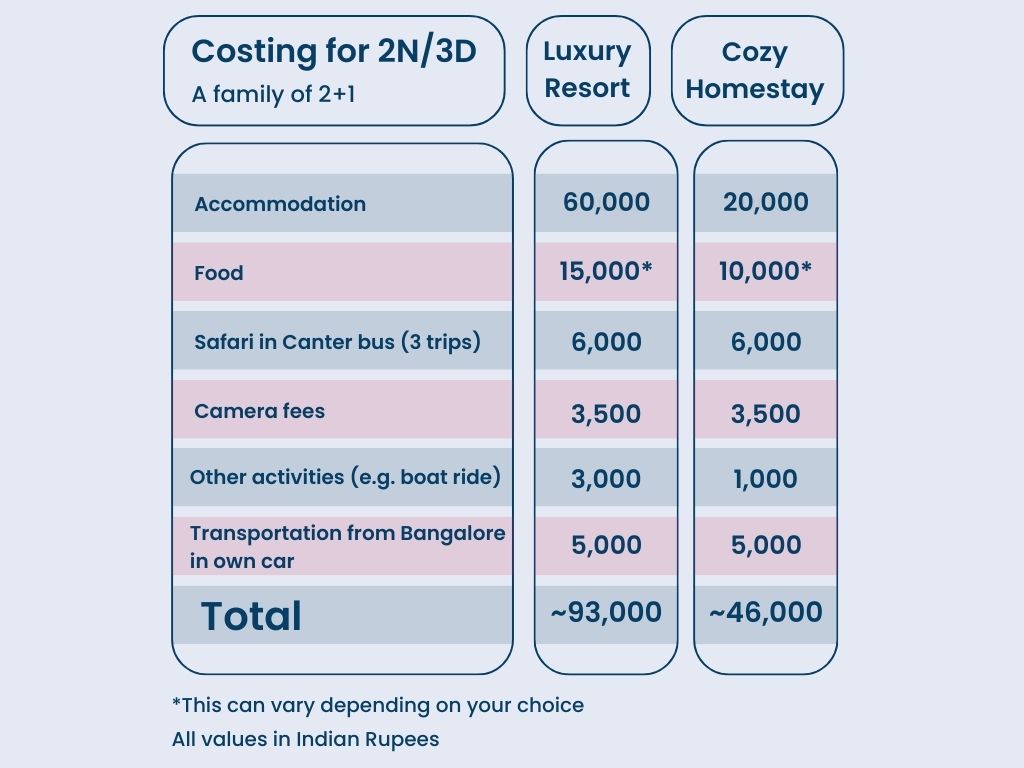 Cost comparison of staying in a luxury Kabini resort versus a local homestay

So began our odyssey to Kabini, a part of the Nagarhole forest. After a rather interesting drive from Bangalore to Kabini, we reached at the local farmhouse. It was perfect as we wanted to experience the local culture and flavor. It was also perfectly located, just 5 km from Kakanakote forest safari point, which is where we had to board the canter bus.
In Kabini, there are no independent fine-dining restaurants. There are, however, a few budget restaurants serving decent local cuisine. Having a built-in kitchen at the farmhouse enabled us to prepare tea, coffee, and heat the food we had brought with us. The caretaker can also cook food for you at a reasonable rate if you inform them in advance. Located just 2 km away is Shree Siddalingeswara Hotel, a small makeshift restaurant that serves local food.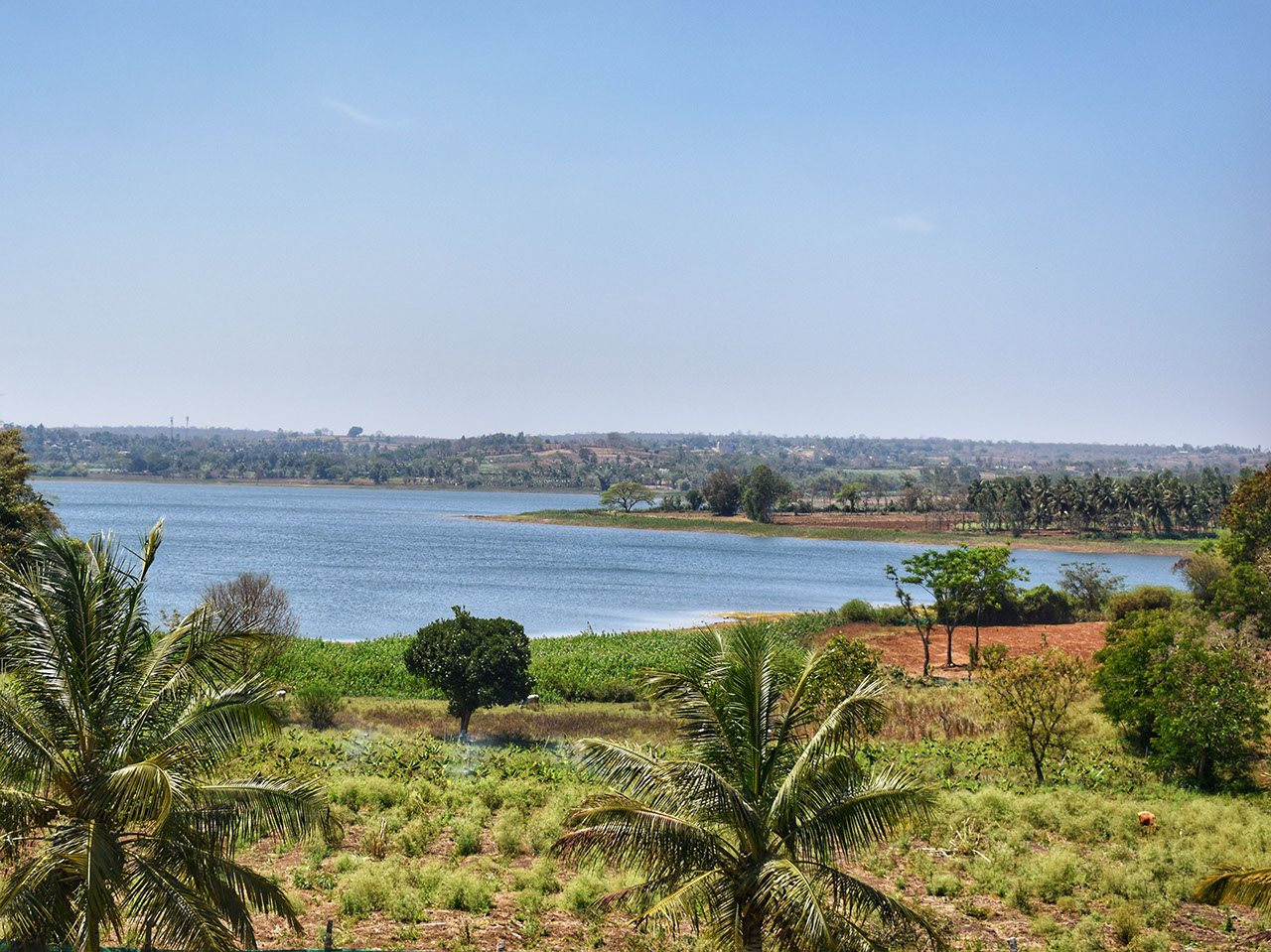 Exceptional view of the Kabini backwaters from the farmstay
The Kabini Magic
Obviously, you would know by now that I research the places I visit in detail. During our drive to Kabini, I was sharing these interesting facts with my family and what caught their attention more than anything else was the fact that Kabini has the highest density of tigers. They were super excited that the estimated density was approximately 12 tigers per 100 sq km, highest in South India and 3rd highest in India. The gang was especially elated because this meant a sure shot at sighting a tiger during the Kabini forest safari! As the forest becomes drier in summer, the water bodies inside it also dry out. This prompts animals to venture out in search of man-made water bodies and food, making sightings possible.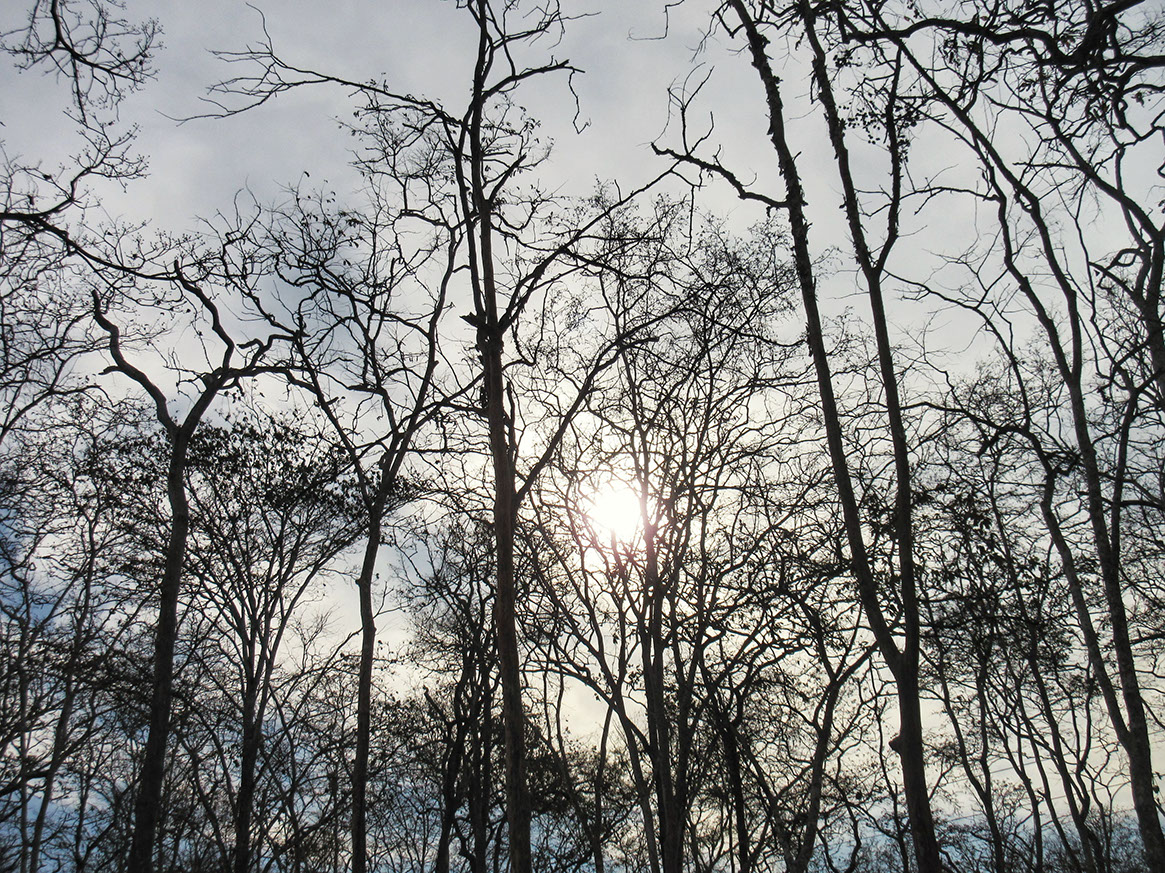 The dry forest canopy permeable to incoming light creates a stunning view
Due to the Kabini River that meanders through Nagarhole Tiger Reserve, this portion of Nagrahole National Park is called Kabini. In recent years, Kabini has become synonymous with the majestic tiger. This was not the case in the years gone by when central Indian national parks were known to be tiger havens. In south India, Bandipur was known as the home of tigers. The last decade, however, has brought Kabini to the limelight because of the efforts of the Nagarhole Tiger Conservation Foundation. This jungle is a part of the incredible Western Ghats and is contiguous with Wayanad Wildlife Sanctuary in Kerala and Bandipur Tiger Reserve in Karnataka. This spectacular biodiversity hotspot extends across an extensive area of 847 sq km and is located in both the districts of Mysore and Coorg.
Bus safari in Kabini
Our trip was primarily focused on doing the safari, so we planned to do both the morning and evening safaris. I would advise booking the Kabini safaris online to avoid disappointment. There are safaris in the morning and afternoon everyday. On weekdays, the safaris are 2.5 hours long while on weekends they are 1.5 hours duration. The tickets are priced differently on weekdays and weekends with camera charges extra according to type of equipment.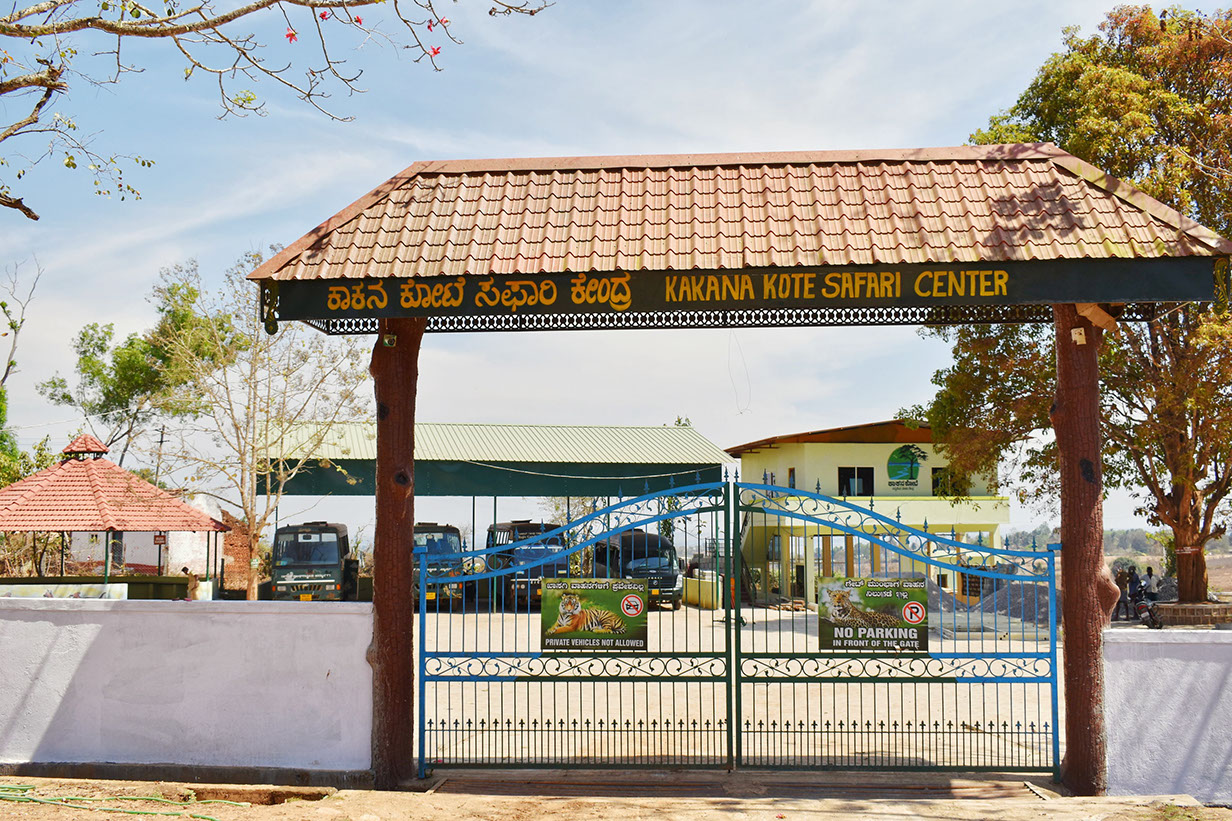 Safari boarding point and forest department office in Kabini
Bookings need to be made 2 days in advance so plan accordingly. We were not able to book one safari in advance but were informed by the staff that there is a walk in option provided seats are available. We took a chance and arrived at the boarding point early to try our luck and we were lucky. The entire system is well organized and the staff are very helpful. All the four buses quickly filled up with walk-in visitors and we were on our way into the forest for an exciting adventure.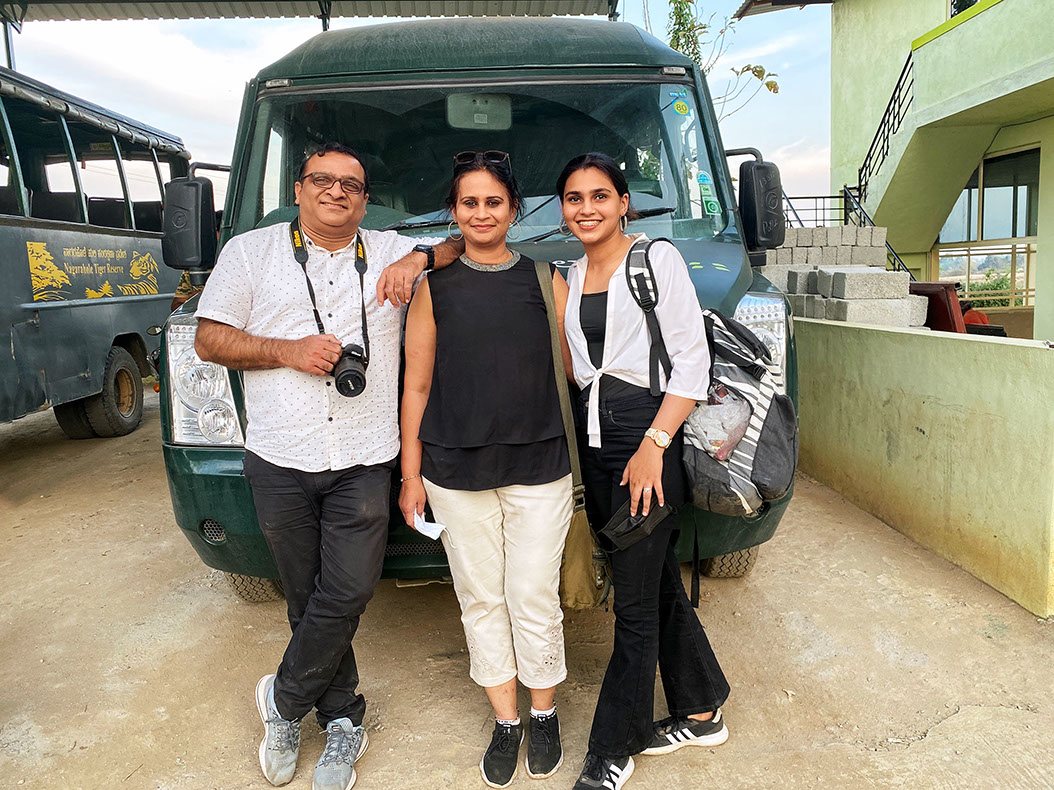 Me & my family all excited to board the Canter bus at Kakankote forest safari point

The network of guides and their internal coordination was truly fascinating. They understand the excitement of visitors to see wildlife and ensure that we sight as many animals as possible, especially the tiger sighting. They used walkie talkies and phones to stay connected with each other and inform each other of sightings. At any point there are around 14-15 vehicles doing safaris in the forest. Kabini Jungle Lodge Resort, a premium resort owned by the Karnataka government has jeeps that do safaris as well. While the buses had a few wildlife photographers, one of the jeeps had people from National Geographic with high end equipment hoping for some spectacular captures. Kabini is a hotspot for wildlife photography. At the end of the day, it all comes down to luck as far as sighting is concerned.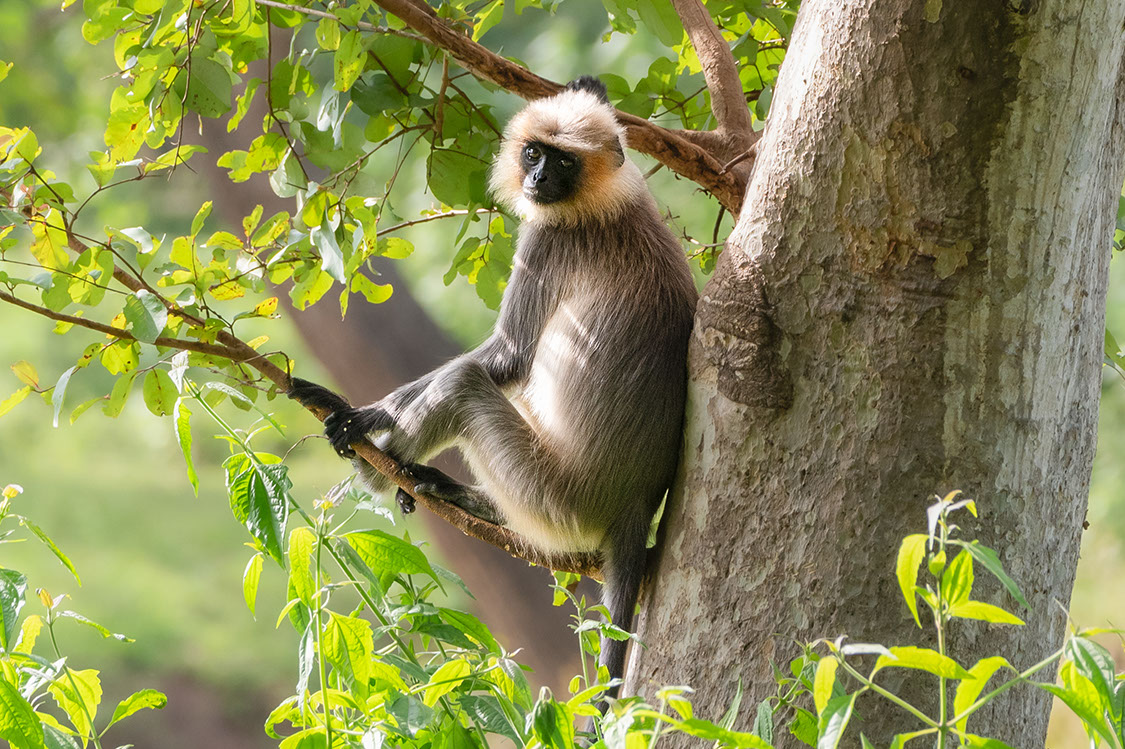 This inquisitive black-faced langur is one of the many animals we sighted during our Kabini bus safari
The wilderness wonder of Kabini
As we entered the forest, we started sighting several animals wandering around. Deer were the most common, like dogs on the streets in India. We also spotted sambar deer, mongoose and wild turtles.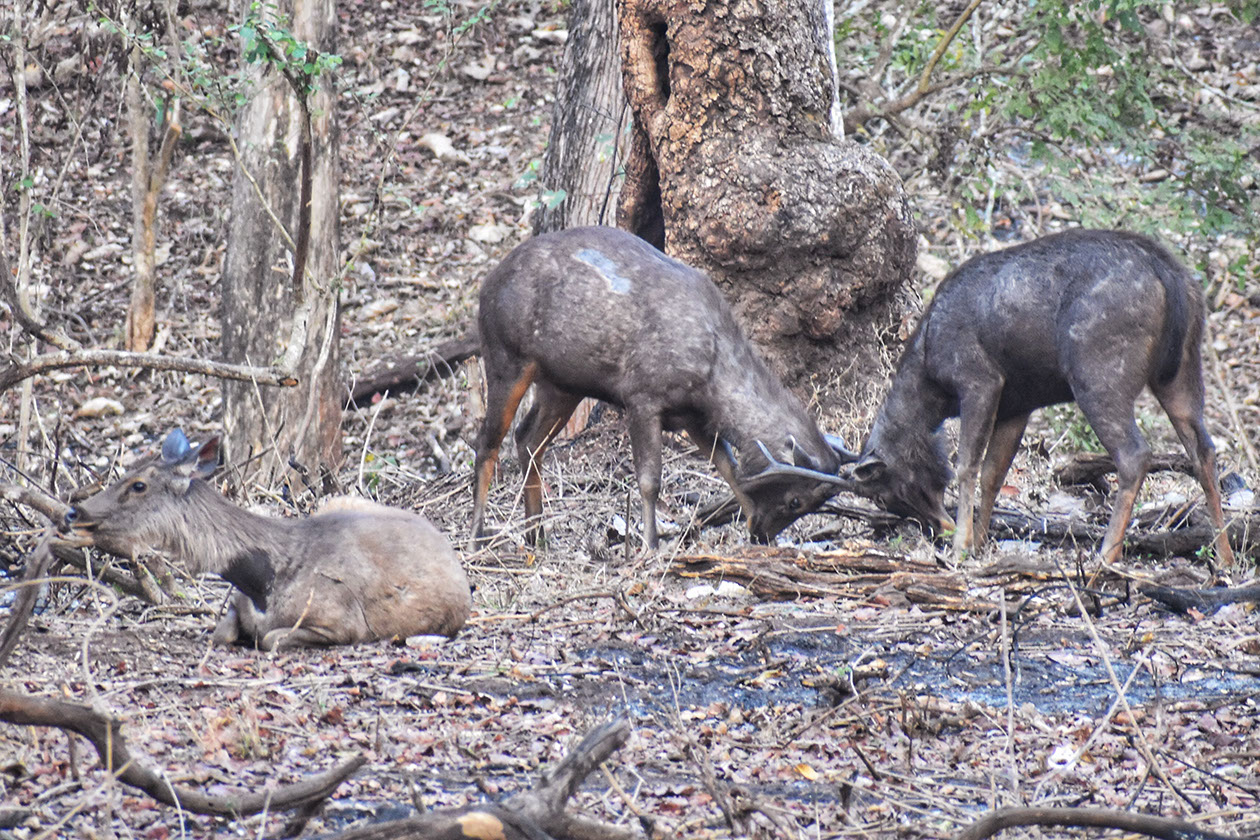 An animated capture of sambars entangled in each other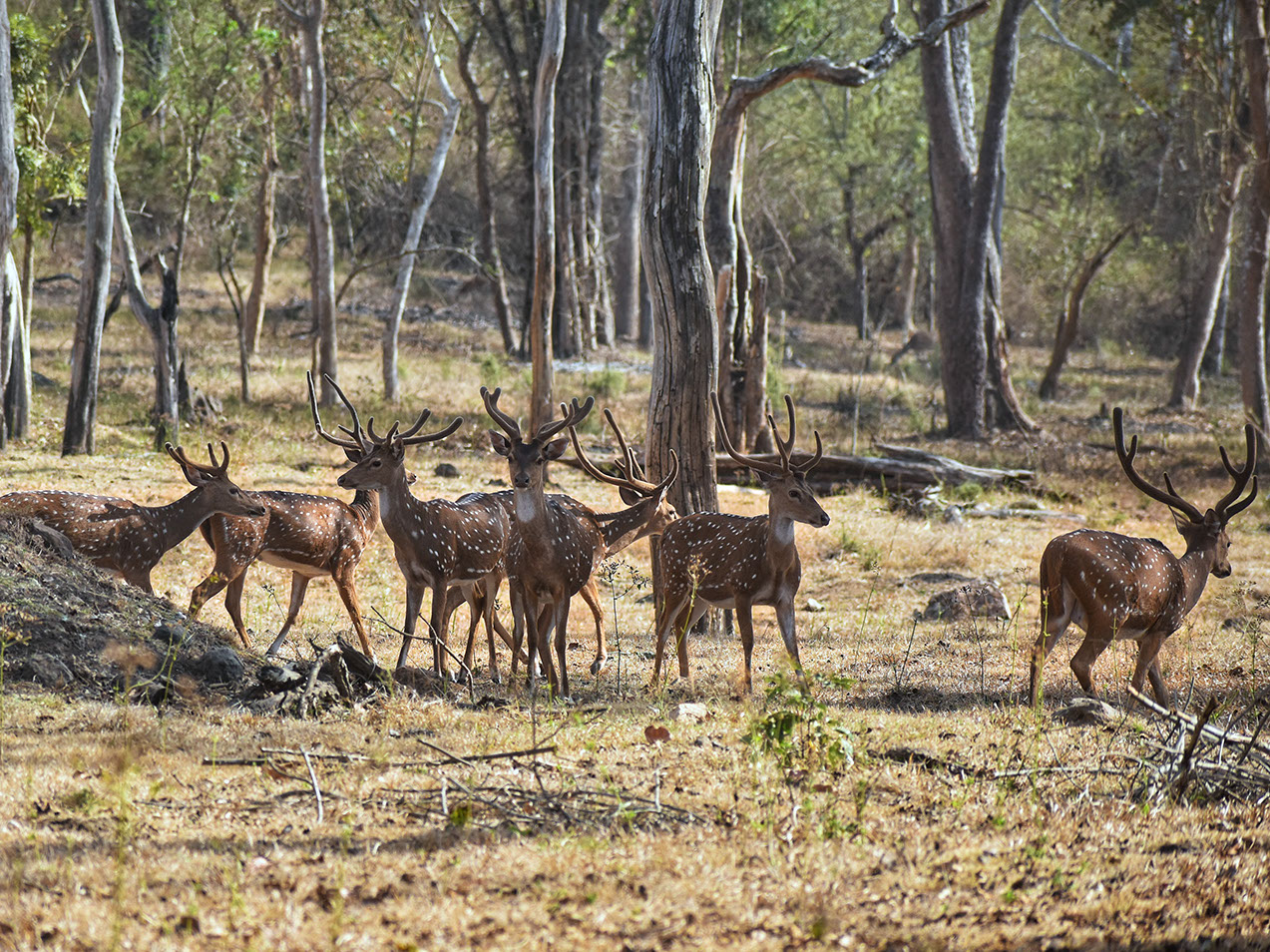 The most common sighting in Kabini wildlife sanctuary is that of these beautiful deer in large numbers
Meet the celebrities of Kabini
As we approached a water body, we spotted a large herd of elephants. It was a perfect sighting with adults and few babies among 14-15 of these mammoth creatures. The entire herd had come to the watering hole to refresh themselves and it was the most captivating sight. Our cameras were clicking non-stop as we wanted to capture as much of these gentle giants as possible.
This gentle giant herd made for a perfect family picture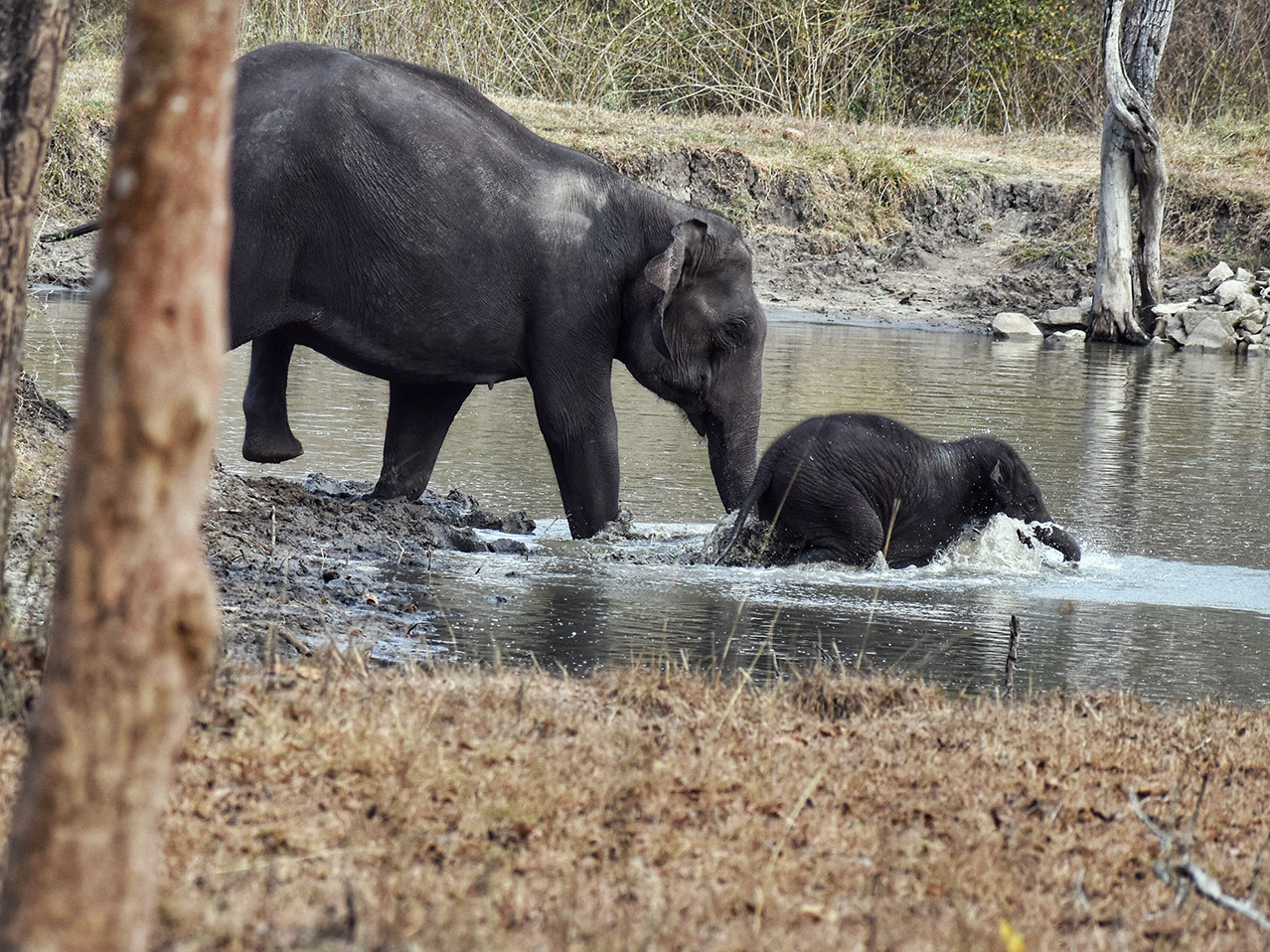 The protective nature of elephants is beautifully captured in this photo
While sighting this magnificent herd of elephants was a splendid experience, we were slightly disappointed that we did not see a tusker. As we were driving further into the forest, I was telling my group that tuskers are usually seen solo. To our absolute delight we spotted a tusker crossing the road at a distance. It was a dream come true for all of us and we ensured that we got innumerable pictures of this rare visual of a tusker.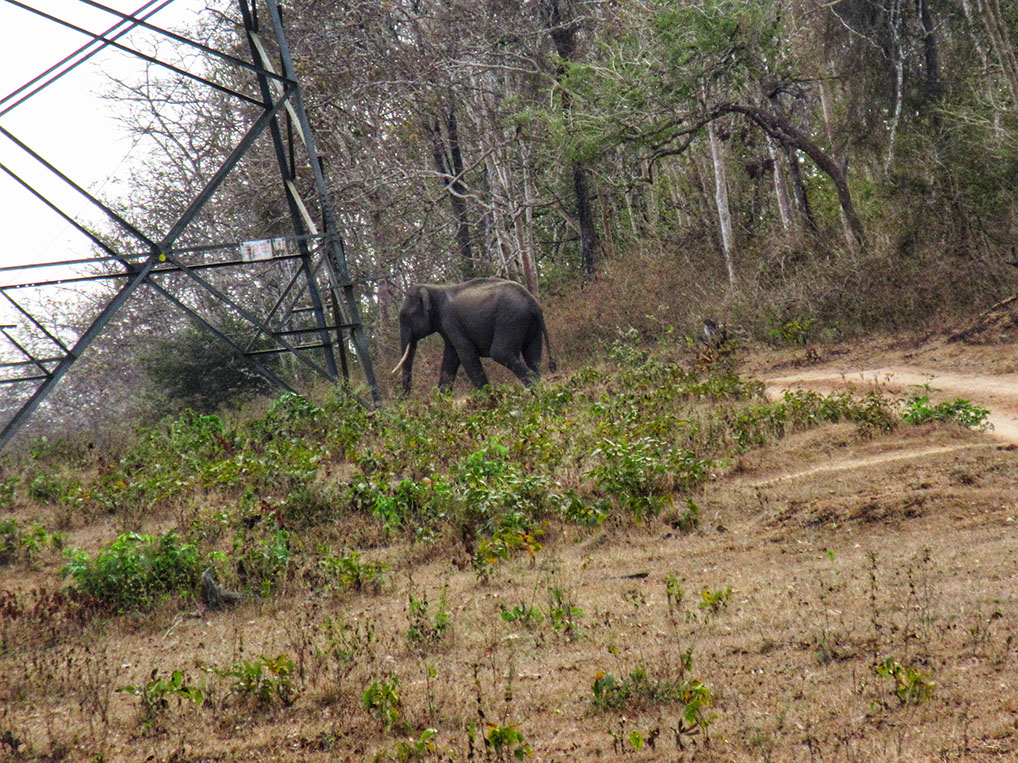 Spotting this lone tusker in Kabini was an exciting moment for all of us
Moving on, there was another pleasant surprise awaiting us in the tree nearby. Our guide pointed out to a giant squirrel busy chomping on some delicious snack perched on the tree. Normally, these creatures are so frisky and hyperactive that capturing them on camera is nearly impossible. Today was our lucky day as she was engrossed in her snack and we could get some amazing pictures from just 10 feet away.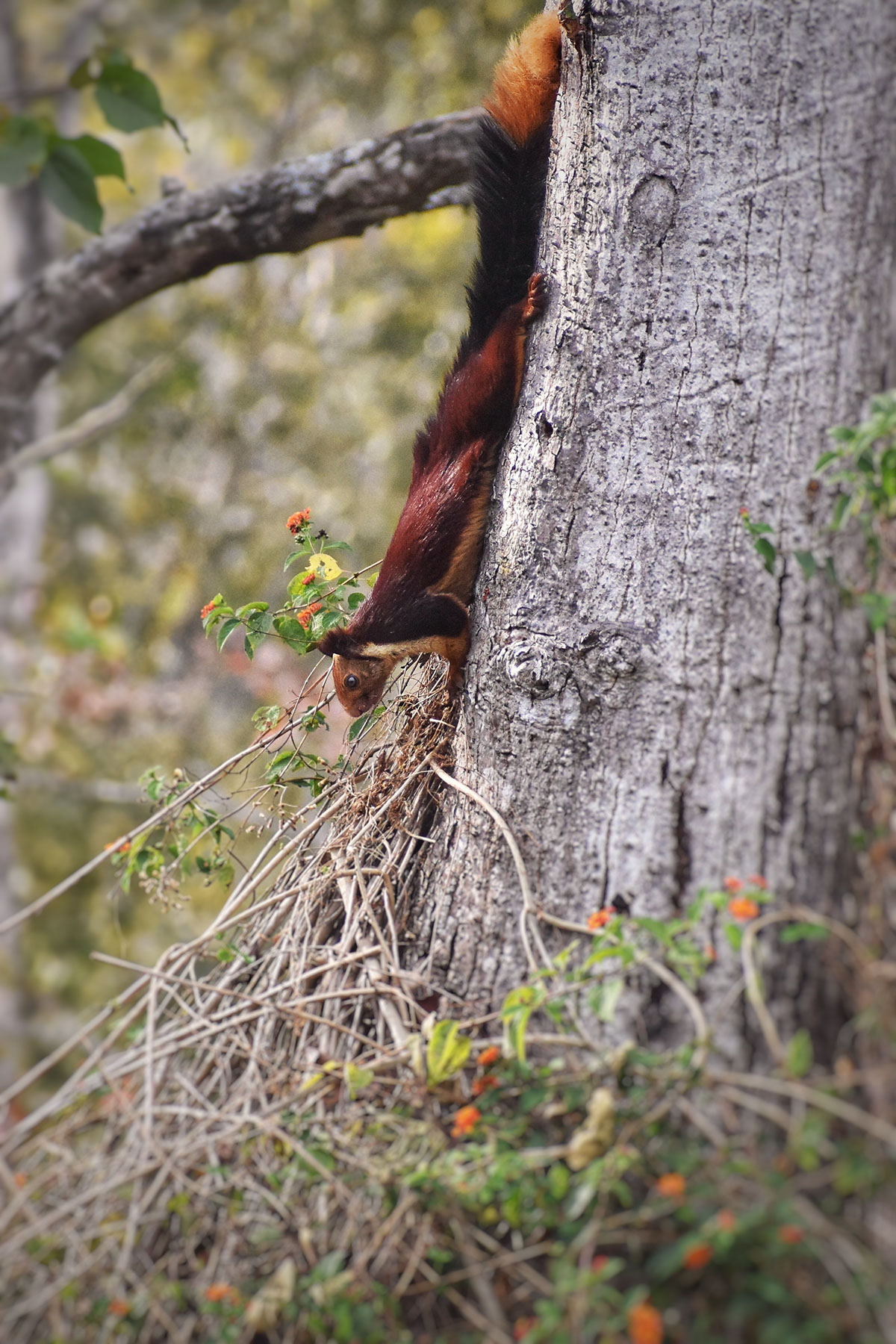 This Indian Giant Squirrel is one of the most difficult species to photograph owing to his agility
Our guide did indicate that we may not see the tiger as the herd of elephants were at the spot where it usually comes around 5.30 pm everyday to refresh itself. Of course we were a tad disappointed but we were booked for the safari the next morning as well, so there was hope. A word of caution for travelers who are allergic, ensure you protect yourself adequately while on the safari as the vehicle movement on the mud paths makes it extremely dusty.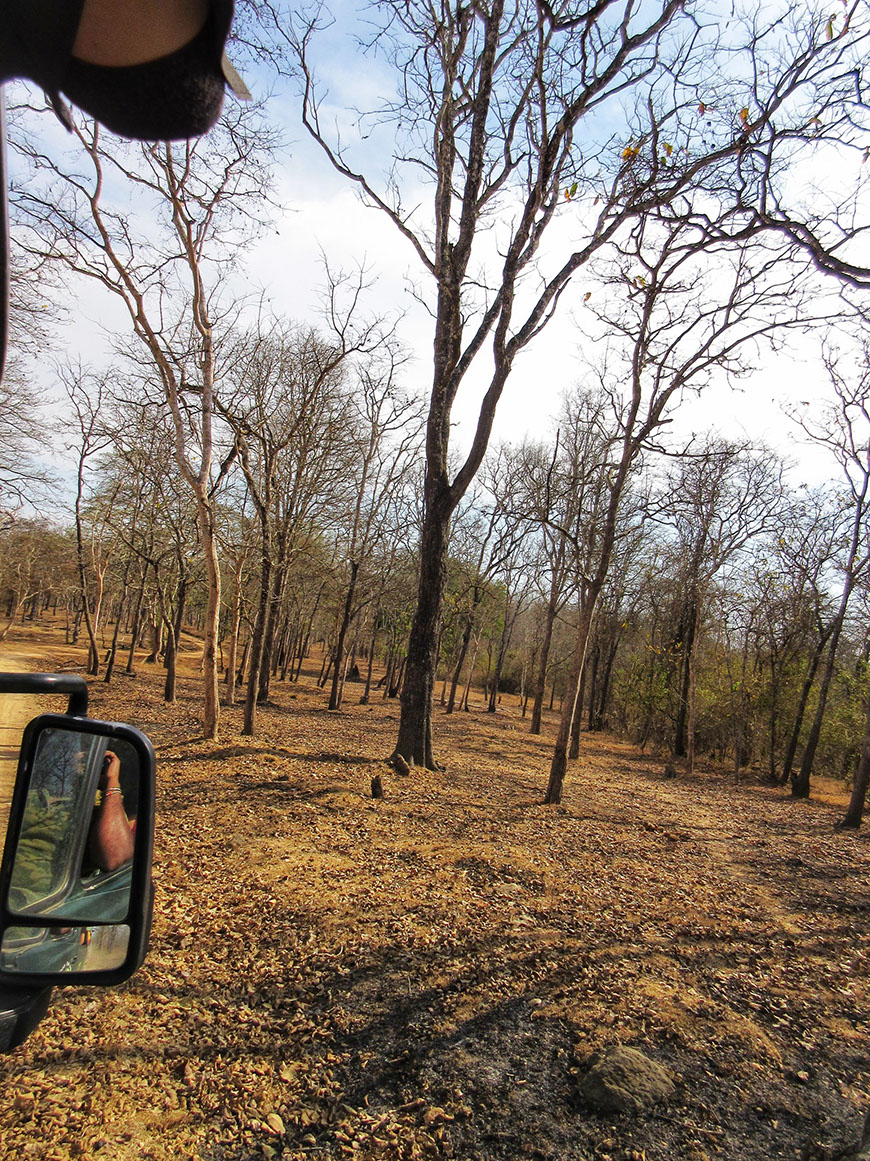 The dry landscape of Nagarhole Tiger Reserve embodies a treasure trove of wildlife
The CAT of Kabini
Safari vehicles are allowed only at particular times of day and the forest is otherwise closed to visitors. This also means that at a given time, everyone visiting gets to see the same animals. We arrived at the Kakanakote safari pick up point early the next morning to chilly weather due to the slight elevation. We had not anticipated this and were rather ill equipped. Thankfully, the excitement of sighting the prized treasure of Nagarhole, the tiger got the better of us and we weathered the cold. Other visitors gathered there were also in a similar situation. Either we were all going to get lucky or not, we had to wait and see. We kept reminding ourselves along the drive into the jungle that Kabini is a premier spot for tiger sighting in south India so today will be lucky. Lo and behold, soon we sighted the tigress! We had enough time to photograph the beautiful animal as she was just 100 meters away from us.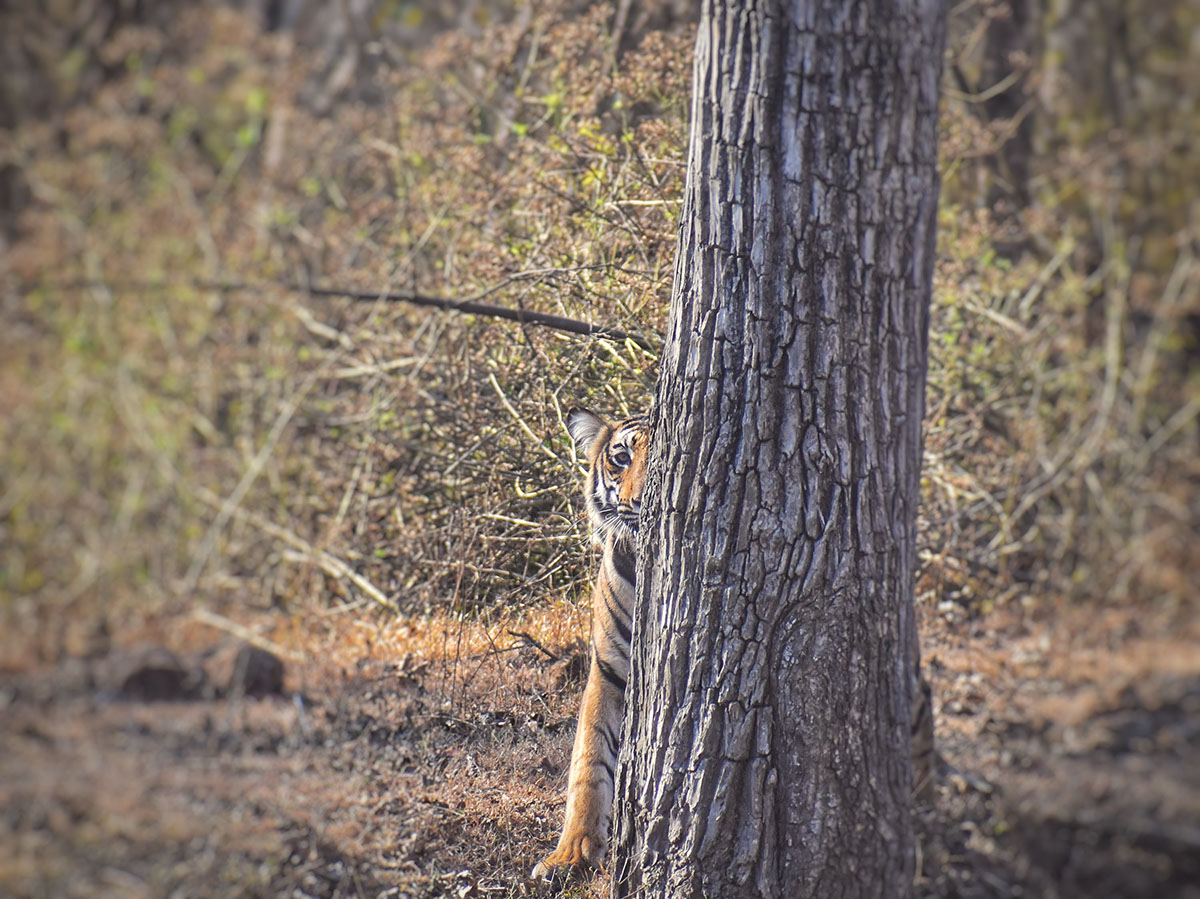 Sighting the tiger in Kabini is a special moment for every visitor and our day was made with sighting this majestic cat
Over the years, the tigers have gotten used to humans and are very comfortable and friendly as they know that they will not face any harm. We had a fantastic view of the tiger and of course captured some incredible photos as well. Mission accomplished!
I embarked on several more journeys to Kabini, and every time, the enchanting "Kabini Magic" unfolded. But oh, the magic truly sparkled during the monsoon when lush greenery envelops everything. A tiger sighting amidst this emerald backdrop is an experience beyond words. On one such occasion, I was incredibly fortunate to witness a jaw-dropping spectacle - six magnificent tigers gracing us with their presence.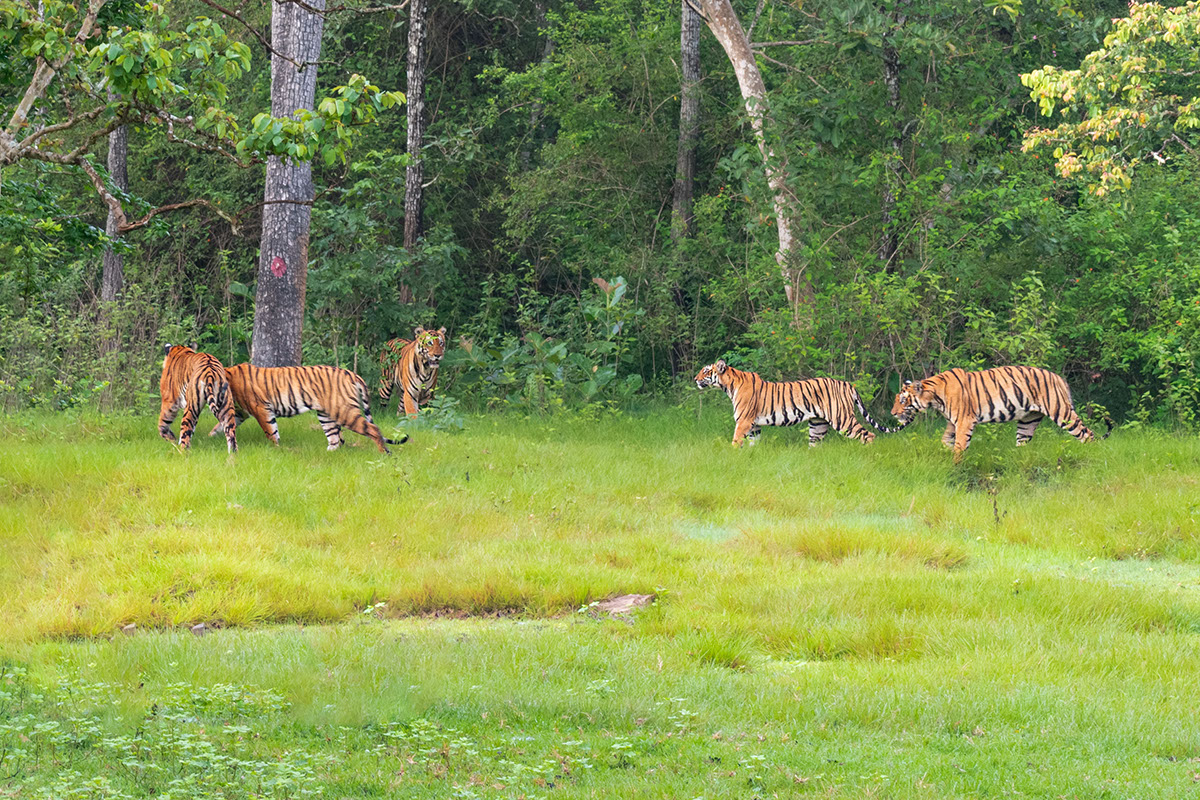 It is one of the rarest sights in any forest, not just Kabin, to see a large group of tigers. The challenge is to fit them all into your camera's frame.
It was the pinnacle of my Kabini experiences, and destiny smiled upon me further as our canter bus provided the ultimate vantage point. From just 30 to 100 meters away, I captured moments to treasure forever. The tigers lingered, time stood still, and Kabini's magic revealed itself in all its glory. As they say, Kabini never disappoints!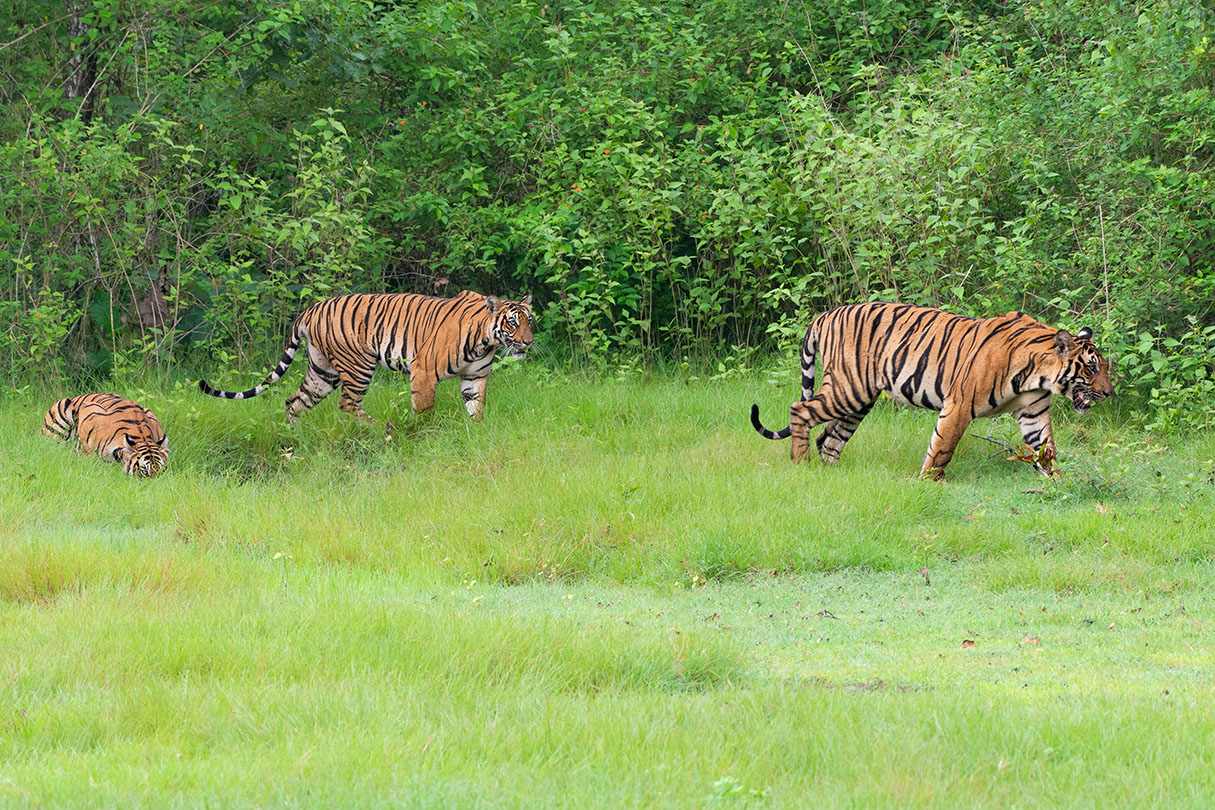 This is one of the many shots of the tigers that I captured during our safari in Kabini
Kabini is very famous for sighting leopards and black panthers as well. Kabini is home to the world famous Saya, "The Real Black Panther". Shaaz Jung who has been documenting Saya's life for over five years now says that Saya usually comes out once in a month and one has to be super lucky to spot her. Some visitors do get lucky, but lady luck was not with us. Our guide told us that two tigeresses had recently given birth. Sighting the cubs also is very rare because they usually bring them out only after visitors have left.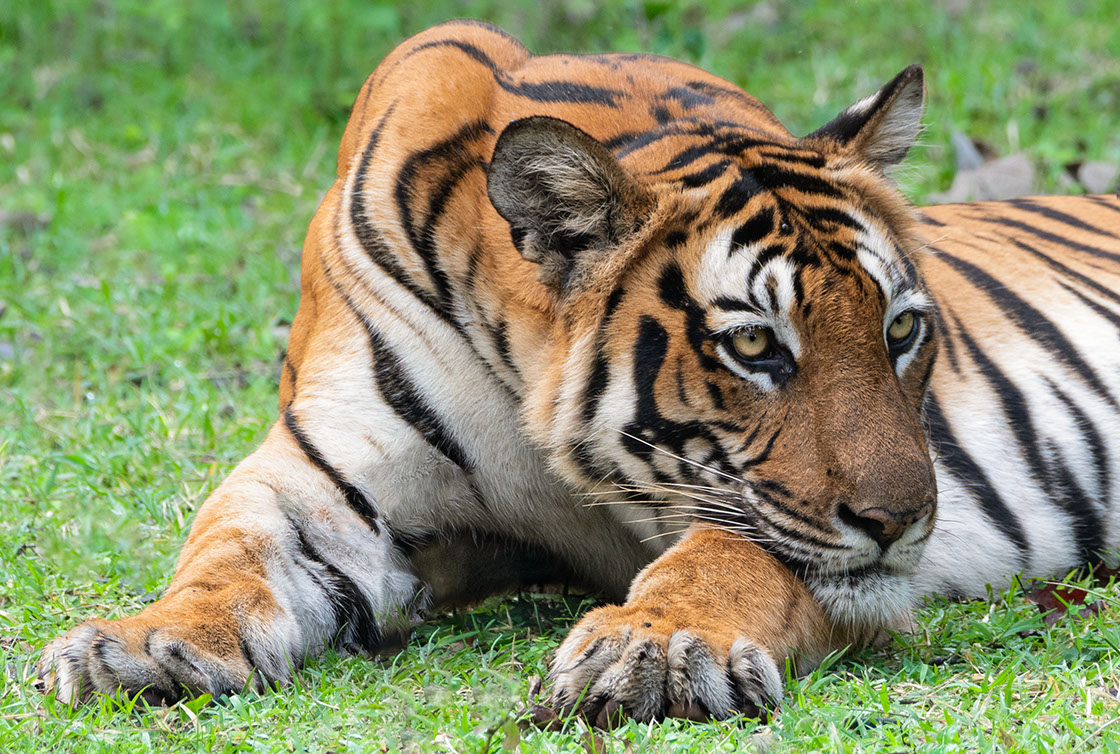 This was one of my best shots because the tiger was only 30 meters away, allowing me to get the headshot
On our way back from the safari, we drove to the Belle Elephant Camp and to our surprise, we saw Arjun the celebrity tusker fooling around in the river and enjoying the water. He is one of the elephants that are used at the Dussehra celebrations in Mysore. The sight of this adorable pachyderm was a bonus and we spent some time watching him and also taking pictures. All in all, we had an amazing safari that morning and returned to our accommodation, exhilarated.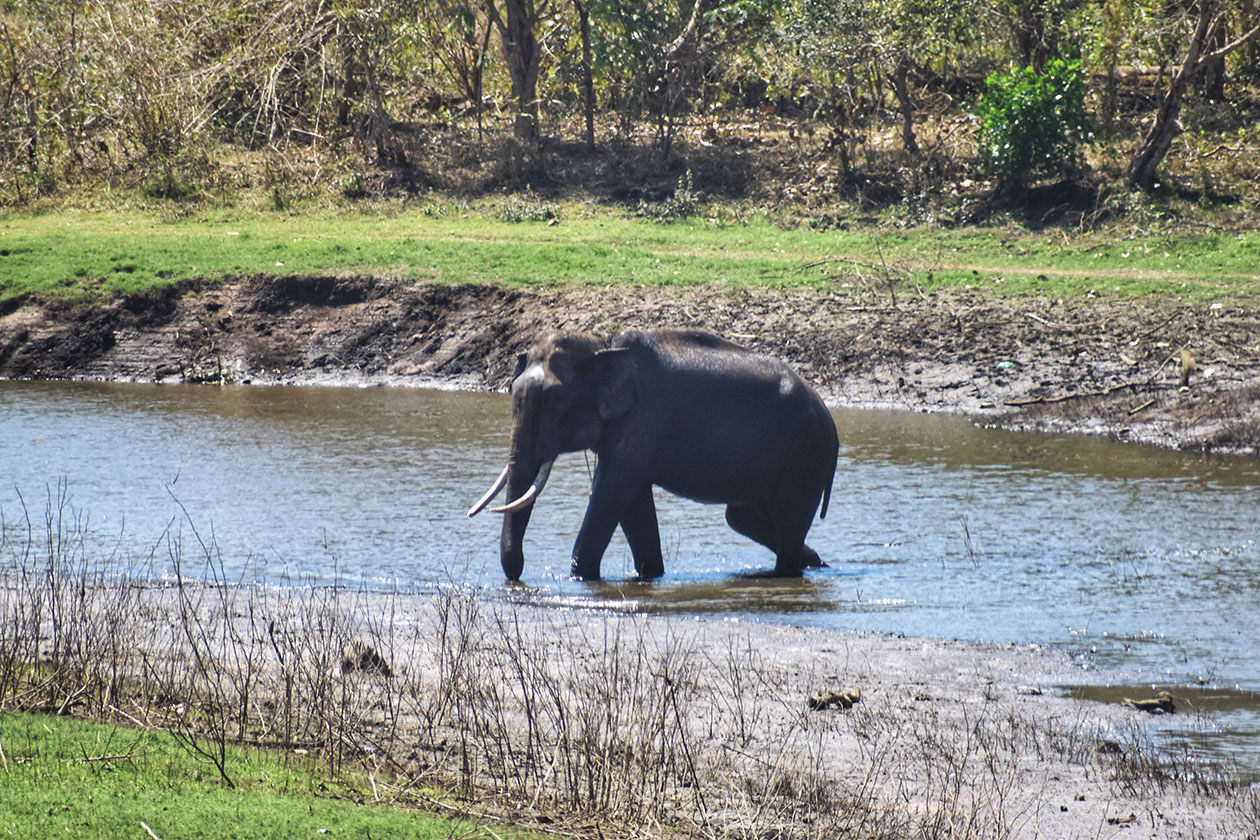 A bonus was spotting Arjun, the celebrity elephant of the Dussehra celebration cooling off near the Belle Elephant Camp
Beautiful flyzone of Kabini
The homestay itself was situated in beautiful settings on the banks of the backwaters. A huge orange berry tree on the premises attracts more than 30 species of birds every day. I could recognize some of them as I had spotted them in BR Hills Tiger Reserve. These birds have their own schedule and I spent a fascinating two hours sighting these stunning beauties and of course taking tons of pictures.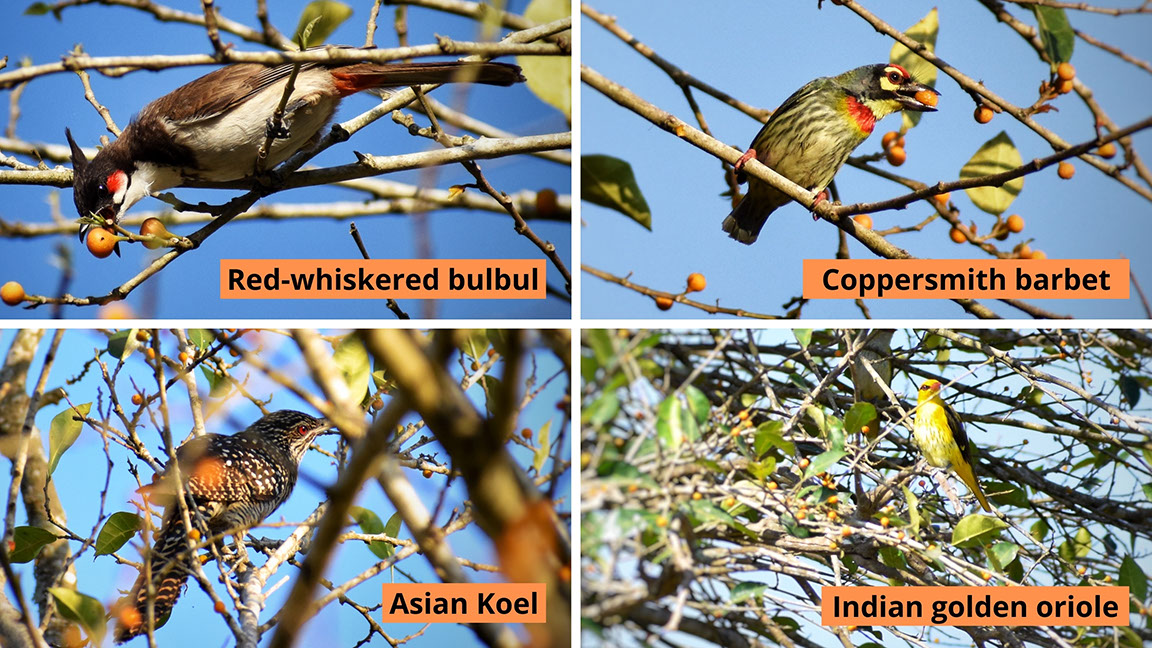 A visual feast of numerous birds that visited the farmhouse that we stayed in during our visit to Kabini
Kabini backwaters
The shore of the Kabini backwaters makes for a gorgeous location and picnic spot which we explored. Carrying our picnic basket, we headed to the backwaters (click here for the direction) for a leisurely time in the lap of nature. The natural surroundings were extraordinary and made for a perfect backdrop for a photo ops session that we all enjoyed.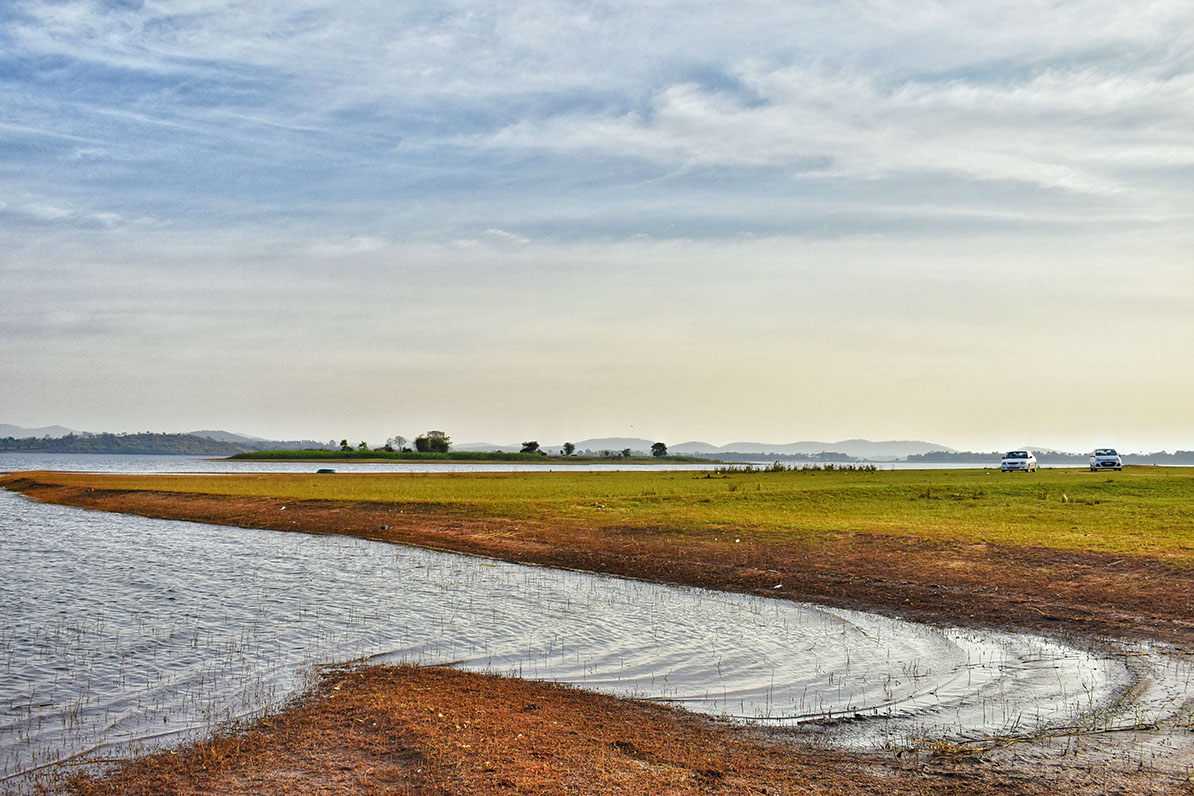 The backwaters, the surrounding greenery and the view made for a perfect picnic spot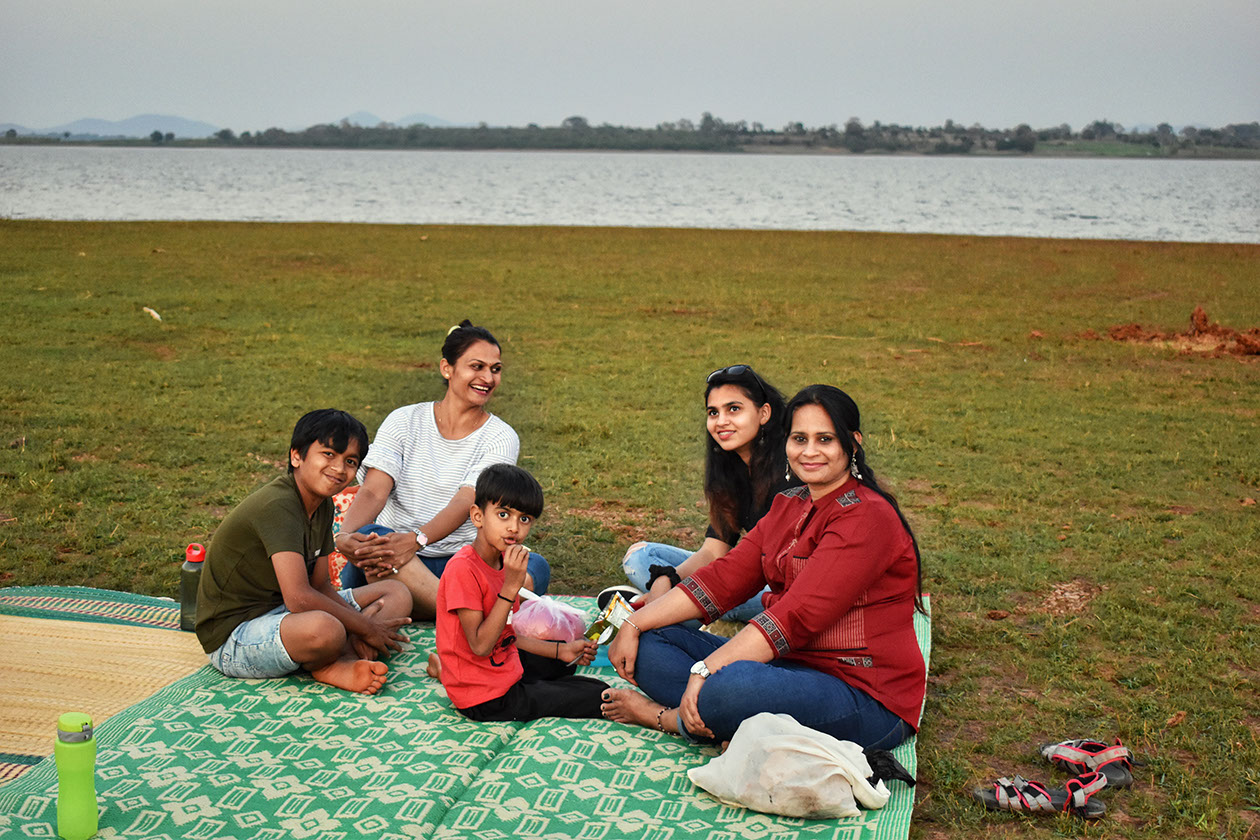 Incredible surroundings and great company is the perfect combination - a fun time spent with family & friends at the backwaters
To our luck, we saw some local fishermen who live near the backwaters, fishing in their coracle boats. While some resorts offer short coracle rides, here was the opportunity for us to experience this in the authentic way, with the locals. It reminded us of our kayaking adventure in the Mangrove backwaters of Tamil Nadu. We requested them to take us for a ride and they happily obliged, accepting whatever goodwill fee we offered. All of us enjoyed the boat ride in Kabini backwaters which was again a unique experience.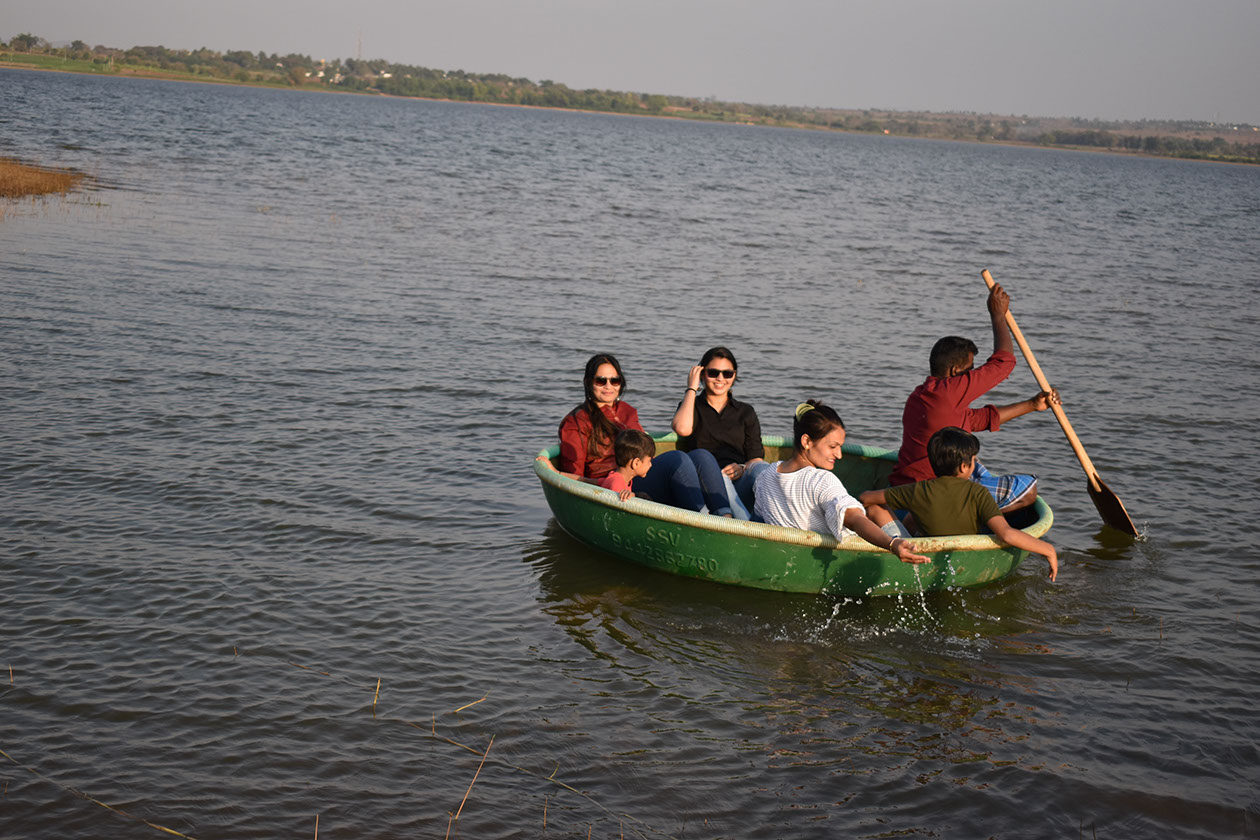 A thrilling coracle ride with the local fisherman added the extra zing to this fun day
The backwaters obviously attract many water birds and it was another fabulous opportunity for me to indulge in birding and photography. Being an offbeat place, there were no other tourists except us which made the experience that much more enjoyable.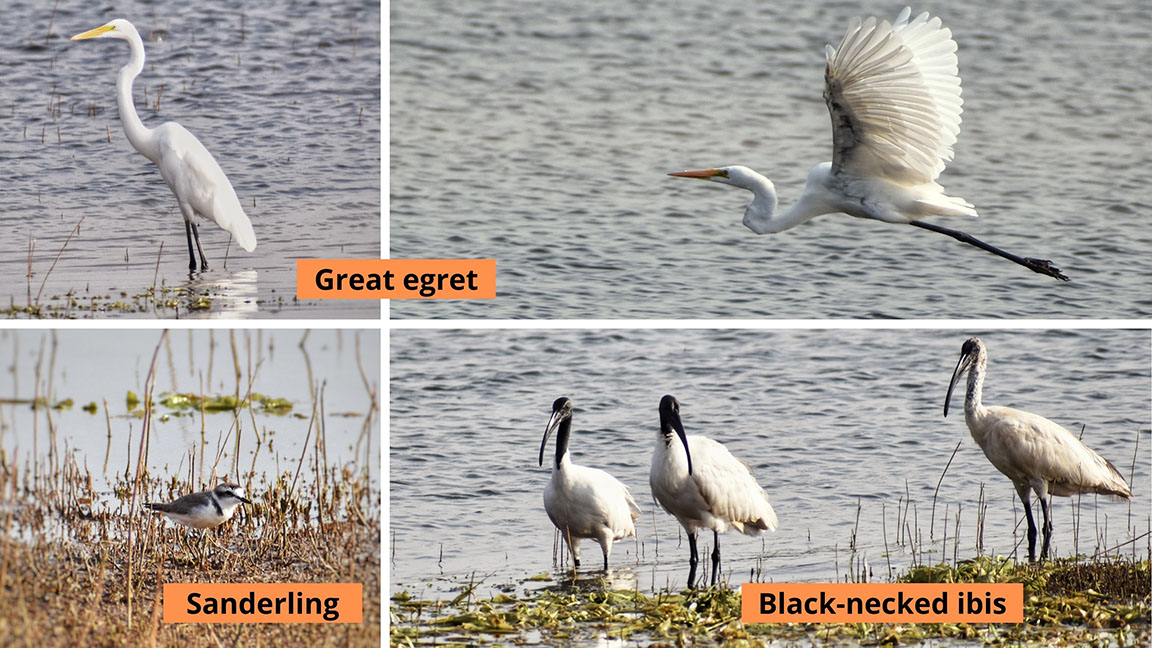 These gorgeous visitors at the backwaters added to the charm of the place
One of the most beautiful and serene sights in nature is a sunset over a calm body of water. Our host had emphasized that we should not miss the sunset at Kabini backwaters view point. The colors of sky intensified as they reflected off of the water offering a majestic sight. It added another layer of beauty to an already stunning ambience.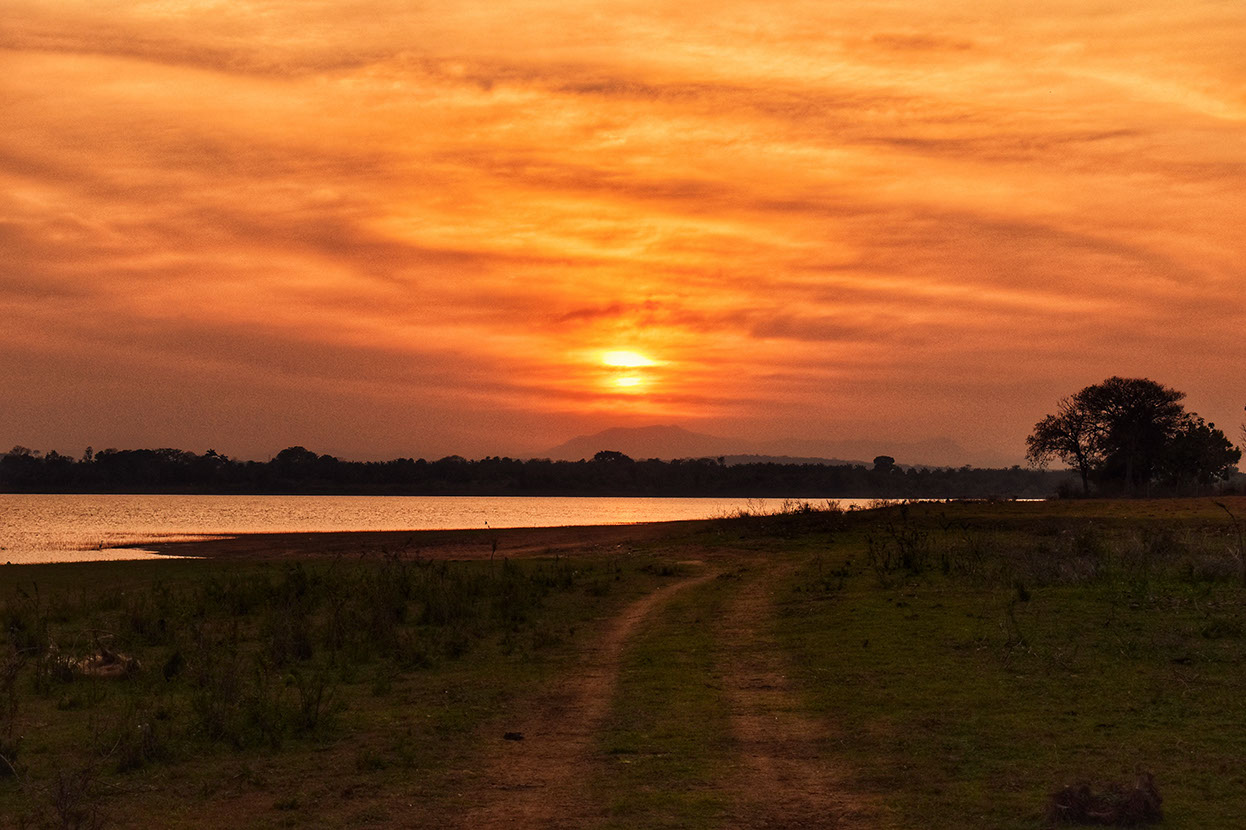 The mesmerizing sky in a million shades of orange left us in awe of nature's extra
Kabini Dam
The Kabini Dam showcases the engineering prowess of the region. While visitors are not allowed inside due to security reasons, the dam offers a stunning view from the exterior. The route leading to the dam presents a picturesque journey through the lush landscapes. The area surrounding the dam is also a great spot for a peaceful stroll or a moment of relaxation.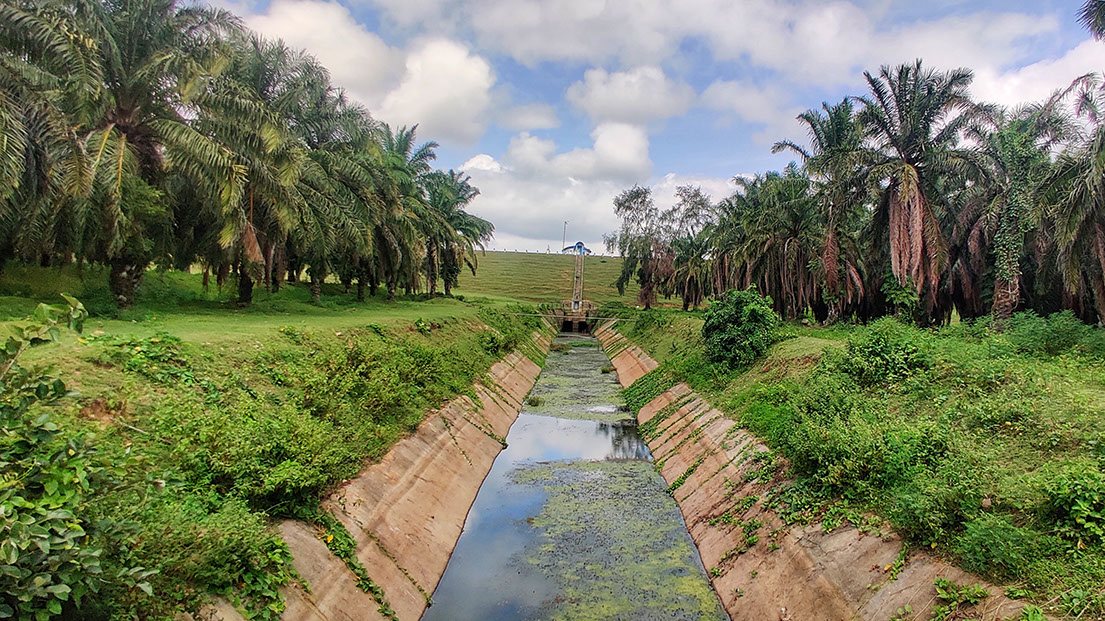 Stunning scenery at Kabini Dam
A well rounded weekend getaway
As the sun set on our unforgettable journey, we couldn't help but reflect on our extraordinary trip to Kabini Wildlife Sanctuary, accomplished within the bounds of our budget. A symphony of nature's wonders and thrilling family-friendly activities greeted us from the moment we stepped into the mystical wilderness.
Exhilarating jungle safaris led us deep into the heart of the Nagarhole Forest, where we encountered awe-inspiring wildlife. With bated breath, we spotted graceful elephants, majestic tigers, and a myriad of captivating wildlife species. Each sighting served as a treasure trove of unforgettable moments that we will cherish for years to come.
But it wasn't just the untamed wilderness that captured our hearts. Kabini provided a variety of family-friendly attractions that delighted our senses. We discovered the tranquility of the Kabini River through boat rides, where the serenity of the waters mirrored that of our souls. Our eyes were awestruck by the vibrant hues of avian wonders gracefully fluttering through the sky.
And the best part is? We achieved all of this without breaking the bank. Our pursuit of affordable options led us to uncover hidden gems, cozy Kabini homestay nestled in the embrace of nature, providing comfort and warmth at a fraction of the cost.
As we bid farewell to Kabini, our hearts were filled with joy and contentment. Our objective is to encourage families to take part in affordable wildlife adventures. Let not the whispers of expense deter you, for within the labyrinth of possibilities lie treasures waiting to be discovered.

Frequently Asked Questions
:
When is the best time to visit Kabini Wildlife Sanctuary?
Kabini Wildlife Sanctuary is a great place to see a variety of animals in their natural habitat. The best time to visit Kabini is between February and May, when it is a dry season and the animals are more active. During this time, you have a better chance of seeing tigers, elephants, leopards, and other predators. However, Kabini is also a beautiful place to visit during the monsoon season, when the forests are lush and green.
How many tigers are there in Kabini?
The population of tigers in Kabini is hard to ascertain as the animals are elusive and move about freely in the park's dense vegetation. However, according to a study conducted in 2018, there are at least 27 tigers living in Kabini.
Is Kabini the same as Nagarhole?
Kabini is situated within the Nagarhole Tiger Reserve and National Park, and forms part of the park's western boundary. The entire park covers an area of 643 square kilometers, and is home to a variety of wildlife, including elephants, tigers, leopards, and sloth bears.
Is Kabini better than Bandipur?
Kabini and Bandipur are both popular tiger reserves in India. Overall, Kabini is the better choice. The reserve has a higher density of tigers, and visitors are more likely to see tigers here than at Bandipur. In addition, Kabini is less crowded than Bandipur, so there's less chance of disturbing the tigers.
What are some low-cost things to do in Kabini?
Budget-conscious travelers will find several affordable activities in Kabini. A coracle boat ride along the tranquil backwaters is one such activity. In this traditional circular boat, you can enjoy the serenity of the surrounding scenery. Last but not least, you can enjoy nature walks and bird watching along the trails surrounding Kabini backwaters.