Coorg, the coffee cup of India blossoms when it rains and that is one of my favorites, but the entire Bangalore was rushing to famous tourist places in Coorg. Hence, we narrowed down on North-East Coorg that borders Malnad region, famous for rainforest and Western Ghats. Somwarpet in Coorg is an offbeat destination and off the radar of majority of the tourists. Tourist places in Somwarpet don't draw large crowds. It is also one of the hidden places to visit in South India during monsoon.

Gowrikere Homestay in Somwarpet Coorg
Coorg tourism is more famous for its hospitality and food than for its scenic landscape. We have been to Coorg several times. We prefer a homestay in Coorg where we are guests in someone's house rather than a resort. We set our base in a small but quaint village of Shanthalli in the middle of Western Ghats near Somwarpet in Kodagu. We stayed in Gowrikere Homestay that offered a stunning vista from our room's window and the foyer on the first floor. We were the only guests in this sprawling Somwarpet Homestay for a large part of our stay and that made it even more special.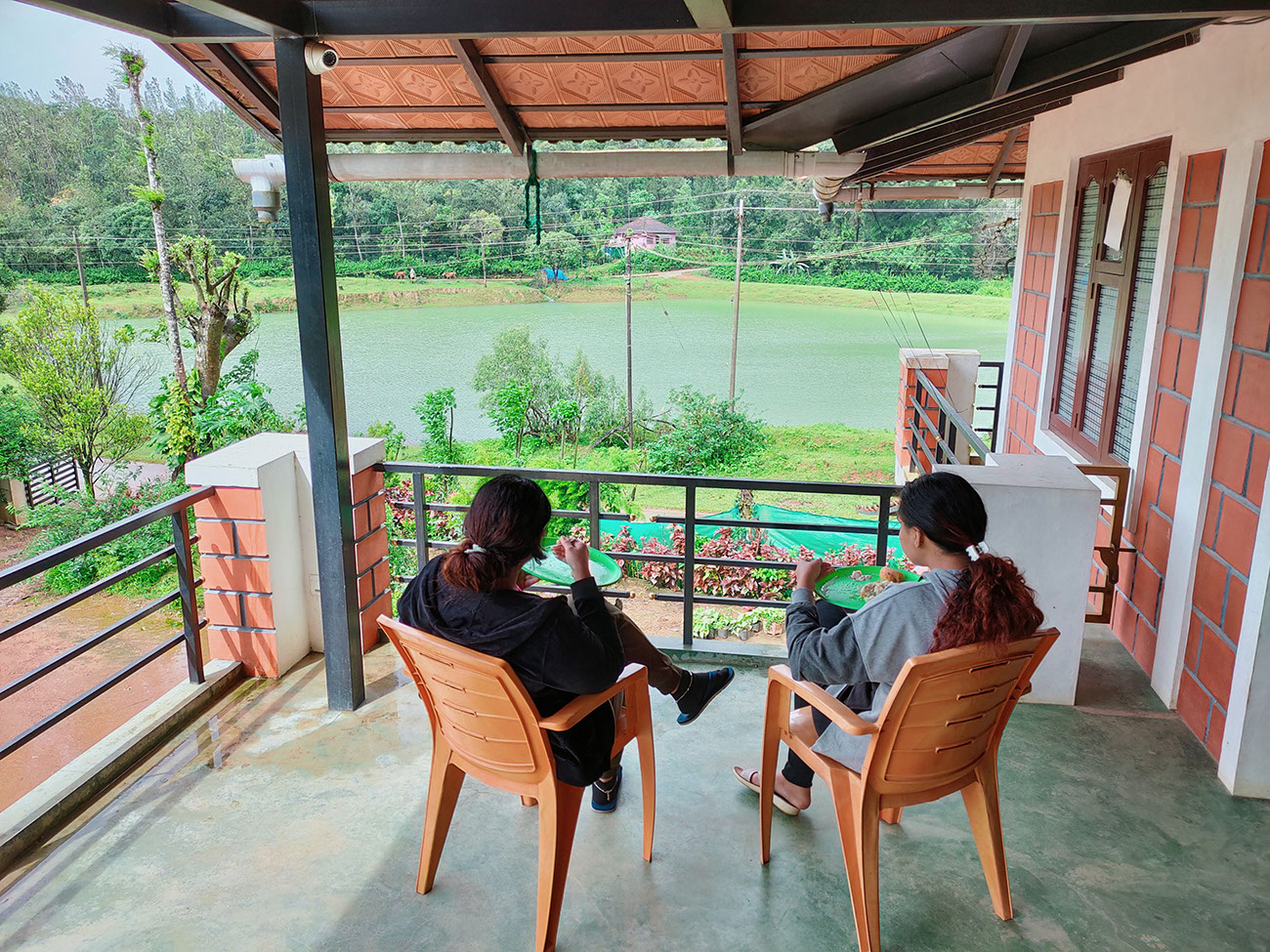 The foyer of Homestay had a picture perfect view on a rainy day, an ideal place to have breakfast and enjoy the monsoon
Coorg has over 500 homestays that you can book online based on your preferences regarding the type of property and your budget.Coorg has over 500 homestay properties that you can reserve online based on your preferences regarding the type of property and your budget. Gowrikere homestay nestled in coffee, orange and spice plantations, was a simple and elegant place with no frills. A lake that comes alive only during the monsoon and the lush green surrounding just across the road offers tranquility of mother nature. You wake up to birds chirping and go to bed amid a high-pitched background hum of crickets and katydids. The vegetarian food prepared in Coorgi style was delicious with varieties like Akki Roti, Kadubu, Nuputu and different curries to name a few. The entire surrounding was so serene that we just didn't feel like stepping out of our homestay. We spent time sitting at the foyer enjoying the monsoon magic while the host indulged us with locally brewed piping hot coffee at regular intervals. The rain stops and suddenly the entire surrounding is engulfed in thick fog and you could barely see anything across the lake. This is the reason one should visit Coorg during the monsoon.

Nestled in the lap of nature, Gowrikere homestay in Somwarpet offers the most spectacular views
Mallalli Falls near Somwarpet in Karnataka
Mallalli Falls is one of the places to visit in Somwarpet. Eventually the sky cleared up and it was time to drive through the meandering roads to a splendidly gushing Mallalli Waterfalls. Sometimes also known as Kumaradhara Falls by the locals, Mallalli Falls is one of the tallest waterfalls in Coorg. Kumaradhara River that flows through the higher elevation of Kukke Subramanya takes a plunge of more than 1,000 meters while passing through Coorg. This creates the most beautiful falls of Coorg while making it a top tourist place in Coorg. There is also a homestay near Mallalli Falls. This River then merges with Nethravati River before eventually merging with Arabian Ocean in Mangalore creating numerous waterfalls enroute during the peak monsoon in Coorg.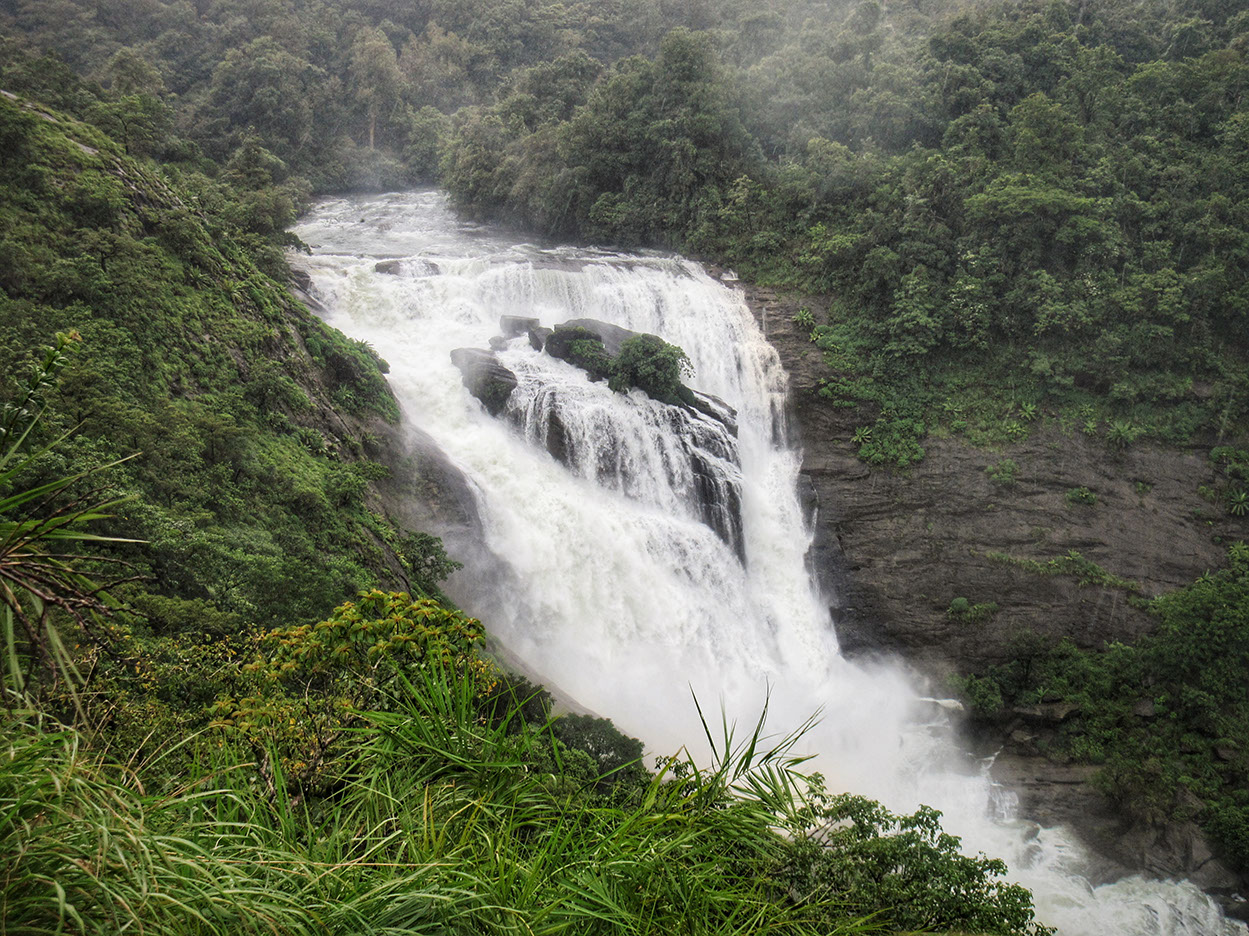 This 200-feet-high milky white Mallalli Falls in Coorg is a feast to the eyes and its roaring sound will ring in your ears for days after your visit
The cascading Mallalli Waterfalls plummeting from 200 feet height in a 2-tier sequence is best seen during the 4 months of heavy rain. You need to descend 400 steps to reach the foot of Pushpagiri Hills for a jaw-dropping view of this cascade. However, it was slippery and drizzling when we went so we decided against going down beyond 50 steps. There were not many people so we still got the best out of it from the top view points.
The divine sound of the water cascading down, increasing in decibel as we approach closer is alluring
Bisle Ghat - a nature lover's paradise
It's been 15 years since my first trip to Western Ghats and I am deeply in love with this incredible ecosystem. There hasn't been a year where I have not taken at least one trip to Western Ghats. Has my love faded going through the same journey again and again? Not yet. This year was special as I boarded the Vistadome coach on a train between Bangalore and Mangalore that passes through the Western Ghats just 2 weeks before this trip. Here, I'm raring to drive on Bisle Ghat amid heavy rain and dense fog resulting in a few meters of visibility on certain stretches. My wife was a bit worried but I was confident that we are going to safely do this 3-hour round trip between Somwarpet and Kukke Subramanya. You don't get enough opportunities to drive in the Western Ghats during dense fog and heavy rain and I was not one who would miss out on that.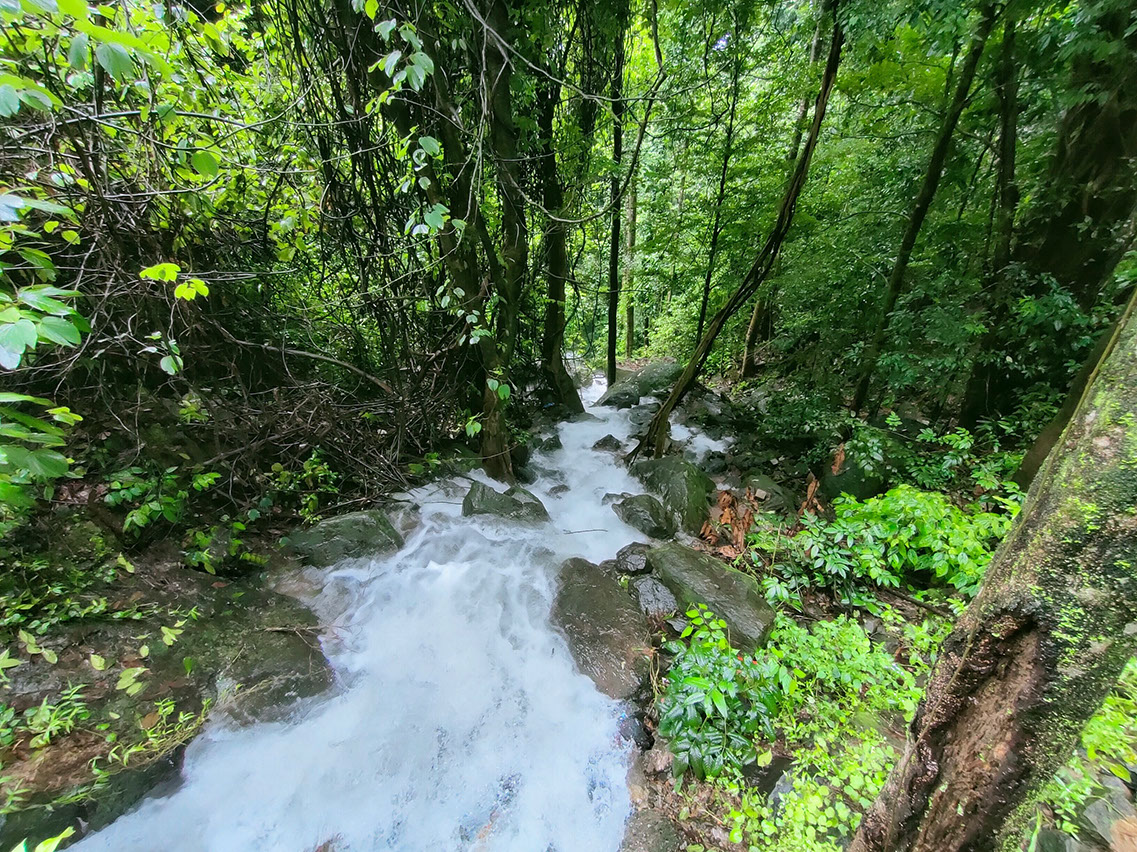 Plenty of natural waterfalls in Bisle Ghat - an urge to stop every few kilometers
The forest department has developed a viewpoint atop Bisle Ghat that offers a spectacular view of three mountain ranges, Kumara Parvatha, Pushpagiri and Dodda Betta. Bisle means "Sunlight" in Kannada. This area is so dense that it rarely receives sunlight and hence "Bisile" (that's how you pronounce it). You can get a breathtaking view of one of India's rainforests located within Bisle Reserve Forest and the Giri River that separates these mountain ranges. Trekking in Bisle Ghat is a nature lover's delight in the true sense. We missed this particular spectacle as the visibility was barely a few meters. Do I regret it? Well, not yet, as I'm sure I am going to come back here several times. We continued our drive all the way until the serpentine roads ended near Kukke Subramanya and returned with a hope of improved visibility at Bisle Ghat viewpoint, but it was not our day.
This is an exhilarating road trip in Bisle Ghat. The mesmerizing view of the rainforests and tiny Bisle Ghat waterfalls make this a spectacular experience.
On our return, we had an urge to eat something really hot. Quite obvious when it rains, right? Where would you find a restaurant in such a remote place? Suddenly, I spotted "Hallimane Tea/Coffee Shop'' on my google map navigation about half a kilometer away. A small makeshift hut (tented shop) awaited us. I wondered how this appears on Google maps. On inquiring for food, we were guided to their house at the top. They served us hot Maggie, fresh omelettes, bhajjis and tea, just what the doctor had prescribed. I then met the shop owner Srushtideep, a young boy in his 20s, who works for Amazon in Bangalore. Due to Covid and "Work from home", he now works from his tiny village of Mankanahalli. He set up this shop in recent months so that his father can keep himself engaged after retirement. Since there is no eatery nearby, he registered his shop on Google for discoverability as the majority of tourists use Google maps navigation. His family prepares delicious food so do stop by when you visit that area.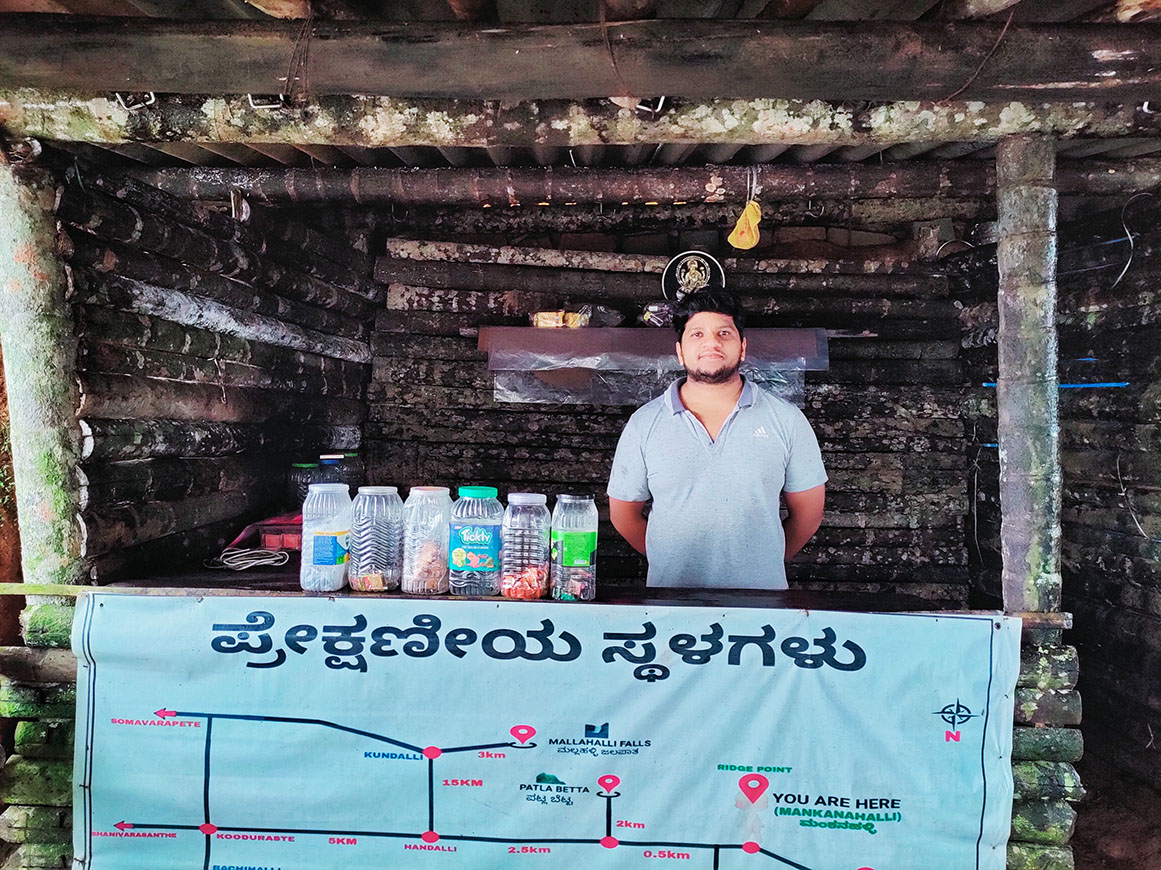 Srushtideep at his Hallimane Tea/Coffee Shop - located opposite Mankanahalli Ridge Point
Mankanahalli Lake & Ridge Point on Bisle Ghat Road
We did not realize that we spent 3 hours sitting here enjoying the serene Mankanahalli Lake around this restaurant. This also led us to discover an unusual place of historic significance that many tourists are unaware of, Ridge Point. A "Ridge" is a region of high barometric pressure that divides rainwater. A British officer from the early era discovered Ridge Point and placed a stone platform here indicating the direction of flow of water between Arabian Sea and Bay of Bengal.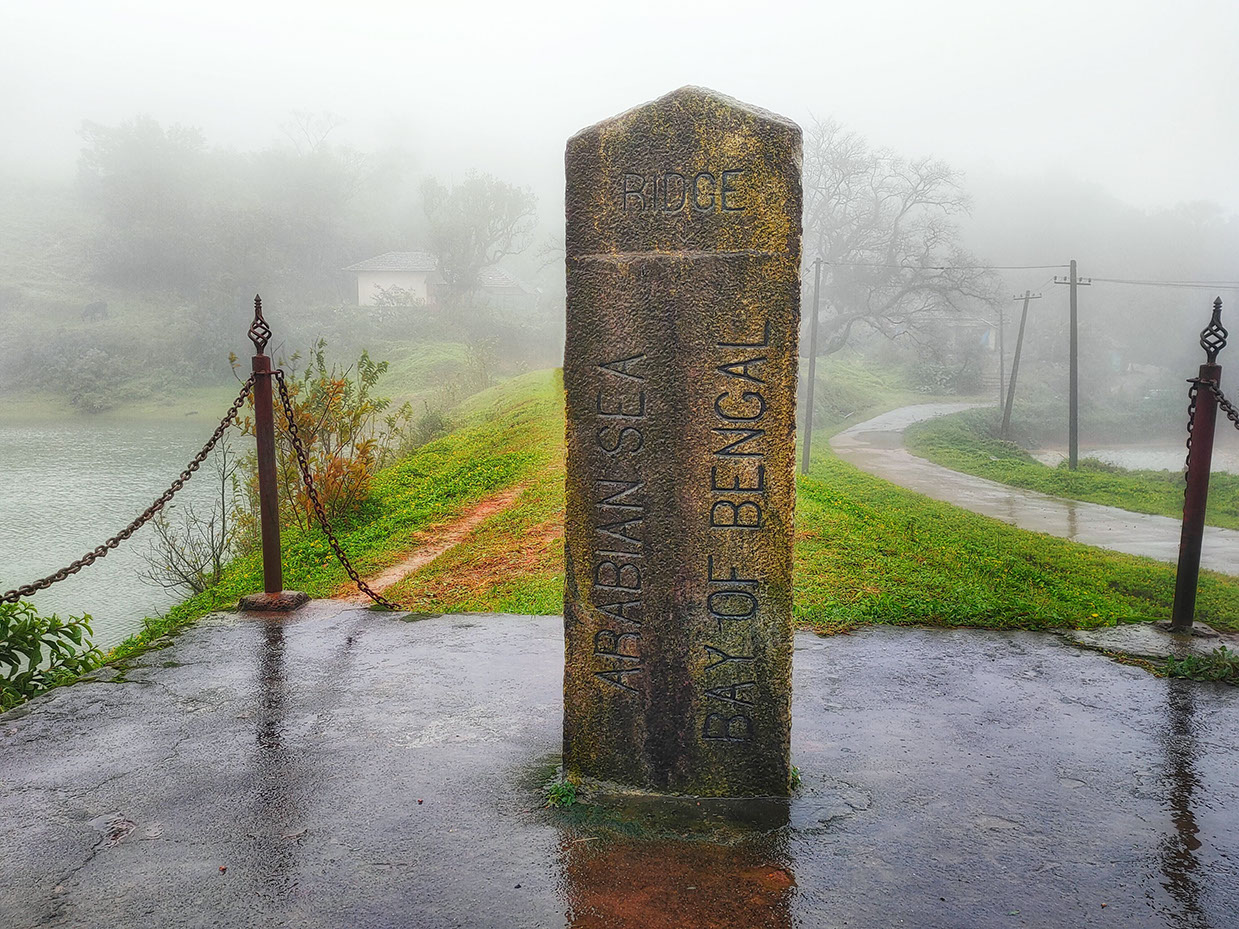 A natural phenomena - water flowing towards the west joins Arabian Sea while water flowing towards the east joins Bay of Bengal
Ridge Point remains mostly covered in clouds during monsoon and that's the best time to visit and experience nature like we did, for hours doing nothing. We took a stroll behind Ridge Point to discover that there is the big Mankanahalli Lake that was earlier completely covered in clouds with almost zero visibility. Soon, the clouds emerged, in no time covering the entire place in thick fog, an experience difficult to describe in words.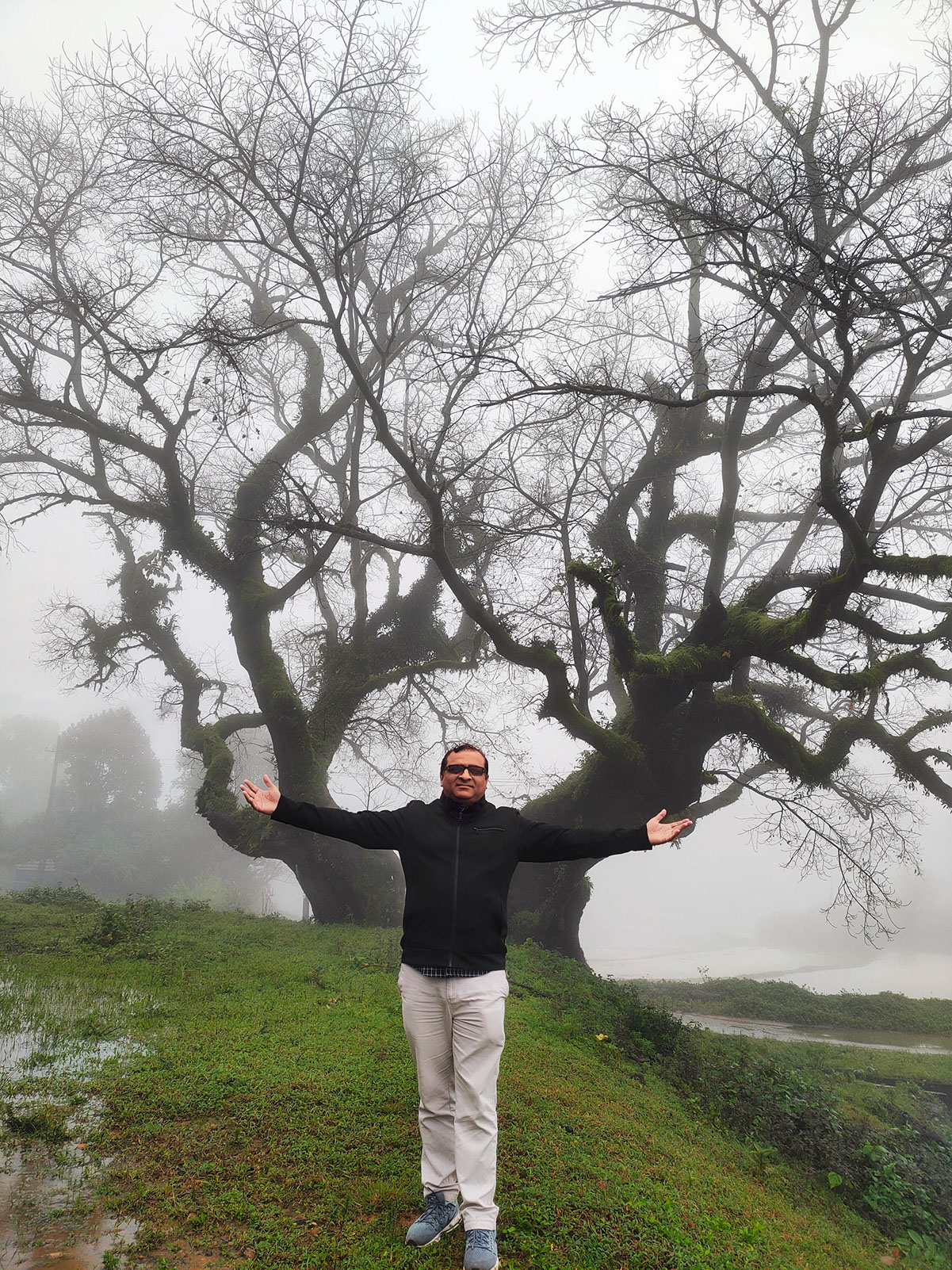 That's me trying to merge with the surroundings
Belur Golf Course in Somwarpet
There are many things to do in Coorg and one of them is Belur Golf Course. Just 6 km south of Somwarpet, this place is known as Belur Bane Somwarpet. This used to be a 9-hole golf course once upon a time but now is just a natural and unmaintained grassland. This has become a paradise for movie makers as it offers a long stretch of lush green landscape. We went there during the weekdays so we were the only ones but the leftover trash suggests this could be a picnic spot for locals on Sundays.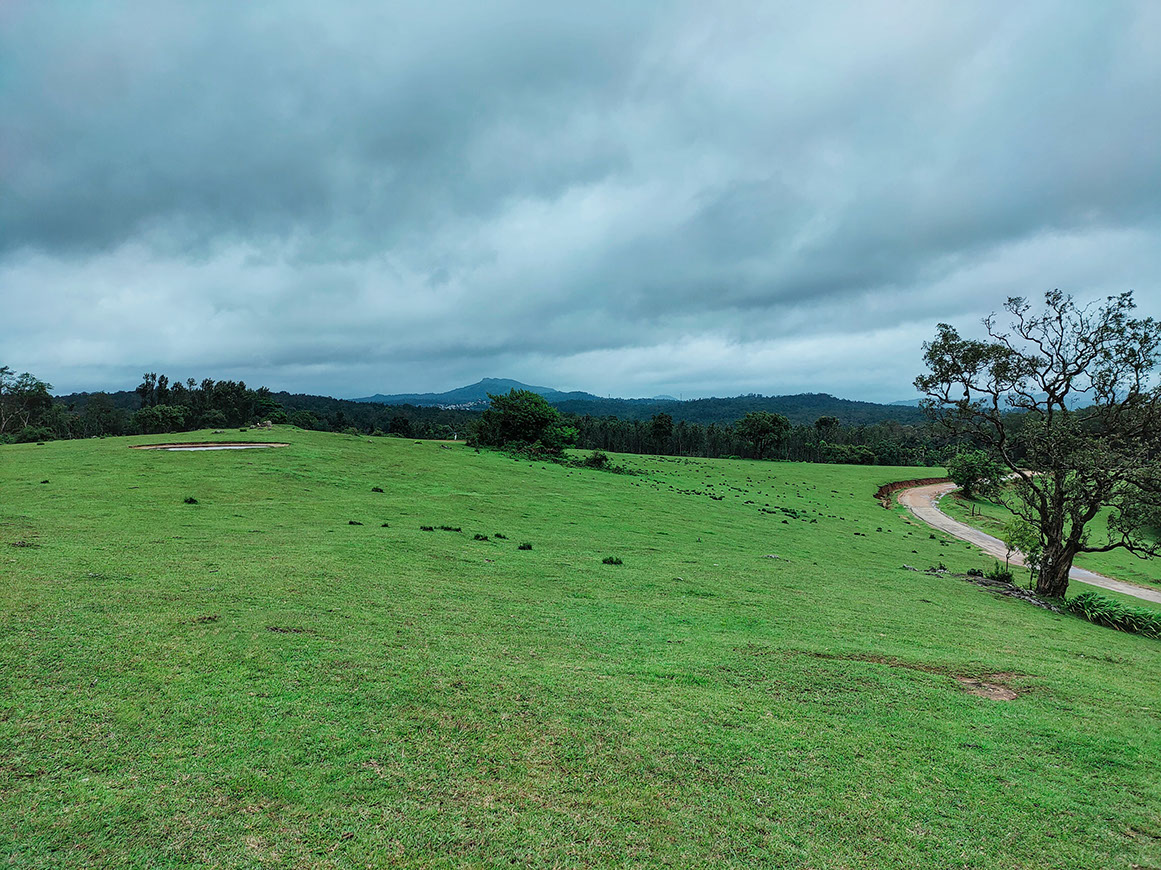 This lush green grassland of Belur Golf Club makes for a perfect picnic spot to embrace mother nature
This picturesque Somwarpet Golf Course is believed to be 100 years old with a history of holding some of the oldest open Golf tournaments in India. This is also a nice place for photo ops and my family left no stone unturned in capturing their portraits in every possible angle. A stroll on the grassland was quite pleasing. This is a place in Somwarpet where you could easily spend a couple of hours and relax.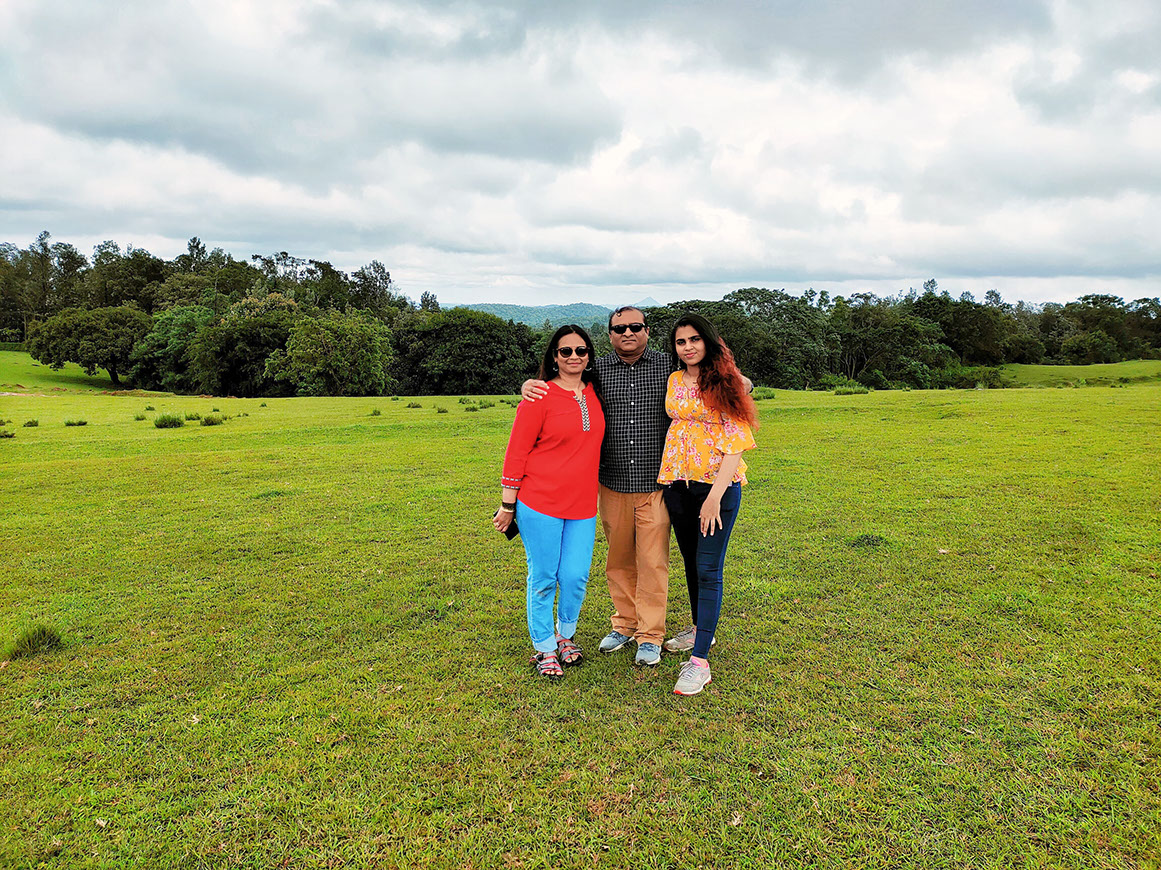 One of the many photos taken with my lovely family
Honnamana Kere Lake
Honnamana Kere, the largest lake in Coorg is another place to visit in Somwarpet. Honnamana Kere, the largest lake in Coorg is another place to visit in Somwarpet. Located close to Somwarpet city, it is nestled between mountains and forests. According to legend, Goddess Honnamana sacrificed her life here for the welfare of people. A temple has been constructed in her honor where they conduct the Gowri festival and offer 'Bagina' to the Goddess every year. You can drive uphill from the temple and reach the rear of the lake for a beautiful view. Rock climbing at Honnamana Kere and trekking around the lake are some of the activities for adventure lovers.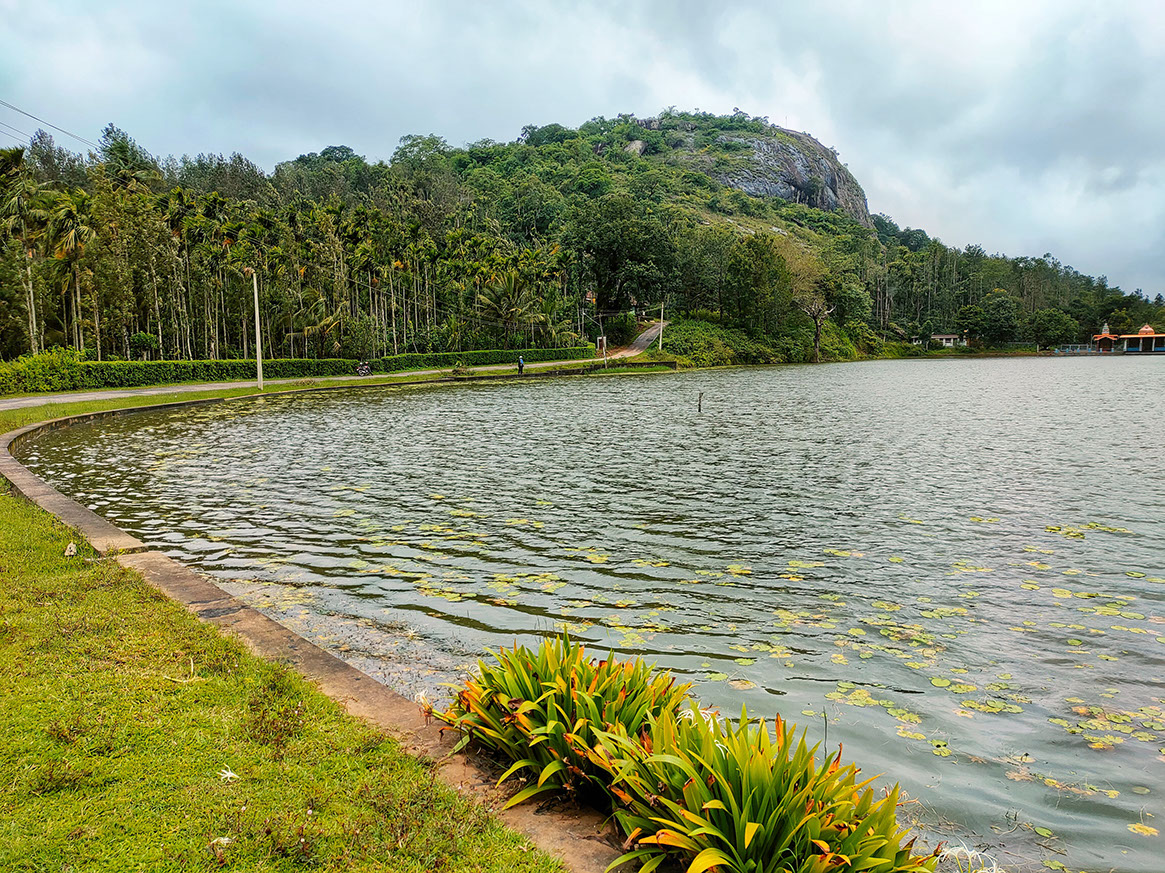 Honnamana Kere Lake offers a spectacular view of the surroundings and is a perfect place to hang out in the evenings
Kote Betta - a hidden gem in Coorg
"Kote" in Kannada means Fort and "Betta" means Hills. Kote Betta resembles a fort-like structure that is situated at an altitude of 5,300 feet. This is Coorg's 3rd highest peak bordering Dakshina Kannada district. This place is a trekker's paradise. Kote Betta trek distance of 10-km starts from Hattihole bridge and is ideally recommended after the monsoon. We went during the peak monsoon and the last 5 kms. of the drive was mind blowing. Most of the time we were engulfed in mist as we kept gaining elevation. Kote Betta in Somwarpet has a Shiva temple atop a big rock which was clearly visible while I was parking my car and suddenly a thick cloud engulfed everything and my dream of taking beautiful pictures could not be fulfilled. Legend has it that Pandavas stayed here for a while when in exile.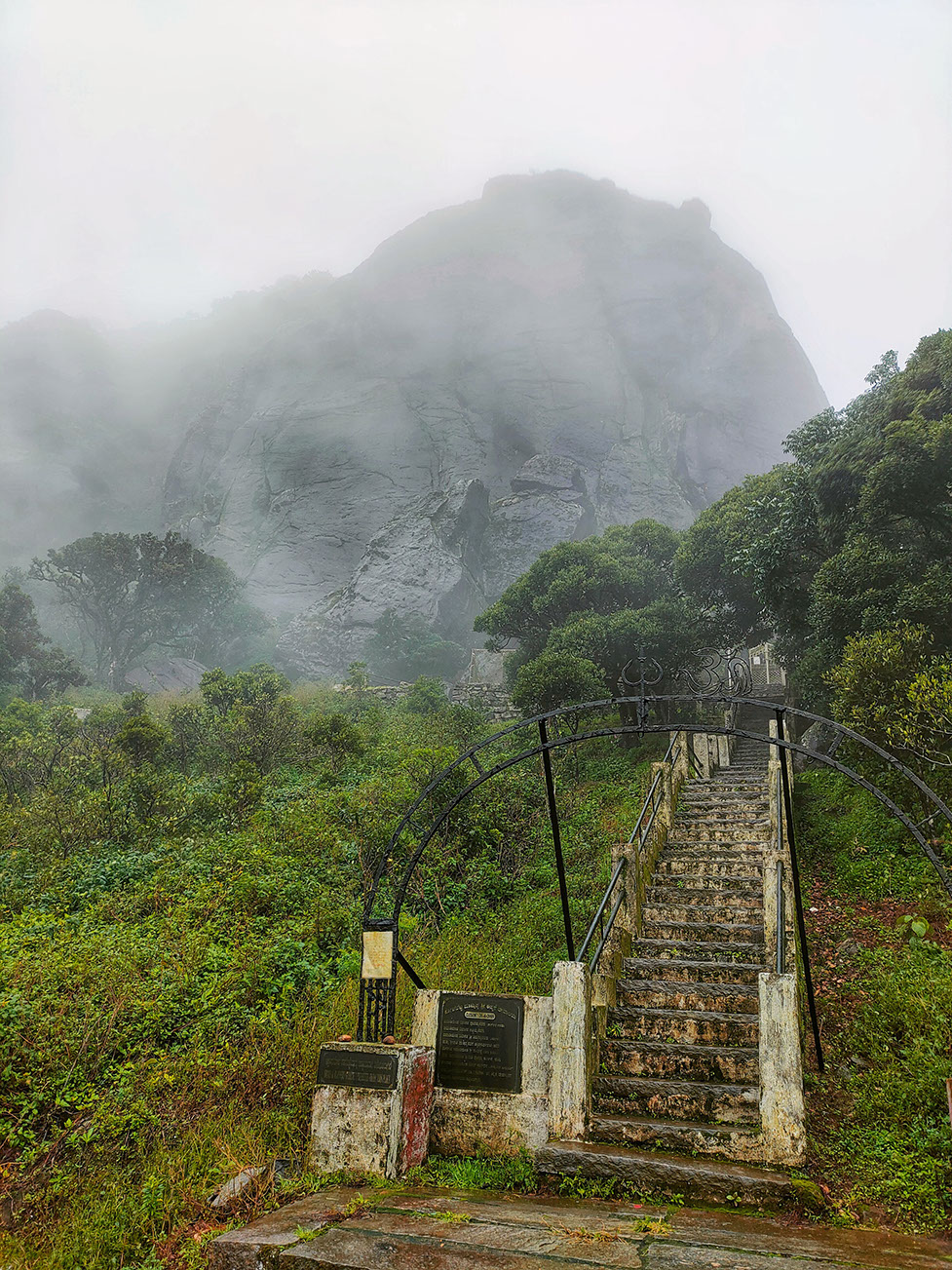 The fort-like entrance of Kote Betta trek is intriguing and alluring
The weather opened up quite a bit on our return and it turned out to be a blessing in disguise. We heard a huge roar of water falling from a height and before we could figure it out, my wife spotted massive cascading Onti Waterfalls in the distance. The clouds had disappeared and with virtually no other tourists around we could see milky white water cascade with a roar from quite a distance. Trekkers also know this as Kote Betta Falls.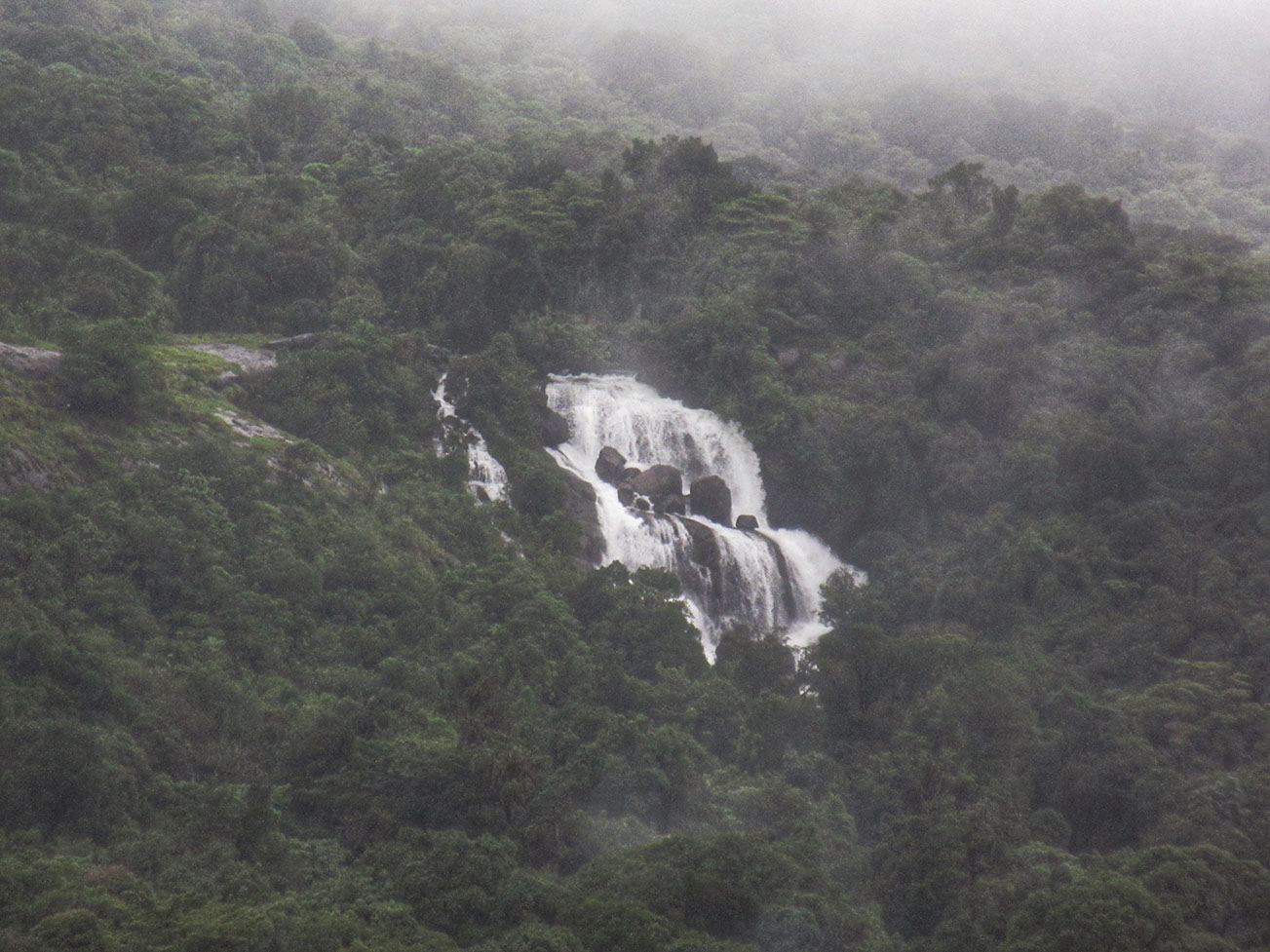 This is an incredible view of Onti Waterfalls while heading to Kote Betta
Suralabbi Falls - a hidden place in Coorg
It was already 6 pm and we still had 1.5 hours of drive to our homestay in Somwarpet. When we came down and were about to take the route we came from, I spotted a sign of Suralabbi Falls that was on the left (opposite side). I dialed Google and discovered that it would be a small detour with just 5 additional kilometers to reach our destination. The decision didn't disappoint us as we passed through the giant Suralabbi Waterfall. There were no other tourists except us and that was a cherry on the top. This is a true hidden gem of waterfalls in Coorg. There are a number of places to explore in Somwarpet, a complete list can be found here.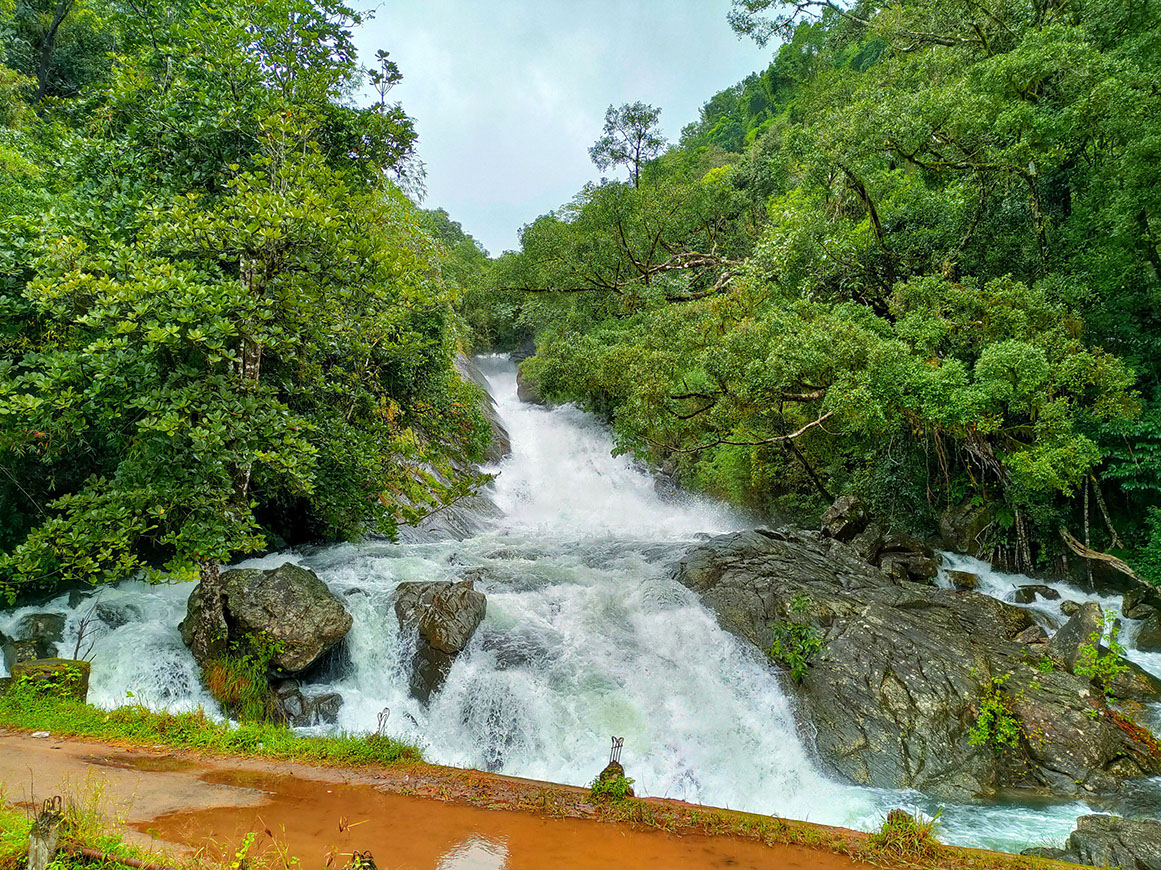 Surlabbi Falls emerging from the lush greenery is a hidden place to visit in Somwarpet
Surlabbi Falls, locally known as Medura Abbi or Medarahole Falls is a natural waterfall originating from a narrow gorge. It flows down several steps among the rocks. The waterfall gushing from the rocks in between the lush greenery is a sight to behold. The natural beauty and tranquility of the place makes it a nature lovers' paradise. This waterfall is seasonal which flows in all its glory during the monsoon. Visitors are prohibited from entering the water during the monsoon.
This gushing cascade is Surlabbi Falls in Coorg. Emerging from a narrow gorge among lush greenery, this white cascade creates a truly captivating view.
The photo ops at Suralabbi Waterfall lasted a tad longer as we were losing daylight. We had to drive through the dense forest and winding roads with no sign of a human being and no mobile coverage for a long stretch. Eventually, we reached our homestay in Somwarpet, had a sumptuous dinner with an orchestra of crickets and other insects in the brackgroud. The next day, we started our return journey from Somwarpet to Bangalore amid a clear sunny day, the first time since we had arrived.
Frequently Asked Questions
:
How to reach Somwarpet from Bangalore?
You may choose from several routes to travel from Bangalore to Coorg. The distance between Somwarpet and Bangalore is 230 kms through a scenic drive that passes through NH75 Bangalore - Hassan highway, Channarayapatna and Holenarsipur. The best way to reach Somwarpet from Bangalore is by car. However, you also have an option to board a KSRTC bus from Majestic bus stand. You can also take a train from Bangalore to Hassan and then take a bus to reach Somwarpet.

How to reach Somwarpet from Mysuru?
The distance between Mysuru and Somwarpet is about 110 kms and takes approximately 2.5 hours to reach. You need to take NH275 from Mysore to Kushalnagar that passes through Hunsur and Periyapatna. There are direct KSRTC buses between Mysuru and Somwarpet.
What is the best time to visit Somwarpet?
Somwarpet in Kodagu district of Karnataka is nestled amid the Western Ghats, making it one of the most scenic tourist places in Coorg. The best time to enjoy some of the tourist places in Somwarpet like, Mallalli Waterfalls, Bisle Ghat trekking and Kote Betta is the rainy season. In general, the monsoon in Coorg is the best time to visit.
Is finding a location to stay in Somwarpet difficult?
Somwarpet in Karnataka is one of the hidden places in Coorg for tourists. Hence, there are limited options for homestay in Somwarpet city and surrounding towns.
What is the best time to visit Bisle Ghat?
Bisle Ghat is one of the most scenic places in Western Ghats. If you like rain and cloud cover then monsoon is the best time to visit Bisle Ghat. However, if you want to do trekking in Bisle Ghat then October to February is the best time.