On a recent trip to the bustling metropolis of Ho Chi Minh, I experienced a bit of sensory overload. There were so many sights and sounds and smells that were quite foreign to me. After I adjusted to that first night in a hotel in Ho Chi Minh City, the next day passed quite delightfully.
With just 24 hours at your disposal, prepare to embark on a whirlwind adventure through this bustling metropolis, immersing yourself in its rich history, vibrant culture, and seriously mouthwatering Vietnamese food.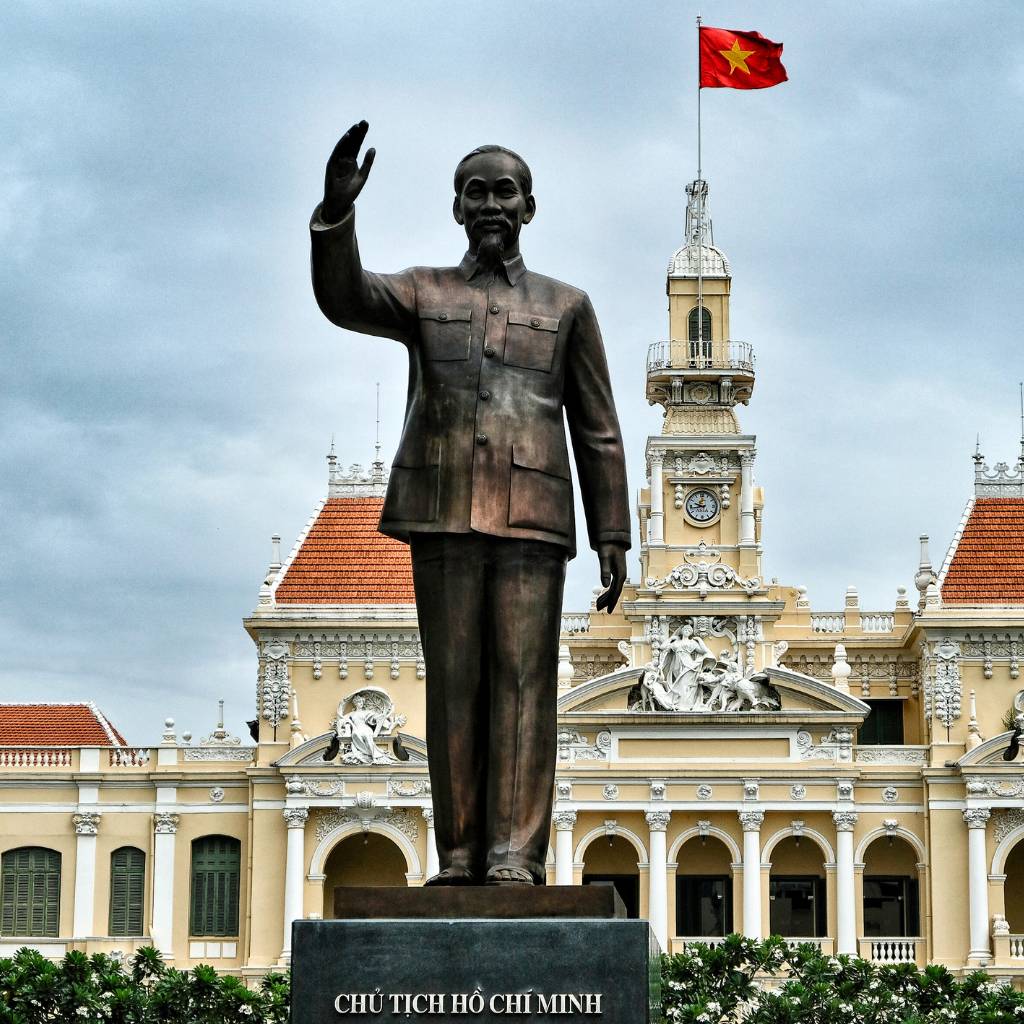 While there are a million things to do in Ho Chi Minh City, I will just cover what you could accomplish in one day in case you only have one day as I did. Your one-day journey in Ho Chi Minh City, or Saigon as it is formally known by, is sure to leave a lasting impression, offering a tantalizing taste of all that this dynamic city has to offer.
A Few Travel Tips for Ho Chi Minh
It was so helpful to have a regional SIM card while I was here. Because this was just part of my trip, I got one for the entire region but you can also get one specific for Vietnam. With Drimsim, you can get international roaming SIM cards for Vietnam. They also provide a virtual eSIM so that you don't have to wait for a physical SIM to arrive.
You need a visa before you can enter Vietnam. You can easily apply for a Vietnam visa online but make sure you do it in plenty of time or the processing time could hinder your travels.
The currency is the Vietnamese Dong (VND). My favorite place to check the exchange rate is the XE Currency Convertor.
Grab is the Uber of SE Asia. Whether you're just in Saigon or going to be throughout SE Asia, this is a great app to have handy! It makes it really easy to get where you're going since you can just put in the address of your destination instead of trying to have to describe in Vietnamese where you want to go.
5 Things you shouldn't Miss – 1 Day in Ho Chi Minh
Below are the 5 must not miss items on things to do list if you only have 24 hours in Saigon. That being said, everyone's a little different. I prefer a slower travel where I can enjoy the day and drink it all in.
If you are, however, someone who likes a bit more packed schedule, I have added in a few BONUS stops along the way. They will just enhance your day and let you see more of the city.
Let's jump in!
1. Ben Thanh Market
Ben Thanh Market is one of the most famous and iconic landmarks in Ho Chi Minh City. Located in the city center, it is a bustling marketplace that offers a vibrant and sensory-rich shopping experience. The market has a long history, dating back to the early 17th century when it was originally situated outside the walls of the city's fortress.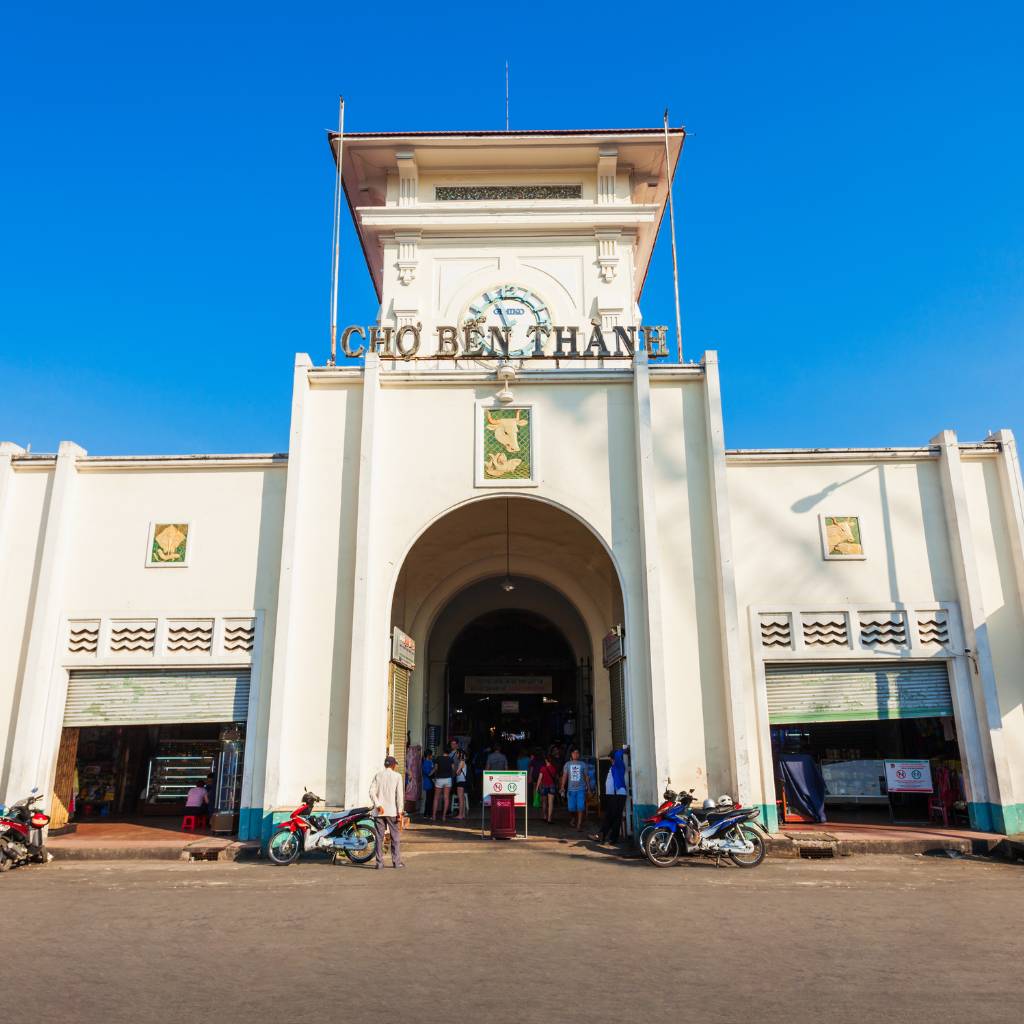 Today, Ben Thanh Market is a sprawling complex that is home to a wide array of vendors and stalls selling a wide range of products. You can find everything from clothing, textiles, and handicrafts to souvenirs, jewelry, and household items. It's a great place to shop for traditional Vietnamese goods and test your bargaining skills, as haggling is a common practice here.
One of the highlights of Ben Thanh Market is its extensive food section, where you can sample an array of local dishes and street food delicacies. From steaming bowls of pho and banh mi sandwiches to fresh fruits, seafood, and sweets, there is a wide range of culinary delights to indulge in.
Whether you're looking to shop for souvenirs, sample delicious food, or immerse yourself in the vibrant local culture, a visit to Ben Thanh Market is a must-do when exploring Ho Chi Minh City.
Bonus stop as you go – Independence Palace
Visiting the Independence Palace in Ho Chi Minh City is a must for history enthusiasts and those seeking a deeper understanding of Vietnam's past. Formerly known as the Reunification Palace, this iconic landmark played a pivotal role in Vietnam's modern history and stands as a symbol of the nation's struggle for independence.
The Independence Palace is famous for its association with the Vietnam War. It was the presidential palace of South Vietnam during the war and witnessed significant historical events. Most notably, it was the site where a North Vietnamese tank crashed through its gates on April 30, 1975, marking the end of the war and the reunification of Vietnam.
Exploring the palace offers a glimpse into the political and social climate of the time. The architecture itself is intriguing, blending modernist design elements with traditional Vietnamese motifs. Inside, you can wander through well-preserved rooms that were once used for official receptions, meetings, and the daily life of the South Vietnamese government.
The highlight of a visit to the Independence Palace is the underground command center, which was used during the war. This subterranean network of rooms and tunnels showcases the intricate planning and communication infrastructure of that era.
2. Central Post Office & Notre Dame Cathedral
From the Ben Thanh Market, you can find your way to the Central Post Office & Notre Dame Cathedral, which are across from each other.
Notre Dame Cathedral
Notre Dame Cathedral was built between 1863 and 1880 during French colonial rule. It was designed by Jules Bourard, and was modeled after the famous Notre Dame de Paris.
The cathedral's architecture is a beautiful blend of Romanesque and Gothic styles, characterized by its twin bell towers reaching a height of 58 meters (190 feet). The intricate detailing, stained glass windows, and striking façade add to its grandeur and charm.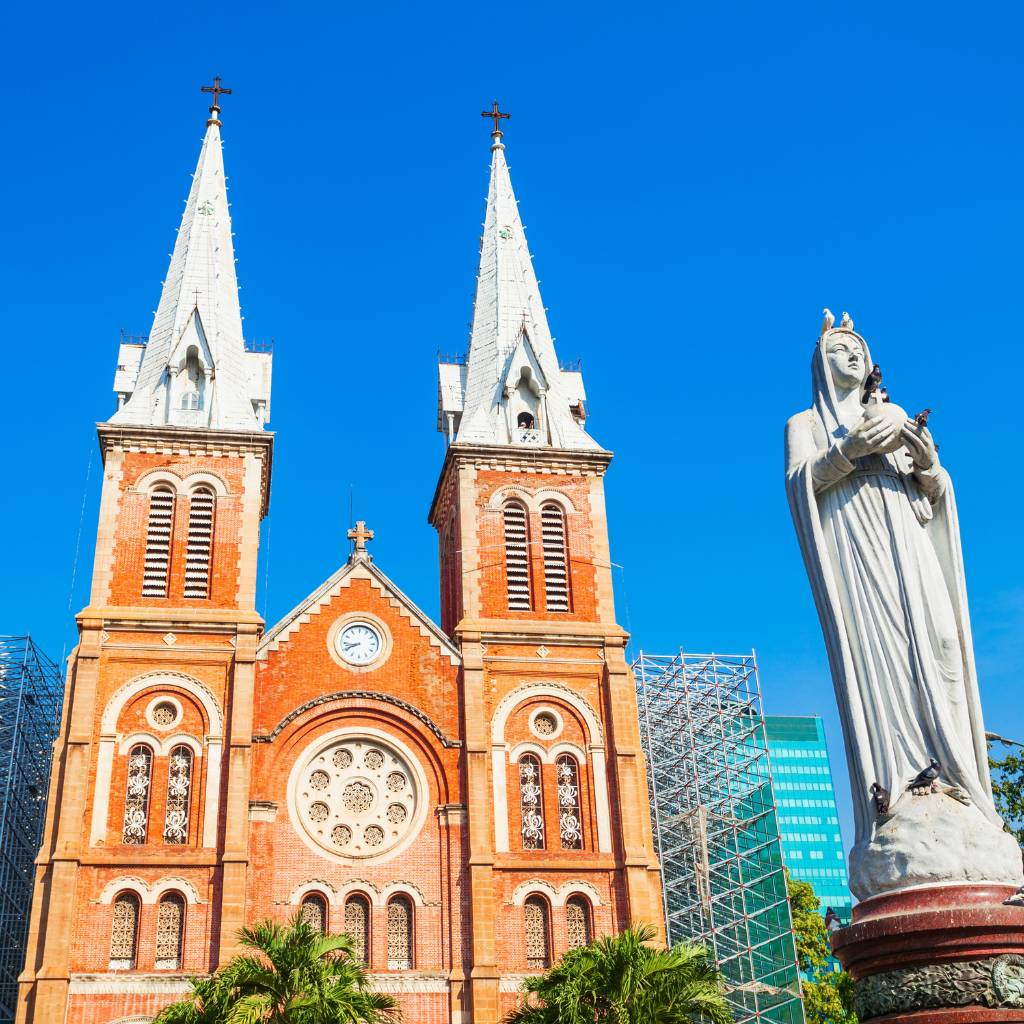 Notre Dame Cathedral has been a prominent religious institution in Ho Chi Minh City for over a century, serving as a gathering place for Catholic worship and hosting significant religious events. The cathedral's interior features stunning vaulted ceilings, graceful arches, and religious statues that create a sacred atmosphere.
Today, Notre Dame Cathedral Basilica of Saigon stands as an architectural masterpiece and a cherished cultural landmark. It attracts visitors from all over the world who come to admire its beauty and learn about its historical significance.
Central Post Office
The Central Post Office is a prominent architectural gem and historical landmark built during the French colonial period. It stands as a testament to the city's rich past and serves as an active post office to this day.
Designed by Gustave Eiffel, the renowned architect behind the Eiffel Tower in Paris, the Central Post Office was constructed between 1886 and 1891. The building showcases a fascinating blend of Gothic, Renaissance, and French colonial architectural styles, creating an elegant and distinctive façade.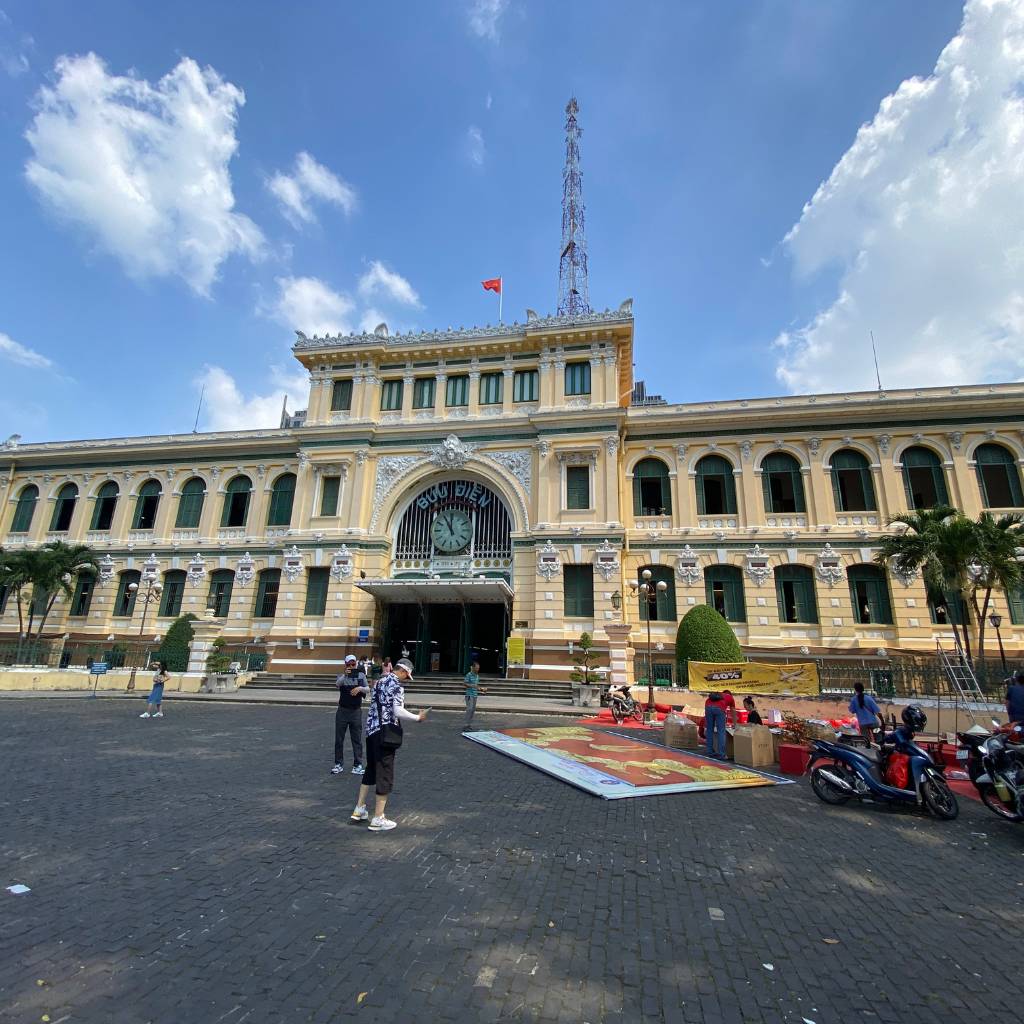 When you enter the Central Post Office, you will immediately notice the spacious and grand interior. The high ceilings, marble floors, and arched columns contribute to the building's grandeur. The main focal point is a large portrait of Ho Chi Minh, the revolutionary leader of Vietnam, displayed on the wall.
One of the notable features inside the post office is the large, antique telephone booths that evoke a sense of nostalgia. The postal counters, where visitors can still send mail and purchase stamps, retain a charming vintage charm. Additionally, there are various souvenir shops and stalls selling postcards, maps, and other items.
3. Nguyen Van Binh Book Street
Nguyen Van Binh Book Street was absolutely magical! This was especially special because since moving to Istanbul, finding English books has been much more difficult and expensive.
Nguyen Van Binh Book Street, also known as Book Street or the Walking Street for Book Lovers, is a unique cultural destination. Situated in District 1, it stretches along Nguyen Van Binh Street, adjacent to the iconic Notre Dame Cathedral Basilica and the Central Post Office.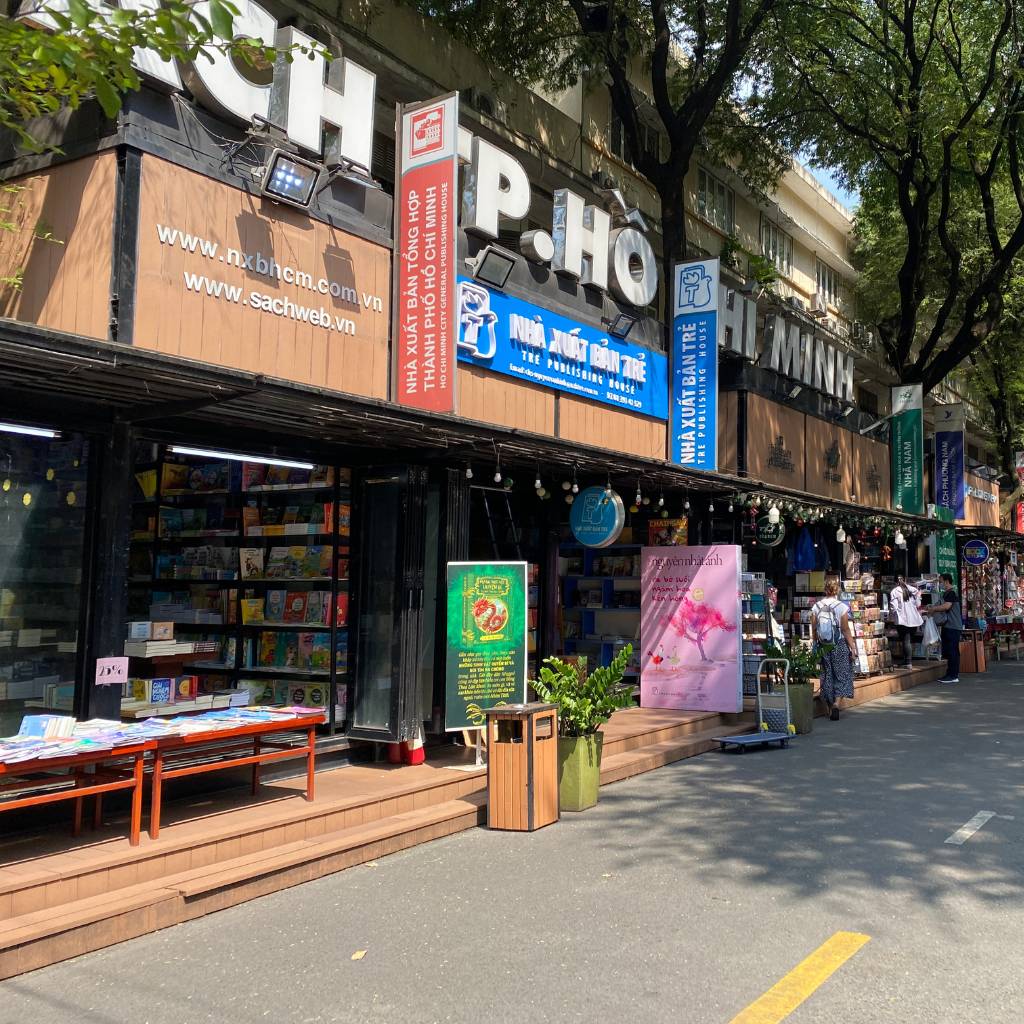 Opened in 2016, the street is a haven for book enthusiasts and offers a vibrant and dynamic atmosphere. It is lined with numerous book stalls, shops, and cafes, creating a delightful ambiance for literary exploration and leisurely reading.
The bookstores on Nguyen Van Binh Book Street feature a diverse range of genres and topics, catering to all kinds of readers. You can find a wide selection of books, including novels, non-fiction works, art books, children's literature, historical texts, and more.
Apart from bookstores, the street hosts regular cultural events, book signings, literary workshops, and exhibitions. It serves as a platform for local authors, publishers, and artists to showcase their works and engage with the community. The vibrant atmosphere is enhanced by street performers, musicians, and food stalls, creating a lively and engaging experience for visitors.
Nguyen Van Binh Book Street is not just a place for buying and selling books; it is a space that encourages a love for reading and intellectual pursuits. It has become a popular gathering spot for book clubs, students, and those seeking a peaceful escape from the bustling city.
Bonus stop as you go – Tao Dan Park
Tao Dan Park is a popular urban oasis located in the heart of Ho Chi Minh. It is a beautiful green space that offers an escape from the bustling city streets. Some of the things that make it special are:
Abundant Greenery

: Tao Dan Park is known for its beautifully landscaped gardens and abundant greenery. Tall trees provide ample shade, and well-maintained lawns create a peaceful and refreshing environment. Perfect for reading one of those books you just purchased from the "book street".

Bird Lovers' Paradise

: The park is home to many different bird species. In the early mornings, bird enthusiasts gather here to observe and appreciate the different species in their natural habitat.

Flower Displays and Festivals

: The park is popular for its colorful flower displays, particularly during special occasions such as the Lunar New Year (Tet). The park comes alive with vibrant flowers and decorative lanterns, creating a festive atmosphere.

Taoist Statue and Shrines

: At the center of Tao Dan Park is a large statue dedicated to the Taoist deity Quan Am, known as the Goddess of Mercy. Surrounding the statue, there are several small shrines and altars where visitors can offer prayers.

Relaxation and Picnic Areas

: Tao Dan Park also provides ample seating areas and open spaces where visitors can relax, have a picnic, or simply enjoy a leisurely stroll.
4. Bui Vien Street
This is really a bonus as I realize most of you reading this will enjoy this. While I strolled the street and was enthralled with the sights and sounds of the area, I'm not really a bar person alone at night.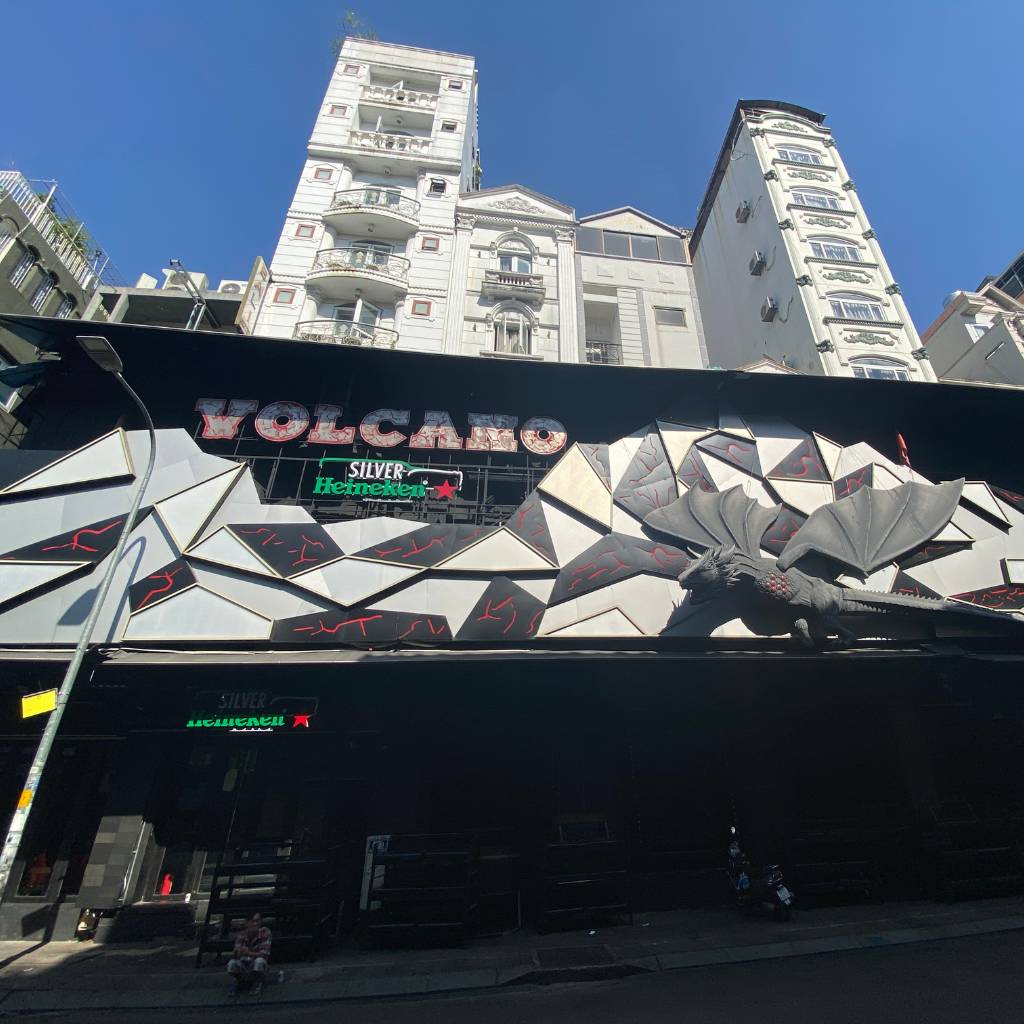 That being said, this street is known as the "backpacker street" of Ho Chi Minh. There are so many different bars, clubs and small restaurants. If you're not into the bar scene but love people-watching as I do, you can always order something at one of the small outdoor restaurants and take it all in.
5. Food Fiesta in Ho Chi Minh City
Since moving to Turkey, Asian food is one of the things that I have missed most and this trip was the best medicine for my soul. You might want to try some of these popular local dishes in Vietnam.
Banh Mi
I had Banh Mi for breakfast and it was one of the best decisions of the day. I was surprised that it was suggested for breakfast as a sandwich isn't something I normally eat for breakfast. It was, however, the perfect recommendation.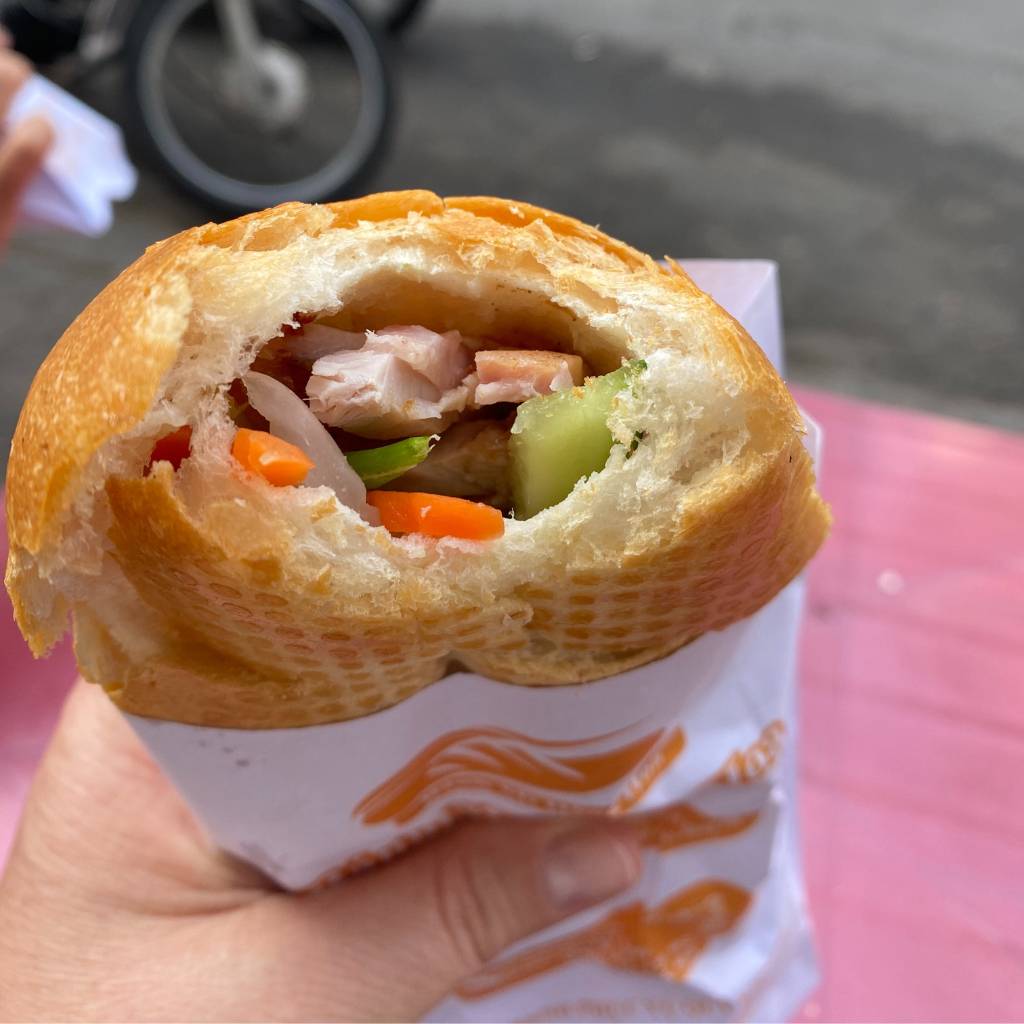 When I lived in Oklahoma City, we had an excellent Vietnamese sandwich shop and so I was quite curious how it would hold up to the original…I must say I was pleasantly surprised.
So what is it? Well, the name actually refers to the bread used in the sandwich so it can have all kinds of different ingredients. This Vietnamese baguette with a thin, crispy crust and airy interior is then filled with ingredients such as grilled or roasted meats (commonly pork, chicken, or beef), pâté, Vietnamese cold cuts, pickled vegetables (carrots and daikon radishes), fresh herbs (cilantro and mint), sliced chili peppers, and a spread of mayonnaise or butter.
Somehow the combination of the ingredients invokes a party in your mouth. Definitely recommend not passing it up.
You can find Banh Mi in street stalls, food markets, and restaurants throughout Vietnam. Its versatility allows for variations and adaptations, allowing you to add your own twists to the classic recipe. Whether you're a meat lover or a vegetarian, Banh Mi offers a delightful and portable meal that encapsulates the essence of Vietnamese cuisine.
Cheese Coffee
If you like sweet coffee drinks then I have got a treat for you. I am actually not one who typically takes sweet drinks…I'd rather eat my calories than drink them. But since I was doing so much walking that day I decided I could have a special treat.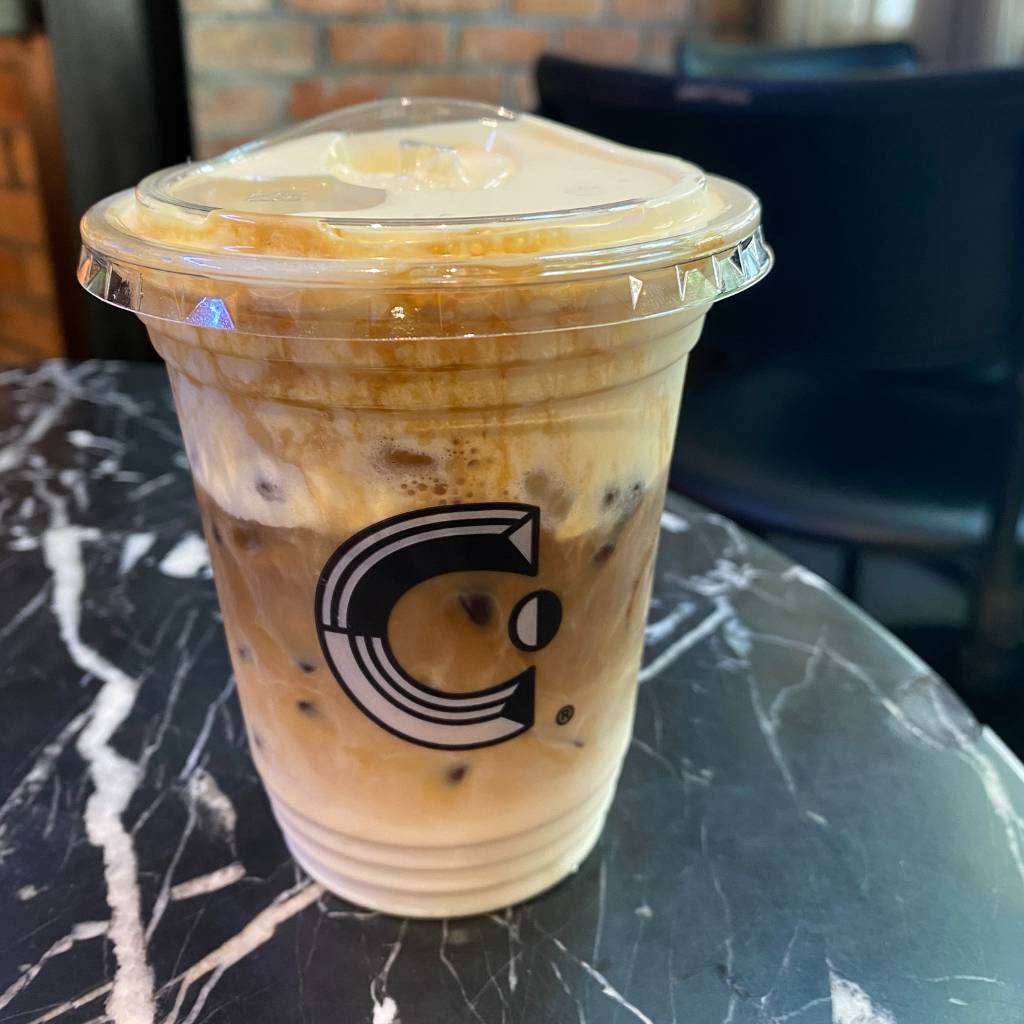 I don't know if this is a thing from somewhere but I saw a place called "Cheese Coffee" that boasted cheese in the coffee. Okay, I know. It kinda sounds weird but it looked much like something you'd find at a Starbucks but felt local. I had to try it.
Second best decision of the day. It was definitely on the sweet side but the richness of the creamy balanced it quite well. If you need a little pick me up and you've already had your Vietnamese coffee for the day, give this one a try!
Vermicelli Bowl
One of my favorite Vietnamese dishes is the Vermicelli bowl, also known as Bun (Bún) in Vietnamese. There is a place in Oklahoma City that I would frequent with a couple on Sundays. The flavors were so perfect I never could get anything else when I went there.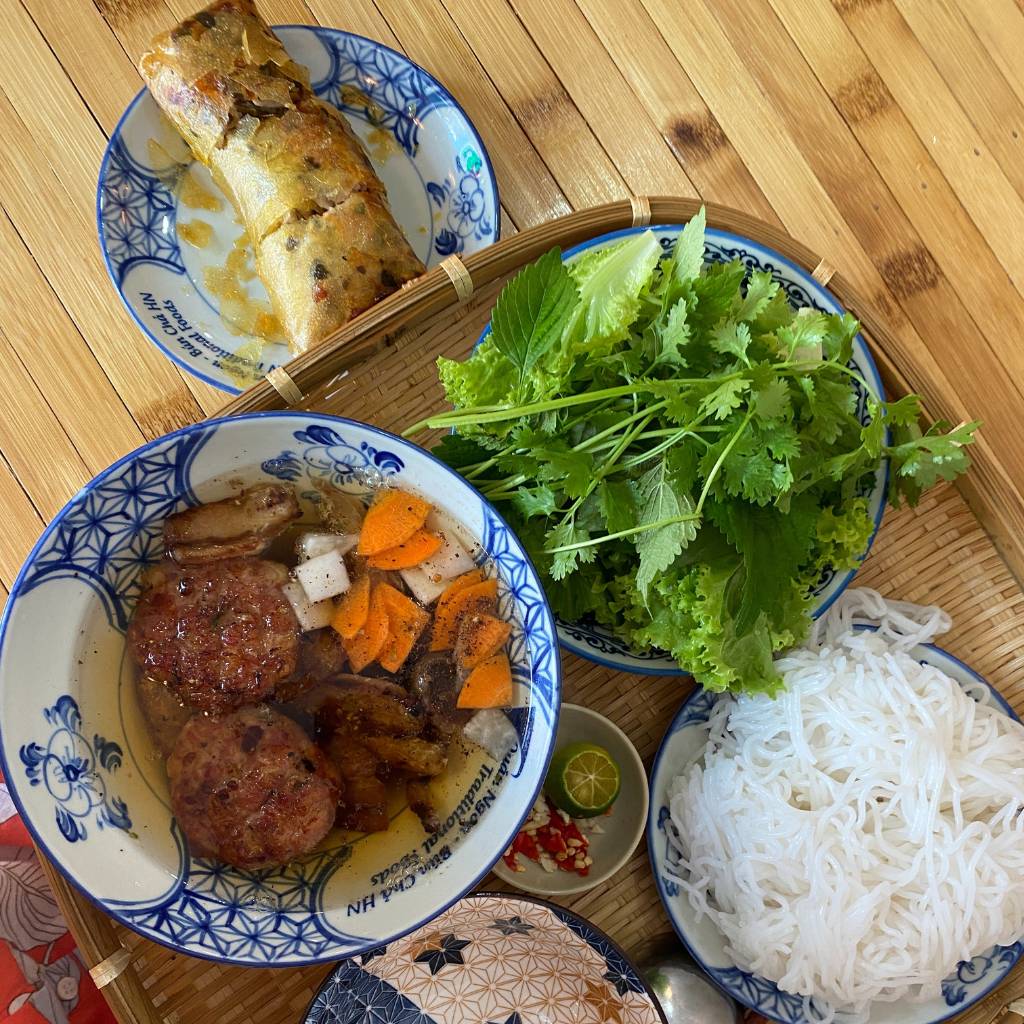 I was so excited to eat in its home country and see if it was as good as I remembered. The perfect combination of vermicelli noodles, fresh herbs, vegetables, protein, and a tangy sauce, creates a balanced and refreshing meal. It was and was the perfect dinner to finish off the day!
So what is it? The base of the Vermicelli bowl is made up of thin, rice-based vermicelli noodles, which are cooked to perfection to achieve a firm yet tender texture.
Then there is the protein. It can vary depending on personal preferences and availability but often includes grilled pork (Thit Nuong), grilled shrimp (Tom Nuong), grilled chicken (Ga Nuong), or marinated tofu (Dau Hu).
Alongside the protein, a vibrant assortment of fresh herbs and vegetables is added to the bowl. Common ingredients include lettuce, bean sprouts, cucumber, mint leaves, cilantro, and shredded carrots.
To bring all the elements together, a zesty and tangy sauce is drizzled over the Vermicelli bowl. The sauce typically includes fish sauce, lime juice, sugar, garlic, and chili, resulting in a harmonious blend of sweet, sour, salty, and spicy flavors. The sauce enhances the overall taste of the dish and ties all the ingredients together.
There is an option for one with a fried spring roll. Just do it. Order it. You won't regret it unless you're a vegetarian. It is the perfect finishing touch to the Bun.
Final Thoughts on a day in Saigon
Of course, this is an incredibly short list as it was my ideal 1-day itinerary in Saigon. You could, however, visit so many breathtaking places in Vietnam. Things like taking a day tour of the Mekong Delta, exploring the Cu Chi Tunnels, getting a massage, stopping in for live music, seeing other museums or taking a cruise on Ha Long Bay, or trying other Vietnamese street foods.
Whatever you love to do, I hope you enjoy it there in Ho Chi Minh. If you're interested, here is the walking route that I used for the day.
Have a great trip!
Disclaimer:
This blog may contain affiliate links. At no extra cost to you, we may get a small commission if you buy anything. All products and services we endorse have been personally used or come highly recommended to us. These incomes allow us to keep the community supported and ad-free.