Ha Long Bay is a UNESCO World Heritage Site located in Vietnam that is said to be one of the most beautiful bays in the world. With its thousands of limestone islands covered by lush vegetation, it's no wonder why this bay is a popular tourist destination. If you are planning on visiting Ha Long Bay, there are many things you need to take into consideration such as the best time to visit, the weather, and what to pack.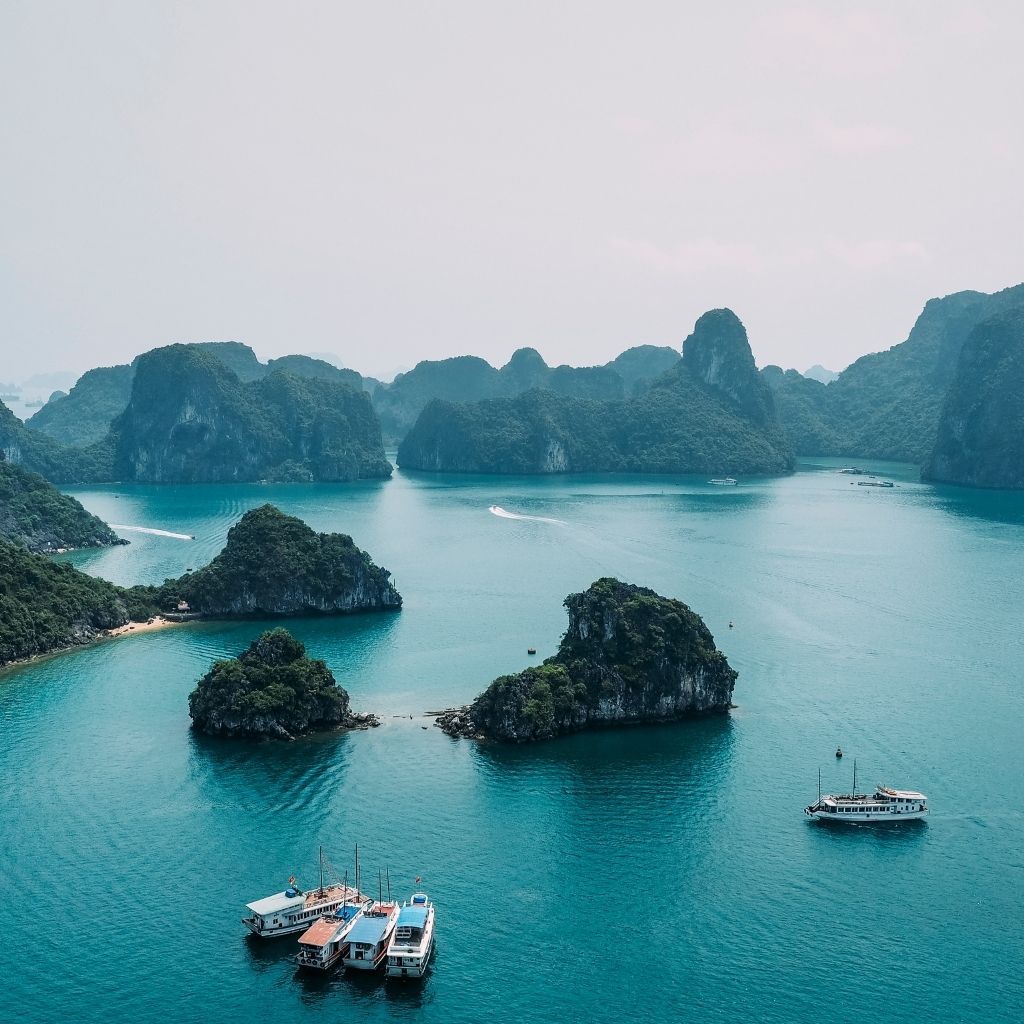 Listed below are some tips for planning an ideal visit to Ha Long Bay in Vietnam.
(1) What is the best time to visit Ha Long Bay
There are many breathtaking places in Vietnam and Ha Long Bay tops the list. The best time to visit Ha Long Bay depends on what you are looking for. If you want to avoid the crowds and have the bay to yourself, then the best time is from February to mid-April when the schools are running and having the exam time. However, if you want to see the bay at its best, then you should visit between April and June when the weather is warm, the sky is clear and the water is calm. July to September is the rainy season, it will be very hot and humid.
October to December are also good months to visit, but it can be a little chilly. The weather is cooler and crowds are thinner (except December) during this time, making it ideal for outdoor activities. In addition, the water is typically calmer during the dry season, making it ideal for swimming and kayaking. There are fewer mosquitoes during this time.
As Ha Long Bay is choc-a-block with tourists from around the world in December and January, these are not the best months to visit. It will be crowded on all beaches, and you are likely to bump into someone while kayaking for a few meters.
(2) How to best plan your trip
The first step in planning your trip to Ha Long Bay is to decide what type of cruise you want to take. There are two main options: a day cruise and an overnight cruise. Day cruises are typically shorter and less expensive, but they don't offer the same opportunity to explore the bay at your own pace. Overnight cruises are a bit more expensive, but they give you the chance to really see the bay in all its glory. Prior to my trip, I conducted a bit of research and decided that a 2-night-3-day cruise would be ideal. Furthermore, I chose an experienced cruise operator rather than a cheap one. It is unlikely you will visit such places again, so you should not compromise on your experience. Whichever option you choose, be sure to book your cruise in advance to get the best price.
Once you've decided on a cruise, it's time to start planning your itinerary. Ha Long Bay is home to thousands of islands, so there's no shortage of things to see and do. Consider exploring the limestone caves, kayaking through karst formations, trekking, or swimming in the crystal-clear waters. You can also visit one of the many picturesque floating villages that dot the bay or take a leisurely hike through the jungle.
Popular Tours in Ha Long Bay
(3) How does weather affect the trip
The weather in Ha Long Bay can be quite unpredictable, so it is best to come prepared for all types of conditions. You should prepare for both hot and cold weather. It is also important to note that the temperature can vary greatly from day to night, so be sure to bring a jacket even during the summer months. You can experience intermittent to heavy rain and fog at any time of year. In addition, the bay is often affected by strong winds, which can make boat travel difficult.
The best time to visit is during the dry season, which runs from October to April. However, even during this time, it is possible to experience rain or fog.
(4) What to pack for the trip
When packing for your trip to Ha Long Bay, it is important to consider the weather conditions and the types of activities that you will be doing. In general, you should pack clothes that are light and can be easily layered, as the weather can vary from cool to warm. Additionally, it is a good idea to pack sunscreen, insect repellent, and a hat or scarf to protect against the sun and bugs. If you plan to do any kayaking or swimming during your visit, you will need to pack a swimsuit, swim shoes, and a towel. It is also a good idea to pack a dry bag to keep your belongings safe and dry while you are enjoying the water. Finally, don't forget to bring comfortable walking shoes, as there is a lot to explore.
(5) How to reach there
The best way to reach Ha Long Bay from Hanoi is by bus. Some buses depart from the My Dinh Bus Station in Hanoi and go to the Bai Chay Bus Station in Ha Long City. The ride takes about 3 hours, and the fare is around $5. Once you're in Ha Long City, you can take a boat tour of the bay. Many cruise operators provide pick-up and drop service from Hanoi at an additional cost.
All SE Asian airlines offer direct flights to Hanoi from major cities. Vietnam's national carriers also fly to many destinations in Asia and their flights are usually much cheaper. Skyscanner provides you the best flight deals for Vietnam, check them out.
Summary
This UNESCO World Heritage Site is said to be one of the most beautiful bays in the world and is home to thousands of limestone islands covered by lush vegetation. With so much to see and do, it's important to plan your visit carefully so you can make the most of your time there. I hope these tips have helped give you a better idea of what to expect and when the best time is to visit this incredible place. Have you been lucky enough to experience Ha Long Bay for yourself? I would love to hear about your trip in the comments below.
Disclaimer:
This blog may contain affiliate links. At no extra cost to you, we may get a small commission if you buy anything. All products and services we endorse have been personally used or come highly recommended to us. These incomes allow us to keep the community supported and ad-free.