I understand that you are considering trekking the Hampta Pass, huh? That's great!
A lifetime memory awaits you at this amazing experience. Before you leave, let me ask you this: what should you pack?
Not really, maybe a little confused?
No worries, because I am here to assist you. It's crucial to pack the right gear for a successful trekking trip, which is why I've put together a comprehensive guide for you. To ensure you are ready for whatever the trek may throw your way, I have included a list of all the essential items you should pack for the Hampta Pass Trek.
Are you ready to begin? It's time to pack!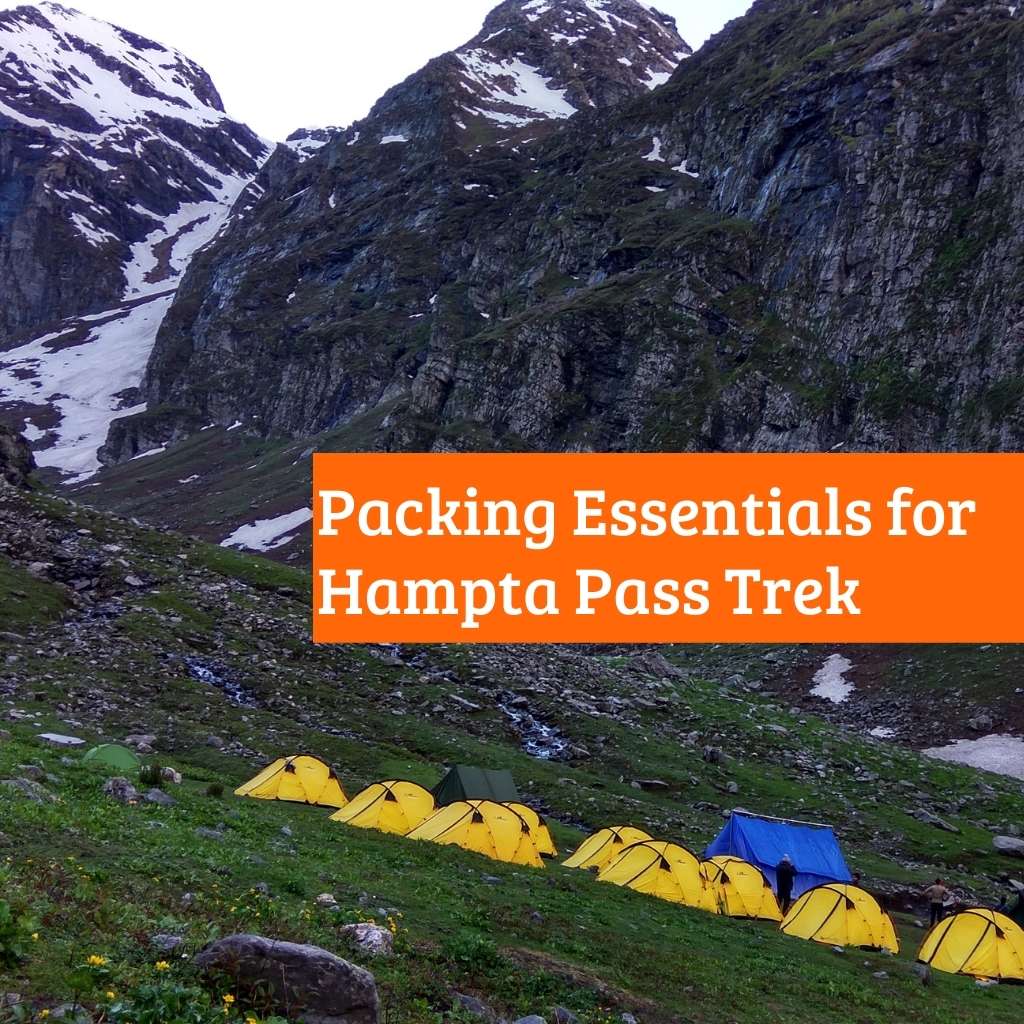 Importance of Packing the Right Gear
First thing first, packing the right gear can make a huge difference in your trekking experience. They mean the difference between a comfortable trek and a miserable one. Packing the right gear is crucial for your safety, comfort, and convenience during the trek. Trust me; your back and shoulders will thank you later. Remember, every gram counts, so be mindful of what you pack and prioritize the items that are essential for your journey. With the right gear, you can tackle the Hampta Pass Trek with confidence and ease!
Overview of the Hampta Pass Trek
There are a lot of challenges and difficulties involved in the Hampta Pass Trek. There is no doubt that it is one of the most popular treks in the Himalayas of India. This moderate-level trek takes you through snow-covered peaks, lush green valleys, and gushing rivers. Itinerary for the Hampta Pass trek begins in Manali and ends in Chatru from where you return by road to Manali. This trek covers about 29 kilometers on foot and takes 7-8 days to complete.
The factors to consider when packing essentials for hampta pass trek
Before we discuss the essential items, there are a few factors that you should bear in mind when packing. A number of factors influence a trek's success, including the weather, altitude, length, and terrain. As the weather in the Himalayas can be unpredictable, it is important to be prepared for anything. Keeping yourself warm and protected during high altitudes is very important, since it can have an adverse effect on your body. Last but not least, the terrain of the trek can be challenging, so it is important to carry gear that can withstand it.
(1) Clothing
Packing the right clothing for the Hampta Pass Trek is paramount, as the weather can be unpredictable in the Himalayas. Layering is key to adjusting your clothing according to changing weather conditions. It is important to pack lightweight clothing that is breathable, fast-drying, and can handle sweat, rain, and cold temperatures. In addition, you should carry a waterproof and windproof jacket to protect yourself from the rain and wind. Wearing the right clothing will not only keep you comfortable, but also ensure your safety.
Base Layers
Base layers are the foundation of your clothing system and are worn directly against your skin. As you trek, they keep you comfortable and dry by regulating your body temperature. A moisture-wicking base layer prevents you from feeling clammy and uncomfortable by wicking sweat away from your skin. Thermal vests and leggings can also provide an extra layer of warmth, which is crucial when trekking in the cold, high-altitude environments of the Himalayas.
Insulation Layers
Insulation layers provide warmth when the temperature drops. Fleece jackets provide excellent warmth-to-weight ratios and breathability, making them a great midlayer option. An excellent choice for insulation layers are down jackets, which are lightweight, packable, and provide extremely high levels of warmth. However, they may not be ideal in wet conditions as they lose their insulation properties. Your choice of insulation layer can make the difference between feeling warm and comfortable or cold and miserable.
Outer Layers
Your outer layers are the last layer in your clothing system, protecting you from harsh mountain elements. Wearing a rain jacket or windcheater will keep you dry and comfortable during rainy or windy conditions. Additionally, waterproof pants are essential if you're trekking through streams, rivers, or snow. I strongly recommend that you invest in high-quality, breathable and lightweight outer layers in order to survive the harsh weather during the Hampta Pass trek.
Socks and Gloves
Wool socks and gloves provide great insulation and moisture absorption. They keep your feet and hands warm even when they are wet. You should always carry an extra pair of socks, since wet socks can cause blisters.
Rainwear
It is vital that you carry rainwear during your trek to protect yourself from unexpected rain or snowfall. You can stay dry and comfortable with a high-quality rain jacket and rain pants, while a poncho is a lightweight and versatile alternative.
(2) Footwear
Choosing the correct footwear is essential for enduring the rough and uneven terrain of Hampta Pass. A good rule of thumb is to break in your footwear prior to trekking to ensure maximum comfort and to prevent blisters.
Hiking Boots
When preparing for a trek such as Hampta Pass, hiking boots are arguably the most important component of your footwear. They provide traction, stability, and protection to your feet, making them essential for navigating rough and uneven terrain. The choice of hiking boots that fit well and provide excellent ankle support is crucial in order to avoid injuries. By breaking in your boots before the trek, you can also avoid blisters and discomfort, ensuring that your feet remain comfortable and protected throughout the trek.
Camp Shoes/Sandals
Your feet will need some rest and relaxation after a long day of trekking. Keeping a pair of comfortable and lightweight camp shoes or sandals handy can provide relief for tired feet. You can wear these shoes around the campsite or during short walks, allowing your trekking boots to dry and air out, as well as giving your feet a break from the rigors of the trek.
Socks
A couple of pairs of woolen socks should be included in your Hampta Pass Trek packing list. They provide insulation and prevent blisters and frostbite by keeping your feet warm and dry. A pair of socks made from wool or synthetic materials that wick away moisture is essential for keeping your feet dry and comfortable throughout the trek.
(3) Backpack
It is likely that your backpack will become your best friend during the trek. The right backpack should fit comfortably and be able to transport all your essentials.
Capacity
A comfortable and enjoyable trekking experience depends on choosing the right backpack size. A 40-50 liter backpack is suitable for the Hampta Pass Trek, depending on your personal needs and your ability to carry your own weight. Having a backpack this size allows you to carry all the necessary gear, clothing, food, and water without being too heavy. When choosing a backpack, ensure that it has padded straps and a back panel that will provide comfort and support during the trek.
Adjustability and Fit
It is important to choose a backpack that fits well and has adjustable straps to avoid discomfort or injury during the trek. An appropriately fitted backpack will distribute the weight evenly, resulting in less strain on your back and shoulders. The adjustable straps allow you to adjust the fit to your body, ensuring maximum comfort and support. Trying on different backpacks and adjusting the straps is important before making a final decision.
The features to look for
The following features should be considered when choosing a backpack for the Hampta Pass trek:
A variety of pockets and compartments to keep things organized
Points for attaching trekking poles and ice axes
Easy access to water with an external hydration system
Removable daypack for exploring around camp or shorter hikes
(4) Sleeping Gear
A good night's sleep is crucial to a successful trek. Consider these three essential sleeping gear items:
Tent
Even though each campsite on Hampta Pass trek provides tents, you may want to bring your own. It provides added privacy and protection. It is best to choose a lightweight and sturdy tent as it is easy to carry and can withstand harsh weather conditions. Ensure that there is good ventilation in the tent to prevent condensation.
Sleeping Bag
A high-quality sleeping bag is a crucial item to pack for the Hampta Pass trek. It is important to choose a sleeping bag that is rated for the temperatures you will encounter on the trek. A sleeping bag with a rating of 0-5°C (32-41°F) is ideal for this trek.
Sleeping Pad
A sleeping pad is helpful for a comfortable night's sleep on the Hampta Pass trek. Sleeping on a hard surface can disrupt your sleep and cause discomfort. A good sleeping pad will provide you with insulation from the cold ground as well as cushioning for your body. Since you'll be inflating and deflating the pad every day, choose one that's lightweight.
(5) Hydration and Nutrition
When trekking in high altitude regions like Hampta Pass, it is important to stay hydrated to avoid altitude sickness. Here are some things to think about:
Water Bottles or Hydration Bladder
It is crucial to keep hydrated during the trek, since it involves physical exertion and high altitude. You'll need at least 2 liters of water a day, so carry that much. A hydration bladder might also be a good addition to your backpack, since it's easier to sip water from. In any case, I always carry a water bottle with me so that I can refill it whenever I need to.
Water Purification Tablets
While natural Himalayan water may be considered pure, it's always better to err on the side of caution and carry water purification tablets with you. These tablets are easy to use and can help in making water safe to drink. It is important to note that water purification tablets do not remove sediment, so it is recommended to use them in conjunction with a filter or a cloth to remove any visible particles.
Snacks and Energy Bars
It is important to consider the nutritional value of the food you pack for Hampta Pass trek. Energy bars, nuts, and dried fruit are all high-energy snacks that can provide a quick boost of energy during the trek. You can pack instant noodles for a quick and easy meal, but you may want to also pack rice or pasta for a more substantial meal.
(6) Toiletries and Personal Hygiene
In order to maintain cleanliness and prevent illness while on the trek, it is important to carry personal hygiene products. Take a look at these items:
Toothbrush and Toothpaste
A good oral hygiene routine includes brushing your teeth, and trekking is no exception. Maintain good oral health by carrying a toothbrush, toothpaste, and mouthwash. Pick a toothbrush with soft bristles that is lightweight and easy to pack. Don't forget to dispose of used toothbrushes and toothpaste in an environmentally friendly way.
Hand Sanitizer
Hand sanitizer is an essential item for maintaining personal hygiene, especially when trekking in the wilderness. It helps to kill germs and bacteria on your hands and prevent the spread of infections. Carrying a small bottle of hand sanitizer can help you stay healthy on your trek.
Wet Wipes
Wet wipes are a convenient way to clean your body when you're on a trek and don't have access to a shower. They can be used to wipe away sweat, dirt, and grime, leaving you feeling refreshed. Choose eco-friendly options to minimize your impact on the environment.
Sunscreen and Lip Balm
The sun and wind can severely damage your skin and lips during a trek, resulting in sunburn and chapped lips. Use a good-quality sunscreen with at least 30 SPF and lip balm to protect them. They will protect your skin from harmful UV rays, as well as keep your lips and skin moisturized.
(7) First Aid Kit
When going on a trek, you should always pack a first aid kit. It can save your life in an emergency. Make sure your first aid kit is easily accessible and that you know how to use each item. A few essential items to include are:
Essential Medicines
You should keep an adequate supply of prescription medications, over-the-counter pain relievers, and anti-inflammatory medications on hand to treat common aches and pains. Consult a medical professional before embarking on a trek, and ensure that you have the necessary medications and supplies.
Wound dressings and bandages
When packing a first aid kit, it's important to include bandages and wound dressings to cover a variety of injuries, from small cuts to more severe wounds. Make sure to also pack medical tape, antiseptic wipes, and any necessary tools such as tweezers or scissors.
Insect Repellent
When trekking in the wilderness, insect repellent can prevent insect-borne illnesses and itchy bug bites. Apply a DEET-based repellent with a concentration of at least 30% on exposed skin and clothing regularly.
(8) Navigation
Navigation is crucial in the wilderness as it helps you stay on the right path and reach your destination safely. A guided trek to Hampta Pass is recommended since your guide will be familiar with the local terrain and can guide you safely. In case you still decide to venture on your own, keep these factors in mind:
Map and Compass
It is essential to carry a detailed map and compass when trekking in the wilderness. It is equally important to know how to use them to navigate through the terrain. You can use these tools to find your way back to civilization in the event of a GPS failure or other unforeseen circumstances.
GPS Device or a Mobile App
Navigating unfamiliar territory is crucial to any trek. You will need a GPS device or an app if you want to avoid getting lost on a trek.
A GPS device can provide you with real-time information about your location, altitude, and distance traveled. There are several popular GPS devices on the market, including the Garmin GPSMAP 64, Garmin eTrex 20x, and the Satmap Active 20.
If you prefer an app to a GPS device, both Android and iOS platforms offer a wide variety of free and paid apps. There are many navigation apps available, including Gaia GPS, ViewRanger, and AllTrails. Using these apps, you can download offline maps, which comes in handy when you don't have internet access.
Headlamp or Flashlight
A headlamp or flashlight is an essential item to carry on the Hampta Pass Trek. It is useful when trekking at night or navigating narrow paths.
Choose a headlamp or flashlight that is lightweight, compact, and has a long battery life. It is also a good idea to carry spare batteries or a power bank so that your headlamp or flashlight will not run out of power.
(9) Miscellaneous Items
Apart from the essentials mentioned above, you should also consider carrying a few miscellaneous items on the Hampta Pass Trek. Even though these items aren't essential, they can make your trek more comfortable and enjoyable.
Trekking Poles
By using trekking poles, you can maintain your balance and reduce the strain on your knees and joints. Additionally, they can be useful if you need to cross a stream or navigate through rocky terrain.
Sunglasses
When trekking at high altitudes, the sun can be harsh on your eyes. Using a good pair of sunglasses will protect your eyes from harmful UV rays and make your trek more enjoyable.
Camera and Accessories
Hampta Pass Trek offers some of the most breathtaking views, and you won't want to miss capturing them. Take a good quality camera along with extra batteries and memory cards.
Cash and Documents
Be sure to carry enough cash and important documents such as your ID proof, trekking permit, and insurance papers. Keep a photocopy of these documents or have a soft copy on your mobile phone in case you lose the originals.
(10) Packing Tips
As you have learned what to pack for the Hampta Pass Trek, here are some tips on how to pack efficiently:
To save space and keep your items organized, use compression sacks or packing cubes.
Make sure you evenly distribute the weight in your backpack so your back and shoulders don't get too sore.
Don't forget to keep your essentials handy, such as snacks, water, and a first aid kit.
In Summary
In order to complete the Hampta Pass trek safely and successfully, you need to pack the right gear and essentials. A comfortable trekking experience depends on a variety of items, ranging from warm clothing and sleeping gear to hydration and navigation tools. To be prepared for any unexpected situations, it is important to pack lightweight and durable items and possess a well-stocked first aid kit. These guidelines will assist you in preparing for a rewarding and memorable trek in the Himalayas.
Disclaimer:
This blog may contain affiliate links. At no extra cost to you, we may get a small commission if you buy anything. All products and services we endorse have been personally used or come highly recommended to us. These incomes allow us to keep the community supported and ad-free.