Kodaikanal is a small hill station in Tamil Nadu that offers the perfect escape from the heat and crowds of India's larger cities. Hills, tea plantations, and valleys with waterfalls surround the city, making it a great destination for nature lovers. It should be on your list of things to do while visiting Kodaikanal!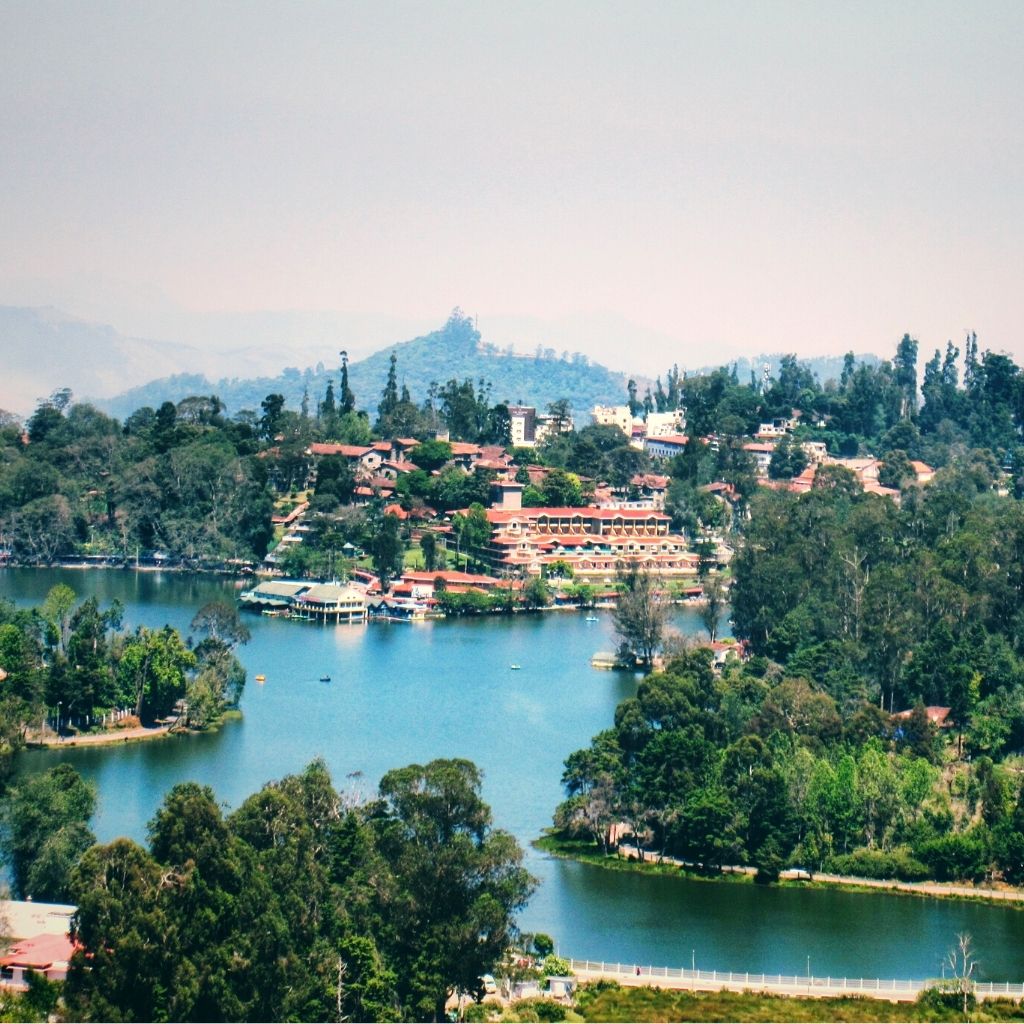 Things to see in Kodaikanal
Many people ask me what to see in Kodaikanal. There is a long list. Nevertheless, don't miss out on visiting these popular tourist destinations while you're visiting Kodaikanal:
Bryant Park
Bryant Park is a heaven for nature lovers, with its well-manicured gardens and stunning views of the valley below. Located on 20.5 acres, the park is home to a wide variety of plants and flowers. There is a glasshouse, a lake, and several walking paths in the park, which attracts both tourists and locals. There is a spectacular display of blooming flowers and plants on display at its annual flower show.
Coakers Walk
Coakers Walk offers some of the best views in the region and is a popular spot for photographers. On the edge of a steep hill, it offers panoramic views of the surrounding valley, mountains, and Madurai city. A kilometer-long trail with benches allows visitors to enjoy the scenery while seated. Both tourists and locals enjoy this popular destination, especially during sunset.
Kodaikanal Lake
The Kodaikanal Lake is a man-made lake in the center of the city. Sir Vere Henry Levinge, a former Madurai collector, created the lake and garden in 1863 and it covers an area of approximately 60 acres. With its lush greenery and boating facilities, the lake is a popular spot for picnics and leisure activities. The lake is also a great place for horseback riding and cycling.
Pillar Rocks
Visiting these towering rocks offers some of the best views in Kodaikanal, and they are well worth the hike. These two giant rock pillars rise to a height of 400 feet and are believed to be a few thousand years old. They are especially popular during cloudy weather when the mist creates a dramatic effect on the surrounding valley. Visitors can take in the stunning scenery from a viewing platform near the rocks.
Kurinji Andavar Temple
Hindus worship Lord Murugan, also known as Kurinji Andavar, at Kurinji Andavar Temple. According to legend, he appeared in the region to protect the locals. Located in beautiful surroundings, the temple is particularly popular for its architecture and scenic views of the hills. Moreover, the temple is associated with the blooming of the Kurinji flower, which blooms once every twelve years, which holds a special significance for devotees.
The Green Valley View
Suicide Point, also known as Green Valley View, is a popular viewpoint in Kodaikanal. It provides a stunning view of the surrounding hills, forests, and Vaigai Dam. Located at an altitude of 5,800 feet, the viewpoint is surrounded by lush greenery. The viewpoint is popular for hiking and photography, but visitors should be cautious due to the steep drop-off.
This might interest you – 12 Stunning Places to Photograph in Kodaikanal
Things to eat in Kodaikanal
You'll find an array of delicious local dishes in Kodaikanal. While there are plenty of Westernized restaurants around town, it's worth seeking out authentic South Indian eateries for a true taste of the region. From spicy curries to aromatic lentil dishes, there's something to suit everyone's palate. Be sure to try some of the local staples, such as dosas, idlis and vadas.
Things to buy in Kodaikanal
When you visit the princes of Hill Stations, make sure to do some shopping! There are plenty of unique shops and items that you can only find in this area. Here are some of the best things to buy:
Handicrafts
Kodaikanal is known for its incredible handicrafts, which can be found in shops all over the city. Be sure to check out some of the local artisans' work, including wood carvings, paintings and traditional textiles.

Spices
The organic spices grown in Kodaikanal are also well-known, and they are used in everything from curries to chutneys. Head to one of the local spice markets and stock up on some of these flavorsome spices.

Homemade Chocolates
If you are visiting Kodaikanal, do not miss the opportunity to try the delicious homemade chocolates. These chocolates made with the finest cocoa beans and are very popular among tourists. There are many chocolate shops in city, and the chocolates are available in a variety of flavors such as milk, dark, wine and nuts.

Jams and Jellies
Another specialty of Kodaikanal is its delicious jams and jellies, which can be found in most local stores. These sweet treats are perfect for a quick snack or for taking back home with you.
How to get there
Kodaikanal is a hill station in the Dindigul district of the southern Indian state of Tamil Nadu. It is about 7,000 feet above sea level. The road from Madurai to Kodaikanal is one of the most scenic hill roads in India. The journey from Madurai to Kodaikanal takes about four hours by road or by train.
Where to stay in Kodaikanal
When it comes to finding a place to stay in Kodaikanal, you're spoiled for choices. There are plenty of options, whether you're looking for a luxurious hotel or something a little more budget-friendly including hostels. I have been to Kodaikanal several times. My trips have included solo backpacking, family and group tours. I have used following websites to book my accommodation in Kodaikanal. I have got good deals during off-peak seasons.
Booking.com – you can choose from hotels, luxurious resorts, homestays and tented accommodations.
Hotelworld.com – A backpacker's paradise, Kodaikanal is a great place for solo travelers on a budget. Kodaikanal hostels are located at scenic locations, making this the best way to find them.
What are the best times of year to visit
The best time to visit Kodaikanal is from September to May. The temperature is pleasant during these months and the tourist attractions are not too crowded.
What are you waiting for…
Kodaikanal is a beautiful destination with plenty of things to do. I hope that this list has given you plenty of ideas for your visit and I can't wait to hear what you think about the region. Things are always changing in Kodaikanal, so be sure to keep up-to-date on all the latest happenings by checking out our blog.
Disclaimer:
This blog may contain affiliate links. At no extra cost to you, we may get a small commission if you buy anything. All products and services we endorse have been personally used or come highly recommended to us. These incomes allow us to keep the community supported and ad-free.