At an elevation of 2,133 meters (7,000 feet), Kodaikanal is a hill station in Tamil Nadu, India that covers an area of 21.45 square km (8.27 square miles). People from all over the country and the world visit this popular tourist destination in the Western Ghats because of its scenic beauty. With its lush green forest surroundings and numerous lakes, waterfalls, and viewpoints, Kodaikanal offers spectacular views. Although Kodaikanal is well connected by road to other major cities in Tamil Nadu, it does not have a train station or an airport. A nearby airport is in Madurai, and the nearest train station is in Palani.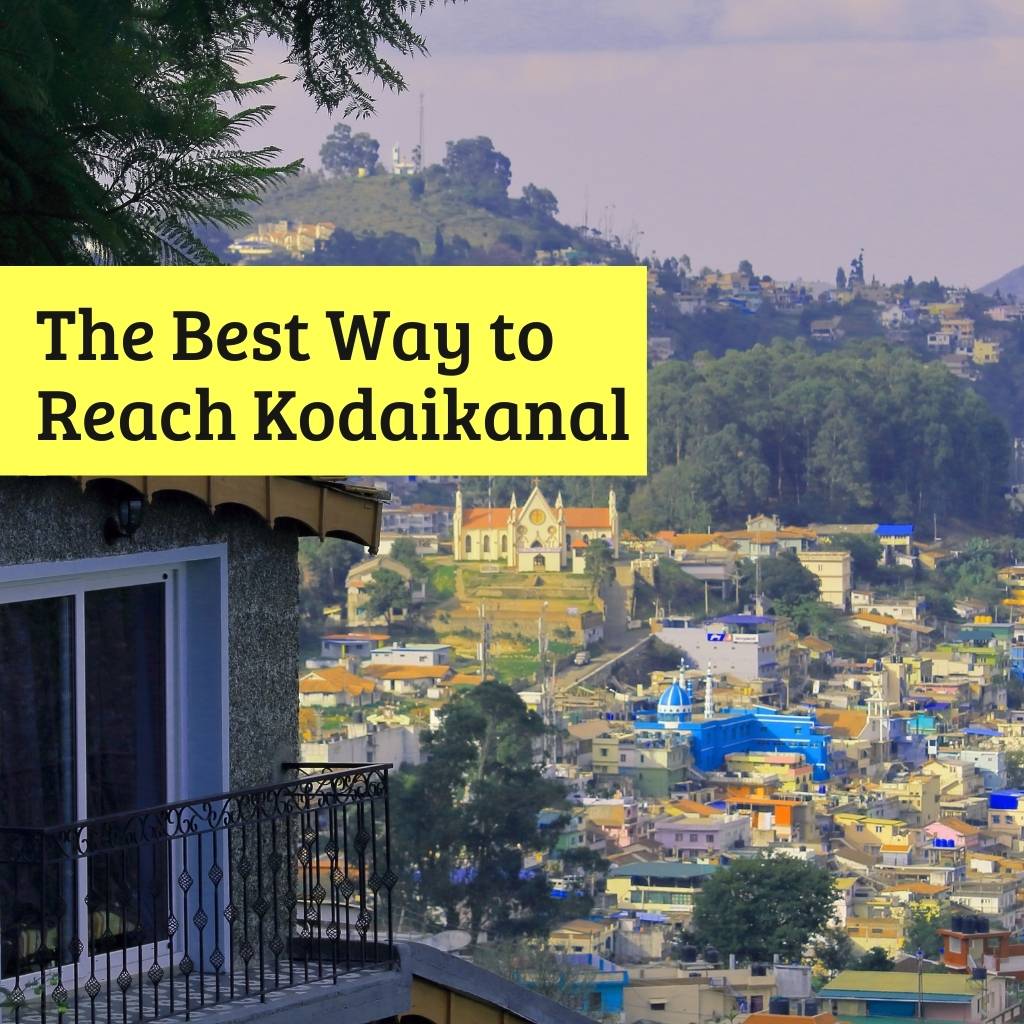 How to reach Kodaikanal by road
By Bus
Direct bus services are available from major Indian cities including Chennai, Coimbatore, Madurai and Bangalore to Kodaikanal.
Tamil Nadu State Transport Corporation (TNSTC) and private bus operators run bus services between these cities and Kodaikanal.
The bus journey from Bangalore to Kodaikanal requires 10-12 hours and covers 460 km. On the other hand, the distance from Chennai to Kodaikanal is 530 km and the journey will take 10-12 hours.
Compared to Bangalore and Chennai, the bus journey from Madurai or Coimbatore to Kodaikanal is quite short. The sections below provide more details on their distances.
Kodaikanal bus stand is located right in the center of town, and all places can be accessed easily by auto or taxi. For budget travelers to Kodaikanal, this is the most economical option.
Self Drive
There are two main routes to reach Kodaikanal, one is via Palani and the other via Vathalagundu.
Both Palani and Vathalagundu are well connected to various cities in South India by various National Highways depending upon which place you are driving from.
The 70-kilometer stretch of ghats along Palani to Kodaikanal and Vathalagundu to Kodaikanal is scenic but can be daunting if you don't have driving experience on mountains.
How to reach Kodaikanal by train
Train stations serving Kodaikanal include Palani, Kodai Road, and Dindigul. Kodaikanal's distance from Palani is 65 km, from Kodai Road is 80 km, and from Dindigul is 95 km.
Palani is a great starting point if you are traveling from Kerala.There are frequent buses between Palani and Kodaikanal. It takes about an hour and a half from Palani to Kodaikanal.
Dindigul is a great starting point if you are traveling from other parts of Tamil Nadu and Karnataka.There are frequent buses from Dindigul to Kodaikanal. It takes about two hours as the distance between Dindigul and Kodaikanal is little more.
When traveling from Bangalore to Kodaikanal, Dindigul is a good option. However, you need to take an auto (3-wheeler) from the train station to reach the bus stand, which is about 3 km. Since there are not many direct buses from Dindigul to Kodaikanal, you might need to take a bus to Vathalagundu. Buses from Vathalagundu to Kodaikanal depart every 10-15 minutes. It takes about 2 hours for the entire journey.
Kodai Road is the last option but quite expensive. Only a few buses run from Kodai Road to Kodaikanal. Most buses go via Vathalagundu, which is a longer route. Taxis are the only option, but they cost upwards of INR 2,000, compared to the bus fare of about INR 100 from Dindigul or Palani.
I once took the Mysore – Tuticorin Express train from Bangalore to Dindigul (train no. 16536). It is an overnight train that reaches Dindigul at 6 am, which is the best time to catch a less-crowded bus to Kodaikanal and have an entire day to yourself.
You can book train tickets from IRCTC website.
How to reach Kodaikanal by air
The nearest airport to Kodaikanal is the Madurai Airport. The distance from Madurai to Kodaikanal is 120 km. Madurai is well-connected to major Indian cities by domestic airlines.
Other airport options include Coimbatore and Trichy. TNSTC and private bus operators run bus services from Coimbatore to Kodaikanal and Trichy regularly.
The distance from Coimbatore to Kodaikanal is 170 km. The distance from Trichy to Kodaikanal is 200 km. You can also take a private taxi if you want to get there faster.
All major cities in India have direct flights to Coimbatore. Skyscanner and WayAway can help you find the best airline and fare for Coimbatore.
Summary
I have outlined a few of the most popular ways to get to Kodaikanal, so you can pick your way and enjoy this beautiful hill station. I would appreciate your feedback if I have missed out on an option or if you have a better alternative.
Disclaimer:
This blog may contain affiliate links. At no extra cost to you, we may get a small commission if you buy anything. All products and services we endorse have been personally used or come highly recommended to us. These incomes allow us to keep the community supported and ad-free.