Looking for a thrilling wildlife experience in a dense forest where animals are almost certain to be sighted?
Welcome to Kabini forest of Karnataka, the gateway to untamed wonders and heart-pounding wildlife encounters. Wildlife safaris in Kabini will awaken your inner adventurer and provide you with a glimpse of the wonders of this enchanting nature reserve.
In my adventurous journey exploring the forests of South India for the past 15 years, one place has consistently captured my heart and lens: Kabini. As a wildlife photographer, Kabini holds a special place for me, as it presents an opportunity to capture stunning photos of animals and birds in their natural habitat. Here, you can embrace your passion for photography without any worries of elusive tigers or leopards slipping away from your frame.
In this ultimate guide, I will introduce you to the enchanting world of Kabini Safari, where raw wilderness meets unparalleled adventure. Get ready for an adrenaline-fueled odyssey that will leave you spellbound as you meet majestic creatures and travel uncharted territory.
Let's witness the magic of Kabini through my lens!
What is Kabini?
Kabini forest is a wildlife sanctuary located in Karnataka, India and is part of Nagarhole National Park. The park is located in the Nilgiri Biosphere Reserve and stretches over 847 sq km. It is home to a variety of animals, such as elephants, tigers, leopards, deer, and more. Additionally, the sanctuary is home to a beautiful Kabini river and tranquil backwaters, making it a popular destination for boat safaris.
Why is Kabini such a popular tourist destination?
In recent years, Kabini has become increasingly popular with tourists for a number of compelling reasons. First, its abundant biodiversity and wildlife, including majestic tigers, leopards, and black panthers, make it a haven for nature lovers. Secondly, Kabini's stunning landscape, which combines serene backwaters, lush forests, and picturesque landscapes, creates a mesmerizing setting for travelers. Furthermore, Kabini provides an immersive and adventurous experience with wildlife safaris, boat rides, and birdwatching. Furthermore, the region's conservation and sustainable tourism practices contribute to its appeal, allowing visitors to witness wildlife in its natural habitat while supporting conservation efforts.
The History of Kabini
Kabini forest, like BR Hills Tiger Reserve, was originally a hunting ground for the Maharajas of Mysore. The area was declared a wildlife sanctuary in the 1950s, and hunting was banned. Kabini has since become a popular destination for wildlife enthusiasts and nature lovers.
Planning a Kabini Safari
The most important thing to consider before embarking on a Kabini Safari adventure is to plan everything carefully. The following are some factors to consider when planning your trip to Kabini:
What's the best time to go on a wildlife safari in Kabini?
A wildlife safari in Kabini is best enjoyed during the dry season, which typically lasts between November and May. Wildlife sightings are more likely during this time of year since the vegetation is less dense, making it easier to see animals in their natural habitat. February through May are my favorite months. They occur during the summer season when the forest's internal water sources dry up, causing animals to come out for water, leading to exciting encounters. It is important to remember that Kabini is a year-round destination, and each season brings its own unique experiences and sightings.
What is the best way to get to Kabini?
The most convenient way to reach Kabini is through Mysore, the nearest major city. Kabini is about a 2-hour drive from Mysore. Nearest airport to Kabini is Mysore Airport, which offers limited connectivity. Another option is to fly into Bangalore, which is well-connected to both domestic and international flights. You can take a taxi or bus to Kabini, which is about a 4-hour drive from Bangalore. Another option is to take a train to Mysore, which is well-connected to major cities in India, and then continue the journey to Kabini by road.
What are the best places to stay during a Kabini safari?
There are a variety of accommodation options in Kabini, depending on your budget and preferences. You can choose from luxury resorts, mid-budget lodges, or eco-friendly homestays. These include renowned properties like The Serai, Evolve Back (formerly known as Orange County), and Kabini River Lodge (popularly known as JLR), which offer excellent amenities, wildlife-themed activities, and stunning views of the surrounding landscapes.They also offer private jeep safaris and guided nature walks in Kabini's wilderness.
Several farmhouses and homestays offer comfortable rooms and essential amenities for travelers on a budget. Budget accommodations like these are perfect for backpackers, families, and solo travelers.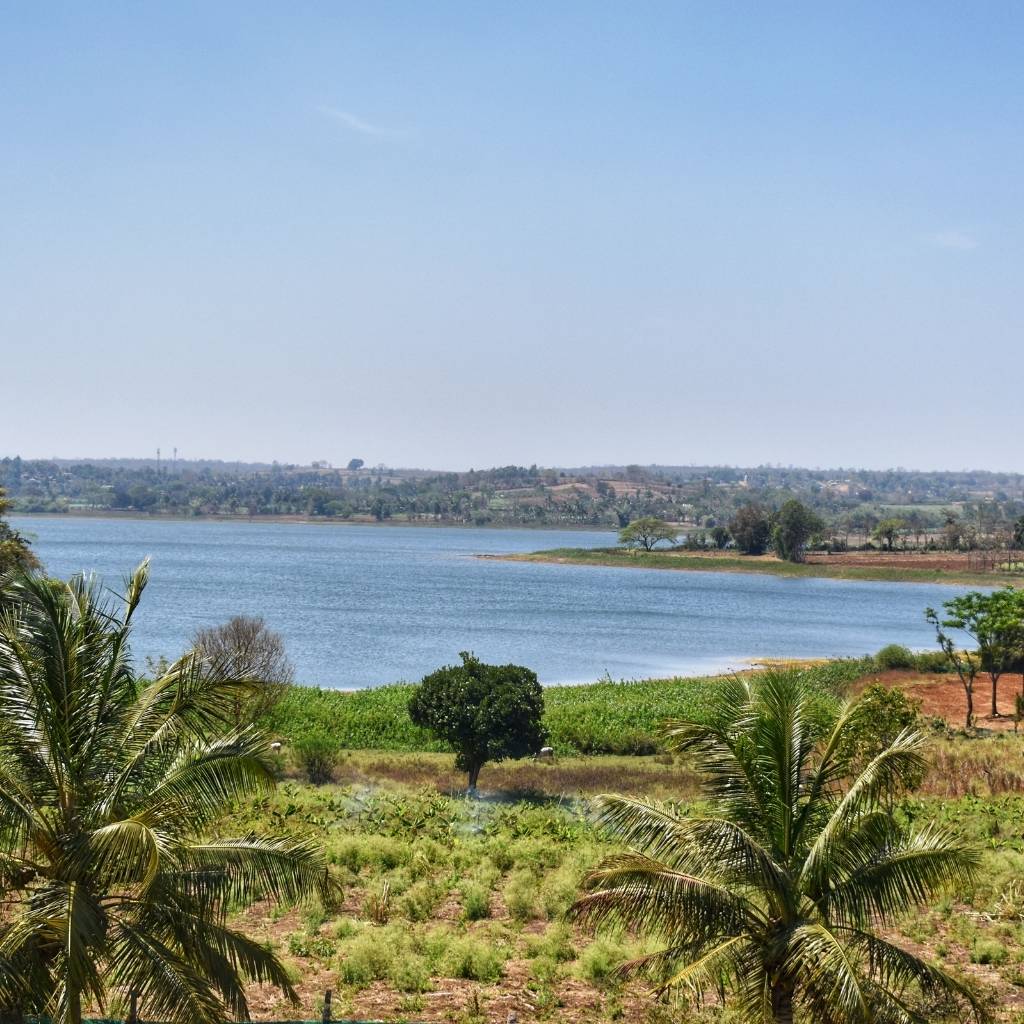 What should you pack for your Kabini safari?
When packing for a Kabini safari, it's essential to be well-prepared for the wildlife adventure. Here are some items you should consider including in your packing list:
Light and breathable clothing

: Wear comfortable, lightweight clothing in neutral or earthy hues so you can blend in with the natural surroundings. Protect yourself from insects and the sun by wearing long-sleeved shirts and pants.

Sturdy footwear

: Pack comfortable walking shoes for jungle safaris. Ensure they provide good support and have a strong grip.

Sun protection

: Pack high-SPF sunscreen, a wide-brimmed hat, and sunglasses to protect yourself against the sun.

Insect repellent

: Pack a Familycare insect repellent to avoid getting bitten by mosquitoes and other insects.

Binoculars and camera

: Bring binoculars to get a better view of wildlife from far away. For those memorable moments, bring your camera with a telephoto lens.

Personal medications and first aid kit

: Pack an adequate supply of any medication you need or prescriptions you need on a regular basis. Carry a basic first aid kit with band-aids, antiseptic cream, and medications for common ailments.

Water bottle and snacks

: Staying hydrated is crucial, so keep a reusable water bottle with you. Additionally, snacks can be useful for boosting energy during longer excursions.

Lightweight backpack or daypack

: When on safari, carrying a small backpack or daypack is convenient to carry your essentials, including water, snacks, a camera, and your personal belongings.
Make sure you check the weather forecast for the specific time of your visit to Kabini and pack accordingly. Additionally, you should inquire with your accommodation about any safari-related recommendations or requirements.
The types of safaris available in Kabini
Kabini offers a variety of safaris for visitors. The following are some of the top things to do while you are here:
Canter bus safari
A budget-friendly way to explore Kabini's forests is by canter bus safaris. Canter buses are large, open-windowed vehicles that can accommodate groups of people. On weekdays, safaris run from 6.30 to 9 in the morning and 3.30 to 6 in the evening. Over the weekend, the same safari is conducted in two batches, each taking 1.30 hours. It is advisable to check the website for the most recent timings since they keep changing. It is necessary to book the canter bus safari online. Walk-in registration is accepted as long as seats are available. I prefer Canter buses over jeeps since they provide a better vantage point to observe wildlife and take photographs.
Jeep safari
Taking a jeep safari in Kabini is an exhilarating way to explore the wilderness in a private or semi-private vehicle. The safaris are conducted by JLR, which provides well-maintained jeeps and experienced guides. They are typically scheduled for 2-3 hours in the morning and evening. A Jeep Safari in Kabini costs around INR 2,000 per person per trip, which is significantly higher than the canter bus. Because JLR has a limited number of jeeps, in-house guests are given first priority. Depending on available space, other visitors may be accommodated.
Boat safari
Taking a boat safari in Kabini is a unique and serene way to discover the region's stunning backwaters. Boat safaris are conducted by Jungle Lodges and Resorts (JLR), providing an opportunity to observe the rich birdlife, crocodiles, and other aquatic creatures in their natural habitat. Boat safaris typically operate in the early morning and late afternoon, lasting approximately one to two hours each. Guests staying at JLR are given priority over those staying at other hotels.
Nature walk and bird watching
Nature walks and bird watching in Kabini offer an excellent opportunity to experience the stunning natural environment. Experienced guides lead you on these walks as you discover the region's diverse flora and fauna and learn about their ecological significance. Be on the lookout for a variety of bird species as you stroll through the wilderness. Having the chance to experience Kabini's wilderness and ecosystems is a serene and enlightening experience.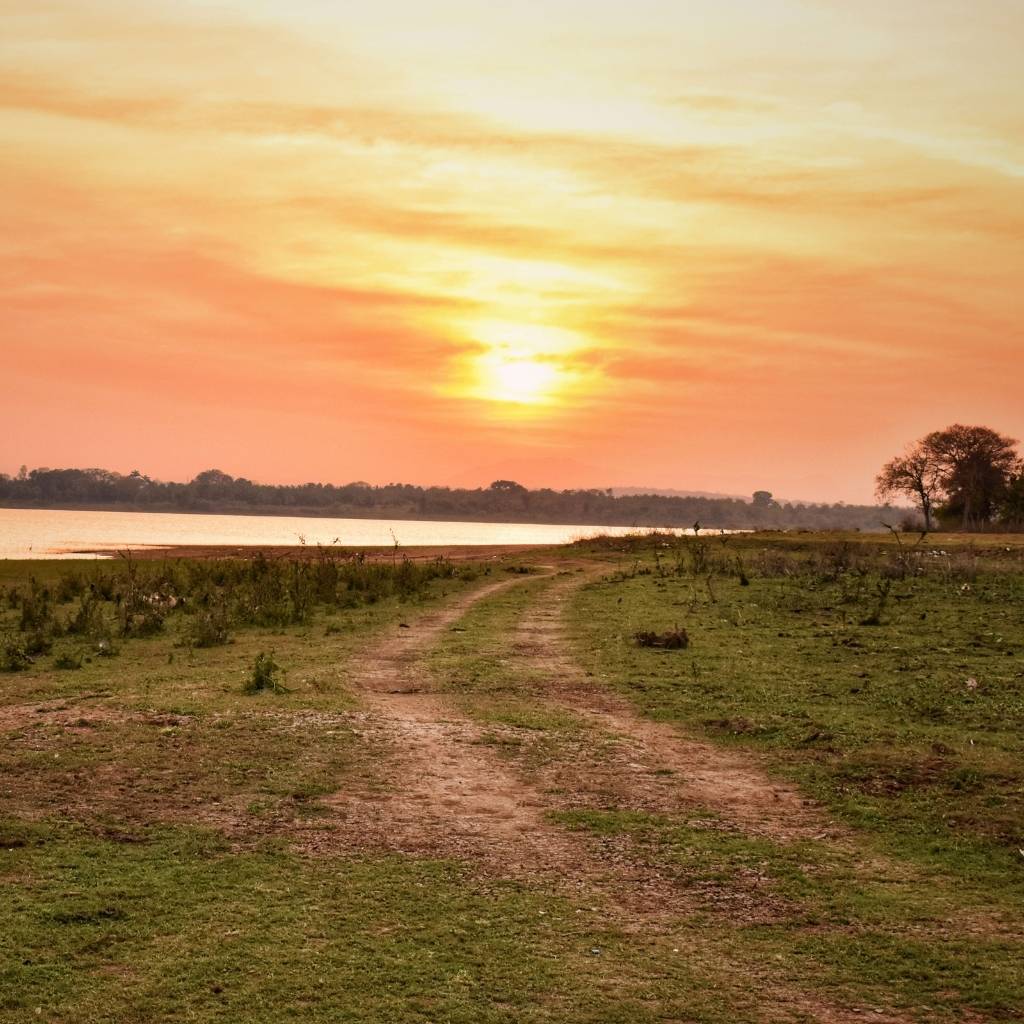 Coracle boat ride
A There is no better way to explore the Kabini backwaters than with a coracle boat ride. The traditional bamboo circular boats covered with waterproof material provide a unique way to explore the serene waterways of Kabini. Coracle rides are led by local fishermen, and offer picturesque views of the surrounding greenery as well as a chance to spot birds and other wildlife.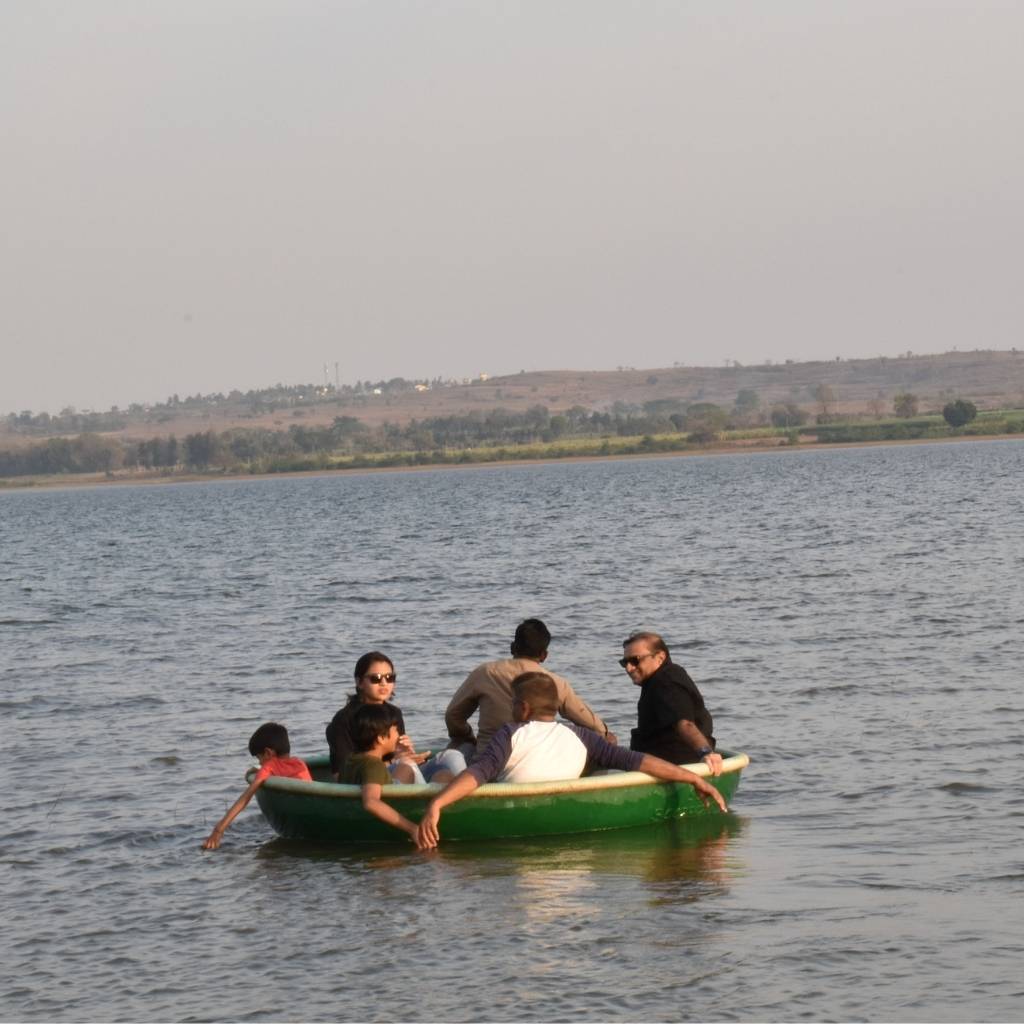 Wildlife sightings during Kabini safaris
Kabini is home to some of India's most elusive and endangered wildlife species. Visitors to Kabini safari can spot the following animals:
Tiger: the elusive king of Kabini
The tiger, often referred to as the elusive king of Kabini, is one of the main attractions during the safari. A tiger encounter in the wild is a thrilling and unforgettable experience due to its majestic presence and powerful aura. A healthy tiger population (12 tigers per 100 sq km) provides visitors with a greater chance to see these majestic creatures close up in their natural habitat and marvel at their awe-inspiring beauty.
Leopards: the graceful predators of Kabini
Leopards, the graceful predators of Kabini, are a captivating sight to behold. These elusive big cats add mystery to Kabini Wildlife Sanctuary with their stealthy movements and mesmerizing spots. Leopards are renowned for their adaptability and solitary nature, making them captivating animals to observe in their natural environment.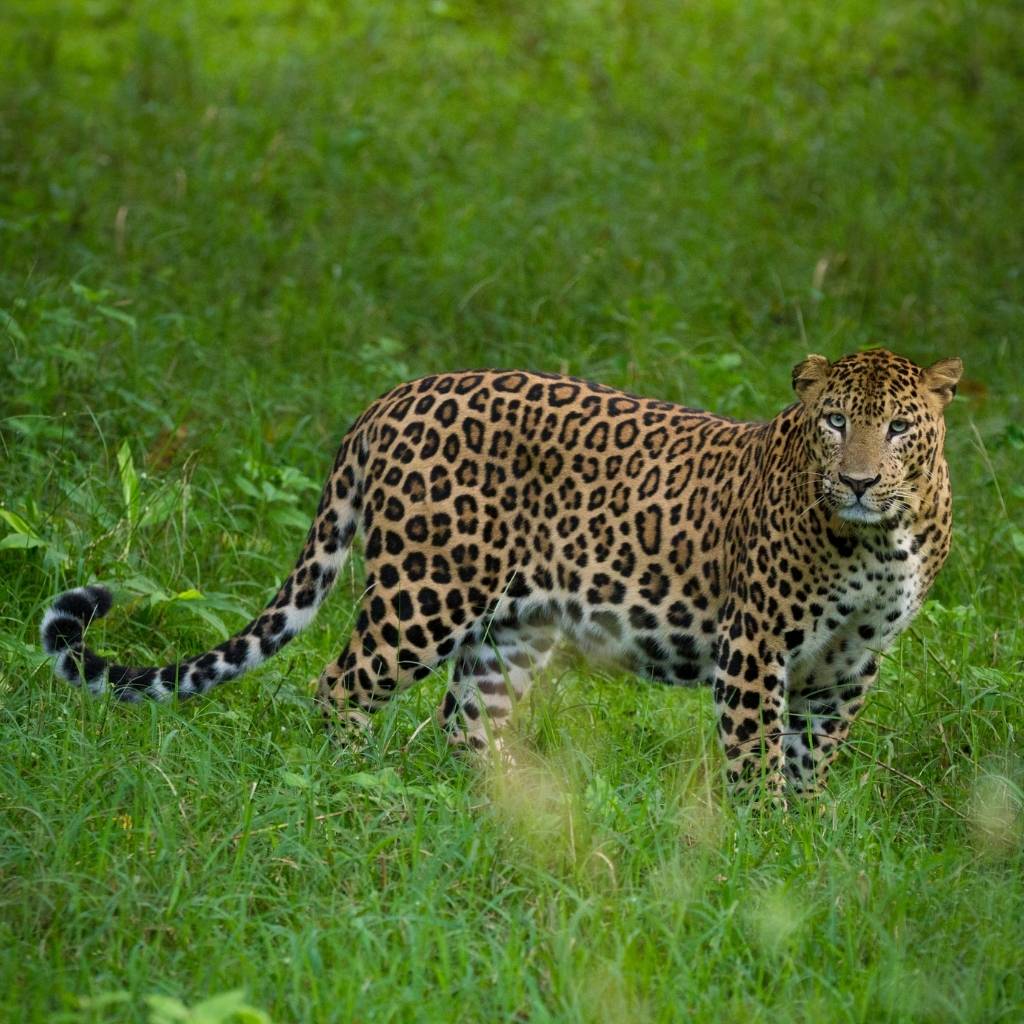 Elephants: the gentle giants of Kabini
Kabini's gentle giants, elephants, hold a special place in the hearts of visitors. Seeing these magnificent creatures in their natural habitat is a captivating experience because of their majestic presence and remarkable intelligence. The sight of a herd of elephants at Kabini's waterhole or observing their social interactions is captivating.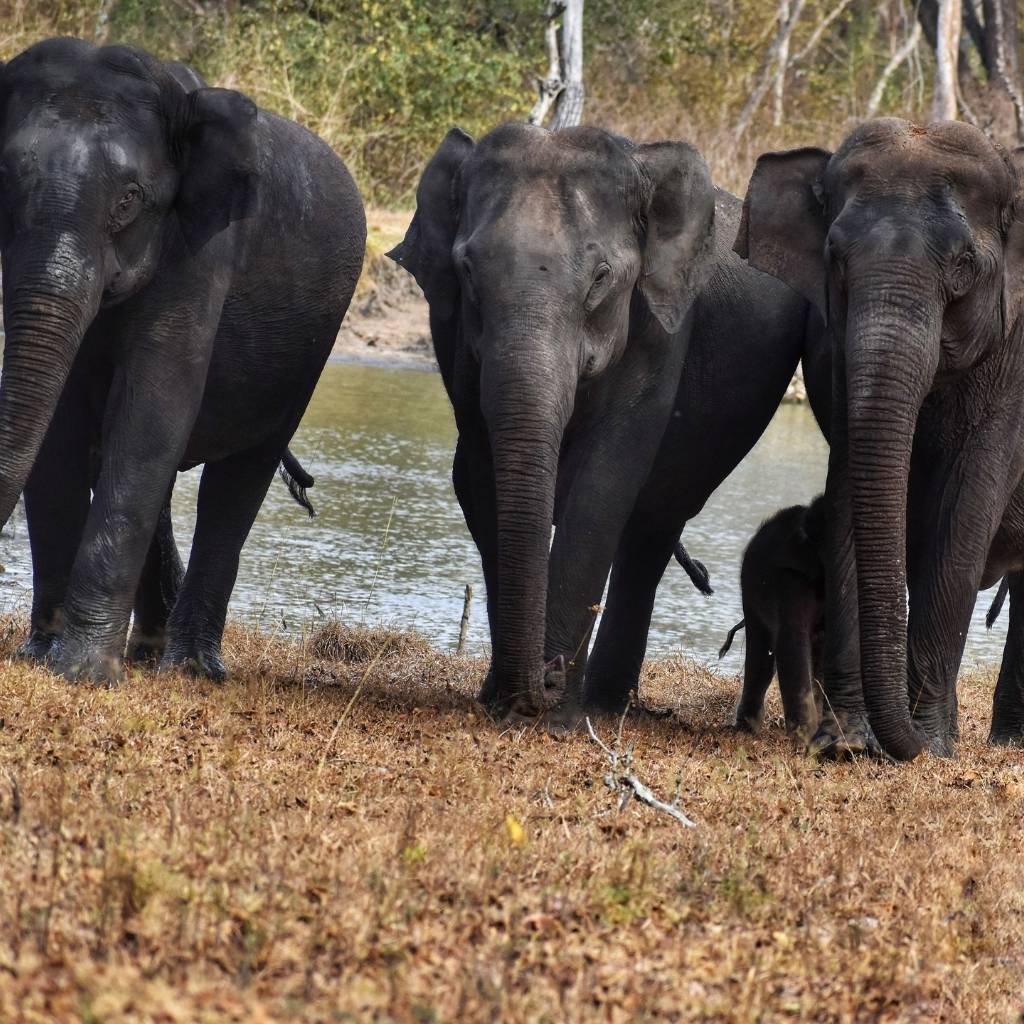 Bison (Gaur): the majestic wild cattle of Kabini
Bison, also known as Indian Gaur, are the majestic wild cattle that roam the Kabini region. In addition to being the largest bovine species in the world, these majestic beasts have an impressive pair of horns and robust build. Spotting a Bison during a safari in Kabini is a thrilling sight, as they graze peacefully in the grasslands or make their way through the dense forests.
Deer, Antelopes & Sambars: the herbivores of Kabini
Kabini is home to a vibrant population of deer, antelopes, and sambars, making it a paradise for herbivore lovers. You can find these graceful creatures grazing in the reserve's lush meadows. The sight of these herbivores in their natural habitat is captivating, whether it is the elegant spotted deer or the majestic sambars with their impressive antlers.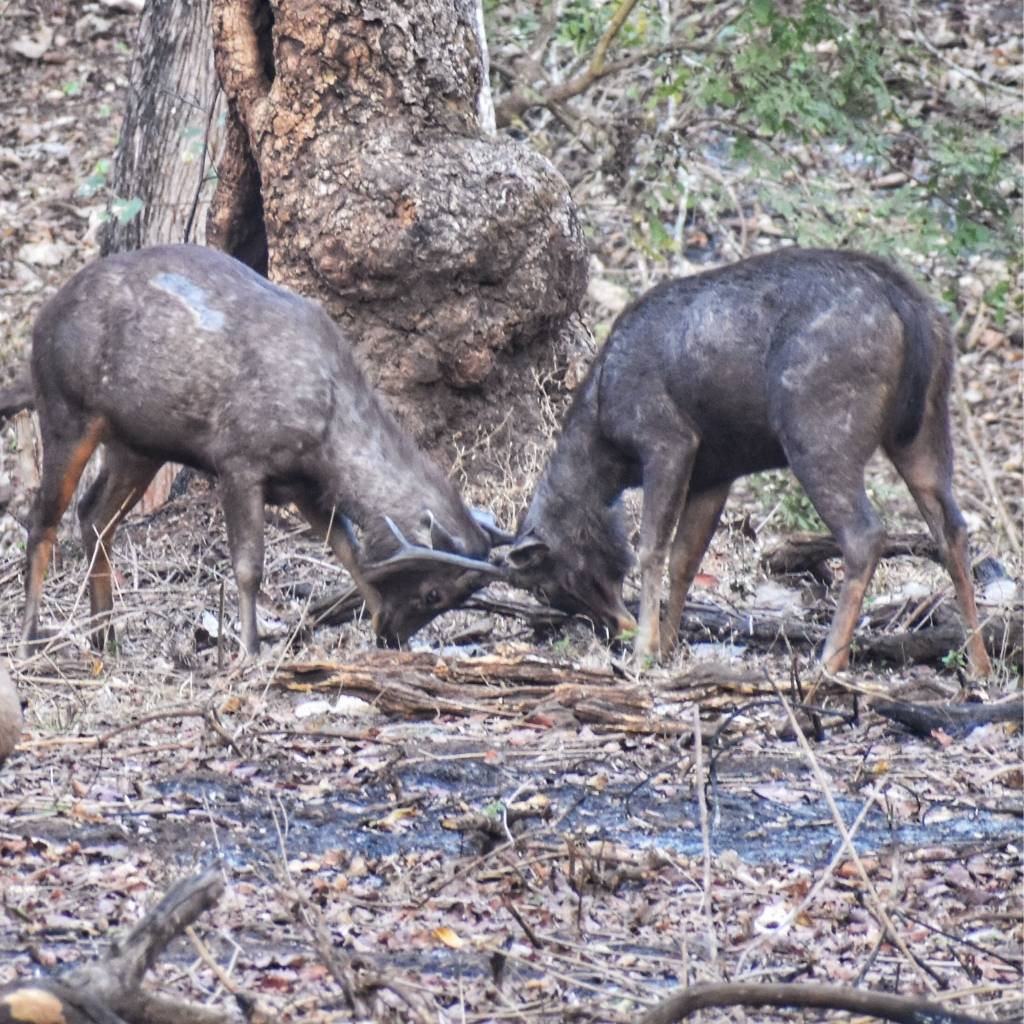 Tips for a safe and enjoyable Kabini safari
During the Kabini Safari, it is important to follow the rules and guidelines to ensure a safe and enjoyable experience. A few of these rules include staying inside the safari vehicle at all times, not feeding or approaching wildlife, and not littering.
To ensure the safety of both visitors and wildlife, park authorities have established rules and guidelines for visitors to follow. Here are a few of the most important rules:
During the safari, visitors cannot leave the safari vehicle.
Loud noises and disturbing the animals are strictly prohibited.
There is a ban on smoking and alcohol consumption within the park.
It is forbidden to bring plastic materials into the park.
To avoid unwanted incidents during the safari, these rules must be followed.
In Summary
Kabini forest is an unforgettable adventure for nature lovers and wildlife enthusiasts. Kabini offers something for every type of visitor, from avid photographers searching for the perfect shot to families seeking an immersive wildlife experience. Its rich biodiversity, conservation efforts, and thrilling safari experiences make Kabini a gateway to untamed wonders. So pack your bags, embark on this extraordinary journey, and let safari in Kabini create lifelong memories.
Disclaimer:
This blog may contain affiliate links. At no extra cost to you, we may get a small commission if you buy anything. All products and services we endorse have been personally used or come highly recommended to us. These incomes allow us to keep the community supported and ad-free.