Whether you're seeking a challenging backcountry adventure or a scenic escape from everyday life, Hampta Pass Trek is the perfect destination for adrenaline junkies and nature lovers alike. It offers adventurers the chance to explore breathtaking mountain scenery and soak up remarkable natural beauty. Nestled deep in the Himalayas, this trekking route takes you past glaciers, forests, and alpine meadows, as well as some iconic peaks. The best time to do the Hampta Pass trek is during the summer months when weather conditions are ideal for trekking. A guided trek to Hampta pass is more advisable than hiking on your own.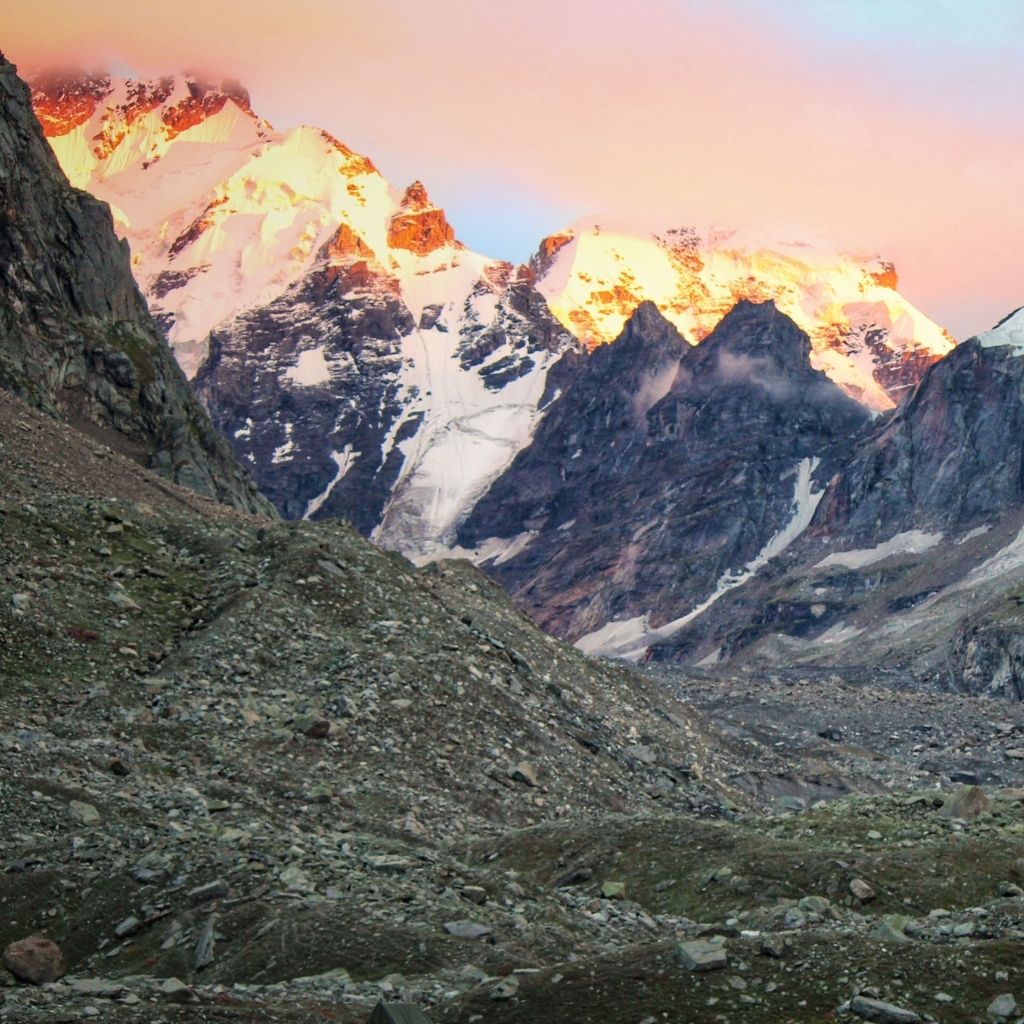 Where is Hampta Pass?
Hampta Pass is a high mountain pass in the Pir Panjal Range of the Himalayas. It is located in the Kullu District of Himachal Pradesh, India. The pass connects the Lahaul and Spiti Valleys. It is a popular trekking route and shepherds use it to take their flocks to graze on the high pastures. The pass is open from May to October and usually receives heavy snowfall during the winter months.
The name Hampta comes from the local language, which means "a pass between two mountains". It sits at an elevation of 4,267 meters (14,010 ft) and offers stunning views of the surrounding mountains. It is a popular destination for both Indian and foreign tourists. Hampta Pass is also home to a variety of wildlife, including bharal (blue sheep), chamois, ibex, red foxes, Tibetan gazelles and golden eagles.
Basic information for Hampta Pass trek
Hampta Pass is one of the most popular and picturesque trekking routes in the Indian Himalayas. To reach the base camp, you must first travel to Manali. From major cities like Delhi, Chandigarh, Shimla, Dharmshala, Dalhousie, Haridwar, Dehradun and others, you can drive or take a bus to Manali. It is also possible to fly directly into Kullu-Manali airport. The trek itself is a moderate to difficult undertaking, with an elevation gain of over 4,000 feet and several steep ascents and descents along the way. Campsites are available at various points throughout the route, so you will have plenty of options when it comes to choosing a place to set up your tent for the night. Whether you are an experienced mountaineer or just looking for a challenging adventure in a beautiful natural landscape, the Hampta Pass trek has something for everyone.
A must read before planning the trek – Hampta Pass Trek Itinerary
Best time to do the Hampta Pass trek
Hampta Pass trek opens from May to October each year. During this period, the pass is free of snow and relatively warm, making it the perfect time to hit the trail. It's too cold and snowy for anyone to walk during the remaining months of the year. Temperatures regularly drop below freezing during this time, and there can be several feet of snow on the ground. Additionally, any frost or ice that forms on Hampta Pass can make walking extremely treacherous. When the weather is decent and safe, you can explore the majestic mountains of Hampta Pass.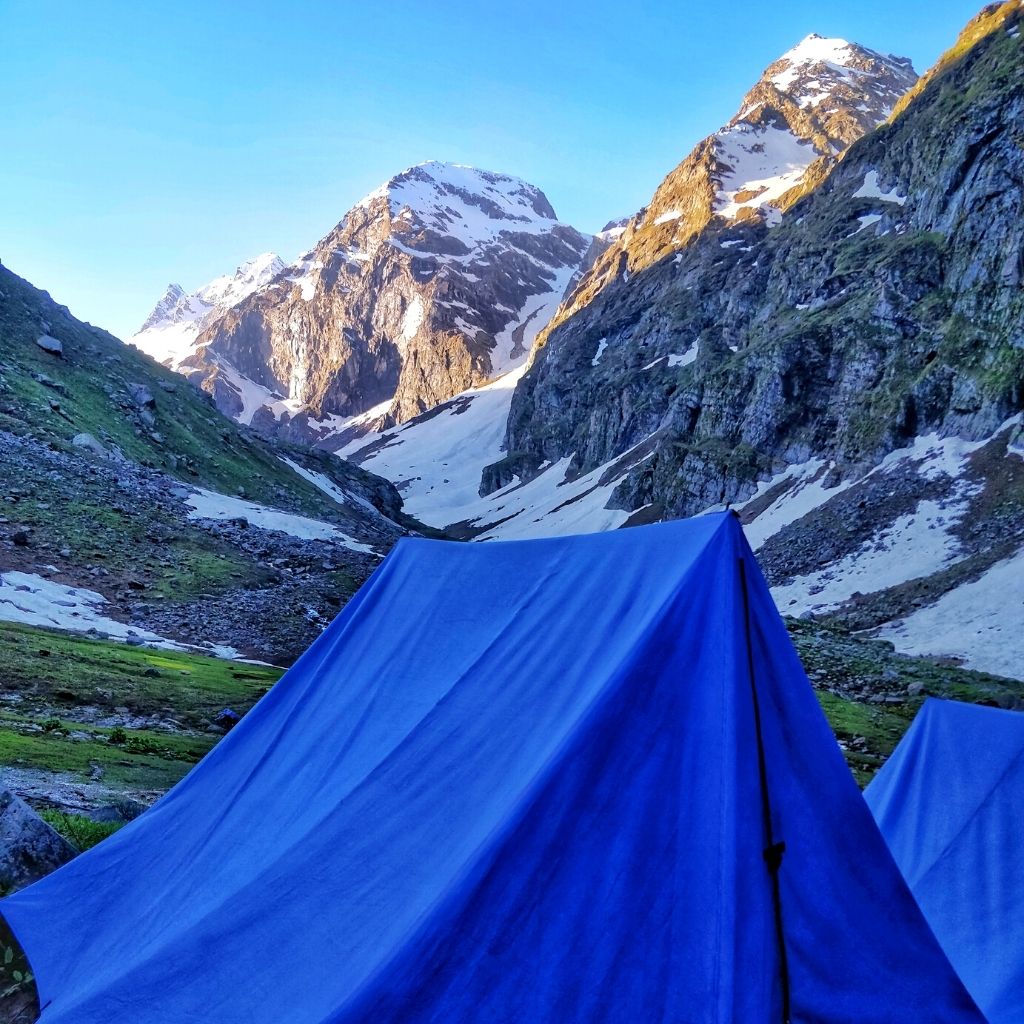 Trekking in May and June
Snow lovers should attempt the Hampta Pass trek between May and June when there is still plenty of snow and temperatures are not too low. The temperature during May varies depending on the elevation. In the lower elevations, the temperature is around 10 degrees Celsius, while in the higher elevations it can be as low as 0 degrees Celsius. In May, the risk of snow and landslides is high. There have been cases where people have been stranded on the trail due to a landslide, so it is important to be aware of the risks and take necessary precautions.
June is a great time to do the Hampta Pass trek, as the weather is moderate and the views are clear. The temperature during June in the lower elevations is around 15 degrees Celsius, while in the higher elevations it can be as low as 5 degrees Celsius. During these months, you can enjoy breathtaking views of snow-capped peaks, pristine mountain rivers, and fresh alpine breezes.
Trekking in July and August
This popular trekking route is best done in July and August when the entire region is lush and green. You will really fall in love with Hampta pass. During this time, you can wander through vast expanses of rolling meadows, with wildflowers bobbing their heads in the breeze. In addition, streams run freely down the mountain slopes, gurgling joyfully as they make their way to lower elevations. And if you're lucky, you may even catch a glimpse of some snow lingering on the mountaintops. With its stunning views and spectacular natural beauty, the Hampta Pass trek is truly best experienced during these summer months.
The temperature during this period in the lower elevations is around 20 degrees Celsius, while in the higher elevations it can be around 10 degrees Celsius. If you're looking for an incredible hiking experience that provides unbeatable views of the majestic mountain peaks in the Himalayas, then August is the best time to attempt the Hampta Pass trek. This month is regarded as the sunniest, as it offers clear visibility and ample daylight hours to fully take in all the wonders of this scenic region. There might be intermittent rains during the end of August but it won't have a severe impact on trek routes.
Trekking in September and October
If you are a nature lover and looking for a rain-washed green carpet, then the best time to do this trek is from September to October. The trail provides a pleasant contrast to the barren landscapes of the summer months. The best time to start the trek is mid-September when the weather is still stable and there is less chance of rain. October is a good month to finish the trek, as the temperature begins to drop and snowfall makes trekking difficult. For this reason, it is best to complete the Hampta Pass trek in the early part of October.
Summary
Hampta Pass trek takes you through some of the most stunning scenery in the Indian Himalayas, including glaciers, alpine meadows and snow-capped peaks. It is a challenging trek, but you will be rewarded with breathtaking views at every turn. If you're looking for an adventure that will take your breath away, Hampta Pass Trek is definitely for you. So what are you waiting for? Book your trip today and experience this thrilling trek for yourself!
Disclaimer:
This blog may contain affiliate links. At no extra cost to you, we may get a small commission if you buy anything. All products and services we endorse have been personally used or come highly recommended to us. These incomes allow us to keep the community supported and ad-free.