Neither USA nor the UK is in the top 5 rankings. Surprised?
Do you have a powerful passport? According to the Henley Passport Index, which ranks passports based on their visa-free travel opportunities, these are the 5 most powerful passports in the world with their rankings. If you have one of these passports, congratulations – you can travel pretty much anywhere without having to worry about getting a visa!
(1) Japan
(2) Singapore & South Korea
(3) Germany & Spain
(4) Finland, Italy & Luxembourg
(5) Austria, Denmark, Netherlands & Sweden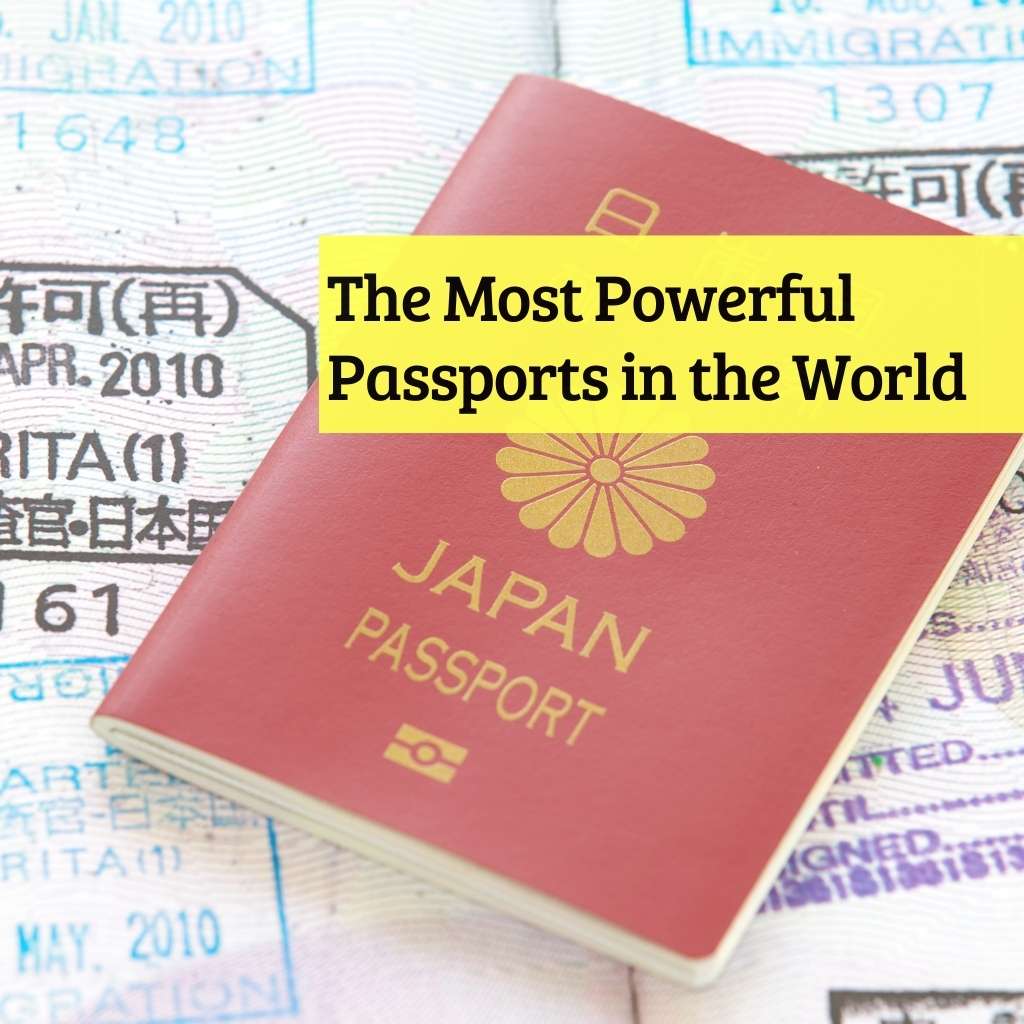 The Henley Passport Index
Several official passport ranking systems publish their findings every year. The Henley Passport Index is the original and most authoritative passport index, with historical data spanning 17 years. The Global Ranking of 2022 awarded Japan the top spot due to its visa-free access to 193 countries, up from 191 countries in 2020. Until 2018, Singapore held the #1 position for quite some time. In 2019, there was a tie between Japan and Singapore with each having access to 190 countries. In the 2020 ranking, Japan overtook Singapore to claim the top spot. While Singapore is not far behind with access to 192 visa-free countries, it ranks second on the list. The latest rankings put South Korea in second place along with Singapore, moving up from third.
By 2020, the UK was ranked 20 whereas the United States was ranked 21. Surprisingly, both countries have experienced a significant improvement in their rankings, with the latest index placing them at #6 and #7 respectively. Their visa-free travel options include 187 and 186 countries, respectively.
The bottom five nations in the 2022 table are Yemen, Pakistan, Syria, Iraq and Afghanistan. Their rankings have stayed the same for years.
The term 'Visa-free access' is a bit ambiguous. They classify it as the number of destinations (countries) the passport holder can travel to without a prior visa. This could be visa-free or visa-on-arrival. The visa-free passports grant holders access to their destination without having to obtain a visa. On the other hand, Visa-on-arrival grants the holder access to their destination only after they have obtained a visa upon their arrival and port of entry.
Henley & Partners describes "Japan and Singapore as countries that have long taken a proactive foreign policy approach, and have worked to establish mutually beneficial diplomatic relationships with a wide range of countries around the world."
Read more – All about Complimentary Transit Visas
Arton Passport Index
Besides Henley & Partners, there are other agencies also that provide passport ranking. One of them is Arton Passport Index. They provide passport mobility scores (MS) based on visa-free, visa-on-arrival, eTA and eVisa. A passport holder with a higher MS score enjoys greater global mobility. According to their 2022 rankings, UAE holds the top spot with a mobility score of 180. Japan is ranked 4th with a score of 171, tied with 5 other countries, followed by Singapore in 5th position with a score of 170 and tied with 4 other countries. With scores of 172 and 171, the US and UK are ranked 3rd and 4th respectively.
Other Passport Indexes
In addition, CEO World provides Global Passport Rankings that do not match the Henley or Arton Passport Indexes. You can view the CEO World Passport ranking here. Below are some other passport indexes.
(1) Visa Index
(2) Global Citizen Solutions
(3) QICMS Passport Index
In summary
A powerful passport allows you to explore different countries, cultures, and cuisine without much hassle. So if you're planning a trip abroad, make sure to check the latest Henley Passport Index rankings.
Disclaimer:
This blog may contain affiliate links. At no extra cost to you, we may get a small commission if you buy anything. All products and services we endorse have been personally used or come highly recommended to us. These incomes allow us to keep the community supported and ad-free.