I was googling about Asmara and out of the blue decided to visit Eritrea. I was fascinated by its history and landscape, but I had no idea it was one of the hardest countries to get a visa for. So began my odyssey to Eritrea, a story I was going to cherish for a very long time.
The first step…
I reached out to my known travel agent who usually helps me with processing other visas. He asked me twice "which country?" This is when I realized that I am all by myself. I figured out that there is an Eritrean Embassy in New Delhi, India. I called them and they asked me to send an email. A friend of my was also joining me so he had to apply separately from his email. We sent them emails and got a response in a few days. They asked us a few initial details to know our purpose of traveling to Eritrea and other basic things. My excitement was building as the process started.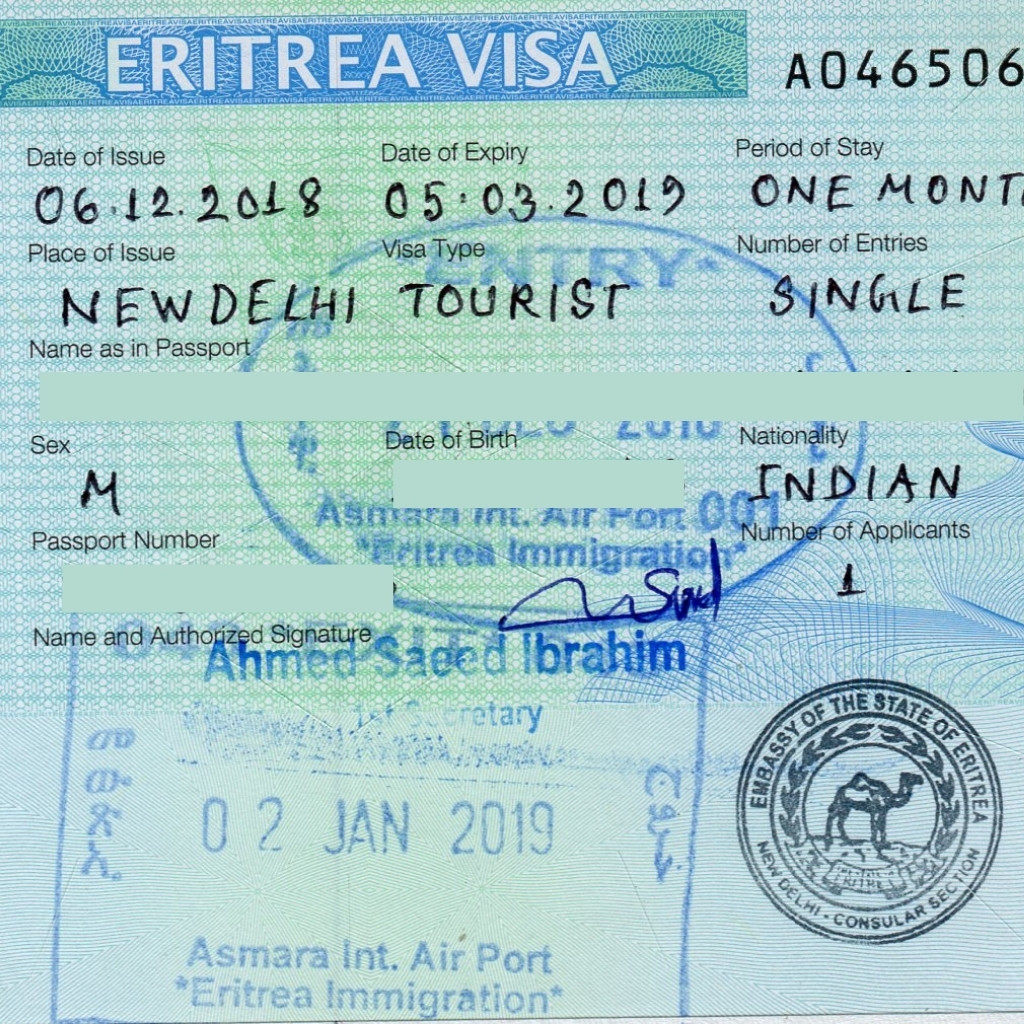 The visa process
They sent us a simple Eritrea visa application form by email. We filled that in and sent it along with a copy of our passports, photographs, bank statements, letter from the employer and the ID card, all by email. A week passed but we didn't hear anything from them. They never asked us to pay the application fee, which was quite unusual. I sent a follow-up email but again no response. I called them to discover that they no longer have the authority to approve a visa application. They have forwarded our applications to Asmara. They asked me to remain patient as the process could take a month or two. "A month or two"??? I was hearing such answers for the first time in my 20 years of international travel. Also, I learnt that Eritrea's visa on arrival procedure is much more complicated.
Visa APPROVED, but…
It was a roller-coaster ride for a little over one month. I must confess, negative thoughts began to flood my mind. Suddenly, an email popped up with that the visa had been approved. Sadly, it was not a paper visa unlike the majority of African countries. Now, we had to send them a DD (Demand Draft/Banker's Cheque) to pay the visa fee along with the passports and all the documents that we had earlier sent them by email. This time at least they agreed that both of us could send our applications together.
The documents had to be hand-delivered to the embassy, since delivery by courier may not bind them to the receipt of documents. Similarly, we needed someone with our authority letters to personally pick up the passport with visa. My travel agent came to our rescue and took the responsibility of finishing the last leg of the process at a nominal charge.
Are we done? Not yet…
Well, if you thought, that's how one gets an Eritrean Visa. Rest not because there are a few surprises along the way. The visa allows you entry only into Asmara. We needed separate entry permits for each city/town we wanted to visit outside of Asmara. Interestingly, both the consular in India and the immigration officer in Asmara were unaware of this fact. They kept emphasizing that the visa entitles us to travel anywhere in Eritrea. We visited the Ministry of Tourism Information Center the next day and got our permits by paying 50 Nakfa per permit person.
You might face difficulties in obtaining the permit if you are staying in an Airbnb. Read here for more details. They would require a copy of your passport along with the visa page with the immigration stamp. There is a photocopy center next block where you can pay 1 Nakfa per copy. It takes a few hours to issue the permit so it is advisable to submit the application in the morning. The applications submitted in the afternoon are usually processed the next day. While we were in Eritrea and traveled to various cities, nobody ever checked our permits.
Summary
So, to summarize, getting an Eritrean Visa is not difficult, just a small test of one's patience. Make your travel plans for Eritrea very well in advance as this is not like obtaining a Singapore or Malaysian Visa. The wait will be worth it once you land in Eritrea.
Disclaimer:
This blog may contain affiliate links. At no extra cost to you, we may get a small commission if you buy anything. All products and services we endorse have been personally used or come highly recommended to us. These incomes allow us to keep the community supported and ad-free.