If you're looking for a breathtaking, off-the-beaten-path destination to travel to in India, Valparai is a must-visit. This hidden gem located in the Western Ghats mountain range is teeming with natural beauty and offers plenty of opportunities for outdoor adventures. You'll love the stunning views of the Nilgiris mountain range and the lush green tea plantations that surround Valparai. So, if you're looking for an unforgettable adventure, be sure to add Valparai to your bucket list!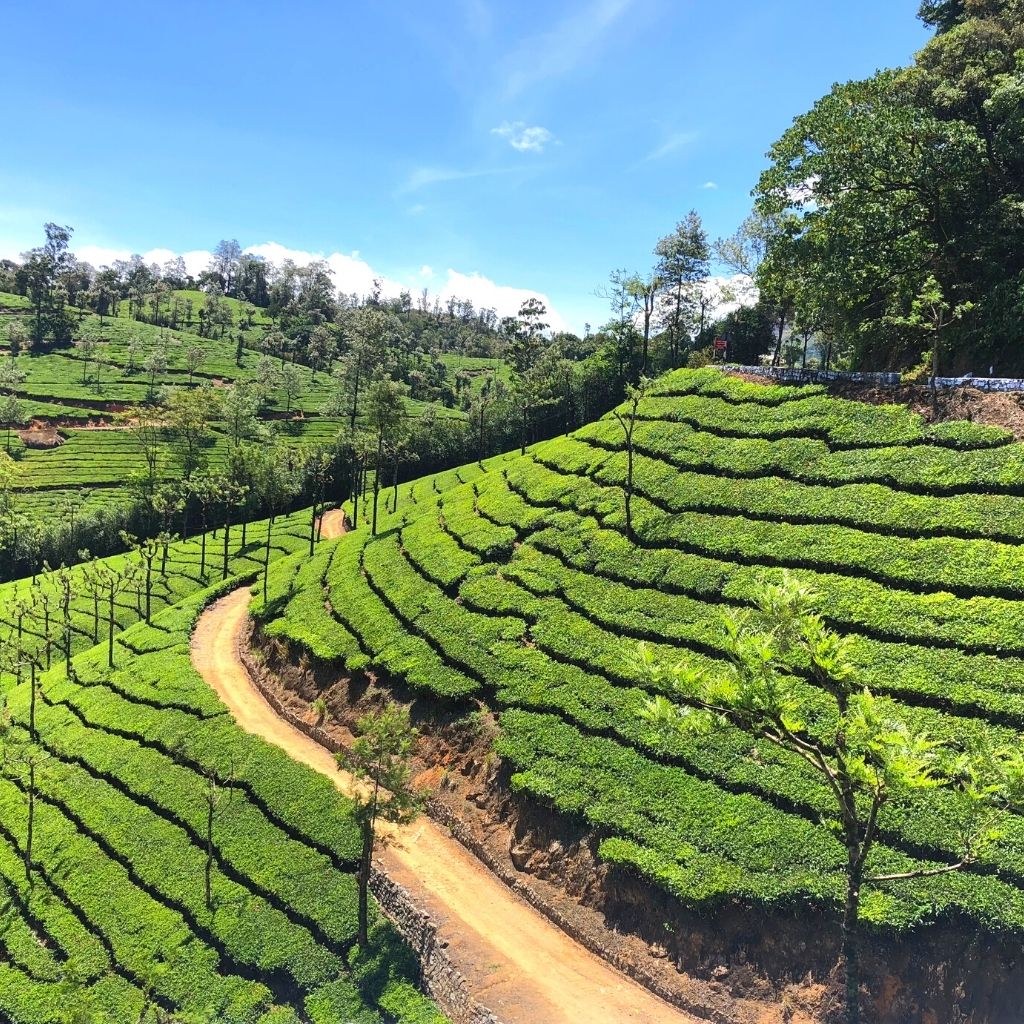 About Valparai
Valparai is a hill station located in the Western Ghats mountain range in Tamil Nadu, India. It is located in the Annamalai Hills Range, near Coimbatore. The name 'Valparai' comes from the Tamil words 'valu' which means hills and 'parai' which means rope or cordon. This name was given because of the rings that were hung around the trees of the Annamalai hills to notify workers harvesting tea. Valparai is one of the highest tea-producing regions in India with tea plantations covering 12,500 hectares and a production rate of 1,800 tonnes per annum!
Weather in Valparai
Valparai is situated on the Annamalai Hills range at an elevation averaging around 1,500 meters (4,900 ft) above sea level. Valparai experiences a pleasant climate throughout the year. The temperature ranges from 17°C to 25 °C during winters and from 28 °C to 40 °C in summers, with rainfall ranging from 700 mm (28 in) to 1150 mm (45 in). The best season for tourism falls between November and February as the days are sunny and clear, with moderate rainfall and a pleasant climate. Nature lovers, however, will enjoy visiting in the monsoon season (June to September).
Tourist attractions in Valparai
There are plenty of tourist attractions and things to do in Valparai, including waterfalls, temples, trekking and wildlife sanctuaries. Valparai is a major tourist destination in south Tamil Nadu and attracts tourists from all over India. The town has been referred to as the "honeymoon capital of Coimbatore district" because of its temperate climate. British Raj era bungalows that house the central tea research station, Christian missions and old Planters' bungalows are major architectural attractions. There are a number of exciting treks in Valparai that are very popular among trekkers.
Find out more about visiting Valparai in this detailed travel story.
A popular landmark in the town is the canopy road which runs across the Valparai range on top of Annamalai Hills; it provides panoramic views of the natural surroundings. The road remains closed for the most part of rainy season due to heavy mist and rains.
Here is a complete list of places to visit in Valparai.
Flora and Fauna
This place is abundant in flora and fauna. This place has a thick forest cover, which provides it with an everlasting supply of water from the rains. In Valparai, you can see many wild animals including tigers, elephants and bears. There is also a huge variety of birds in this region. The scenic beauty of Valparai is further enhanced by its landscape dotted with tea plantations.
Staying options in Valparai
Valparai is a town known for its breathtaking beauty, lush green landscapes and lovely weather. Hence, it's no wonder that visiting this quaint little settlement has become all the rage in recent times! If you're looking to spend some time here, you have plenty of options when it comes to accommodations.
Homestays in Valparai are the most popular staying options among travelers; these provide a great opportunity to mingle with the local populace and gain insight into their culture. One can also find quite a few tea bungalows offering stunning views of the surrounding hills. For those looking for indulgent luxury, there are exotic resorts sprinkled around Valparai offering a range of spa treatments and other on-site facilities.
For nature lovers and eco-conscious folks alike, there is no better choice than an eco-friendly accommodation that leaves minimum ecological impact while giving you all the comforts of home. Whichever option you choose, Valparai promises a memorable experience that will stay with you long after your vacation ends!
Restaurants and eating options
Valparais is a beautiful place, but in terms of restaurant and eating options, it is limited. For the most part, you will be preparing and eating your meals at your homestay or resort. However, near popular touristic visiting spots like Loams viewpoint and Sholayar Dam, you will find plenty of restaurants and small cafes that offer delectable local cuisine.
List of restaurants and cafe near Sholayar Dam
List of restaurants and cafe near Loams Viewpoint
Getting there
The nearest railway stations are Pollachi (65 km) to the north and Palakkad (110 km) to the west. The nearest airport is Coimbatore International Airport (110 km). Here is the route. The best way to reach Valparai is by road. The road from Pollachi is more scenic and less steep. You can also travel using the State Transport Bus service (Mettupalayam Road Bus). The bus runs frequently between Pollachi and Valparai, with departures every 30 minutes.
Summary
Who knew one of the most beautiful hill stations in India was a few hours away from Bangalore? Well, now you do! If you're looking for a place to escape this monsoon season or just want some fresh air, Valparai is it. It has everything – mountains, forests, hills and rivers. The people of Valparai are warm and welcoming, and they will be happy to show you around their beautiful town. If you're looking for a peaceful and relaxing vacation, then Valparai is worth considering!
Visual stories from Tamil Nadu
Disclaimer:
This blog may contain affiliate links. At no extra cost to you, we may get a small commission if you buy anything. All products and services we endorse have been personally used or come highly recommended to us. These incomes allow us to keep the community supported and ad-free.