Coorg is one of the most popular tourist destinations in Karnataka. This picturesque region in South India is known for its coffee plantations and scenic landscapes and diverse wildlife. But did you know that Coorg also has a unique and distinctive cuisine? Kodava food emerged from the wild forests of the region, filled with yams, bamboo, banana, coconut, rice and other plants. Their distinctive culinary tradition has evolved over centuries in response to the diverse mix of cultures. Here are some of the best and special veg food to try in Coorg.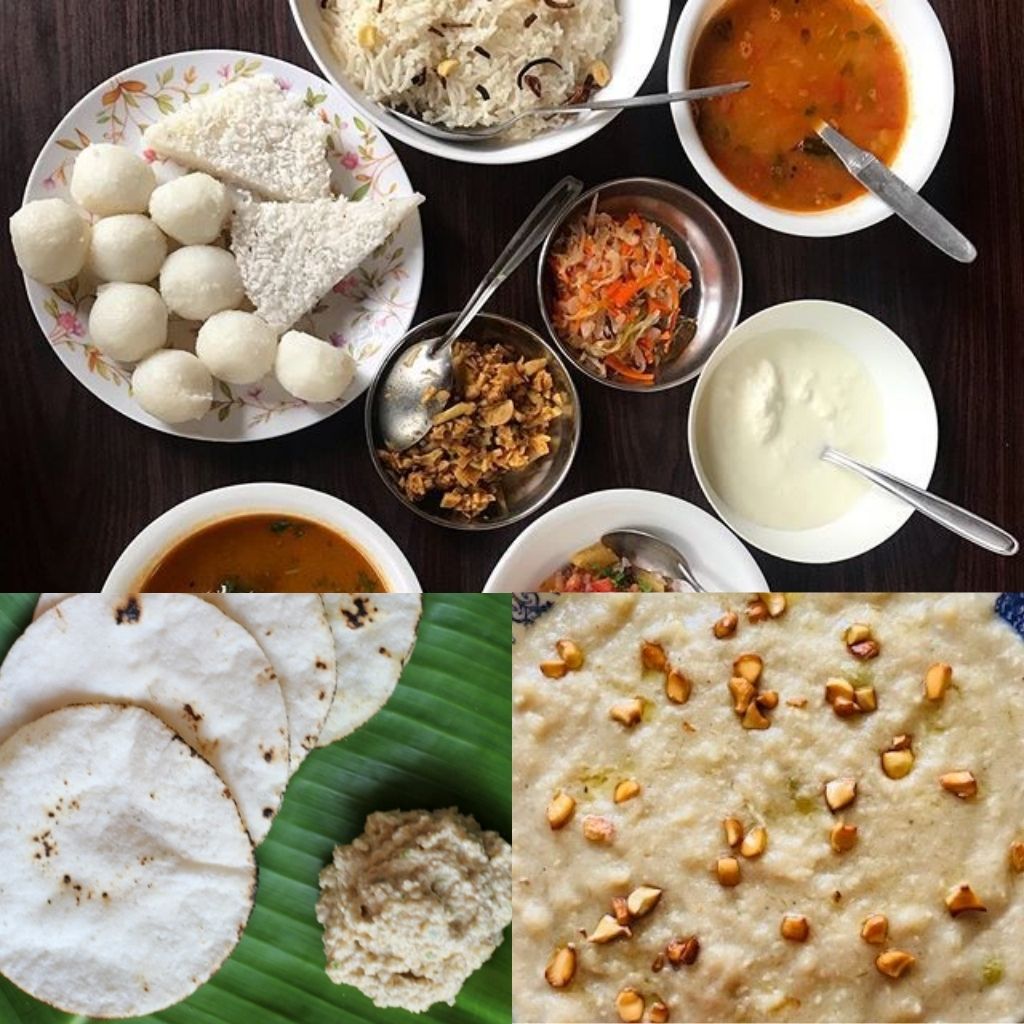 Coorg vegetarian dishes for breakfast
They serve these dishes mostly during breakfast and at times during lunch and dinner as well.
Akki Otti
Usually pronounced as 'Akki Roti' is a dish of baked flatbread made from rice flour and powdered red chili pepper. They often serve it with Baimbale curry, Kummu curry, tomato chutney, or Ellu Pajii on the side. They prepare Akki Otti typically for breakfast or as an evening snack.
Ellu Pajji
It is a chutney that usually goes along with Akki Roti. The ingredients are coconut, onion, jaggery, tamarind and green chilies.
Noolputtu
It is like Idiyappam, a dish of Kerala. String hoppers is also another name for Noolputtu. These steamed rice noodles go well with coconut and jaggery paste or vegetable stew.
Ragi Balls
They make these fritters from ragi (a type of cereal) flour, water and spices. They boil them in oil until they become crisp on the outside.
Neer Dose
Dosa batter (made from rice or urad dal), coconut milk, yogurt, baking soda, and some spices are all prepared in a cup and then boiled in oil until soft. This is a typical dish for breakfast and evening snacks, especially during festivals.
Coorg vegetarian dishes for lunch and dinner
These dishes are mostly for lunch and dinner. Some of them can also be prepared for breakfast.
Kadambuttu
These steamed rice dumplings are mostly for breakfast as well as for light dinner. They make them from broken rice (Kadambutu thari) and ghee. They are served with veg and non-veg stews.
Paputtu
It is more like a steamed rice cake. They make it from broken rice, shredded coconut and milk. Usually, Coorgis prefer them with non-veg curries but they taste the best with ghee and honey.
Bamboo Shoot Fry
Stir-fried bamboo shoots with spices are the core ingredients of this vegetable stew. Bamboo shoot fry is a delicious and popular dish in Coorg.
Oondees
Fritters of rice or wheat boiled in oil with onion, green chilies, and spices until soft and golden brown.
Baimbale Curry
Bamboo shoots, curry leaves, various spices and coconut milk are the main ingredients of this delicious dish. This is a monsoon delicacy that requires elaborate preparation of a few days.
Kootu Curry
This spicy curry (vegetable stew) contains lentils, brinjal (eggplant), coconut, tamarind and various spices.
Kummu Curry
Coorgis call wild mushrooms 'Kummu'. They cook Kummu curry by gently boiling wild mushrooms and mixing other ingredients like coconut, onion, garlic and various spices. It tastes good with Akki Roti.
Coorg vegetarian dishes for Desserts
Dessert in Coorg is usually a cake or pudding. As they have rightly said, the proof of the pudding is in eating.
Koovaleputtu
This steamed cake usually contains Jackfruit and/or banana, rice and coconut. The leftovers are usually toasted in ghee and eaten the next day.
Baale Nuruk
This fermented dish is a concoction of rice flour, black gram, banana, jaggery and coconut.
Akki Tari Payasa
It is like Payasam, a traditional South Indian dessert. This pudding contains rice, rava, milk, coconut, jaggery, cardamom and dry fruits. You can eat it hot as well as cold.
Kesari Bath
This dish consists of grated rice flakes cooked in a sauce of ghee (clarified butter), sugar, cashew nuts, and raisins until it thickens. It is also typically served hot with a garnish of coconut, jaggery and kismis.ismis.
Ambli
Rice, sugar, cardamom powder, cashew nuts, raisins, and cardamom powder are the main ingredients in stuffed dumplings. They are often eaten as a sweet dessert after meals or during festivities.
Summary
Coorg has many different and unique vegetarian dishes. I hope you enjoyed reading about the variety of foods available in Coorg and are looking forward to trying them all for yourself. Let me know which one was your favorite dish when you get a chance to visit Coorg.
Additional Information:
Coorg is a food lover's paradise with so many different kinds of cuisine. There are many restaurants in Coorg that you can choose from. It is a great way to discover new restaurants each time I visit Coorg.
Homemade wine is famous in Coorg. Since Coorg produces abundant local produce such as plants, fruits, and herbs, wine making has been a tradition for centuries. There are wine tasting experiences you can enjoy in Coorg. It is worth checking out wine tasting tours in Coorg if you are interested in such experiences.
Disclaimer:
This blog may contain affiliate links. At no extra cost to you, we may get a small commission if you buy anything. All products and services we endorse have been personally used or come highly recommended to us. These incomes allow us to keep the community supported and ad-free.