Whenever travelers learn about Gujarat's cultural heritage and culinary diversity, certain questions always arise. Alcohol and non-vegetarian food are often the topics of these inquiries. In order to truly appreciate the ethos of this western Indian state, one must understand its intricacies. Getting a nuanced understanding of how these aspects fit into the cultural fabric of Gujarat is essential for travelers exploring Gujarat. In an attempt to provide clarity and insight into the cultural sensibilities and culinary landscape of Gujarat, let me delve into the truth behind the perceptions.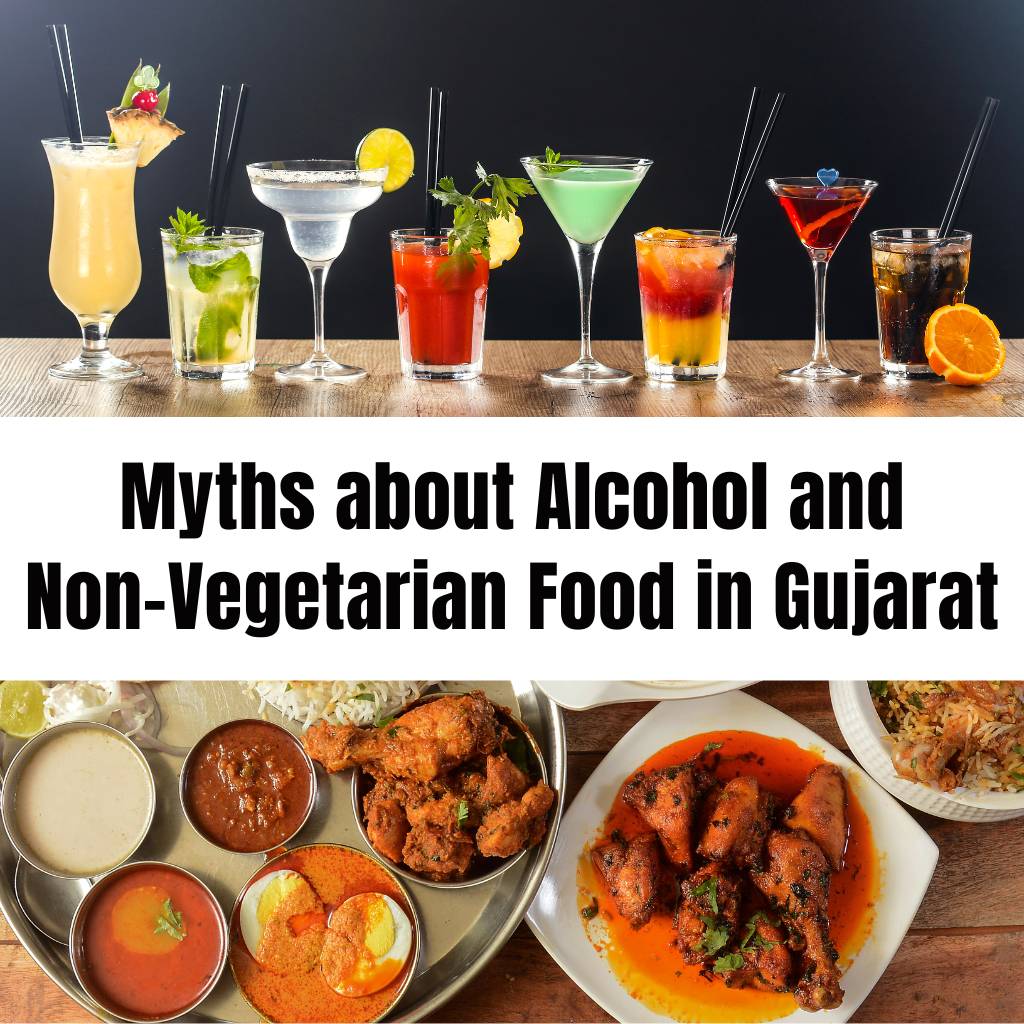 Demystifying Alcohol Beliefs in Gujarat
Gujarat, a state with strong ties to Mahatma Gandhi's ideologies, is commonly associated with stringent alcohol laws. The prohibition of alcohol dates back to the creation of the state in 1960. Despite the general perception that alcohol is prohibited in Gujarat, the reality is more nuanced.
It is true that the sale and consumption of alcohol are strictly regulated and restricted within the state. However, it's important to note that alcohol is not completely prohibited. Gujarat state allows the sale and consumption of alcohol, but only in a limited number of licensed establishments such as 5-star hotels. Despite the fact that alcohol is available, it's controlled, confined, and restricted to a few venues in larger cities.
It's noteworthy that alcohol consumption in Gujarat is primarily targeted at non-residents of the state. In other words, visitors from other states may consume alcohol for personal consumption. As a result of this restriction, the state is able to maintain its cultural and social fabric and cater to the needs and preferences of tourists.
However, there's a catch: you can't simply walk into a licensed establishment and purchase alcohol right away.
How to obtain liquor permit in Gujarat?
Here's the simple process…
Apply for the liquor permit within 4 days of entering Gujarat.
Visit the e-permit portal and complete the online form with your details.
Pay the required fee (currently INR 150, subject to change) using credit/debit cards, net banking, or UPI.
Upload the necessary supporting documents.
Await the approval of your permit.
Once approved, download the permit from the portal.
Present the obtained permit at licensed stores to purchase liquor.
The validity of liquor permit in Gujarat
The permit is initially valid for a period of 7 days.
It can be extended up to 3 times after its expiry.
There are restrictions on the quantity of alcohol you can purchase.
Within a 7-day period, visitors can purchase one of the following options:

One 750ml bottle of hard liquor (whiskey/gin/rum/vodka, etc.)
Three bottles of wine
Ten 650ml bottles of beer

Essentially, alcohol can be purchased for a maximum of 4 weeks during your stay.
If your stay in Gujarat exceeds 4 weeks, the government no longer considers you a visitor for the purpose of obtaining a liquor permit.
What documents do you need to buy alcohol in Gujarat?
Proof of entry in Gujarat: Boarding pass, inter-state bus ticket, train ticket, or highway toll receipt.
Two government-issued ID proofs: At least one with an address that is not in Gujarat.
Soft copy of a passport-size photograph.
Local address proof: Hotel booking voucher or a government-approved address proof from your host.
It's important to note that Gujarat has relatively expensive alcohol compared to other states. There is a 65 percent sales tax (VAT) on alcoholic beverages in Gujarat. Bringing alcohol with you when traveling from other states to Gujarat is against the law.
What is the Gujarati way of consuming alcohol?
The saying goes that restrictions often ignite innovation, and this holds true for the way Gujaratis consume alcohol. Since the e-permit for alcohol isn't accessible to Gujarat residents, they've devised an alternative route, one that's also more economical. Diu, Daman, and Dadra Nagar Haveli, a neighboring Union Territory, provide an escape from these restrictions as they don't impose a prohibition on liquor. In response, Gujaratis orchestrate their weekends, long weekends, and New Year and festival holidays to coincide with visits to these regions. Here, they relish the freedom of indulging in alcohol without constraints while also enjoying the coastal charm and tranquility of these towns. Adding to the allure, the low alcohol tax makes Daman a favored destination, often referred to as a "watering hole" for the Gujaratis.
Savoring Non-Vegetarian Food in Gujarat
Savoring Non-vegetarian food in Gujarat offers a surprising contrast to its predominantly vegetarian culinary landscape. It's true Gujaratis have a strong vegetarian tradition, but the assumption that non-veg food is non-existent is a misconception. In fact, many Gujaratis do enjoy non-vegetarian dishes, particularly eggs and chicken. There's a humorous twist to this, as their fondness for these items is often kept under wraps.
The topic of non-veg consumption is somewhat of a hush-hush matter within Gujarati society. Eating non-veg food is still considered a social taboo in many parts of the state. However, the scenario is gradually evolving, especially in urban centers where a new generation is more open to diverse dining experiences. While non-vegetarian eateries might not be as prevalent as their vegetarian counterparts, those interested in savoring meat-based dishes can indeed find options to delight their taste buds.
Where to find non-veg Food in Gujarat?
Despite Gujarat's majority vegetarian restaurants, a smaller subset of eateries, mostly concentrated in major cities like Ahmedabad, do offer non-veg options. Often, these establishments are part of larger hotel chains or upscale restaurants, which offer non-vegetarian options alongside vegetarian options. However, menu selections for non-vegetarians tend to be more limited than those for vegetarians. A unique aspect of Gujarat's dining scene is the dining preferences of its residents. There is a niche market for restaurants that serve both vegetarian and non-vegetarian food since the majority of Gujaratis avoid restaurants that serve non-vegetarian food.
Several areas within Gujarat's diverse communities offer non-vegetarian cuisine for a more authentic experience. In these areas, often dominated by communities such as Muslims or Kshatriyas, you'll find traditional non-vegetarian food, though the ambiance and hygiene might not always be up to the standard.
However, there are exceptions. Cities like Vadodara stand out as cosmopolitan hubs with a broader acceptance of non-vegetarian cuisine. The city's diverse population has embraced a more inclusive culinary culture. Surat is another exception, renowned for its delectable egg-based dishes. There is a wealth of seafood heritage to be discovered in the coastal regions of Gujarat, such as Diu, Daman, and Porbandar.
Popular Non-Veg Dishes in Gujarat
When it comes to non-veg dishes in Gujarat, the culinary landscape mainly centers around chicken and eggs. Nevertheless, there are intriguing exceptions that highlight the state's diverse gastronomy. In Kutch, for instance, you'll stumble upon unique offerings such as "Mutton nu shak" (Mutton gravy) and "Chaap ne bataka roast" (roasted lamb chops with potato wedges). An unconventional delight is "Patra ni macchi," where the concept of "patra" (a famous Gujarati snack) is prepared with fish instead of gram flour. Additionally, fusion dishes like "Bhugo" and "Mutton Dabeli" bring innovative twists to the table.
If you're an egg enthusiast, the cities of Surat and Vadodara offer an array of exotic egg preparations that are a must-try. Some of the renowned options include Egg ghotalo, Surti anda ghotala, Egg patra, and Cheese egg Afghani lapeti omelet.
Places to Avoid for Non-Veg Food in Gujarat
Gujarat, with its strong religious beliefs, has certain places where seeking non-veg food might not be feasible. Religious sites like Dwarka, Somnath, and Palitana strictly adhere to a vegetarian lifestyle. Palitana, a prominent Jain pilgrimage site, is known as the world's first 100% vegetarian city. Even though Dwarka and Somnath are located along the coastal belt with abundant marine life, you won't come across non-veg food establishments. In spite of these coastal regions being hubs for fishing and marine food transportation, non-veg food remains largely absent due to religious and cultural sentiments.
When staying in homestays or Airbnb accommodations, it's advisable not to bring non-veg food parcels from outside. Gujarati families abstain from non-vegetarian consumption at home, despite some family members indulging in it at restaurants. It's quite common for hosts to inquire about guests' non-veg and alcohol preferences before confirming a stay, aiming to provide a comfortable and suitable environment for all.
In Summary
In Untangling the misconceptions surrounding alcohol and non-vegetarian food in Gujarat reveals that the cultural fabric of the state is both diverse and evolving. The strict regulations and historical influences have shaped a unique landscape in which these aspects are carefully navigated. Travelers can appreciate the nuances that this vibrant state offers, whether it's savoring non-vegetarian delights or exploring the controlled availability of alcohol. Gujarat, with its rich history and progressive outlook, continues to surprise, proving that deeper understanding dismantles assumptions.