Running into health-related issues while traveling is the last thing you want. In my case, I speak from experience of being hospitalized with a medical emergency at a remote place in Nigeria and suffering from acute dehydration due to food poisoning in Cambodia. Both times, it was a nightmare. Something I hope to never experience ever again during my travels.
It can be hard enough to stay healthy and fit when you're living in one place, let alone when you're traveling. Between the long hours sitting in a plane or car and all of the temptations of new, unhealthy foods, it's no wonder that so many people pack on the pounds while on vacation. However, it is possible to stay healthy while traveling – you just need to be prepared.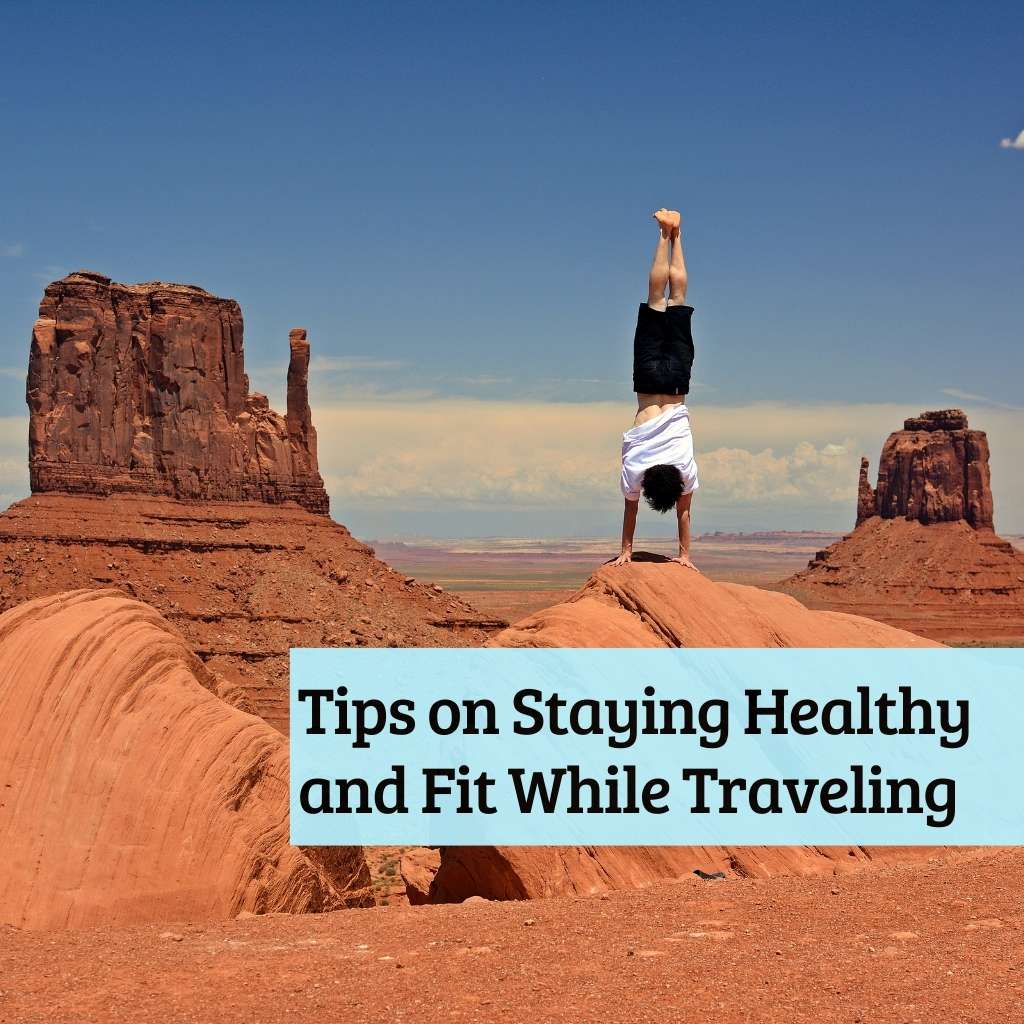 I have been traveling for 20 years and have completed nearly 500 trips including daunting international travel. Some years, the frequency of international travel has been every month with the highest travel in a year being 15 times. In addition to enjoying travel so much, many other reasons inspire me to travel more. This kind of schedule has prompted me to pay special attention to keeping myself healthy & fit. I am going to share my perspective based on my personal experiences. Here are a few tips for staying fit and healthy on the road.
Whatever is your routine to keep you healthy while traveling but never forget to purchase comprehensive travel insurance. These tips are not substitutes to travel insurance. One of my most preferred travel insurance is Insubuy Visitor Health Insurance. In case my trip involves some adventure activities, visiting remote places, or an extended stay then I would trust World Nomads.
There are two aspects to staying healthy; preventive measures and corrective care.
Preventive Measures
Preventive measures focus mainly on being aware of your body and taking necessary precautions to avoid any health adversities.
Pre-travel
Know your body, e.g. allergies (food, medicine, etc.), and pre-existing conditions (sugar, cholesterol, blood pressure, etc).
Do regular health check-ups and lab investigations as needed. ALWAYS carry a copy of all the reports with you, a MUST for frequent travelers.
Ensure you pack appropriate and smart travel gear (e.g. comfortable shoes/accessories, weather-specific items, basic first aid, etc.)
Get a prescription of basic meds, including antibiotics from your physician, and always carry stock to use SOS.
Sort out the simplest health niggle, if you have any before you travel.
Make sure you pack a goody bag with dry fruits, chocolates and energy bars. These snacks will satiate you on the go with almost no side effects. One cannot be too cautious with food while traveling as it is known to be the commonest cause of ill health.
While in the foreign land
Keep yourself hydrated, but ENSURE you drink the most hygienic water available, even if you have to pay for it. Water is the prime cause of most illnesses.
Follow a simple yet effective fitness routine if you are a fitness freak. DO NOT go overboard. For those who are flexible, choose walking as much as possible. This is my mantra while traveling.
Plan your day well to avoid rushing around. Reach ahead of time to catch your flight/train/bus. Most injuries happen when you are running short of time.
Always travel light. Remember, you have to handle your luggage while traveling abroad, especially to developed countries. You don't want an injury like a muscle tear or a sprain while handling your luggage.
Breakfast is a MUST before you start your day. In a foreign country, you might come across a situation where you never know when and where your next meal will be available.
DO NOT be too adventurous with food. Do your homework on what is available and what you should and should not eat in the country you are traveling to. E.g. I try to avoid eating fish in Nigeria and raw vegetables in Cambodia.
ALWAYS eat food that is fully cooked. Stay away as much as possible from raw meat and vegetables. Starving temporarily is safer than eating unhealthy and unhygienic food.
Having branded packaged drinks (Coke, Pepsi, juices, etc.) and veg. pizzas from Domino's and Pizza Hut are not a bad idea when you run out of options. You can be sure that these options are safe and will take care of your hunger pangs. Don't be a diet freak when you travel. Convenience and safety are what matter the most.
Treat any health niggles with your stock of SOS medication when you see initial symptoms. Cross-check with your physician and/or doctor friends and relatives via phone. It is always better to take preventive medicines while on a short overseas trip. I always take paracetamol the moment I feel slightly feverish, even if I know it is just a temporary feeling. However, I won't do it in my home country.
Adventure is good while traveling but being over-adventurous can be dangerous. Do apply caution and ensure you are 100% sure that all safety measures are in place before you indulge in anything.
Also, suggest reading – Suggestions I'd Give to a Rookie Traveler
Corrective Measures
In case of sudden health issues, first, consult your doctor in your home country. Since they are aware of your health condition, their advice is best at this time.
Adhere strictly to their advice and prescribed medicines. DO NOT try to be the doctor and self-medicate.
Consult a local doctor/hospital if it is necessary. Speak to locals about whom and where to go. Hotel staff and nearby pharmacy owners would be of help.
Take note of everything that is prescribed to you and clarify all your doubts. If the local doctor obliges, nothing like your personal physician speaking to the local doctor.
After seeking advice and help, if you are still not comfortable with your health, do not hesitate to cut short your trip and return home. Money should not be the criterion in such a situation.
You should always carry a local SIM card as this is your gateway to staying in touch with friends, family, and physicians without worrying about the costs. Drimsim offers low-cost international roaming options. You can also get an eSIM card delivered directly to your smartphone.
Last, but not least…
Traveling can be a great way to see the world and explore new cultures, but it can also be challenging if you don't stay healthy. By following these tips, you can stay safe and healthy while traveling. Finally, make sure to always travel with genuine international health insurance with repatriation benefits. With the right preparation, you can stay healthy and enjoy your travels to the fullest.
Disclaimer:
This blog may contain affiliate links. At no extra cost to you, we may get a small commission if you buy anything. All products and services we endorse have been personally used or come highly recommended to us. These incomes allow us to keep the community supported and ad-free.