Hourly hotels are an extension of the airport lounge, the differentiator being access to a small private room with a bathroom to rest, relax and unwind. The rates are exorbitant especially for a short stay, which is quite obvious. I have availed such facilities a few times within India and abroad. It is worth the spend under the following scenarios.
During an extended layover at a less happening airport. I once flew AirAsia with an 8-hour layover in KL. KLIA 2 is a designated airport for Air Asia and is one of the worst places for a long layover. The food outlets there are shabby yet expensive and the overall ambience is quite depressing. Having no choice, I spent about $50 (including food) for a 5-hour stay at the terminal hotel, which was well worth it as I would have spent $30 at the food outlets at the airport anyway.
It also helps immensely if the first leg of your flight is very long and you are exhausted. Once, I availed this facility at HK airport after flying 16 hours from SFO. I had a 5-hour layover and then a 4-hour flight. On landing, I had to attend a business meeting immediately, so I preferred to rest and refresh myself. Although I had a complimentary lounge in HK, I opted for a short hotel stay.
Sometimes you get a good deal in your airfare if you choose a longer layover. Once, a friend of mine got his ticket $300 cheaper for a 14-hour layover as opposed to the standard 2-hour layover for the regular price. He saved $300 and paid $70 to use the transit hotel during the layover. That is smart!
Hourly hotels sometimes come to the rescue if you miss a flight or a connection. Once, I had a return international flight to Delhi followed by a domestic connection to Bangalore. My international flight arrived in Delhi 3 hours (at 8 am) late and I missed my connection. Since at that time, Bangalore airport runway was undergoing maintenance, there were only morning and late evening flights. The earliest connection was at 7 pm. So I utilized the Plaza Premium lounge transit hotel outside the international terminal paying Rs. 6,000 ($80) for a 7-hour stay with food and complimentary drop to the domestic airport. It was expensive but the international flight journey had exhausted me and I was too tired to go to the domestic airport lounge.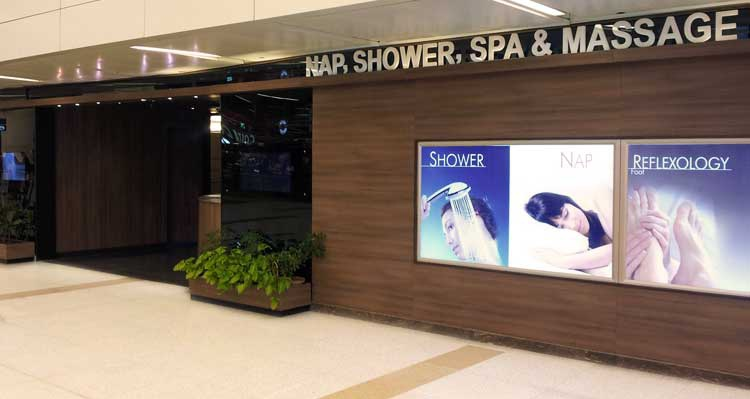 Image credit: google